Are you looking for the best hotels in Waikiki for families with kids of all ages? Keep scrolling to read this honest Hyatt Regency Waikiki Beach Resort review.
This Hyatt Regency Waikiki Beach Resort review contains affiliate links which means if you purchase something from one of my affiliate links, I may earn a small commission that goes back into maintaining this blog.
Guest post by Sharlene of Trekaroo
Are you planning a Hawaii vacation and want to know the best Oahu resorts for families?
The Hyatt Regency Waikiki Beach Resort and Spa is one of the best places to stay in Waikiki for families. There are many reasons to book this hotel, but for my family, the fact that the Hyatt Regency in Waikiki is one of the few hotels that offered spacious queen rooms on the Waikiki strip was reason enough.
Queen rooms and suites, along with the hotel's excellent location and Hyatt's great reputation, all contributed to my family's decision to spend a week at the Hyatt during a weeklong vacation on Oahu.
Keep scrolling to read why we think it's one of the best places to stay in Oahu with kids.
Want to skip all the planning and just access my detailed Oahu Itinerary complete with daily schedules, kid-friendly activities, and travel hacks? Click the button below.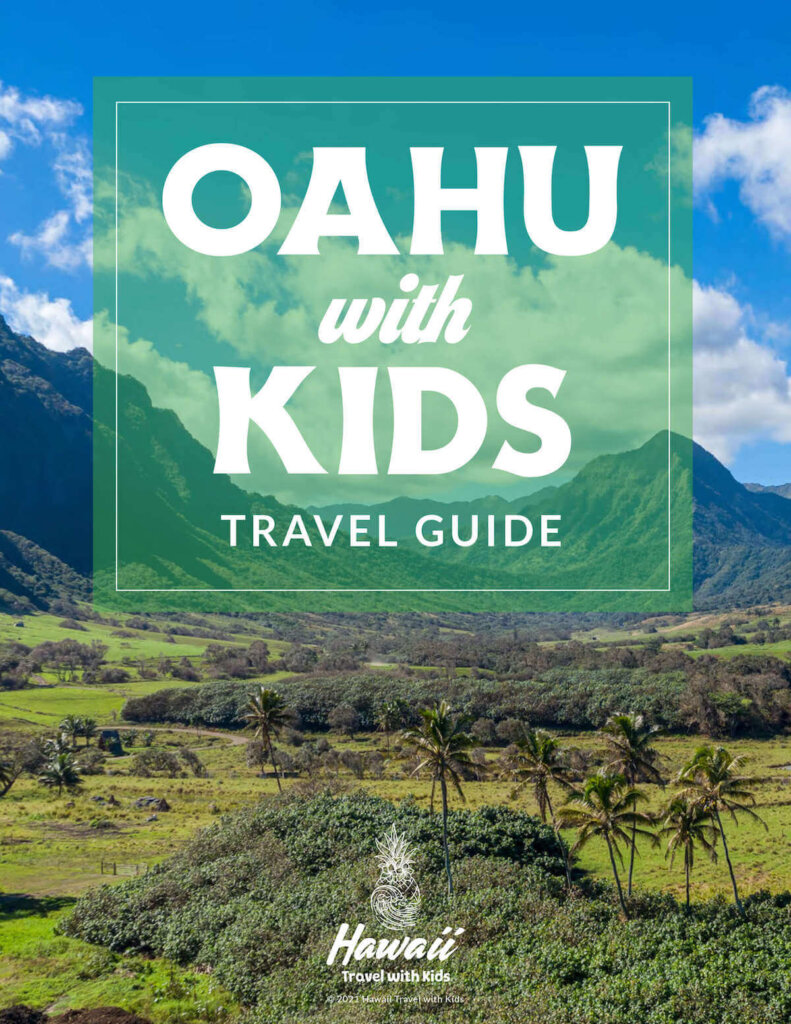 Oahu Hotels for Families FAQs
What are some of the best family hotels in Waikiki?
There are lots of Waikiki hotels for families with a variety of amenities and room sizes. A few of the best hotels in Waikiki include the Hilton Hawaiian Village, Hyatt Regency Waikiki Beach, and the Embassy Suites Waikiki.
What are the top kid friendly resorts in Oahu?
The best places to stay on Oahu with kids include the Disney Aulani Resort, Turtle Bay Resort, Hilton Hawaiian Village, and the Kohala Hotel and Resort.
What's the best part of Oahu to stay for families?
Waikiki is always a popular place because it's home to some of the top family friendly hotels in Oahu. However, Ko Olina is quickly becoming one of the top Oahu family destinations.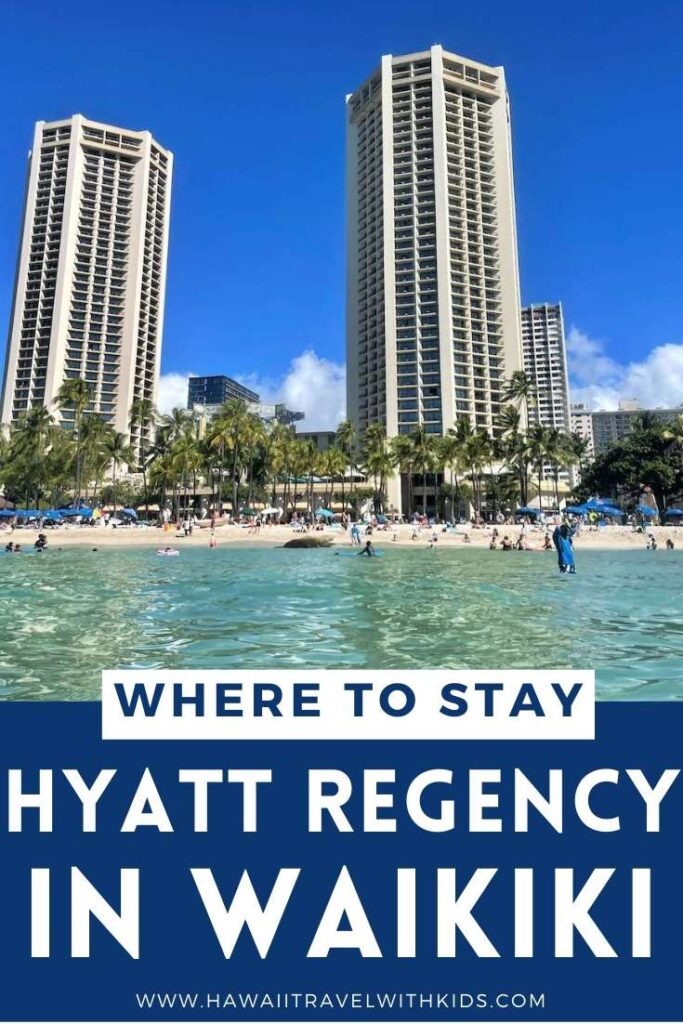 Where is the Hyatt Regency in Waikiki?
The Hyatt Regency Waikiki Beach Resort is located directly across the street from the best stretch of Waikiki Beach near the famed Duke Kahanamoku statue at the corner of Kalakaua Avenue (Waikiki's main drag) and Uluniu Avenue.
All of Waikiki's finest shopping, surfing, and sunbathing are a stone's throw away. This is why it's perfect for a first trip to Hawaii.
Waikiki is a great place to learn to surf. And most of the surf lessons for beginners take place on the stretch of the beach that is right across the street from the hotel.
Honest Hyatt Regency Waikiki Beach Resort and Spa Review
What was our room like?
When I began researching places to stay in Waikiki with my family of four, I quickly realized that rooms with two queen beds are few and far between.
But this room category is so important for families that are trying to stay in one room because let's face it, sleeping two people in a double bed is not fun!
My family booked a city view room with two queen beds. I was fully prepared to be squeezed into the room like sardines since space is at a premium in Waikiki. However, I was pleasantly surprised that there was plenty of room for us all to spread out.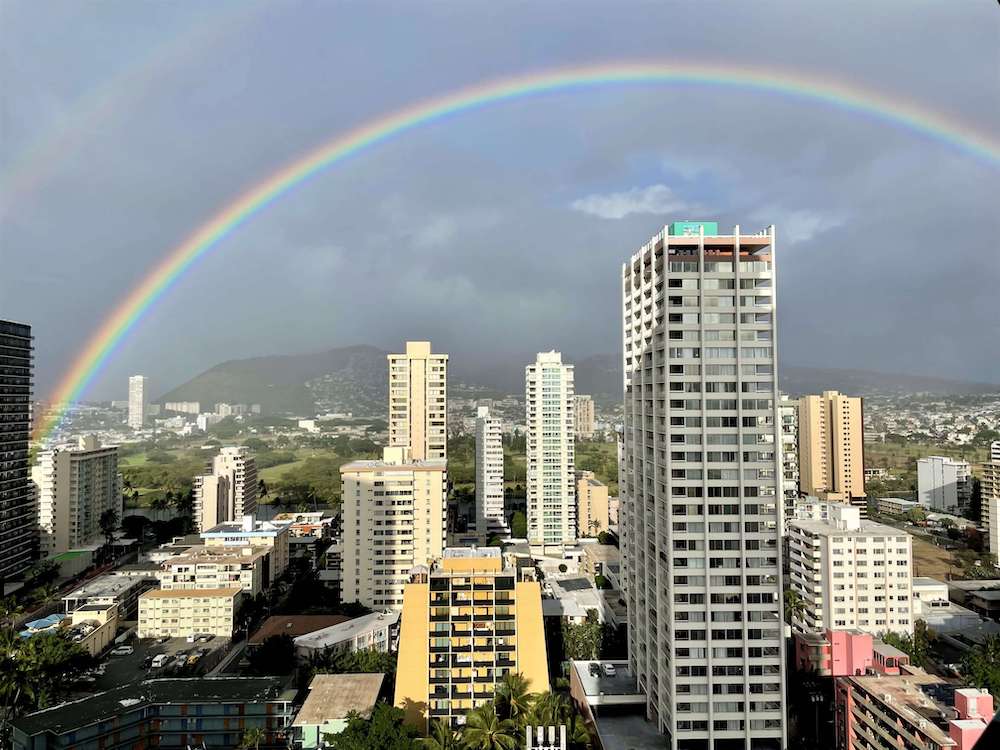 Our room had a balcony with mountain, city, and rainbow views. You can pay a premium to stay in an ocean view room. And given the hotel's location, I have no doubt that those views are spectacular. Check out the latest rates and availability.
We had a mini-fridge which came in handy during our stay. My teenage son never stops eating so having a place to put cold snacks was a lifesaver. There was a desk and a small seating area in the room.
Our room had two refillable water bottles which were ours to keep. And there were plenty of water bottle stations throughout the property. We definitely made good use of this perk.
It was nice to not have to constantly purchase bottled water. I also appreciated Hyatt's attempt to reduce plastic consumption inside their hotel.
The bathroom had a vanity area and a separate toilet/shower/tub area so that it was easy for one of us to get ready for the day while another showered. We were all very excited by the Toto toilet in our room which had a bidet and a heated seat. It's, the little things, you know?
What did we think of the dining options?
We did not dine at SHOR, the property's restaurant, because there are just too many amazing restaurants within a short walk of the Hyatt.
Some of the restaurants within walking distance of the Hyatt in Waikiki that I can recommend include Morimoto Asia Waikiki, Musubi Cafe Iyasume, Duke's Waikiki, Lulu's Waikiki, Paia Fish Market Waikiki, and Maui Brewing Company.
We did visit the two coffee shops in the Pualeilani Atrium Shops on the ground floor multiple times- Kai Coffee Hawaii and Tucker & Bevvy. My mom liked the coffee better at Kai but I preferred it at Tucker & Bevvy. I suggest trying them both. There are also breakfast and lunch items available at Tucker and Bevvy.
The Pa'ina 'O Waikiki Hula and Dinner Show is currently postponed due to Covid-19 so we did not get to experience the hotel's luau.
When the Pa'ina 'O Waikiki Hula and Dinner Show does open back up, it sounds like a show that families won't want to miss. It bills itself as the only all-Hawaiian dinner show and includes Hawaiian storytelling, music, and hula.
Waikiki Hyatt Regency Pool Area
While the views of Waikiki Beach from the Hyatt's pool area were absolutely spectacular, the pool itself was very small. This is definitely not a hotel where the pool is a destination unto itself. My mom's backyard pool is bigger. But it's great for cooling off after a waterfall hike on Oahu.
The hot tub, on the other hand, is huge. It is a great place to enjoy a poolside cocktail and watch the sunset. There is drink service available on the pool deck and the drinks are great.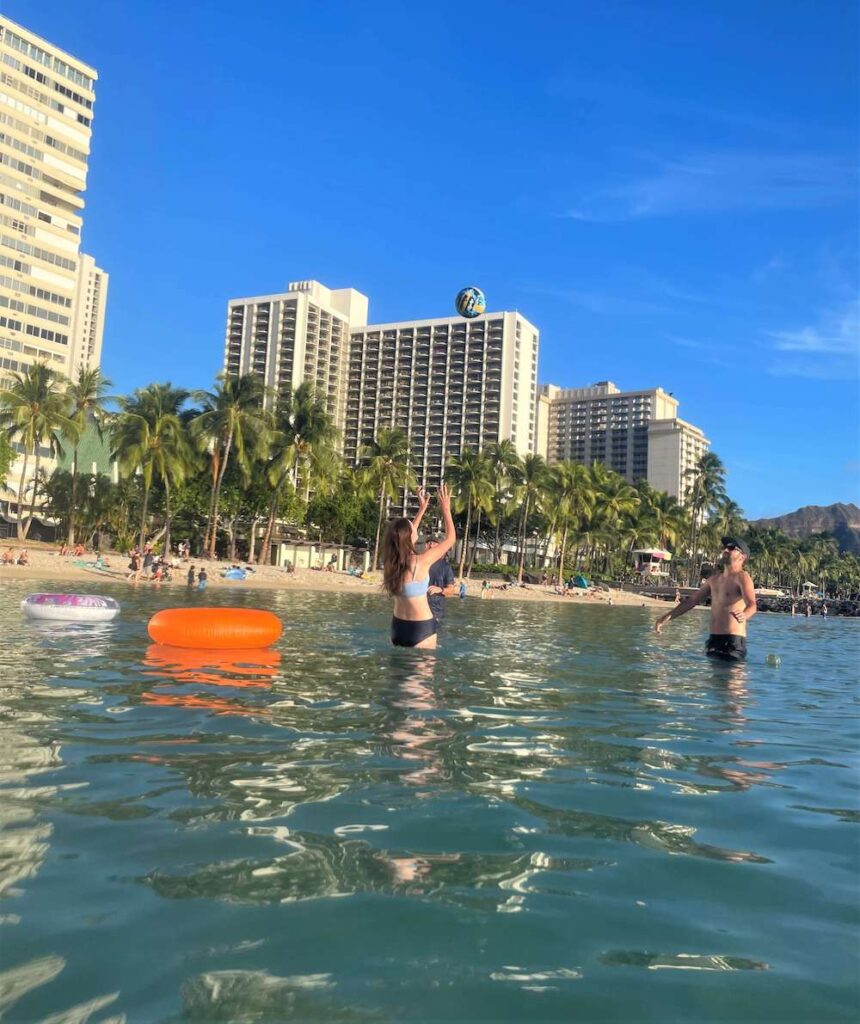 Since one of the best beaches in the world is literally across the street, a lackluster pool really wasn't that big of a deal for my family. The beach along the shore is quite calm so it is a good place to float in an inner tube or swim like you would in a pool.
When you do head to the beach, be sure to head to the pool deck to pick up complimentary towels and beach chairs. There is also chair and umbrella rental available on the sand.
Other features/amenities
On the lower floors of the Hyatt Regency Waikiki Beach Resort and Spa is the Pualeilani Atrium Shops. There are a variety of stores and dining options in this area. One of them is the ABC store which we frequented multiple times a day to grab snacks, floaties for the ocean, and lots and lots of sunscreen.
There is a nice farmers market on the ground floor of the Hyatt on Mondays and Wednesdays after 4 PM. The market is a good place to pick up fresh tropical fruit, malasadas, and unique handmade gifts to bring home. This perk makes it one of the best hotels in Oahu for families.
Hyatt Regency Waikiki Spa
There is a full spa at the Hyatt Regency in Waikiki but I did not have a chance to visit it during my stay. The spa offers massages, facials, and body treatments as well as a dry sauna and a fitness facility. It's one of the best spas on Oahu.
Activities for Kids/Cultural Activities
The hotel does normally host a wide selection of cultural activities and programming for kids but we visited just as Hawaii was beginning to reopen to tourists due to Covid-19 so everything was operating at limited capacity.
I did see a sign promoting lei making and ukulele lessons in the lobby on the day we were leaving so it seems as though some of those activities are returning. These activities take place at the Ho'okela Hawaiian Cultural Center on the 2nd floor of the Diamond Head Tower.
Waikiki is one of the best places for kids to learn how to surf in the entire world, thanks to the beach's gentle but long surf break. Moniz Surf School is located inside the Billabong Store on the resort property.
The surf school offers private and group lessons and you are basically guaranteed to stand up during these lessons. They also have surfboards and boogie boards to rent.
The array of kid-friendly activities makes the Hyatt one of the best hotels in Honolulu for families.
Hyatt Regency Waikiki Parking
During our stay, the only parking option was self-parking (no valet) in the hotel's garage. Self-parking was $50 a day which is steep but expected in Waikiki.
I found driving in the garage extremely stressful because things got very tight if another car was coming our way. The parking spots are very small as well. I ended up having my husband handle the parking since he was less anxious about the experience.
Note: You do not need a car in Waikiki but if you want to explore the rest of the island, a car rental is key.
Is there a Hyatt Regency Waikiki airport shuttle?
Hyatt Regency Waikiki does not have a Honolulu Airport shuttle, but SpeediShuttle is the service that they recommend.
Would we recommend the Hyatt Regency in Waikiki?
I would certainly consider the Hyatt Regency Waikiki Beach Resort one of the best hotels in Waikiki and certainly one of the best Oahu family resorts because of its spacious rooms, convenient location, and luxurious atmosphere that felt welcoming for families.
While the pool area was not particularly impressive, the rest of the amenities along with a great beach across the street, more than make up for it. My family would definitely stay at this hotel again.
About Sharlene
Sharlene Earnshaw is the Managing Editor of Trekaroo.com and has worked in the family travel field for over 15 years. She was born in Hawaii and the islands are still her favorite place on Earth, so she visits them as much as possible. She currently lives in Orange County with her husband and 15-year-old son and daughter (twins!).