Thinking about booking a beach yoga retreat on a tropical island? Keep scrolling to see why you should choose a Hawaii yoga retreat for your next self care vacation.
This guest post about Hawaii yoga retreat options contains affiliate links which means if you purchase something from one of my affiliate links, I may earn a small commission that goes back into maintaining this blog.
Guest post by Lucile Hernandez Rodriguez
Hawaii is easily one of the best places to travel for wellness.
Stunning pristine beaches, lush tropical rainforests, and the chill vibes on the island make the Hawaiian islands an attractive spot for retreat goers.
And when it comes to yoga retreats, Hawaii has plenty.
If you've been looking forward to escaping the daily grind, clear your head, or even deepen your spiritual practice, the Hawaiian scenery might just be what you need.
Since there are so many sacred sites to enjoy, Hawaii offers plenty of opportunities for spiritual growth and rejuvenation.
Plus, there are various activities that let you marvel at the beauty of nature, including snorkeling, hiking, and surfing.
But why choose Hawaii for a yoga retreat?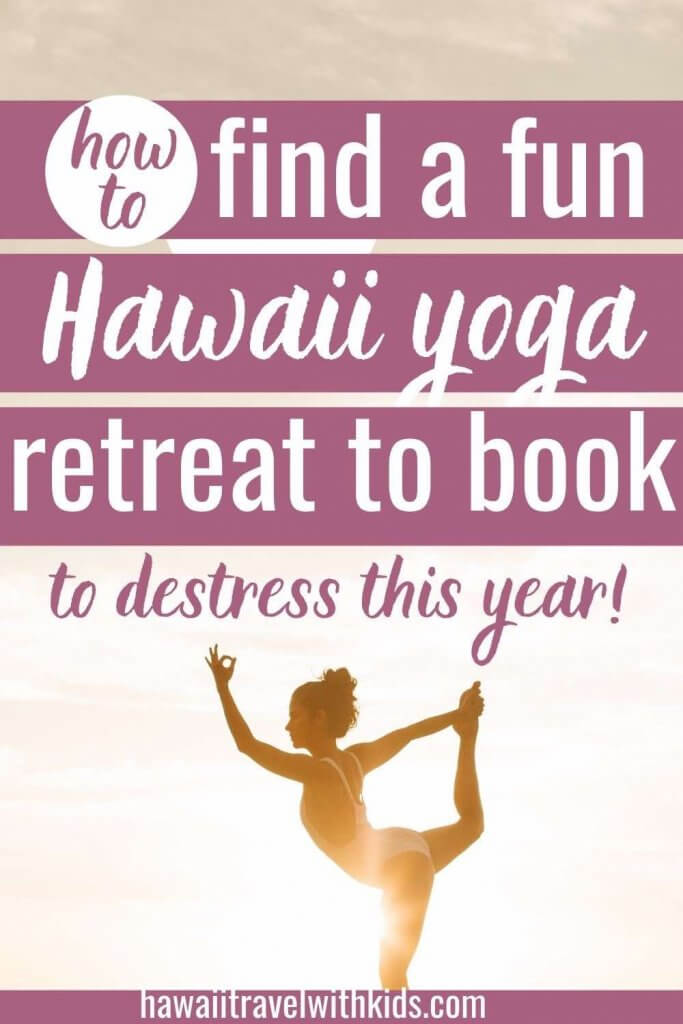 Hawaii Yoga Retreat FAQs
Is a yoga retreat worth it?
A yoga retreat in Hawaii is totally worth it if you're looking for a unique Hawaii vacation full of self-reflection and mindfulness.
What happens at a yoga retreat in Hawaii?
In addition to practicing yoga, many Hawaii retreats also offer cultural experiences, tours, excursions, and farm-to-table food.
Reasons to Go on A Yoga Retreat In Hawaii
If you're planning to go on a yoga retreat, consider Hawaii. Here are the top 3 reasons why this place should be your next yoga holiday destination.
Family-friendly
Hawaii is one of those best family-friendly destinations. Children are everywhere; a lot of establishments welcome them.
Many of the hotels in the islands have various attractions that are intended for kids. Some of the kid-friendly resorts in Maui will blow your mind!
If you're considering going on a family retreat, Hawaii should top your list.
Incredible nature scenes
Hawaii is more than just stunning beaches and palm trees that line the shore.
There's magic happening in nature and it's the perfect scenery to look at when you're meditating or doing yoga.
The breathtaking landscapes also offer a change of atmosphere – one that can help slow you down and give you inner peace.
Hawaiian culture
One of the things that makes Hawaii special is its culture and you'll have the opportunity to learn more about it when you visit this place for yoga.
Aloha is more than just a greeting; it's an essence of life and relationships – and it teaches us wonderful life lessons of compassion, peace, and kindness.
All these values are essential in your own healing.
Find out the best Hawaii luaus on Oahu, Maui, Kauai, and the Big Island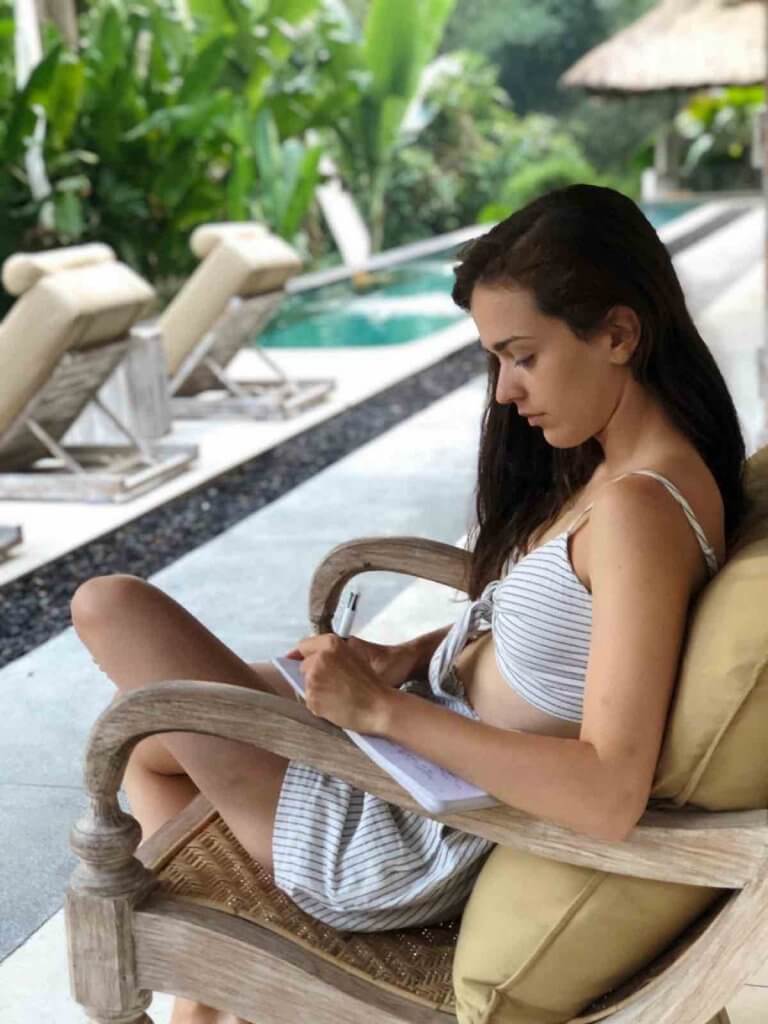 Quick Tips to Make the Most Out of Your Hawaiian Yoga Retreat
Pack the essentials
Make sure to bring everything you need – and that doesn't have to be too much.
Save your money and do not check in your bag. A backpack with all the essentials will do.
Opting for zero-waste essentials will be helpful if you aim to travel sustainably. When you can make the switch, you're helping the environment.
Here is a list of zero-waste swaps that are good for travel.
And since you'll likely be out in the sun enjoying the sea, sand, and surf, don't forget your reef-safe sunscreen.
If you have to buy sunscreen in Hawaii, choose a sustainable brand that does the job without polluting the waters.
And don't forget these Hawaii packing essentials!
Embracing the Aloha spirit
Wherever you go, be mindful of everything you do.
When in Hawaii, embracing the Aloha spirit means respecting the culture, the land, and its people.
Below are some tips on how to embrace the Aloha spirit and be more mindful:
Be mindful and be present. This means giving thought to your actions and words. Choose to greet people with joy and positivity.
Appreciate nature. It's not just about choosing to live sustainably in the name of the planet. It's also about taking time to marvel at nature's wonders and fully immersing yourself in your surroundings. When you're on a retreat, make it a point to visit volcanoes and go hiking to appreciate the natural beauty of Hawaii.
What to wear
Since you'll be bringing essentials, don't forget to include the right clothes.
You'll be going on a break on a tropical paradise, so it's acceptable to wear something casual. You can go for shorts and flip-flops and any breezy tops.
Bring extra layers as it gets chilly at night and early morning.
And of course, don't forget the right yoga outfit. Just think of anything comfortable to wear, as long as it's appropriate for yoga.
One idea is to order a Wantable Active Edit. It's a clothing subscription box that has lots of tropical yoga wear so you can find clothing that is comfortable and stylish. Get the latest rates and more information.
Enjoy the waters
There are so many activities you can do on the Hawaiian waters.
You can go for a mindful walk along the ponds on the Big Island; opt for a more adventurous time snorkeling and enjoying the sight of marine life; and there's also dolphin and whale watching.
Don't forget to pay the waterfalls a visit as well.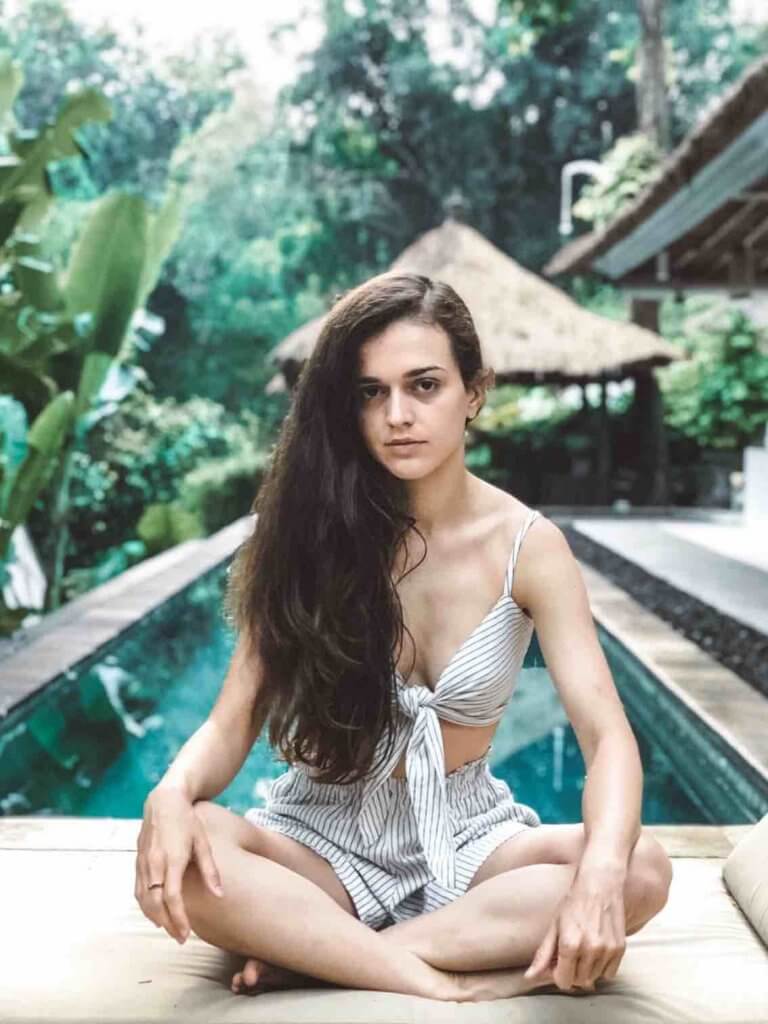 6 Best Yoga Retreats in Hawaii
Whether you need a solo or group retreat, or a taste of adventure to reconnect to your true self, Hawaii has something you need.
Here are some of the best yoga retreats Hawaii has to offer:
Big Island's Hawaiian Healing Yoga offers one of the best rejuvenating yoga retreats.
This 5-day Big Island yoga retreat might be what you need for that reset you deserve.
By joining the retreat, you will learn the value of taking care of your body and the importance of exercises, as well as learn about the benefits of a plant-based diet.
Specifically located in Puu Kamanu Loop 62, Hawaiian Healing Yoga is recommended for their warm atmosphere and a truly peaceful setting.
Dan and Stacey, who founded Hawaiian Healing Yoga, will guide you through this transformative experience.
There are couple retreats and a private retreats here as well. In five days, here are some of the activities you can expect:
Delicious vegan/gluten-free meals served three times daily
Daily Restorative Flow Yoga, Meditation and breathwork
Daily workshops for Clarity and alignment
Nature hikes and a visit to some of the most sacred sites on the island for that healing energy
Maui Healing Retreat offers different kinds of retreats that cater to the participants' individual needs.
There is a retreat for couples, a health and wellness retreat, and women's retreats, among others.
If you want to start anew, you might want to try their 7-Day All-Inclusive New Beginnings Retreat. This Maui yoga retreat package saves you all the hassle of traveling and getting to your retreat destination.
The planning and details of your retreat will all be taken care of by Maui Healing Retreat.
All you have to do is arrive on Maui with an open heart and mind, ready to take on a new chapter in your life.
The retreat package also includes daily delivery of your meals. You can choose from a menu of nutritious and fresh meals.
Maui Healing Retreat will help design a retreat that will suit your specific needs.
Find out all the best Maui yoga classes to try on your vacation
The idyllic atmosphere of Maui's Hale Akua Garden Farm and Eco-Retreat Center provides an environment conducive to spiritual growth and healing for couples, groups or families, and solo retreaters who want to reconnect to their true selves.
Hale Akua's thriving farm is also certified organic, which will provide healthy and fresh meals for retreat-goers to enjoy.
One of the programs offered at this beautiful Maui retreat center is the Yoga Nidra Integration Retreat.
If you feel like you've lost touch with your true self, this retreat might help.
The transformative week-long retreat will include activities such as morning meditation, daily yoga nidra classes, beach and waterfall adventure, and hot tub relaxation, among others.
The experience should be healing enough to release tension and trauma that will help you align with your true nature.
Organized by Buddhifool World, this Big Island retreat combines adventure and yoga.
During your stay, there will be daily Buddhi yoga sessions as well as an opportunity to reconnect with nature.
You will be exploring the Big Island and discovering the beauty that is Hawaii.
You'll even get to visit beaches and volcanoes, go for a swim, and hiking to see majestic waterfalls.
A lot of couples tend to choose Hawaii as one of the best honeymoon destinations. Why not develop spiritually together and deepen the relationship with a relaxing yoga retreat?
This Hawaii retreat is offered on a 10-acre organic farm, Lokahi Garden Sanctuary, on the Big Island.
The highlights of your 10-day Hawaii meditation retreat include daily morning meditation, body rejuvenation treatments, outdoor adventures, and a special couple's massage.
Participants will also enjoy farm-to-table meals.
Offered all-year-long, this Kauai retreat is headed by Diane Cline, RYT and takes place in Kauai's breathtaking North Shore.
Just like the other retreats mentioned above, the 6-day Yoga, Wellness and Spiritual Retreat by Yoga Inspirations combines yoga with adventure like snorkeling, hiking and visiting secret sacred spots.
These yoga retreats in Kauai usually cater to a group of only six people, so each participant's needs will be met.
Fresh cuisine made from organic ingredients are served twice daily; there are also customized kundalini yoga and meditation classes suitable for all skill levels.
In addition, Diane also offers sound alchemy – using sound to raise your vibrations and bring yourself into harmony – mind, body, and spirit.
After your classes, you also get free time to explore Kauai on your own, if you wish to do some self-reflection.
Bottom line
Hawaii is a great choice for a yoga break. The place offers fun and adventure and of course, a great opportunity for spiritual growth.
Not only that, you'll be able to connect with yogis from around the world since this lovely island is popular in the yoga community.
Whether you're going solo or for a group retreat, Hawaii will give you an experience you will never forget.
About Lucile
Lucile Hernandez Rodriguez is a Registered Yoga Teacher, Blogger and Mindful Business Advisor. She shares actionable advice on Mindfulness, Yoga and Travel on her blog, www.lucilehr.com. Get in touch with her on Instagram, Facebook or Pinterest!
Love this post about yoga retreats in Hawaii? Find out the best Maui yoga studios!