Planning a trip to Kauai with kids? Find out the best kid-friendly Kauai beaches for snorkeling, relaxing on the beach, and having fun with your kids!
This kid-friendly guide to Kauai post was written by Hawaii travel expert Marcie Cheung and contains affiliate links which means if you purchase something from one of my affiliate links, I may earn a small commission that goes back into maintaining this blog.
I've visited Kauai approximately 25 times since I was 10 years old. My grandma used to live part-time in Kauai when I was growing up.
My mom has been living on Kauai for the past 10 years. She's a Kauai wedding officiant and knows a lot of the best Kauai beaches for families and things to do on Kauai with kids.
So, I conferred with her to make sure all my info was up to date, and together we came up with the Kauai kid-friendly activities and beaches to enjoy on the island.
Out of all the things to do in Kauai, most of the family activities in Kauai meant going to the beach. From seeing sea turtles to all the tropical fish, enjoying a family game of beach volleyball, or simply relaxing on a beautiful beach with soft white sand, there are tons of popular Kauai beaches that offer the top Kauai things to do with toddlers and families.
If you're heading to Kauai for your next family vacation, keep scrolling for all the best things to do in Kauai with kids, which of course, equals spending plenty of time at the beach!
While I love all the Kauai beaches, I've listed my top choices for beaches in Kauai for kids and families to enjoy of all ages!
Don't have time to read a bunch of Hawaii blog posts and reviews? Here are some of our top picks for visiting Kauai with kids.
Best Kid-Friendly Kauai Tours/Activities
Best Kid-Friendly Kauai Resorts
Grand Hyatt Kauai (this is a personal favorite for my kids because of the water slide and saltwater lagoon)
Royal Sonesta Kauai (my kids LOVE the pool here because it's the largest one in Hawaii)
Hilton Garden Inn (we like renting the cottages here because you can walk to a massive playground)
Want to Rent a Car in Hawaii?
One of the best places to rent a car in Hawaii is Discount Hawaii Car Rental because they get the best rates from top national companies like Alamo, Dollar, Thrifty, Avis, Enterprise, Budget, and Payless.
Want to skip all the planning and just access my detailed Kauai Itinerary complete with daily schedules, kid-friendly activities, and travel hacks? Click the button below.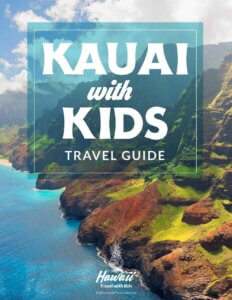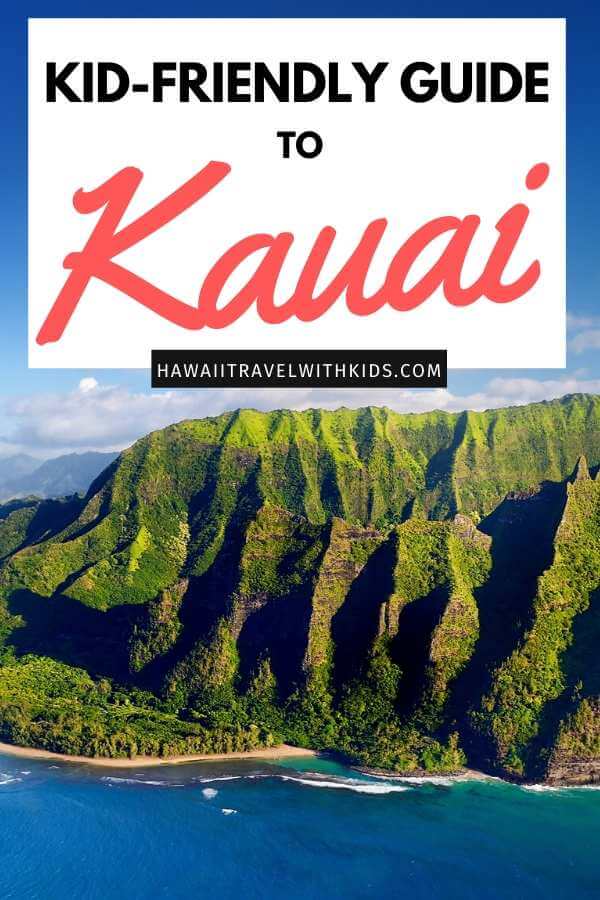 Best Kauai Beaches
Some of the most beautiful beaches are in Kauai. My family has been to tons over the past 25 years, but these are the best Kauai beaches for families and a few of my personal favorites.
Lifeguarded beaches in Kauai are always a good idea. Some of these include Haena Beach Park, Hanalei Bay Beach, Kealia Beach, Lydgate Beach, Poipu Beach, Salt Pond, and Kekaha Beach Park.
You can also always ask your hotel concierge or rental agent for some of the best beaches close to where you are staying too.
If you are wondering what to do in Kauai with kids, you cannot go wrong with Kauai's beaches!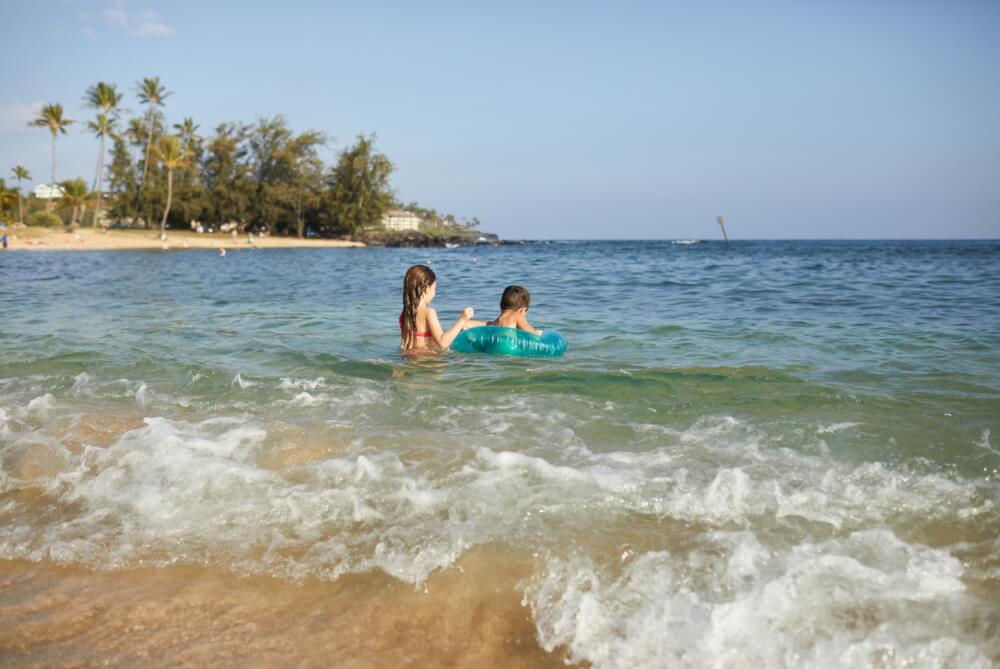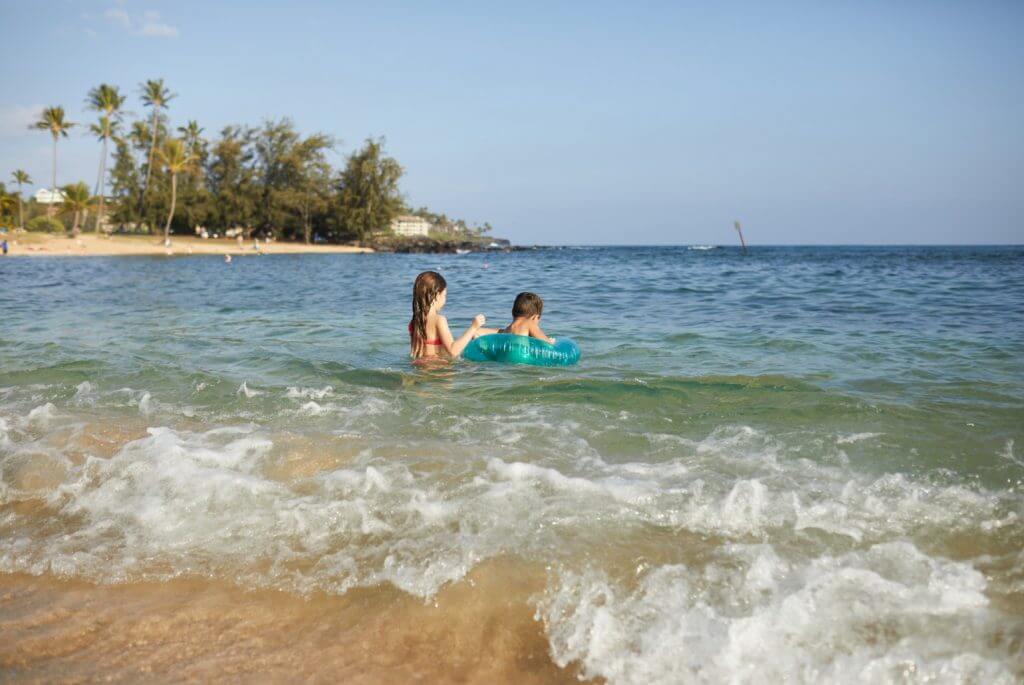 NORTH SHORE
Kauai's North Shore offers some of the best beaches in Kauai, where you can enjoy the Pacific Ocean and relax in the sun on the soft sand.
Hanalei Bay Beach
One of my favorite kid-friendly beaches on the North Shore is Hanalei Bay. Here you will find the Hanalei Pier, where kids can walk out and see fishermen and stand-up paddlers.
It's also a fun place for kids to play in the sand and water. Plus, Hanalei Bay is one of the best beaches in Kauai and is perfect for your Kauai family activities.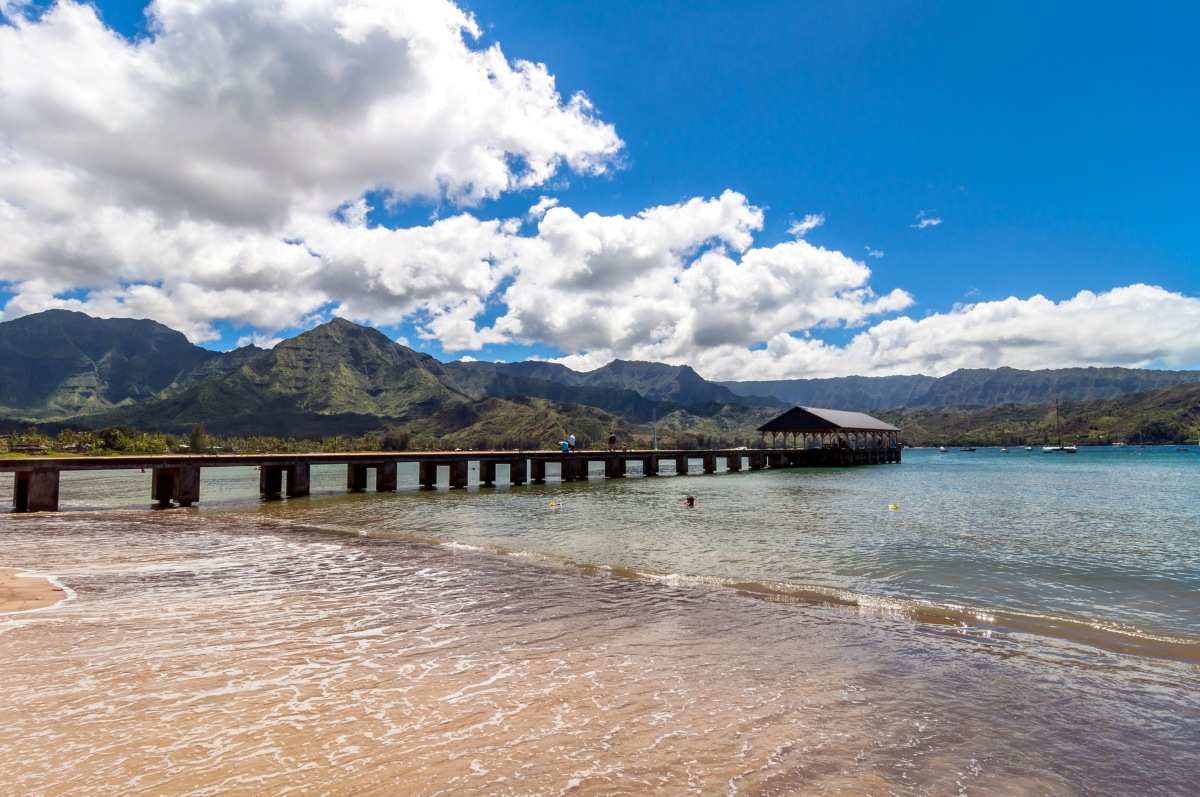 The palm trees here and the mountains in the background make for a stunning beach park to take pictures with your family!
You will also find a few picnic tables at Hanalei Bay where you can eat your lunch with your family too.
Anini Beach
While there is no lifeguard at Anini Beach, it offers some of the calmest, shallow waters, especially in the summertime. Anini Beach can be a bit dangerous in the winter, so be careful.
Windsurfers and kit surfers often come to this beach, which your kids will love to see out in the Pacific Ocean. Plus, there are a few palm trees to help with shading too, along with picnic tables.
Anini Beach is also one of the top snorkeling destinations too! Older kids will love seeing the tropical fish, so be sure to bring some snorkel gear!
Kahili Beach
Kahili Beach has a river, which can be fun for younger kids to play in and is another one of the things to do in Kauai with kids.
It's sometimes affected by flash floods and can get a bit murky, so make sure to check before you head there.
For teens, there is another spot on the beach that offers great conditions for boogie boarding and surfing.
Ke'e Beach
At Ke'e Beach, you will find showers, restrooms, and plenty of other great amenities, making it a great stop for your Kauai kids activities during your beach day.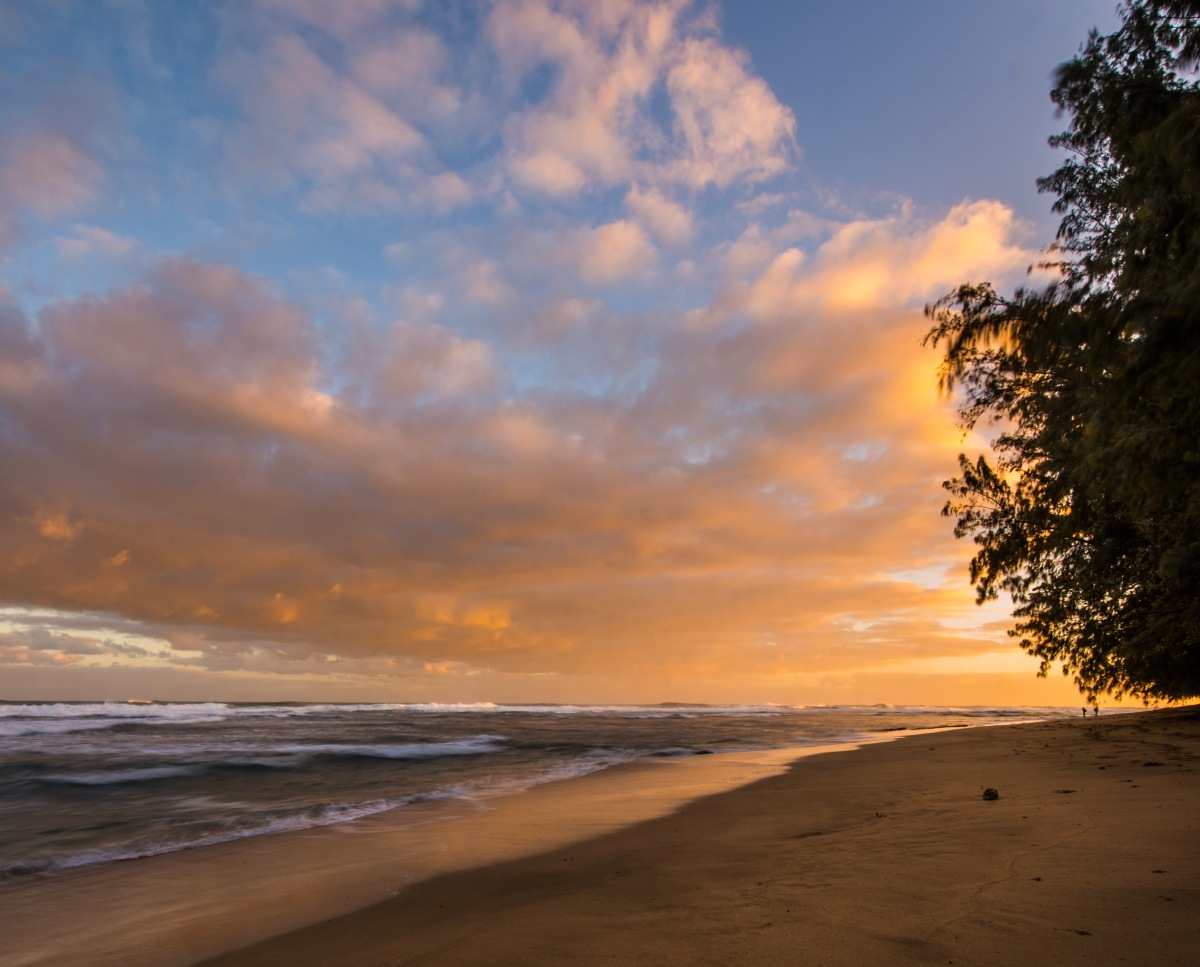 There is a lifeguard present, so you can enjoy swimming and snorkeling here and feel safe. It is one of the most protected beaches in Kauai, so you can enjoy seeing tons of marine life.
Haena Beach Park
Located right next to Kee Beach, Haena Beach Park is another great beach close to the Na Pali Coast on the Northern Shore.
Here you will find a beautiful white sandy beach with stunning turquoise waters.
During the summer, your family can enjoy looking for shells and swimming. But, sometimes, the winter can get some large waves, so be on the lookout.
Makua Beach
Makua Beach, also known as Kauai Tunnels Beach, is another top beach in Kauai for families. Here you can go scuba diving, snorkeling, swimming, and even shelling!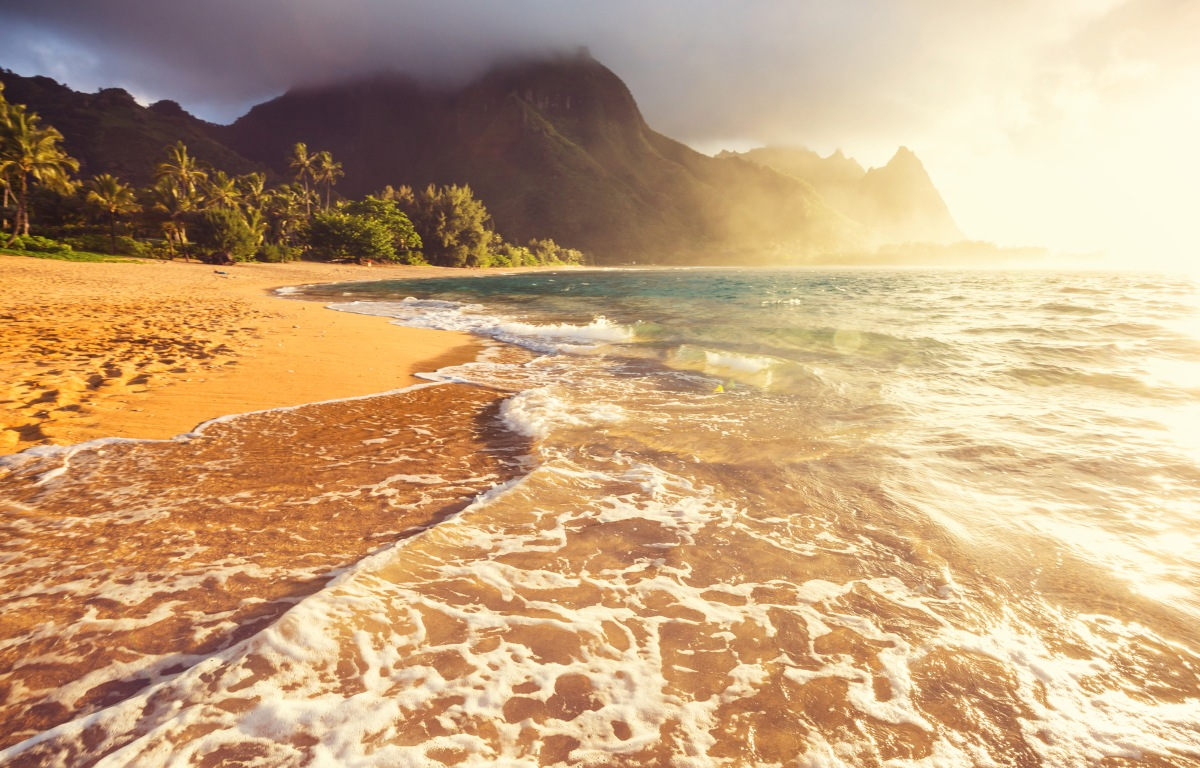 With the majestic mountains in the background, Tunnels Beach is another one of the best picturesque beaches for taking some family photos one day during your trip.
One of the top features of Tunnels Beach is that it has lava tubes to explore underwater that your family will love.
Secret Beach
Also known as Kauapea Beach, Secret Beach is a huge beach that is pretty secluded and known as a popular beach for locals to hit up.
Located near Kilauea Lighthouse, it is the perfect beach to head to after you go exploring with your kids around at more of the Kauai kid-friendly activities.
On the west side of the beach, small lagoons form, making it the perfect place for a kiddie pool for your toddlers. Make sure to stick to this side, and you will love Kauapea Beach!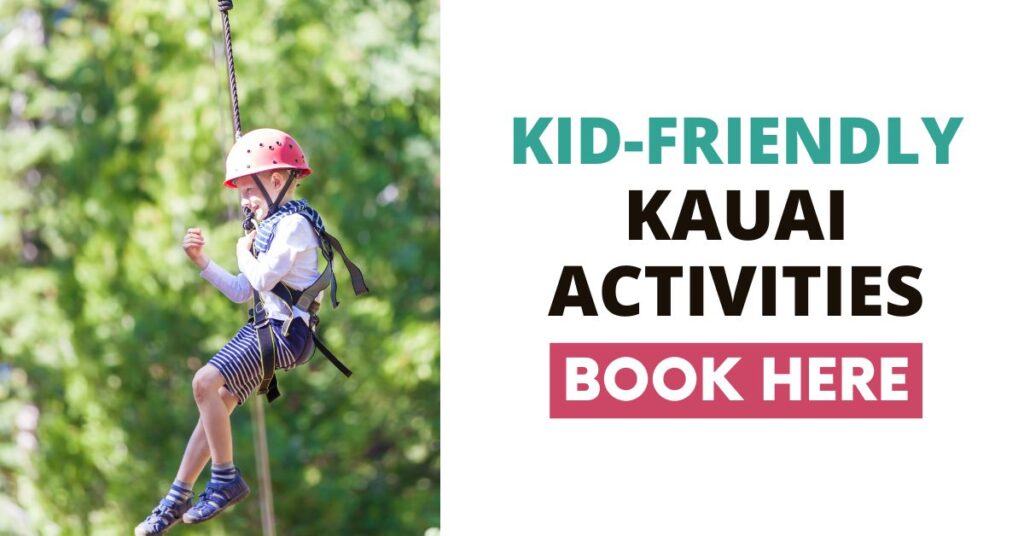 Kalihiwai Beach
Kalihiwai Beach offers a secluded bay where your kids can go paddle boarding or even kayaking along the Kalihiwai River.
Sometimes this does not have good swimming conditions, so check ahead before going.
Hanakapiai Beach
Also close to the Na Pali Coast, Hanakapiai Beach is accessible through a hike, but it is not a swimmable beach. You might see some experienced surfers out in the water, but it's probably best if you don't go out.
For families with older kids, you might enjoy the more advanced hike out and can relax on the sand when you finish.
EAST SHORE
The East Side also has some pretty nice beaches and Kauai activities for families to enjoy.
Kalapaki Beach
Kalapaki Beach is one of my favorites with little kids. It's right in front of the Royal Sonesta Kauai Resort.
The water is pretty calm and fun to enjoy, especially for younger kids. You can usually see cruise ships and airplanes, plus you can grab lunch at Duke's Barefoot Bar.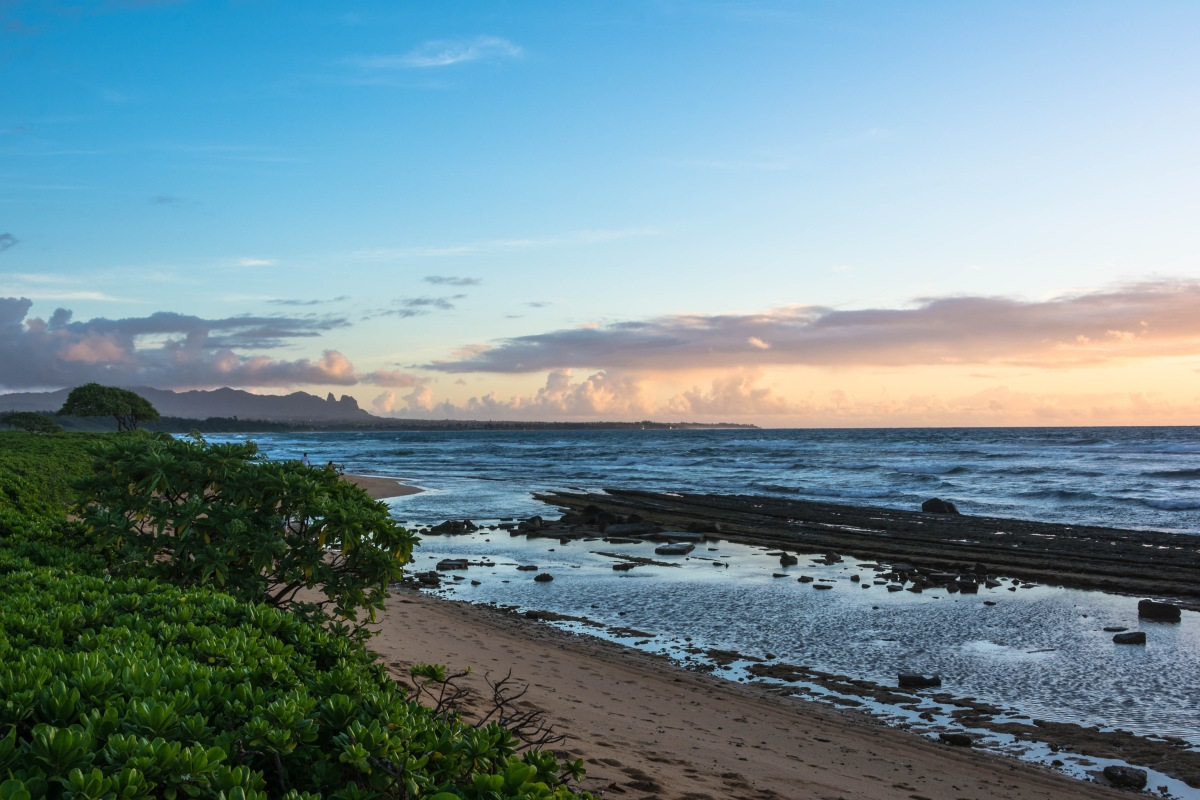 There is nice sand and even a pretty big grass area to relax on too at Kalapaki Beach!
It's the ultimate place to stop on the Garden Isle for your family trip.
Fuji Beach
Fuji Beach is Kapaa's "baby beach" and is located along Moanakai Rd and the bike path in Kapaa. Just be sure to keep an eye on your kids when they are near the water.
What we love about Fuji Beach are the tide pools for little ones to play in. Plus, it is a protected cove, which is always a good idea.
Lae Nani Beach
Lae Nani Beach on Papaloa Cove is pretty awesome for families. It's really small, so it's perfect if you are staying at a hotel or condo nearby.
There is a rock-protected area for kids to enjoy, and you might even see some sea turtles too!
Lydgate Beach
Another good choice for family-friendly beaches in Kauai is Lydgate Beach. Here you will find a lifeguard, picnic tables, showers, restrooms, and more.
It is another protected reef with two rocks keeping the waves out so your kids can safely play in the water.
Lydgate Beach is one of the popular beaches for beginning snorkelers, so bring your snorkel gear and enjoy!
Anahola Beach
Another one of the best beaches in Kauai is Anahola Beach. Here you will find a more secluded beach where you can go shelling and even fishing along the shore!
It's another fun place to go with your entire family, no matter what the age.
Kealia Beach
If you want to go surfing with your family, head to Kealia Beach. It is one of the best beaches where you can go bodyboarding and surfing.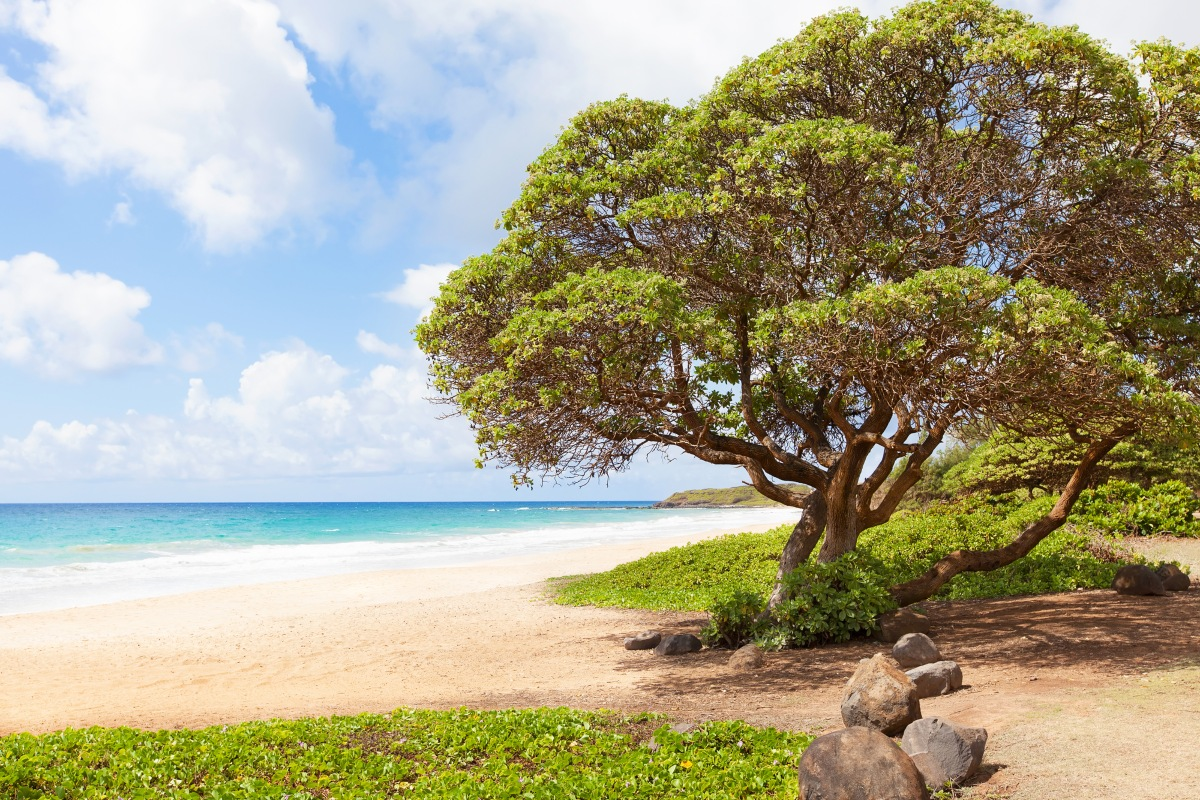 On the North Side, you will find a more calmer beach where you can enjoy swimming on some days.
WEST/SOUTH SHORE BEACHES
Beaches along the South Pacific and even the West Side of Kauai also have some of the best beaches in Kauai.
Salt Ponds
Salt Pond Beachis one of my family's favorite spots on the South Shore. It's in Hanapepe, and the last time we were there, my kids saw a sea turtle sunbathing on the beach!
The water is calm and perfect for little kids to try snorkeling too! There are even tide pools you can enjoy as well, perfect for toddlers and smaller children.
Poipu Beach Park
Of course, we cannot forget the Poipu beaches in Kauai. These beaches are amazing! Poipu Beach Park has been voted as the best beach in America, so you know you want to check this beach park out.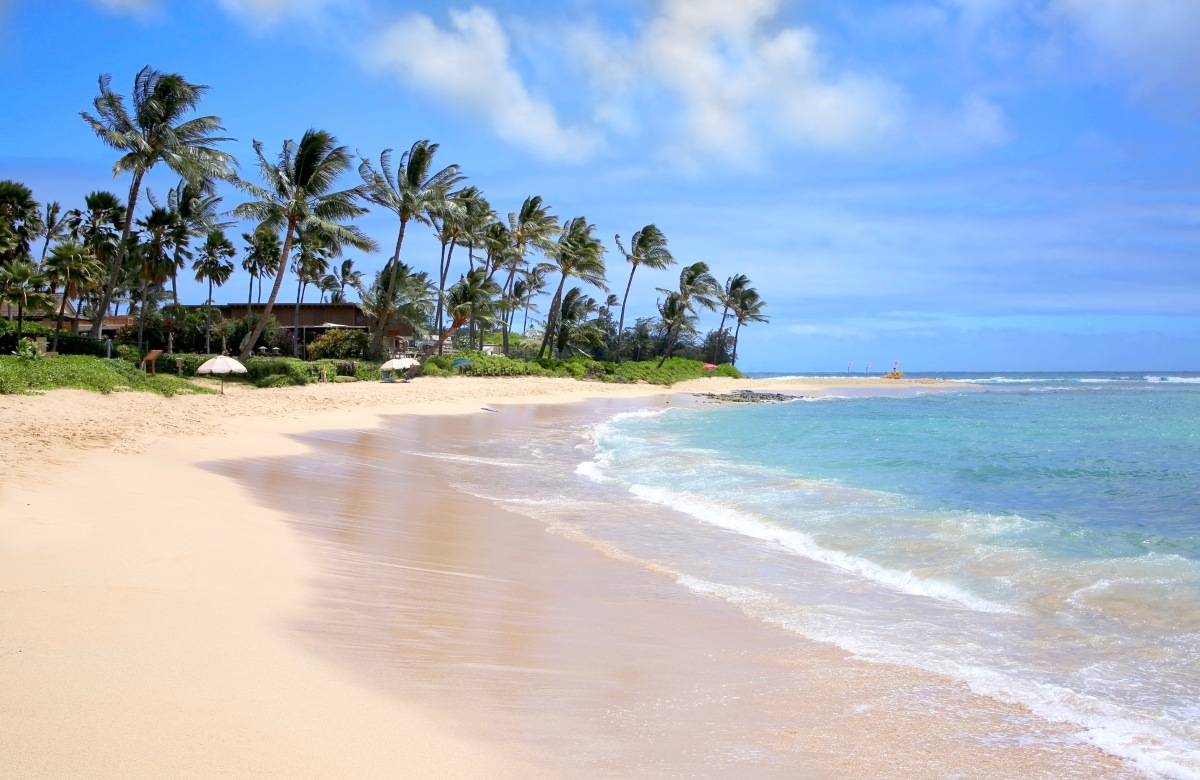 At Kauai Poipu Beach, you will find a tombola that separates this beach into two. Monk seals are often found on the tombola, which is a fun sight for kids.
The west side of Po'ipu Beach has a sand bar perfect for kids to go swimming and play in the water.
Snorkel gear rentals are close by Poipu Beach too! All in all, you will love this top-rated beach!
Keiki Cove
Keiki Cove Beach is a protected cove perfect for small children. It is a smaller beach and has gorgeous sunsets, so be sure to watch one for yourself!
This is a beach perfect for the winter with gentle waves perfect for swimming.
Baby Beach
Poipu also has Baby Beach, which is another great one for littles. It is another small beach like Keiki Cove, and most often, you are only sharing with one other family!
Again, it is another one protected by an outside reef and has a calm pool for kids to enjoy. Play in the tide pools, make a sand castle, or even see some tropical fish; the options are endless here!
Polihale Beach
For the longest stretch of beach in Hawaii, check out Polihale Beach. Here you will see a 17-mile long beach!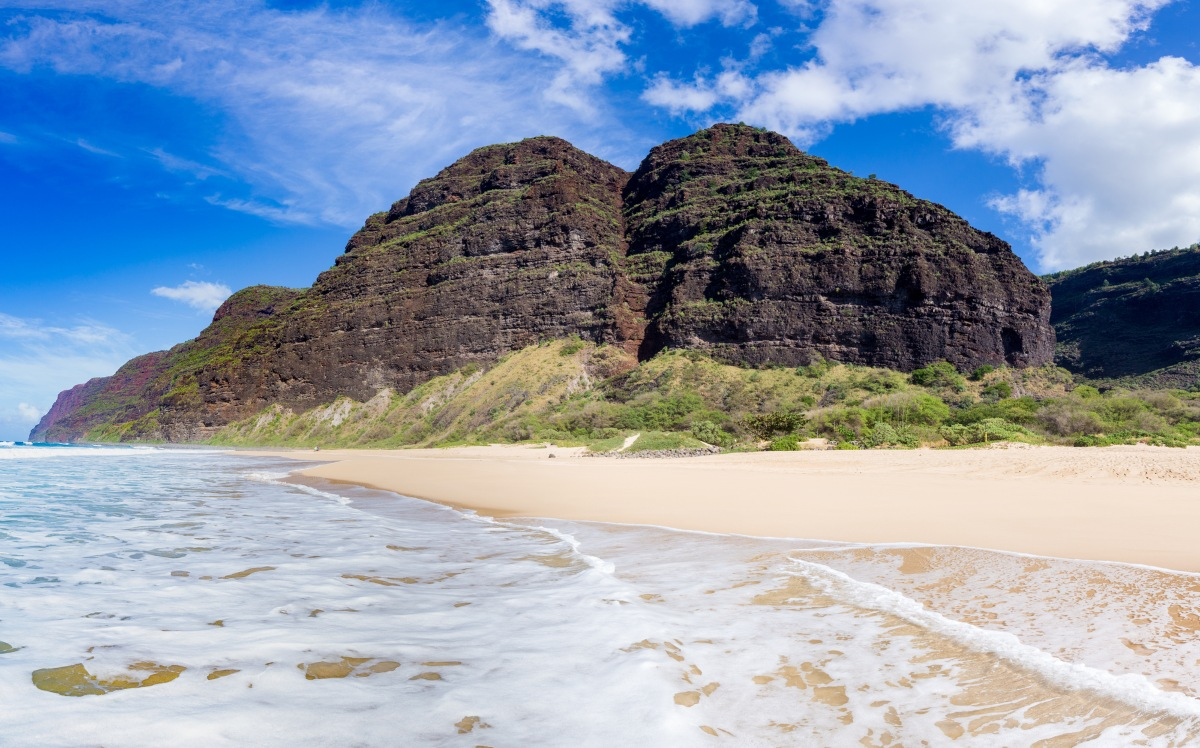 There are picnic tables along the beach, so you can enjoy your lunch before heading back to enjoy the ocean.
You can even go camping on some parts of this beach!
Kekaha Beach Park
While there is a picnic area at this beach, it does have some strong currents and might not be the best beach for little ones.
Kekaha Beach Park has some pretty gorgeous sunsets to enjoy, and you might find some cool seashells.
Shipwreck Beach
Also on the Southern Coast, Shipwreck Beach is another one of the best beaches in Kauai for body surfing or surfing in general and is great for teens.
Shipwreck Beach is located right by Grand Hyatt Hotel and is an awesome choice if your family is staying there.
The Mahaulepu Heritage Trail is also located on this beach if you want to go on another hike.
Best Kauai Snorkeling
If your kids are a bit older and you're looking for the best Kauai snorkeling spots, you're in luck! Kauai has some awesome snorkeling.
Typically, the North Shore is calmer in the summer, the South Shore is calmer in the winter, and the East Shore and West Shore are variable daily.
It's always a good idea to check the Daily Surf Report before deciding where to go.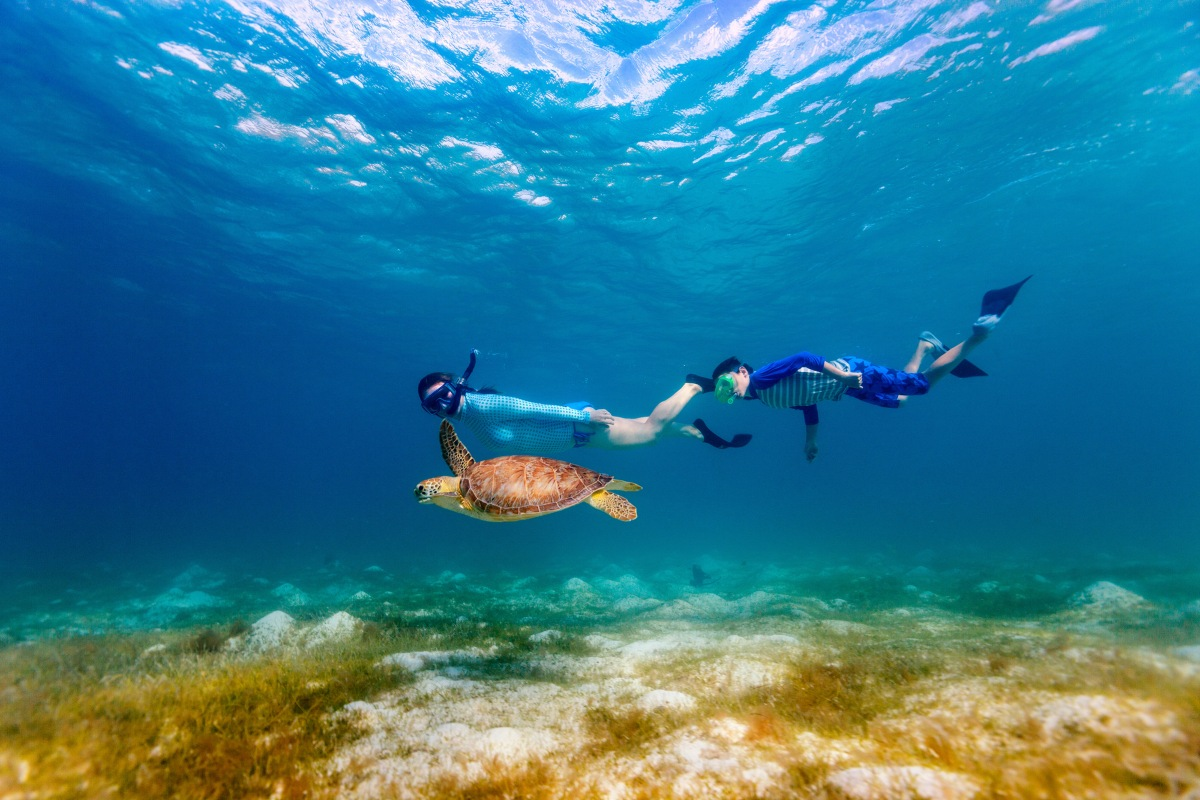 I'd personally recommend snorkeling at beaches that have a lifeguard on duty. However, there are snorkeling beaches at un-lifeguarded locations, such as Beach House Beach, next to the Beach House Restaurant in Poipu on Lawai Road.
Snorkel rental shops also keep on top of the surf conditions and can make recommendations.
Snorkeling off boats is fun. They usually anchor at a safe spot, and you don't have to worry about finding a good place to snorkel on Kauai.
For families with kids ages 5 and older, this SeaFun Snorkel tour seems perfect for beginners and is a great way to see turtles and fish. Check out the latest prices and more details.
Kauai Beaches with Kids FAQs
Is Kauai good for families?
Absolutely! It's a laid-back island with tons of kid-friendly beaches, restaurants, outdoor activities, easy hikes, and incredible resorts.
What can toddlers do on Kauai?
Some of the best things to do on Kauai with toddlers include riding the Kilohana Plantation train, playing at Baby Beach in Poipu, and enjoying story time at Warehouse 3540. You can see my full list of things to do in Kauai with toddlers here.
Is Maui or Kauai better for families?
Both islands are super kid-friendly. Maui is better for families who want to spend most of their time at the resort with just a couple day trips. Kauai is better for families who want to get out and explore, as Kauai is one of the most beautiful Hawaiian islands.
What side of Kauai has the best beaches?
While you can find plenty of great beaches all over the island, the Southern shore does offer more sunshine and beautiful beaches to enjoy. Plus, you will usually find calmer waters too!
Does Kauai have swimmable beaches?
You will find plenty of swimmable beaches in Kauai. From Lydgate State Park to Kee Beach, there are plenty of great swimming beaches to enjoy as one of the things to do with kids in Kauai!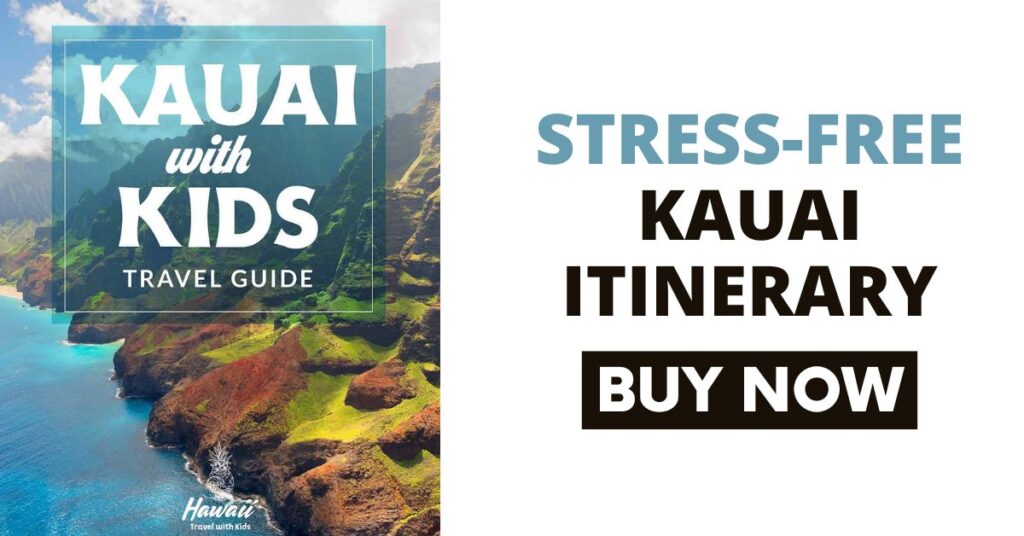 Best Beaches in Kauai Wrap-Up
From the crescent-shaped bay of Hanalei Beach to Polihale Beach, Kalapaki Beach, Ke'e Beach, Tunnels Beach, Anini Beach, and so much more. These are some of the best Kauai beaches to enjoy with your family!
You can enjoy swimming, snorkeling, scuba diving, beach volleyball, and so much more.
From the Napali Coast on the North Shore to Polihale Beach on the South Side, we've covered it all!
Now you can enjoy all your Kauai kids activities during your vacation at any of these locations.