Are you thinking about booking a trip to Kauai but don't know where to stay? Keep scrolling to find out some of the most amazing Kauai luxury vacation rentals worth checking out.
This list of Kauai luxury vacation rentals contains affiliate links which means if you purchase something from one of my affiliate links, I may earn a small commission that goes back into maintaining this blog.
There are a lot of reasons you might be looking at Kauai luxury vacation rentals for your next vacation. With over 35 trips to the Hawaiian Islands over the years with my family, we've stayed in all kinds of places.
I know that there are many benefits to booking a vacation rental over a hotel, like the space, privacy, and ability to cook your own food! In a rental home, you can stretch out and just relax a little more.
A luxury vacation rental in Kauai is the ultimate way to enjoy your time away with the family! Upscale bookings offer you all kinds of amenities you wouldn't get otherwise, like beachfront locations, housekeeping, pools and jacuzzies, and more.
If this sounds like a great way to experience Kauai, keep reading for amazing high-end villas and vacation homes for rent all over the island.
Below you'll find all the info you need to book luxury Kauai vacation rentals!
Don't have time to read a bunch of Hawaii blog posts and reviews? Here are some of our top picks for visiting Kauai.
Popular Kauai Tours/Activities
Favorite Kauai Resorts/Hotels
Grand Hyatt Kauai (this Poipu resort has a luxurious pool area, romantic restaurants, and a stunning ocean view)
Koloa Landing Resort (this is a luxury resort with an amazing pool area and truly spacious rooms)
Royal Sonesta Kauai (we LOVE the pool here because it's the largest one in Hawaii)
Want to Rent a Car in Hawaii?
One of the best places to rent a car in Hawaii is Discount Hawaii Car Rental because they get the best rates from top national companies like Alamo, Dollar, Thrifty, Avis, Enterprise, Budget, and Payless.
Want to skip all the planning and just access my detailed Kauai Itinerary complete with daily schedules, kid-friendly activities, and travel hacks? Click the button below.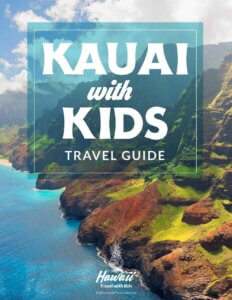 Luxury Kauai Vacation Rentals FAQs
How far is it from Lihue Airport to my vacation rental?
The Lihue Airport is on the East Side of the island, so it depends on where your rental is! If you stay in Lihue or Wailua, you'll be less than 20 minutes from the airport. Poipu on the South Shore is about 30 minutes away. Princeville and Hanalei are the furthest away with roughly a 90-minute drive. 
What is the best month to visit Kauai?
With the high season being summer, I think that the best time to visit is the shoulder seasons of either April to June or September to November. During these times, the weather is milder and you're more likely to find cheaper rates on airfare and places to stay.
What food is the most popular in Kauai?
Kauai has lots of delicious options native to the islands. If you're up for tasty raw fish, try some poke. Both lilikoi and taro root are grown on Kauai and you'll find all kinds of dishes that include them. Also, Kauai is a fun and diverse food scene that includes everything from Michelin star restaurants to area food truck tours!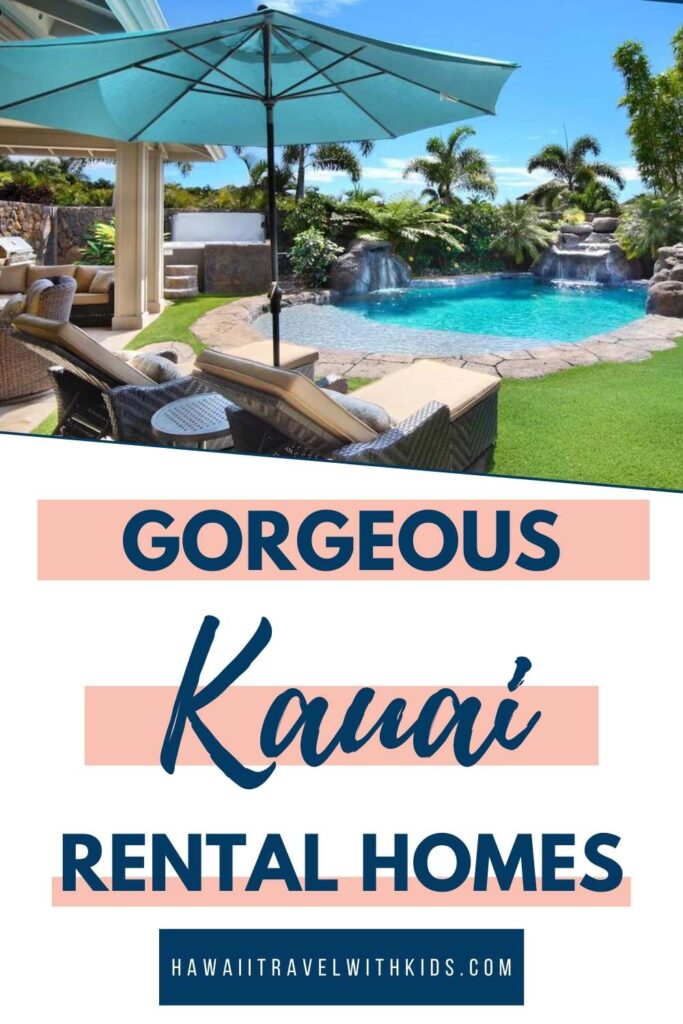 Where to Stay in Kauai
When you're looking for Kauai luxury vacation rentals, you quickly realize that you're limited to the North Shore, the East Side, and the South Shore. It's a lot trickier to find rentals on the West Side because it's pretty remote.
But even if you can't stay there, these isolated regions still have amazing sights you don't want to miss out on!
Inland has the Waimea Canyon and the West Side has untouched isolated beaches. It's fun to head West for day trips, but you'll want to stick to the rest of the island when searching for rentals.
Save Money with Points
Here are the best credit card offers for families who travel and want to use points to pay for airfare and hotels in Hawaii.
North Shore
If you love the stunning but quiet northern coastline, you can find great high-end rentals on North Shore. In the resort town of Princeville, you'll find mostly villas inside resorts and vacation communities. Enjoy the lavish life before heading out on a challenging day hike.

Look in Hanalei if you want to find beachfront or oceanside properties with 360-degree views of both the water and the mountains. Plus, you have the amenities of town.
And the older agricultural community Kilauea has more isolated estates with beach access.
East Side
Also called the Royal Coconut Coast, the East Side gets this nickname from the groves of coconut trees in the area!
This is the more populated side of the island with a mix of business communities, resorts/hotels, and natural areas that make for great day tours.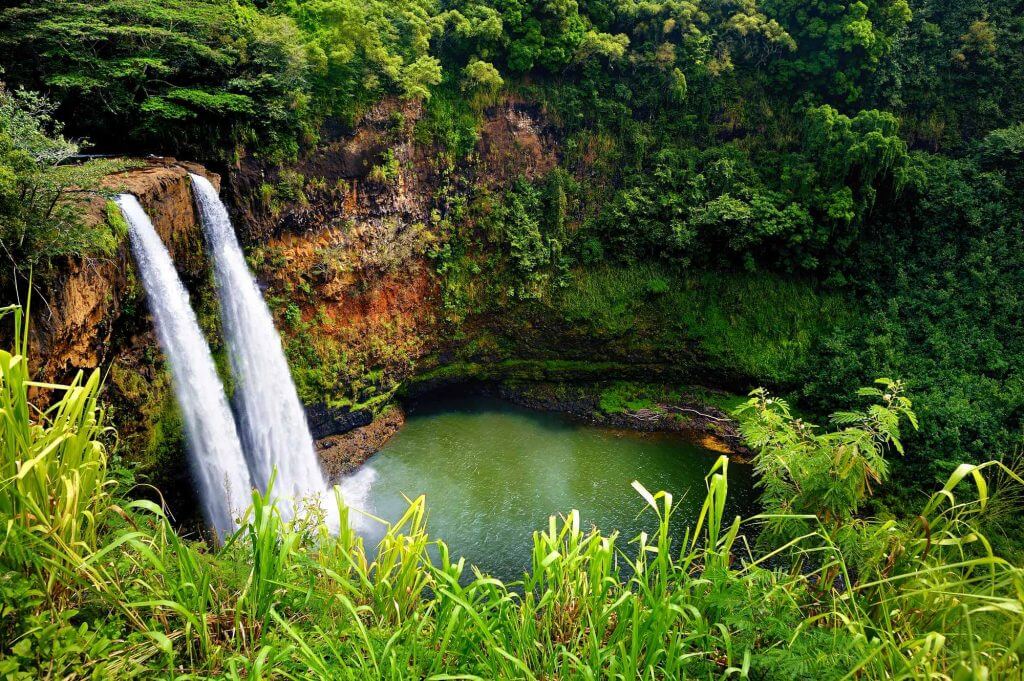 Both Lihue where the airport is and Wailua with its golden beaches are convenient places to find Kauai beachfront vacation rentals.
Choose from a mix of both large, high-end homes and villas, depending on where you look.
South Shore
If you want to enjoy sunny, warm beach days and lots of tourist attractions, check out South Shore!
The sprawling town of Poipu has shopping, historical sites, natural areas, golf courses, and miles of sandy beaches.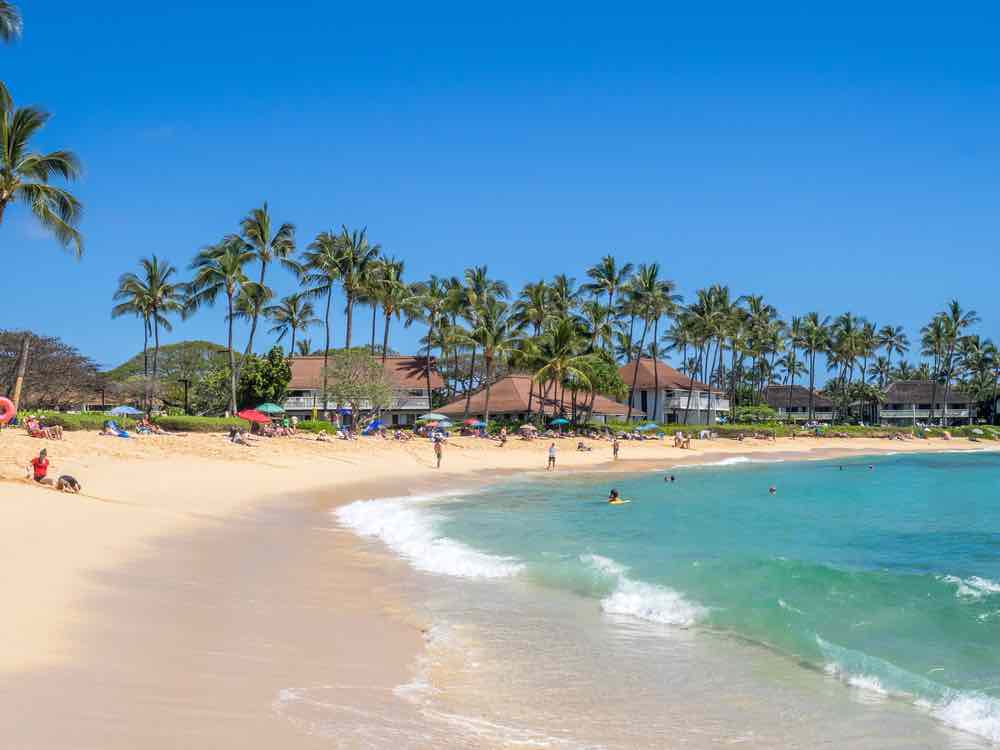 From here you can also take trips to smaller villages like Koloa just north of town. This is also the way you would drive west to Hanapepe and Waimea.
On South Shore you have a selection of villas and spacious upscale homes inside resort communities.
While you'll be hard-pressed to find beachfront properties in Poipu (besides resorts), you're still less than a mile away from several beaches!
Book a Family Photo Shoot
Whenever we travel to Hawaii, we almost always book a family photo shoot with Flytographer. They are super easy, affordable, AND it guarantees that I'll be in some photos. You can get $25 off if you book through this link or use the code HAWAIITRAVEL.
Types of Luxury Rentals in Kauai
In Kauai, you can find a variety of vacation rentals, from cottages and homes to condos and villas. However, if you want a place of a certain standard and price point, the variety narrows a bit.
When it comes to Kauai luxury vacation rentals, you can find quality homes and villas, both rented by both homeowners and larger rental firms.
Keep reading to learn the difference. I'll give you my picks for the best luxury vacation rentals in Kauai!
Villas
Villas are spacious condos or homes in resorts or vacation communities. Staying in a Kauai luxury villa rental means you get access to a lot of cool amenities.
Enjoy community gyms, pools, kids clubs, prepared meals, house cleaning, and more. Parking may or may not be limited to street parking.
Homes
On my list, you'll find a few luxury homes of different sizes. The island of Kauai features a variety of homes on large estates or vast acreage.
You can find homes with ocean views and beachfront locations, but they're much harder to get your hands on. There are just a few on the island, but I have a few to share with you!
By Owner
Usually, Kauai homeowners will book their villas and homes through sites like Vrbo or Booking.com. This allows a third-party involvement that protects both the homeowners and renters.
Note that Kauai vacation rentals by owner need to obtain a special license for short-term vacation rentals.
By Rental Management Companies
You'll find that rental companies will own several homes or villas or a combination of both.
Management companies are usually small family-owned businesses, but they can also be large firms. You'll find both private homeowners and management companies on my list.
Check Out These Fabulous Luxury Kauai Vacation Rentals
I've put together a list of some of the best Kauai luxury vacation rentals. They're organized by region.
Keep reading for a variety of gorgeous private properties you can stay in with your family!
North Shore
A family of 6 can enjoy this spacious modern Hawaiian home featuring 2 levels and 2500-square-feet of airy indoor spaces.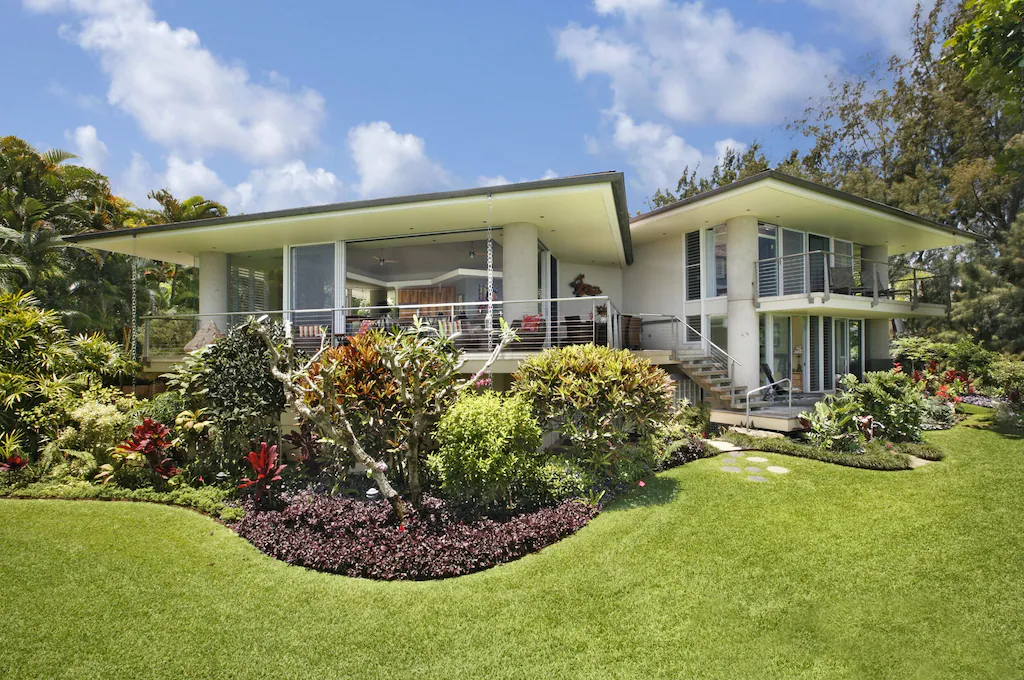 An additional 700-square-feet of lanai wraps around the great room and bedrooms for a truly Hawaiian vacation rental experience! Check the latest rates and availability.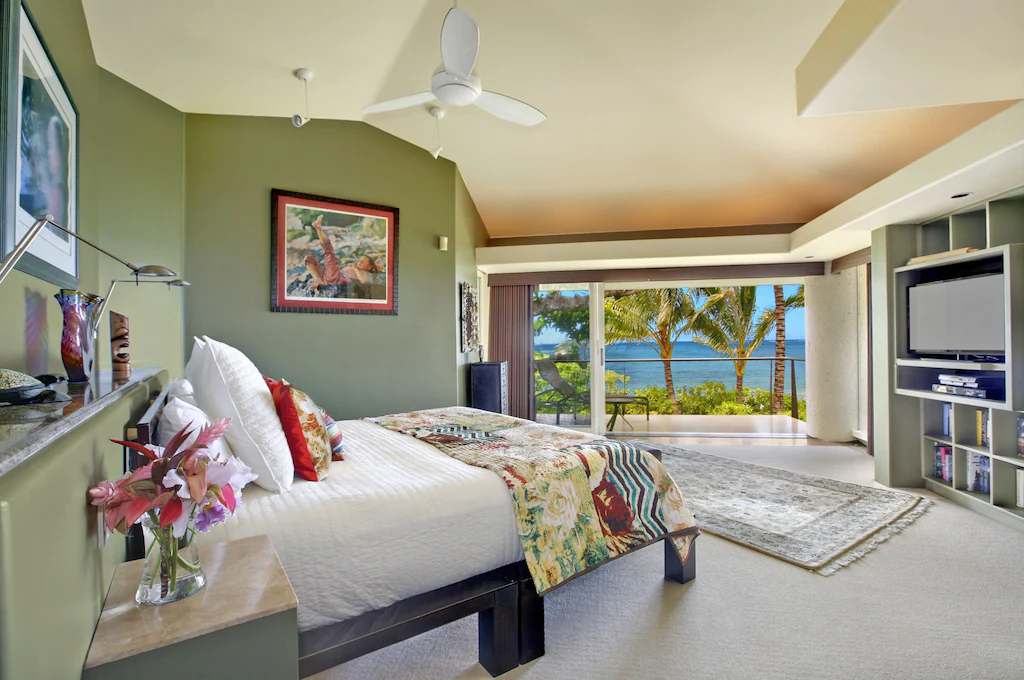 The beachfront property boasts a gourmet kitchen, open-air dining, and lounging spaces, as well as 3 bedrooms and 2 and a half baths. Spend time in the beautifully manicured yard and garden or take a few steps to Anini Beach.
If you're looking for Kauai luxury homes for rent in the heart of Hanalei, check this one out.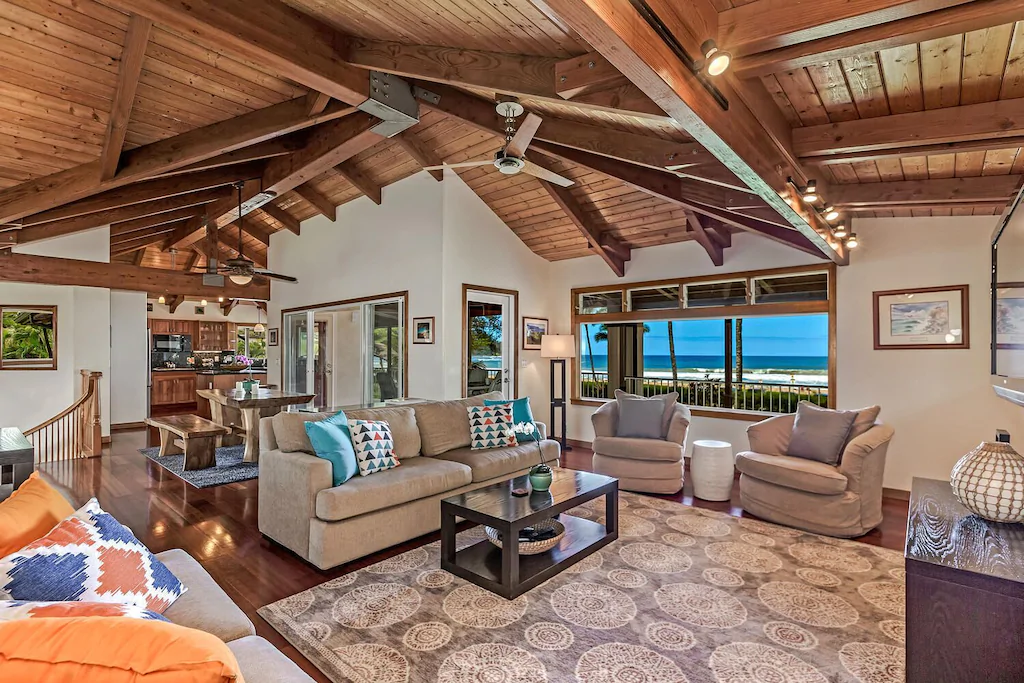 The sprawling 2-story oceanfront home sleeps up to 8, with 2 Kings, a Queen, and a sleeper couch that's perfect for the kids. Check the latest rates and availability.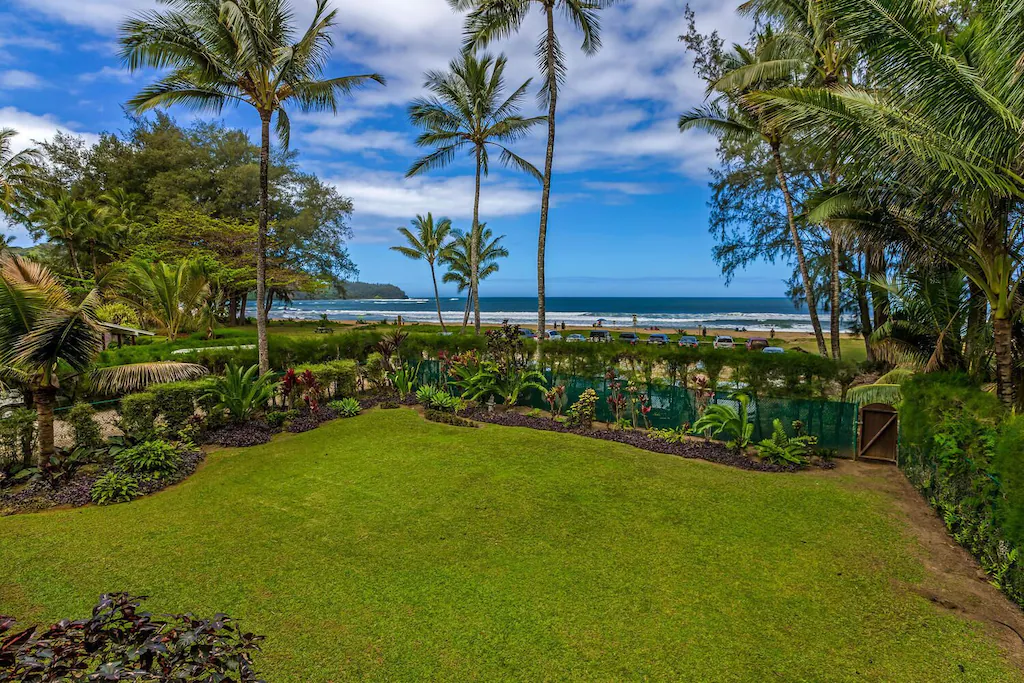 From the granite countertops and the vaulted wood ceilings to multiple levels of wrap-around porches, everything about this custom-built home is luxurious.
Enjoy a variety of kitchen appliances or take the complimentary beach towels and chairs down to Hanalei Bay Beach! This home doesn't have air conditioning, but every room has ceiling fans.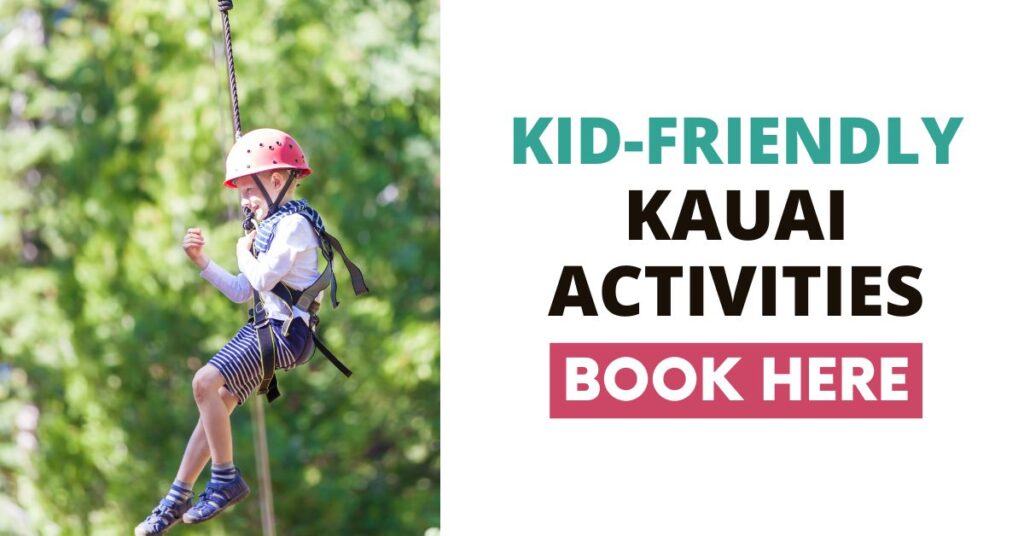 Stay on the peaceful Moloa'a Bay and enjoy a little piece of Hollywood history! This beachfront property is steps away from Moloa'a Bay Beach, where Gilligan's Island was filmed! The stunning home is truly a luxurious getaway.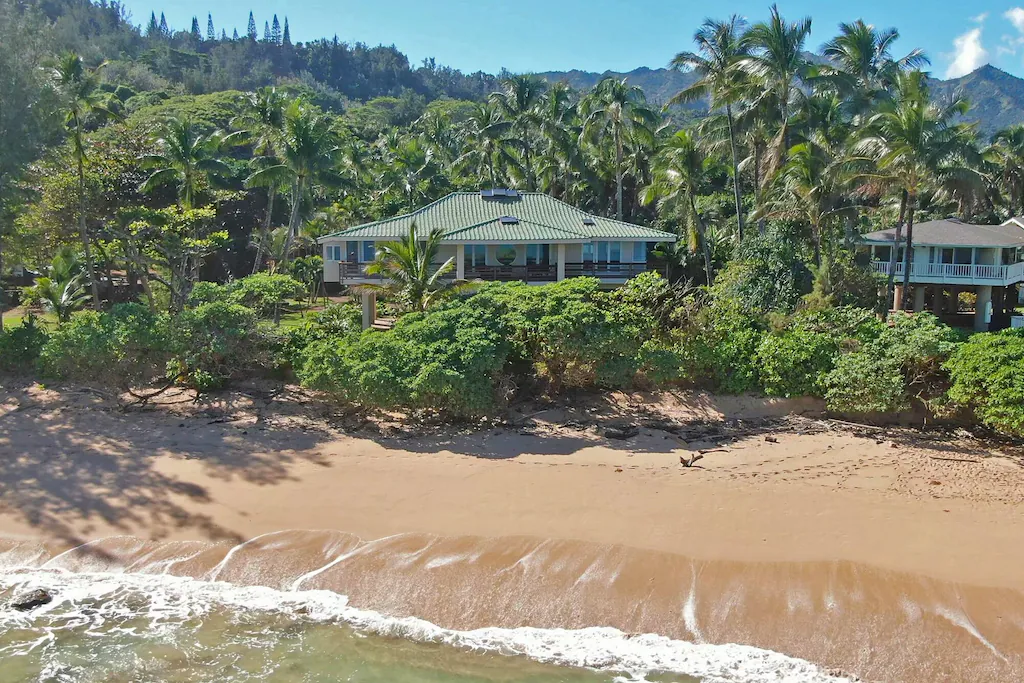 Enjoy the clean lines of warm wood trim and white walls while there are blue ocean waters and green mountains out your windows. Check the latest rates and more information.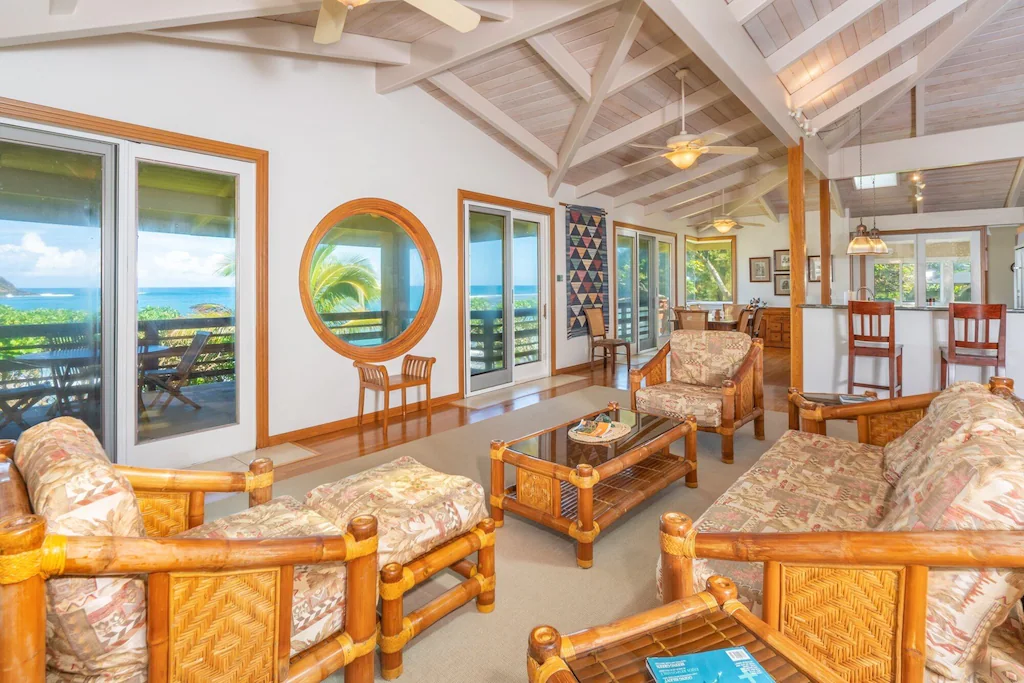 The full air-conditioned rental includes 3 bedrooms and direct access to over 2-miles of sandy beaches. Nearby, the bay is perfect for swimming, snorkeling, parasailing, and more.
East Side
No detail was overlooked inside this beautiful home that can sleep up to 10.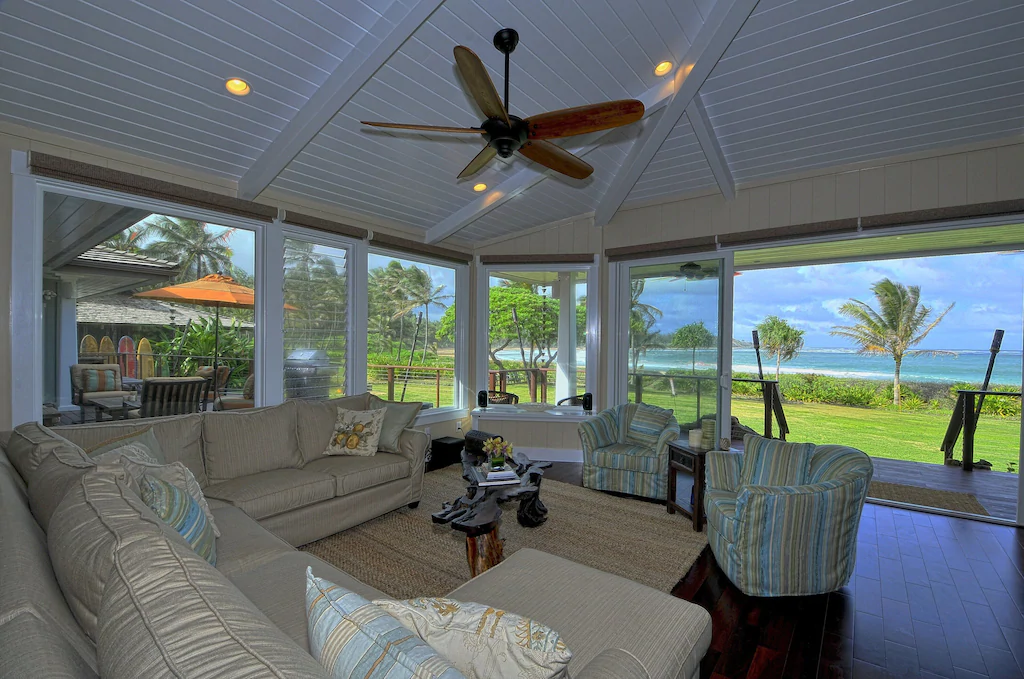 The 3 bedrooms feature unique artwork and gorgeous handcrafted wooden furniture. The adorable bunk room has bunk beds and a murphy bed for the kids. Check the latest rates and more information.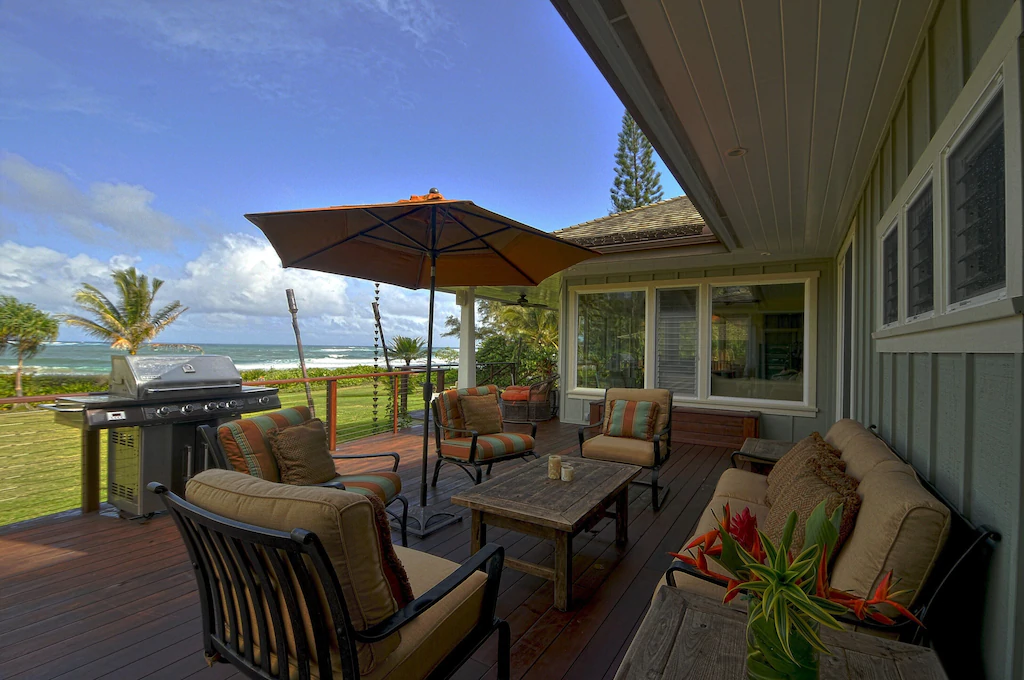 Enjoy the lanai off the great room, perfectly positioned for views of the beach. Barbecue on the spacious back porch or jump in the jacuzzi.
You are directly in front of Anahola Beach Park with breathtaking views of Kalalea Mountain to the northwest.
If you're looking for a Kauai luxury villa rental conveniently located in Lihue, this one is for you.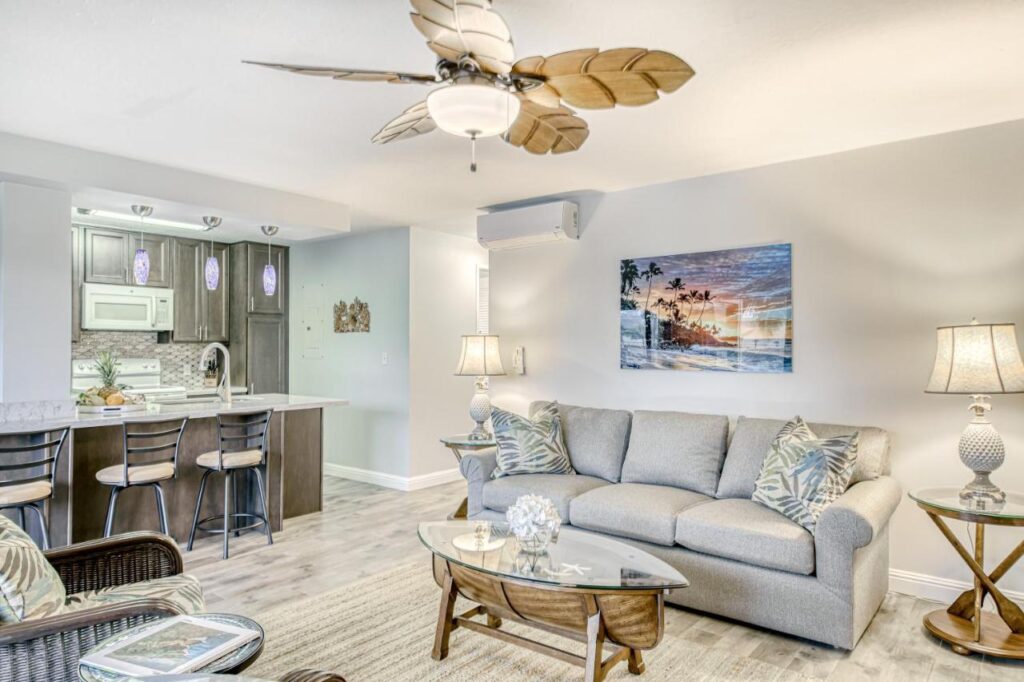 Stay at the Wyndham Kauai Beach Villas with all kinds of amenities. The stunning rental features 2 bedrooms with a King-sized bed and 2 twins.
You'll love the bright, neutral color scheme of this modern-contemporary villa. Check the latest rates and more information.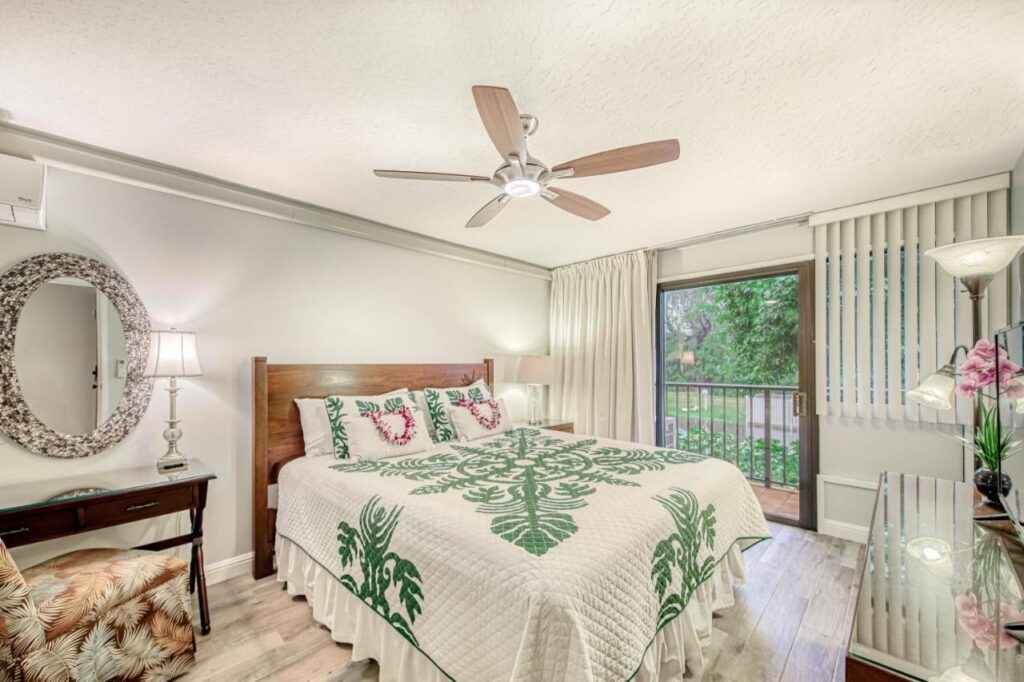 At the Wyndham, you'll have access to all the facilities, including barbecue grills, pools, a spa, a gym, and more. Or head to the golden sands of Kauai Beach that stretch for miles.
South Shore
For the ultimate experience in Kauai luxury vacation homes, check out this brand new 3025-square-foot home inside an upscale resort development.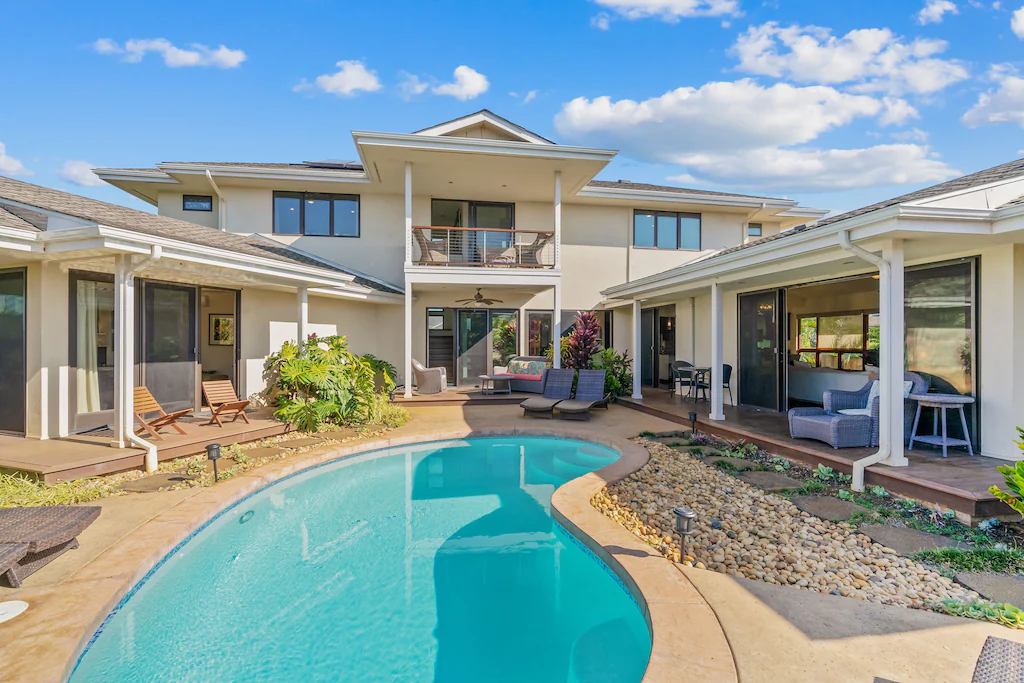 The U-shaped ground floor of the home is centered around a heated outdoor pool. Access it through sliding doors off the main bedroom, as well as from the living and kitchen! Check the latest rates and more information.
Up to 10 people can stay in the 4-bedroom, 2-level home. The common areas upstairs feature games for the kids as well as baby gates for you to use as you wish.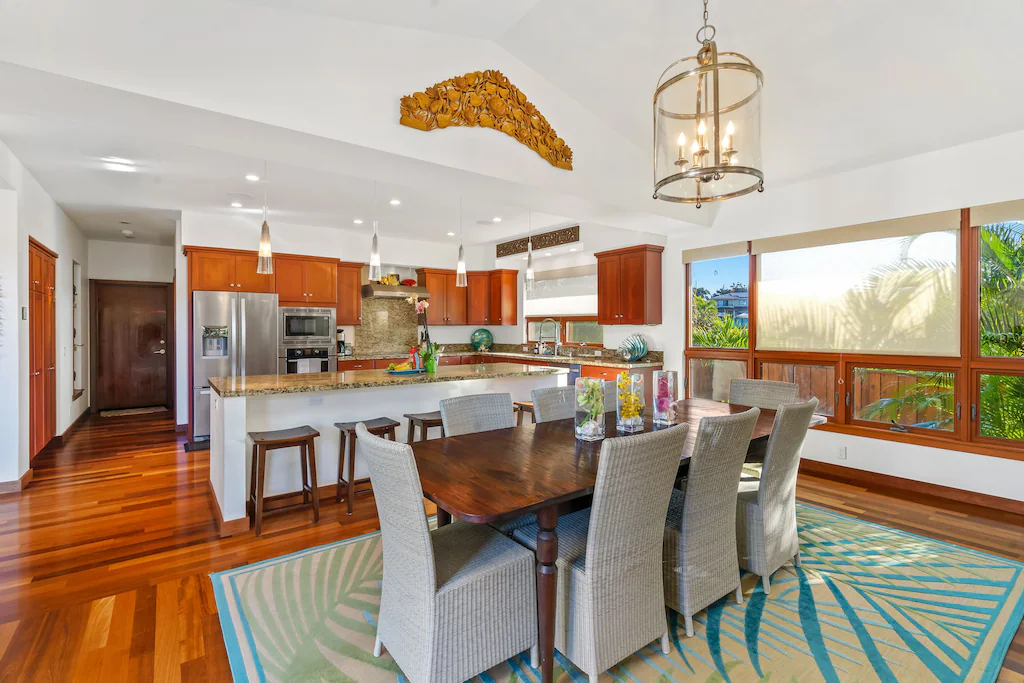 Turn on the central air throughout the house or open all the sliding screened doors featured in every room.
You have several optional services available with your rental, including concierge and massage service, as well as a private chef.
When you stay in Poipu, you're less than a mile away from high-end shopping, multiple soft, sandy beaches, and countless other tourist attractions.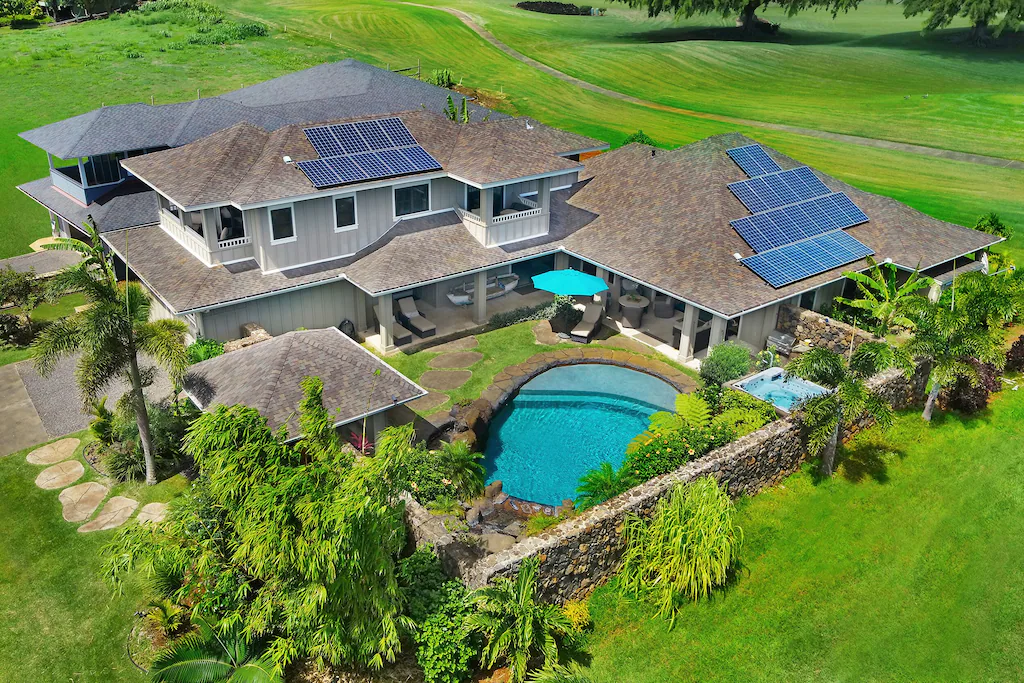 This 4-bedroom, 4-bath home is right off the 18th fairway at the Kiahuna Golf Course. Check the latest rates and more information.
Enjoy the open-concept main floor with a spacious kitchen, dining area, and common area that open up to the lanai with an outdoor dining space.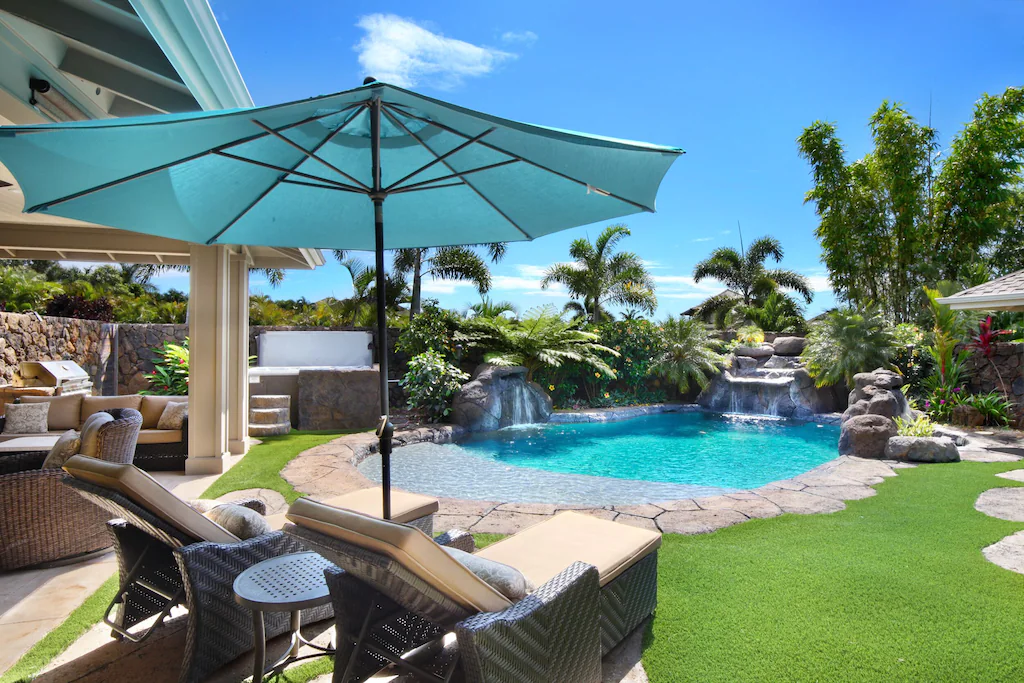 From there, you have a full view of the waterfall private pool, and whirlpool jacuzzi in the manicured backyard! This rental home also has air conditioning and a travel crib for young children.
Tips For Booking Kauai Luxury Vacation Rentals
Here are a few pieces of advice while you're researching how to book a luxury rental home in Kauai:
If you can't decide between North Shore and South Shore, consider splitting your vacation between both! While you could do a day trip to both regions, they offer very different experiences. Why not book a few days each at a rental on both shores?
When booking a rental with your kids in mind, know that a lot of these luxury properties include a variety of swim gear, children's toys, and games. but you might want to check first. I found that it's rare for Hawaii rentals to include things like travel cribs or pack-and-plays.
A lot of luxury villa communities make available cleaning services for a small additional fee. Check the listing or ask the owner if there are services available.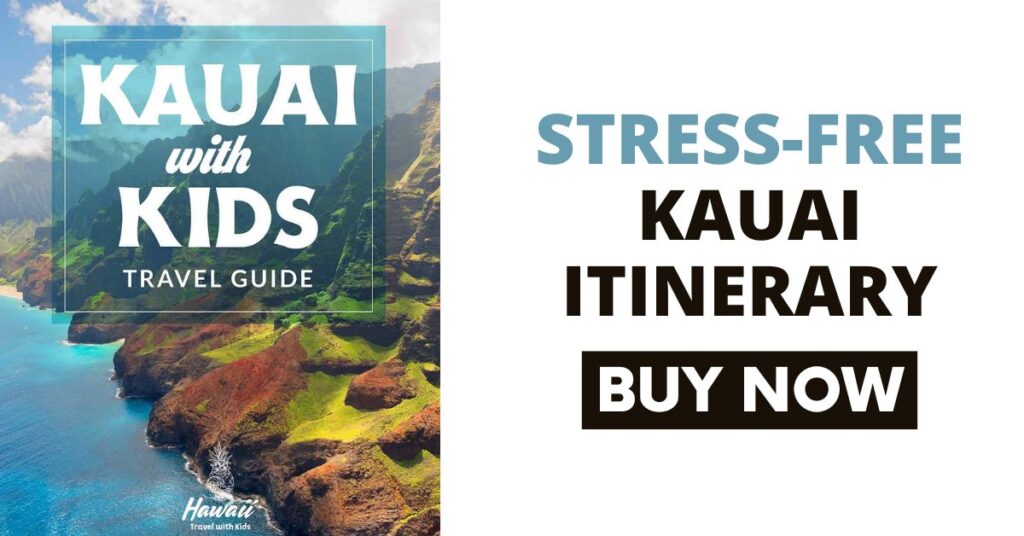 Enjoy the Ultimate Kauai Vacation with a Luxury Rental
Treat your family to the upscale vacation you deserve with one of these Kauai luxury vacation rentals. Relax with your whole crew or take advantage of private amenities that come with high-end living!
Did my list inspire you to splurge on a luxury vacation home in Kauai? If you need more ideas for where to stay in Kauai and tips on booking vacation rentals, check out this post on Incredible North Shore Kauai Vacation Rentals!