Are you looking heading to Kauai and looking for Instagrammable spots? Find out some of the best photo opportunities on Kauai that are fun and definitely "Insta-worthy!"
This photo opportunities on Kauai post was written by Hawaii travel expert Marcie Cheung and contains affiliate links which means if you purchase something from one of my affiliate links, I may earn a small commission that goes back into maintaining this blog.
With a nickname like the Garden Isle, it's no wonder people flock to Kauai for destination weddings, honeymoons, babymoons, and family vacations.
From quirky roadside attractions, trendy cafes, awesome food trucks, crazy adventures, and more, Kauai is one of those places that screams "Instagram me!"
When planning vacations, 40% of travelers under 30 years old are prioritizing the "Instagrammability" of possible destinations. No wonder millennials are flocking to Kauai!
In all seriousness, Kauai is a photographer's dream. There are tons of stunning natural wonders like Waimea Canyon, the Na Pali Coast, Mt. Waialeale, an array of waterfalls, Spouting Horn, the Tunnel of Trees, and so much more.
I've been visiting Kauai for the past 25 years, and it's amazing how many new attractions have popped up that are totally Insta-worthy.
If you're planning a trip to Kauai, you won't want to miss out on this Kauai Instagram guide with fun photo ops, gorgeous scenery, and places to take the best Kauai selfie!
Plus, check out my list of Hawaii Instagram captions to post with your awesome photos!
Here are the top Kauai Hawaii Instagram spots!
Don't have time to read a bunch of Hawaii blog posts and reviews? Here are some of our top picks for visiting Kauai.
Popular Kauai Tours/Activities
Favorite Kauai Resorts/Hotels
Grand Hyatt Kauai (this Poipu resort has a luxurious pool area, romantic restaurants, and a stunning ocean view)
Koloa Landing Resort (this is a luxury resort with an amazing pool area and truly spacious rooms)
Royal Sonesta Kauai (we LOVE the pool here because it's the largest one in Hawaii)
Want to Rent a Car in Hawaii?
One of the best places to rent a car in Hawaii is Discount Hawaii Car Rental because they get the best rates from top national companies like Alamo, Dollar, Thrifty, Avis, Enterprise, Budget, and Payless.
Want to skip all the planning and just access my detailed Kauai Itinerary complete with daily schedules, kid-friendly activities, and travel hacks? Click the button below.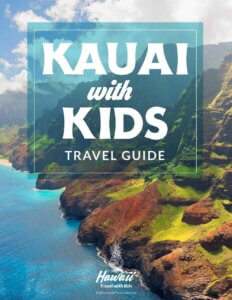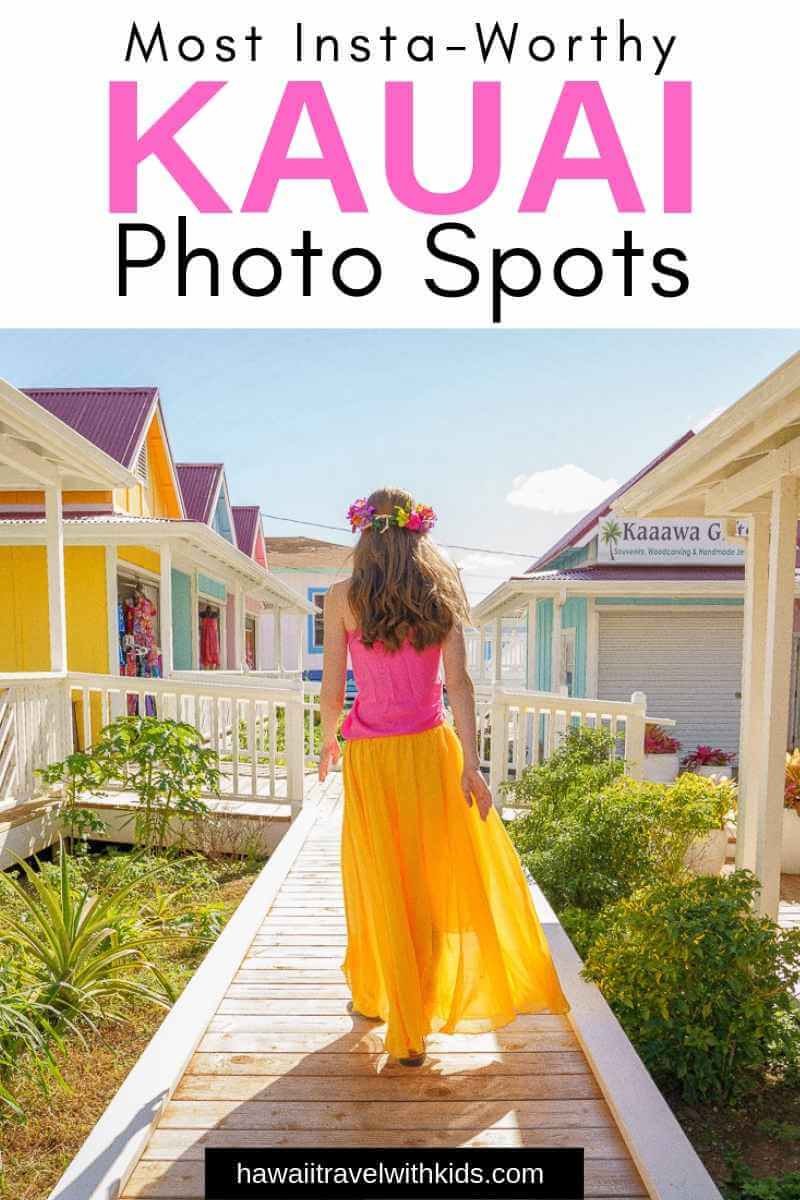 Best Photo Opportunities on Kauai for Instagram
Here are the best places to take pictures in Kauai!
Best Photos Opportunities on the North Shore (Hanalei, Haena, Kilauea)
The North Shore is known for its especially lush greenery and drop-dead gorgeous beaches. They've filmed many movies here, including The Descendants.
It's the rainiest side of Kauai, so it's important to check the weather before you go.
1. NA PALI COAST
One of the most iconic places on Kauai is the Na Pali Coast. It's the stretch of Kauai coastline that can't be accessed by car.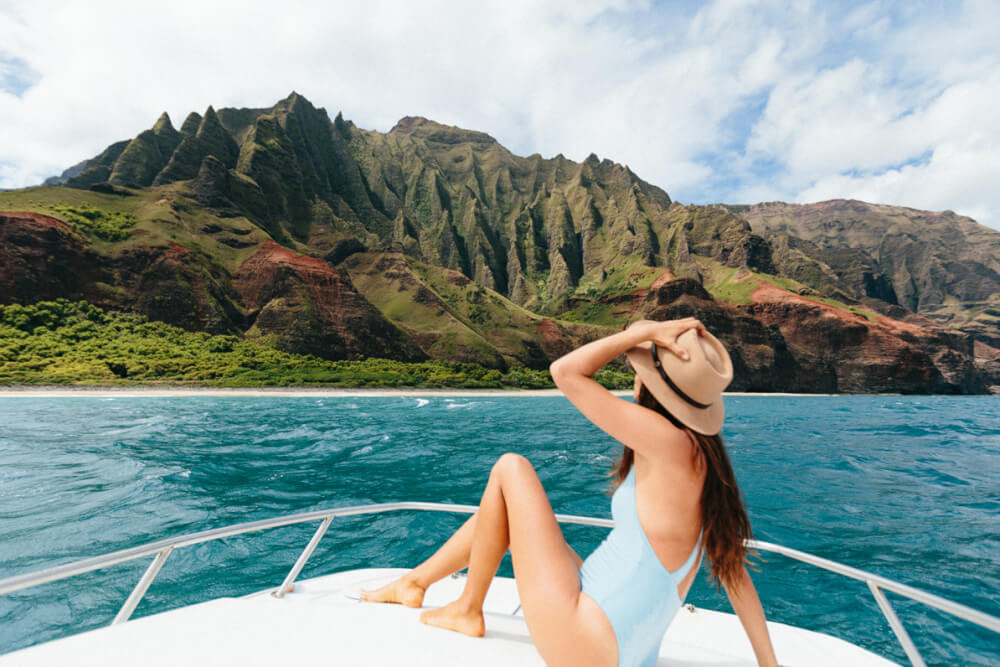 The ocean near the Na Pali Coast is where people go on whale-watching tours or sunset cruises. It's a great option for those who want Kauai photos in front of these beautiful cliffs.
However, I'm going to suggest getting photos of the views FROM the Na Pali Coast. This is best done by hiking the Hanakapiai trail (or the longer Kalalau trail.)
Tips:
The best way to do this is by hiking. You'll want to head to the end of the road and park at Ha'ena State Park. You'll have to get a parking reservation in advance.
You'll probably want to wear hiking clothes (and old socks) to get to the photo spots, but bring some changes of clothes for your photos.
The trail is sometimes muddy, and red dirt does stain. And be sure to check weather conditions as sometimes these trails are closed.
How to get to Ha'ena State Park:
Drive to the end of the road. I'm serious.
There are only 100 stalls at Ha'ena State Park, so your best bet is to take the Kauai North Shore Shuttle. You can purchase your shuttle and park ticket here.
2. WAIOLI HUIIA CHURCH
Whehen you drive up to Hanalei, you can't miss the Waioli Huiia Church. It's right off the highway, and it's absolutely stunning!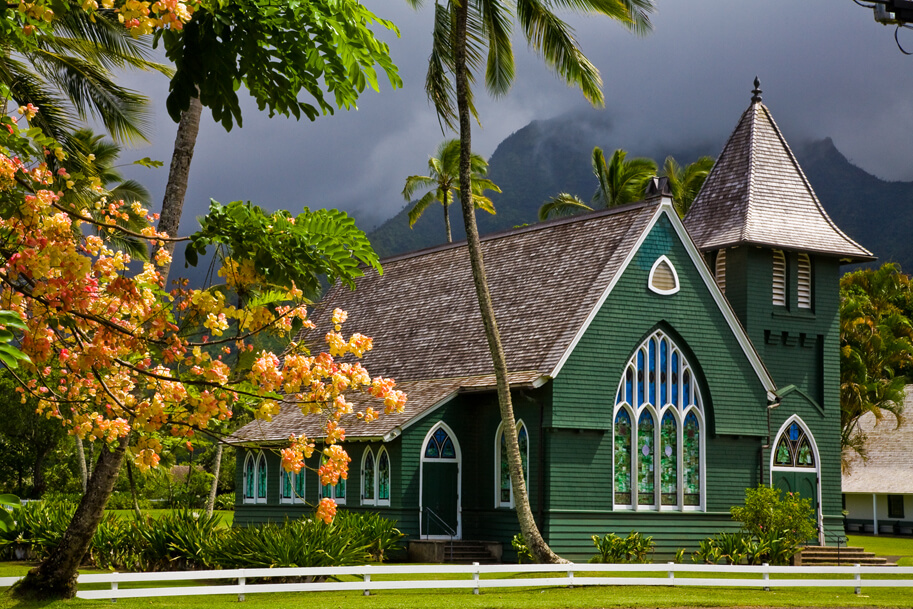 I mean, just look at those beautiful stained-glass windows!
The building was given to the Waioli Huiia mission in 1912, and it was built in the American Gothic architectural style. And it has a belfry tower with the old Mission bell.
And right behind the historic church, you can get a gorgeous view of the mountains and beautiful gardens.
Tips:
Walk around the entire church because there are so many beautiful angles, and you'll be able to get a lot of different shots.
It's best if you can go on a weekday so you won't risk there being service. Or if you are there during service, just be mindful and respectful.
The entire mountain backdrop of this location is green, so wear white, yellow, pink, or any other color that will stand out. This would be a fun place to wear a vintage muumuu! You can find them at thrift stores on Kauai.
How to get to Waioli Huiia Church:
The address of the church is 5 Kuhio Hwy #5363A, Hanalei, HI 96714.
Head North on the highway through Hanalei town, and the church will be on your left. There is plenty of parking in their lot (even on a Sunday.)
3. HANALEI PIER
Hanalei Pier is definitely one of the Kauai best photo spots on Kauai's North Shore. It pops up in almost any Kauai calendar.
Originally made of wood in the later 1800s, it's undergone several updates throughout the years. It's now made of concrete and has survived a few hurricanes, floods, and tropical storms.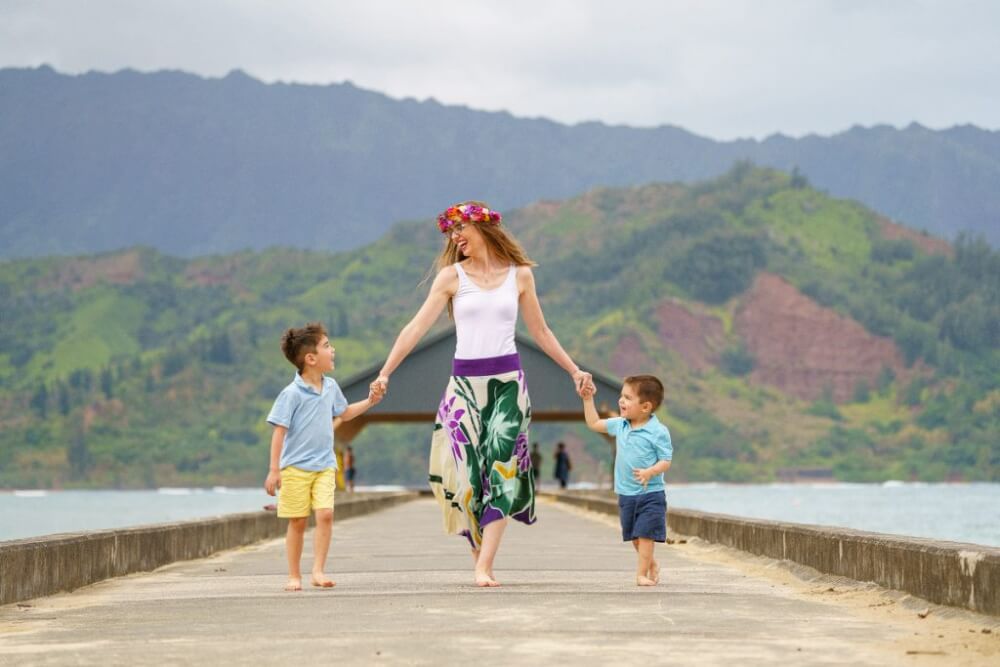 The Pier on Hanalei Bay is perfect for family photos because the pier is pretty wide. There's lots of room for big groups. And because the pier is super flat, it's easy to set up a tripod and set a timer on your camera to get everyone in the photo.
Not only can you take photos on the pier, but head under the pier for a completely different setup. And you can take photos on the beach with the pier (and the mountains) in the background.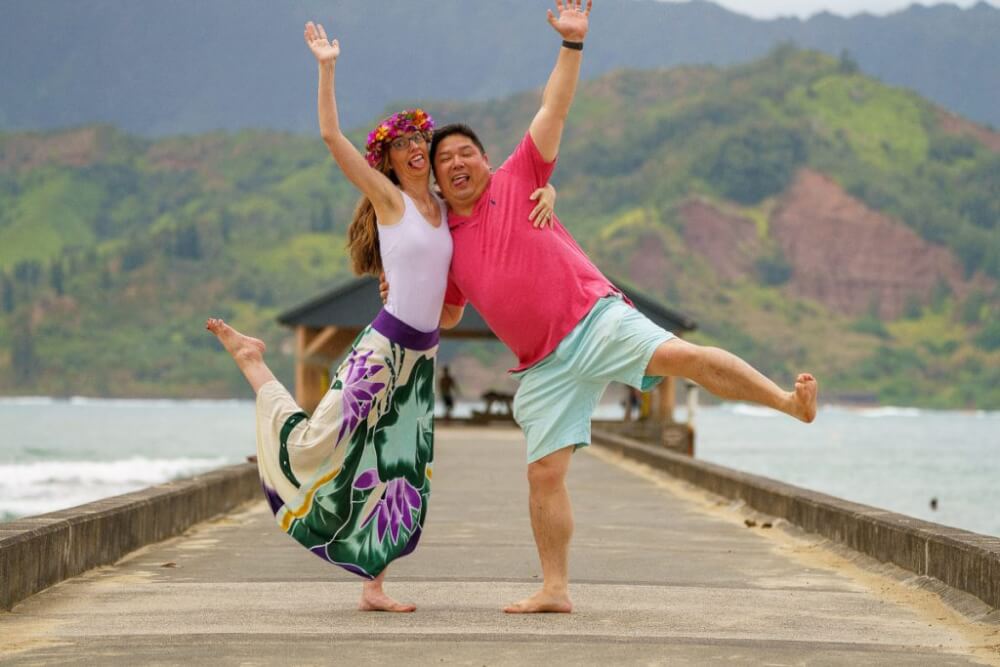 Tips:
Bring a tripod, if possible, so you can set up your shot. Find the best prices here.
It's also a great spot to take photos of the beach. The water is really calm, and it's perfect for little kids to splash in the water or build sandcastles.
I suggest wearing a swimsuit and pareo/sarong. If you really want to wow in your photos, wear a haku lei (Hawaiian flower crown) in your hair. Or at least a plumeria flower behind your ear.
How to get to Hanalei Pier:
It's located at the end of Weke Road in Hanalei.
Because of flooding, it can sometimes be tricky to get to Hanalei Pier. Check weather conditions to see if their parking lot is open.
There's a parking lot at Ama Ama Road that's open (near the lifeguard tower.) Unfortunately, several of the other parking lots are always accessible.
4. LIMAHULI GARDEN & PRESERVE
I always check to see where people do their destination weddings on Kauai. Limahuli Garden & Preserve is a popular spot because it's so beautiful!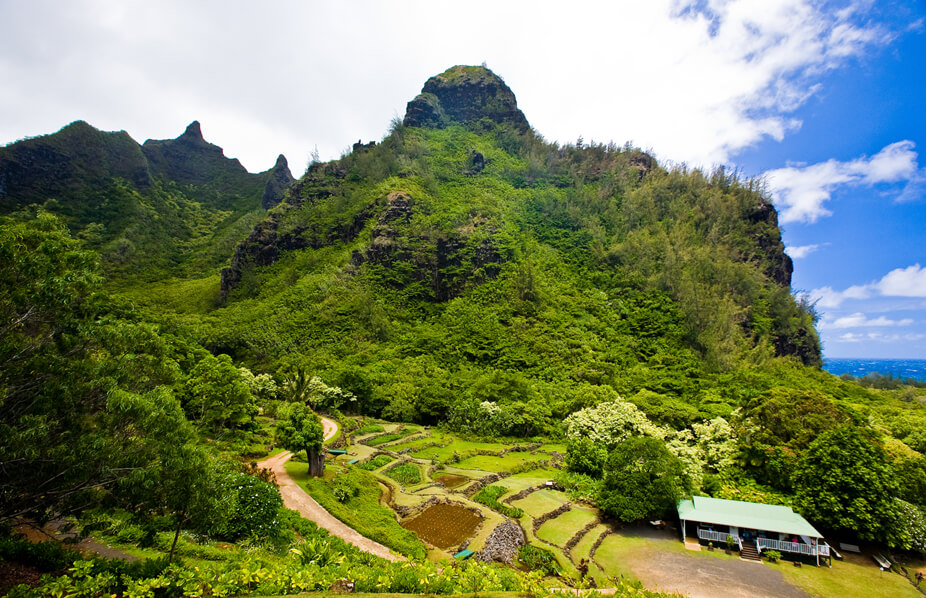 It's in a valley, so you get sweeping views all around, and it's pretty easy to find spots without a lot of people in the background. The Kauai landscape photography here is incredible.
They offer self-guided tours for $20, which is a great way to figure out where you want to take photos.
Tips:
Bring a tripod, if possible, so you can set up your shot. Check out the latest prices and more details.
The background is super green and lush, so you'll want to wear white, red, pink, yellow, or something that will stand out. I also recommend embracing nature by wearing a lei or flower in your hair.
How to get to Limahuli Garden & Preserve:
It's located at 5-8291 Kuhio Highway Hanalei, HI.
You can take the North Shore Shuttle or park in their lot.
5. KILAUEA LIGHTHOUSE
There's something a bit romantic about lighthouses, don't you think?
The Kilauea Point National Wildlife Refuge has been around since 1985. Here, you'll see ocean cliffs and the slope of a dormant volcano.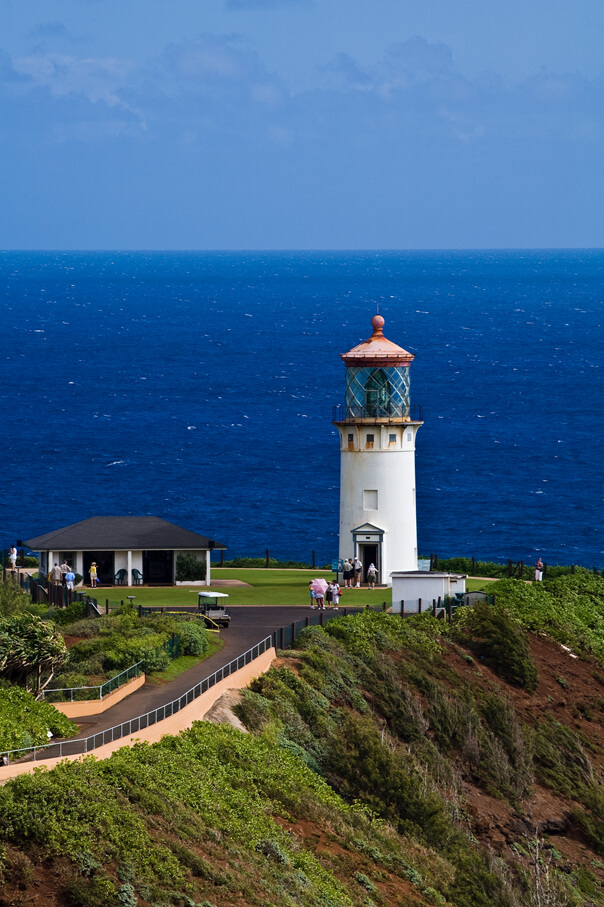 While you are there, take a few moments to look for whales, Hawaiian green sea turtles, or interesting birds.
You can also take photos at a scenic lookout where you can see the lighthouse in the background.
Tips:
Because of the wind, this is a great place to wear long maxi skirts or flowy dresses. Basically, anything that will move well in the wind.
It's also a cute place to wear anything retro.
How to get to Kilauea Lighthouse:
The address is 3580 Kilauea Rd, Kilauea, HI 96754.
Parking is limited, and visitors ages 16 and older must pay a $5 entrance fee.
Best Photo Opportunities on the East Shore (Kapaa)
The East Shore has a lot of photo spots really close together, so it's easy to do these Kauai tourist spots in a short time frame on your way to an activity like seeing waterfalls, kayaking, whale watching, or going on a boat ride.
6. LAVA LAVA BEACH CLUB
One of the cutest Insta-worthy photo spots on Kauai, is Lava Lava Beach Club in Kapaa!
They have created this cute photo backdrop and even have a sign with their social media handles and hashtags!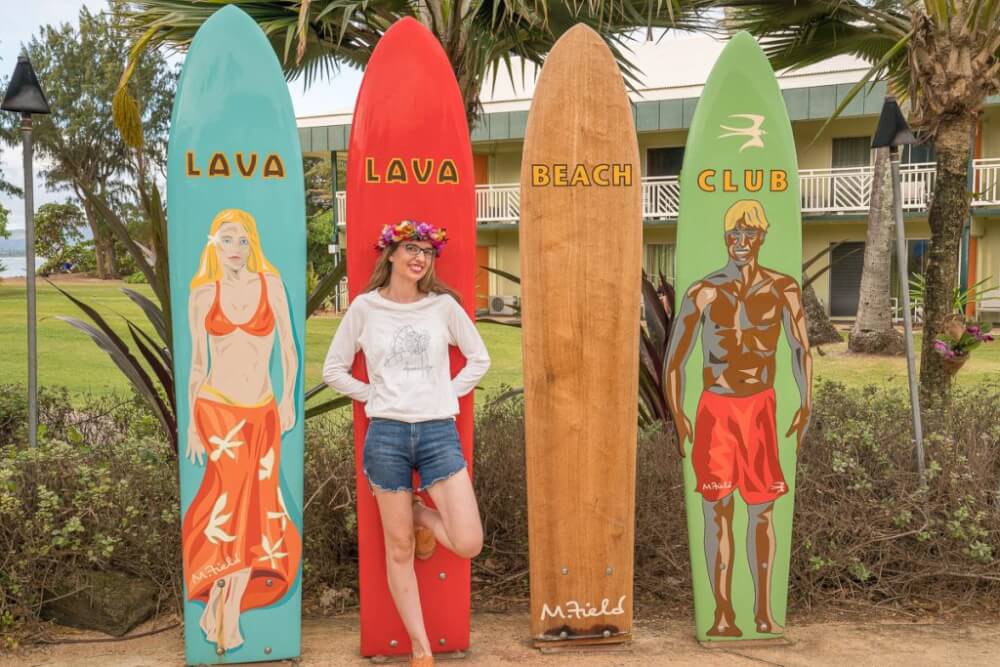 If you scroll Instagram looking for cute photo spots on Kauai, this is one of the most popular places that will pop up. I love the bold colors, and you can wear just about anything in front of it.
This photo op is hidden away, so if you didn't already know of it, you probably wouldn't come across it (unless you are staying at the Kauai Shores Hotel.)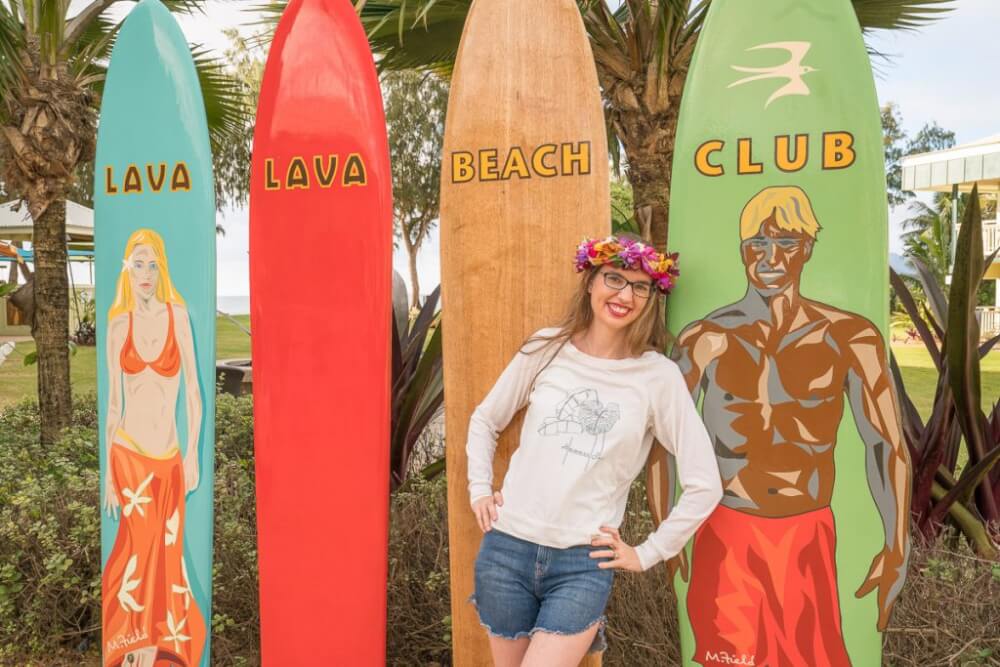 Tips:
This is a cute one to wear a swimsuit, a sarong, or wear pin-up clothing. Plus, you can grab a drink inside after your photo!
How to get to Lava Lava Beach Club:
The address is 420 Papaloa Rd, Kapaʻa, HI 96746.
The photo spot is located outside of Lava Lava Beach Club at the newly renovated Kauai Shores Hotel.
Parking is really difficult unless you park at the Coconut Marketplace and walk over. The easiest way to get here is to walk, especially if you are staying at a nearby condo.
As one of the secret spots in Kauai, you will love this place!
Book a Family Photo Shoot
Whenever we travel to Hawaii, we almost always book a family photo shoot with Flytographer. They are super easy, affordable, AND it guarantees that I'll be in some photos. You can get $25 off if you book through this link or use the code HAWAIITRAVEL.
7. KAUAI JUICE CO.
The pictures of Kauai at this photo op always make me smile, whether I see them on Instagram or in person on the Garden Isle.
At their Kapaa location, Kauai Juice Co. has the best Instagram wall on Kauai. It's the multicolored pineapple wall that is all over Instagram. And for good reason!
I mean, it's so bright and cheery!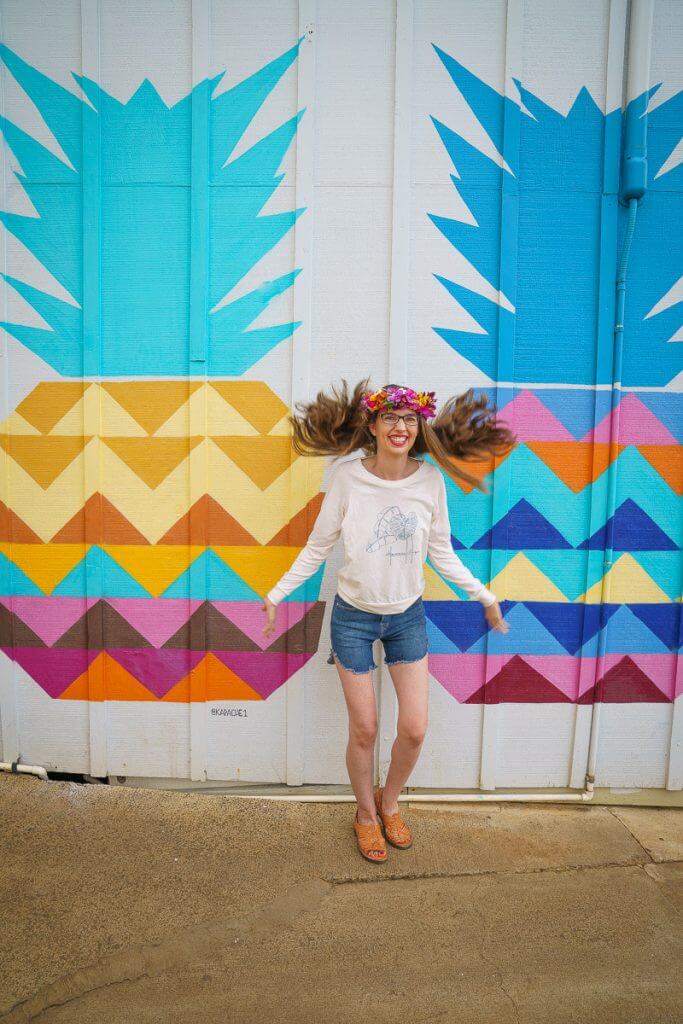 Since so many use this wall in their Instagram photos, you can scroll through Instagram to get ideas for how to pose.
Lots of people grab their delicious drinks from Kauai Juice Co and use their drinks as a prop in their photos.
And make sure to walk around to the other side of the pineapple wall to find another great Instagram backdrop and go to the front entrance for yet another Instagram wall!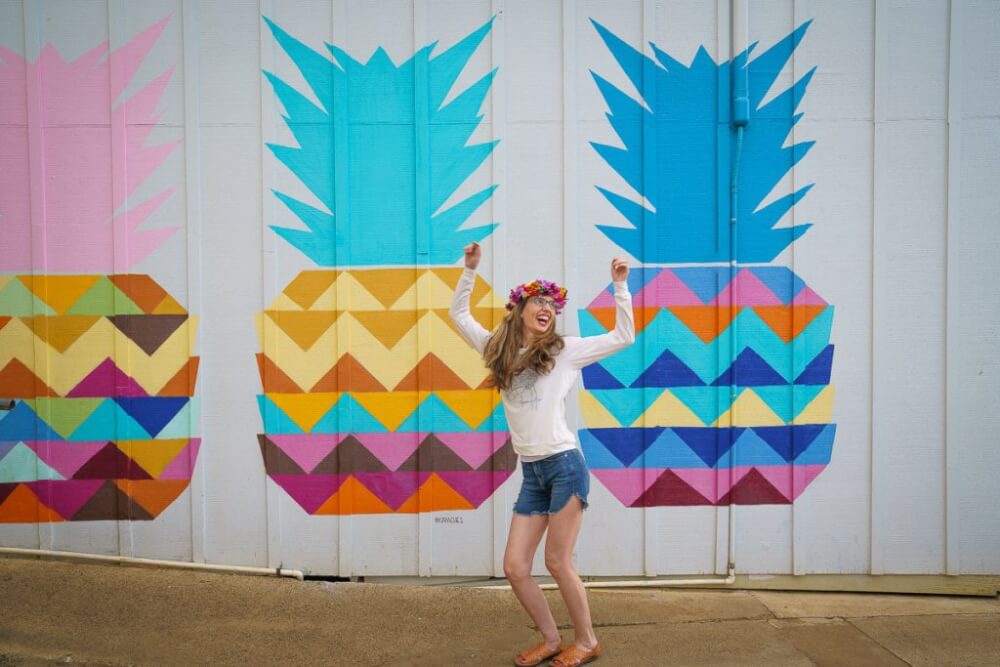 Tips:
The afternoon light can be brutal on this South-facing wall, so try to get there in the morning if possible. And wear colors that will compliment this colorful wall (think teal, pink, yellow).
There's also an Instagram wall behind the pineapple wall and at the front entrance. Be sure to hit up all three!
How to get to Kauai Juice Co.:
Their address is 4-1384 Kuhio Highway Kapaa, Hi 96746.
There's a parking lot behind Kauai Juice Co., Mermaids, and Java Kai, and that's where the wall is. You can park anywhere in old Kapaa town and walk.
8. JAVA KAI
Java Kai is an adorable Kauai coffee shop located next to Kauai Juice Co. in Kapaa.
Not only is it a fun photo spot, but they also offer amazing coffee and breakfast food. I recommend their Shark Bite latte!
They make specialty lattes and have a lot of cute merchandise, including clothing and those super trendy Hydro Flasks.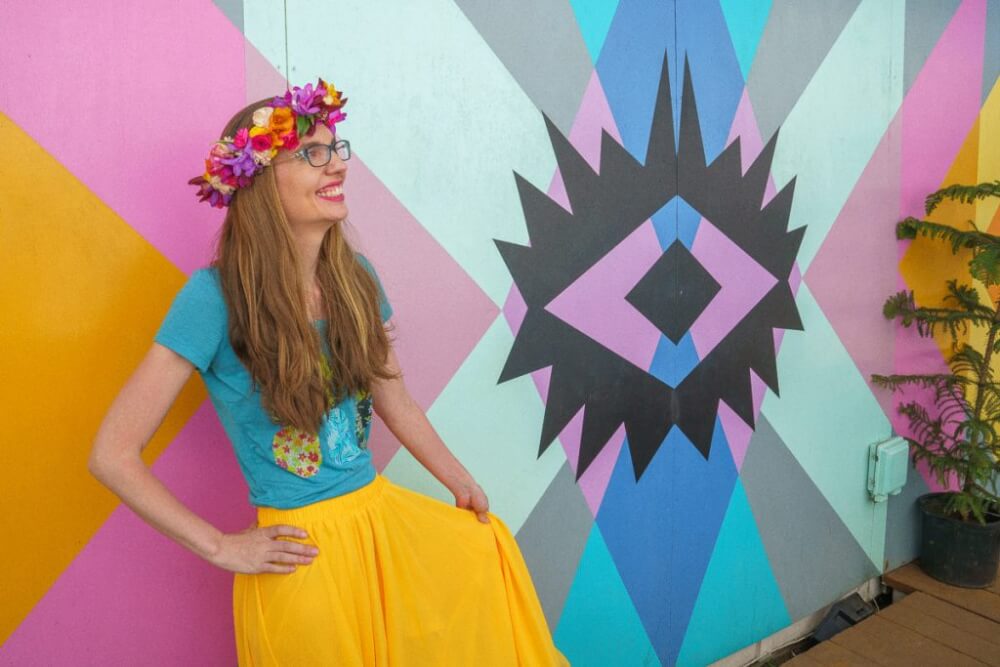 This Kauai mural is hidden away a bit down a little alley around the corner from Java Kai. There was hardly anyone there when we went in the afternoon, making it the perfect time for some Kauai Hawaii pictures!
Tips:
Start at Kauai Juice Co. and do their 3 photo walls, then head to Mermaid's Cafe for their mural, and end at Java Kai where you can do photos inside, in front of the colorful cafe, and then hit this photo wall on the way back to your car.
How to get to Java Kai:
The address is 4-1384 Kuhio Hwy, Kapaʻa, HI 96746.
Park either on the street or in the parking lot behind Mermaids, Java Kai, and Kauai Juice Co.
9. NOKA FAIR
The NoKa Fair used to be called the Kauai Products Fair, and it was tent spaces where you could find sarongs, clothing, and lots of souvenirs. It was basically a craft fair.
A few years ago, it went under a complete transformation, and now it's one of the very best photo opportunities on Kauai. I mean, it's adorable!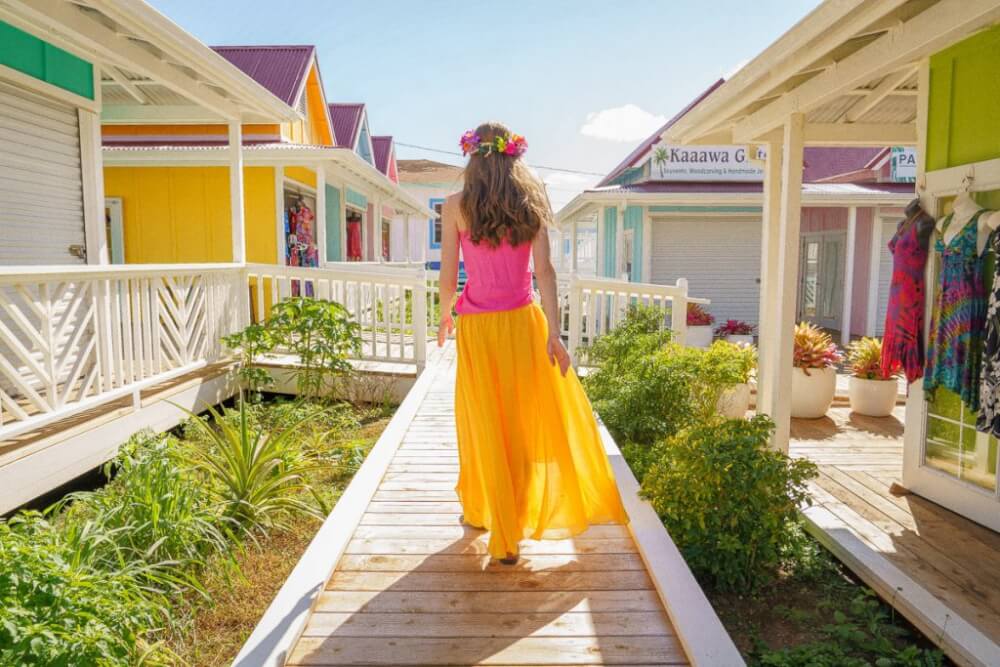 I found it by accident when scrolling through Instagram, and it took me the longest time to figure out where this was because most people don't tag NoKa Fair. I think they don't know what this place is called.
But, this is one of my new favorite places to take photos on Kauai!
It's usually not very crowded (we were the only people there in the afternoon besides the shopkeepers.) Check the hours to see when they are open.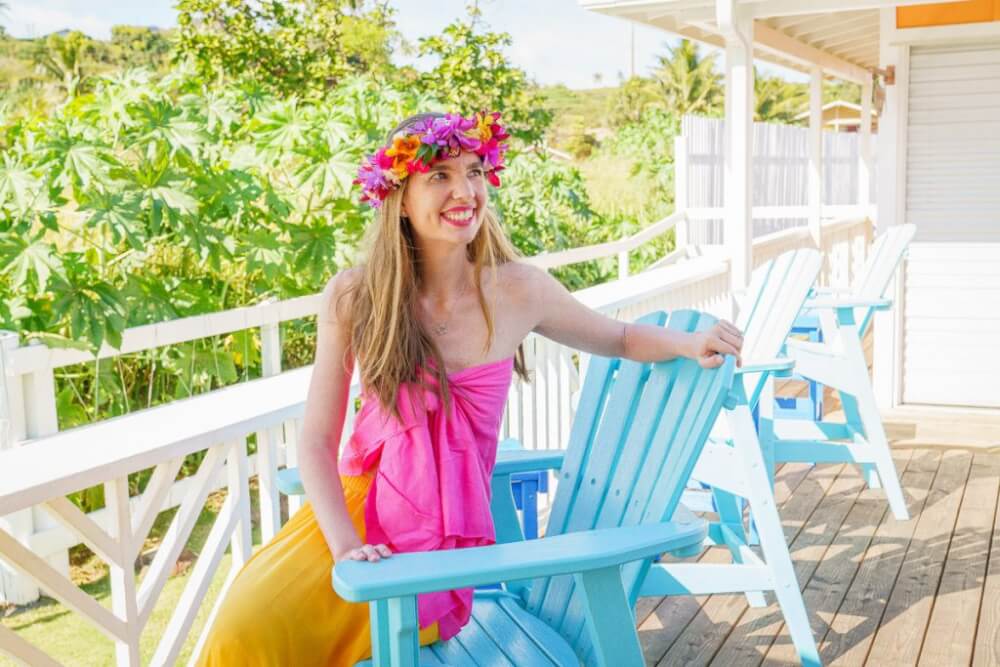 Tips:
Try to get here first thing in the morning for the best light. It's also nice if you go before it opens because the shops all have white garage doors that come down for a clean look.
Be sure to walk all around this area because there are tons of different angles and fun pops of color everywhere you turn!
If you are looking for a cute sarong or a Hawaiian print dress, this is a great place to buy one. Plus, you can put it on and start your photoshoot asap!
How to get to Noka Fair:
The address is 4-1613 Kuhio Hwy, Kapaʻa, HI 96746.
If you are heading north from Kapaa town, it will be on your left. They have a large parking lot right in front.
Best Photo Opportunities on the South Shore (Koloa, Hanapepe + Poipu)
Known for its almost always sunny weather, the south shore has a ton of easy photo spots!
10. NATIONAL TROPICAL BOTANICAL GARDEN
Located in Koloa, the McBryde Garden and Allerton Garden are some of the most beautiful places in Kauai. These gardens are right next to each other.
There are tons of secluded areas to get beautiful, lush plants in the background without having to do much hiking.
These gardens are stunning, and you can see rainforest trees with interesting roots, flowers, bamboo, fruit trees, statues, and more. And this is where they filmed scenes from Pirates of the Caribbean and Jurassic Park.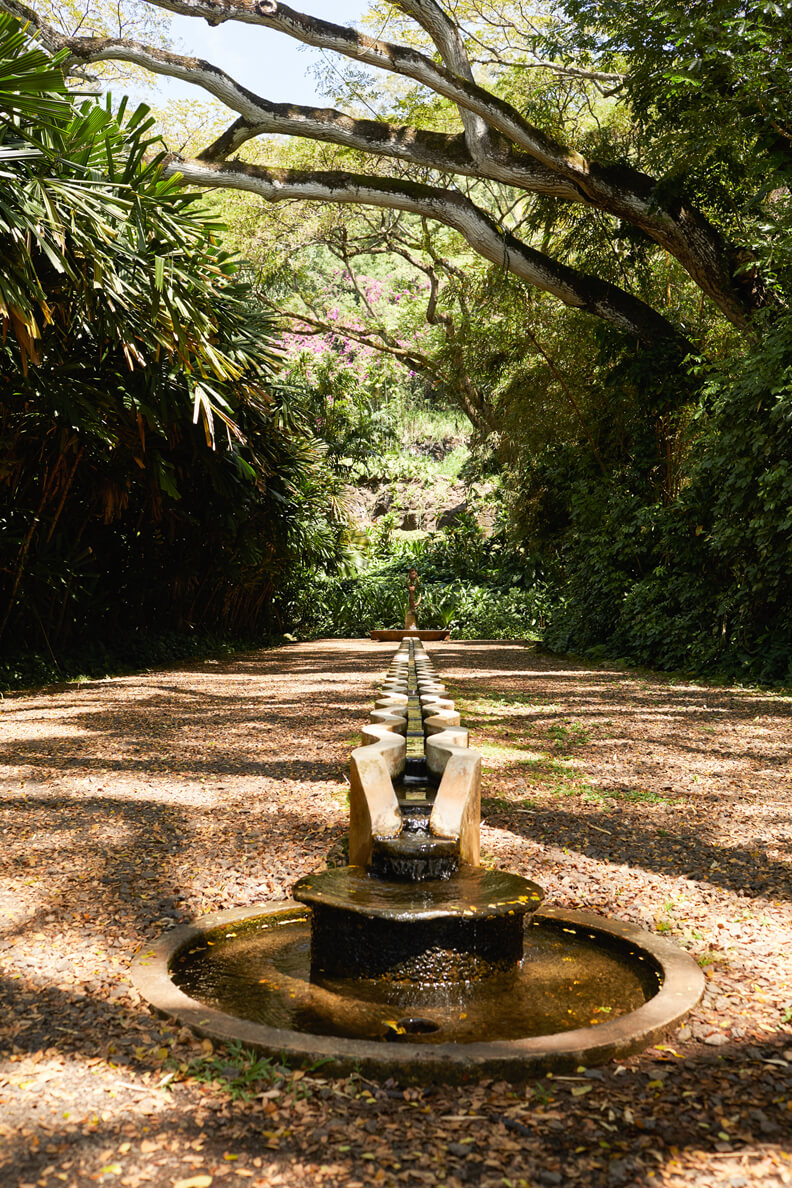 Tips:
Book a tour so you can scope out your photo spots. And it's helpful to bring a tripod.
How to get to Allerton & McBryde Garden:
The address is 4425 Lawa'i Road, Koloa, HI.
There's parking on site.
11. KAUAI COFFEE COMPANY
Kauai Coffee Company is the largest coffee farm in the United States, and they are famous for their flavored coffee!
There's a free guided walking tour you can take at specific times each day that meanders through the estate. Or you can sign up for their Kauai coffee farm tour. And you can always walk the estate on your own.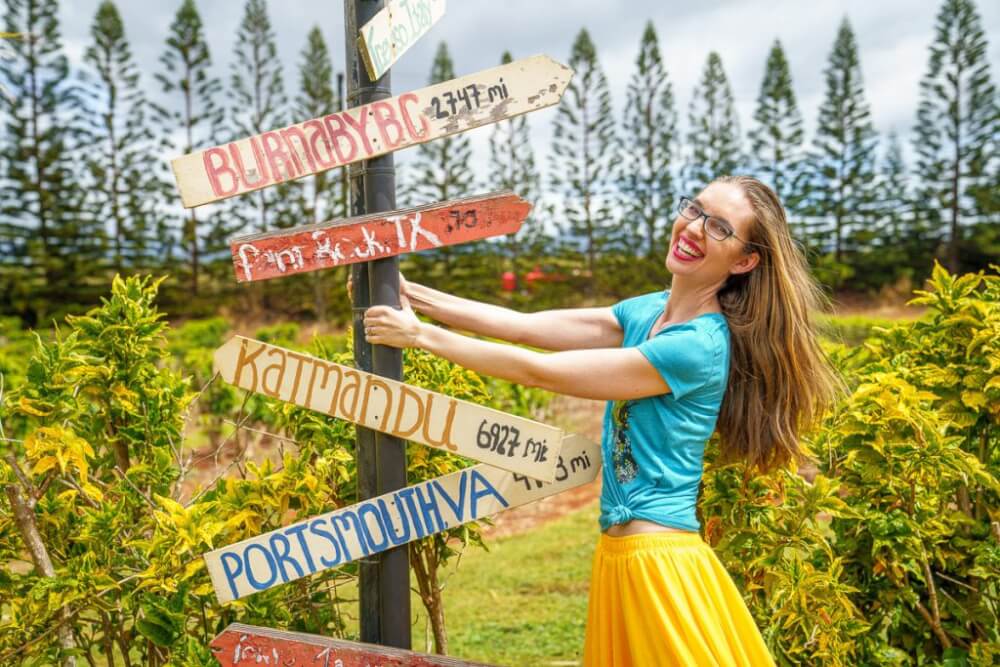 It's a fun place to explore because there is a lot of signage about how coffee is made. And there are signs highlighting cool historical facts.
Not only is it a great place to take photos on Kauai, but they have tons of free coffee samples, and they have one of the best gift shops filled with Kauai-made products.
They recently launched tours of their farm, which could be fun!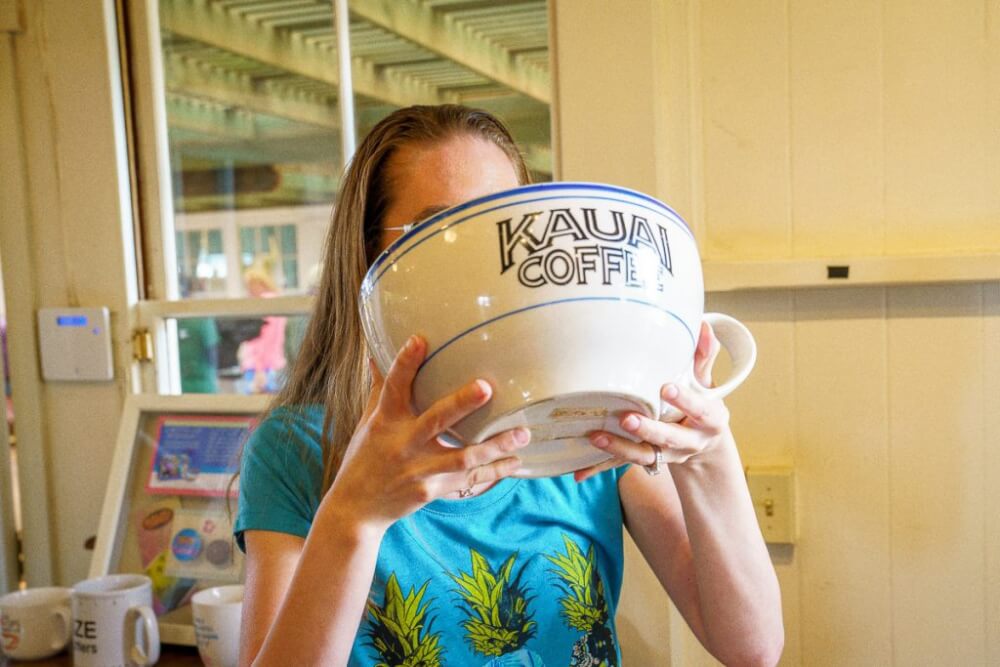 Tips:
They also have a giant coffee cup that you can sit inside! Great photo spot right by the entrance.
How to get to Kauai Coffee Company:
The address is 870 Halewili Road, Kalaheo HI 96741.
Turn off Highway 50 and follow the signs to get to the estate. There's tons and tons of parking in their lot.
12. HANAPEPE SWINGING BRIDGE
The Hanapepe Swinging Bridge is one of those underrated tourist attractions and Kauai locations. It's super small, but that's kind of the whole point.
It's been totally redone after Hurricane Iniki, and now you can easily run across the bridge after shopping at the boutiques and galleries nearby.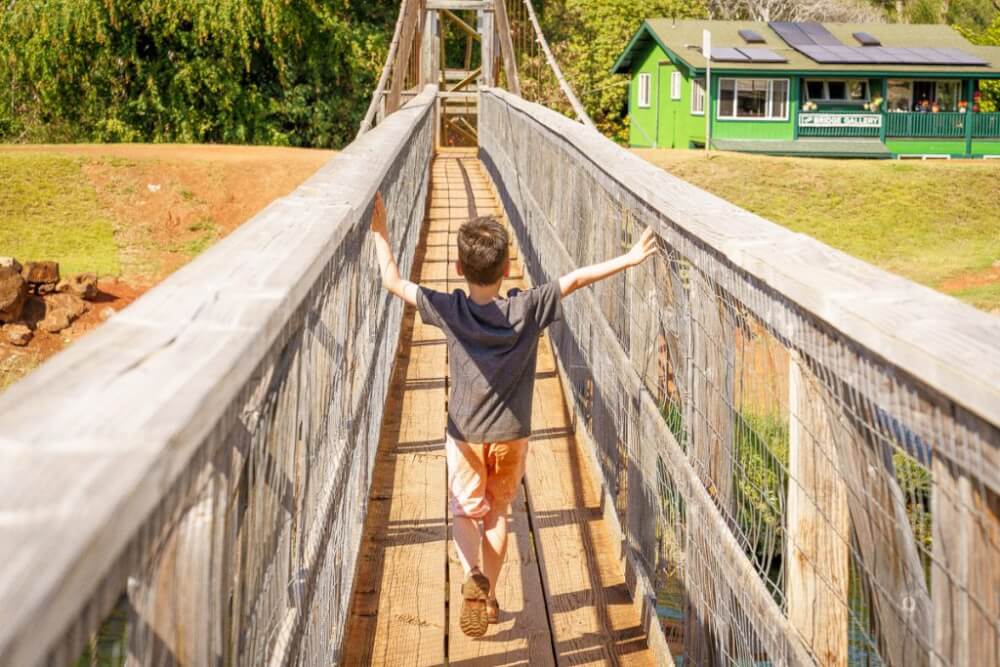 It's not really that much swinging, and it's definitely not scary. The bridge strategically wobbles a bit with the cables, and it's a total hit with kids and adults alike!
There are signs not to swing on the bridge, so please bear that in mind.
The bridge connects the residents who live on the other side to the town of Hanapepe. So, when you cross the bridge, please be respectful of the homes and the people who live there.
Tips:
The town really comes alive on Fridays for their Hanapepe Art Night. So, that's a really festive time to go for golden hour before exploring the town.
How to get to Hanapepe Swinging Bridge:
The address is 3857 Iona Rd, Hanapepe, HI 96716.
You'll want to park in town. There's a lot outside of the Banana Patch Studios or lots of street parking.
13. HANAPEPE TOWN
If you or your kids are big Lilo & Stitch fans, you'll definitely want to explore Hanapepe Town! It's known as the biggest little town on Kauai. But, it's also the setting for Lilo & Stitch!
There's a big mural right on the main drag. Plus, there's a smaller mural nearby of a shelf featuring lots of other movies that were filmed on Kauai.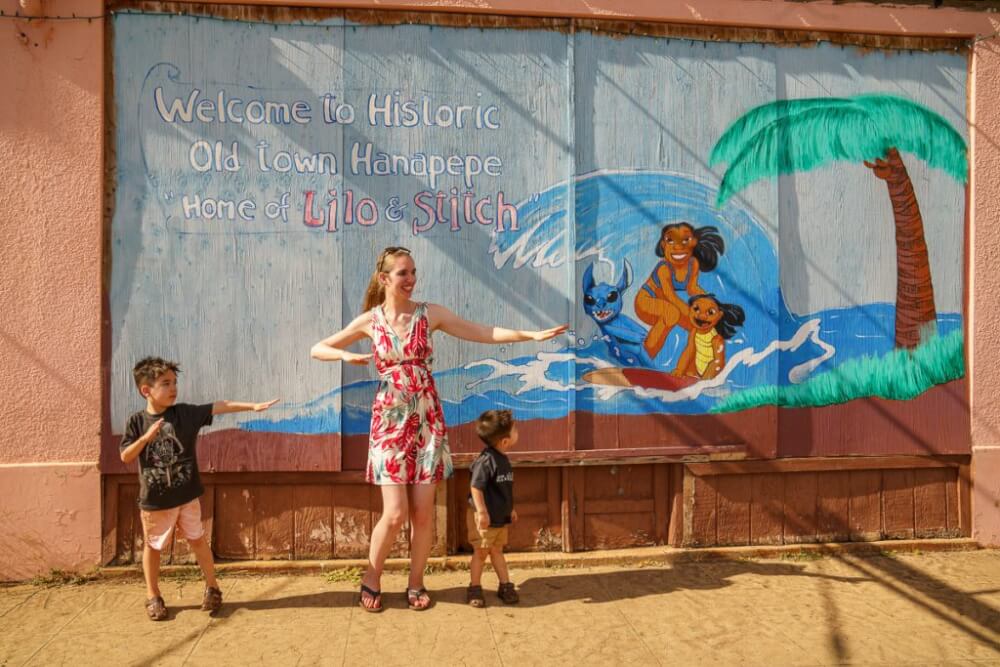 Because it's an artist's haven, you'll get to see incredible artwork, storefronts, and street art all over this quaint town.
It's definitely worth walking around and finding your own special backdrops for pictures of Kauai, Hawaii.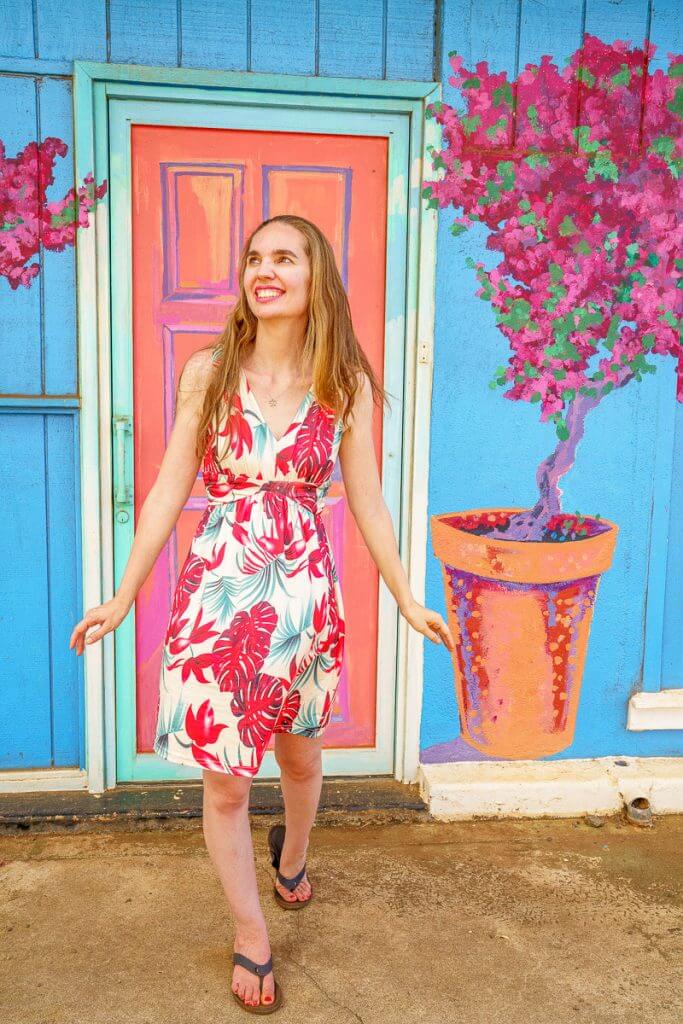 Tips:
A lot of stores and restaurants have very limited hours. It's worth checking to see what will be open before you go. Might as well grab a bite to eat while here.
Fridays, they have their Hanapepe Art Night from 5 pm-9 pm and everything will be open!
How to get to Hanapepe Town:
It's between Koloa and Waimea. As you head to Waimea, you'll see a little sign on the right side of the road for Hanapepe Road. That's the road to Hanapepe Town.
There's a reason it's called "Kauai's biggest little town."
14. HAWAIIAN TRADING POST
Did you know Kauai has some awesome roadside attractions? The best spot for kitschy photo ops is the Hawaiian Trading Post in Lawai.
The Hawaiian Trading Post is a store that sells Aloha wear, art, souvenirs, and lots of traditional Hawaiian jewelry. It's one of the few places you'll be able to see rare Niihau shell leis.
But, you'll be awed by their parking lot attractions!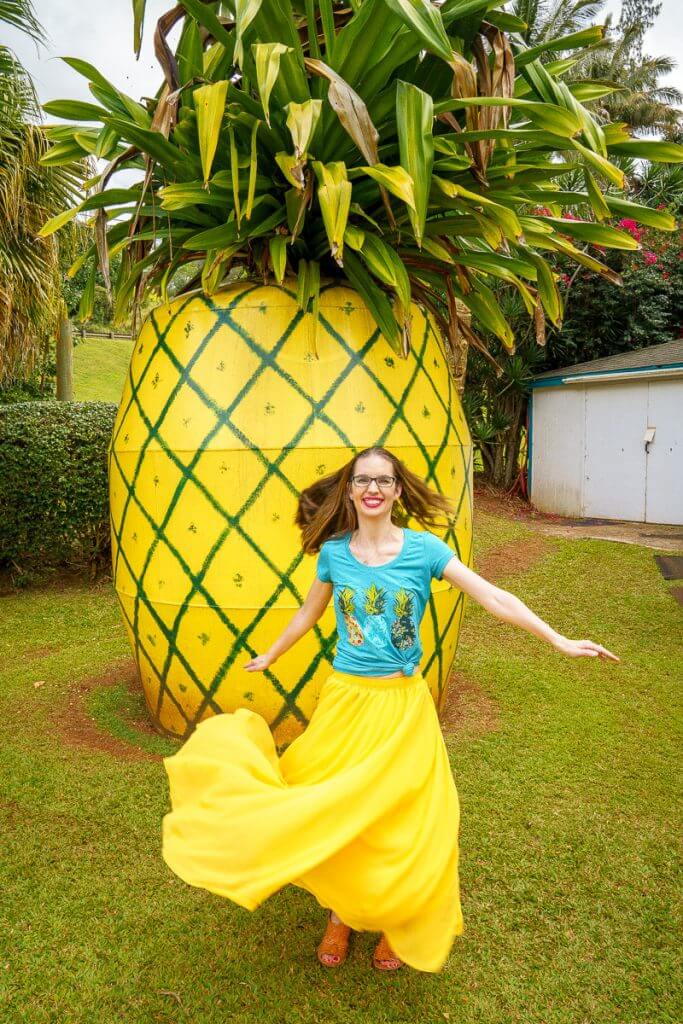 My favorite photo spot is the absurdly giant pineapple! And yes, you might start singing the SpongeBob Squarepants theme song in your head!
We used to always stop here when I was a kid and now it's a hit with my little boys!
There's also a bunch of Hawaiian tikis, a fake surfing spot, beautiful gardens, and more!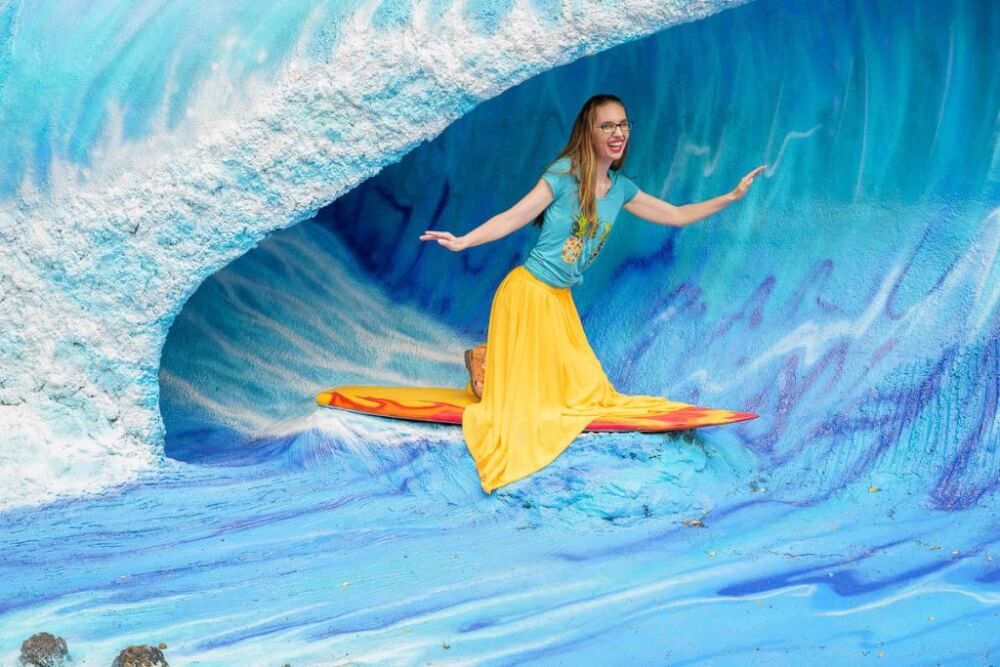 Tips:
If you are exploring Kauai with kids, this makes a great spot for them to get out and run around. There are picnic tables to sit and relax a bit.
It's also just down the road from Warehouse 3540, which is a great spot to stop for lunch or shave ice!
How to get to Hawaiian Trading Post:
The address is 3427 Koloa Rd, Koloa, HI 96756.
You can't miss it from the highway. There's plenty of parking in their lot.
15. WAIMEA CANYON
Another famous Kauai attraction is Waimea Canyon. It's a state park where you'll get sweeping views of this "Grand Canyon of the Pacific."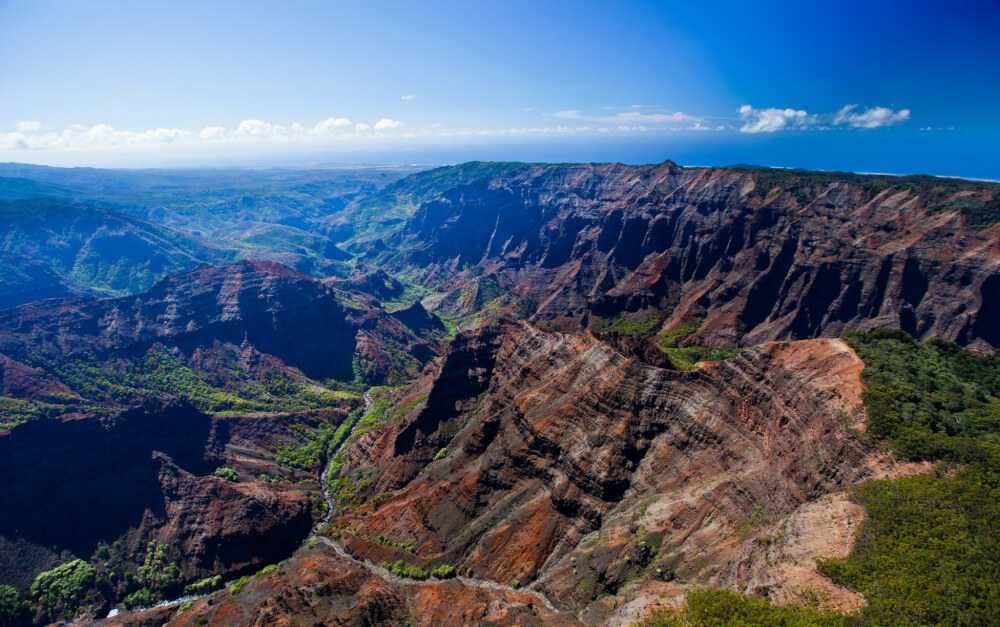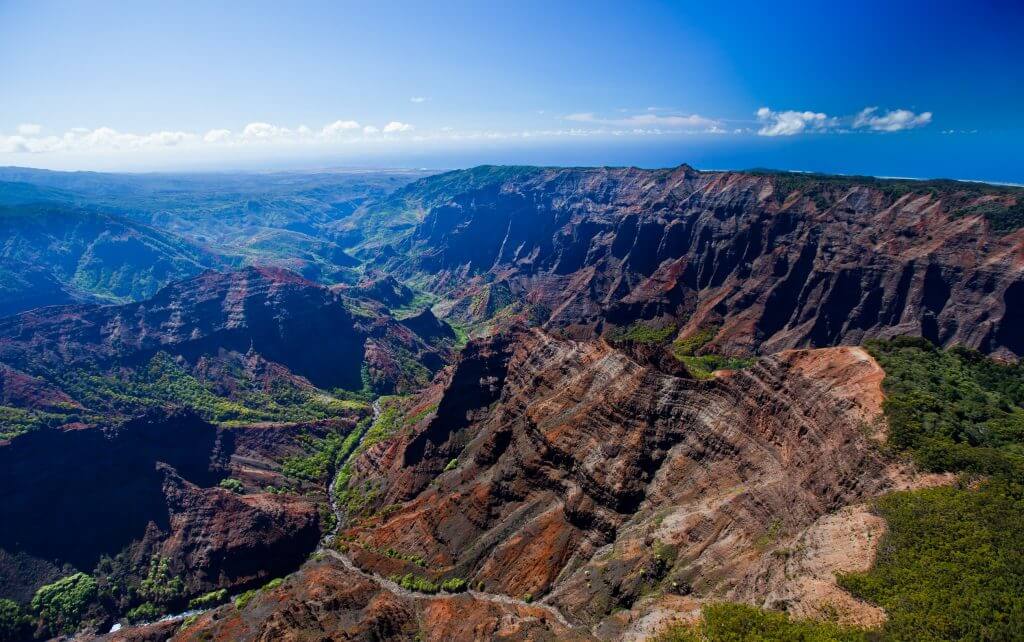 There is a large viewing platform that is easy to get to where you can get a great shot with the canyon in the background. However, if you are up for a little hike, that's more ideal.
Take a hike to get more unobstructed views. It is the best place for photography Kauai offers.
Tips:
Waimea Canyon is full of red dirt. Red dirt stains. Do not wear anything white or anything that you don't want covered in red dirt.
Personally, I'd just wear hiking clothes and take more natural/adventurous photos. However, you do you.
How to get to Waimea Canyon:
Waimea Canyon State Park is located at Waimea Canyon Dr, Waimea, HI 96796.
There is a lot of parking in their paid lot. Plus, there's usually a little fruit stand in their parking lot.
16. GRAND HYATT KAUAI
We stayed at the incredible Grand Hyatt Kauai on our last trip to Kauai. But, I'd include it on this list even if we didn't stay there.
The grounds are just gorgeous and worth a leisurely stroll.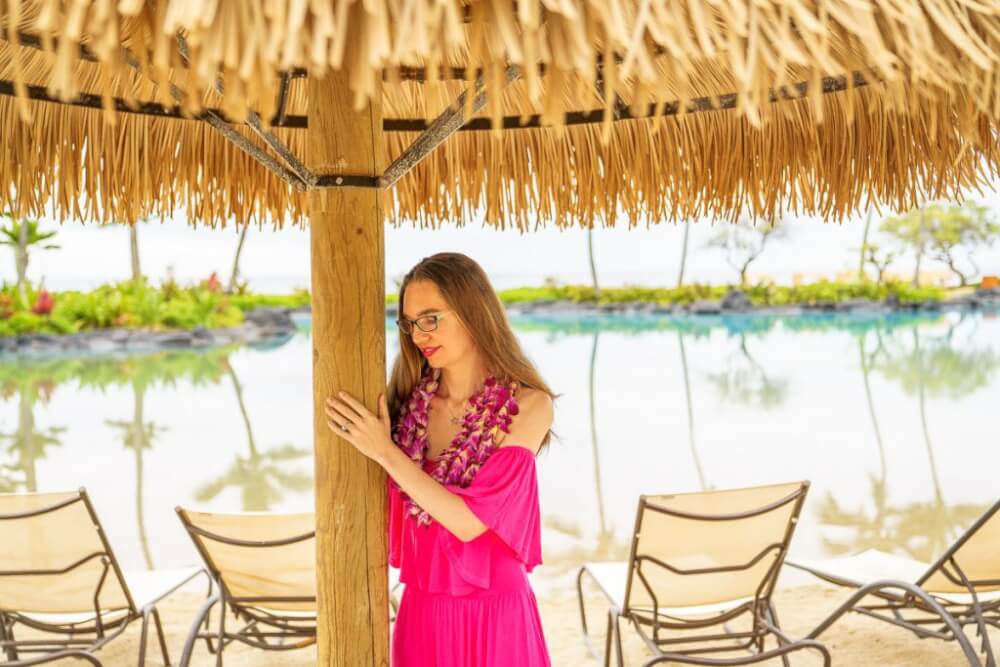 There are more than 50 acres of gardens, multi-level pools, a saltwater lagoon, and just endless unbelievable photo ops.
Be sure to take a moment inside the lobby to appreciate the unparalleled view of the ocean! And try out some of the built-in binoculars for a closer look.
Plus, it's just steps away from Shipwreck Beach.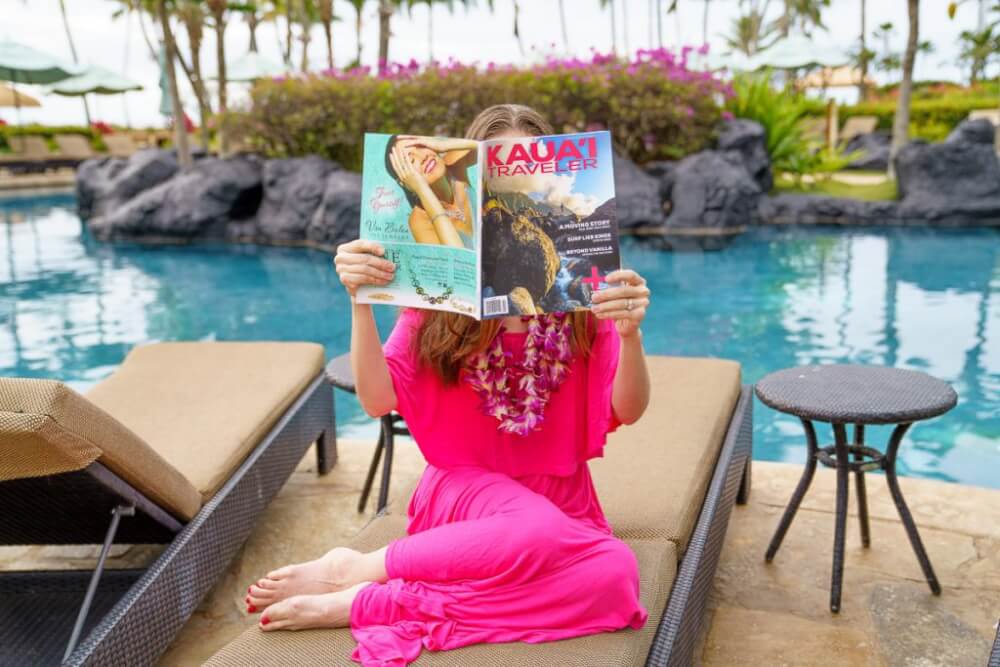 Tips:
If you want to make a whole evening of it, make a dinner reservation at Tidepools Restaurant. Or get tickets to their luau and come an hour early to stroll the property and take photos.
It's a really nice resort, so it's a perfect opportunity to dress up a bit in Aloha wear or show off a super cute swimsuit and cover-up.
How to get to Grand Hyatt Kauai:
The address is 1571 Poipu Road, Koloa, HI 96756.
There is paid valet parking available, or you can self-park for free.
17. SHOPS AT KUKUI`ULA
Normally, I wouldn't include a shopping mall on this list (these photos were taken with an iPhone), but the Shops at Kukui`ula are quite an exception.
It's an outdoor resort mall filled with super trendy boutiques and some of the best restaurants on Kauai. I highly recommend Kiawe Roots for some of the tastiest food!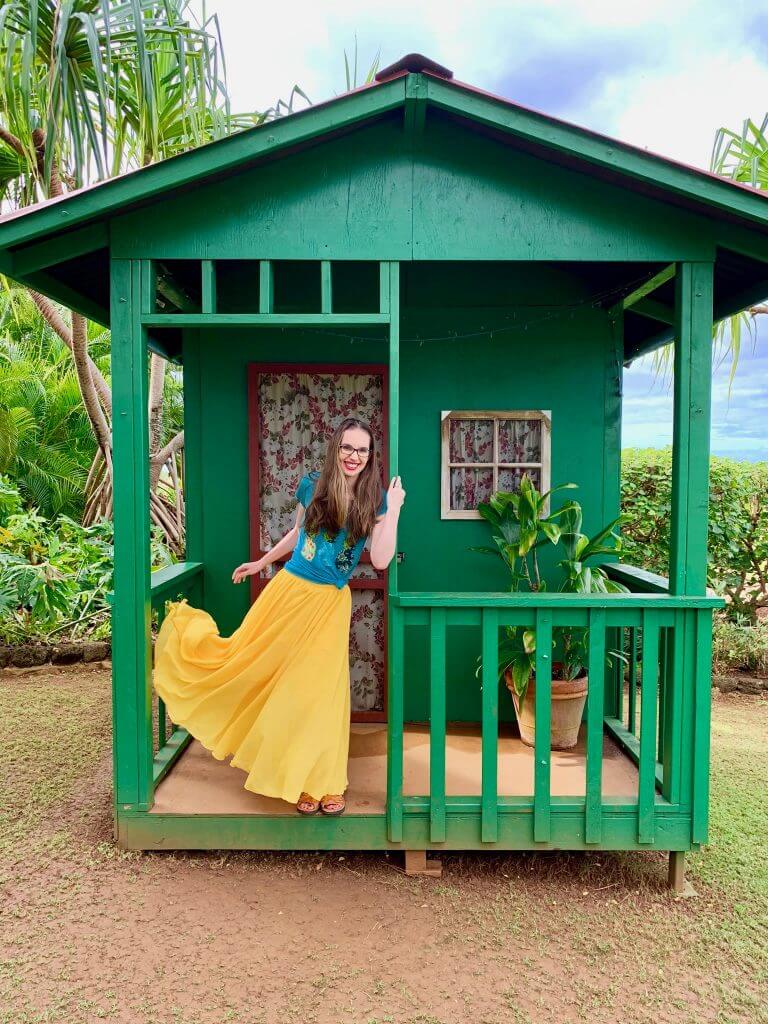 My husband and I were perusing the shops when we spotted the bright green cottage just a little ways from the rest of the shops. It's super cute, and I thought it would be a great spot for photos!
We also stopped for coffee at Living Foods Market & Cafe, and they have a gorgeous mural in their outdoor seating area.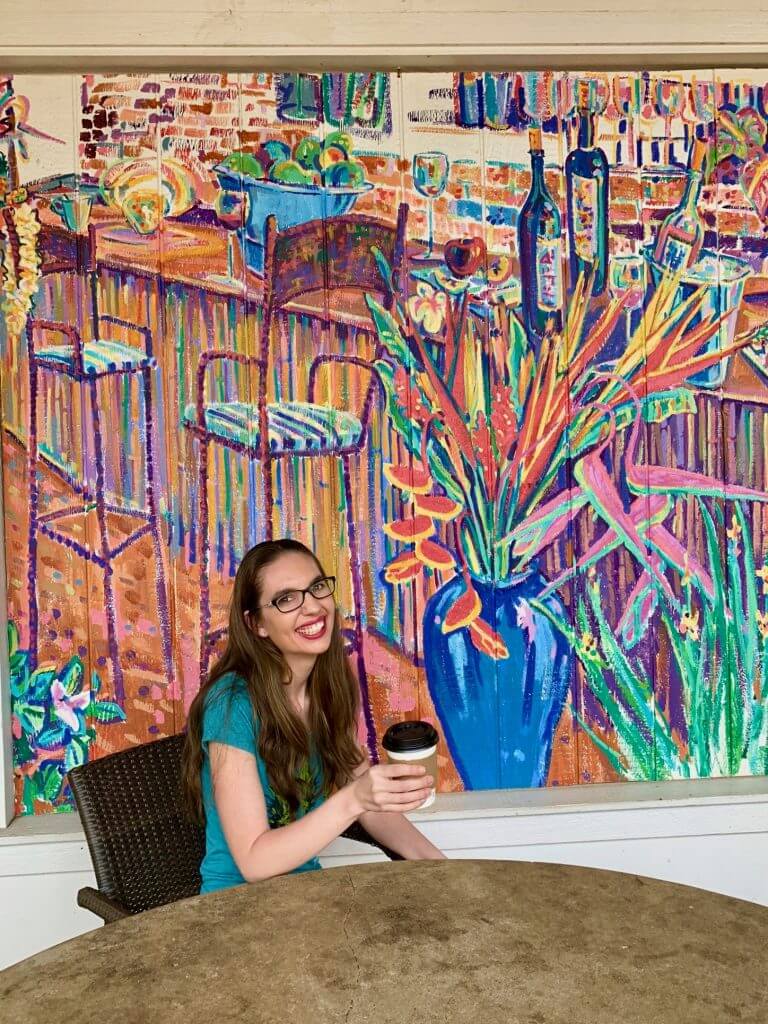 Tips:
Head to the back of the shopping center to find the cute little green cottage. There's also a pathway and a little gate back there.
On Wednesdays from 3:30 pm-6:00 pm, they have their Kauai Culinary Market. It's a popular event, and they even do a chef demo.
On Fridays from 6:30 pm-8:30 pm, they feature local musicians who play all over the Shops at Kukui`ula.
How to get to the Shops at Kukui'la:
The address is 2829 Ala Kalanikaumaka Rd, Koloa, HI 96756.
There's tons of space in their large parking lot.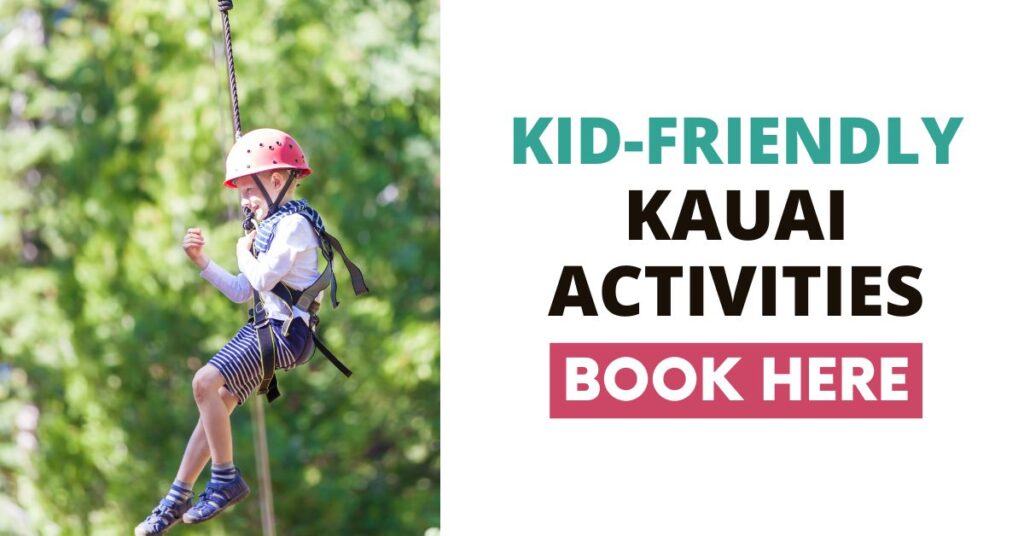 5 Tips for the Best Photo Opportunities on Kauai
1. GET A HAKU LEI
Haku leis, also referred to as Hawaiian flower crowns, are super trendy right now! It's an easy way to add some tropical flare to any outfit!
The one I'm wearing in some of these photos is from Kealoha Flowers. She has a fabulous Instagram account, and I just messaged her with screenshots of the haku leis I liked.
Then, I was able to pick it up from her house in Kilauea.
I kept it in a refrigerator and was able to wear it on and off for 5 days.
I suggest keeping it covered in the fridge in a box or with a wet paper towel on top. And keep it in a cooler in your car if you plan on being out all day but want to wear it for some photos.
2. WEAR THE RIGHT CLOTHES
Kauai is not a great place to wear high heels and fancy clothes. The whole vibe is laid back and a combination of hippy, boho-chic, and hipster.
I'm a fan of these flowy maxi skirts and floral maxi dresses. They are easy, breezy, and super comfortable.
And you should definitely find a swimsuit that flatters your body (and that you feel like a rockstar in!) Pair it with a sarong or fun beach cover-up for cute resort photos.
If you want to find something more unique to wear in your photos, head to Shipwrecked Kauai, Aloha Exchange, or Warehouse 3540.
Or, you can order a Wantable Style Edit and request cute Hawaii outfits. This is an easy way to get tropical clothes sent straight to your home.
3. USE LOCAL FRUIT AS PROPS
In case you need another reason to hit up one of Kauai's many farmer's markets, it's a great place to pick up photo props!
Get a delicious coconut drink, pineapple, mangoes, papayas, apple-bananas, etc., and use them in your photos.
You can also stop by a grocery store and peruse their produce department.
These are fun to hold out away from your body, in front of your face, or hold on your head! The sky is the limit!
4. CHECK THE WEATHER
Kauai is known as the "rainy island" and that's because it's home to one of the wettest spots on Earth (Mount Waialeale.)
So, I highly recommend checking the weather every morning to figure out which side of the island to head to.
And keep an eye on what time sunrise and sunset are.
Personally, I'd head up north the first day the weather looks good up there because it has the most "iffy" weather. Then, I'd focus on the east side and save the south side until last.
5. SHAVE ICE
There's something about seeing shave ice that instantly transports me to Hawaii, and I feel all happy and sun-kissed when thinking about it!
Stop by one of the many shave ice stands on Kauai and snap a photo holding your favorite combination.
If you need help finding ones that will look great on the 'gram, read my post about the 5 Best Shave Ice Spots on Kauai.
And there you have it! My Instagram guide to Kauai with the very best Kauai photo spots.
Kauai Photography Spots FAQs
What are the best months to go to Kauai?
If you want to minimize your chances of rain on Kauai, avoid visiting Kauai in winter. The best months are actually mid-April through June (to take advantage of shoulder season) or during the summer and early fall.
What side of Kauai is best?
The North Shore is definitely the prettiest side of the island, the East Shore is the most budget-friendly area, and the South Shore is almost always guaranteed to be dry and sunny.
Do you need to rent a car on Kauai?
In order to get to all these Kauai photo spots, you'll want to rent a car and drive yourself. Otherwise, you can use the Kauai bus (although it will take a lot more time.)
Where are the best photo spots in Kauai?
The Waimea Canyon State Park, Poipu Beach, Hanalei Bay, Tunnels Beach, Na Pali Coast, Shipwreck Beach, and Ke'e Beach are some of the best photo spots Kauai has to offer.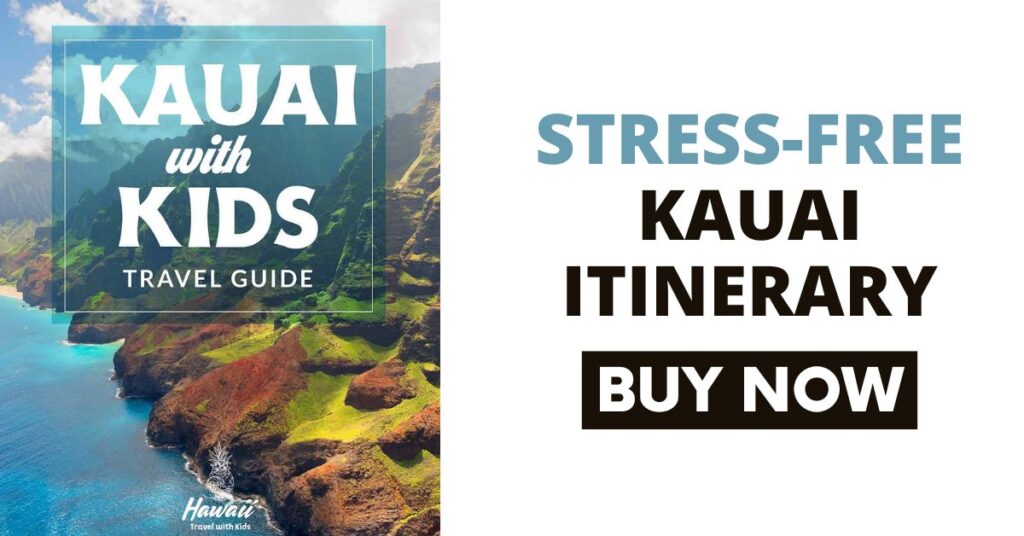 Kauai Instagram Spots Wrap-Up
These are some of the most Instagrammable places in Kauai and all of the Hawaiian islands. The entire island is filled with stunning scenery and pristine beaches you will love to capture during your trip.
From the Na Pali Coast to Poipu Beach, Hanalei Valley Lookout, Waimea Canyon State Park, Kalepa Ridge Trail, and so much more, you will find gorgeous natural beauty wherever you go on this Garden Isle.
Head to any of these Kauai photography locations and enjoy!
If you'd like to do professional photos in any of these spots, consider hiring a photographer through Flytographer. You can get $25 off using this link.