Are you in need of some cute Hawaii outfit ideas? I just checked out Wantable Style boxes and requested things to wear in Hawaii. Keep scrolling to see whether or not it's worth it!
This post about Hawaii outfit ideas from Wantable Style boxes contains affiliate links which means if you purchase something from one of my affiliate links, I may earn a small commission that goes back into maintaining this blog.
Planning a trip to Hawaii can be a lot of fun! You get to pick out a really cool place to stay, think about fun activities to do, and even research where to get the tastiest food.
But, when it comes to packing for Hawaii, it's easy to get stressed out.
I mean, figuring out what to wear in Hawaii as you're going through your closet can feel a bit overwhelming.
And I think it's even harder for moms to figure out what to pack for Hawaii.
I've made the mistake of packing Hawaii items I wore before having kids only to realize nothing fit correctly when I got there.
So, today I want to talk about a Hawaii packing hack that I've figured out that has saved me so much time and stress.
I'm talking about the Wantable Style Edit boxes where you can request specific items for your next trip to Hawaii.
Keep scrolling to read my Wantable review for my latest Wantable subscription box where I requested items perfect for a Hawaii vacation.
You can save $25 on your first Wantable Style Edit by clicking HERE!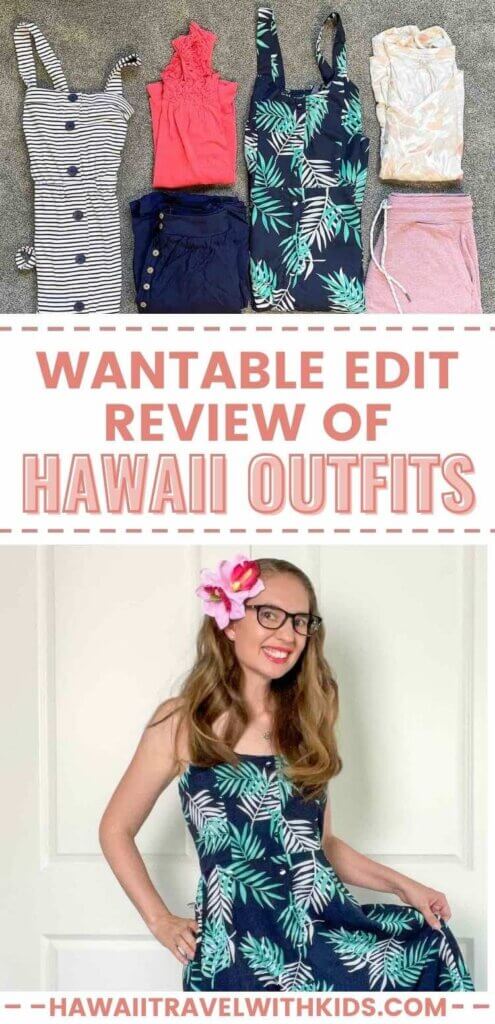 Wantable Style Edit FAQs
Are there Wantable Style Edits for men?
Yes! If you're traveling with a man who needs new vacation clothes but hates to shop, sign him up for a Wantable box. Your Wantable stylist can pull together outfits or pieces that will mix and match well.
What's the difference between a Wantable Style Edit and an Active Edit?
The Style Edit is more fashionable items that can be worn to the office, out for dinner, going shopping, etc. The Active Edit is definitely geared more for working out, chasing toddlers, or running errands around town. While there can be a little overlap between the Wantable clothing, they are pretty distinct boxes.
How often can I get a Wantable box?
You can request your next box as soon as you return your current box. It's really easy! If you're shopping for clothes for Hawaii, I suggest doing back-to-back Edits in order to complete your Hawaii packing list.
Wantable vs. Stitch Fix
A couple years ago, I decided I would start treating myself to clothing subscription boxes because I couldn't shop in person as often as I used to. It's been such a time saver!
I had a Stitch Fix subscription for about 18 months and have been getting Wantable Style Edits for the past 6 months. So, I feel pretty qualified to compare the two clothing subscription services.
Here's my honest opinion of Stitch Fix vs Wantable.
Stitch Fix Reviews
I used to get monthly Stitch Fix boxes and they were always hit/miss. And that's after creating a Stitch Fix Pinterest board (like they recommend) and giving detailed notes to my Stitch Fix stylist.
In the boxes that were "hits," I still usually only kept one item. Part of that was because the price points can run high compared to the quality of the item. Other times it's because they just didn't fit quite right.
But, a lot of boxes have been complete misses. Like things I wouldn't wear in a million years.
Stitch Fix has a feature on their website where you can give outfits a thumbs up or thumbs down. But, it didn't seem to do anything. They would send me items I had ranked with a thumbs down.
They also only give you 5 items in each box. And usually at least 1-2 of those items were total misses. So, usually there were only 3-4 items worth trying on.
Plus, you only have 3 days to return the items you don't want.
Wantable Reviews
I've gotten about 8 Wantable boxes in the past 6 months just to fully check them out and treat myself during this crazy year.
Like with Stitch Fix, clients are able to send Wantable stylists messages asking for items for an upcoming trip, special occasion, or just a wardrobe refresh.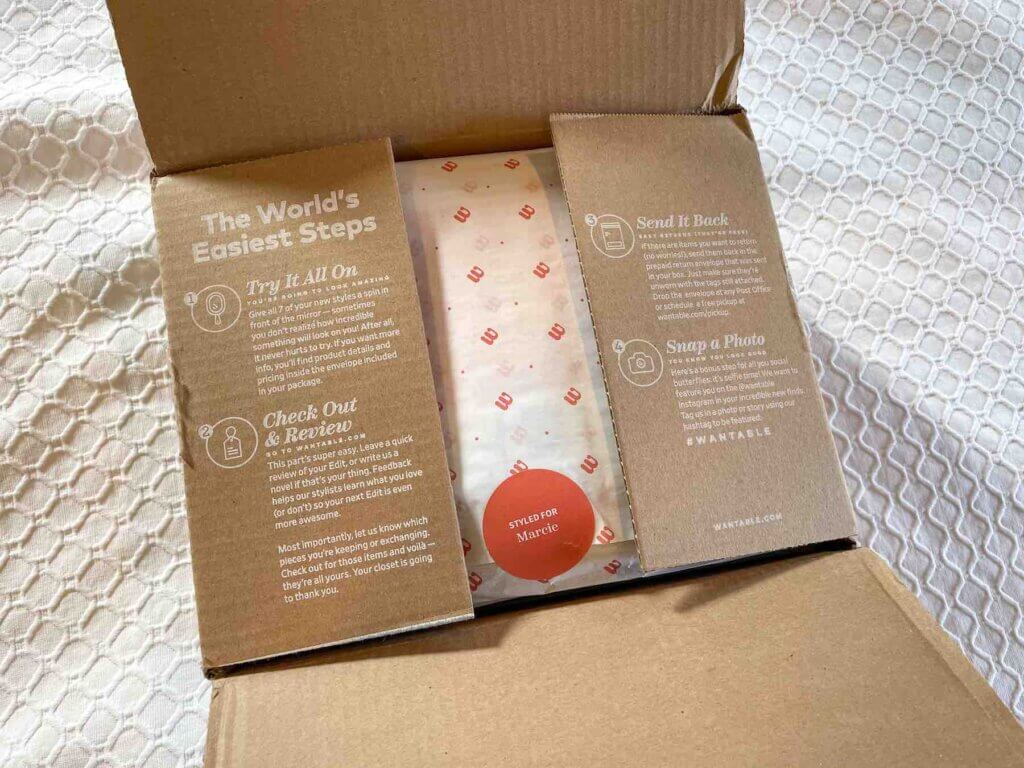 What sets Wantable apart is that you can go into their Stream on their website and request specific items. You can also ask that they DON'T send you specific items. Both of these features have been game-changers for me.
Each Wantable box comes with 7 items and you can choose back-to-back subscriptions, monthly, or even every 2-3 months. And the Wantable prices are competitive with other subscription boxes.
Plus, you get 5 days to return the items you don't want. That time frame works so much better for me as life with kids can get hectic.
They also seal my items with a personalized sticker. It's a small touch but it makes me feel like they "see" me.
How to Sign Up for Wantable Style Edits
It's super easy to sign up for your Wantable Style Edit.
First, you'll fill out an easy style quiz so your stylist will have a better sense of the things you like to wear, the shape of your body, and how they can find the perfect pieces to add to your wardrobe.
Then, you can sign up to get your Wantable box monthly, every 2 months, every 3 months, or even back-to-back.
They also have limited themed edits, like their Sunny Escape Edit. A stylist will send you a curated box filled with items fitting the theme. It's a fun way to try out new styles.
Click HERE to save $25 on your first Wantable box
Wantable Style Edit Unboxing: Cute Outfits for Hawaii
Ok, let's take a look and see what my Wantable stylist picked out this month for my Hawaii-themed Wantable Style Edit.
I mentioned that I was heading to Hawaii and wanted tropical prints and comfortable clothing that packs well and wouldn't wrinkle. Basically, I wanted super awesome Hawaii vacation clothes.
THREAD & SUPPLY | DRAWSTRING SHORT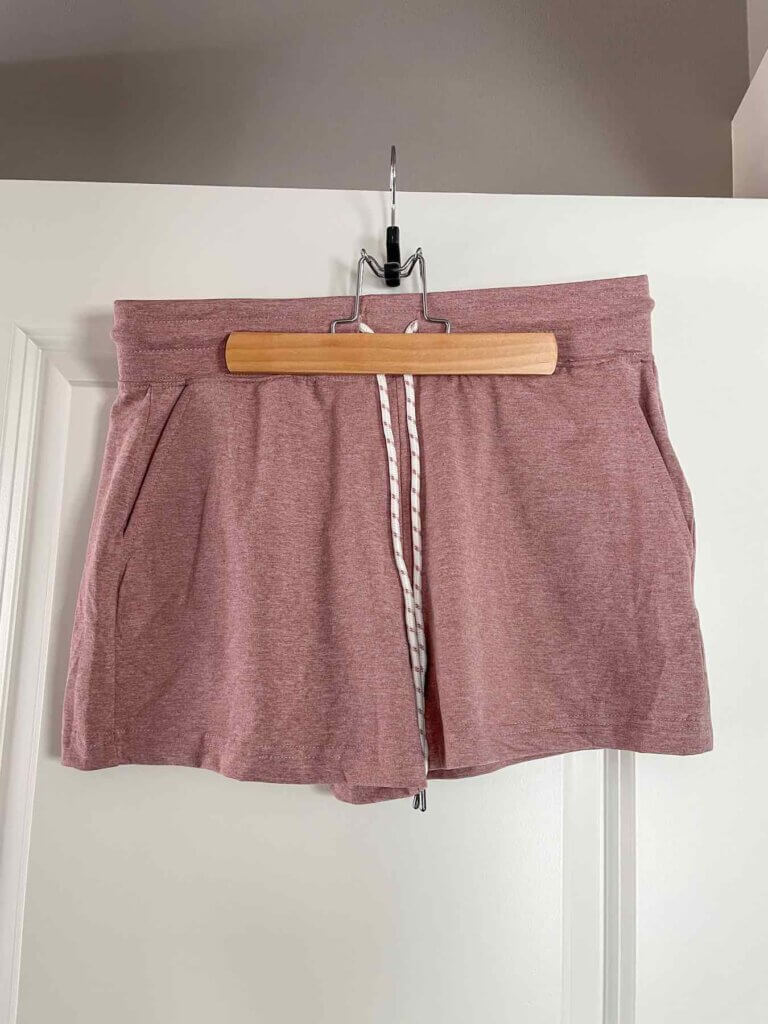 These drawstring shorts by Thread & Supply are a rose pink color. The fabric is pretty stretchy and I'd classify these as athletic wear.
Retail Price: $48.00
What I Liked about this Drawstring Short
This is actually one of the items that I requested and I'm so glad I did! The fabric is super soft and the length is perfect (not too short or too long).
Plus, it's the perfect weight for going hiking in the jungle or for throwing on over a swimsuit. It's just super versatile and really easy clothes to wear in Hawaii.
I'm also kind of obsessed with the color. It's a really pretty rose pink that will pair nicely with white tops or any pastel colored shirts.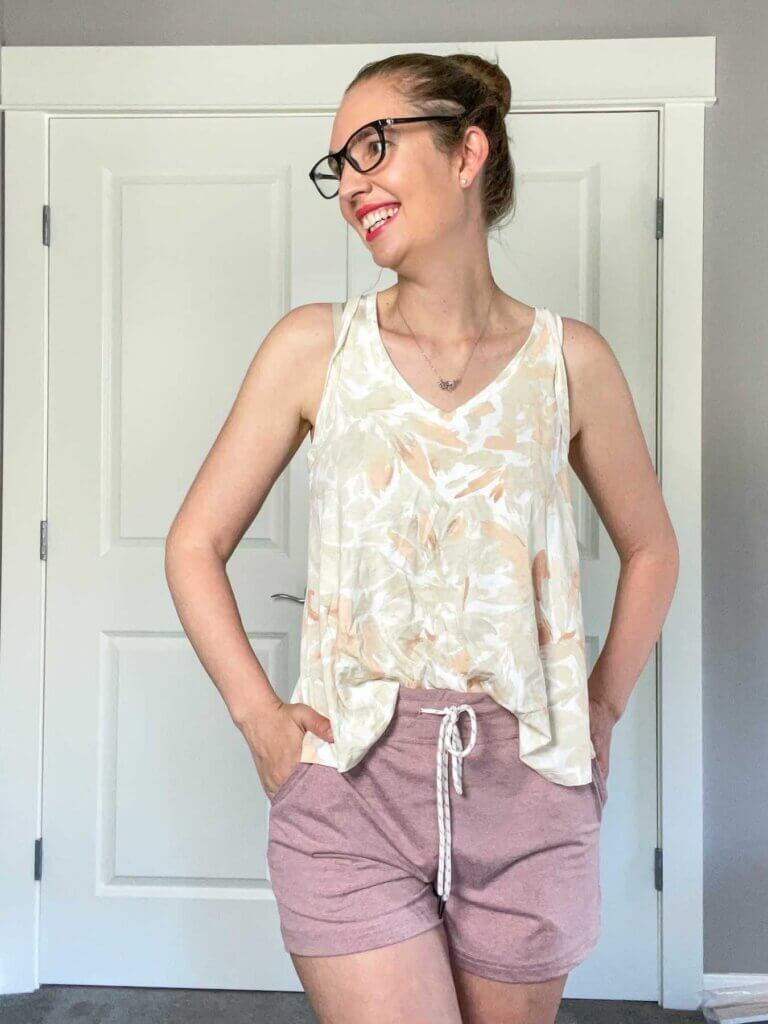 What I Didn't Like about this Drawstring Short
I'm going to need to make sure to wear seamless underwear with them, but that's the only thing. Otherwise, I love these shorts and they are perfect for Hawaii!
FINAL VERDICT: Keep
DEX | ORIGAMI PLEAT TANK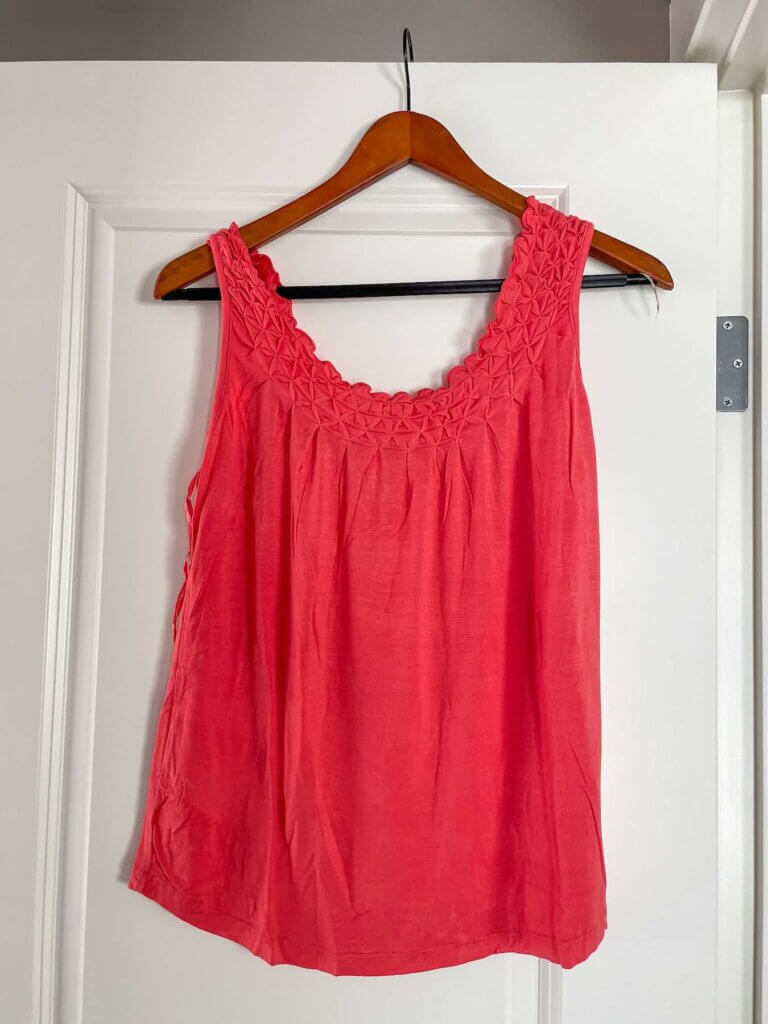 This coral pink tank top by Dex is definitely casual and an easy piece to mix into any Hawaii wardrobe.
Retail Price: $40.00
What I Liked about this Origami Pleat Tank
The color is super fantastic! It's bright and cheery, which makes it perfect for a tropical beach vacation.
It's easy to pair with a pair or shorts or a cute maxi skirt. Plus, it's loose enough that it will let the nice, Hawaiian breeze cool anyone wearing it.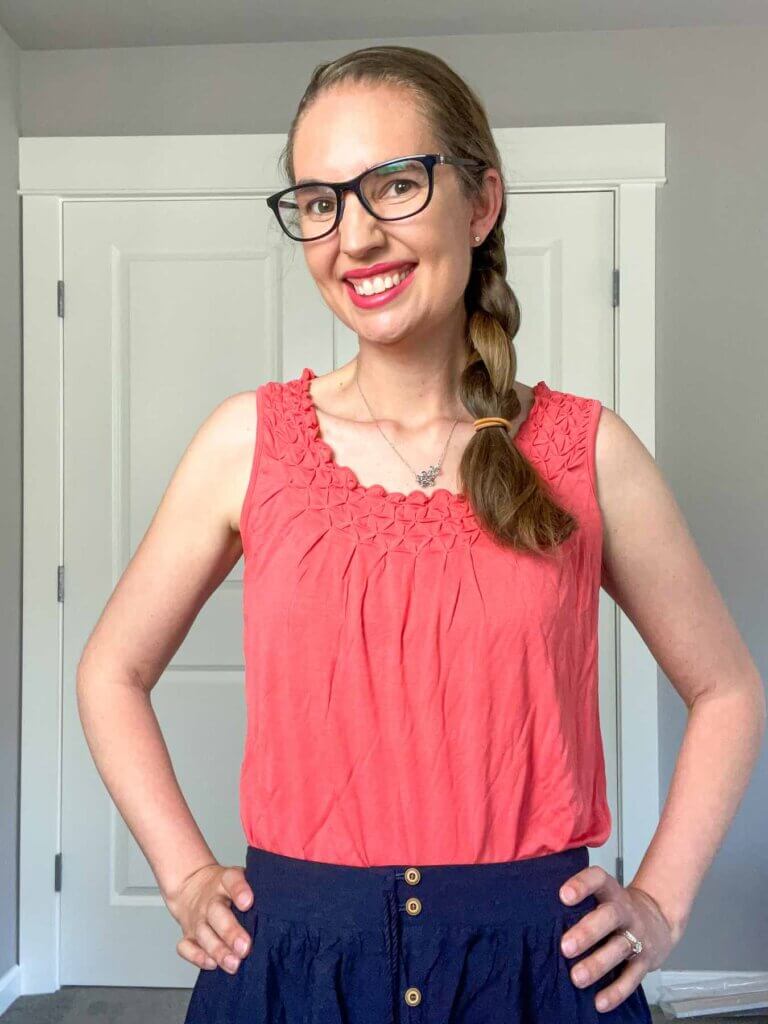 What I Didn't Like about this Origami Pleat Tank
The shape of the tank is a bit boxier than I'm use to. And since i have a long torso, it felt a little short to me.
FINAL VERDICT: Return
Z SUPPLY | VEGABOND FLORAL TANK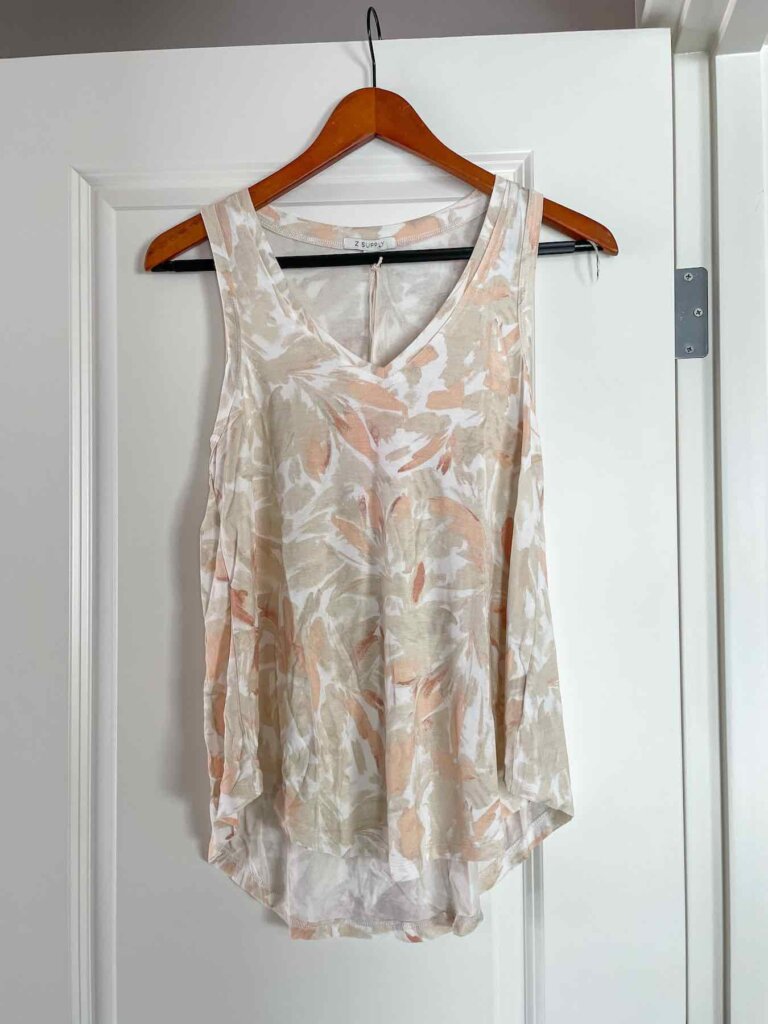 It's always a good idea to have a few tank tops on your packing list for Hawaii. This Z Supply tank top is neutral enough to pair with a lot of shorts and can be dressed up or down.
Retail Price: $39.00
What I Liked about this Vegabond Floral Tank
It's so incredibly soft! This would be a great tank to throw on over a sports bra to go hiking or on an outdoor adventure.
It would definitely look cute with a pair of distressed denim shorts or even workout shorts.
The shape is nice and flowy, so it's easy to stay cool in the heat.
What I Didn't Like about this Vegabond Floral Tank
I'm not a fan of the print. Otherwise, I would have kept this one.
FINAL VERDICT: Return
GILLI | BUTTON FRONT TIE WAIST STRIPED MIDI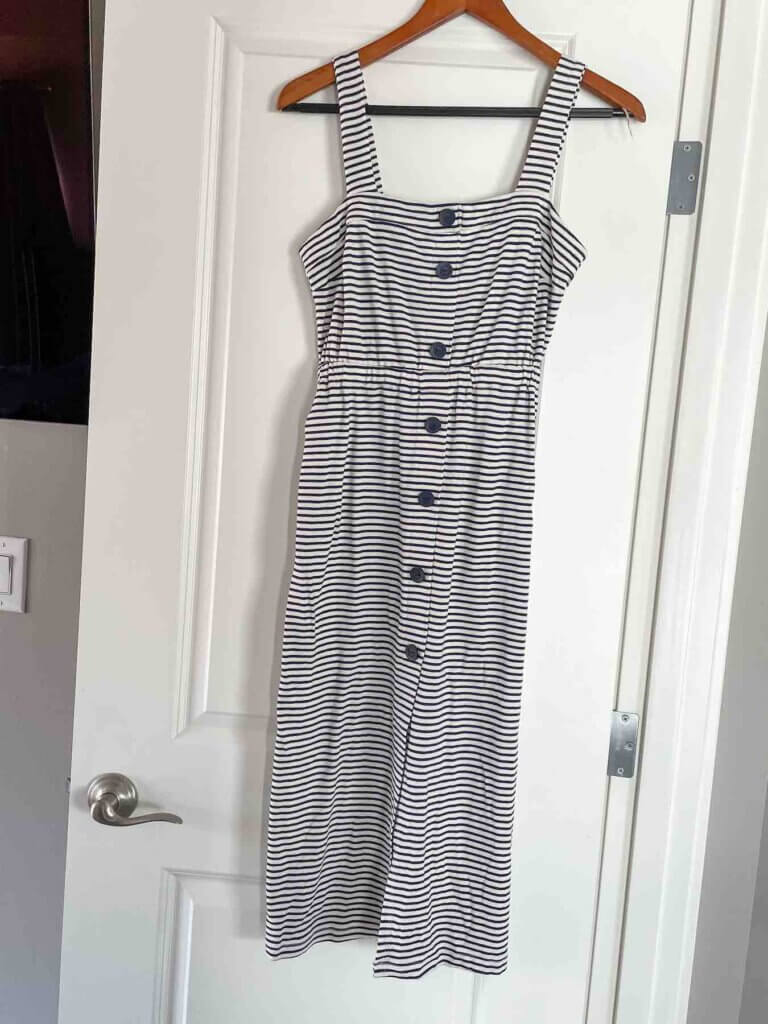 This striped dress from Gilli has a nautical vibe and it's made from a soft cotton fabric. It's got a fairly straight shape and it's a bit form fitting. I think it's an easy piece to add to any Hawaii vacation packing list.
Retail Price: $58.00
What I Liked about this Button Front Tie Waist Striped Midi
I'm a big fan of striped prints because they have a retro chic vibe to them. And the blue and white colors just scream summer vacay to me!
The fabric is really soft and the dress is really comfortable to wear. It'd be perfect for shopping at Ala Moana Center or for heading to a nice beachfront cafe for lunch.
Plus, it would be really comfortable for wearing when driving around the island sightseeing to look classy and stylish for photos.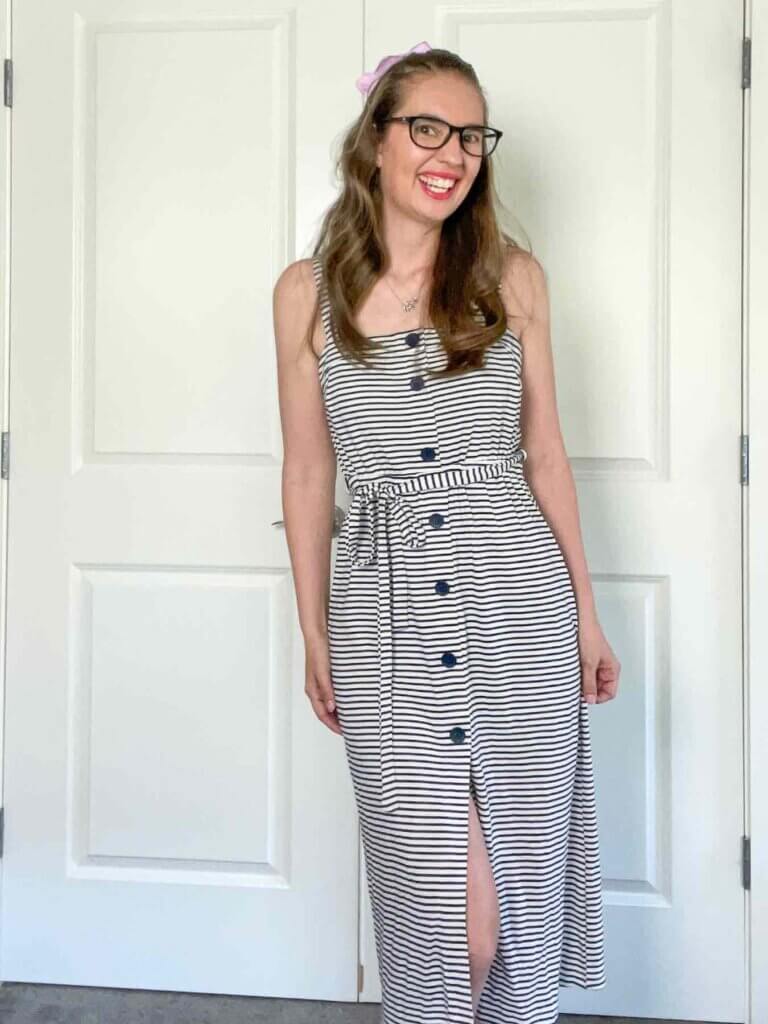 What I Didn't Like about this Button Front Tie Waist Striped Midi
Because of the straps, I'll need to be careful which bra I wear. Otherwise, a strapless bra is the way to go.
FINAL VERDICT: Keep
MOLLY BRACKEN | TIERED BUTTON FRONT SKIRT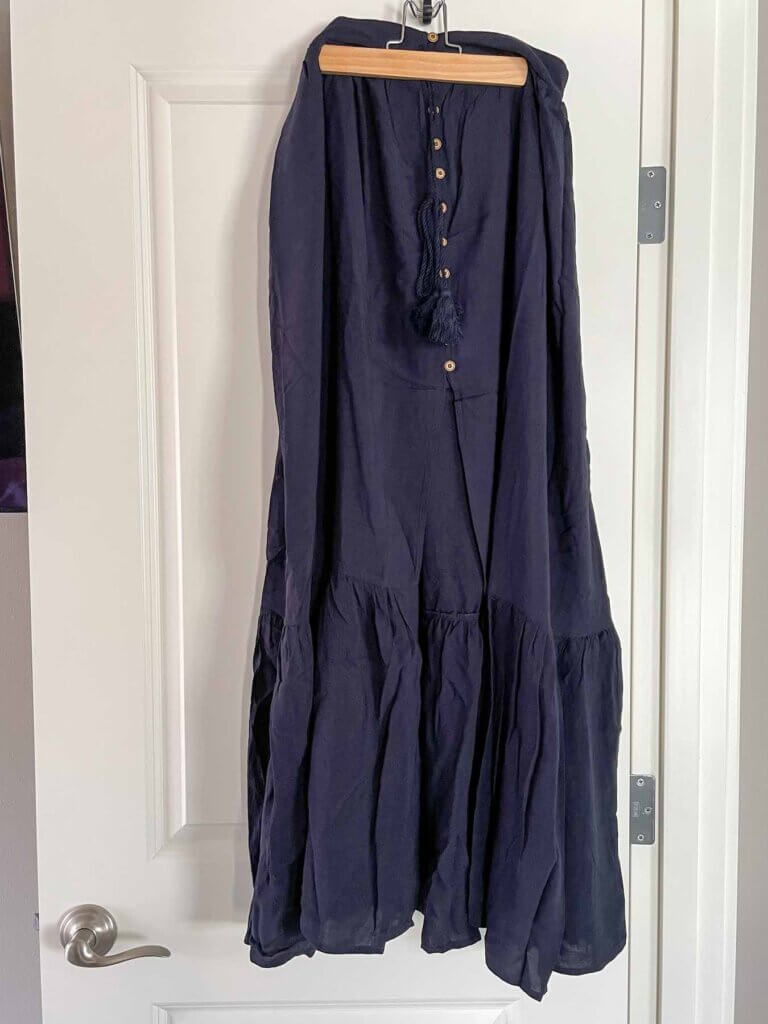 This Molly Bracken maxi skirt is a fun addition to any warm weather wardrobe. There's a slit that hits just above the knee.
Retail Price: $66.00
What I Liked about this Tiered Button Front Skirt
If you're looking for a skirt with a lot of movement that will look amazing in Instagram photos, this one is it!
The fabric feels luxe and the Hawaii breeze will make it flutter effortlessly behind you as you stroll the beach or pose at a scenic viewpoint.
Plus, the navy color means it will go with SO many different tops. Or you could even wear it with a swimsuit as a coverup.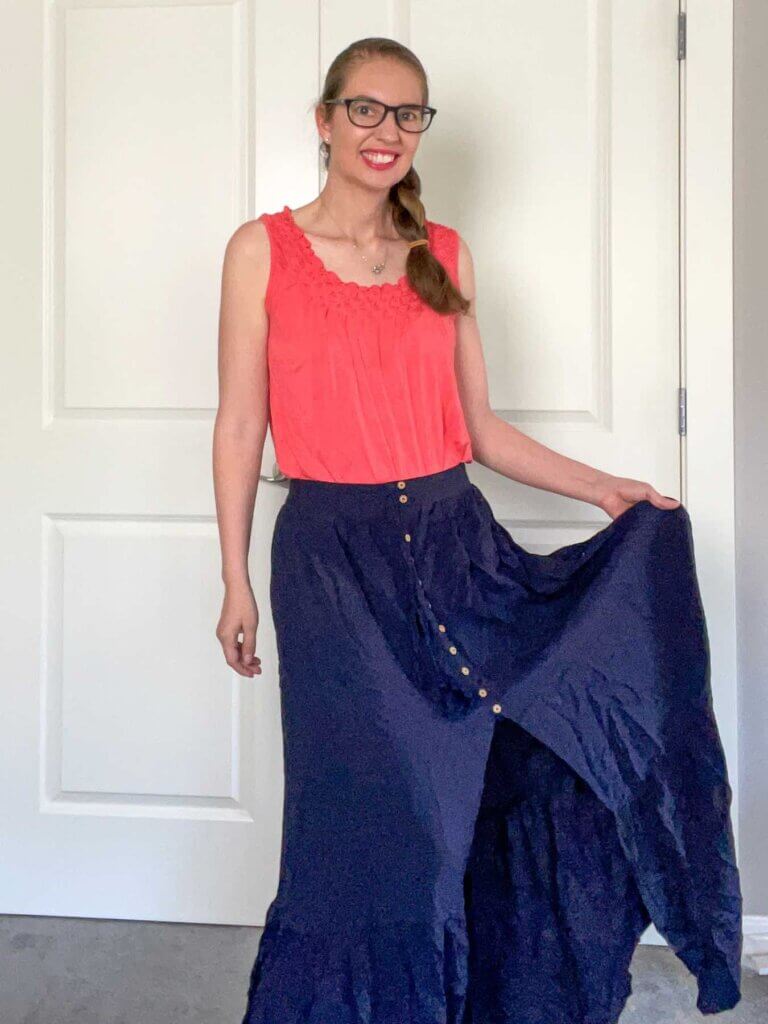 What I Didn't Like about this Tiered Button Front Skirt
The slit in the front hit me in a weird spot. I think I would have preferred it to be a little shorter. But, I'm also pretty modest.
FINAL VERDICT: Return
DAVID AND YOUNG | STRAW WIDE BRIM SUN HAT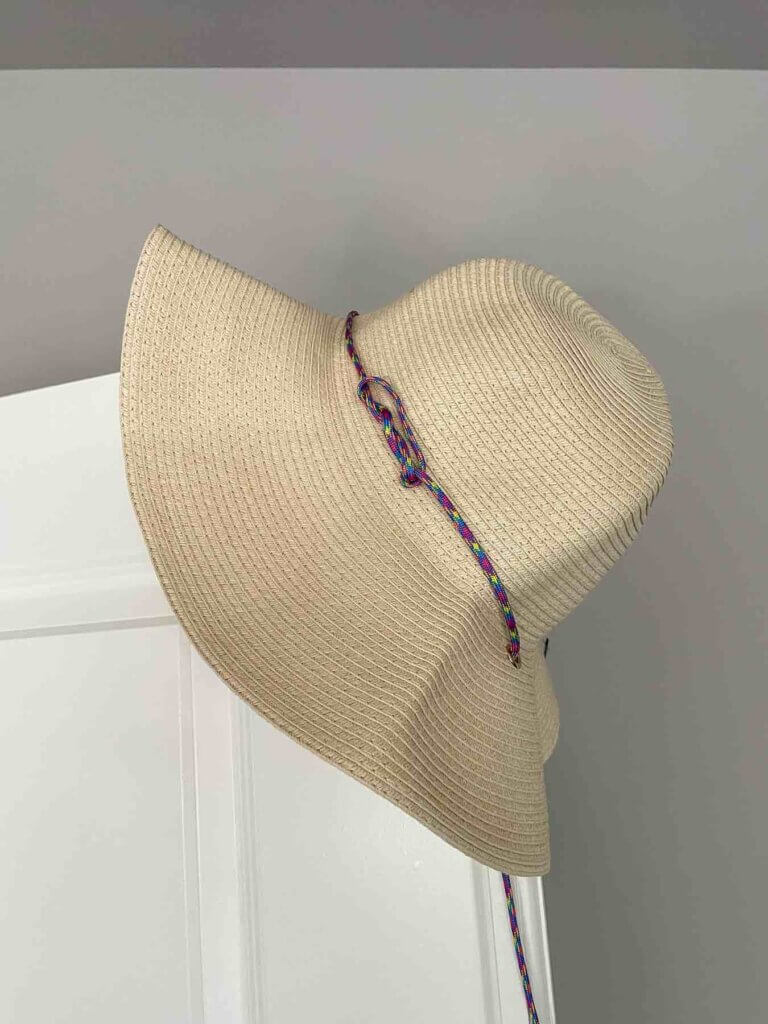 This is a pretty standard straw sun hat that would make a great addition to any Hawaii packing list.
Retail Price: $34.00
What I Liked about this Straw Wide Brim Sun Hat
It's super important to have a sun hat in Hawaii. And this one has a really nice brim that will protect my head, neck, and shoulders from the strong UV rays.
This is the type of hat that is essential when hiking, going for a boat ride, or suntanning at the beach.
I love the tan color and just the hint of pink in the cord. Plus, this hat is really flexible, which makes it easy to pack in a suitcase.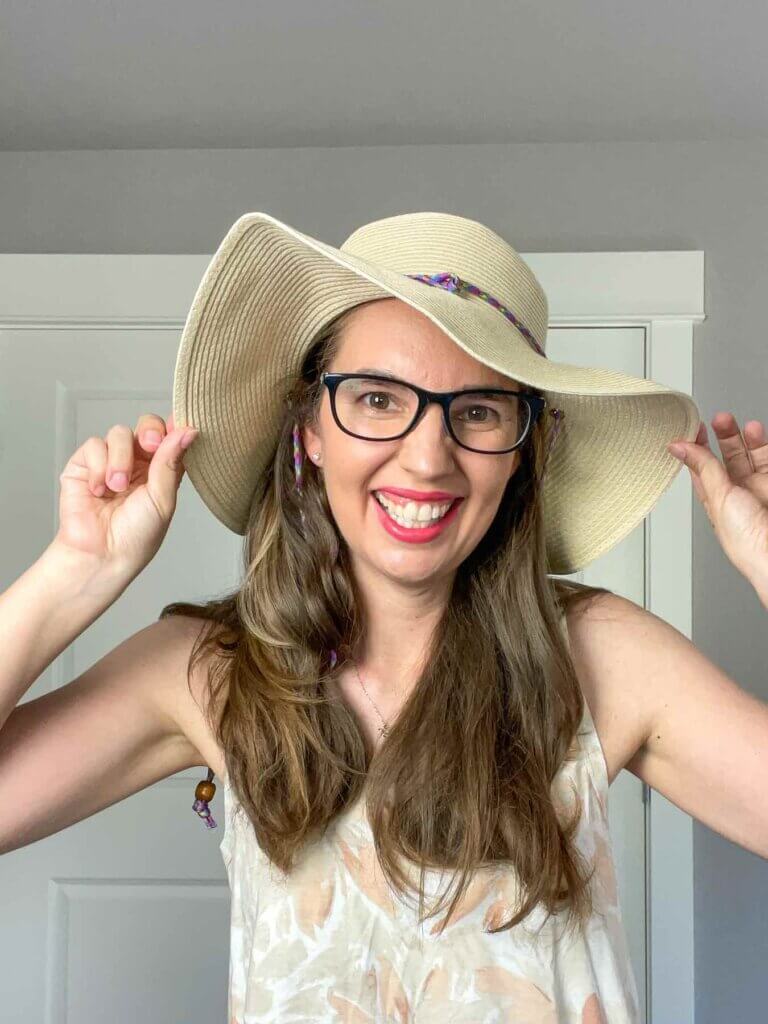 What I Didn't Like about this Straw Wide Brim Sun Hat
I liked everything about this hat. And the style is classic enough to keep in my closet for awhile.
FINAL VERDICT: Keep
PAPILLON | TROPICAL PRINT DRESS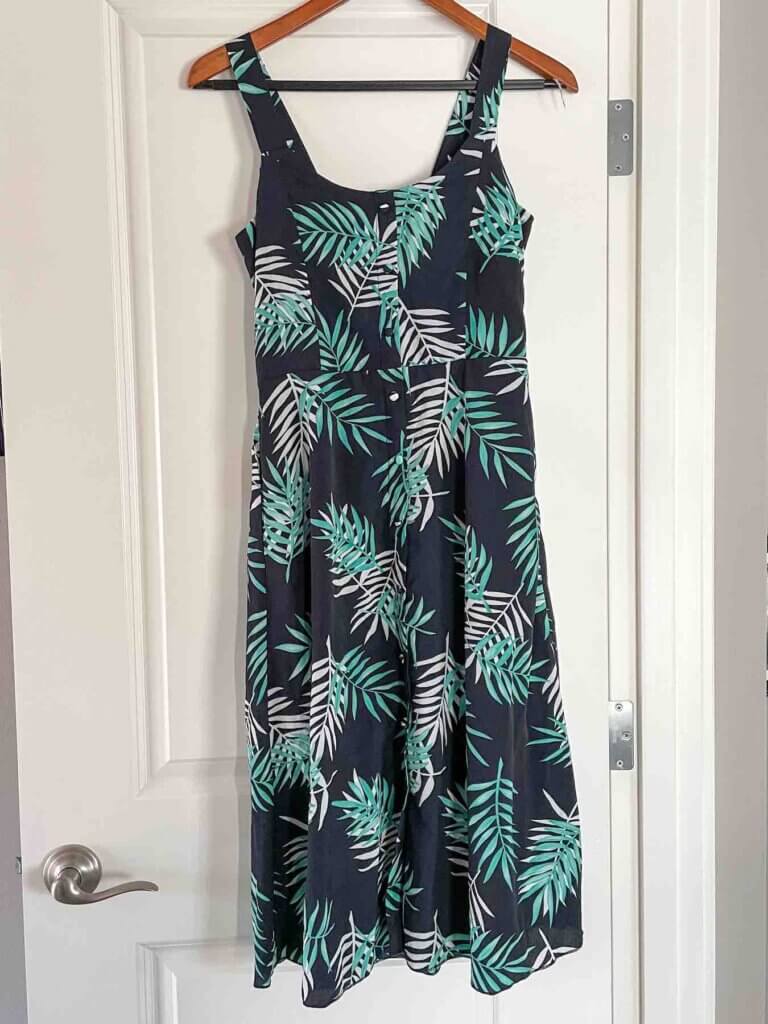 This is a dressy casual tropical print dress that's one of the cutest dresses to wear in Hawaii.
Retail Price: $79.00
What I Liked about this Tropical Print Dress
We all need a luau dress or something to wear to a nice restaurant for dinner. This is that dress.
The print is cute and the black, white, and green color palate will look good on a lot of different skin tones.
I really like the length and that the fabric is lightweight enough to provide a little movement. Plus, it will look cute with heels or flat sandals.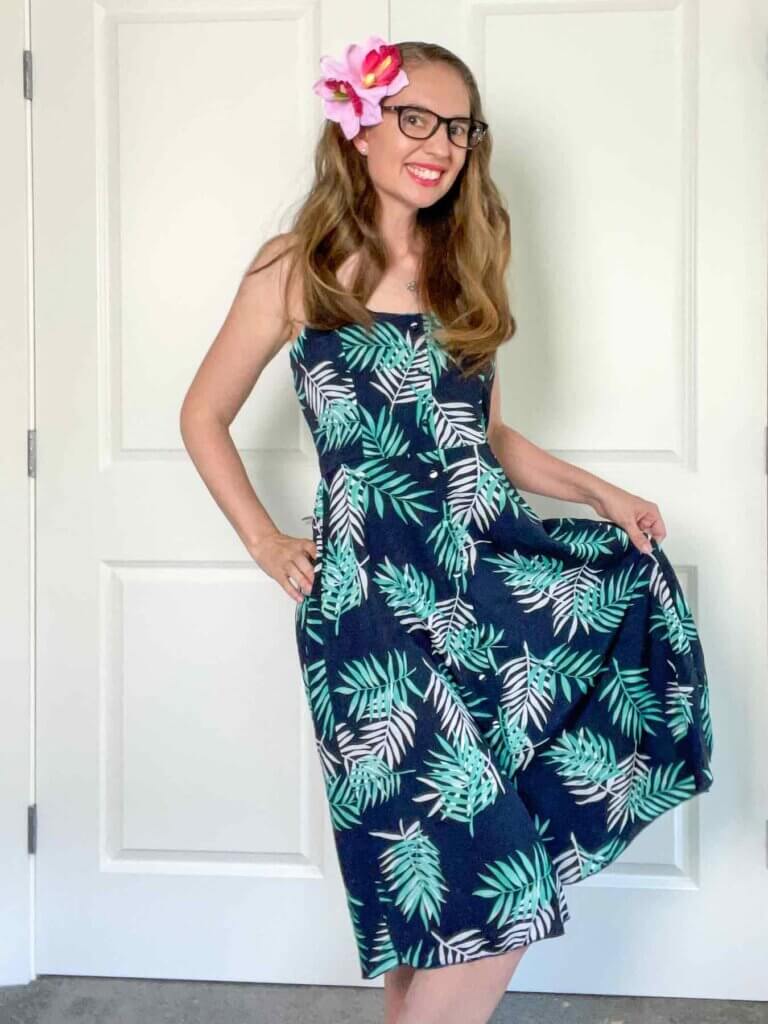 What I Didn't Like about this Tropical Print Dress
I would have loved to see a version of this dress in pink or blue, but it's probably good that I'm not tempted by another dress!
FINAL VERDICT: Keep
Overall, I'd say this Wantable Style Edit Unboxing was fantastic!
My Wantable stylist did a great job listening to my specific notes and coming up with things to pack for Hawaii.
It would have been really easy to buy this entire box and have most of my Hawaii vacation outfits figured out!
Like this Wantable Style Edit Unboxing? If you'd like to try Wantable, use my referral link and save $25!