Are you thinking about planning a trip to Kauai in April? Find out some of the best things to do in Kauai in April that are worth adding to your itinerary!
This list of things to do in Kauai in April was written by Hawaii travel expert Marcie Cheung and contains affiliate links which means if you purchase something from one of my affiliate links, I may earn a small commission that goes back into maintaining this blog.
Planning a vacation to Kauai in April is a great experience. April is a spectacular time of year to enjoy a vacation to one of Hawaii's stunning islands.
There is a wide array of exciting events and activities taking place in Kauai in April. You are sure to find something that everyone will love. Especially if you are going with your family.
Visiting Kauai in April can be a great experience for everyone involved. From the fantastic weather to the fun Easter celebrations, everyone will be sure to be entertained.
Get started planning your Kauai getaway as soon as possible. You will not regret it.
Don't have time to read a bunch of Hawaii blog posts and reviews? Here are some of our top picks for visiting Kauai.
Popular Kauai Tours/Activities
Favorite Kauai Resorts/Hotels
Grand Hyatt Kauai (this Poipu resort has a luxurious pool area, romantic restaurants, and a stunning ocean view)
Koloa Landing Resort (this is a luxury resort with an amazing pool area and truly spacious rooms)
Royal Sonesta Kauai (we LOVE the pool here because it's the largest one in Hawaii)
Want to Rent a Car in Hawaii?
One of the best places to rent a car in Hawaii is Discount Hawaii Car Rental because they get the best rates from top national companies like Alamo, Dollar, Thrifty, Avis, Enterprise, Budget, and Payless.
Want to skip all the planning and just access my detailed Kauai Itinerary complete with daily schedules, kid-friendly activities, and travel hacks? Click the button below.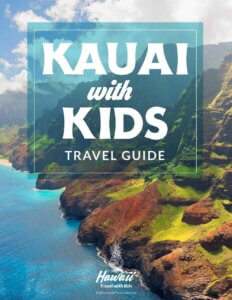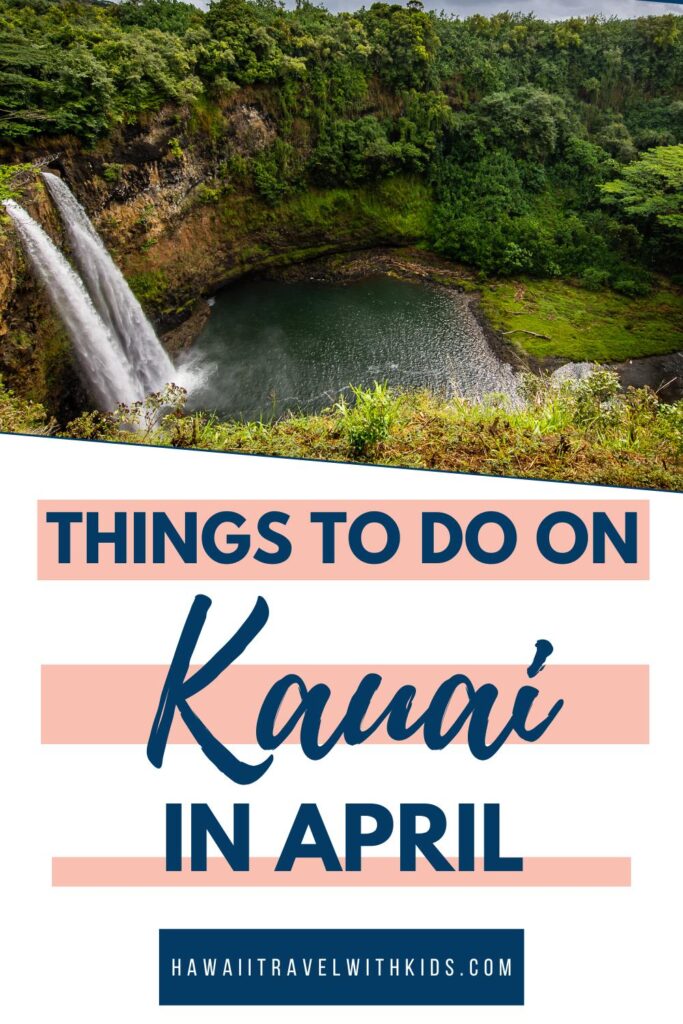 Weather in Kauai in April
The weather in Hawaii in April is great. As the winter season in Kauai ends, the temperatures begin to rise, the sun shines brilliantly and the rain begins to lessen.
The weather won't stand in the way of a Kauai beach vacation in April.
Kauai Temperature in April
Visiting Kauai in April is an amazing way to take advantage of some great weather. The average temperatures provide many opportunities to enjoy a beach day.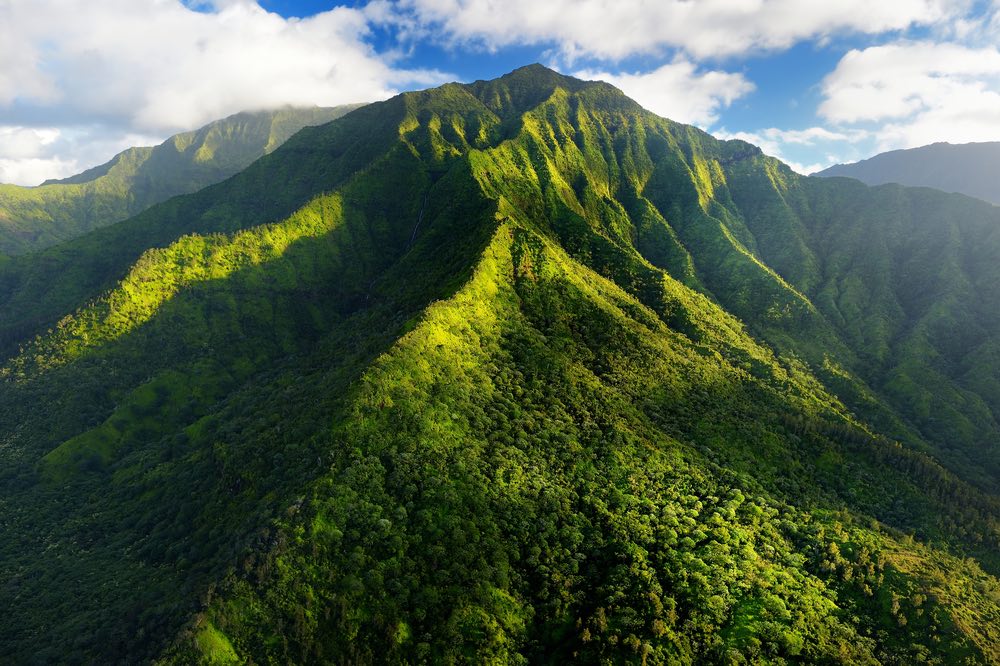 April is known as a rather hot month in Kauai. The daily temperatures range between highs of 75 to 82 degrees Fahrenheit. In the evening, you can expect temperatures to go no lower than around 65 degrees Fahrenheit.
Kauai Weather in April
The April weather in Kauai Hawaii is warm and inviting. The trade winds are beginning to slow down, making way for less of a breeze as well as calmer waters. There is also quite a bit less rain than in the winter months.
Check out What to Expect During Springtime in Hawaii for more.
Book a Family Photo Shoot
Whenever we travel to Hawaii, we almost always book a family photo shoot with Flytographer. They are super easy, affordable, AND it guarantees that I'll be in some photos. You can get $25 off if you book through this link or use the code HAWAIITRAVEL.
Things to do in Kauai in April
There are so many fun things to do in Kauai in April. Whether you are on the island to celebrate the Easter festivities, or simply want to take in one of the many other events and festivals, you are sure to enjoy every single moment.
With so many great Kauai events in April, there is something for everyone.
Easter on Kauai
Celebrating Easter in Hawaii is fantastic. Not only is the weather perfect for Easter Egg Hunts, but Kauai has several great ways to enjoy the holiday.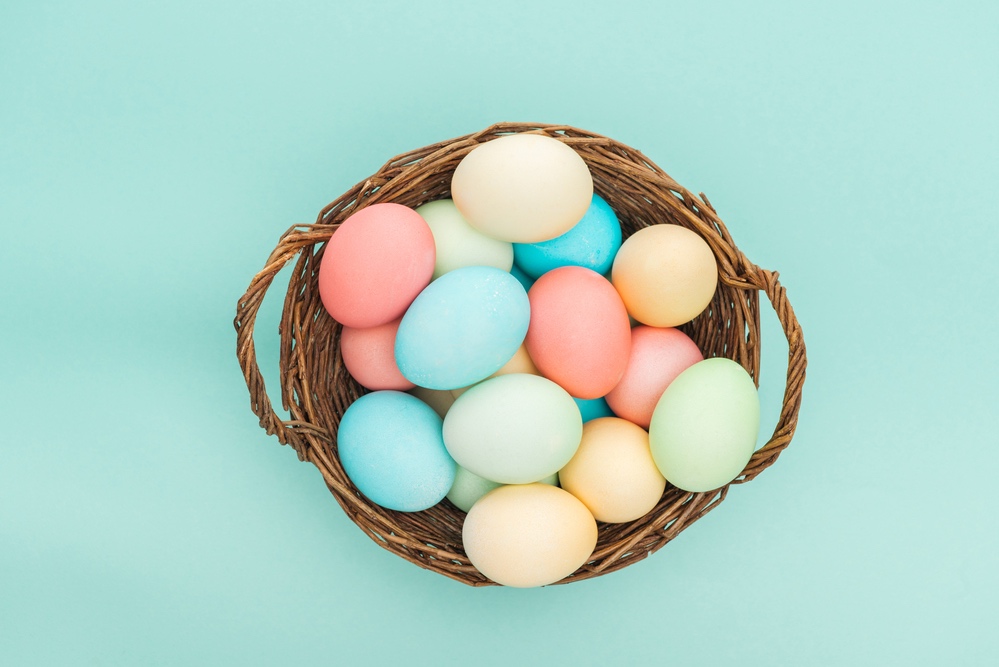 No matter how you choose to celebrate Easter on Kauai, it is sure to be enjoyable.
The King's Chapel
Taking place at the Hanapepe Football Stadium this free event is a great one. Every year the King's Chapel in Kauai hosts an exciting Easter Egg Hunt for kids in 5th grade and under.
There will be several activities for your kids to participate in including an Easter Egg Hunt. Your little ones can also meet the Easter Bunny.
Ohana Christian Fellowship Church
If you are looking for a fun yet complimentary Easter Egg hunt, look no further. The Ohana Christian Fe
llowship Church hosts a great hunt for the kids to enjoy. Located at Kapaa Beach Park, you can enjoy a complimentary lunch and an exciting Easter Egg Hunt. This is a great way to celebrate Easter in Hawaii.
Prince Albert Park
This is a great Easter activity for kids in Kauai. Here you can meet the Easter Bunny, enjoy an Easter Egg Hunt and have a whole world of fun. There is also a great Easter parade to enjoy.
Kauai Brewers Festival
This is a great festival for beer lovers in Kauai. The best part? You support a local nonprofit while enjoying some refreshing beers.
Located at Poipu Beach, this is a fun festival to attend for those over 21. In addition to delicious beers, there will also be live music, fundraising games and contests, and delectable food items.
Check out more at the Kauai Brewers Festival Website.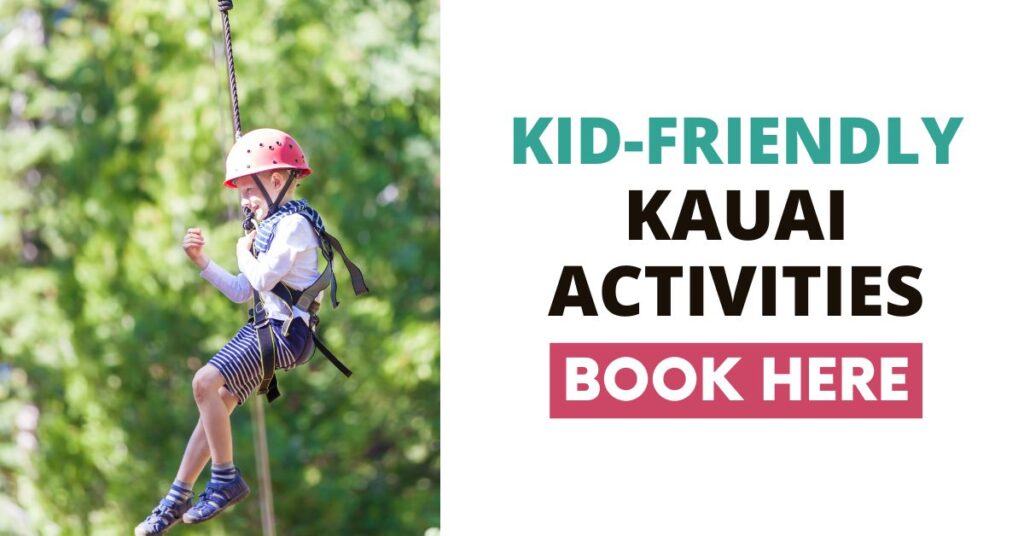 Top 10 Kauai Attractions in April
There are several things to do in Kauai in April. With so many exciting attractions to choose from, your vacation is going to be spectacular.
Whether you are looking for things to do with kids in Kauai, romantic activities or something fun for the entire family, there are so many choices.
1. Mount Waialeale
This amazing dormant shield volcano is an absolute must-visit while in Kauai.
Often referred to as the wettest spot on earth, Mount Waialeale is also known as the second-highest spot in Kauai. With an average of 450 inches of rainfall each year, this mountain holds many legends.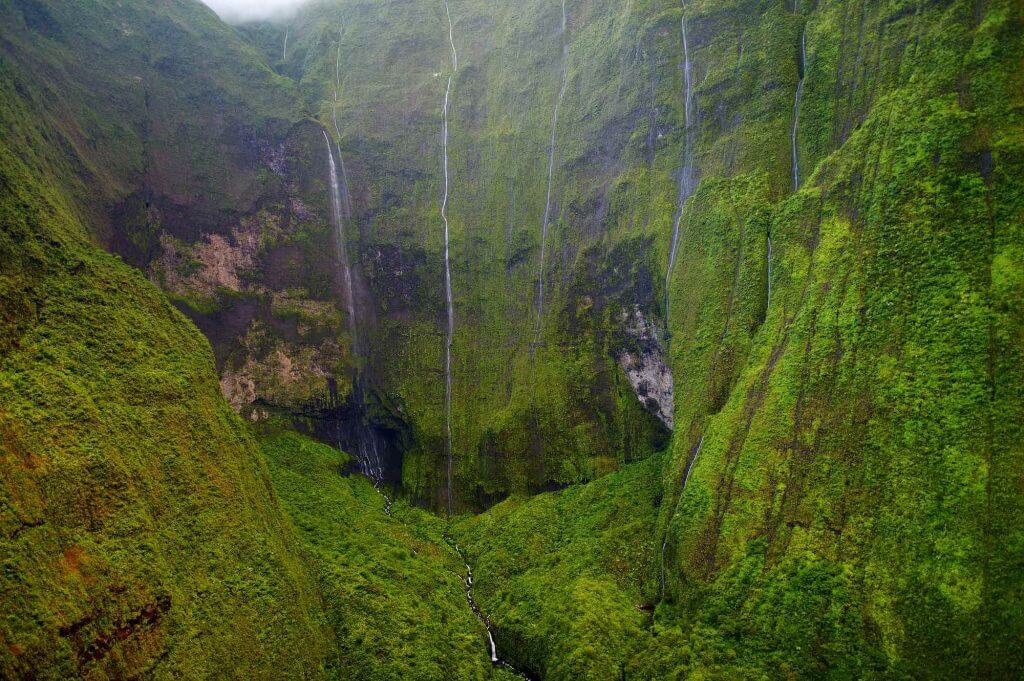 Clouds often overtake the top, creating a mystical appearance. The mountain itself is 5,000 feet high. It can be viewed by exploring the trails or by helicopter. No matter how you view it, you won't want to miss this experience.
2. Wai'oli Hui'ia Church
Founded by protestant missionaries in 1912, the Waioli Church is a unique place to visit in Kauai. If you are looking for great places to take some amazing photos, this is absolutely one of them.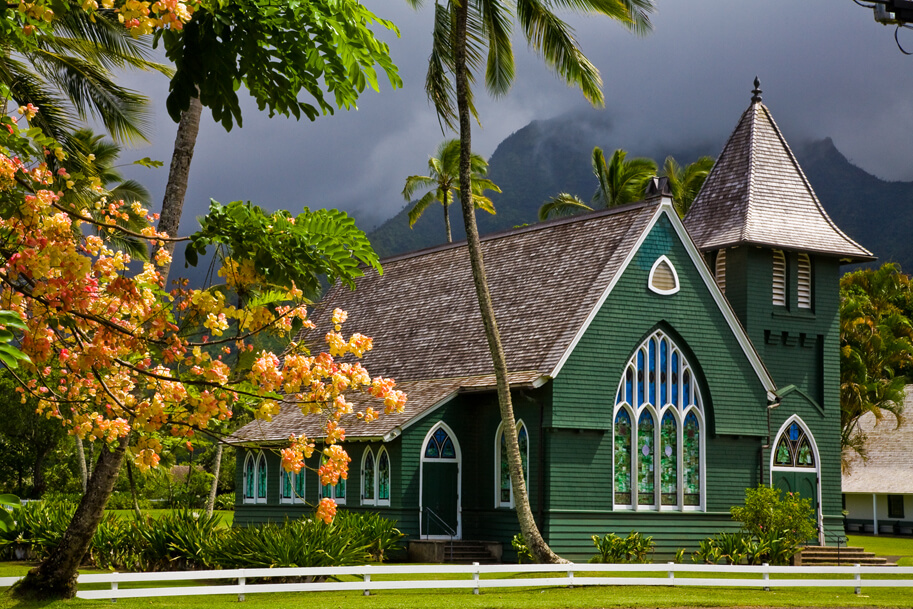 The building itself contains so much history, but its beauty is also notable.
Blending perfectly into the tropical environment with Kauai mountains in the background, this church is gorgeous. You can go inside and take a look around as long as it's open.
3. Glass Beach & Cemetery
This interesting beach area is located in an industrial part of Kauai. Rather than containing regular sand, the beach is adorned in gorgeous sea glass. The sea glass washes ashore and is beautiful and boasts several colors.
There are sea lions that enjoy hanging out on this beach too, so chances are you will catch a glimpse of them.
While this beach isn't a large beach and isn't a great place to sunbathe, it is a truly unique experience and great for photo ops.
4. Maliuhi Tree Tunnel
The Maliuhi Tree Tunnel is a fantastic path to take a drive through. Located on the South Shore of Kauai, you will find a gorgeous road lined with stunning eucalyptus trees.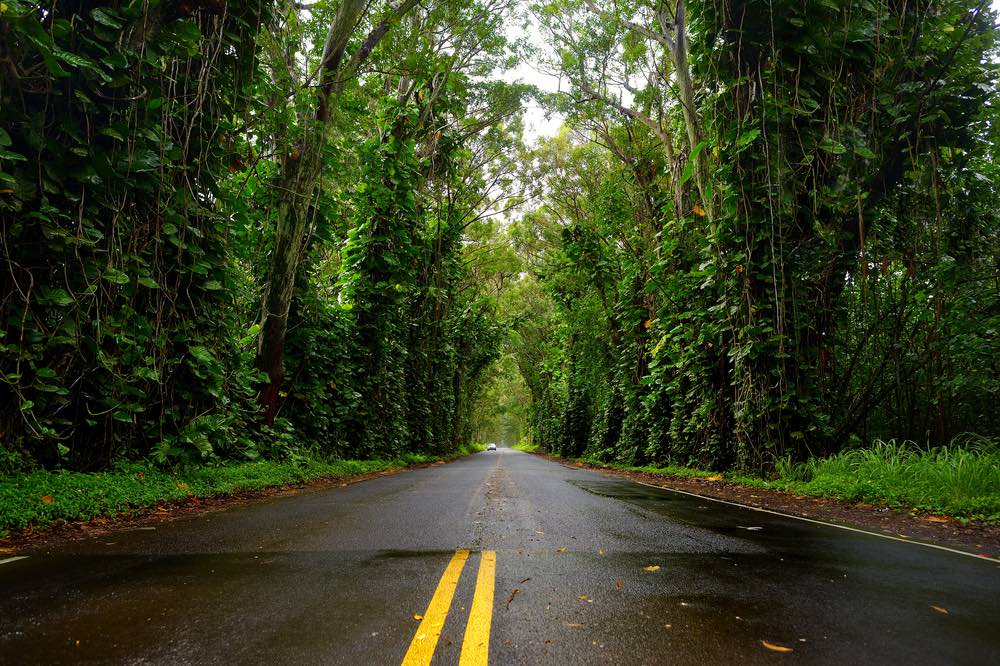 These trees cover approximately a mile of the highway, and create beautiful sights.
This amazing tree tunnel was planted in 1911. It was actually a gift to the community from a powerful and rich pineapple baron named Walter McBryde. The history of this tree tunnel is a great experience to be had in Kauai.
5. Waimea Canyon
If hiking is your thing, check out the Waimea Canyon. There are several great photo ops and hiking trails to enjoy. This green and red volcanic formation is 1 mile wide, 10 miles long, and 3,500 feet deep.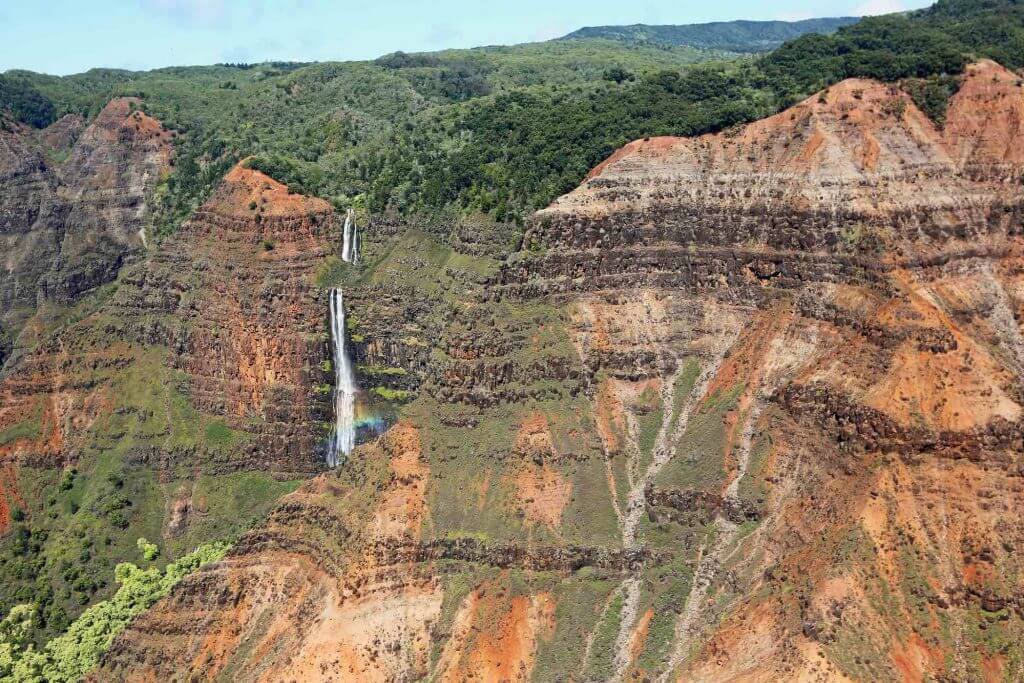 Keep in mind that the higher elevation means the temperature drops as you ascend. Make sure to bring some rain gear, wear great shoes and have a warm sweater on hand just in case.
If you aren't so much of a hiker, drive the walls and stop at some great lookout spots.
6. Ziplining
Depending on what you are looking for, there are several different ziplining excursions available on Kauai. In fact, ziplining has gained popularity in Hawaii as of late.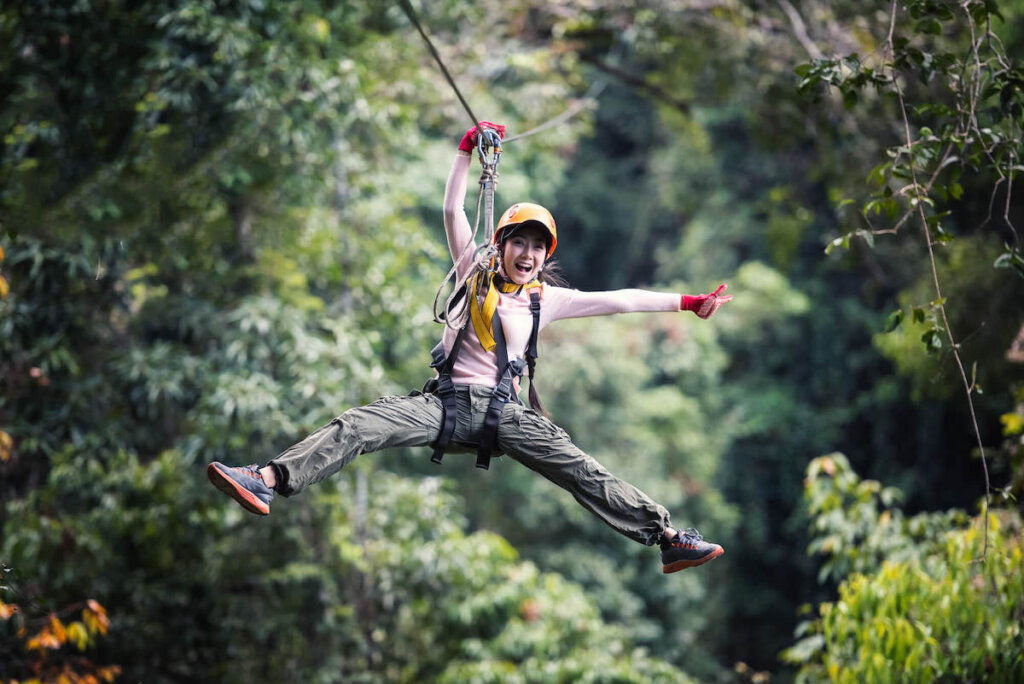 Considering that Kauai is full of tropical, lush, gorgeous jungle areas, ziplining provides amazing views. What better way to enjoy your Kauai vacation than with a bird's eye view?
No matter what ziplining adventure you choose, you are in for the ride of your life.
7. Kauai Beach Path
This amazing coastal bike path located on the East Shore of Kauai is a great spot to enjoy a walk or bike ride.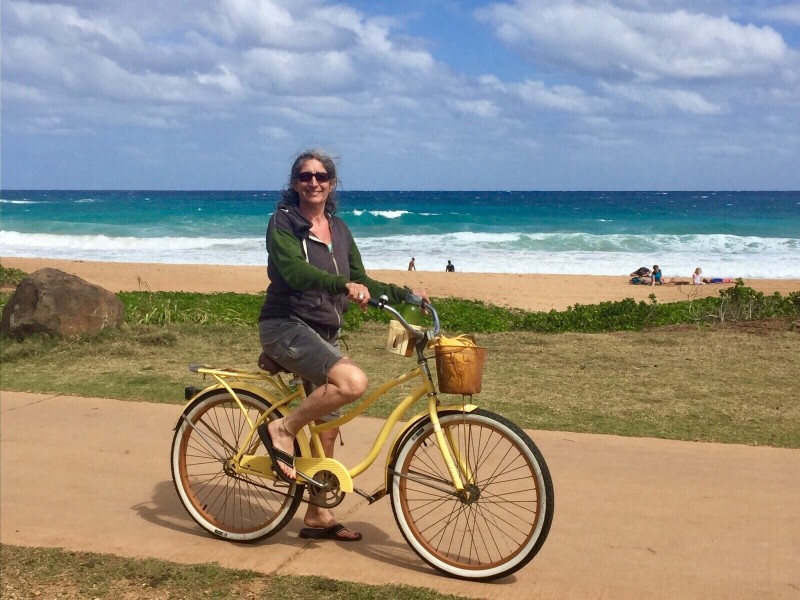 The path has amazing ocean views and extends up and down the beautiful coconut coast. You can either rent a bike, or take a walk.
If you are traveling with kids, many of the rental places offer the opportunity to rent bike trailers for your little ones.
The Kauai Beach Path is a fantastic place to visit with your family in Kauai.
8. Snorkeling
There are so many opportunities to go snorkeling in Kauai. Whether you are a seasoned expert or a beginner, there is something here for everyone.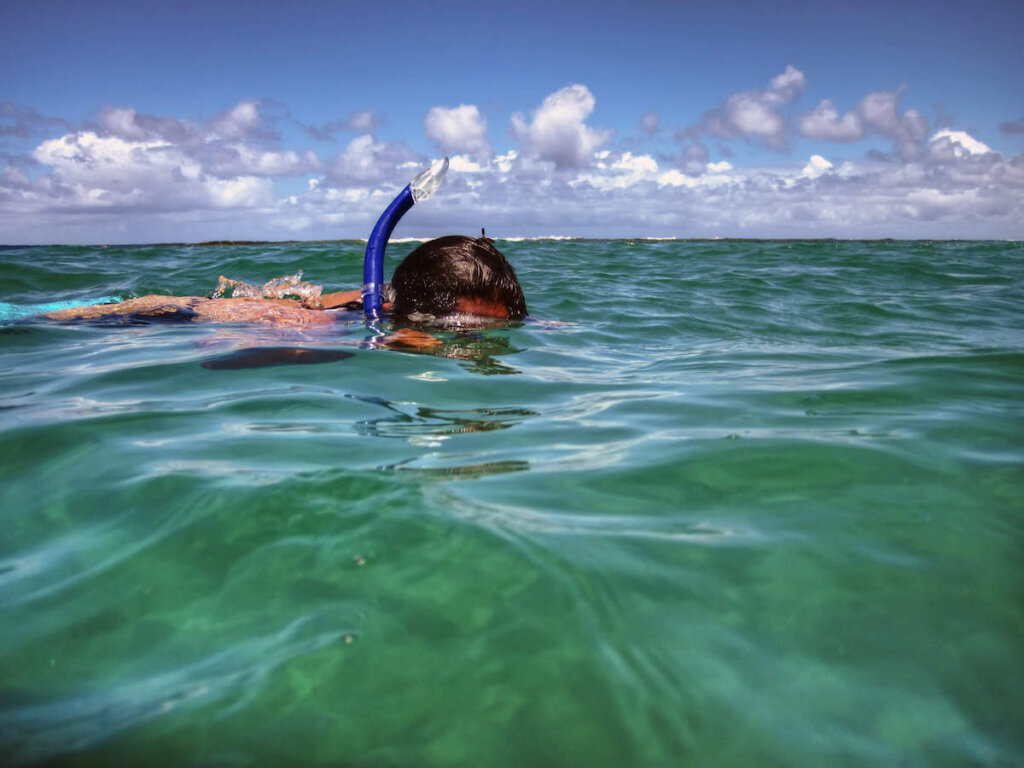 There are several snorkeling excursions that can be had. Whether you go for a few hours or want to spend an entire day discovering what lies beneath the surface of the ocean, you are sure to find one that suits your needs.
Considering that there are many different locations to snorkel in Kauai, you are sure to see a variety of sea life.
Keep your eyes peeled for sea turtles, dolphins, and Hawaii's national fish the humuhumunukunukuapua'a. You can also see gorgeous coral, sea urchins, and schools of tropical fish.
No matter what you choose, snorkeling is a must do activity while visiting Kauai.
9. Opaekaa Falls
Nicknamed "Hidden Falls" this gorgeous place boasts gorgeous jungle scenery and individual cascades of water that seem to disappear into the lush forests.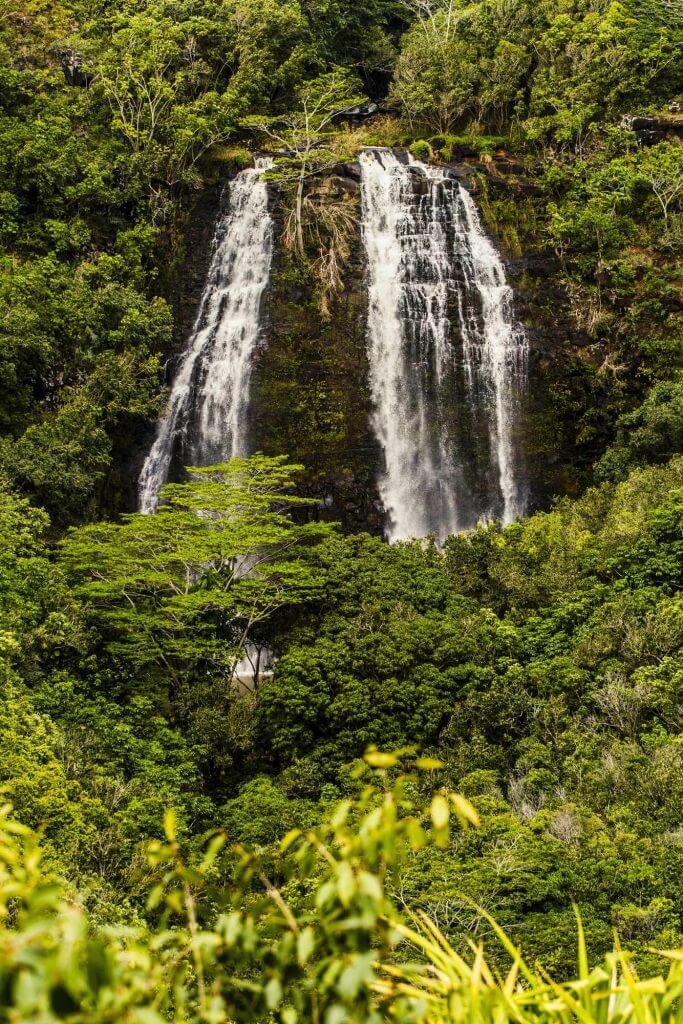 There are tours that you can take up to the falls. These tours will bring you to a designated viewpoint close enough to the falls to take some awesome photos.
If you want to get up close and personal with the falls, you can hike there. The dense rainforest will provide beautiful views as you make your way along the gorgeous Wailua river toward the falls.
10. Surfing
There are several group and private lessons available for people to learn to surf. Whether you are an avid surfer or a beginner you will find an opportunity to surf.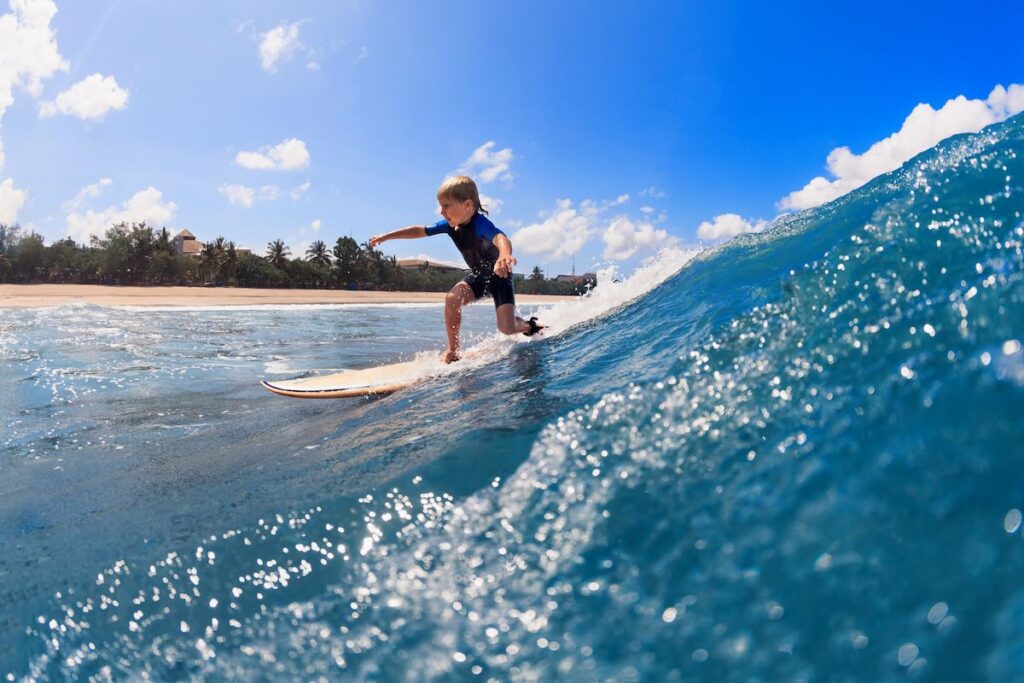 When choosing a place to surf, you should take into consideration the wave height and whether or not there are lifeguards available.
Hanalei Bay is a fantastic place to surf as it has great views, consistent waves, and lots of different family-friendly facilities.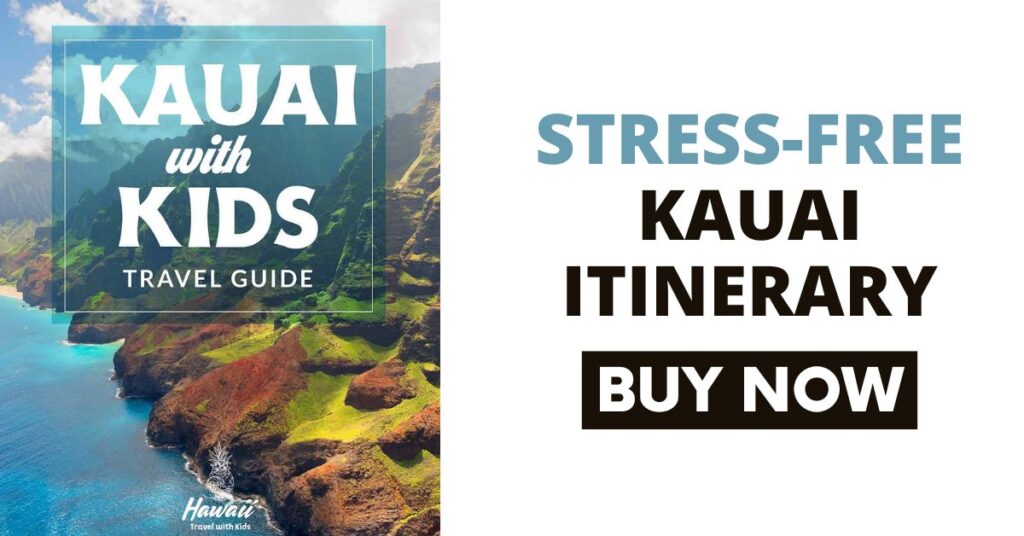 Kauai Hawaii in April Wrap Up
April may be the best month to visit Kauai. The weather is gorgeous, there are festivals, events and celebrations taking place and there is so much to do. There are many fun things that you can take in while visiting Kauai in April.
Whether you are visiting Kauai with your friends, family or simply want a romantic getaway, there is something here for everyone during this beautiful month. Book your vacation today. You won't regret it.