Are you looking for the best Big Island ziplines that are worth it? Keep scrolling for an honest review of the Kohala Zipline tour near Kona.
This Kohala Zipline tour review contains affiliate links which means if you purchase something from one of my affiliate links, I may earn a small commission that goes back into maintaining this blog.
Are you looking for the perfect Kona ziplining tour with kids?
My 9-year-old has been ziplining twice and was adamant that we go ziplining on our last trip to the Big Island. I had never been before and I was quite nervous.
We recently experienced all that Kohala Zipline Tour has to offer, and we're here to share our honest review.
This beautiful North Shore of the Big Island was the perfect location for a ziplining adventure- known as one of the most scenic courses in Hawaii!
Whether your little ones are seasoned adventurers or excited beginners, they will love this experience.
Don't have time to read a bunch of Hawaii blog posts and reviews? Here are some of our top picks for visiting the Big Island with kids.
Best Kid-Friendly Big Island Tours/Activities
Best Kid-Friendly Big Island Resorts
Save Money with Points
My favorite credit card for travel is Chase Sapphire because it offers the best value on flights and hotels. Check out the latest sign-up bonus deal.
Want to Rent a Car in Hawaii?
One of the best places to rent a car in Hawaii is Discount Hawaii Car Rental because they get the best rates from top national companies like Alamo, Dollar, Thrifty, Avis, Enterprise, Budget, and Payless.
Want to skip all the planning and just access my detailed Big Island Itinerary complete with daily schedules, kid-friendly activities, and travel hacks? Click the button below.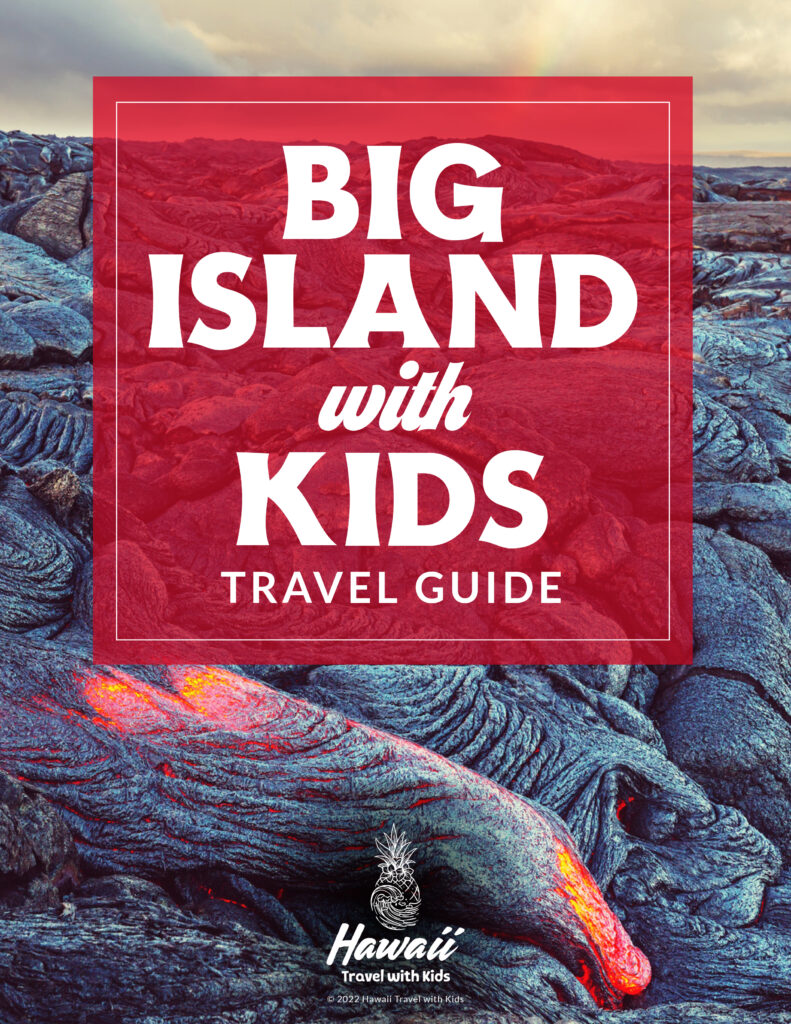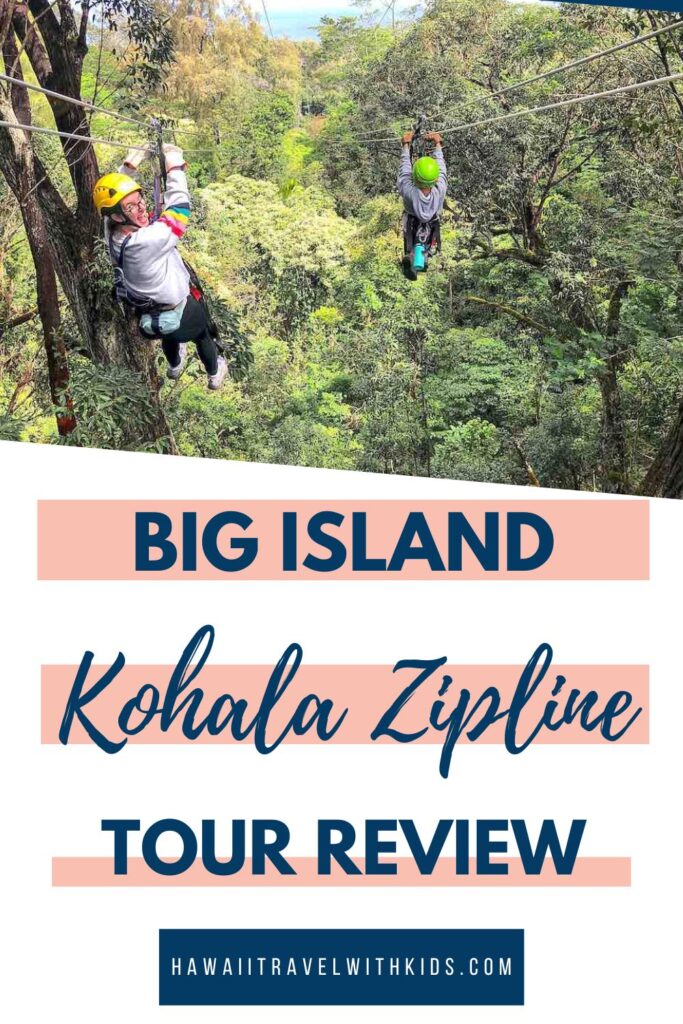 About Kohala Zipline
Kohala Zipline was established in 2011 by Rob and Cindy Pacheco, who have over 20 years of experience in the tour industry.
They wanted to create a unique zipline experience on Hawaii Island and enlisted Bonsai Designs, a renowned zipline and canopy tour builder, to construct the course.
They are located in historic North Kohala, approximately 1 hour and 15 minutes north of Kailua Kona, and 40 minutes north of the South Kohala resorts. The address is: 55-515 Hawi Road, Hawi, HI 96719
Kohala Zipline is committed to providing a world-class canopy tour experience while maintaining the highest safety standards.
What Kohala Ziplining Tours are Available?
Kohala Zipline's Kohala Canopy Adventure is located in Halawa Gulch and offers a unique experience featuring suspension bridges, tree platforms and ziplines.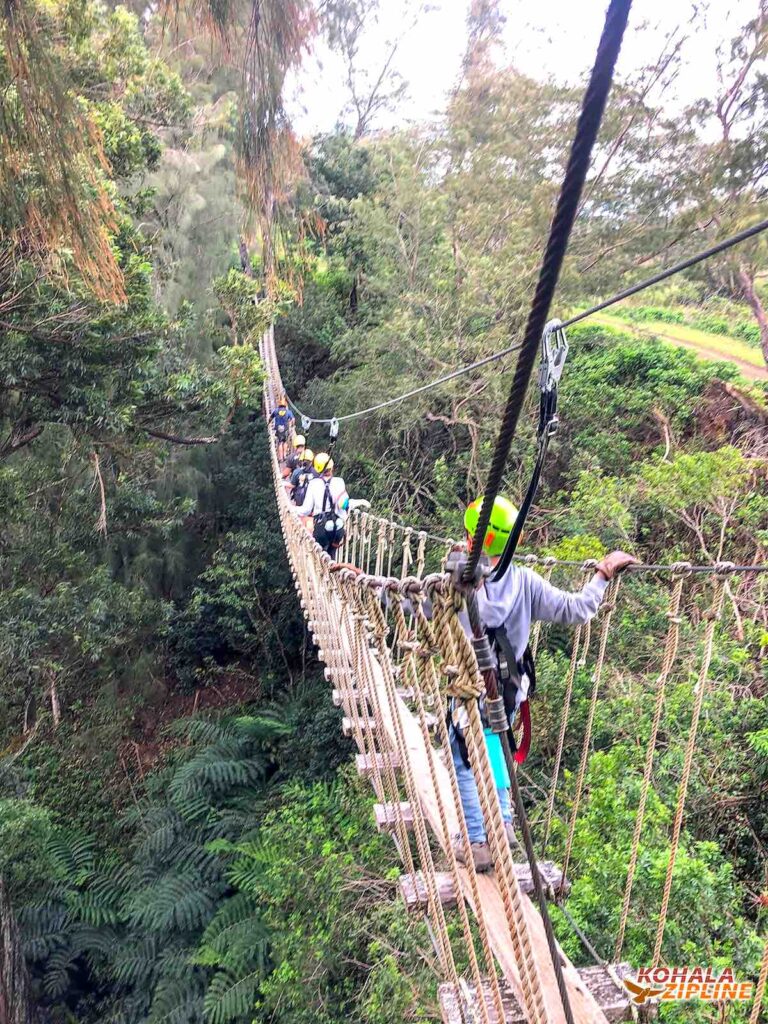 The course provides a thrilling adventure suitable for both zipline enthusiasts and beginners, with an unparalleled canopy experience on the Big Island of Hawaii.
There are two Big Island zipline tours offered at Kohala Zipline: the Kohala Canopy Adventure and the Kohala Zip & Dip.
Kohala Canopy Adventure
The Kohala Canopy Adventure offered by Kohala Zipline is the only full canopy tour on the Big Island, with 8 ziplines, 6 sky bridges, and a rappel.
This experience is suitable for both beginners and experts, with certified guides ensuring safety and comfort.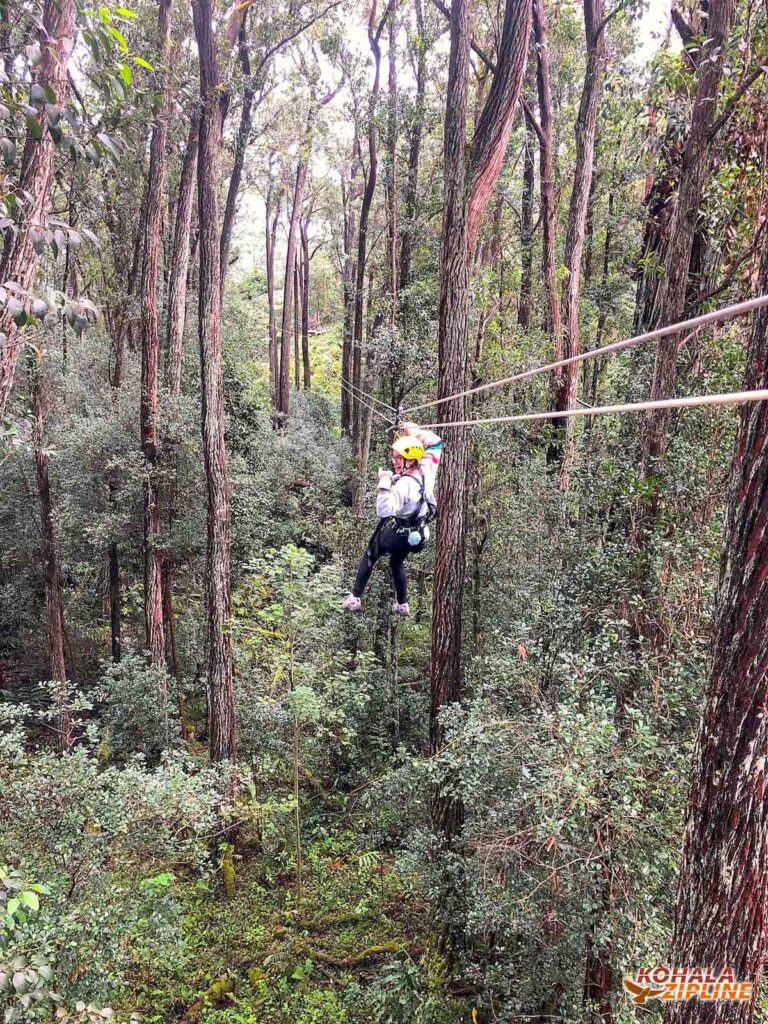 Experience the rush of flying from one tree to another at speeds of up to 45 MPH while taking in the stunning views of the forest canopy and the Kohala Coast, Maui, and ancient Hawaiian agricultural systems.
With tree-to-tree zipping, there's no need to walk up and downstairs between every zip, and you can even enjoy a fun off-road drive to the top of the course.
With a duration of about 2.5 to 3 hours, guests can learn about the area's natural and cultural history while enjoying an exhilarating adventure in the forest.
Kohala Zip & Dip
Spend a day in North Kohala experiencing the breathtaking beauty and cultural significance of the area.
Enjoy a range of activities including ziplining, picnicking on the rim of Pololu Valley, swimming under a private waterfall, and taking a fun off-road drive through private lands.
Kohala Zipline's full aerial canopy course, including 8 lines, 6 sky bridges, and a rappel is also included, along with complimentary snacks and drinks throughout the tour.
The tour is approximately 6 hours round trip, departing from Kohala Zipline Headquarters in Hawi.
What to Know about the Kohala Zipline Tour Before You Go
Arrival and Tour Information
The tour actually takes place about 20 minutes from the check-in spot (which is an old sugar mill building in Hawi).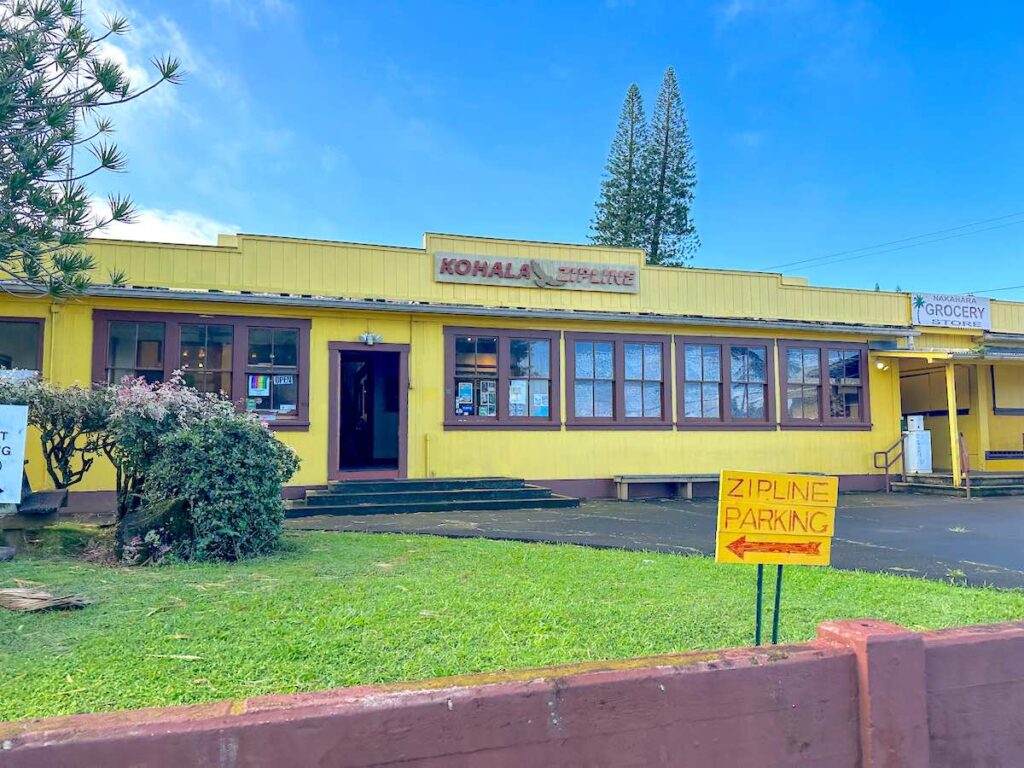 They ask guests to arrive 30 minutes prior to the start of your tour. That is so that people have time to check in and step on the scale to make sure they are within the weight requirement.
We ended up getting there about 40 minutes early and we walked around Hawi for a bit before it was time to get suited up.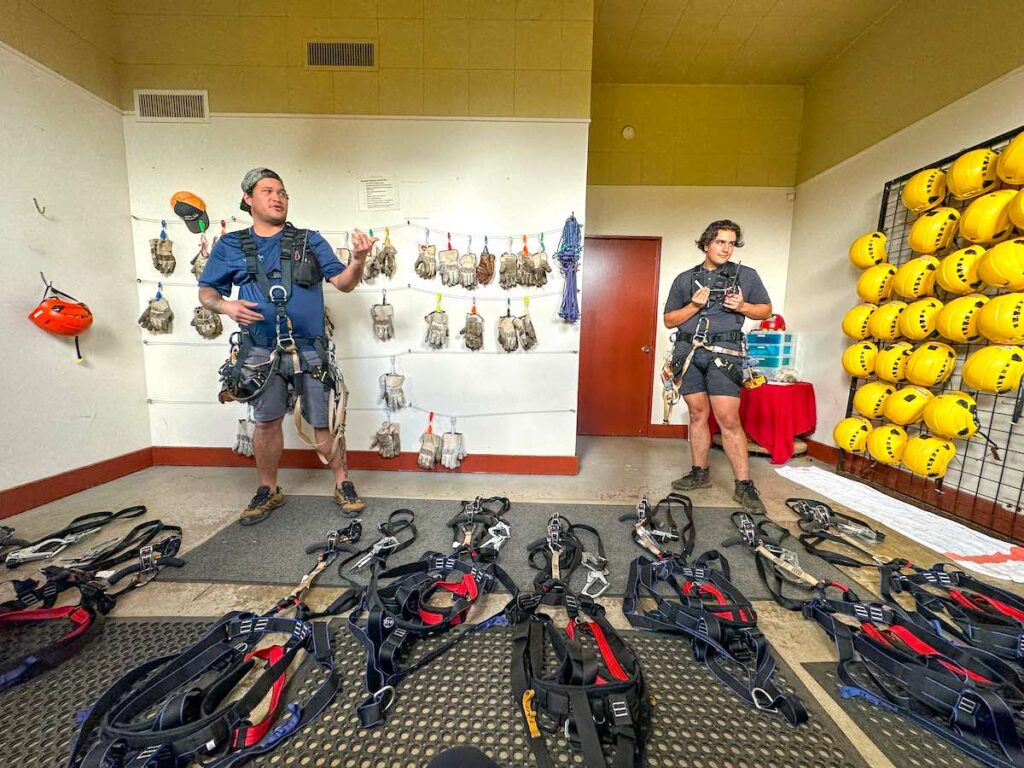 Once it was time for our group, we headed into a back room where our awesome tour guides fitted us for our ziplining equipment. Then we piled into the van.
You MUST make advanced reservations as this is a really popular Big Island ziplining outfit.
Ticket Information
We booked our tickets through Viator. It's a tour company that handles a TON of Hawaii tours and we've always had a good experience with them.
You can purchase your tickets for the Kohala Canopy Adventure or the Kohala Zip & Dip.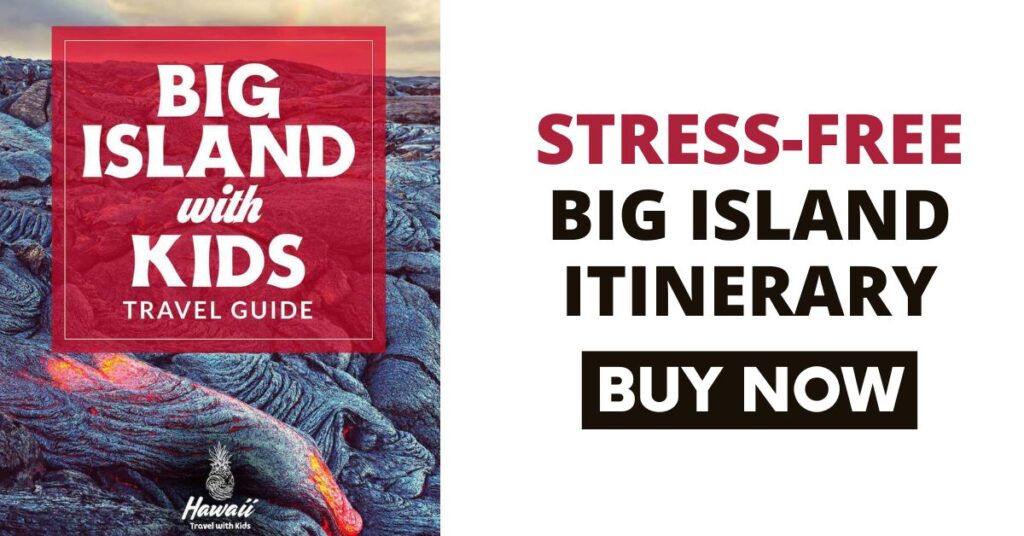 Kohala Zipline Tour
The Highlight of this Kona Zipline Tour
I really appreciated that they had 2 "practice" ziplines. This is where they taught us all the safety stuff and where we got to try out a couple of short ziplines.
They were located right next to the van so that if anyone felt like they didn't want to continue, they could just hop in the van and go back early.
As someone who was pretty nervous, I really appreciated that option. And it made me relax a bit more as I tried it out because I knew I had an "out".
What You Should Look Out For
After we were all geared up, we hopped into a big van to take us to the actual zipline course that was about 20 minutes away.
Normally, they use a military-style all-terrain vehicle that can handle all the bumps. Our van did a pretty good job, but it was definitely NOT a smooth ride! The adventure really did start right at the drive.
Honest Big Island Zipline Tour Review
I was seriously nervous before our ziplining tour. I don't do well with rollercoasters and I sometimes get motion sickness. And it didn't help that my 9-year-old kept insisting it was easy to "accidentally" unclip (which is totally NOT true).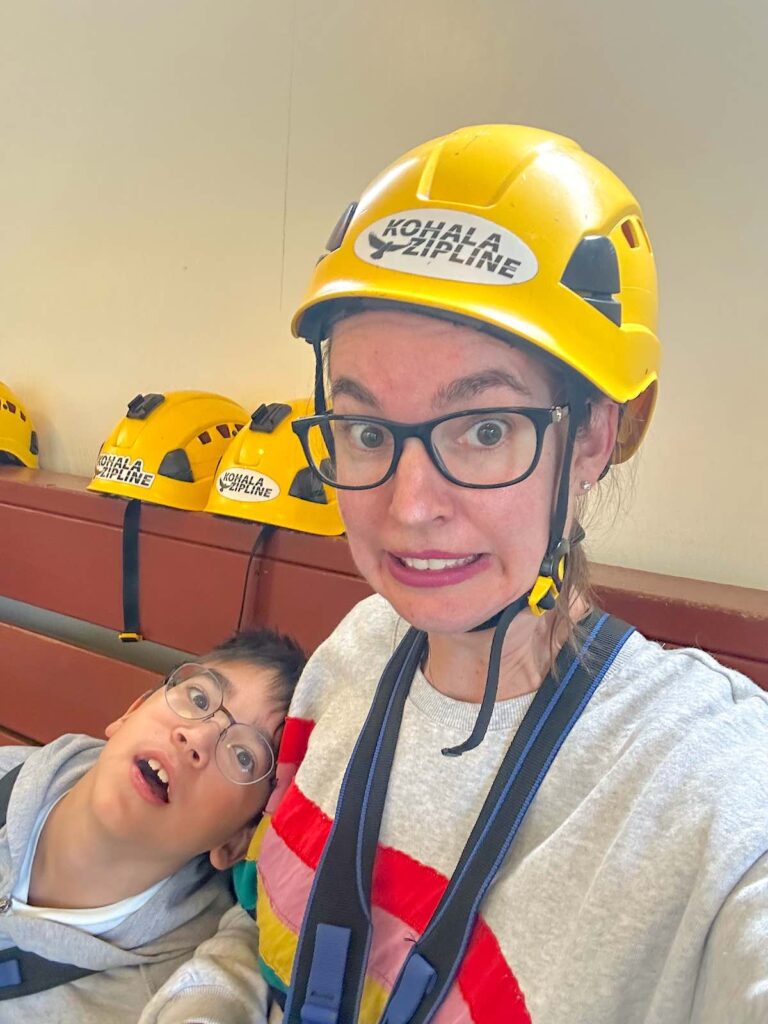 Our guides completely put me at ease and really made it a superb experience. We all felt like we were in good hands and they were encouraging without pressuring anyone to do anything they didn't feel comfortable with.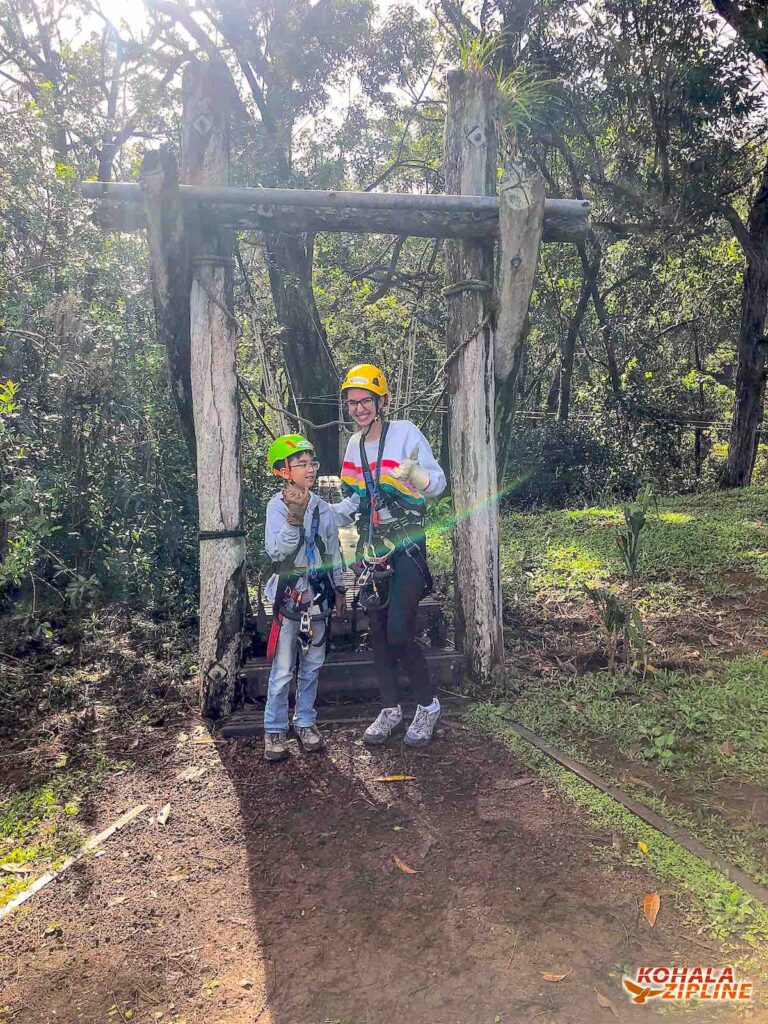 I told the guides a few times that I was nervous and they honestly did an incredible job of calming me down and giving me a ton of confidence that I knew what I was doing.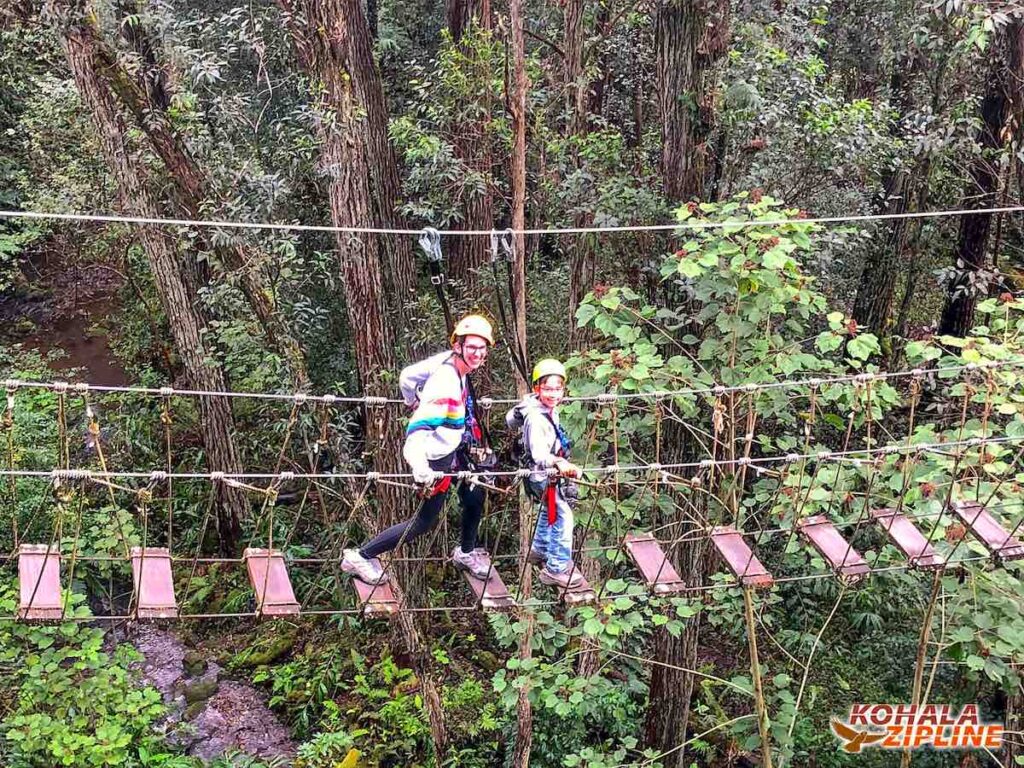 As a ziplining first-timer, I think the scariest part was taking the first step off the platform. And honestly, I was scared for the first 2-3 ziplines.
But, after that, I was able to let go of my fears and just enjoy the ride. Our guides gave us all the information we needed to feel safe and it was really cool to see the amazing sights.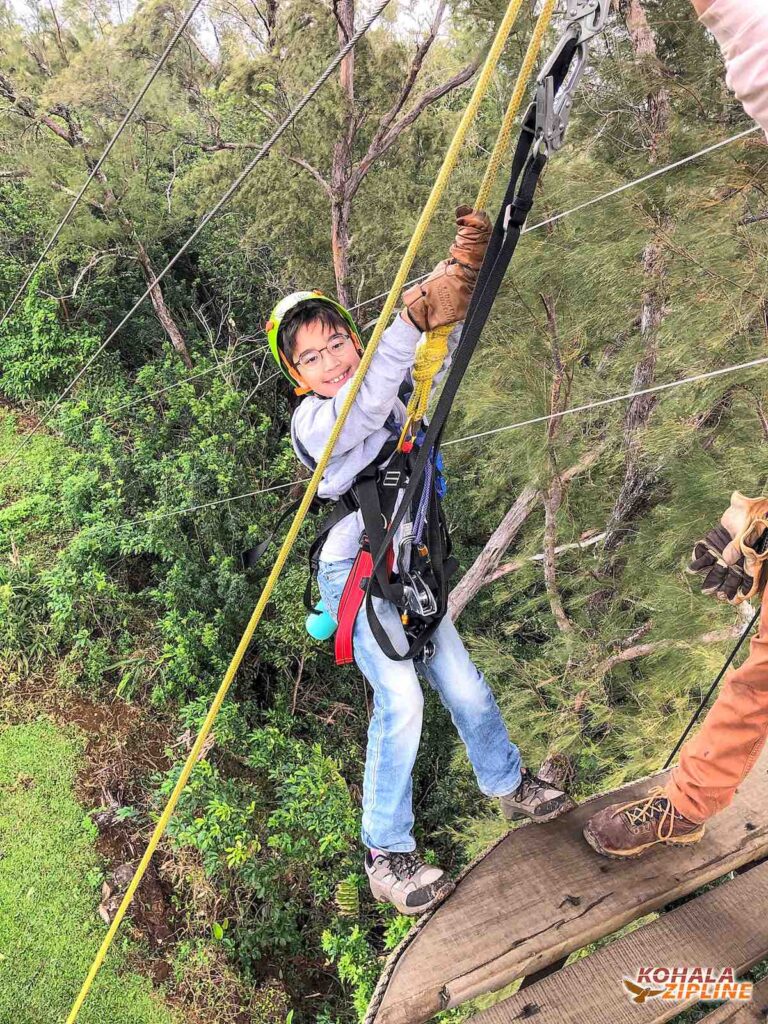 The last "adventure" was rappelling down from the final ziplining platform. It sounds a whole lot scarier than it really was.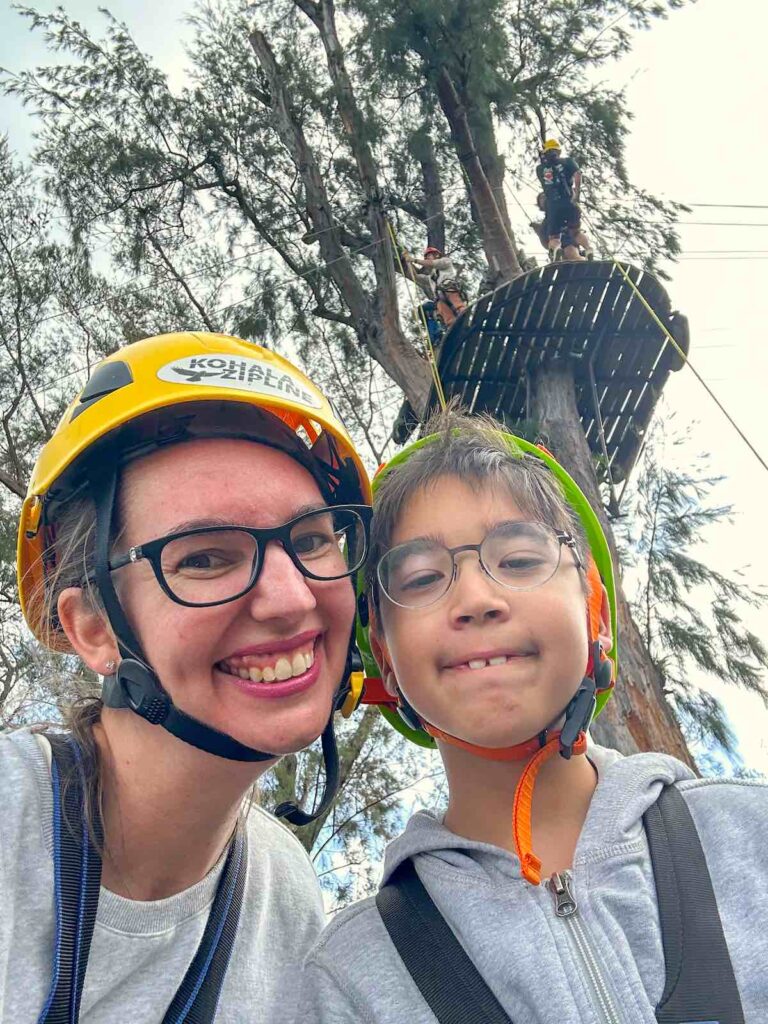 By the end of the tour, I decided that I wanted to add ziplining to our rotation of Hawaii adventures for our next trip!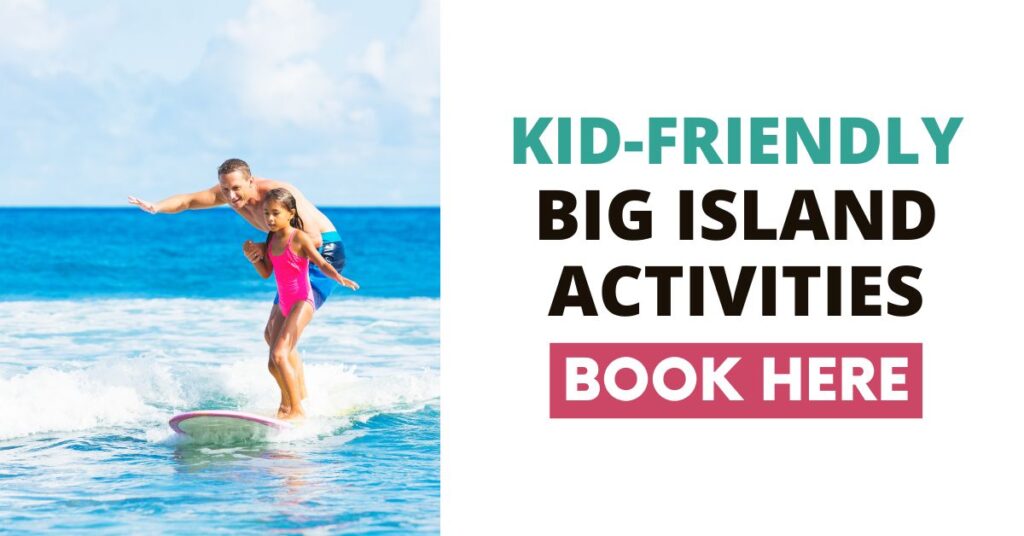 Hawaii Zipline Tour Tips for Families
Age Requirements
Kids need to be at least 8 years old to do this ziplining tour on the Big Island. But, they also need to be at least 65 pounds.
I highly recommend weighing your child before you book tickets.
What to Wear
Guests are supposed to wear closed-toe shoes and long pants. I wore yoga pants and my son wore jeans.
We went in February and the weather was in the 60s and raining. So, we wore long pants and sweatshirts and I'm glad we made that choice.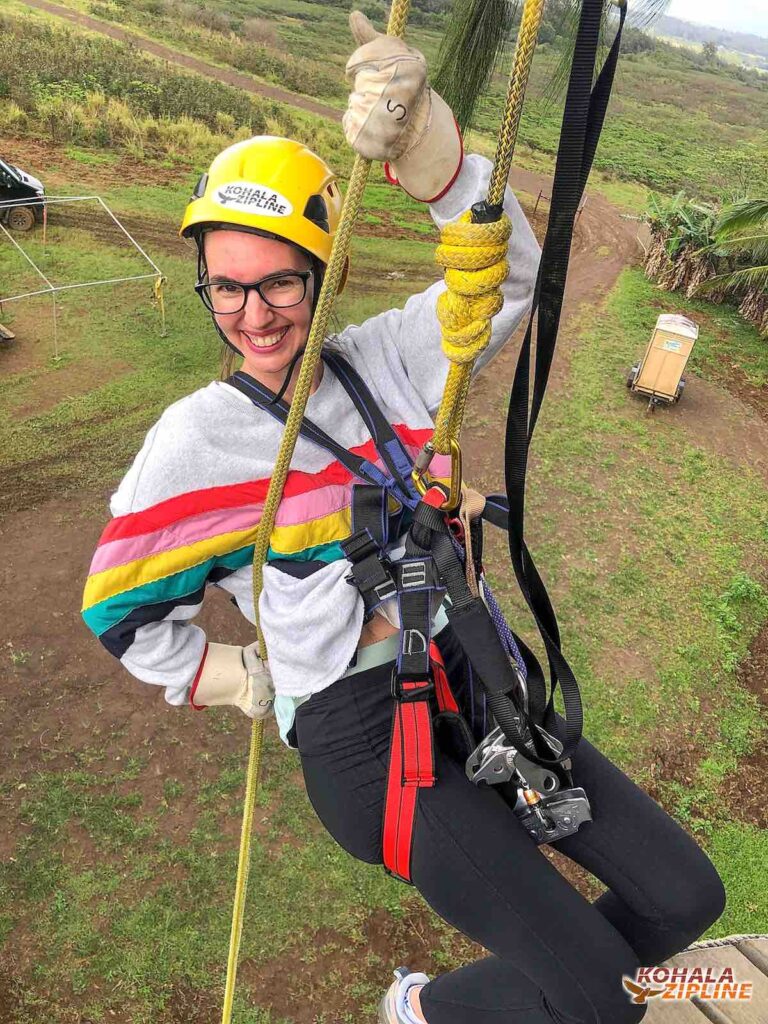 We also wore hiking shoes and I appreciated having sturdy footwear for the suspension bridges and the short hikes.
Kohala Zipline does have rain gear available to borrow during the tour. We decided not to wear our rain jackets because I was worried I'd get too warm.
They also sell cute sweatshirts at their gift shop in case you decide you need another layer.
What to Bring
You really don't need to bring anything. I'm the sort of person that always wants to have my phone and money on me "just in case."
So, I bought a hip belt there so I could store my phone, rental car keys, and my wallet.
I figured I'd be able to take photos on the platforms. But, I didn't count on wearing gloves. So I only took photos at the very end of the tour after I took my gloves off.
In hindsight, I should have just left everything so I didn't have a bulky hip belt in addition to all the other ziplining stuff.
Additional Tips
Definitely buy the photos! This is a Big Island family adventure you won't want to forget. I'm really glad we got them because our guides knew exactly where to take photos.
You also pass through the town of Hawi on the way. If you time yourself well, you could grab a meal after your zipline at one of the many adorable restaurants and cafes.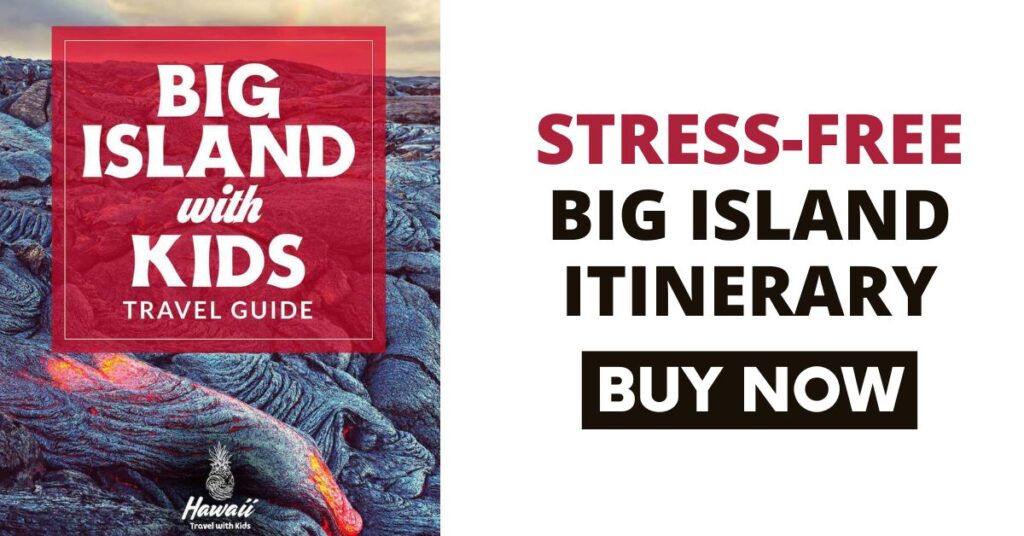 Zipline Big Island Hawaii FAQs
How fast do you go on a zipline?
The speed on a zipline can vary depending on the length and incline of the line, but it typically ranges from 20 to 60 miles per hour. The Kohala Zipline goes up to 45mph.
Can children go ziplining?
It depends on the specific zipline course and its age requirements. Some zipline courses may have age and weight restrictions for safety reasons. It is best to check with the individual course for their policies on children and ziplining. My 9-year-old barely made the weight requirement for Kohala Zipline.
Is ziplining on the Big Island safe?
Ziplining on the Big Island can be safe when done with a reputable and experienced company that follows proper safety procedures and guidelines. It is important to research and choose a company with a good track record, like Kohala Zipline.
Can we bring a camera or phone on the zipline?
Technically you can, but if you drop it, it belongs to the rainforest. You can get one of those plastic phone cases you can wear around your neck. However, if you're serious about getting photos or video, I'd bring a Go Pro.
What happens if it rains during our ziplining tour?
At Kohala Zipline, they do tours rain or shine. Our guides did say that people go a bit faster in the rain, so keep that in mind.
Do we need any prior experience to go ziplining?
Nope! They will give you all the education you need AND let you do some practice runs to make sure you feel comfortable.
So, is the Kohala Zipline Tour on the Big Island Worth It?
My son and I had a BLAST on this Big Island ziplining tour. I was worried that it was going to be too intense for me, but it was actually perfect.
It was really cool to have this bonding experience on our trip to the Big Island and we can't wait to do it again!
Book your Kohala Canopy Adventure tickets.
Viator provided complimentary tickets for review purposes. All opinions are my own.