Planning a trip to Oahu on a budget? Find out how to spend 4 days on Oahu with kids on a budget. Scroll down for all the info!
This 4 days on Oahu post contains affiliate links which means if you purchase something from one of my affiliate links, I may earn a small commission that goes back into maintaining this blog.
Guest Post by Jenna Ouano of Alpha Omega Family Adventures
We've recently had the opportunity to spend an amazing few days in Oahu with our four boys. And it was easy to explore Hawaii on a budget.
All of us loved every moment we spent there and would go back tomorrow if given the chance!
Before we left home, I of course did tons of research trying to find the best places on the island to see in our few days there.
What I quickly realized is that you can't do it all, first off! And, second, that it is best to group different things to see on Oahu based on where it is on the island.
I have put together an itinerary for your 4 days on Oahu to allow you to see as much as possible, so keep reading for all my recommendations!
Check out 101 Things to do on Oahu with Kids!
Don't have time to read a bunch of Hawaii blog posts and reviews? Here are some of our top picks for visiting Oahu on a budget.
Best Budget-Friendly Oahu Tours/Activities
Best Budget-Friendly Oahu Hotels
Want to Rent a Car in Hawaii?
One of the best places to rent a car in Hawaii is Discount Hawaii Car Rental because they get the best rates from top national companies like Alamo, Dollar, Thrifty, Avis, Enterprise, Budget, and Payless.
Want to skip all the planning and just access my detailed Oahu Itinerary complete with daily schedules, kid-friendly activities, and travel hacks? Click the button below.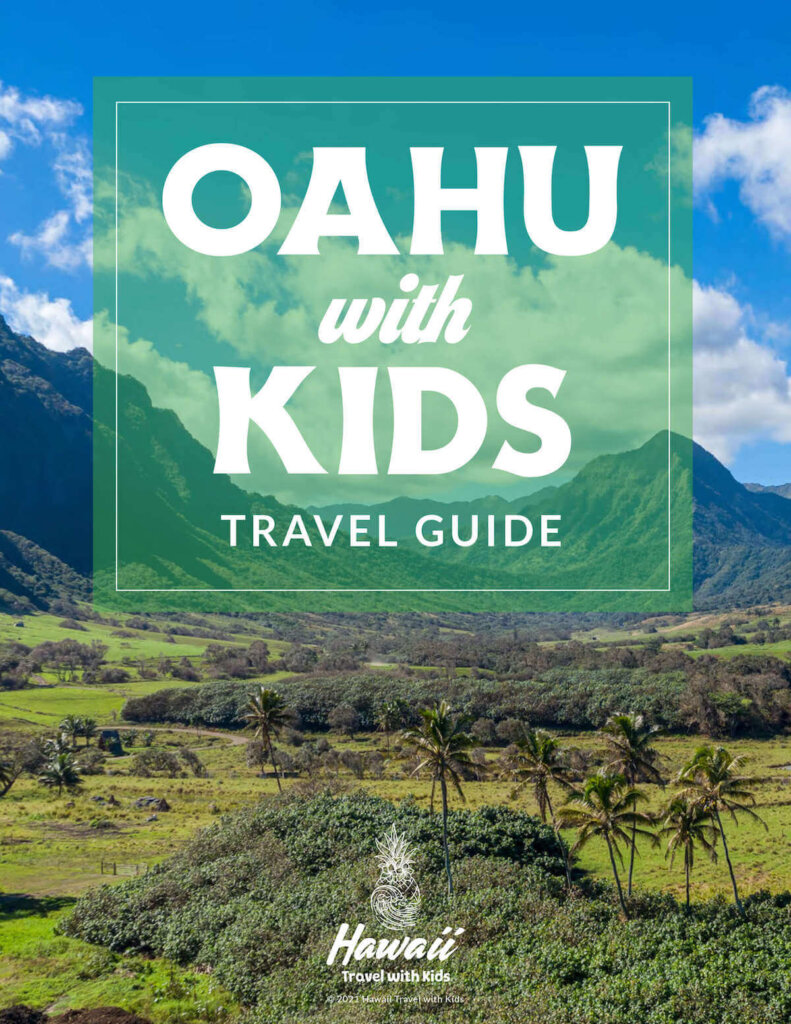 Oahu Itinerary FAQs
Is 4 days in Oahu enough?
It really depends on what you plan on doing. You can see most of the sites on Oahu in 4 days, but you won't have a lot of time for relaxing at your resort or at the beach. But, it's a good amount of time if you are planning to island hop.
How many days should you spend on Oahu?
If it's the only island you are visiting, you'll want 7-10 days. That gives you enough time to do Pearl Harbor, the Polynesian Cultural Center, explore the North Shore, visit Waikiki, have some beach days, go hiking, and join a few Oahu tours.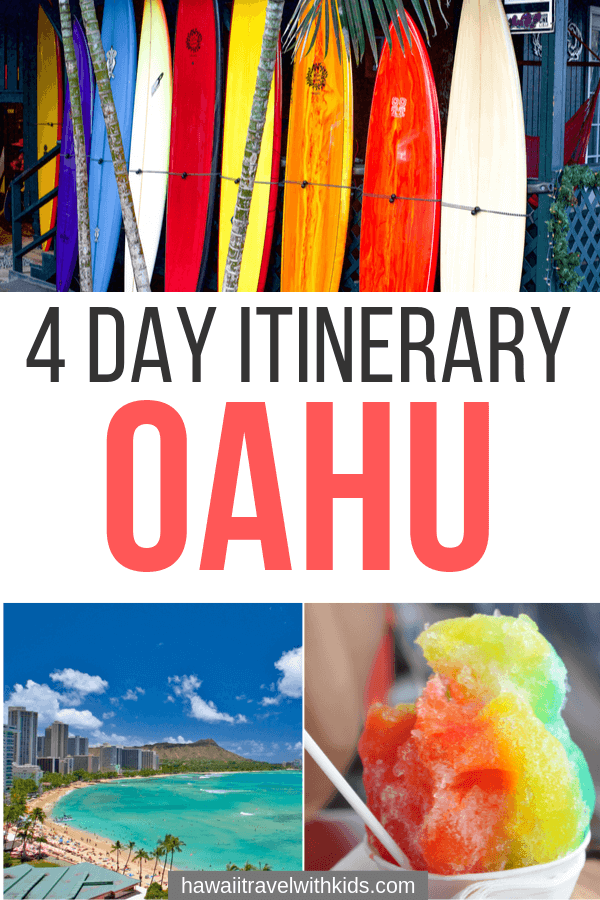 4 Days on Oahu: a Complete Itinerary
Day 1 on Oahu: East Side of the Island
Hanuama Bay
Halona Blowhole
Waimanolo Beach or Lanikai Beach
Hanuama Bay ($7.50 park entrance fee, $25 snorkel tour)
If snorkeling is something you want to attempt while on the island, I would recommend Hanuama Bay.
We did not get a chance to try snorkeling here, but everything I read in all my research said this is something not to miss out on.
It is recommended you arrive very early to ensure you get a parking spot.
Once you are parked, you need to visit the visitors center and watch a short video about the bay. You can either snorkel on your own (snorkel gear can be rented here) or sign up with a guided tour.
We had three reasons we didn't do this: We are not early risers and I was afraid we would be too late, we have a couple younger kids that wouldn't have been able to snorkel, and we were trying to save money.
The Halona Blowhole is just up the road a few minutes from Hanuama Bay. This can be either a quick stop or a longer stop-depending on how much time you'd like to observe it.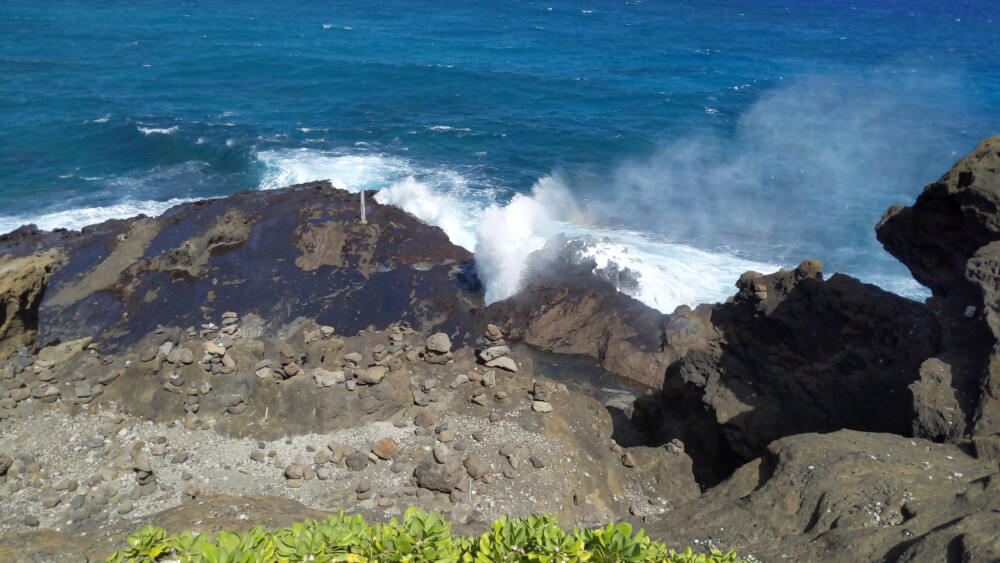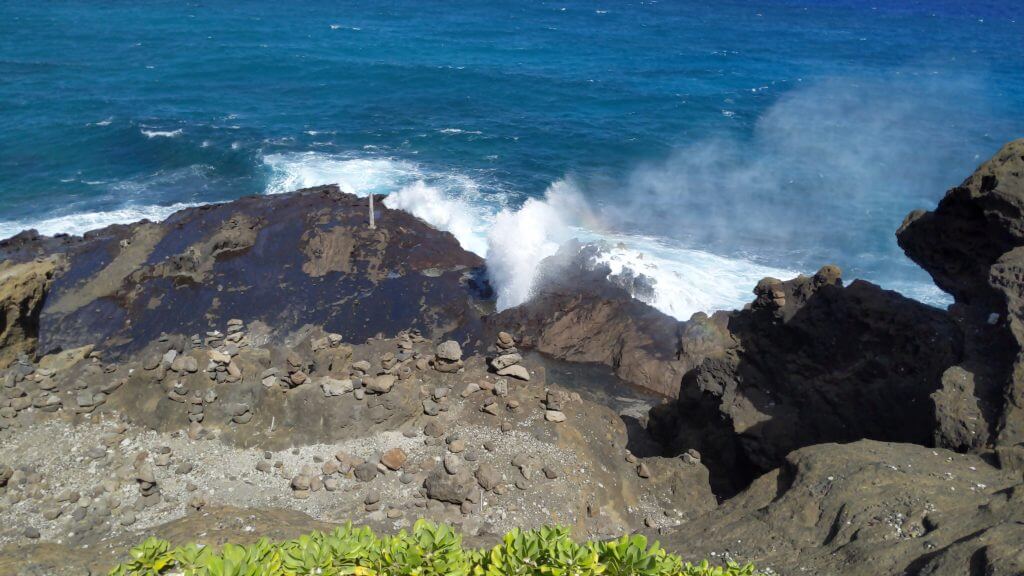 The parking lot for the Haloma Blowhole is just on the side of the highway. There are steps down to the viewing area.
The blowhole blows continuously every few minutes, the impressiveness of the blow depends on the waves rolling in.
From the viewing deck, you also have a pretty view of Sandy Beach. There is a small beach cove that can be hiked down to if you have time to check it out. We didn't have time since we wanted to make it to Waimanolo Beach and have time to play.
Waimanolo Beach and Lanikai Beach (FREE)
Waimanolo Beach is absolutely stunning. The water is a crystal clear blue and the sand is super soft white sand!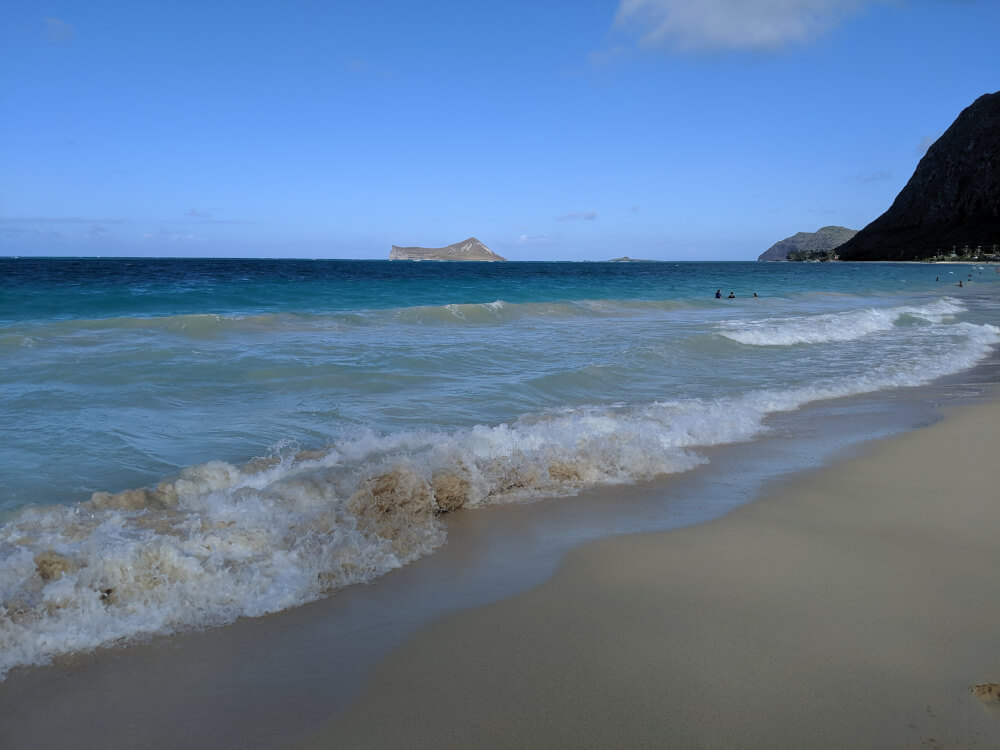 The parking for this beach was the easiest we found on the island. There is a large parking lot with bathrooms and showers nearby. This beach was not crowded at all!
The waves on the beach the day we were there happened to be pretty strong due to a storm out in the ocean, but I have read that these waters are normally fairly calm.
Lanikai Beach just might have been my favorite beach on the island…if we didn't come across as many Man-O-War jellies as we did!
For both Lanikai and Waimanolo Beaches, there were warning signs for these jellies and the lifeguards are prepared with a vinegar spray if you do happen to get stung.
But, we saw quite a few Man-O-War jellies on the beach and we didn't want to take our chances, so the boys mostly stayed on the sand.
Be sure to check out the Hawaii Beach Conditions before you go to check the jelly status. Apparently, there were more jellies than normal during the time we were there and they were only on that side of the island!
The waves at Lanikai Beach were perfect for my boys, if only they could've played in the water. The waves weren't too strong, but enough of a wave to have fun!
I would definitely make it a point to go back to Lanikai Beach next time we are in Oahu.
We also found a photographer before our trip to take our family pictures on Lanikai Beach (I would highly recommend this).
Parking at Lanikai could be tricky if it is crowded since the only parking is along the neighborhood streets, but we didn't have any trouble.
You can read more about our experiences at the beaches on Oahu on our blog here.
Day 2 on Oahu: North Side of the Island
Dole Pineapple Plantation
Shark's Cove
Waimea Beach Park
Waimea Valley
Toa Luau
Dole Pineapple Plantation (prices range from $6-$24 per person depending on which activity or package you choose)
While the Dole Pineapple Plantation isn't exactly cheap, I believe it is worth a stop!
We bought one of their packages, which saves a little money. We were able to do the pineapple maze and the train ride. My kids loved the plantation and wanted to do everything we possibly could!
They have a huge gift shop and food counter. If you are going to get a Dole Whip anywhere on the island, GET ONE HERE!
Make sure you get the added pineapple pieces. I have never had such sweet pineapples anywhere!
We went on a weekend and the parking lot was pretty packed. I would recommend arriving as soon as they open so you can spend more time here before heading to the rest of the island!
Shark's Cove doesn't have sharks at all, but it is a great place to try out snorkeling!
Just remember to bring water shoes as the rocks you walk through to get into the cove are very sharp!
The water in the cove is very calm, allowing you to see the different fish and urchins around the large rocks. We were hoping to see a turtle or two, but we didn't see any.
There is a decent sized beach for the kids to play on as well.
Parking at this beach was quite the challenge for us though, so be prepared to circle a few times before finding a spot!
Waimea Beach Park (FREE)
We actually did not get a chance to stop and try out this beach, but we drove by it a few times and each time I was wishing we had time to stop!
It was a beautiful clear beach with what appeared to be calm waves. This beach gets recommended often to visit with kids.
Although I did read that during the winter the surf tends to get pretty rough due to the side of the island it is on, so keep that in mind for when you visit.
Parking is on the sides of the highway that follows along the coast. There is a small parking lot as you turn off for Waimea Valley, but you have to cross the road to get to the beach.
Waimea Valley (Prices start at $12, but admission is FREE with Toa Luau ticket purchase)
Waimea Valley is the essence of a Hawaiian island! Abundant tropical flowers, beautiful canopy trees, and a ton of different birds flying around.
The hike was a fairly easy hike on a paved sidewalk. It is roughly a ¾ mile hike to the waterfalls at the top of the valley.
The waterfalls have a pool that they flow into that is swimmable, unlike other waterfalls on the island. The strength of the waterfall is based largely on the amount of rain the island has gotten.
When we visited, the waterfall was more of a trickle since there hadn't been much rain.
The fee to get into the valley isn't the cheapest fee. It is $18/adult and $12/child.
BUT, if you buy tickets for the Toa Luau (highly recommend), your entrance into the valley is included with the luau tickets!
Toa Luau (Prices start at $85/ticket)
When we started planning this Hawaii trip, we searched all the different luau choices. Even though luau tickets aren't cheap, we really were hoping to make this experience happen! Check out the latest prices and more details.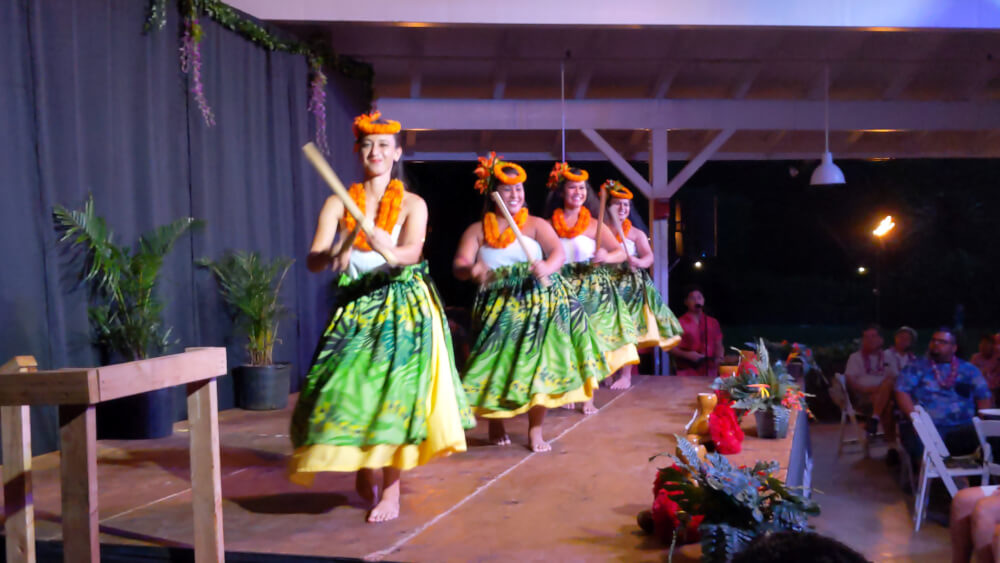 We decided that this luau would be the best one for our family since it included so many activities for the kids and also presented cultural history in a fun, interesting way.
It is also a much smaller luau than most so the intimate, being part of a family feeling was very strong! The food was delicious!
Before the luau actually begins, there are tons of cultural demonstrations that are hands-on for everyone there. We got to experience a traditional luau meal preparation, make coconut leaf headbands, and try out some Poi ball swinging.
Read our full description of the Toa Luau here.
Day 3 on Oahu: West Side of the Island
Manoa Waterfalls
Teddy's Bigger Burgers
Ko Olina Lagoons
We attempted to hike to these waterfalls on our last day in Hawaii.
Unfortunately, it was raining that day, which makes the hiking path muddy from everything that I read.
With it being our last day, we didn't want to pack muddy shoes on the airplane with us. So plan carefully if you want to hike to these waterfalls. It is a short hike to the falls, about a mile.
They do have hoses you can hose your shoes off with at the bottom of the trailhead.
These waterfalls are just for looking though as you are not allowed to swim in the water at the base of the falls.
It is just a short drive from Waikiki to the waterfalls though! Parking is just $5/car.
I would suggest stopping somewhere for lunch before heading to the lagoons.
There are restaurants near the lagoons, but they are all located within hotels. That leads me to believe they would be pricier!
This burger chain from the island had some of the best burgers and shakes we've ever had. We ended up eating this twice since we liked it so much!
Ko Olina Lagoons (FREE)
These lagoons were by far one of our favorite places on the island.
There are four lagoons with man made breakers by the wave breaks to create a calm, clear swimming hole!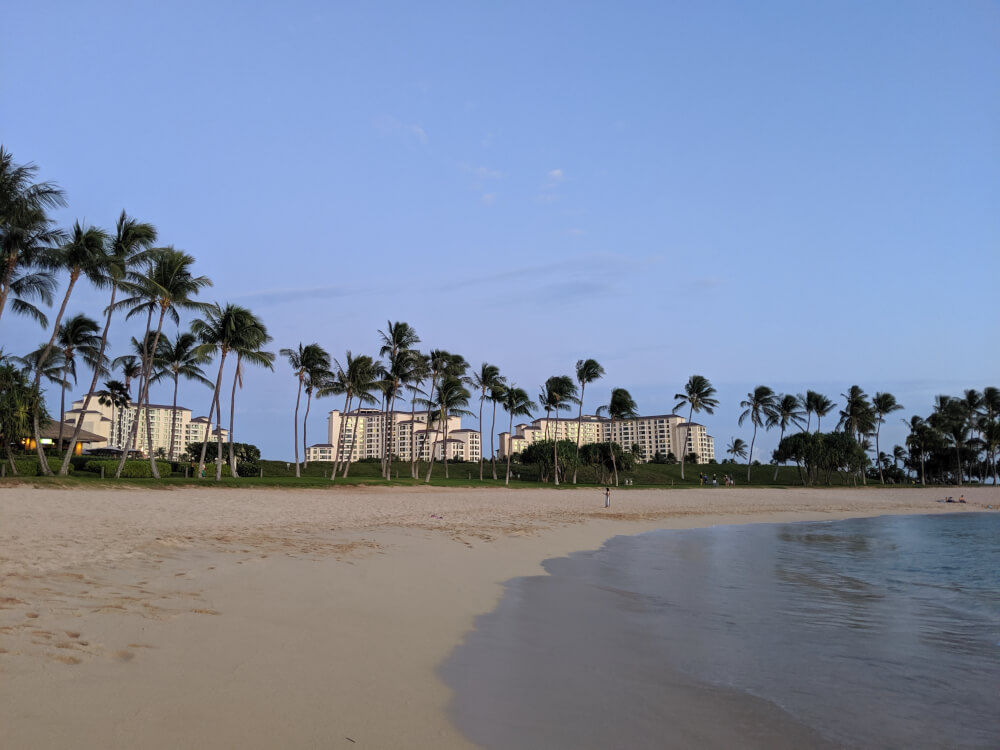 We visited both lagoon #1 and lagoon #4. But were equally beautiful and neither one was very busy. The water is so crystal clear you can see your feet even when you are in deep water!
We didn't snorkel here, but there are places you could snorkel near some rocks if you need some more snorkeling.
One of my bucket list items was to see a sunset on a Hawaiian Beach. We were able to see the sunset from Lagoon #1 and it was absolutely spectacular! Be sure to plan for that!
Parking was fairly easy as each lagoon has its own parking lot and its free. If there aren't spots, you just wait for someone to leave. We didn't have to wait very long for a parking spot at all.
Day 4 on Oahu: Waikiki Area
Diamond Head
Duke Kahanamoku Lagoon
Waikiki Beach
Lawson Station
Rainbow Drive In
Hilton Fireworks
This is a must do item on Oahu!
The hike is just about a mile up. It isn't necessarily a difficult hike, but it is mostly a dirt path that winds back and forth up to the top. There are a couple of sections with lots of stairs.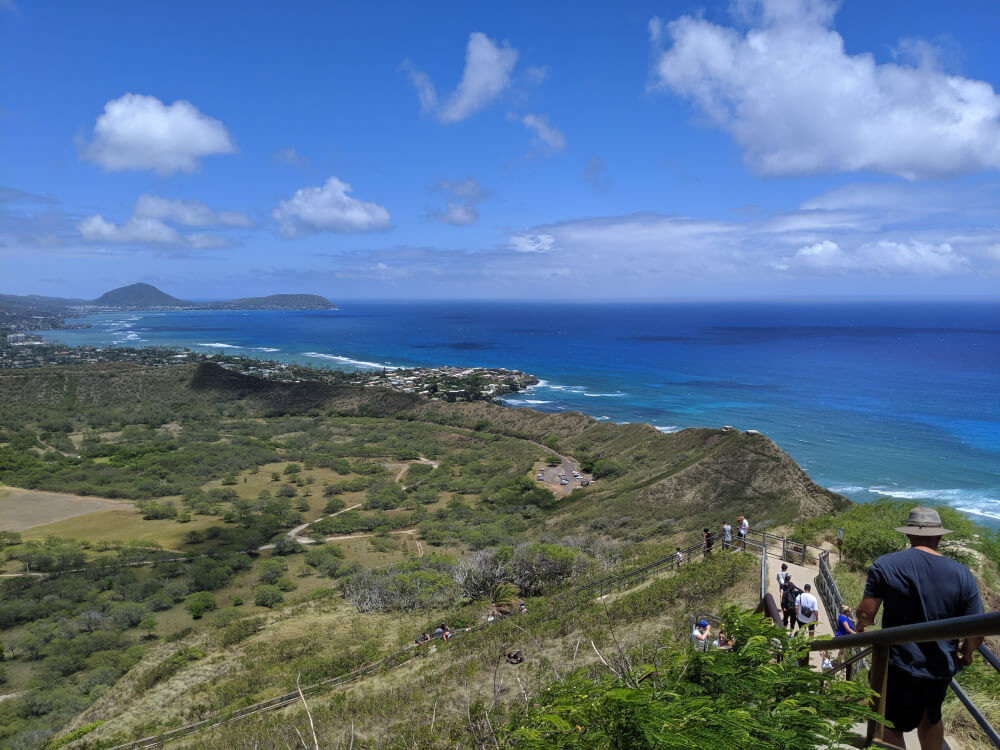 My boys were able to do the hike fairly easily (age ranges 3-10).
Bring plenty of water, though. There is only water at the bottom. We went on a pretty warm day and we drank all the water that we brought!
Once you get to the top, the views are amazing! You can see the entire outer edge of the volcano that was once there. You can see all of Honolulu and the beaches that direction.
Looking the other way, you can see the coastline and the hilltop that blocks Hanuama Bay!
Parking is $5/car. Once the parking lot is full, they turn cars away. We happened to get there at a time when they allowed a few cars to wait until a spot opens up. We only had to wait about 10 minutes for a spot.
The Duke Kahanamoku Lagoon is open to the public, not just hotel guests like I first thought when I started researching Hawaii.
All beaches in Hawaii are open to the public and that includes this lagoon.
This lagoon is a perfect stop for families. There are no waves, so the water is very calm and still.
The Hilton Hawaiian Village rents out different water toys such as paddle boards and water tricycles. We did not check out the prices to rent either of these items.
While it was more crowded than the other beaches we visited, it wasn't so crowded we couldn't play here.
We walked from our hotel, on the other end of the Waikiki area and it was a very nice walk.
If we were planning on swimming though, we might have driven. The Hilton has plenty of parking, but it is paid parking.
Waikiki Beach (FREE)
Waikiki isn't just like any city beach. Yes, it is right off of a busy street. And, it is crowded compared to other beaches on the island. But the beach itself is so unique.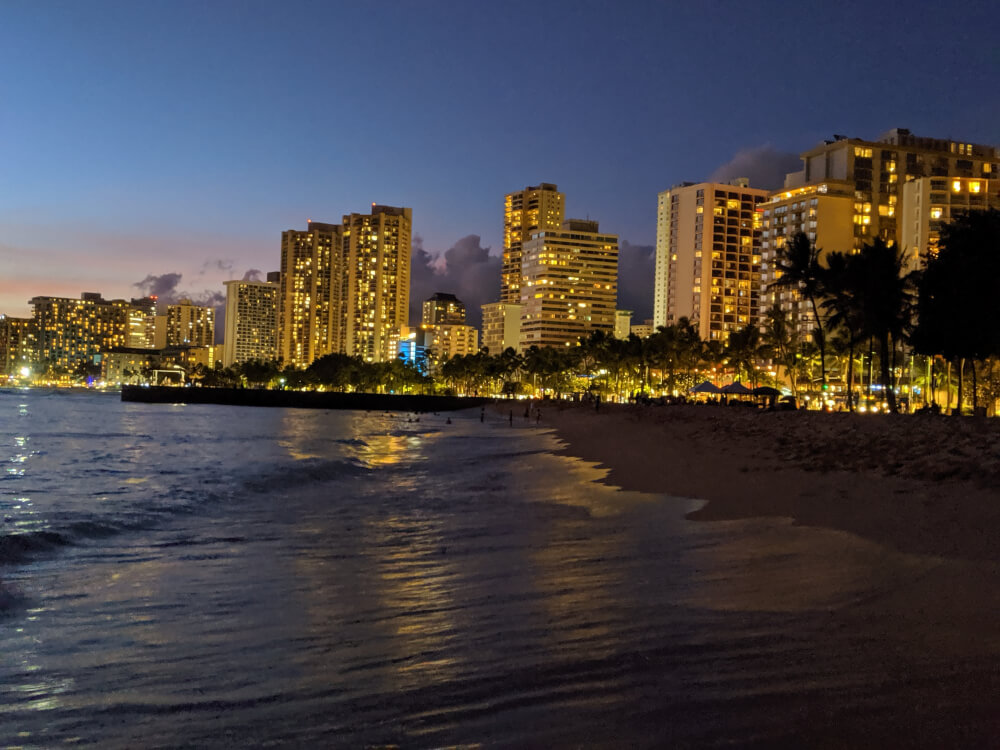 Part of the beach has been walled off creating almost a swimming pool in the ocean! There are just tiny ripples of waves.
Another part that we went to (on the side of Waikiki closest to Diamond Head) had a coral warning so we needed to watch out for coral rocks – large and small!
And further down the beach towards the Pearl Harbor side of Waikiki, there is perfectly clear blue water without any obstructions in the water!
If you happen to be on Oahu without a car, Waikiki is the perfect place to be with so many options!
Another nice thing about being at a Waikiki Beach is the access to the shops and restaurants along Kalakaua Avenue. This is the perfect place to take an evening walk. There are a variety of street performers along this street.
We stopped at Lawson Station for our shaved ice and walked along this street taking in the sights and energy around us.
Parking for Waikiki Beach will truly vary based on which part of the beach you want to visit. If your hotel is in the area, it is easiest to just walk to the beach.
Read the top 25 things to do in Waikiki with kids
Lawson Station (Starts at $4.50)
Stopping for shave ice while you are visiting the island is an absolute necessity.
We actually stopped a few times, once at Lawson's and once at the truck at the bottom of the Diamond Head hike.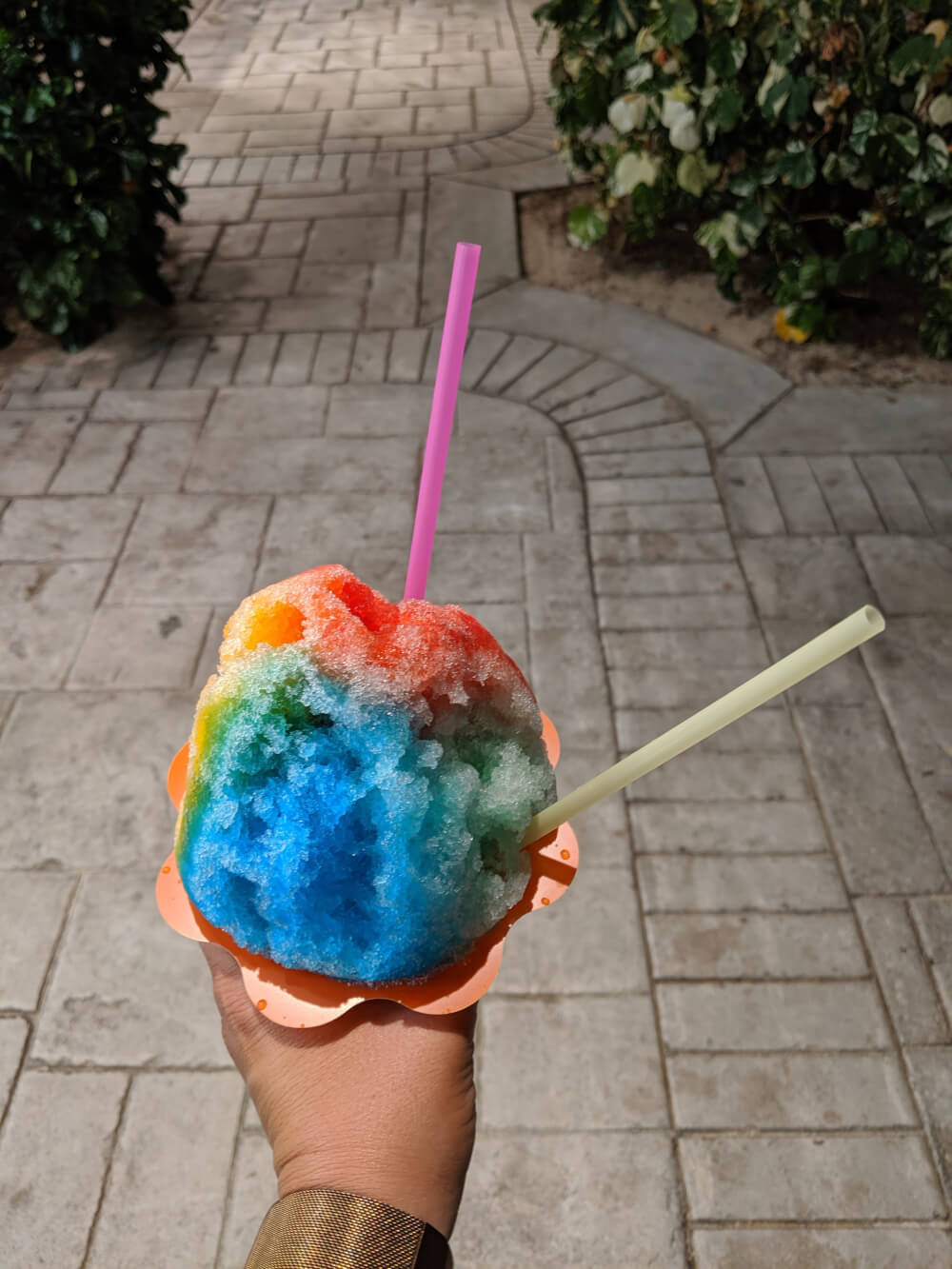 Our family preferred the Lawson's shave ice over the other ones we tried. My very favorite was the Hawaiian Sunset rainbow flavor that included banana, passion fruit, and strawberry flavors.
Trying to find some local food to eat while we were in the Waikiki area, we stumbled upon Rainbow Drive In on Yelp. Let me tell you, it did not disappoint!
Not only was it very affordable, but the food was delicious! There are different daily specials everyday from home cooking favorites.
If you go when it is busy, seating might be a problem. There is plenty of seating, but it is very popular so the seats get filled up fast!
Hilton Fireworks (FREE)
If you can arrange to be in the Waikiki area on a Friday evening, the Hilton Hawaiian Village shoots fireworks off at dusk each week.
Obviously, there are so many more things to do and see on this island, but these are the places we found that our family liked the best.
If we are ever blessed to be able to visit again, we will be stopping by all these places again as well as explore other new places!
If there are other higher ticket items you are interested in, the Go Oahu Pass seemed like it was a great deal, so be sure to check that out!
Enjoyed this 4 days on Oahu itinerary? Click here now for more things to do on Oahu!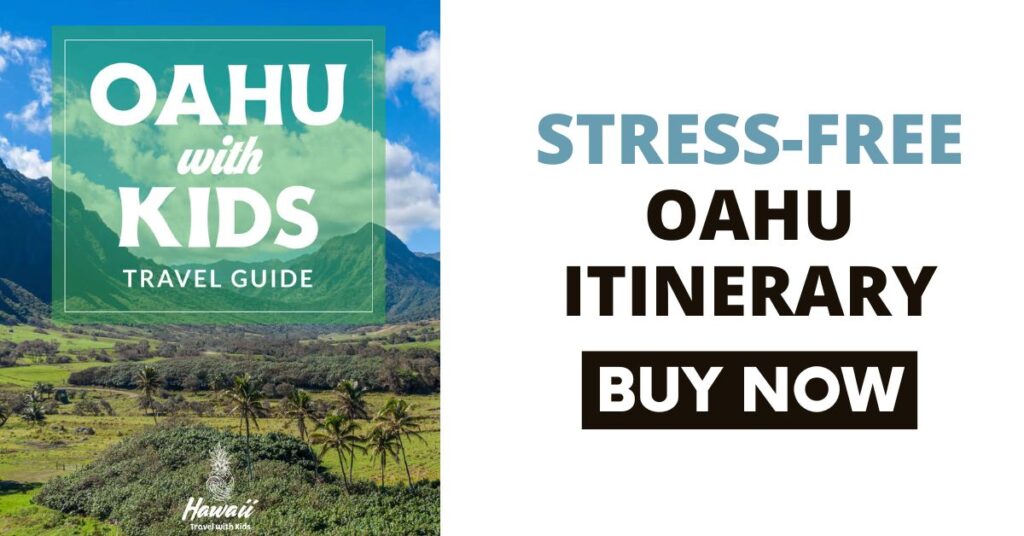 About Jenna Ouano
Jenna Ouano is a stay at home mom of four rambunctious and energy filled boys. She has been married since 2004 to her husband, Andy. In her free time, she loves to go exploring and adventuring in the outdoors anywhere that takes her away from the daily grind of raising her boys.