Looking for kid-friendly things to do in Hawaii that don't cost a dime? Keep scrolling to find out some of the best waterfalls in Hawaii for families!
This post about the best waterfalls in Hawaii for kids contains affiliate links which means if you purchase something from one of my affiliate links, I may earn a small commission that goes back into maintaining this blog.
When you're planning a trip to Hawaii, it's easy to start daydreaming about the golden beaches, learning how to surf, and attending a luau.
But, don't forget about exploring Hawaiian waterfalls!
There are many waterfalls in Hawaii, and it has been tough to rank them. Each waterfall has something unique to offer.
However, considering other factors such as the terrain and accessibility, we have narrowed down to some of the unique waterfalls you should visit when you find yourself in Hawaii with kids of all ages.
While we tried to list hikes that were easy to get to, some of these waterfalls can only be explored by kid-friendly helicopter tours.
We decided to include them on the list because they are totally worth checking out if you're already thinking about a helicopter tour in Hawaii.
The rest can be accessed by hiking. Some are a short hike perfect for little kids, while others are geared for older kids and teens.
Don't miss my guides to the top waterfalls for Kauai, Oahu, Maui, and the Big Island!
Want to skip all the planning and just access my detailed Hawaii Itineraries complete with daily schedules, kid-friendly activities, and travel hacks? Click the button below.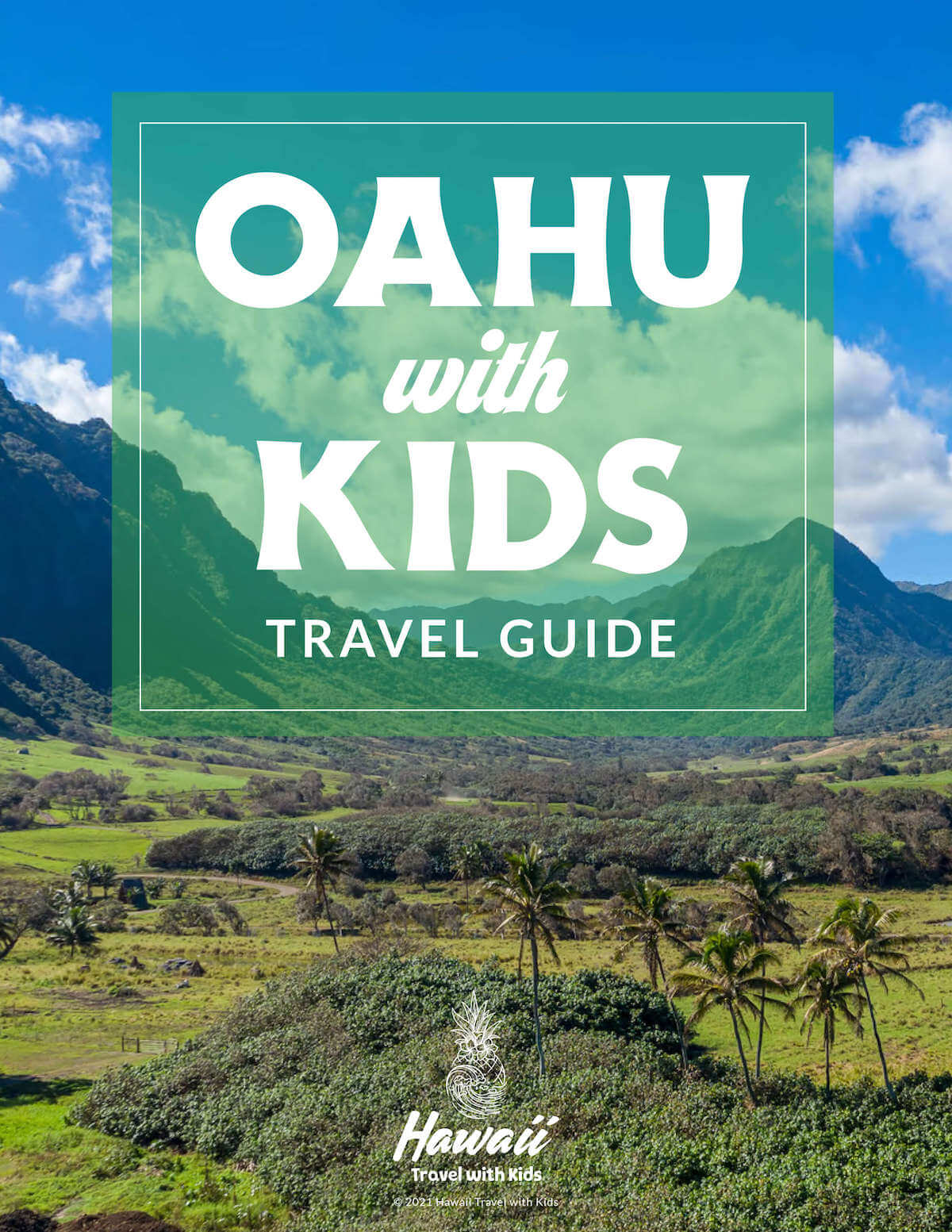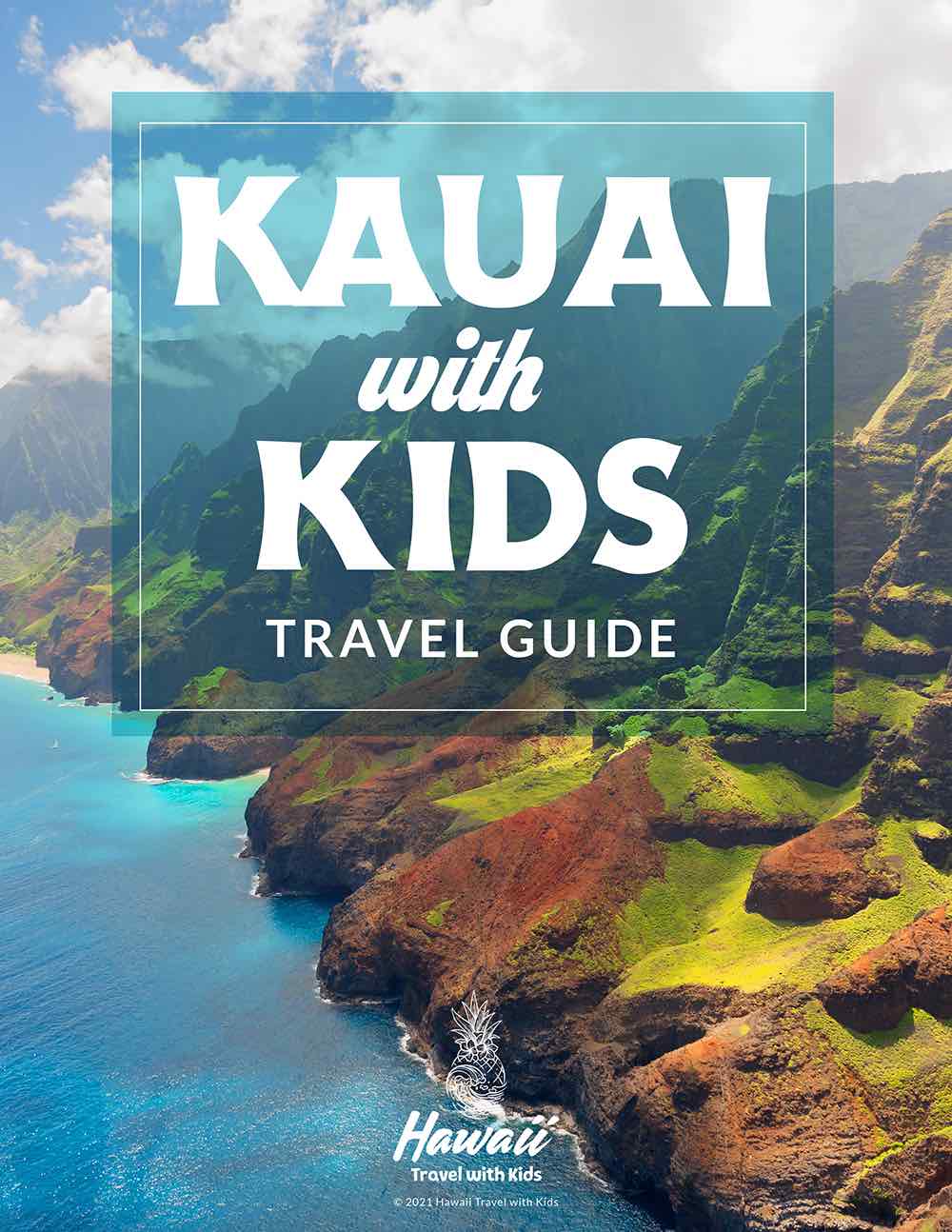 Hawaii Waterfall FAQs
How many waterfalls are in Hawaii?
There are nearly 100 documented waterfalls in Hawaii. However, there are also tons of secret Hawaii waterfalls that are tucked away from crowds. If you want to see gorgeous tropical waterfalls, Hawaii is the place to be!
Where can you swim in a waterfall in Hawaii?
If you're dreaming about swimming in a Hawaii waterfall, you're in luck! There are tons of options! A few of the more popular Hawaii waterfalls to swim in include Waimea Falls, Maunawili Falls, and Uluwehi Falls.
What is the largest waterfall in Hawaii?
If you want to see the tallest waterfall in Hawaii, you'll have to head to Olo'upena Falls on Molokai. It falls an impressive 2,953 feet from the cliff.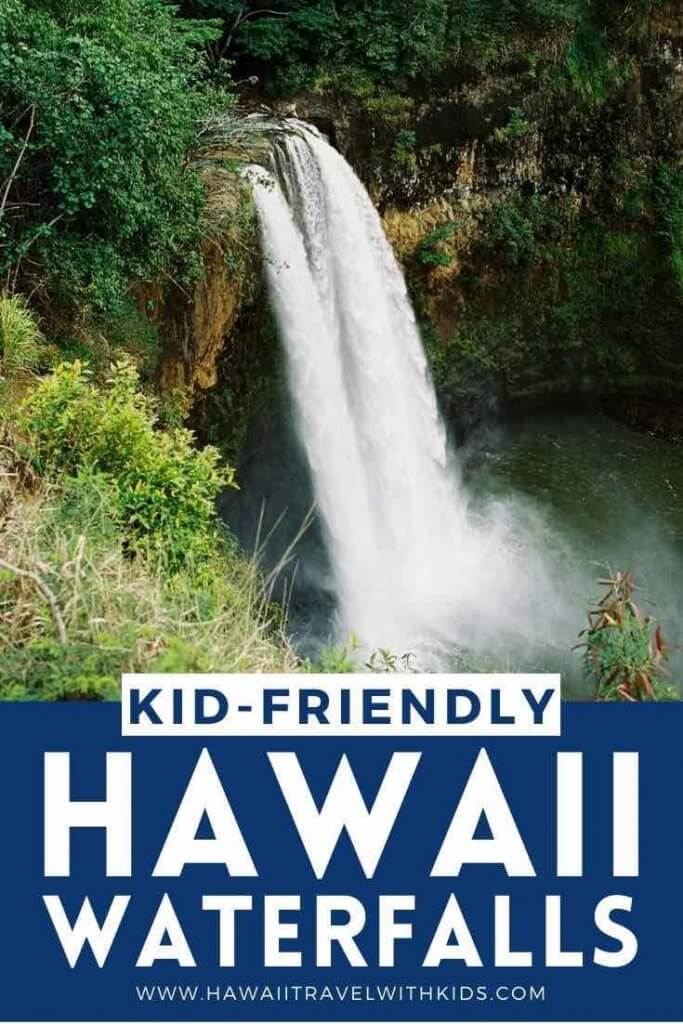 10 Seriously Amazing Hawaii Waterfalls
It's really hard to beat the waterfalls in Hawaii. There are too many to list, so I just included some of the most impressive ones!
1. Manawaiopuna Falls
Location: Hanapepe Valley, Kauai Island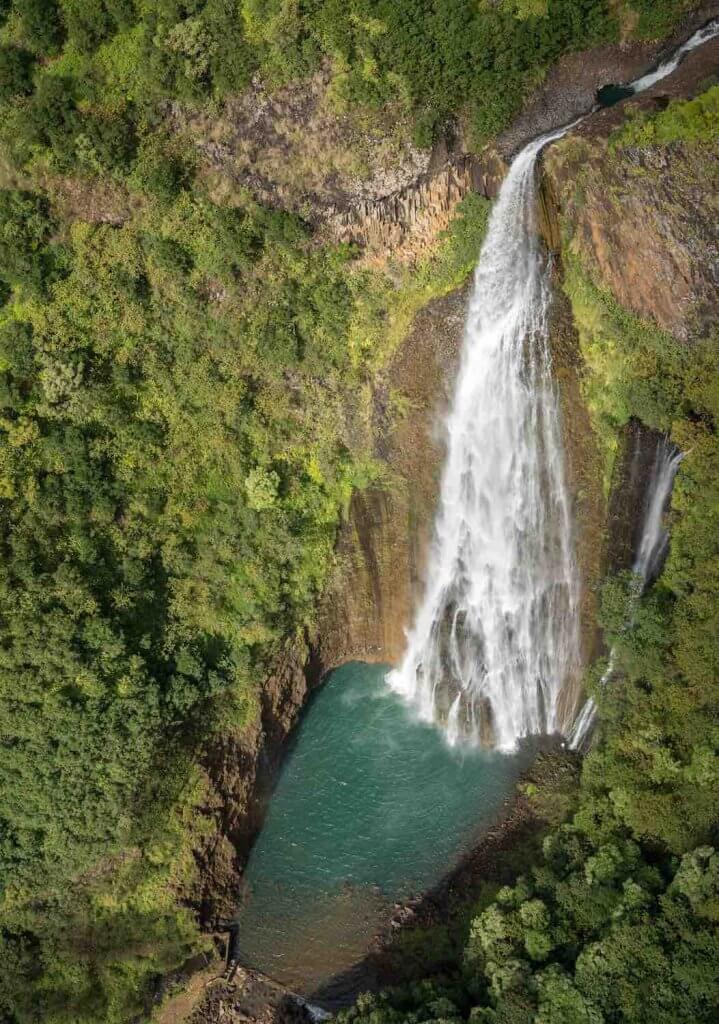 This fall gained fame as the place they shot the Jurassic Park movie in 1993, and it's a big reason people like to see it.
There is a lot of lush vegetation around the waterfall. The water creates a lovely pool at the bottom of the falls.
This beautiful Kauai waterfall is situated on private property and can only be accessed via a helicopter.
Thankfully, there are a few kid-friendly Kauai helicopter tours to choose from that are exhilarating for the entire family.
Taking a Kauai helicopter tour is one of the most amazing ways of exploring the stunning natural beauty Hawaii has to offer.
Plus, you'll get to see some of the best waterfalls in Kauai from the air!
Getting to this waterfall through hiking can be a tough undertaking, especially for beginner hikers. And since it's on private property, we don't recommend trespassing.
2. Waimea Falls
Location: Waimea Valley, Oahu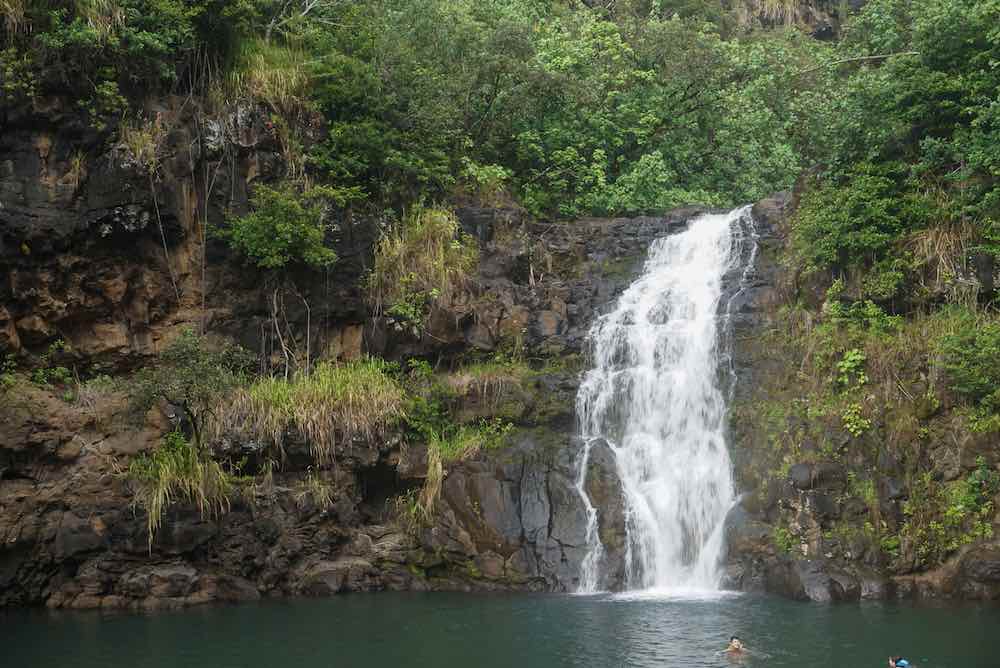 Also known as Waihi Falls, Waimea Falls is one of the best waterfalls in Oahu. It's also one of the few that require an entrance fee.
If you don't have a rental car, you can book this Waimea Falls tour that includes transportation and entrance fees.
You can access the location via an easy Oahu hiking trail that go all the way to the bottom of the falls. The hiking experience is amplified by a unique botanical garden inside the Waimea Falls Park.
Waimea Valley is renowned for its cultural significance and it was once a theme park. Read our full guide to visiting Waimea Valley with kids.
You will walk on paved trails, enjoying the botanical garden on either side of the road leading to the bottom of the fall. There are ferns, lilies, and other flowers to enjoy as you take the hike.
The trail is a moderate 0.75 miles long trail that you can comfortably handle with your kids. In fact, it's one of the best kid-friendly hikes on Oahu.
When you reach the bottom of the falls, jump in the freshwater pool for a refreshing dip. There's even a lifeguard, so it's one of the best waterfalls in Hawaii to swim in.
Pro tip: Book Toa Luau and you'll get free admission to Waimea Falls!
3. Manoa Falls
Location: Manoa Valley, Oahu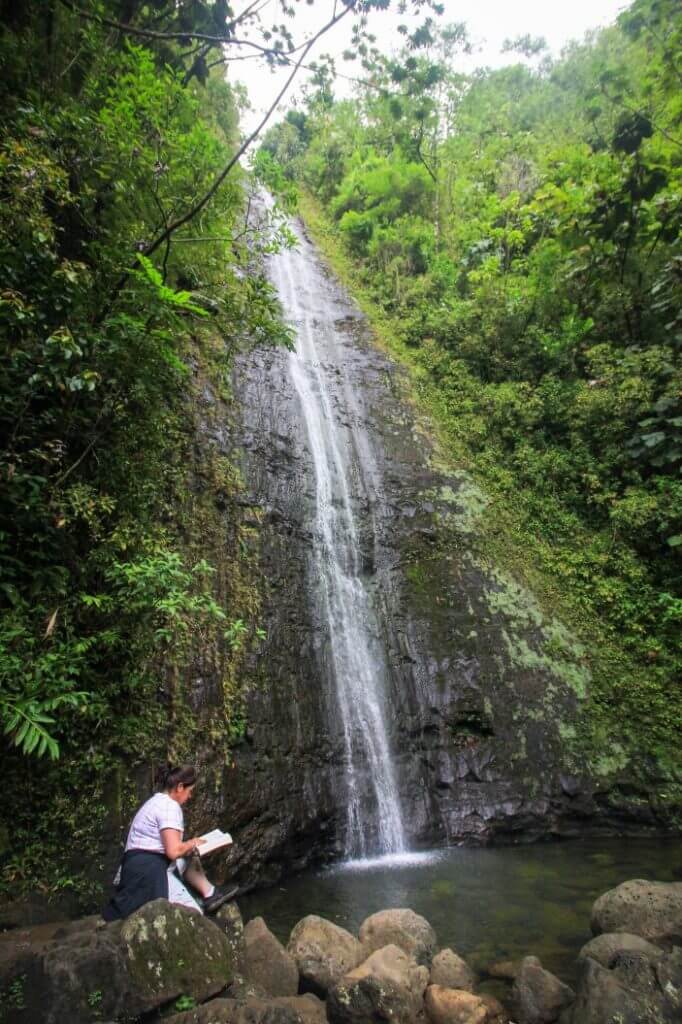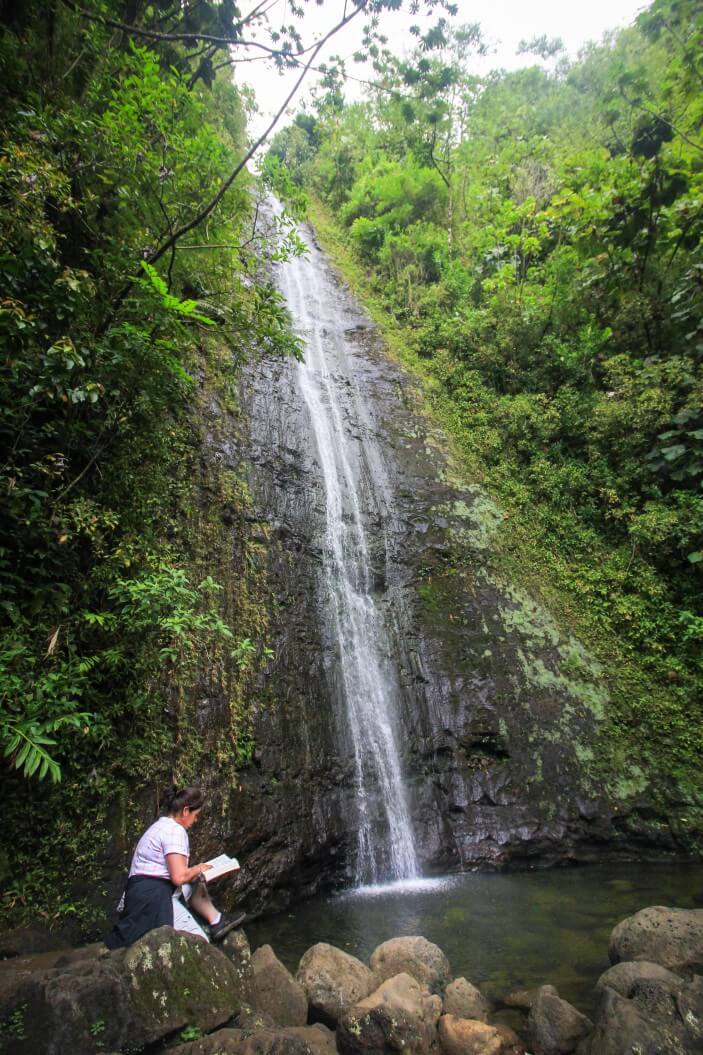 Manoa Falls is also one of the best waterfall hikes in Oahu for kids.There's beautiful scenery surrounding the trail leading to the fall. Get my Manoa Falls tips for families HERE.
This is a 150-foot waterfall that empties into a pool at the bottom.
When visiting Manoa Falls on Oahu, be prepared for rain and mud as the fall is located inside Koolau, a tropical forest. Deep diving or swimming in the pool is discouraged.
The hike to Manoa Falls is a breathtaking one as it snakes its way inside the rainforest, over boulders and muddy sections, past rows of eucalyptus and bamboo trees before ushering you unto the bottom of the fall.
Make sure that older kids understand that rock climbing near the falls is discouraged, as this could result in injuries or fatalities.
You can easily do this Oahu waterfall excursion on your own or you can book a tour.
4. Waimoku Falls
Location: Haleakala National Park, Maui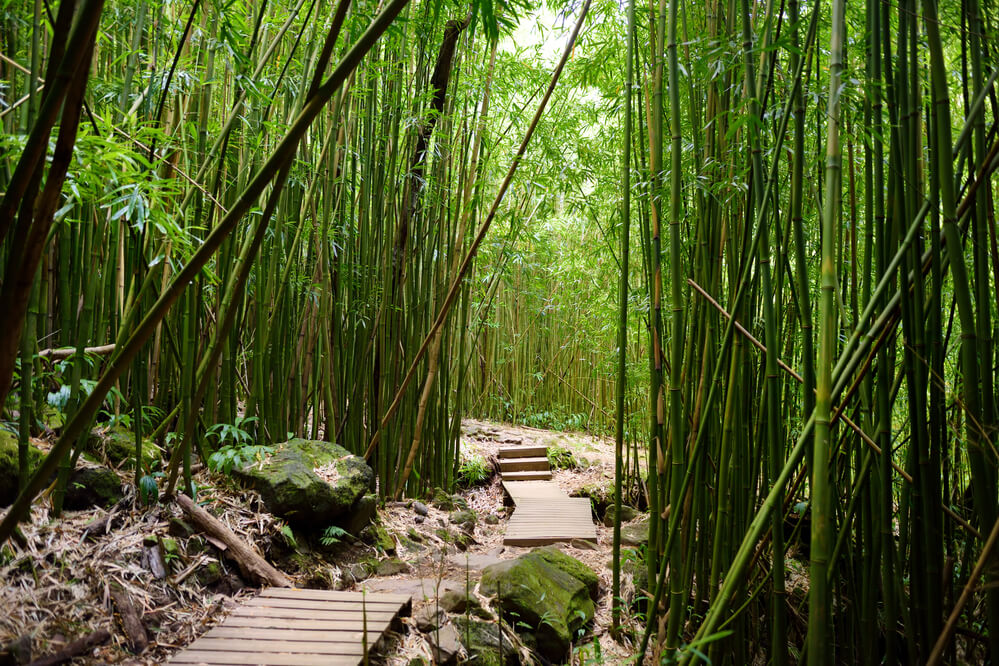 The Waimoku Falls is simply spectacular. This 400-foot tall waterfall is one of the best waterfalls in Maui to explore.
And it all starts with an adventure, hiking the Pipiwai Trail. I'd say it's one of the best waterfall hikes in Maui to do with kids.
This is a 1.8-mile trail that is full of wonder, eventually leading you to the ultimate prize: Waimoku Falls.
You will pass by several pools inside the forest, lush vegetation, and bamboo forest before you finally get to Waimoku Falls.
You can swim in most of the pools you encounter along the way if you decide to take a refreshing break from the walk.
The pool at the base of Waimoku Falls is a beautiful place to swim and refresh yourself.
Out of all the Maui waterfalls, this one is always a favorite with families. And many claim it's the best waterfall in Maui.
5. Hanakapi'ai Falls
Location: Ke'e, Kauai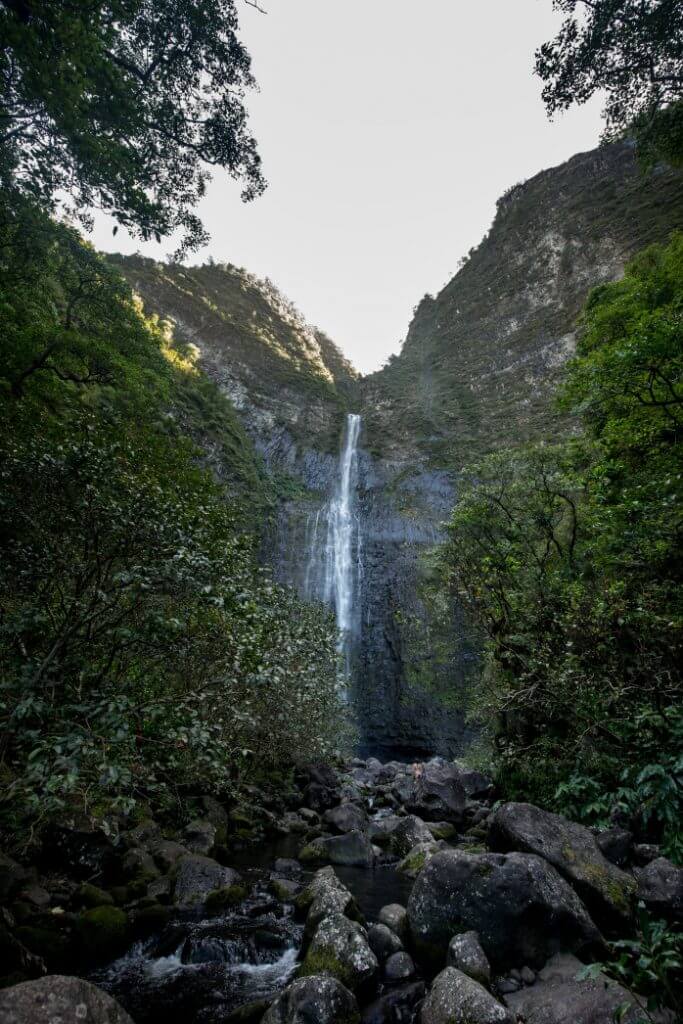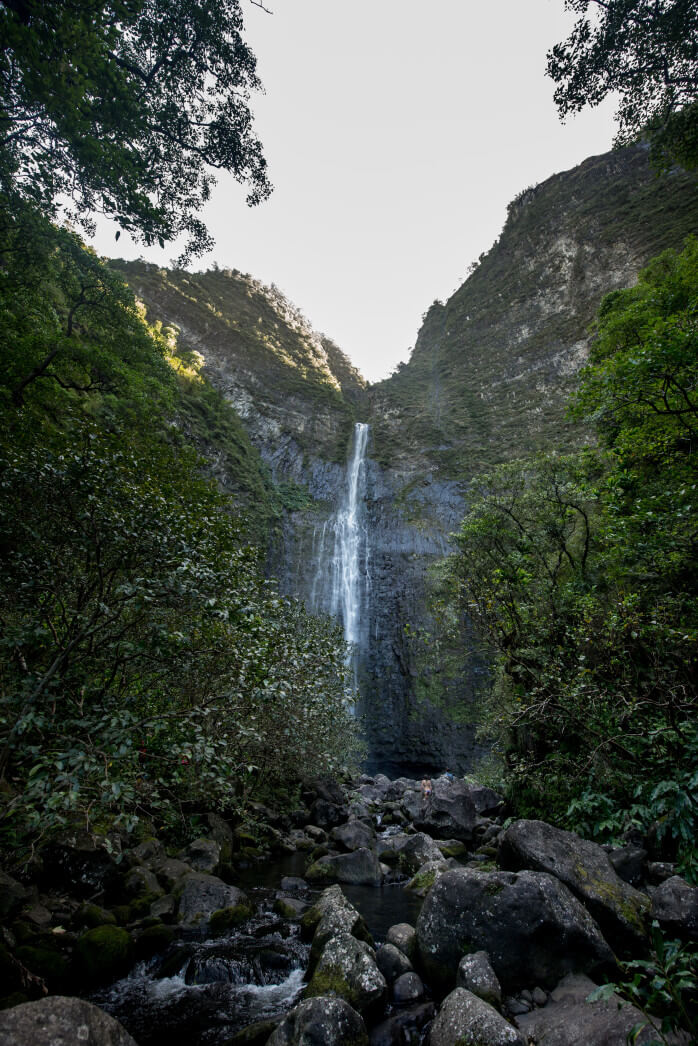 The Hanakapi'ai trail that leads to Hanakapi'ai Falls is a fairly tough trail compared to the Waimoku falls trail.
Despite this, it is a popular 4 mile round-trip trail because it offers hikers a rewarding experience throughout the journey as you will be walking through a jungle.
I'd say this is one of the best waterfall hikes in Kauai for older kids and teens.
Be sure to make numerous stops along the way to take photos and immortalize your hiking experience.
Be careful and aware when hiking in wet weather conditions because people have lost their lives when caught off-guard in flash floods here.
If you want to avoid the crowds, plan to start the hike early.
This hike is geared for older kiddos. I hiked it when I was 10 years old, but it would have been challenging if I were younger.
6. Wailua Falls
Location: Lihue, Kauai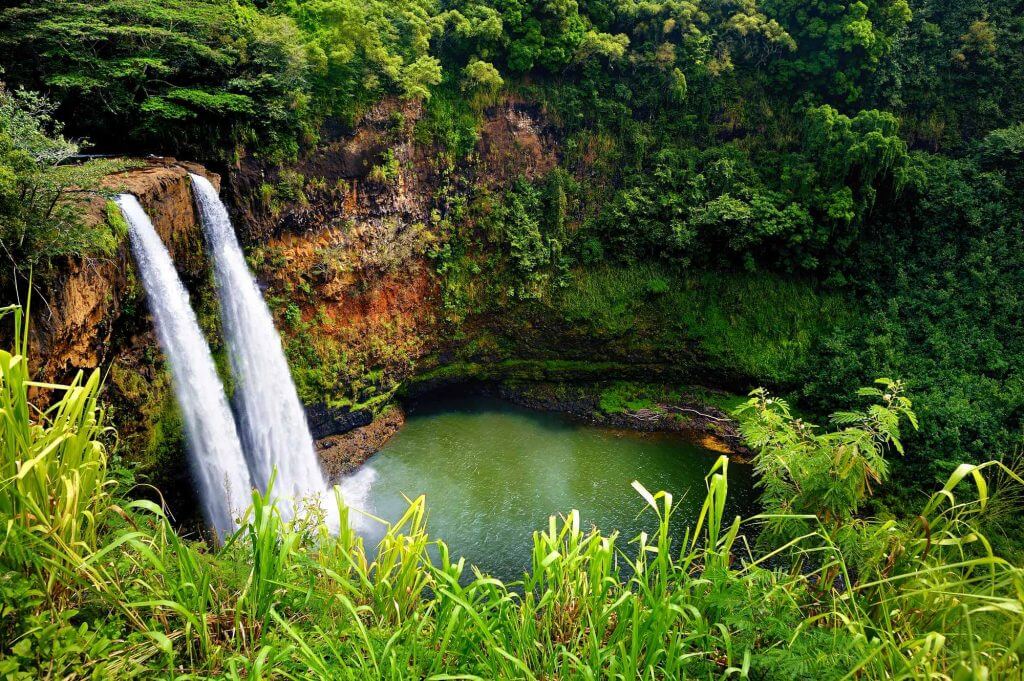 You can see Wailua Falls from the roadside, which makes it perfect for families.
Hiking to Wailua Falls is dangerous and illegal. Please don't attempt it.
The fall divides itself into two sections from the Wailua River, both falling to almost 100 feet below. This is the reason why the fall is sometimes referred to as the Twin Falls.
You can also book a biplane tour that will soar right past the falls!
7. Papalaua Falls
Location: Papalaua Valley, Molokai Island
This is one of the highest waterfalls in Hawaii, at 1200 feet. It is a stunning waterfall, especially when seen from a helicopter ride.
Getting to the base of the waterfall can be a challenge due to the high cliffs and valleys on either side of the falls.
If you are coming in from the sea, you can only see the mid-section of the waterfall. The full length of the fall is seen from a Molokai helicopter ride.
If you can hike to the base, you can enjoy a refreshing dip in the pool.
8. Lulumahu Falls
Location: Near Kaniakapupu Ruins, Oahu
This waterfall is located on private property. To get here, you will need a permit, or be labeled a trespasser.
To get to the pool at the base of the fall, you will walk through a dense bamboo forest, lush vegetation, and the Nu'uanu reservoir.
The reward for this hike is a beautiful and scenic 50-foot tall waterfall. And it has one of the best pools in Oahu.
This Oahu waterfall hike is moderate to difficult and not recommended for young children.
9. Akaka Falls
Location: Akaka State Park, Big Island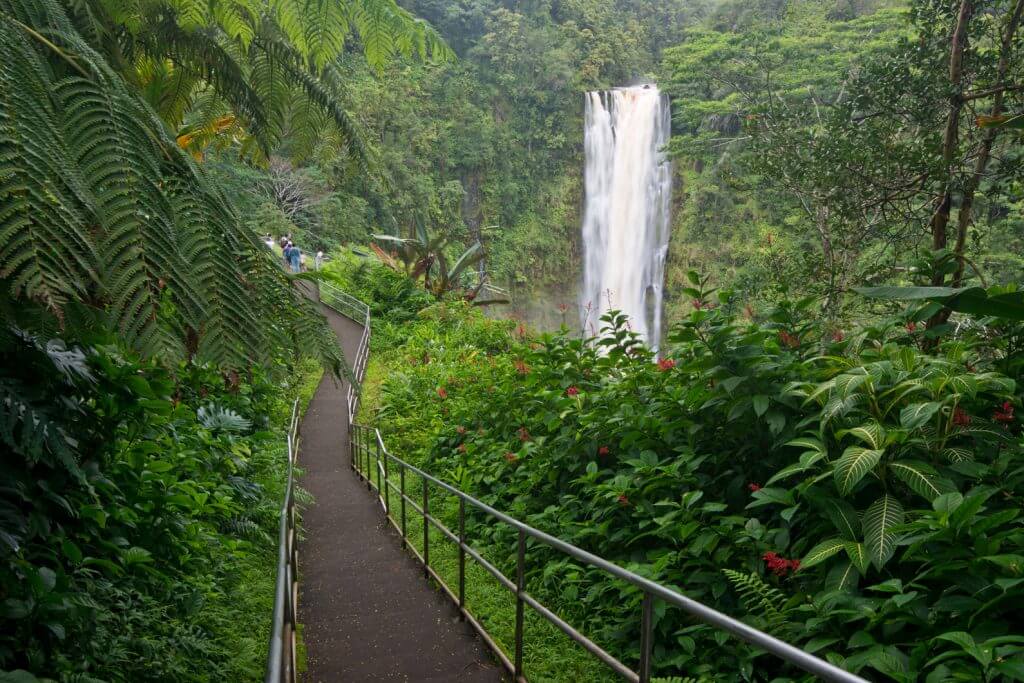 At Akaka State Park, you can see two waterfalls in one hiking session.
You first come across Kahuna Falls and then Akaka falls not far away. The hike is moderate and the falls are accessible. Akaka falls is 422-feet tall and really easy to visit with kids.
It should take you less than an hour to reach the bottom of the falls, passing through lush vegetation, bamboo forests, and beautiful natural scenery. You can read my full guide to hiking Akaka Falls with kids HERE.
If you'd like to take pictures at Akaka Falls, consider booking this tour, where you'll learn about the best photos spots here and at a botanical garden.
10. Rainbow Falls
Location: Hilo, Big Island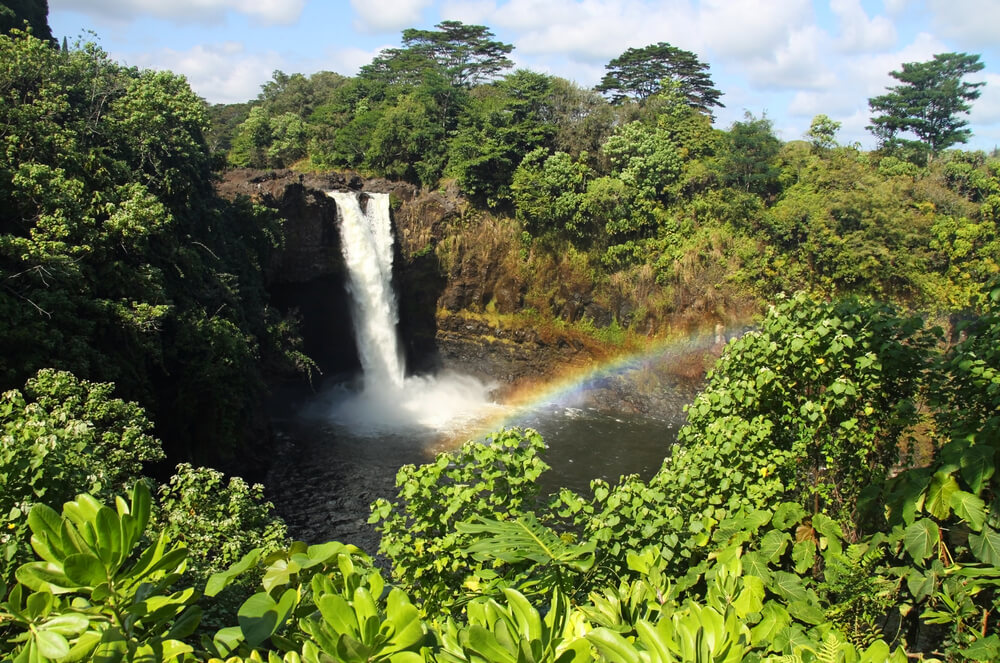 Rainbow Falls is an 80-foot tall waterfall located in Hilo and it's one of the best waterfalls on the Big Island.
It's pretty famous and definitely one of the best things to do in Hilo for families.
The hike leading to the falls is moderate and the journey is full of adventure with beautiful forests, lush vegetation, and flowers to keep it interesting.
The fall lies on the Wailuku River, the longest river in Hawaii.
While you can easily visit Rainbow Falls on your own, it's also a popular stop on Big Island tours like this one.
P.S. Join our Hawaii Travel with Kids Facebook group to get connected with other families planning a trip to Hawaii!