Are you going to Hawaii in June? Keep scrolling for my top picks for how to celebrate Father's Day in Hawaii this year, including the best Hawaii activities and events.
This guide to how to celebrate Father's Day in Hawaii was written by Hawaii travel expert Marcie Cheung and contains affiliate links which means if you purchase something from one of my affiliate links, I may earn a small commission that goes back into maintaining this blog.
Are you visiting Hawaii for Father's Day?
There are so many fun things to do to celebrate the father figure in your life. Sometimes, the best gifts are exciting and memorable experiences rather than physical ones.
If you are planning to go to Hawaii in June, here are all the fun ways to spend Father's Day in Hawaii this year!
Want to skip all the planning and just access my detailed Hawaii Itineraries complete with daily schedules, kid-friendly activities, and travel hacks? Click the button below.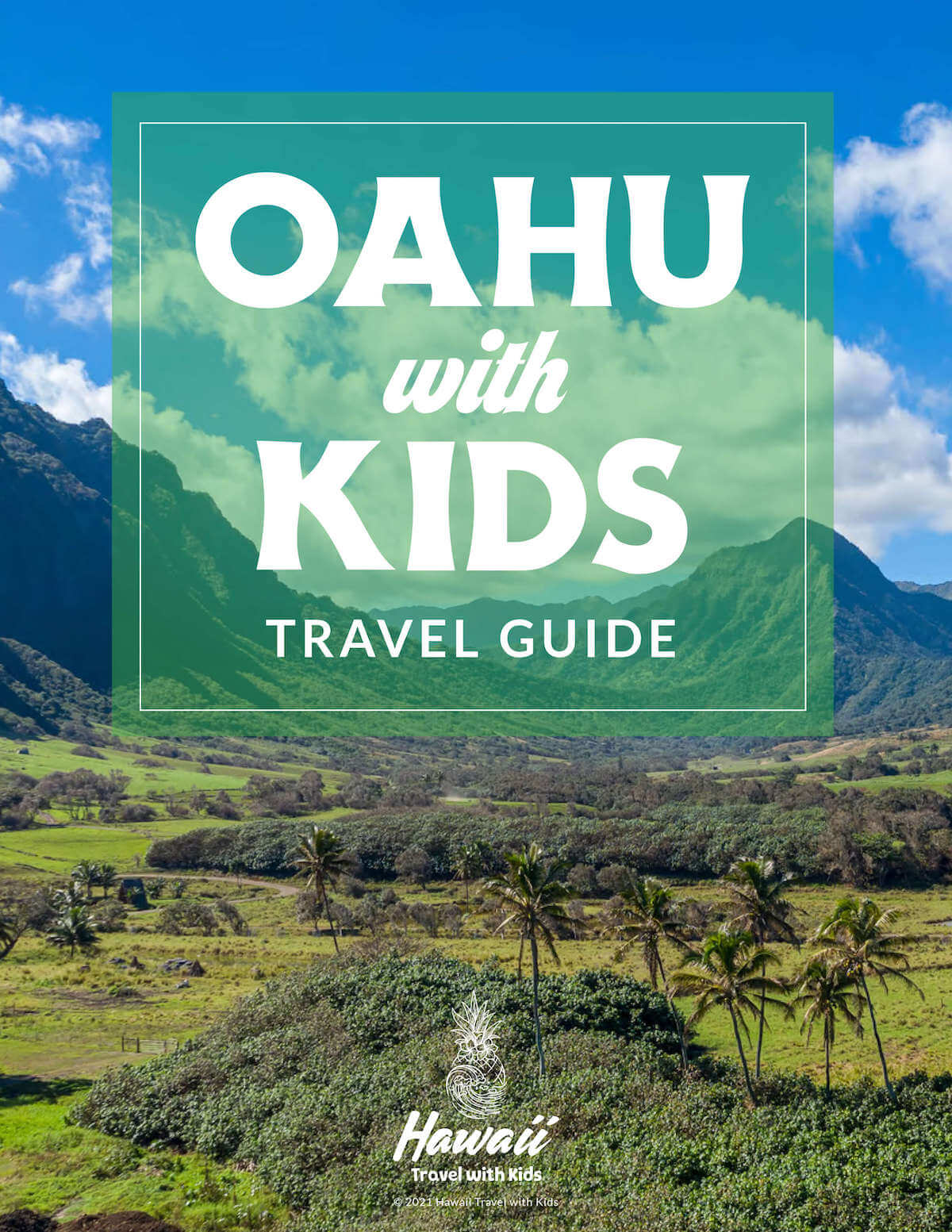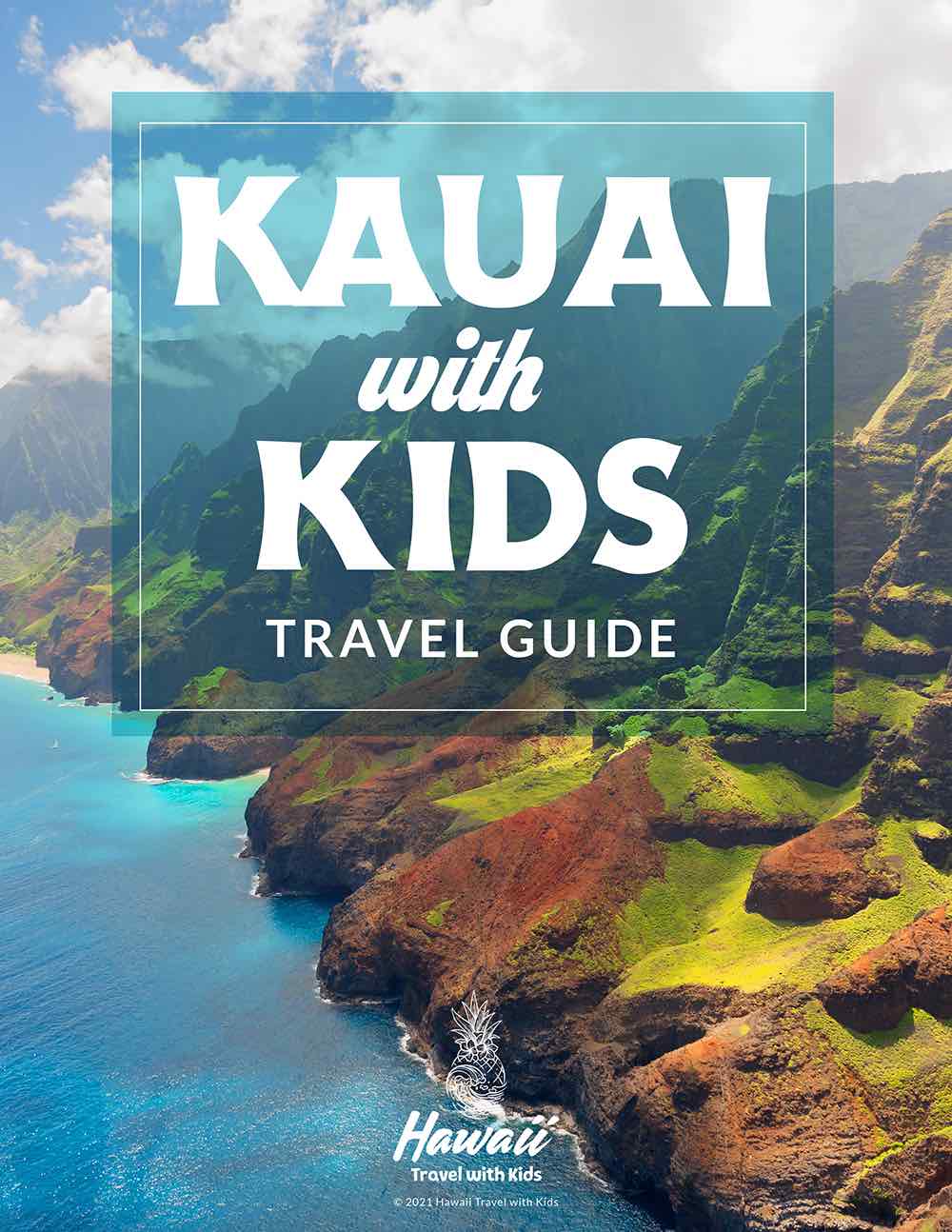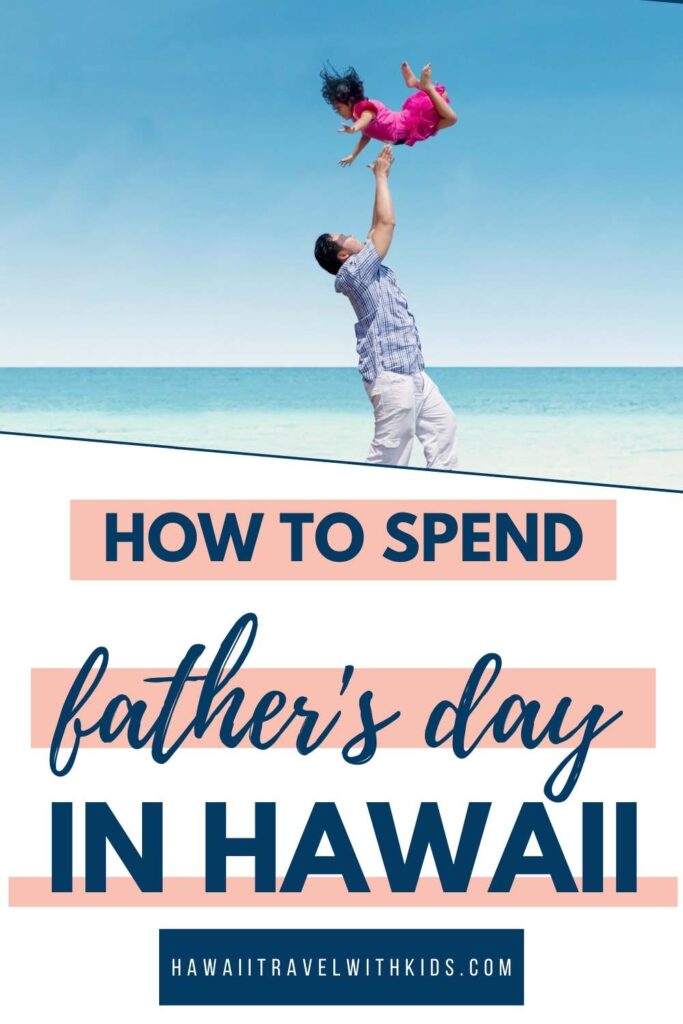 How to Spend Father's Day in Hawaii
With so many adventurous activities in Hawaii, there is something fun for every father to enjoy. Here are some of the best ways to spend Father's Day in Hawaii!
Most of these activities can be done on any of the islands, so no matter which island you stay on, you can spoil the father figure in your life!
1. Ziplining
Ziplining is the perfect gift for those dads who love an adrenaline rush. Take a short ATV drive up to the top of the mountains and enjoy zooming down multiple zip lines.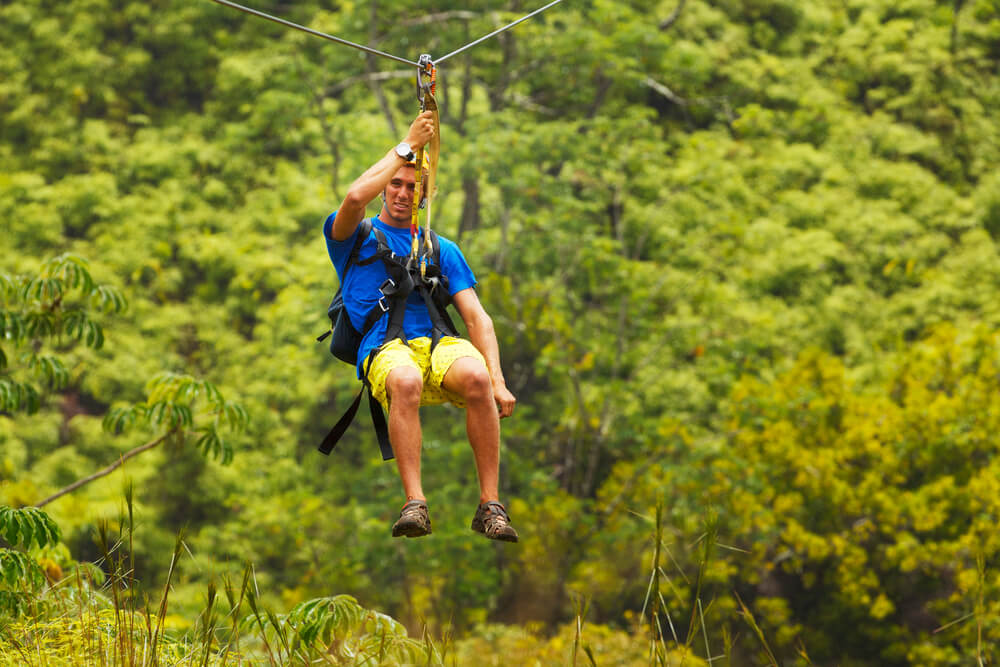 Ziplining shows you the most amazing views of the island and the beach. It is definitely a fun adventure, and you can't beat the views in Hawaii!
2. Fishing
If you are looking for a more relaxing time, take your father to go fishing. In Hawaii, you will see plenty of fishing poles lined up all along the beach.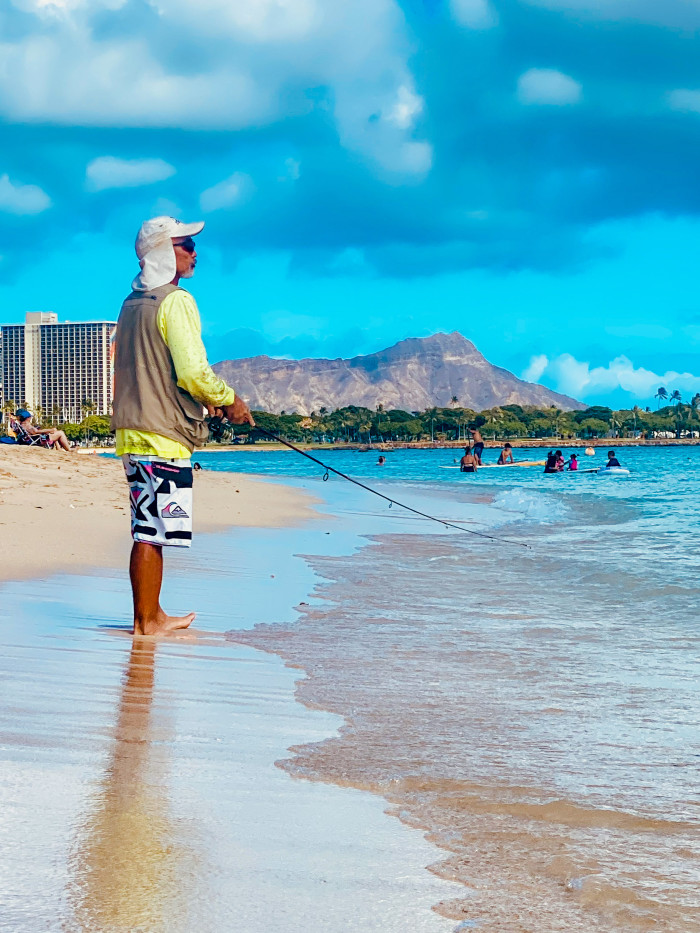 There are plenty of lakes and great fishing spots to go to, but the beach works just fine too! Even if you don't catch anything, it is still a relaxing activity for many dads.
3. Golfing
Golfing in Hawaii is an incredibly unique experience that many dads would love. You'll find a few golf courses at some resorts, or you'll be able to easily find one close to where you are staying.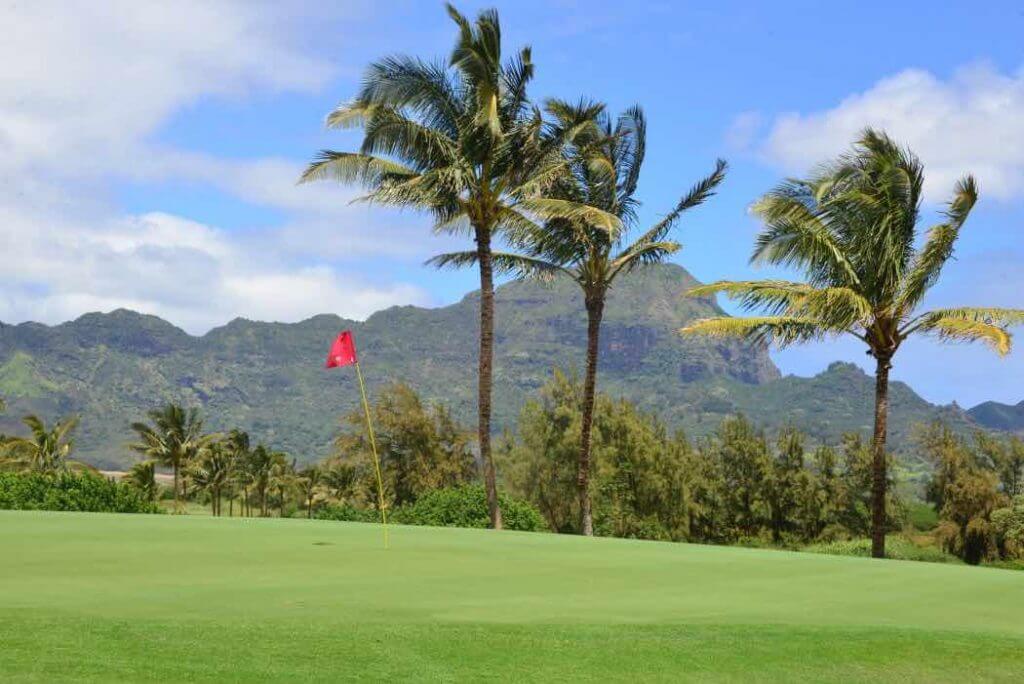 Playing some golf with your dad on Father's Day on a beautiful island will make most dads happier than ever before.
4. Sunset Dinner Cruise
Finish off your Father's Day with a nice, relaxing sunset dinner cruise. This is perfect for couples who want to spend time together and enjoy a romantic evening. Enjoy watching the sunset while you sip on a signature mai tai and eat a delicious, cooked meal. Finish off the evening dancing to live music and other entertainment.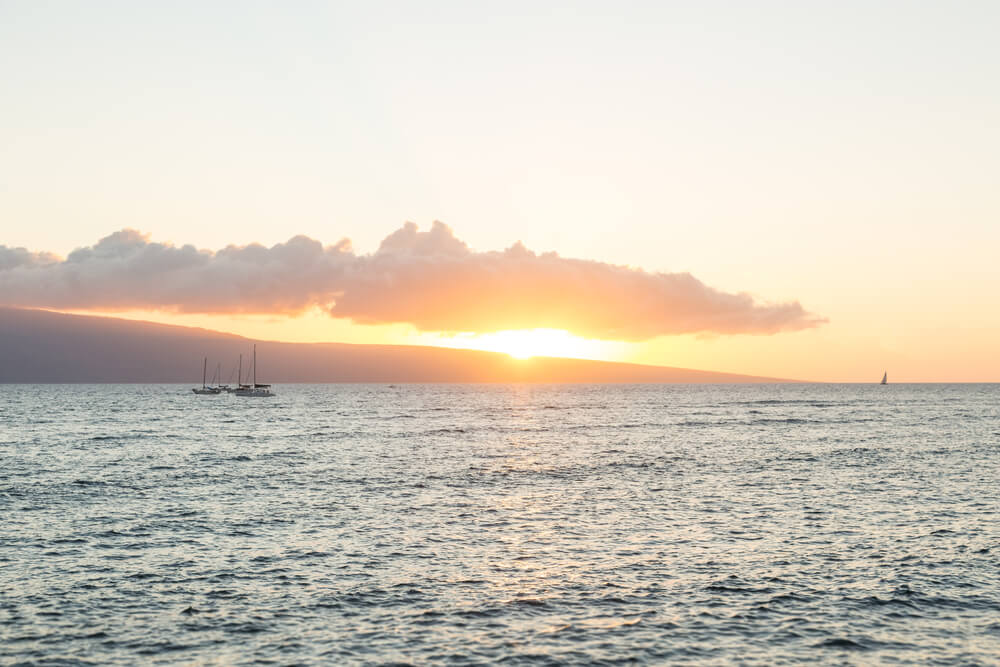 This cruise is not specifically for Father's Day like the one below, but it is still a great option, especially if the Father's Day cruise gets too full.
5. Father's Day Cruise Star of Honolulu
The Star of Honolulu puts on a special cruise just for fathers on Father's Day! Bring the entire family, enjoy some entertainment and food, and watch the sunset along the ocean.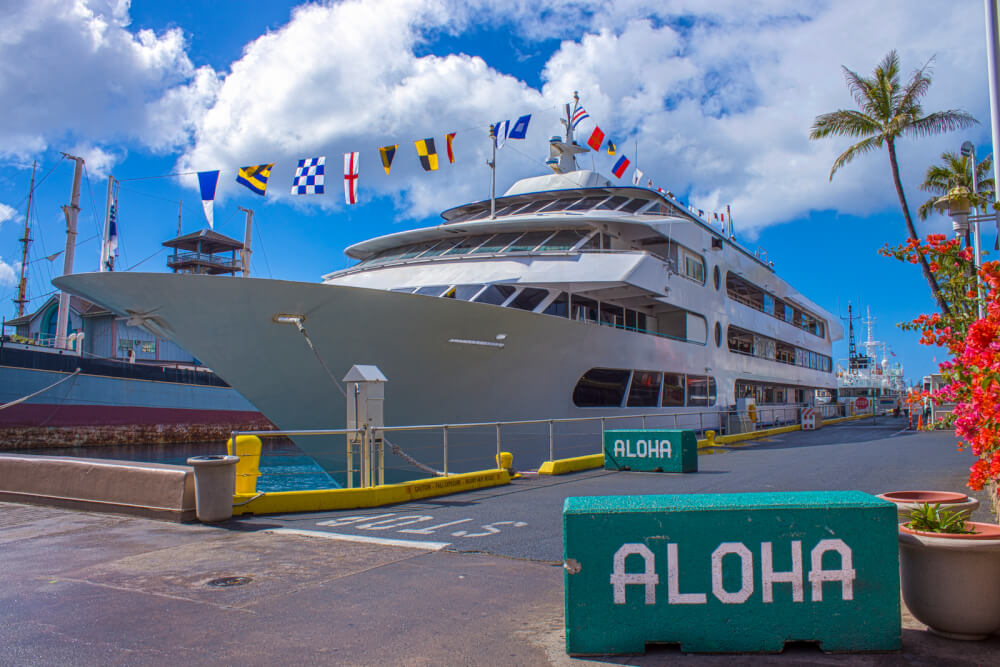 There will be a three-course meal with roast beef, and dads get a free drink of their choice, including a signature mai tai. You'll get to see the "60 Years of Aloha" show as well. This is a special gift your dad will love if you are spending Father's Day on Oahu.
6. Relax on the Beach
Some dads prefer to relax and enjoy the beautiful beaches in Hawaii. This is a great budget-friendly option that will be just as meaningful.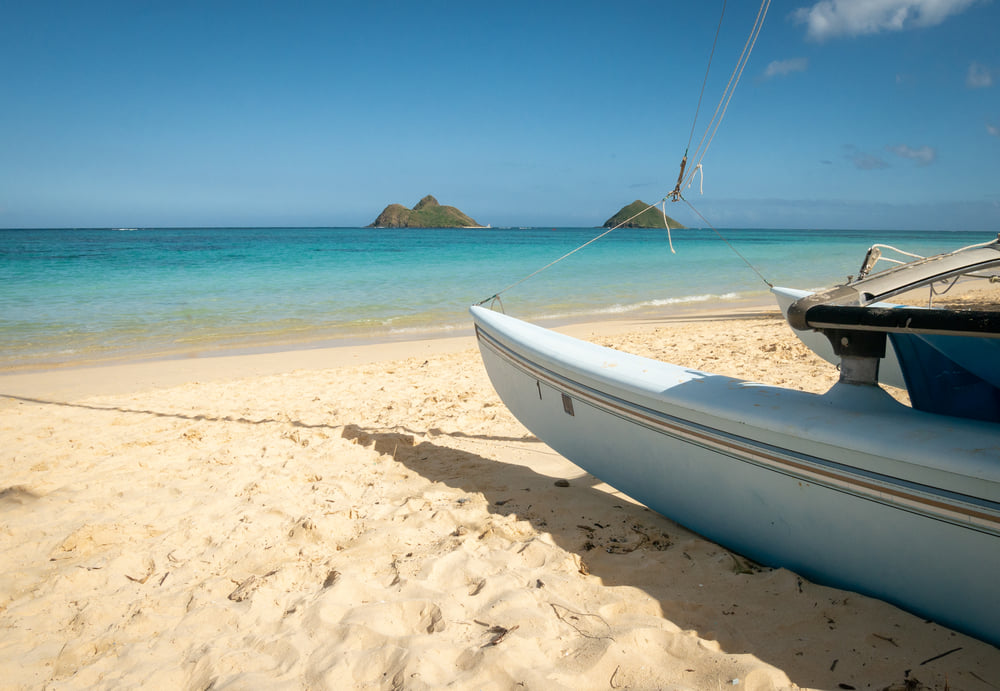 You can fish off the shore, go snorkeling, watch for whales, play beach volleyball or soccer, or take a nice walk along the ocean. You can rent some paddle boards, bodyboards, kayaks, or surfboards and enjoy playing in the water.
7. Snorkeling
Take your dad to go see exotic fish and swim with the turtles. Hawaii is the perfect place to go snorkeling. Snorkel right at the closest beach to where you are staying, or go on a fun snorkeling tour.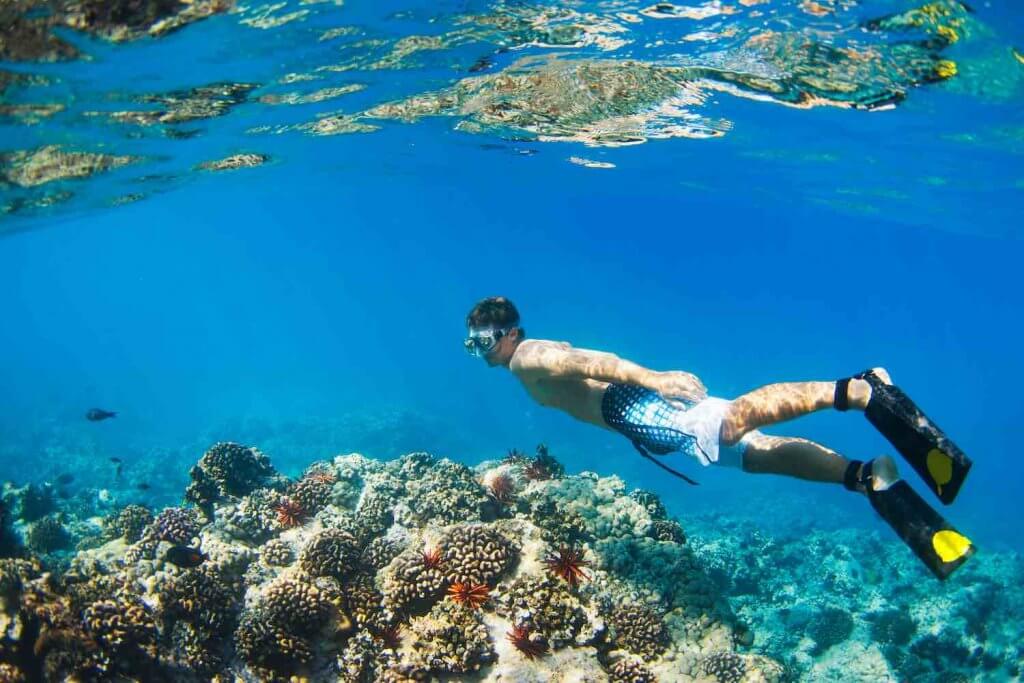 Snorkeling tours offer all the equipment you need and will take you to the best spots so you can see the cool marine life and coral reefs that Hawaii has to offer. It is the perfect way to spend a Maui Father's Day!
8. Shark Cage Diving
If your dad is a daredevil, take him to go swim with the sharks! Go with a guide to ensure that you stay safe and know exactly what to do.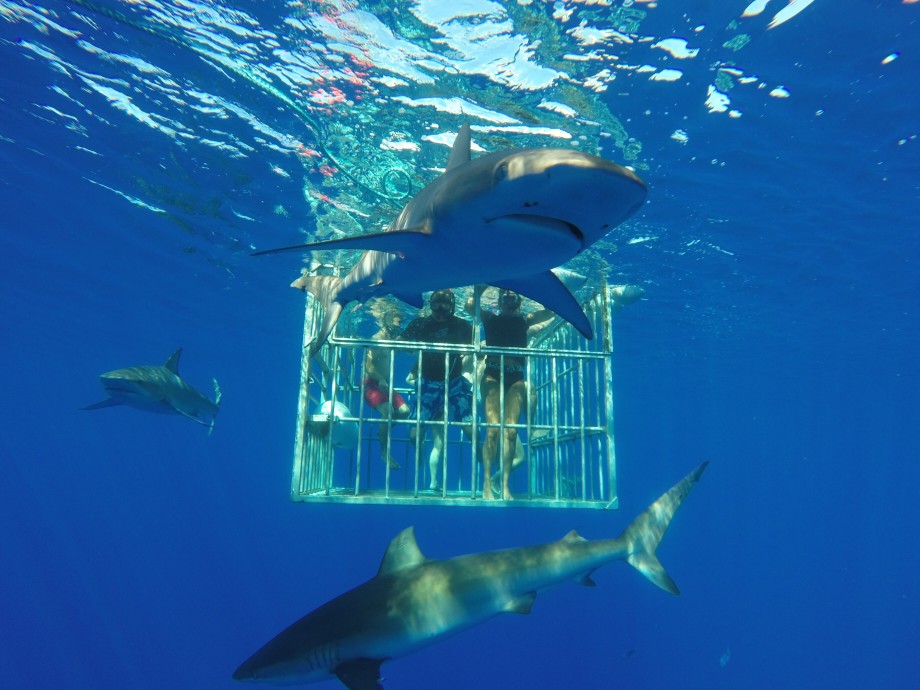 Shark cage diving will get your adrenaline pumping and be such a fun experience gift for dads! These dives are usually in small groups, so it's another great activity when you want to just stay with your family.
9. Surfing Lesson
Help your dad learn a new skill by giving him a surfing lesson. Learn how to surf from some of the best surfing teachers. This is a great way to have fun and try something new with your dad.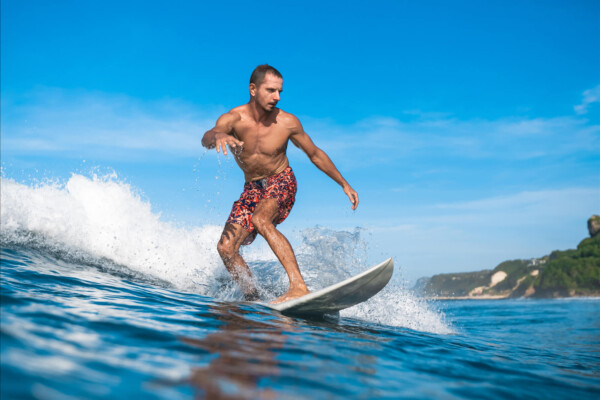 Try a quick lesson if you tried it on your own and couldn't get it to work. Most can ride a few waves during and after the lessons. These are some great surfing lessons on Maui and Oahu.
10. Hiking
Hiking is another great thing to do on Father's Day. There are plenty of hikes all over each island to fit your father's needs.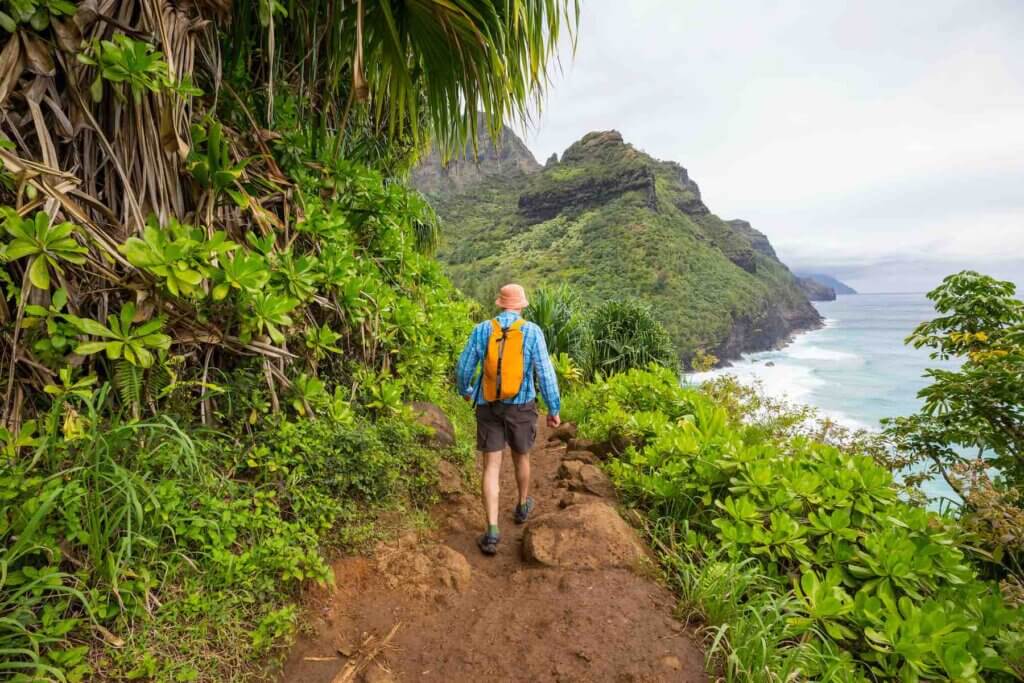 Want something easy? Try a walking trail or a paved hike! If you're up for the challenge, try hiking to a waterfall or one like Koko Head.
There are even a few places where you can drive most of the way and still see Hawaii from an incredible height. If you are staying in Kauai, Waimea Canyon is great to see at least once.
11. Buy a Hawaiian Shirt
Of course, I just had to add this option. What dad wouldn't like a new Hawaiian shirt for Father's Day? Each store you visit will have at least a few selections to choose from.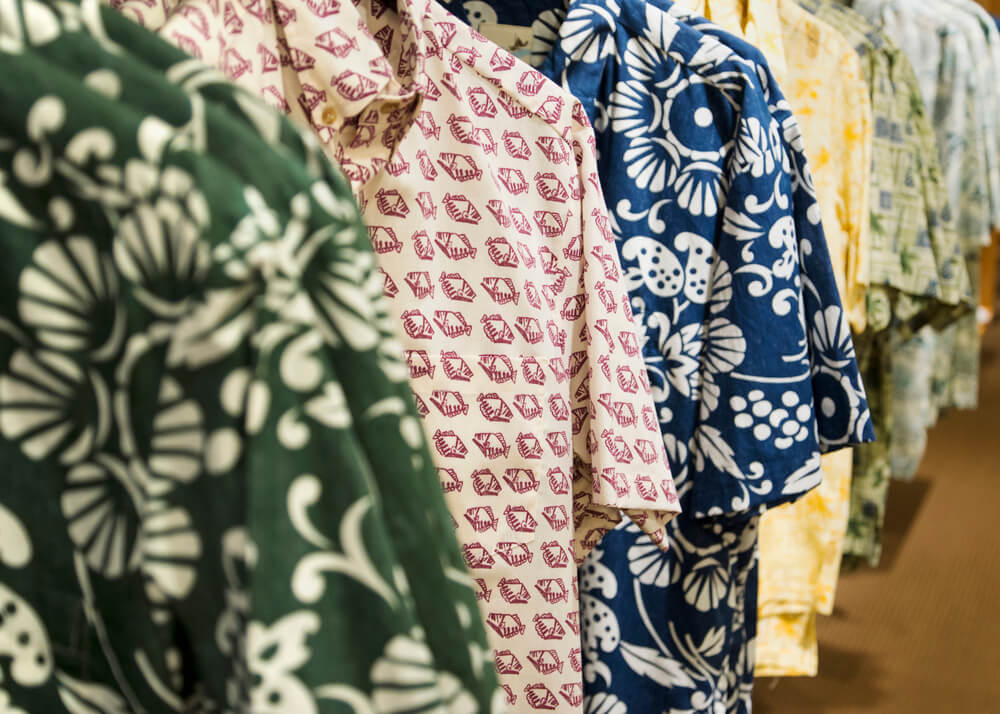 Or, head to a local shop and purchase one from them. Nothing says Happy Father's Day like a Hawaiian shirt!
12. Rockin' Dads at Rock-A-Hula
This is another great activity dedicated especially to fathers. The Rock-A-Hula show is also a fun thing to do on your vacation to Oahu, but this show is even better.
Each dad will receive a special King's Scarf, along with dinner and an awesome show. Dinner options include beef tenderloins, salmon, fish, lobster, roast beef, and so much more.
13. Helicopter Tour
Another exciting activity for adventurous dads, a helicopter tour, will be sure to give a thrilling ride. See your island from a view unlike any other.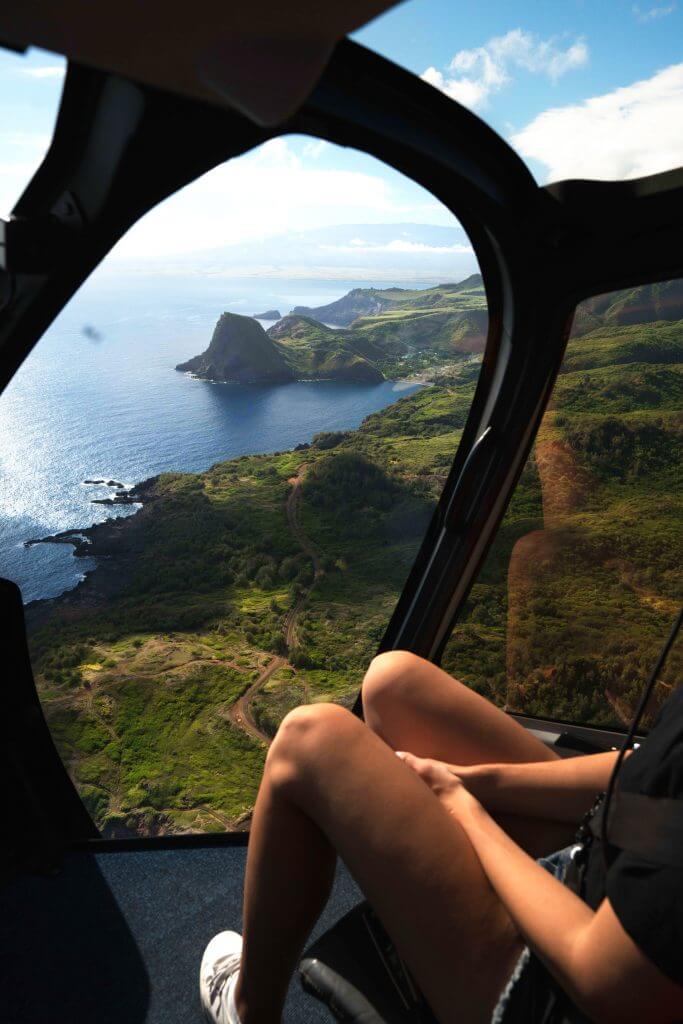 You'll get to explore Hawaii and see things you never thought you would. This is a great private tour to spend quality time with your dad.
14. Eat Out
If you are in Maui for Father's Day, head over to the Tiki Terrace Restaurant in the Kaanapali Beach Hotel. There is a very special Father's Day buffet that will have all the food your dad will love, including pork, lamb, prime rib, and many other local favorites.
On Oahu, the best brunch in Honolulu is located at 100 Sails Restaurant at Prince Waikiki. Enjoy a special Father's Day Brunch filled with freshly baked poi rolls and delicious drinks. This brunch takes place on Sunday. The Eating House 1849 and Tiki's Grill & Bar in Honolulu are also good places for some Sunday Father's Day dinner options.
There are plenty of other great restaurants all over the islands with cuisines that your dad loves. Try some local foods like raw fish or a loco moco, or head over to Seven Brothers for the best hamburger ever!
15. Cultural Sights
If your dad loves to learn about cultures and history, take him to go see some cultural sights. Hawaii is a great place full of historical sites!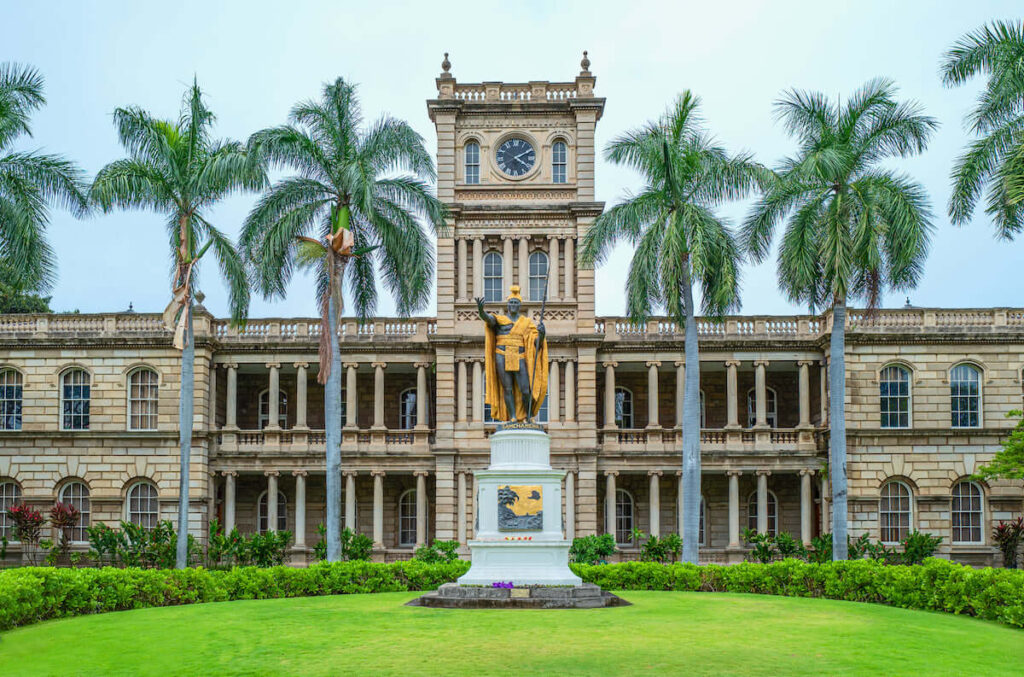 Spend some time learning Hawaiian culture at many museums all over the islands. This simple but fascinating adventure will help you learn to love the Polynesian culture even more.
16. Maui Brewing Tour
If you are staying in Maui, go on a brewing tour with your dad. Take this day trip and go explore some of the best Maui breweries. Each one is unique, so you'll get to experience different beer styles to see which one you like best!
This tour takes you to three local breweries and gives you plenty of delicious beer, appetizers, and tasty lunch.
17. Pearl Harbor
Be sure to check out Pearl Harbor during your stay on Oahu. You can walk around and see the visitor center and Arizona Memorial for free or grab some tickets to see the other memorials available.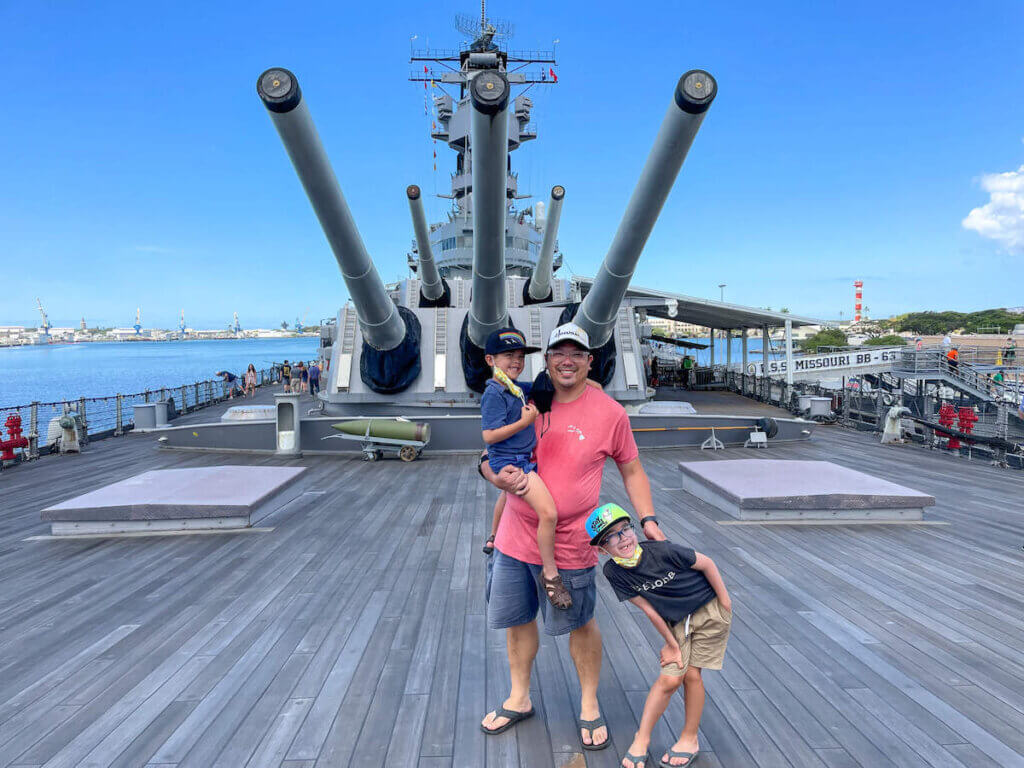 This is a pretty cool place full of history and interesting exhibits to explore. Most dads would love to check this out at least once during their trip!
18. Luau
Your dad will enjoy a nice luau to finish off his Father's Day. Try a traditional luau with a pig cooked in the ground while you watch a fascinating fire knife show and hula.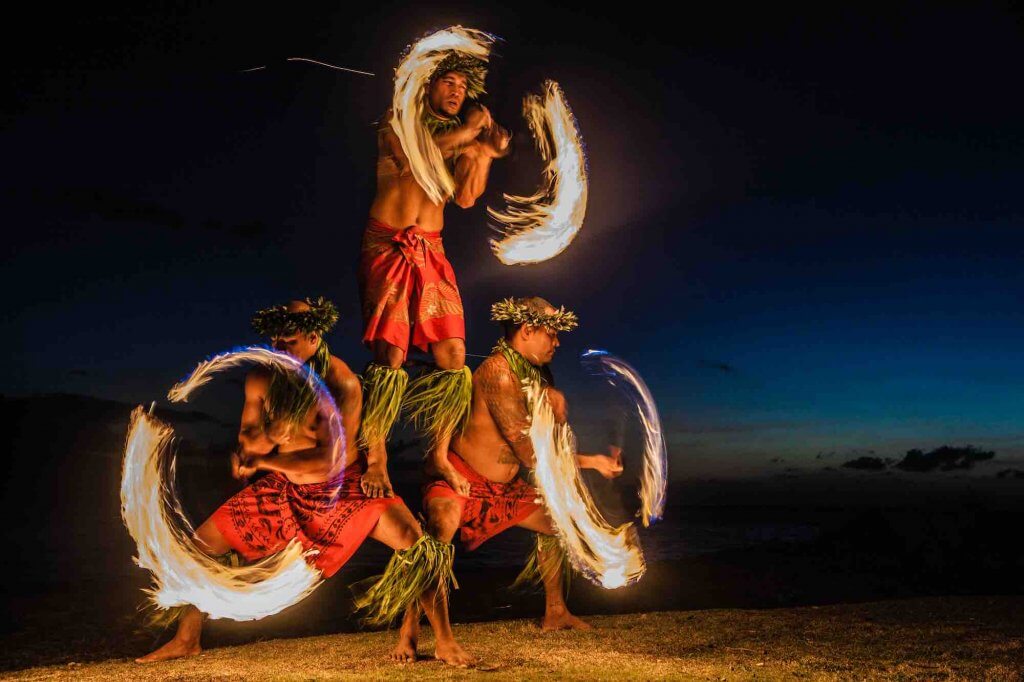 A luau is always a great place to be during a celebration or holiday.
Hawaii Father's Day FAQs
What should I get my dad in Hawaii? 
There are so many great gifts that you can give your dad from Hawaii. A Hawaiian shirt, ukulele, and delicious Kona coffee are just a few great examples of Hawaiian gifts.
What is there to do for Father's Day in Hawaii?
Depending on what your dad likes to do, you can spend the day fishing, golfing, out on the water, or eating delicious Hawaiian food. Check out all the fun things to do for Father's Day above!
What is Happy Father's Day in Hawaiian? 
Happy Father's Day in Hawaiian is "Hau'oli La Makuakane."
What can you do for Father's Day in Hawaii without any money? 
Even if you are on a tight budget, you can still have lots of fun for Father's Day. Enjoy a nice day at the beach, snorkel, fish, or hike are some fun things to do that any dad will love.
What to do for Father's Day in Oahu?
One of the best things to do for Father's Day in Oahu is to hop aboard the Star of Honolulu Dinner Cruise. What better way to spend the day than out on the ocean with your dad? It will truly be a memorable night! It is the best thing to do for Father's Day Honolulu has to offer!
Father's Day in Hawaii Wrap-Up
Father's Day is the perfect time to go to Hawaii and celebrate that special father figure in your life. There are plenty of fun things to do no matter which island you visit. Your dad will love to spend Father's Day in Hawaii with you!