Looking for a super easy and tropical breakfast that can be ready in just 10 minutes? Check out this vegan Mango Chia Pudding recipe. Scroll for the full mango recipe!
This Mango Chia Pudding recipe contains affiliate links which means if you purchase something from one of my affiliate links, I may earn a small commission that goes back into maintaining this blog.
When the weather starts to get warm, I'm always on the hunt for breakfast items that are cold and refreshing. We chop up a lot of fresh fruit and keep it in our fridge for quick breakfasts.
But I usually need something with a bit more substance to keep me satisfied all morning.
I only discovered chia pudding last summer. It was at a restaurant as part of a breakfast board, and it had a little bit of fresh fruit on top. It was so tasty and hit the spot!
So, I figured it would taste awesome with mango! We like to top ours with freshly cut mango (we go through cases and cases of them in the summer months), but I know not everyone has access to mangoes.
That's why this recipe uses mango sorbet. I admit that I used to eat mango sorbet for breakfast in college as a way to treat myself and declare my independence.
This is definitely a step up from that because of the chia pudding. The kids love it because they get to have "ice cream" for breakfast.
You can make the chia pudding ahead of time and store it in the fridge for 3 days. We like to use glass jars with lids to keep them extra fresh. Then, we can just grab it and top it with sorbet. Super easy.
It takes this basic chia pudding recipe to a whole other level! Here is a super easy mango chia seed pudding recipe you will want to eat every single morning or as a mango dessert during a hot summer day.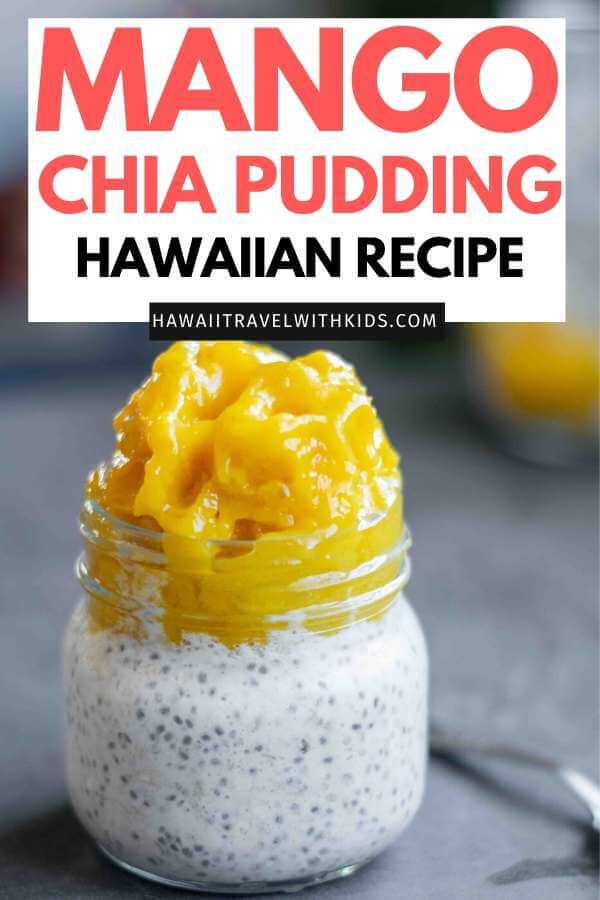 Mango Chia Pudding Recipe
This chia seed pudding with mango recipe is the perfect vegan breakfast or healthy dessert dish. It even works as a breakfast cuisine or snack cuisine too!
The tropical flavors of this delicious chia-seed mango pudding will be sure to make you feel right in Hawaii!
Servings: 2
Preparation time: 5 minutes
Cooking time: 5 minutes
Mango Chia Pudding Ingredients
1/4 cup chia seeds
3/4 cup water
1/3 coconut cream
4 scoops of Mango Sorbet
How to Make Mango Chia Pudding
1. In a small bowl, combine chia seeds and water. Combine well and let it soak until thickened.
2. When soaked, add coconut cream and stir well until you get a creamy white texture.
3. Divide pudding into jars or glasses, then add mango sorbet on top.
4. Serve immediately.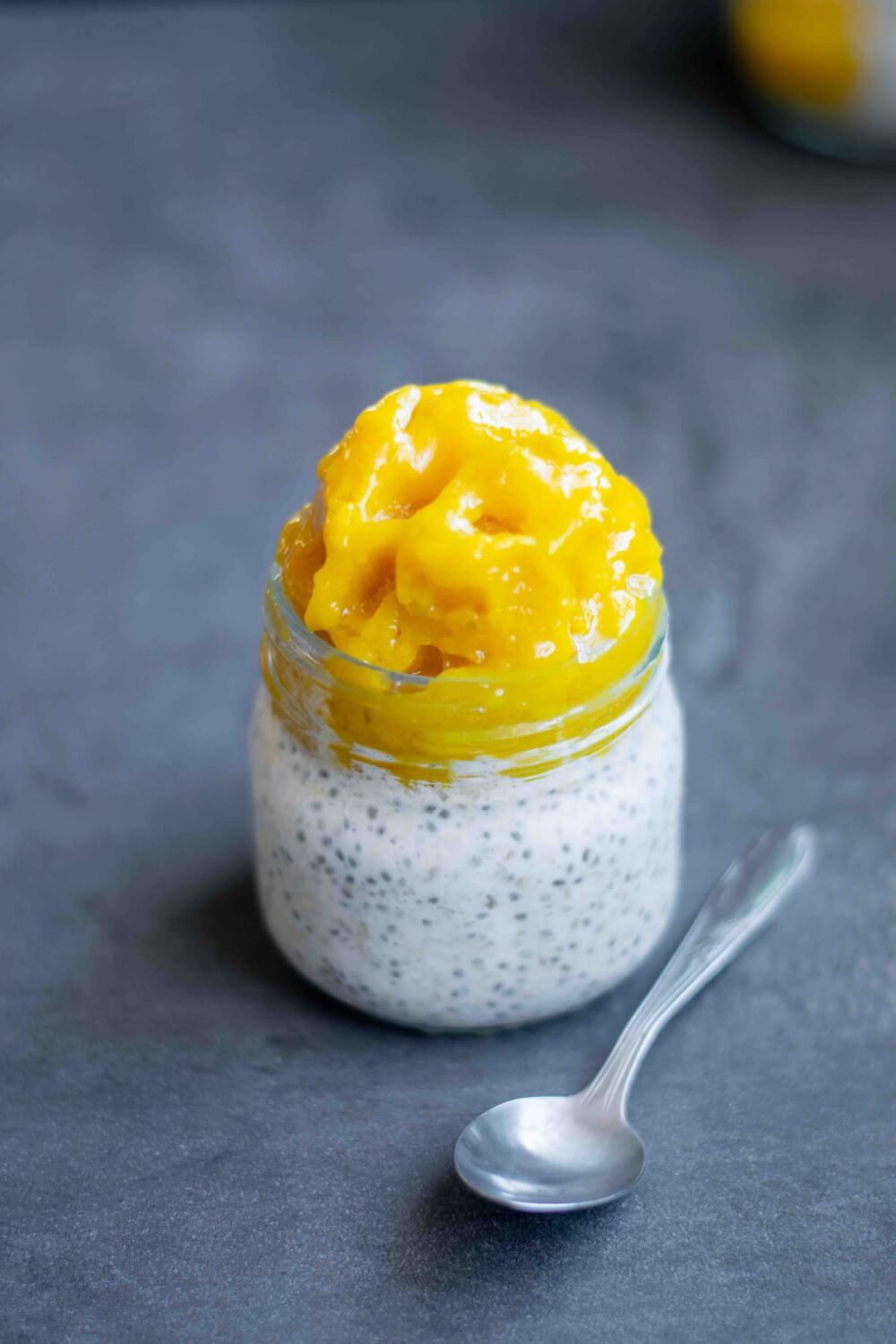 Yield: 2
Easy Mango Chia Pudding Recipe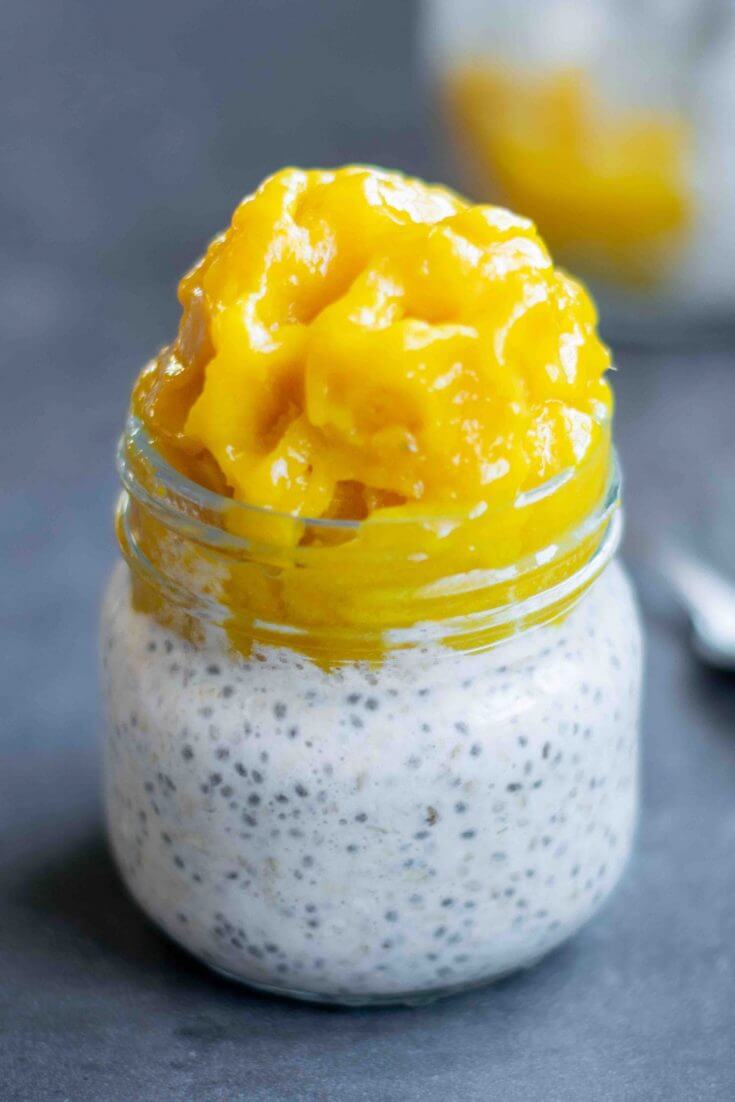 This vegan mango recipe is the ultimate tropical breakfast or dessert dish. Mango Chia Pudding is sure to be a hit with your family!
Ingredients
1/4 cup chia seeds
3/4 cup water
1/3 coconut cream
4 scoops Mango Sorbet
Instructions
In a small bowl, combine chia seeds and water. Combine well and let it soak until thicken.
When soaked, add coconut cream and stir well until you get a creamy white texture.
Divide pudding in a jars or glasses then add mango sorbet on on top.
Serve immediately.
Notes
The pudding be stored for 3 days in the fridge (without the sorbet on top.)
Mango Pudding with Chia Seeds Notes
If you want to meal prep, you can refrigerate overnight and keep it in a mason jar so it stays good. If you are using fresh ripe mangoes instead of mango sorbet, wait until you are ready to eat to combine.
You can also add some shredded coconut flakes or other fruit as well. The chia pudding taste is more of a neutral flavor. If you don't like the chia pudding taste, try adding some mango puree inside, maple syrup, or agave nectar to sweeten it up.
You don't have to use coconut cream. Alternatives can include canned coconut milk, cashew milk, unsweetened almond milk, or oat milk. Either full-fat coconut milk or light coconut milk work, and each has its benefits. The coconut mango chia pudding makes for a delicious breakfast!
Include some fresh mango inside your pudding to create a fun layer chia pudding! Ground cardamom will also taste super good inside.
Mango Chia Pudding FAQs
How healthy is chia seed pudding?
Chia pudding is actually a really healthy breakfast, snack, or dessert option. It's got lots of fiber and protein, and you can top it with all kinds of fruit (our favorite is mango, but a mango coconut chia pudding also sounds incredible!) Chia seeds also have more health benefits, like having omega 3 fatty acids, and are great antioxidants too.
Is chia seed pudding good for weight loss?
It can be, depending on the rest of your diet. You can easily replace your usual breakfast or dessert with mango and chia seed pudding to help you lose weight. The cool thing is that chia seeds have a lot of fiber, which is known to help with weight loss. If you want to try to use a mango chia pudding for weight loss, you can; just make sure to keep the rest of your diet as healthy as possible too!
Can toddlers eat chia pudding?
Yes! Chia pudding with mango is actually a really great food item for both babies and toddlers, as it has lots of fiber, protein, and healthy fats. Change it up by topping it with different pureed fruit! Make sure to use a diced mango added to this delicious chia pudding for toddlers or puree seasonal fruits to keep it safe for your little ones.
Chia Mango Pudding Wrap Up
This mango and chia pudding is so tasty and good for you! Making chia pudding is not hard at all. Have it for your breakfast for a complete protein meal with essential amino acids your body will absolutely love.
With all those benefits, don't worry; this coconut milk pudding with mango also tastes incredible! Kids and adults alike will love it.
Try these other delicious mango dessert recipes too! You might like this frozen mango margarita as well.