Want to make the creamiest pineapple ice cream with condensed milk and whipping cream? Scroll to get my full Homemade Pineapple Ice Cream recipe!
This Pineapple Homemade Ice Cream Recipe contains affiliate links which means if you purchase something from one of my affiliate links, I may earn a small commission that goes back into maintaining this blog.
I have a confession to make: I've never been a big fan of ice cream. There, I said it!
But, that's mainly because I've been severely lactose intolerant my whole life and ice cream used to make me super sick. So, I've always associated it with a really bad stomachache.
However, both times I've been pregnant, I just couldn't get enough ice cream! Something about the creamy, smooth texture just seemed to hit all the right spots. And that craving has lasted well past pregnancy.
These days, I can't get enough fruit-flavored ice cream like mango, strawberry, and lychee. And neither can my kids!
Now, being lactose intolerant, I usually like to make dairy-free desserts like my copy cat Pineapple Dole Whip recipe.
However, some creamy desserts are totally worth a Lactaid pill. And this Hawaii pineapple ice cream tops my list.
It tastes just like what you'd get at a Hawaiian ice cream shop.
You can make this canned pineapple ice cream recipe to eat on it's own, or add a scoop to a your favorite pie. You can even top with a crumbled cookie to add a bit of texture. Or turn it into a pineapple milkshake!
The possibilities for this Hawaii ice cream are endless!
Try my super easy Pineapple Upside Down Rum Cake!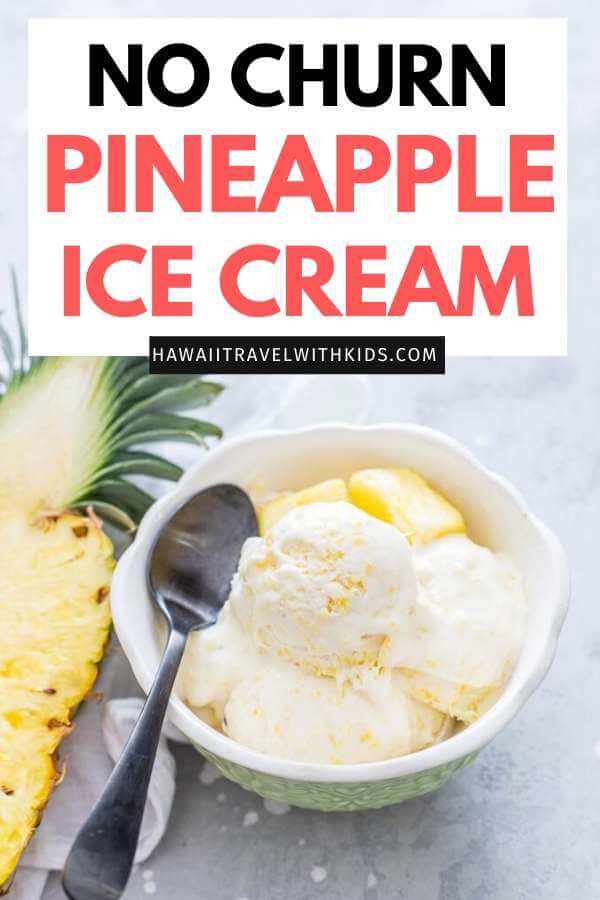 Pineapple Ice Cream FAQs
What's the difference between Dole Whip and pineapple ice cream?
Dole Whip is a dairy-free, frozen pineapple treat. Pineapple ice cream contains dairy and it's a pretty creamy, frozen treat.
Is it cheaper to make ice cream at home?
Not really. But, it's a fun project for kids and adults and it's nice knowing exactly what's in your ice cream. Plus, you can make it to fit your taste buds.
Is making homemade ice cream worth it?
We think so! This homemade pineapple ice cream recipe doesn't require any special machines or tools, so the only cost is the ingredients. We love the freedom of being able to add in extra items (like mango chunks or maraschino cherries) when the mood strikes!
No Churn Homemade Pineapple Ice Cream Recipe
12 servings
Pineapple Ice Cream Ingredients
2 Cups heavy whipping cream
14 ounces sweetened condensed milk
½ teaspoon vanilla extract
16 ounces canned crushed pineapple, drained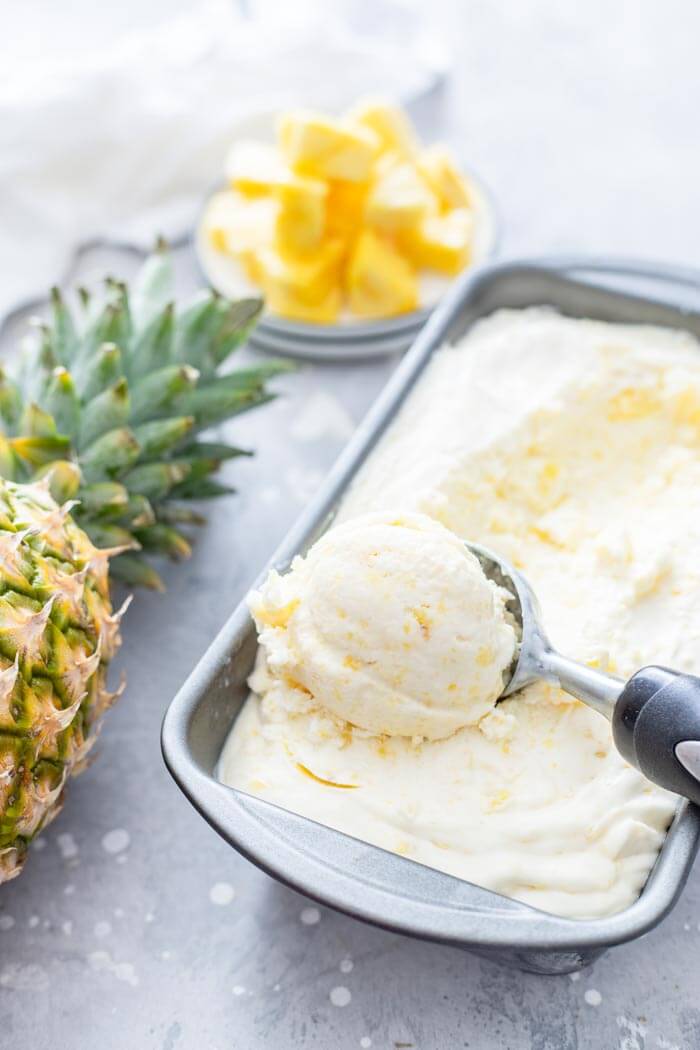 How to Make Homemade Pineapple Ice Cream with Condensed Milk
In a large bowl, add the whipping cream. With a hand or stand mixer whip on medium speed to form soft peaks, about 3-5 minutes.
Add the sweetened condensed milk and vanilla, whip to combine fully. Stir in the crushed pineapple. Pour into a freezer safe dish, cover, and freeze for 6 to 8 hours or until frozen solid.
Scoop into bowls and top with freshly cut or canned pineapple chunks. Enjoy!
Yield: 12 Servings
Homemade Pineapple Ice Cream Recipe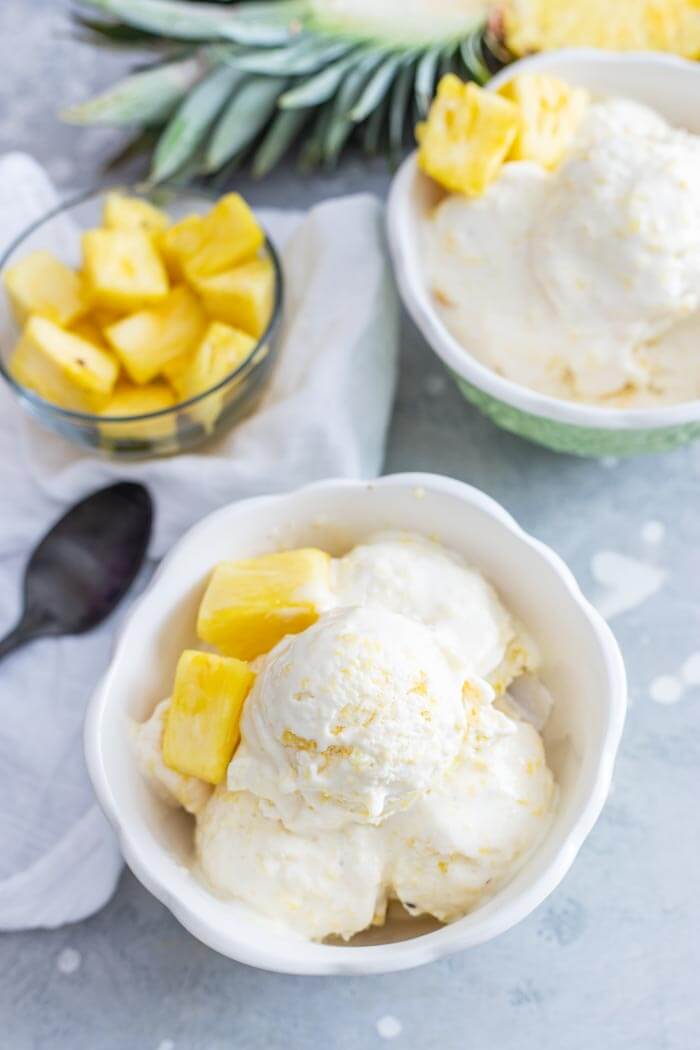 This no churn homemade Pineapple Ice Cream recipe is super easy to make and oh-so-creamy! Top it with freshly cut pineapple chunks or just eat it right out of the tray! Yummy!
Additional Time
8 hours
6 seconds
Total Time
8 hours
5 minutes
6 seconds
Ingredients
2 Cups heavy whipping cream
14 ounces sweetened condensed milk
½ teaspoon vanilla extract
16 ounces canned crushed pineapple, drained
Instructions
In a large bowl, add the whipping cream. With a hand or stand mixer whip on medium speed to form soft peaks, about 3-5 minutes.
Add the sweetened condensed milk and vanilla, whip to combine fully. Stir in the crushed pineapple. Pour into a freezer safe dish, cover, and freeze for 6 to 8 hours or until frozen solid.
Scoop into bowl and top with fresh fruit (optional)
Nutrition Information:
Yield:
12
Serving Size:
1
Amount Per Serving:
Calories:

301
Total Fat:

18g
Saturated Fat:

12g
Trans Fat:

0g
Unsaturated Fat:

5g
Cholesterol:

60mg
Sodium:

68mg
Carbohydrates:

31g
Fiber:

0g
Sugar:

31g
Protein:

5g