Looking to save money on food for your next trip to Oahu? Find out the best cheap eats on Oahu that will satisfy any craving! Scroll to see them all!
This best cheap eats on Oahu post contains affiliate links which means if you purchase something from one of my affiliate links, I may earn a small commission that goes back into maintaining this blog.
While Hawaii is an amazing place to visit, we all know that it is definitely not cheap.
From the airfare to hotel to activities, it can all add up.
Find out the cheapest places to stay on Oahu
Thankfully, there are some places where you can get amazing deals on some great food. I do not mean fast food places like McDonald's either; I am talking about the type of food that will make you crave more.
Hawaii has some of the best food in the world! Part of that is because a lot of the food is inspired by other global cuisine, primarily Asian cuisine.
If you are planning to go to Hawaii on a budget, here are the best cheap eateries on Oahu!
Now just because I say cheap does not mean that you get bad food, just the opposite! You still can find super delicious meals that are inexpensive.
The sizes are not small, either. Often times, you get more food than you can handle!
Don't have time to read a bunch of Hawaii blog posts and reviews? Here are some of our top picks for visiting Oahu on a budget.
Best Budget-Friendly Oahu Tours/Activities
Best Budget-Friendly Oahu Hotels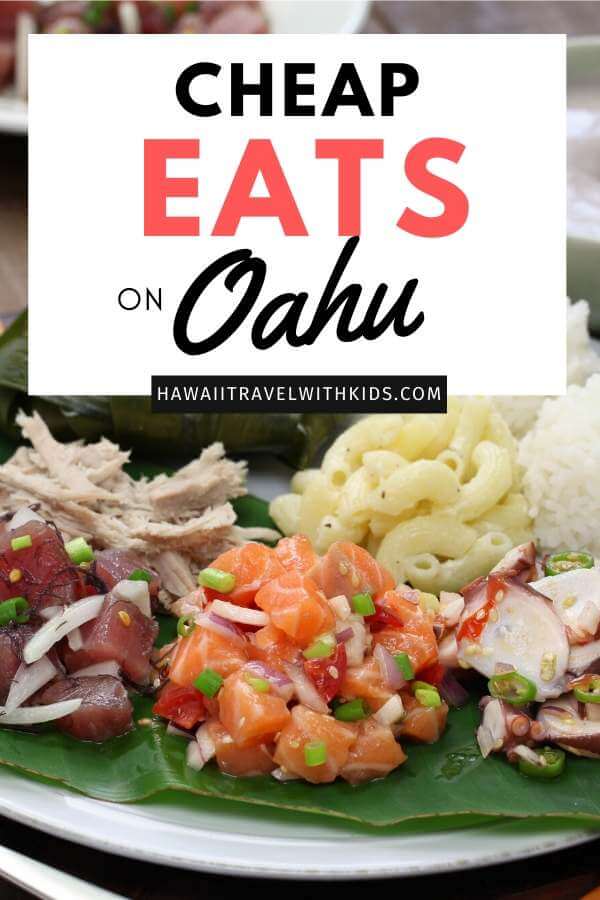 Cheap Eats on Oahu FAQs
How can I eat cheap in Hawaii?
There are plenty of ways to save money on food in Hawaii. Take advantage of Happy Hour deals, shop at grocery stores and farmer's markets, look for coupons, and eat at food courts in the mall.
Where do locals eat in Oahu?
It's always a smart idea to see where locals eat because it's probably the best value for tasty food! On Oahu, locals tend to eat at Rainbow Drive-In, Ono Seafood, and Musubi Cafe Iyasume.
8 Cheap Eats on Oahu
1. Foodland
Foodland is a locally owned supermarket all across Hawaii, especially on Oahu. You can find one just about anywhere!
Here you can find your groceries, sanitary needs, and souvenirs. However, you can also get some great pre-made meals as well!
Here are some of our top favorite quick, cheap meals at Foodland
Poke Bowl
Try a poke bowl, with either rice or salad, topped with some of the best poke you will find on the island. Poke bowls cost $7.99 and are filled to the top full of fish.
You can also turn them into poke nachos by eating it with tortilla chips.
Bentos
Bentos are a Japanese-style take-out lunch. They often include a type of meat, rice, and a vegetable.
There are many pre-made Bentos in the warmer at Foodland, all ready to grab and go. They can have eggs and sausage, little smokies, chicken, etc.
You can also get a bento that includes poke on rice, along with some fried chicken for the same price.
Musubi
Musubi is a sushi-style snack and meal in Hawaii that everyone loves. The most famous one includes spam rolled together onto a block of rice and wrapped in seaweed.
There are many flavors and varieties like kalua pork, chicken adobo, mochiko chicken, and more. They are very filling and only cost a couple of dollars.
You can get poke bowls, Bentos, and musubi at most places around the island, not just Foodland.
Foodland has some of the best prices for poke bowls, though. It is a simple, easy, and cheap option for food that will not disappoint.
2. Kahuku Food Trucks
Along the North Shore, you will find Kahuku, a town filled with food trucks.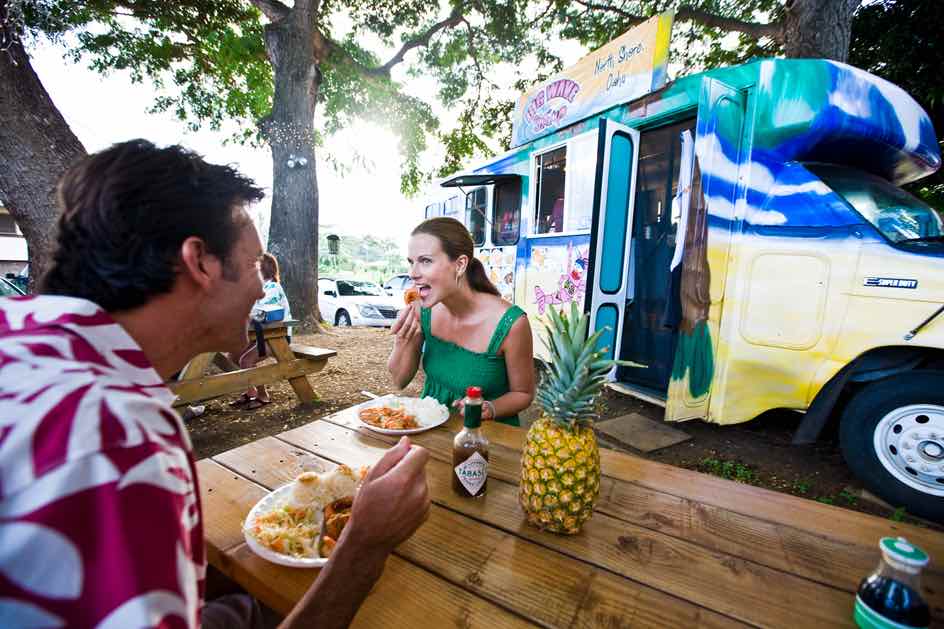 You will find a range of different types of food, from garlic shrimp to Thai food, Chinese food, and Mexican food. Giovanni's Shrimp Truck has both mini and regular size plates full of jumbo size shrimp and rice.
Most of the food trucks offer mini and regular plates. The mini plates are often half of the regular, both in size and price.
The thing about food trucks are that they stack on the food, so you can get a mini plate and be full for the rest of the day! Plates go from $7-12 typically, but it also depends on what you get.
L&L Hawaiian Barbecue has lots of traditional Hawaiian meals. What I love about this place is that they completely stack their plates full of meat!
Each plate comes with some scoops of rice, macaroni salad, and then the meat or seafood. If you don't like macaroni salad, you can always substitute for salad. Sometimes you can get fries on the side instead for a couple of cents extra.
They have both the mini and regular options when it comes to their plates. They also have many other choices to choose from as well, including some hamburgers and saimin.
Their prices are around the same as the food trucks, $7-12. You can find L&L's all across the island (and even franchise on the Mainland!)
Another one along the North Shore is Ted's Bakery.
While they do have bakery items, you can grab some tasty plate lunches as well. Find some chicken katsu, hot fresh sandwiches, or some garlic shrimp plates that will make your mouth water.
They also provide breakfast plates, so you can grab a bite to eat before you head out to surf! They have been nominated for some of Hawaii's best food for three years in a row!
Zippy's is actually a restaurant that has some great affordable prices. It is another perfect place to stop and eat because they have them all over the island. This place probably has the biggest selection of food choices.
The best part about it is that most are open 24 hours!
Here you can find burgers, chili, plate lunches, sushi, noodles, and so much more! Again, you have the option to choose mini or regular.
Most items cost less than $10, which is great for travelers on a budget!
And if you are staying somewhere with a kitchen, you can find Zippy's meals in the frozen foods section of the grocery store!
Rainbow's is very similar to Zippy's. It has an excellent selection for any time of the day. They have many local meals on the menu that are very cheap. So you can experience Hawaiian food while staying on a budget!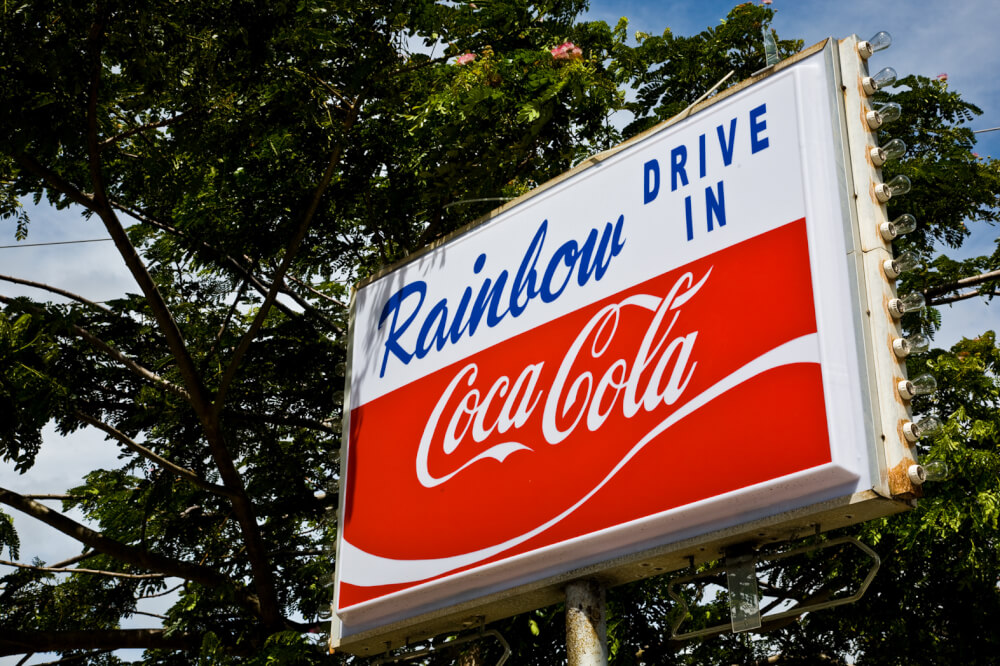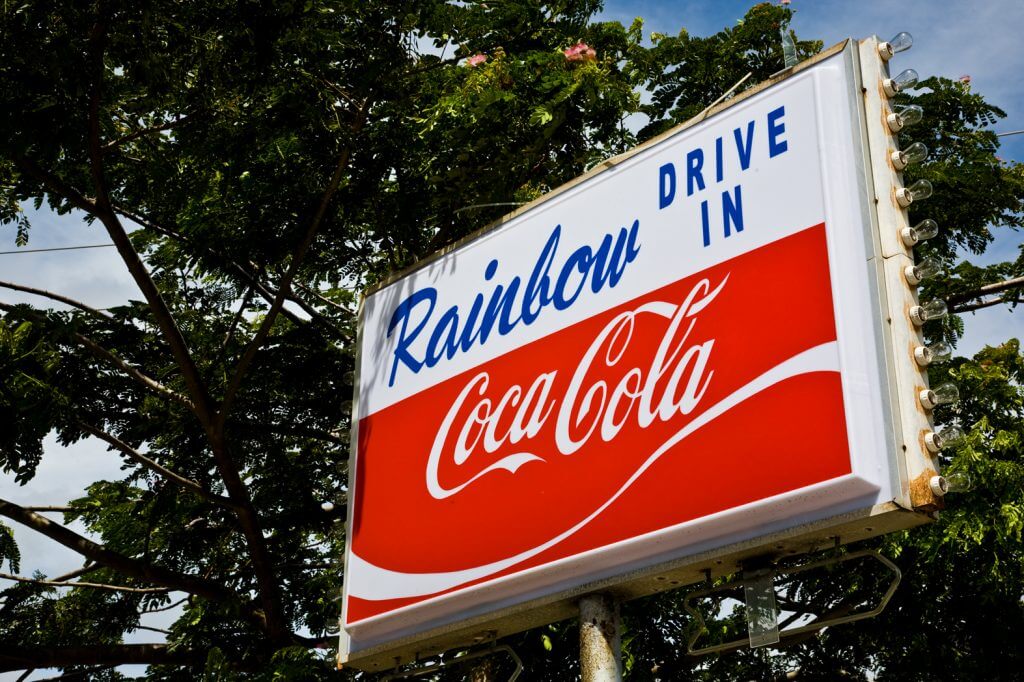 All plate lunches are less than $10 and will definitely fill you up.
Unlike Zippy's, you can mainly only find Hawaiian foods, such as spam, sausages, and musubi.
If you aren't interested in that, you will probably be happier at Zippy's or another place. While they have a good variety when it comes to Hawaiian food, that is all you will find at Rainbow Drive-in.
Personally, we love their loco moco and their beef stew! It's one of the best restaurants on Oahu.
Get my easy Hawaiian Loco Moco recipe
Head to Chinatown for some cheap eats on Oahu.
Here you can find some of the best Chinese food. Lam's Kitchen is one of them. Almost everything on the menu is priced less than $10. You can get some of your favorite Chinese foods for only a couple of dollars!
If your favorite food is Chinese, you have to stop at Lam's Kitchen for your next fix. It will not disappoint.
One place that we always stop on Oahu is Kaka'ako Kitchen. It's another place that sells Hawaiian-style plate lunch and their portions are massive!
We usually get 3 entrees for our family of 4 and still have leftovers.
It's located in Kaka'ako and you can eat there or take your food down the street and watch the boats.
As of February 2020, Kaka'ako Kitchen is closed but you can still order catering from them.
Wrap Up
Although planning a trip to Hawaii may seem overwhelming due to the high prices, there are ways to get the cost down.
Many places have cheap eats on Oahu. You won't be bargaining your money for food quality; these places serve amazingly delicious food.
You skip the fancy expensive restaurants and try out one of these places next time you go to the island.