Are you planning a trip to Oahu and want to know the best farmers markets on Oahu worth checking out? Check out this guide to North Shore Farmers Markets that sell locally made products, fresh produce, and even souvenirs!
This guide to North Shore farmers markets contains affiliate links which means if you purchase something from one of my affiliate links, I may earn a small commission that goes back into maintaining this blog.
If you're planning a trip to the North Shore of Oahu, you are likely already planning for beautiful weather, breathtaking views, and incredible beaches – but don't forget to visit the North Shore farmers markets while you're on this beautiful island.
Waialua and Hale'iwa have some of the best farmers markets on Oahu, and we have the guide to help you make the most of your trip.
Keep reading for our favorite Farmers Markets in Oahu + trips and tricks for exploring each one – like how to find the best local fruits and veggies and most authentic Hawaii souvenirs.
Don't have time to read a bunch of Hawaii blog posts and reviews? Here are some of our top picks for visiting Oahu.
Popular Oahu Tours/Activities
Favorite Oahu Resorts/Hotels
Want to Rent a Car in Hawaii?
One of the best places to rent a car in Hawaii is Discount Hawaii Car Rental because they get the best rates from top national companies like Alamo, Dollar, Thrifty, Avis, Enterprise, Budget, and Payless.
Want to skip all the planning and just access my detailed Oahu Itinerary complete with daily schedules, kid-friendly activities, and travel hacks? Click the button below.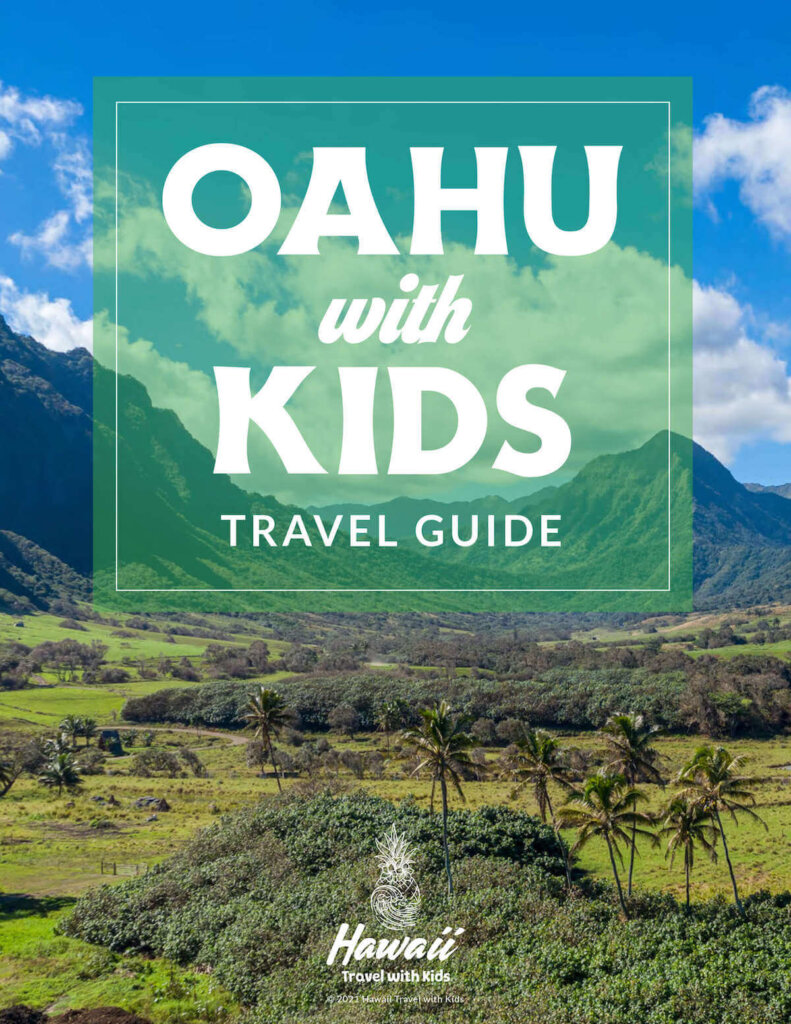 FAQs about North Shore Farmers Markets
Do Farmers Markets in Oahu accept credit cards?
It's a great idea to carry cash on the North Shore. Some vendors accept cards, but most vendors at North Shore markets only accept cash!
Are North Shore Farmers Markets family-friendly? 
Absolutely! The North Shore of Oahu is an amazing place to travel with kids. Check out our Oahu Travel Guide for Families. And a farmers market is a perfect family-friendly activity while you're there. 
Can you find souvenirs at Oahu Farmers Markets?
North Shore Farmers Markets are a great place to shop for unique gifts and authentic Hawaii souvenirs. In addition to fresh fruits, veggies, and plants, these markets all have creative vendors who make great souvenir items like jewelry, pottery, art, and even organic skincare items.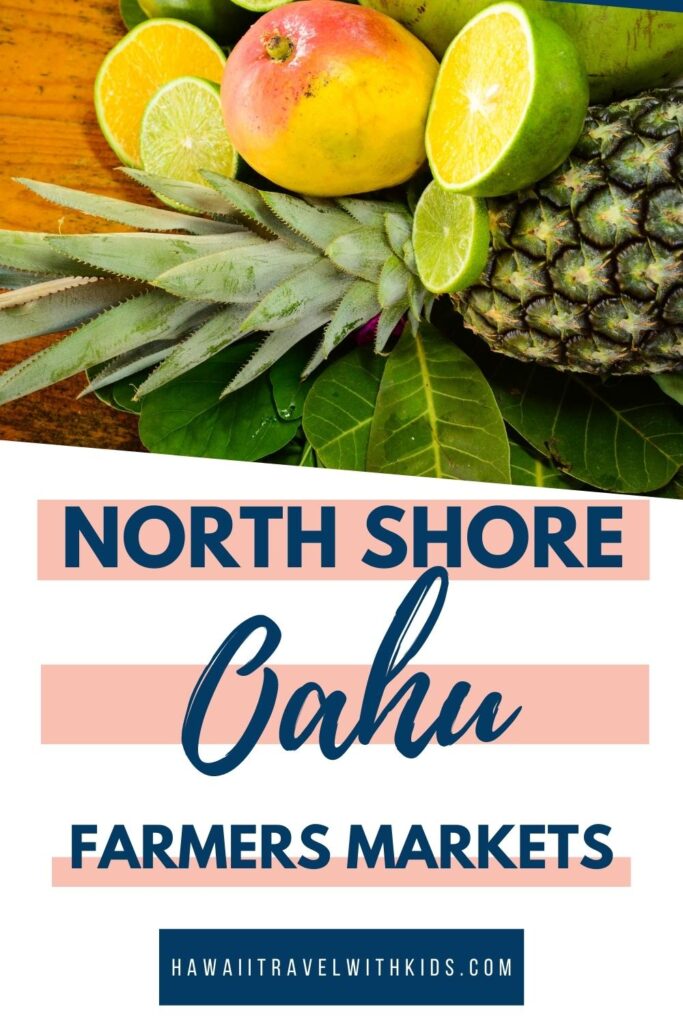 Oahu Farmers Market Tips
Are you a frequent farmers market shopper? If not, there are many benefits to shopping local markets and many reasons to attend.
Markets on Oahu are fun, unique, diverse, community-centered, and family-friendly! You will likely make new friends, and find new products to love. But this isn't the same as running errands at your local Target.
Here are a few tips to keep in mind while you browse:
Carry cash when possible
Some vendors accept Venmo or credit cards, but many still have a cash-only policy. It's better to come prepared with cash in your pocket, just in case.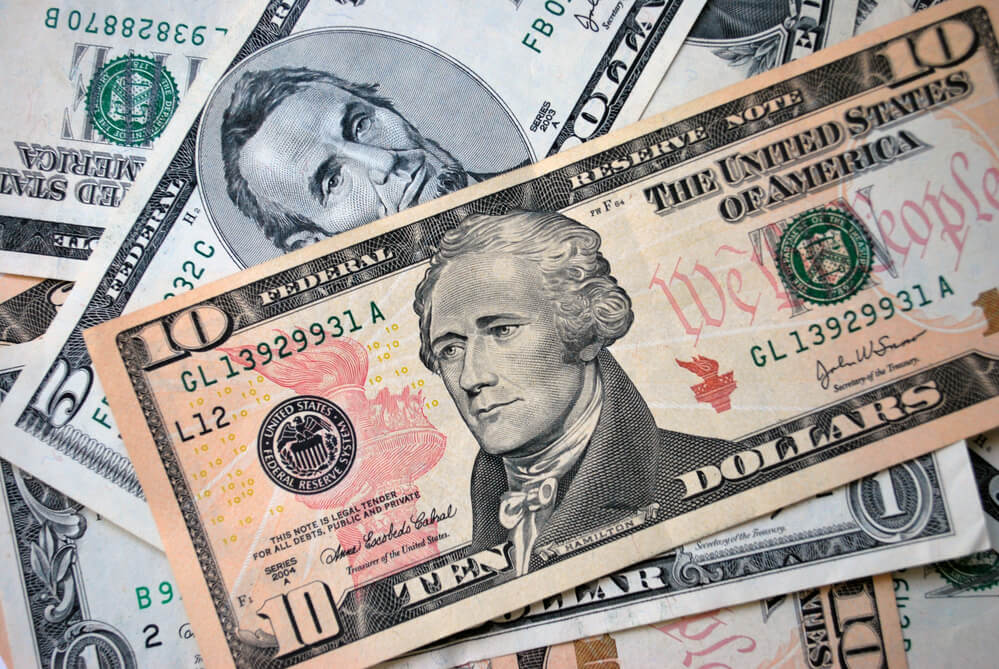 Many shops and stands in the small towns along the North Shore (Haleiwa, Waialua, Pupukea, Kahuku, Kawela Bay, Mokuleia) don't accept cards.
You can ask for cash back at most grocery stores, gas stations, and convenience shops or find an ATM on your way to the market!
Don't forget the sunscreen, hats, and sunglasses!
As with most Hawaiian activities, sun protection is a must-have at the farmers markets. Most market vendors have covered tables and displays, but you will still spend a good amount of time walking in the warm, tropical sun.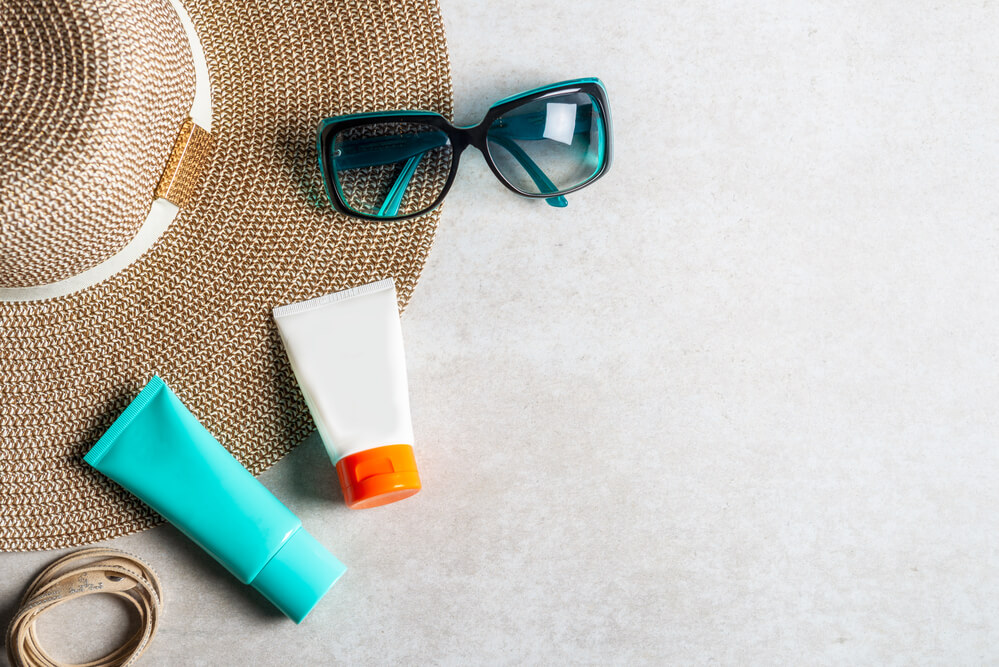 Don't worry if you don't have a favorite sun hat – you might get lucky and find a new one at the market.
Bring your own bags
Did you know Oahu doesn't allow single-use plastic bags on the island?
Hawaii was the first state to pass plastic bag reduction laws in every county, and a few years ago, Oahu passed Bill 40. This is the most comprehensive phaseout of single-use plastic in the nation, banning nearly all takeout plastics.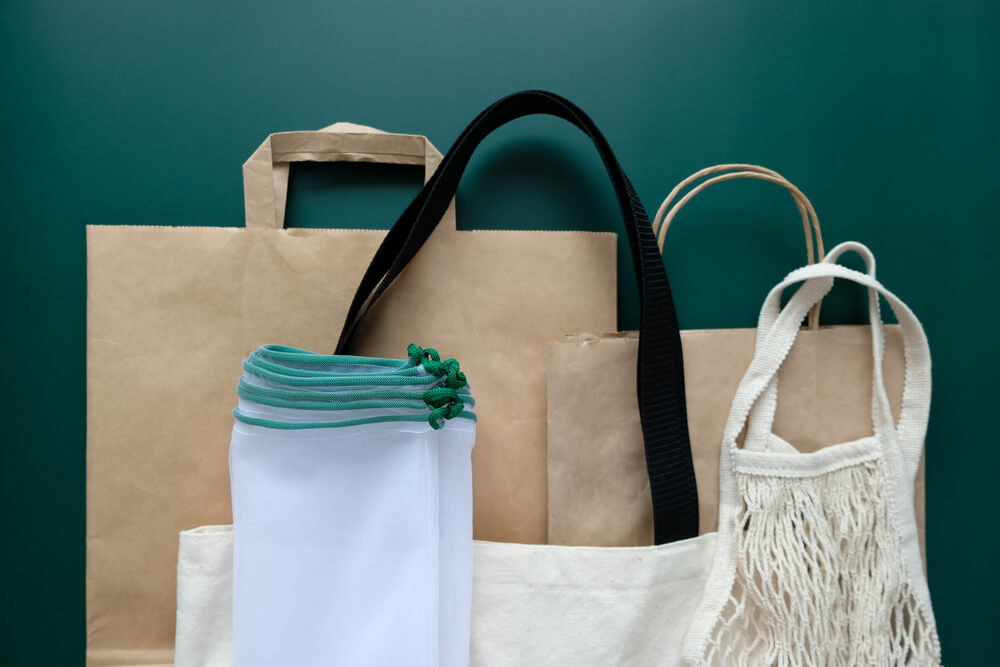 You can purchase reusable bags, but you will not be given an option to bag your produce and treasures for easy carrying.
The great news is, most markets have vendors that sell fun reusable bags that will help you carry home your purchases and make a great keepsake to take home!
Leave your pets at home
This one may apply more to locals, but just in case you travel with pets – don't bring them to the farmers markets.
Some markets allow pets, but not all… and even if there aren't rules against it, markets can be hot and crowded and too stressful for furry friends.
But don't forget to grab a homemade doggie treat or CBD pet balm while you're out.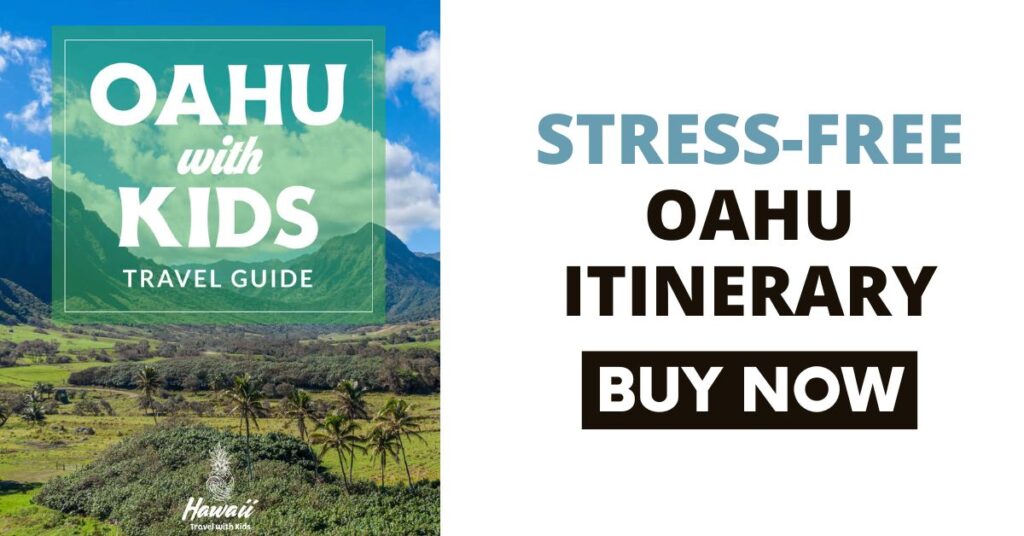 Bring a shopping list
This is a great time to get a head start on your holiday shopping list! Make a list of everyone you want to buy souvenirs, birthday, or holiday gifts for in the next few months.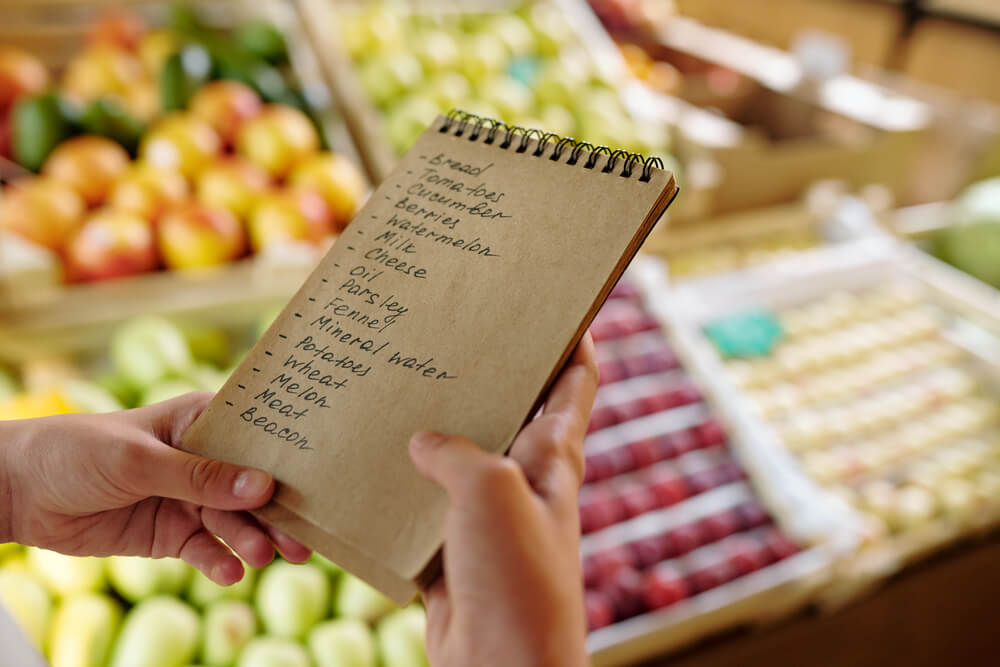 Farmers Markets on Oahu boast a wide variety of unique and special gift items. Your family and friends will love the treats you bring back!
North Shore Oahu Farmers Markets
Waialua Farmer's Co-op Market
67-106 Kealohanui St, Waialua, Hi 96791
One of the best farmers markets on Oahu for locals and tourists is the Waialua Farmer's Co-op Market.
Every Saturday from 8:30 am-1:00 pm this market sells fresh, local, organic fruits and vegetables, plants, artisan crafts, and handmade jewelry. They sometimes have food trucks, baked goods, and live music as well.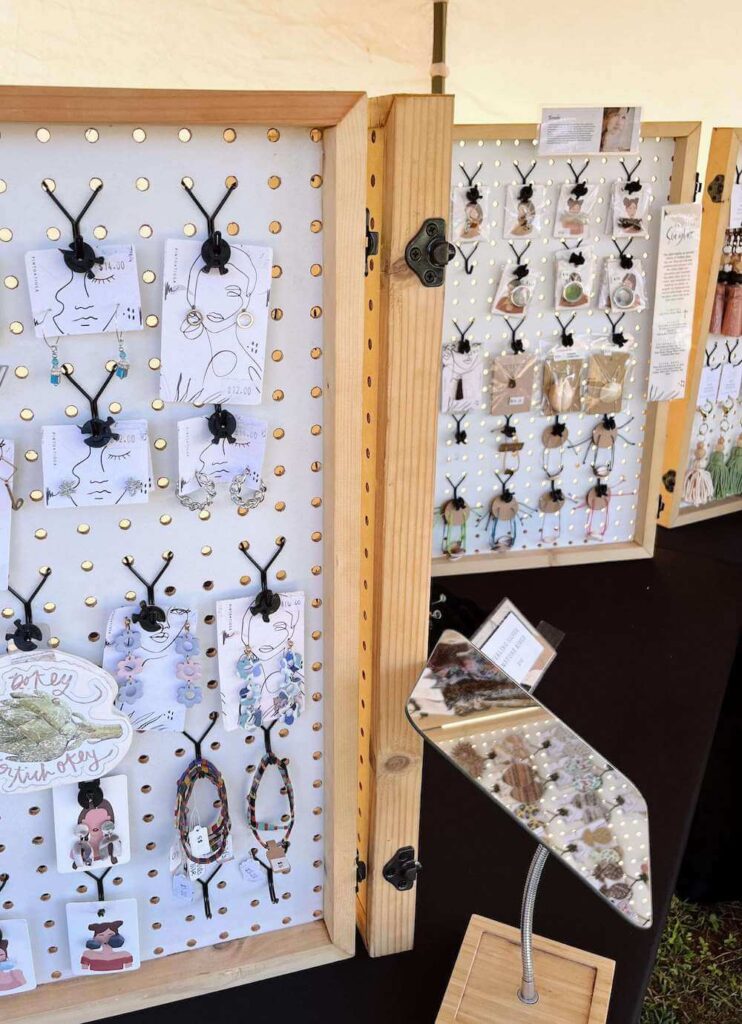 This market is well-loved in the local North Shore community and known as a great place to pick up local favorites like apple bananas, fresh banana bread, and papaya salad (a tasty salad made from unripe papaya and a special Thai dressing).
Waialua Farmer's Co-op Market is located in the parking lot behind the old Waialua Sugar Mill, which is another stop well worth making!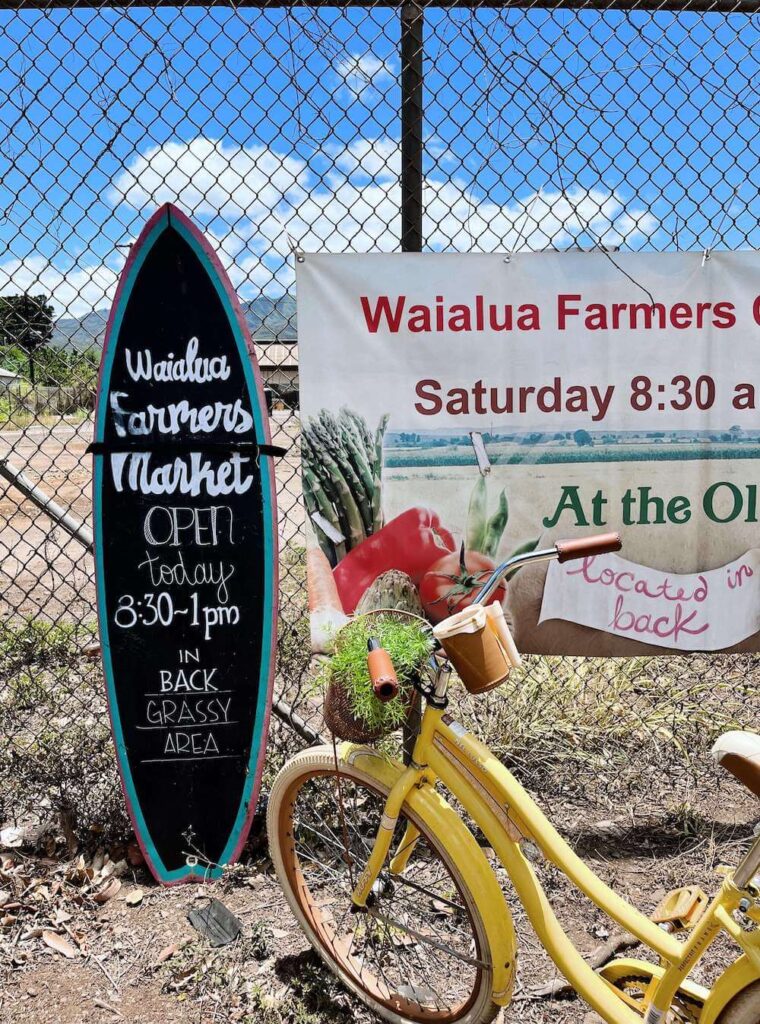 The Sugar Mill features local crafts, treats, unique souvenirs, and a variety of local coffees and teas. The setting is quaint and unassuming, but you're sure to find something to love inside!
We highly recommend stopping in for a shave ice or some gifts after you check out the farmers market. You can even visit the soap factory or surfboard shop while you're there!
For vendor updates and special announcements, follow @waialuafarmersmarket on Instagram.
Waialua Farmers Market
67-174 Farrington Hwy, Waialua, HI 96791
This North Shore Oahu Farmers Market proclaims itself "The happiest place on the North Shore every Tuesday."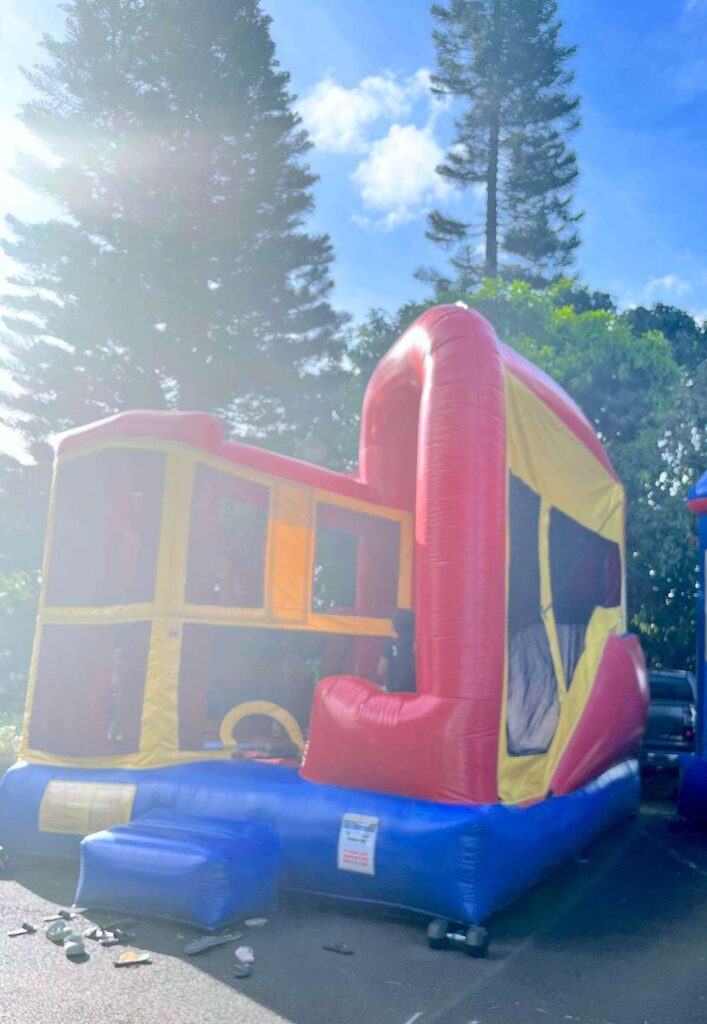 Tuesday evenings from 4:00 – 8:00 pm the Waialua United Church of Christ hosts the Waialua Farmers Market featuring local produce, food vendors, artisan products, and even a bounce house for the keikis (kiddos).
WUCC is a beautiful campus that hosts several special events for the whole ohana (family) and the Tuesday market is definitely worth a visit!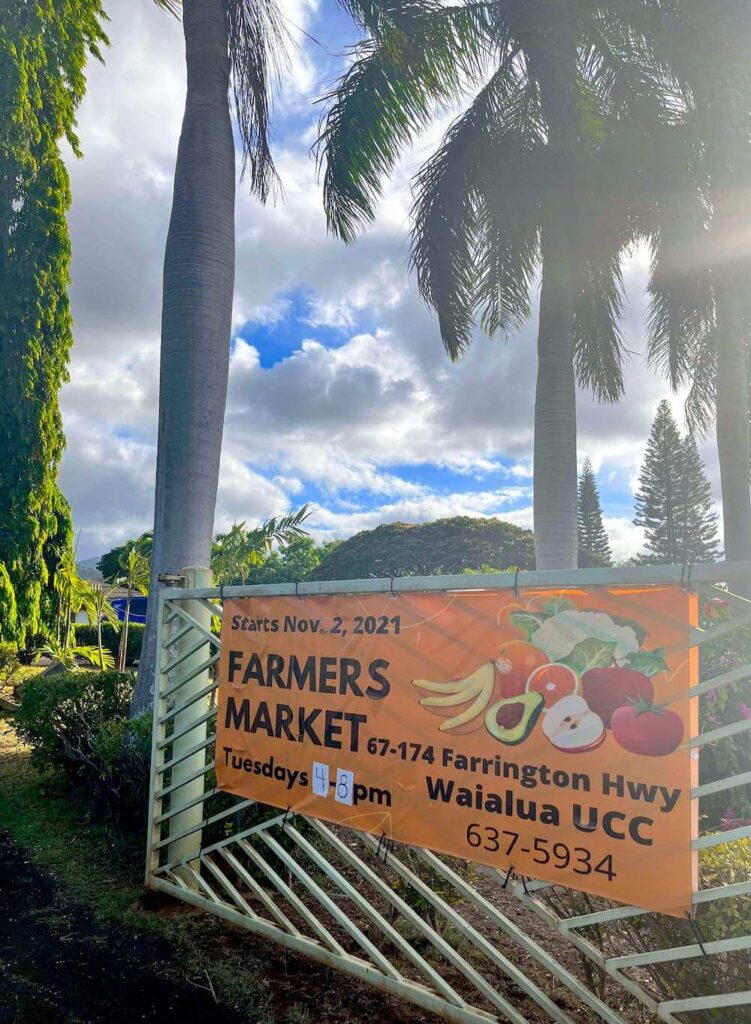 The WUCC website describes their church as "…an intergenerational community from all walks of life, with a little something for everyone. The hospitality is warm, and the people are friendly. We believe building community is far more important that religiosity."
This seems to be true, as they provide a space for yoga classes, preschools, scholarships, and the farmers market for families in the local communities and visitors. This market is a must-see for families!
For vendor updates and special announcements, follow @tuesdaymarketwaialua on Instagram.
FarmLovers Market
59-864 Kamehameha Hwy, Hale'iwa, HI 96712
The Hale'iwa Farmers Market is the FarmLovers gem on the North Shore. This market is located in a shady, covered section of beautiful Waimea Valley every Thursday from 2:00-6:00 pm.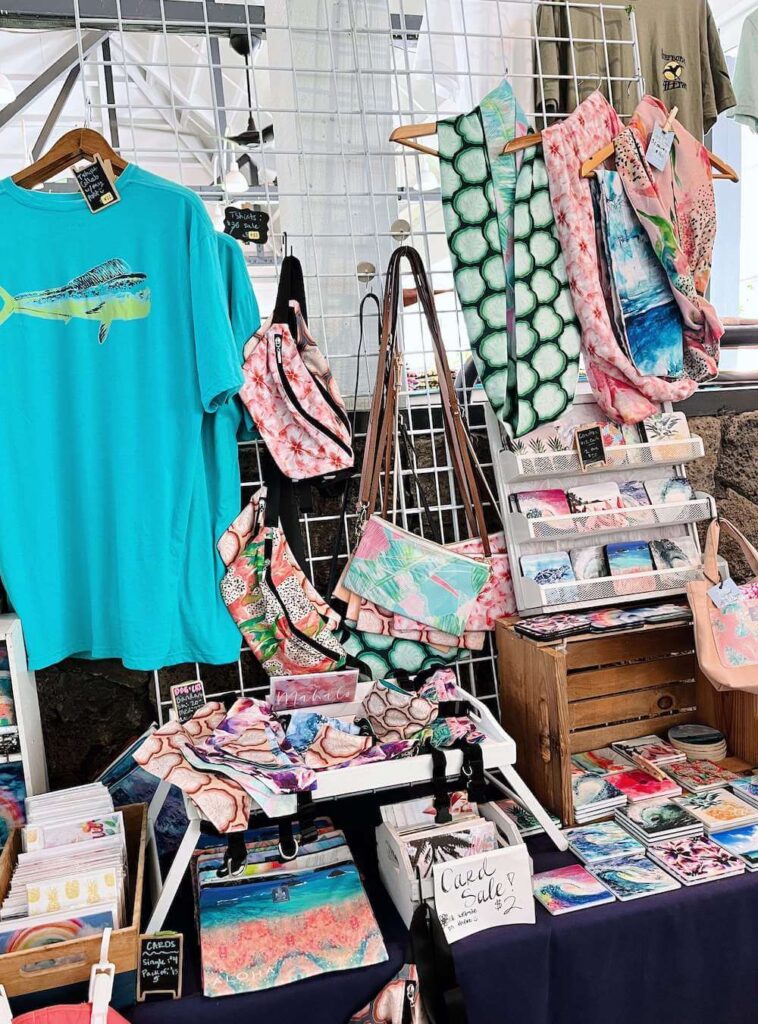 You can find local organic produce, meats, farm-to-table ingredients like local vanilla extract, fresh baked goods, sandwiches, sourdough pizza, smoothies, natural dog treats, aloha shirts, natural bath & body products, photography, glass art, jewelry and more, all locally-sourced and produced.
FarmerLovers Markets hosts award-winning markets all over the island of Oahu – Pearl Harbor, Honolulu, Kailua, and Hale'iwa.
Their mission is to "create a business incubator for small farmers, food manufacturers and artisans, by creating a supportive and nurturing environment, which will cultivate economic growth, community health, and cultural awareness."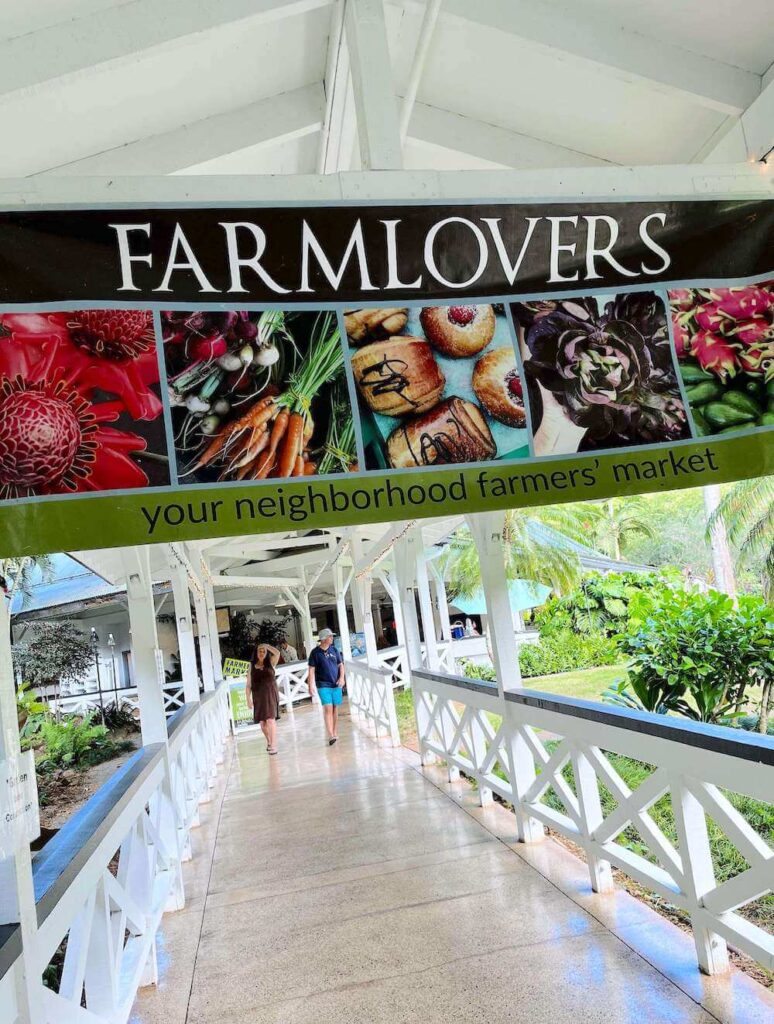 They are known for the atmosphere of community they create in their marketplaces. FarmerLovers Markets showcase high-quality, fresh, local fruits and vegetables and budding artisan businesses on Oahu.
The Hale'iwa Farmers Market is located in Waimea Valley, a stunning botanical garden owned and managed by Hi'ipaka LLC, a non-profit created to nurture and care for this treasure.
The mission of the Valley is to "Preserve and perpetuate the human, cultural and natural resources of Waimea for generations through education and stewardship".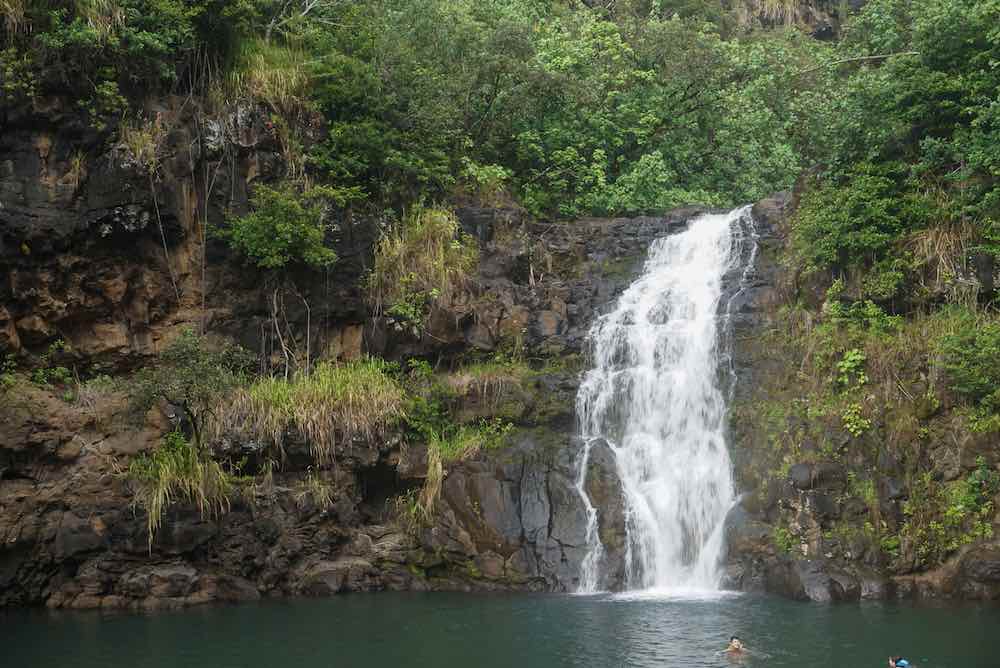 Visitors at Waimea Valley can walk ¾ of a mile up the main paved path through world-class botanical gardens and historical sites up to a waterfall. Depending on the season, you may even be able to swim in the gorgeous Waimea Falls!
For vendor updates and special announcements, follow @alohafarmlovers on Instagram.
Supporting Local Farmers on Oahu
Supporting local farmers is an impactful way to show respect for local Hawaiian land and resources. Farmers Markets are a fun and accessible way to shop local, but why not add a trip to a local farm to your vacation itinerary?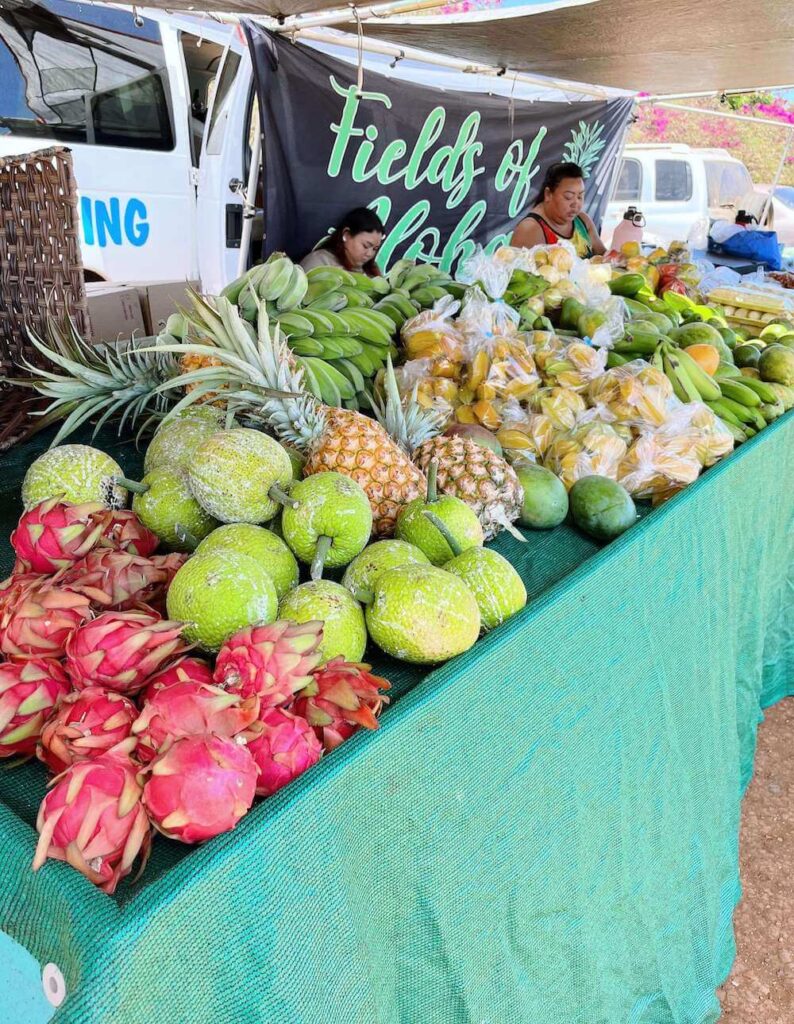 Many North Shore farms embrace tourists and visitors by offering a variety of engaging activities and family-friendly tours. Here are a couple of our favorites:
Kākoʻo ʻŌiwi
46-406 Kamehameha Highway Kāneʻohe HI 96744
Kākoʻo ʻŌiwi is a community-based non-profit organization based on the North Shore of the island of Oʻahu.
With the support of the local community, Kākoʻo ʻŌiwi continues to implement a long-range project to restore agricultural and ecological productivity to nearly 405-acres within the wetlands of Heʻeia.
Kākoʻo ʻŌiwi promotes social and economic growth in the local community through our cultural, educational and ecosystem restoration programs.
You can support Kākoʻo ʻŌiwi by making donations, volunteering, participating in community workshops, and shopping for fresh produce, locally prepared food, garden starters, and floral arrangements on their website.
Kahuku Farms
56-800 Kamehameha Hwy Kahuku, HI 96731 808-628-0639
Kahuku Farms was created by two Hawaiian farming families, the Matsudas and the Fukuyamas, back in the 1940s. Today, Kylie Matsuda champions the task of running the operations for Kahuku Farms for a fourth generation.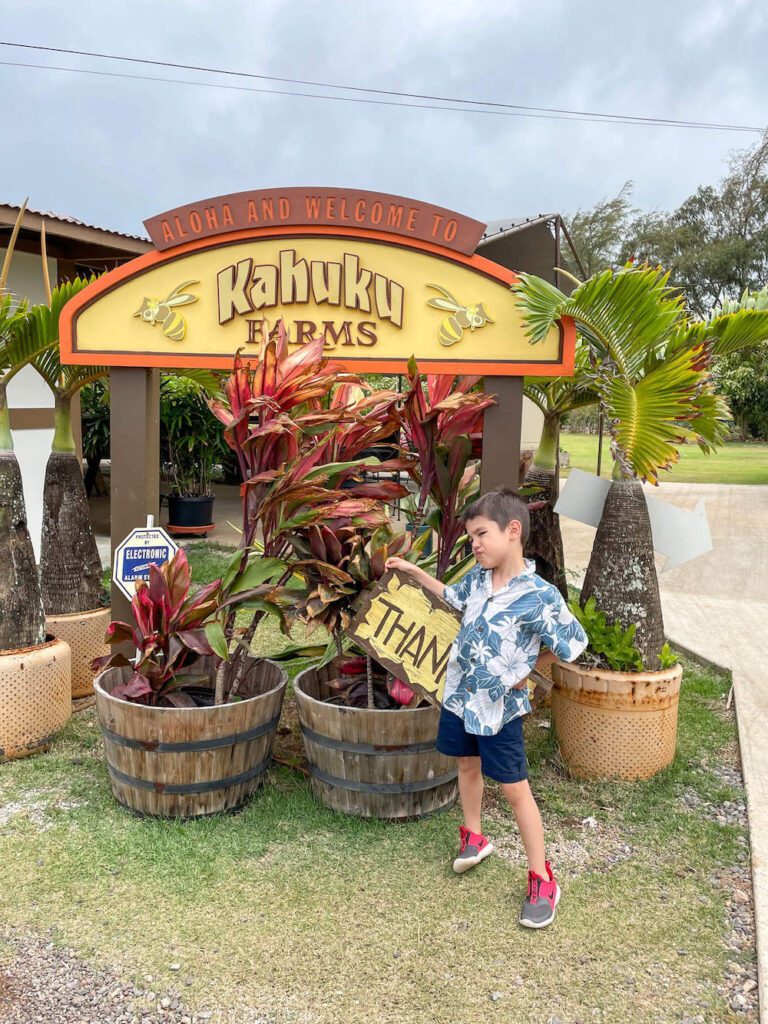 Kahuku Farms offers farm tours and a farm-to-table cafe that serves fresh, locally grown produce straight from the farm! They also have a full line of products including artisan foods and gifts, chocolates, stickers, honey, and bath and body products.
And don't forget a Kahuku Farms Acai bowl, made from the freshest acai berries on the island. They have their own unique recipes that features apple bananas, mixed berries, haupia, agave, and almond milk, and they promise it's the freshest Açai you've ever tasted.
"I feel honored and grateful to perpetuate our family's future in farming…To share our generations of knowledge and history with others, in this amazing place that I've known as home is a dream I'm passionate to live." – Kylie Matsuda
Dole Plantation
64-1550 Kamehameha Hwy. Wahiawa, Hawaii 96786
The Plantation began as a fruit stand in 1950, and opened to the public as Hawaii's "Pineapple Experience" in 1989. Today, Dole Plantation welcomes more than one million visitors a year!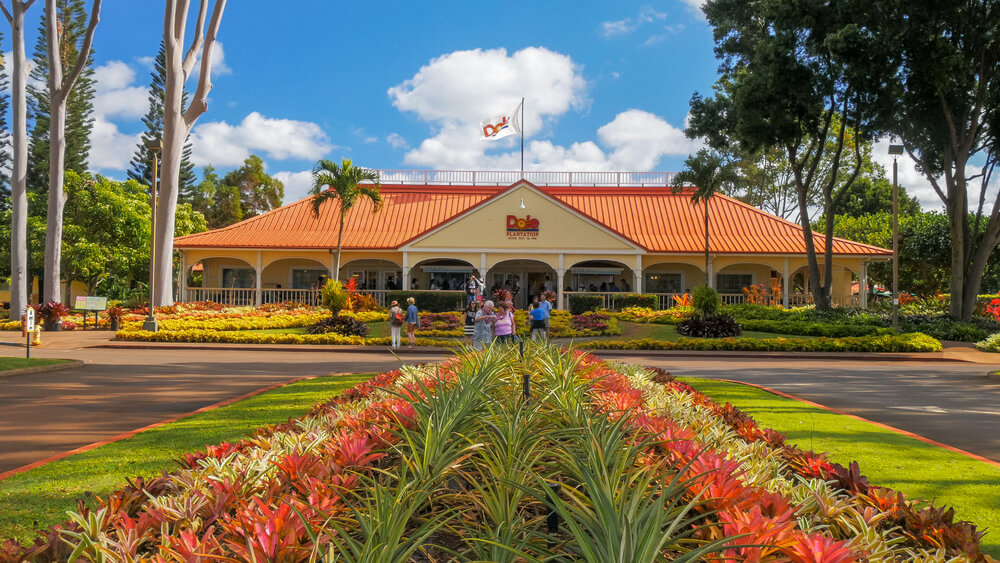 This isn't quite the same small-scale, local experience as other farms, but you will find all kinds of fun activities for the whole family. Ride the Pineapple Express Train Tour, explore the Plantation Garden Tour, and check out the Pineapple Garden Maze.
There are other popular experiences, such as Dole Plantation gifts, local favorites, foods and refreshments including the world-famous Dole Soft Serve!
Oahu with Kids Travel Guide
Traveling with kids can feel scary, but Oahu is one of the best places to visit as a family! You can make your dream trip happen with a little planning and knowledge.
Want some help planning your whole Hawaii trip? Click the button below to access my detailed Oahu Itinerary complete with daily schedules, kid-friendly activities, and travel hacks!
Coffee and Cafes on the North Shore
You might want to make a morning of the farmers market and grab a tasty treat on your way!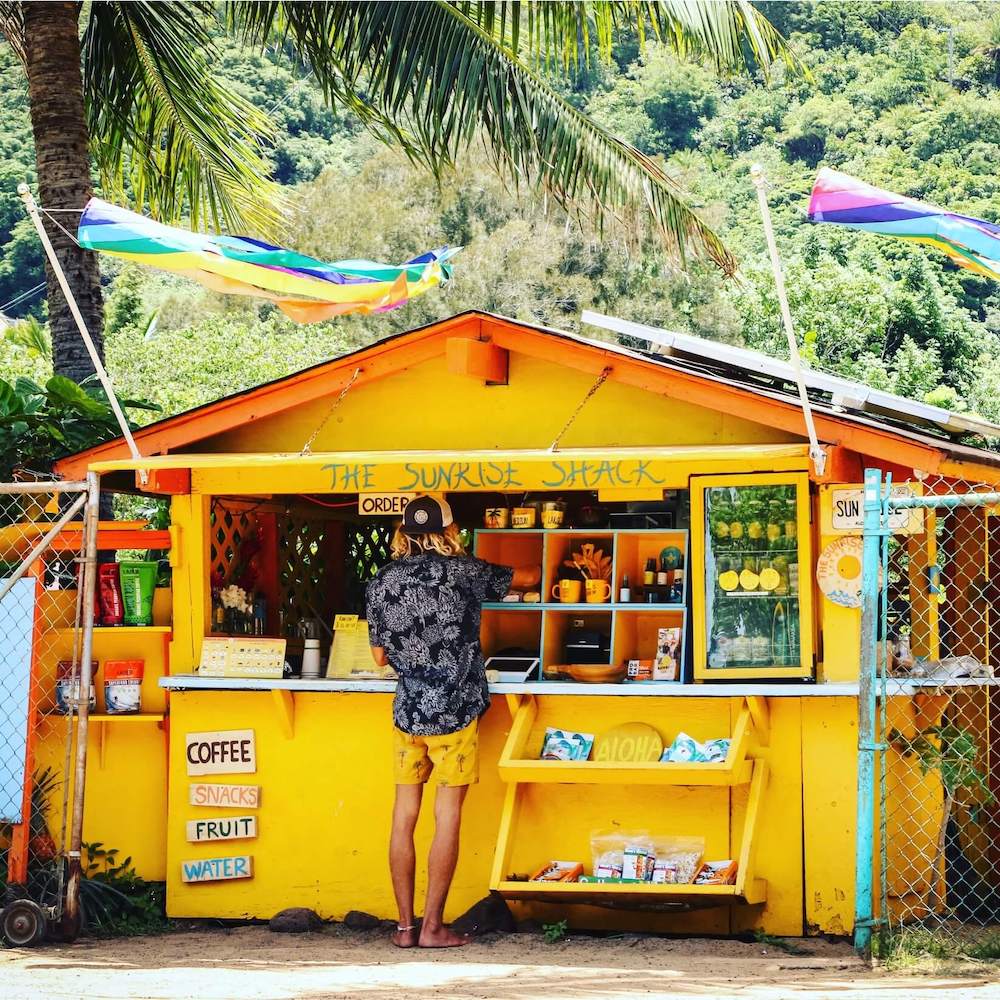 If you're looking for a great spot, check out these North Shore Coffee Shops and Cafes for the best baked goods, coffees, and teas.
Other Nearby Oahu Attractions
Oahu isn't a large island, but there are more than enough attractions to entertain you and your family.
From the North Shore you can drive to Honolulu in 30-45 minutes (depending on traffic of course). Enjoy a scenic route along "windy road" where you can stop for local honey, fresh fruit, and even local eggs along the way!
Honolulu has nightlife, delicious restaurants, beautiful beaches, and Pearl Harbor memorials. Not to mention shows, surf lessons, snorkeling, and other beach activities.
You can tour the Dole Plantation in Wahiawa, golf at Turtle Bay, or sign up for a late night "moon walk" at Waimea Valley. There is no shortage of fun on the North Shore and the entire island of Oahu!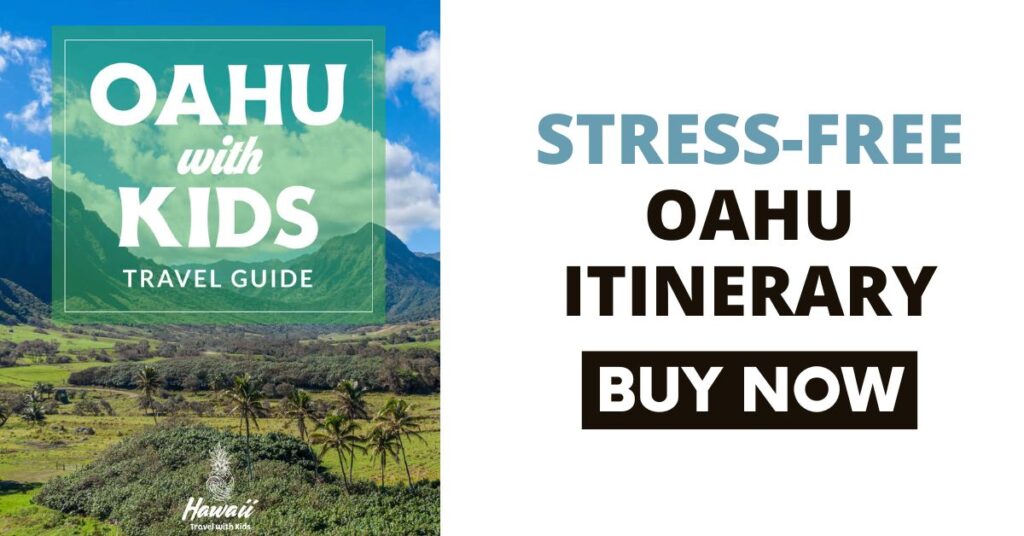 Which Farmers Market on the North Shore Will You Visit?
When you think of the North Shore of Oahu you might think of big wave surfing and farmland. But there are many more activities to enjoy on a family trip.
You can visit all of these farmers markets as you travel the Kamehameha Highway. Have fun visiting one on your next family vacation to Oahu!
About the Author/ Photographer
Ashley and her family are recent residents of Waialua. Ashley has experienced these markets as both a tourist, visiting friends over the years, and now as a local member of the community. These are her favorite Farmers Markets on Oahu (although she's obviously partial to the North Shore). You can find her at ashleygreeno.com