Planning a trip to the Big Island on a budget? Keep scrolling for these cheap and free things to do on Big Island that are $10 or less!
This list of cheap and free things to do on Big Island on a budget contains affiliate links which means if you purchase something from one of my affiliate links, I may earn a small commission that goes back into maintaining this blog.
As I have learned more and more about Hawaii through my visits, I was stunned to find out how many islands are actually a part of the Hawaiian Islands.
There are 137 islands! That means I have at least 130 more to visit! Of all of those islands, the biggest one is named "Hawaii" or "The Big Island."
If you have not visited yet, you are missing out! The Big Island's sights, sounds, and landscapes are truly extraordinary.
The Big Island is also not as populated as the other islands of Hawaii – which is perfect for those of us looking for a genuinely quiet, calm, relaxing vacation experience.
The last thing we want to do as a family on vacation is to worry about our budget. We tend to spend as little as possible on trivial things and save our money for those really great, once-in-a-lifetime experiences.
We usually look for one of those on each vacation, so the rest of the time we are taking advantage of the less expensive (or even free!) experiences.
As I thought about all the activities and experiences on the Big Island, I figured I would share our family's Top 10 Cheap and Free Things to do on Big Island for $10 or Under!
These are some ideas that will help you plan an awesome trip to Big Island Hawaii on a budget!
Don't have time to read a bunch of Hawaii blog posts and reviews? Here are some of our top picks for visiting the Big Island on a budget.
Best Budget-Friendly Big Island Activities
Best Budget-Friendly Big Island Hotels
Grand Naniloa (this is my favorite place to stay in Hilo and it has an incredible ocean view)
Kalani Kai (this is a great, affordable condo option right in Kona town)
Ali'i Villas (it has a heated pool, making it perfect for winter months)
Want to Rent a Car in Hawaii?
One of the best places to rent a car in Hawaii is Discount Hawaii Car Rental because they get the best rates from top national companies like Alamo, Dollar, Thrifty, Avis, Enterprise, Budget, and Payless.
Want to skip all the planning and just access my detailed Big Island Itinerary complete with daily schedules, kid-friendly activities, and travel hacks? Click the button below.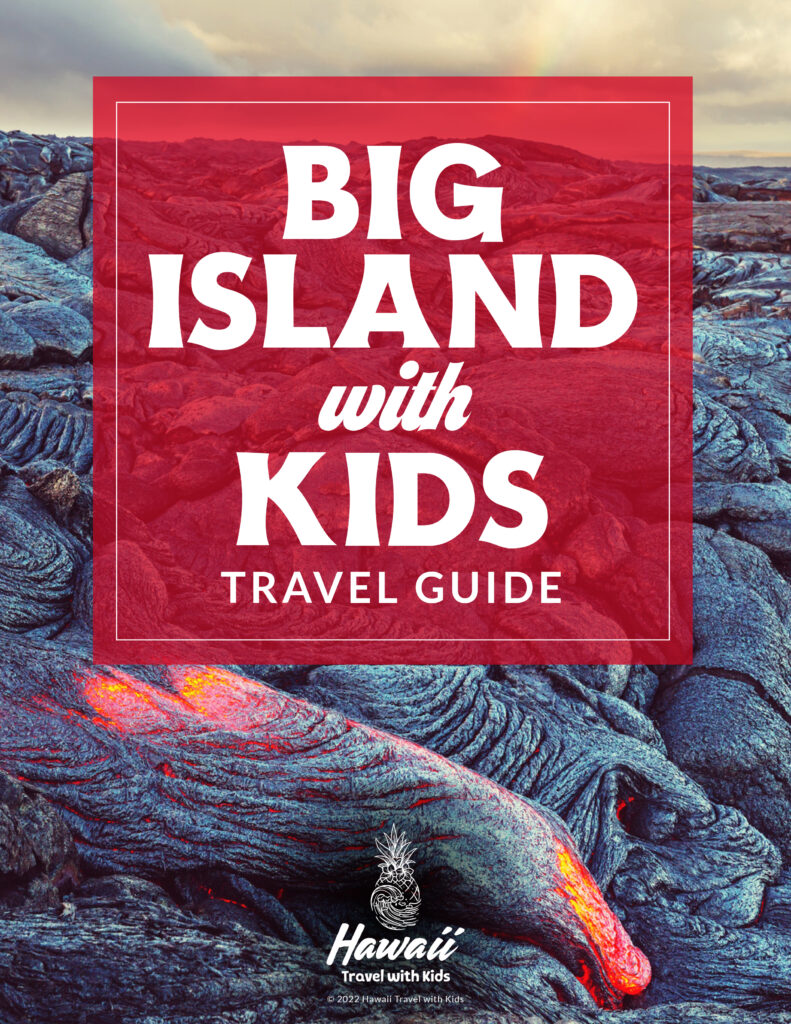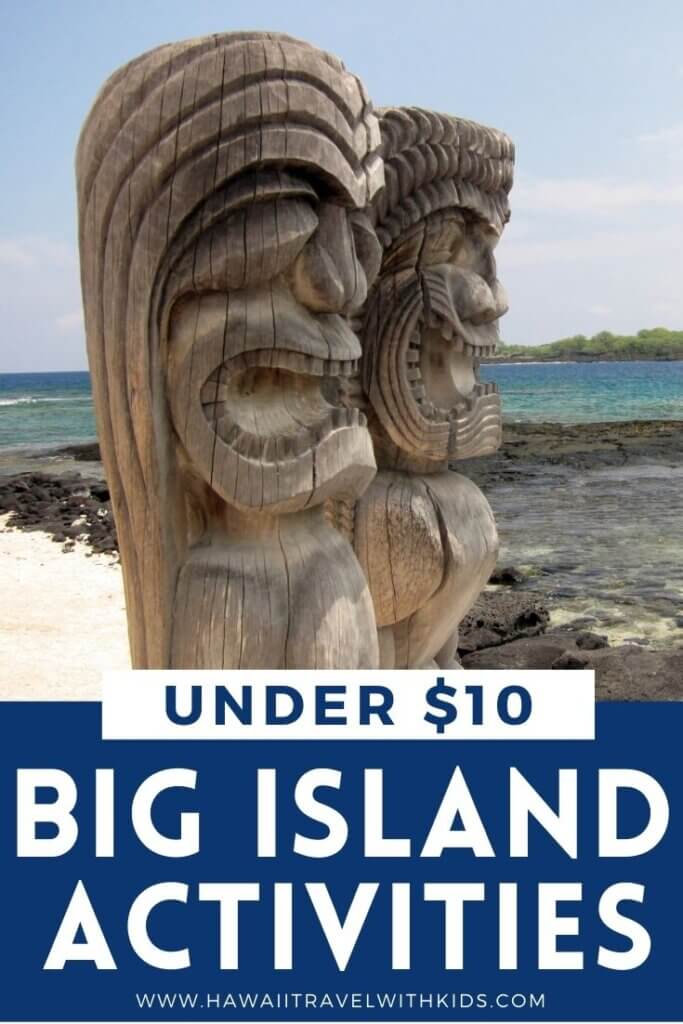 Big Island on a Budget FAQs
Where are the cheapest places to stay on the Big Island?
There are actually lots of cheap Big Island hotels that can save you a lot of money. The Royal Kona Resort is one of the closest hotels to Kona International Airport that could be considered "less expensive." And there's Aloha Happy Place, a Bed and Breakfast located just a few minutes from all the beauty and experiences housed within the Hawaii Volcanoes National Park.
What can you do on the Big Island for free?
There are lots of free things to do on the Big Island like exploring Rainbow Falls, going hiking, seeing a hula show, snorkeling, and so much more. There are also lots of scenic lookouts, amazing beaches, and just marveling at the beauty of the Big Island.
When is the cheapest time to visit the Big Island?
It's always cheapest to visit the Big Island during the shoulder season, which runs mid-April to June in the Spring and September to mid-December in the Fall. You'll want to avoid Spring Break as that's when they hold the annual Merrie Monarch hula festival and it can be expensive to rent a car or find cheap hotel rooms.
How to Visit the Big Island on a Budget
If you're hoping to do some fun Big Island activities without breaking your budget, I have a lot of great suggestions!
1. A Visit to Hawaii Volcanoes National Park is a MUST!
If you do nothing else with your time on the Big Island, you must plan a trip to Hawaii Volcanoes National Park!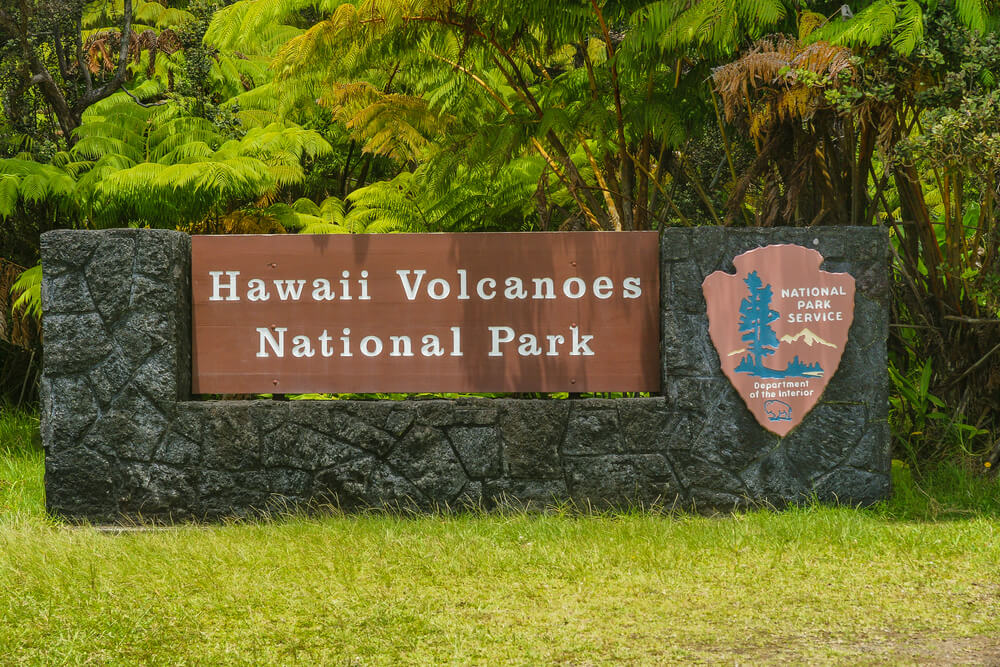 Now, you might already be thinking that we are over our $10 limit, but the $30 admission fee is per car, not per person.
If you have a family of four, you're under $10 per person. If you have a family of 6, you're at $5 per person. And if you are going to break our $10 or under rule, this is definitely the place to do it!
There is literally no way I can explain in one short blurb all the reasons to go see Hawaii Volcanoes National Park.
From the visitors center to the time you leave at night (hopefully after seeing some amazing lava flow as the sun is going down) you will be awestruck by landscapes and sights you can't see anywhere else.
2. See the Sights from the Mauna Kea Summit!
The Mauna Kea (or Maunakea, depending on who you ask) summit trek is truly an experience like no other.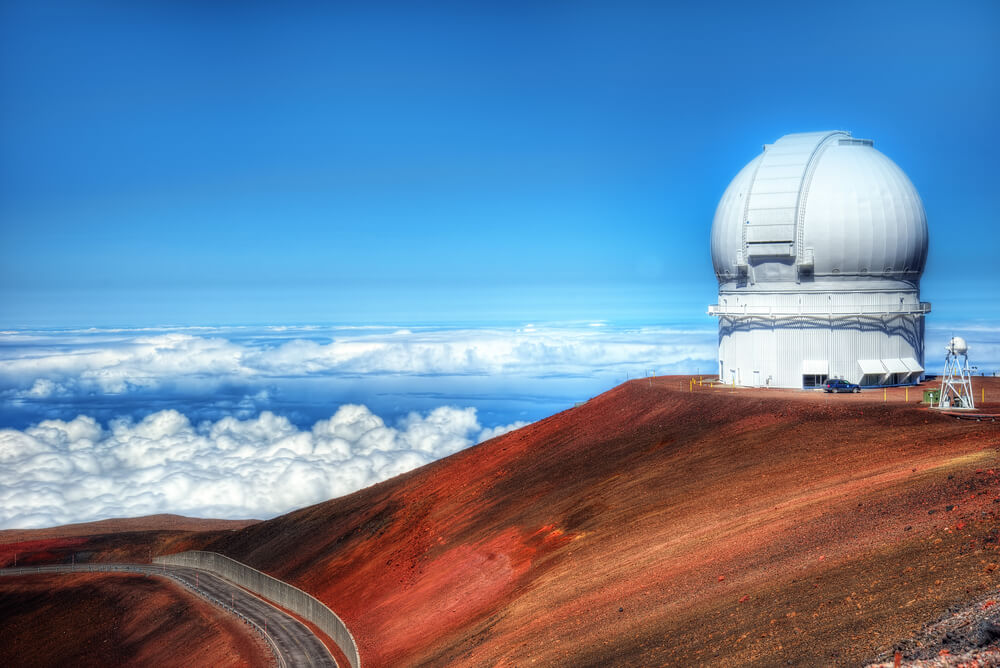 The summit is open from 30 minutes before sunrise to 30 minutes after sunset. There is a good reason for this: as the sunrise and sunset are prime photo opportunity times.
Something to be aware of is the change in altitude on your way up the side of this dormant volcano. Mauna Kea is the highest point in Hawaii, at almost 14,000 ft above sea level.
The quick change in altitude on the way up has been said to impact almost a third of visitors, so be careful to give yourself time to adjust at the visitor's center before deciding if the summit trip is really worth it.
The Onizuka Center for International Astronomy next to the visitors center has enough information to keep you and your family learning for days, and they say the view of the stars is even better there than at the summit itself!
3. Visit a Beach of a Different Color!
Have you ever seen a black sand beach before? How about a green sand beach? Both are available on the Big Island!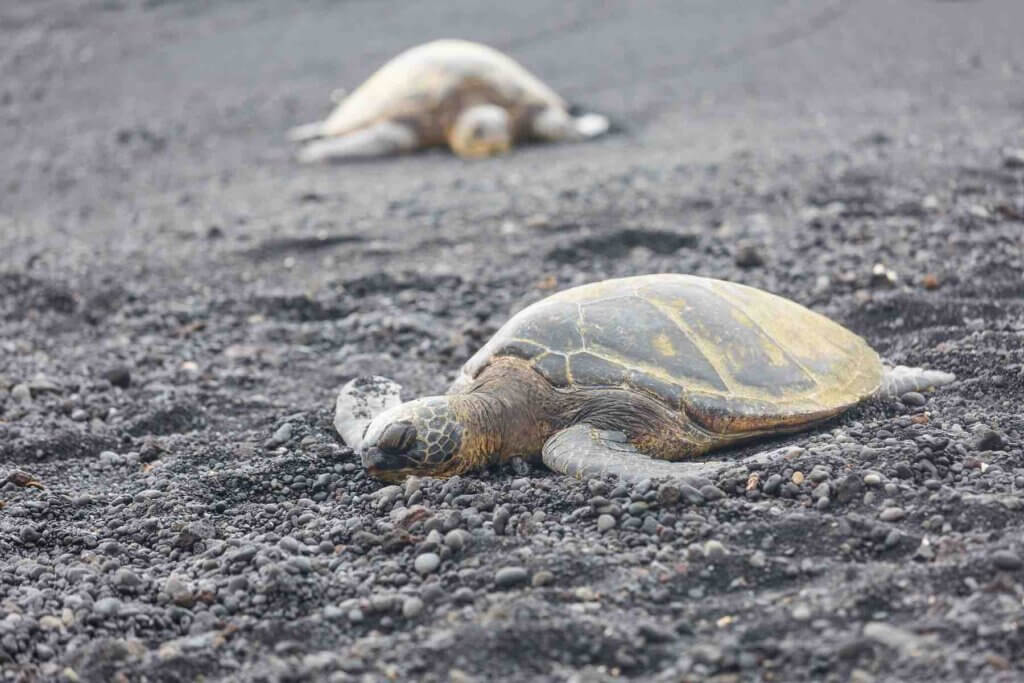 Punaluu Black Sand Beach is located on the south-east side of the Big Island, and is exactly what it sounds like – a beach of black sand.
The color comes from the volcanic activity on Hawaii, but you don't need to know that to enjoy the most well-known beach in Hawaii!
Papakolea Green Sand Beach is about 25 miles from Punaluu Black Sand Beach, also on the south side of the Big Island. This beach is a bit harder to get to, and involves a hike through about 2 miles of pastureland to reach.
Once you get there, you will be stunned to see olive-green sand across the whole beach!
How awesome would it be to visit as many different colored beaches in Hawaii as possible? You could cross off Black, White, Pink, and Green with just this one island – for free!
4. Tour a Kona Coffee Farm!
We may live in the Pacific Northwest, but our coffee has nothing on Kona coffee!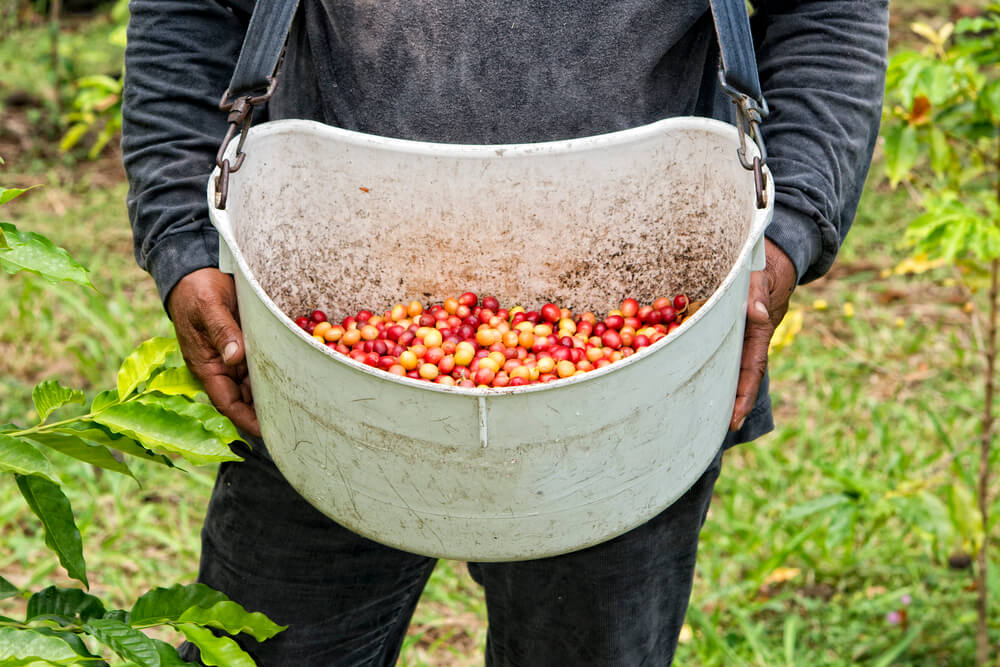 This particular region of Hawaii has the perfect climate for coffee beans, and they know how to use it!
You really can't go wrong with any of the coffee farms on the Big Island, but the two that are suggested the most are Hula Daddy Coffee and Greenwell Farms. Visiting these are some of the top things to do in Kona Hawaii.
Check out a farm tour, try some new coffee in the tasting rooms, and save your money for something fun from the farm store. It's an easy way to explore Kona on a budget.
You will leave feeling like you won the lottery – and not just because of the caffeine!
5. Check out some Big Island Farmers Markets!
I think we get most of our snacks and produce from farmers markets whenever we are in Hawaii. We tend to like to find fresh, local food no matter where we go, and the Big Island is the perfect place for it!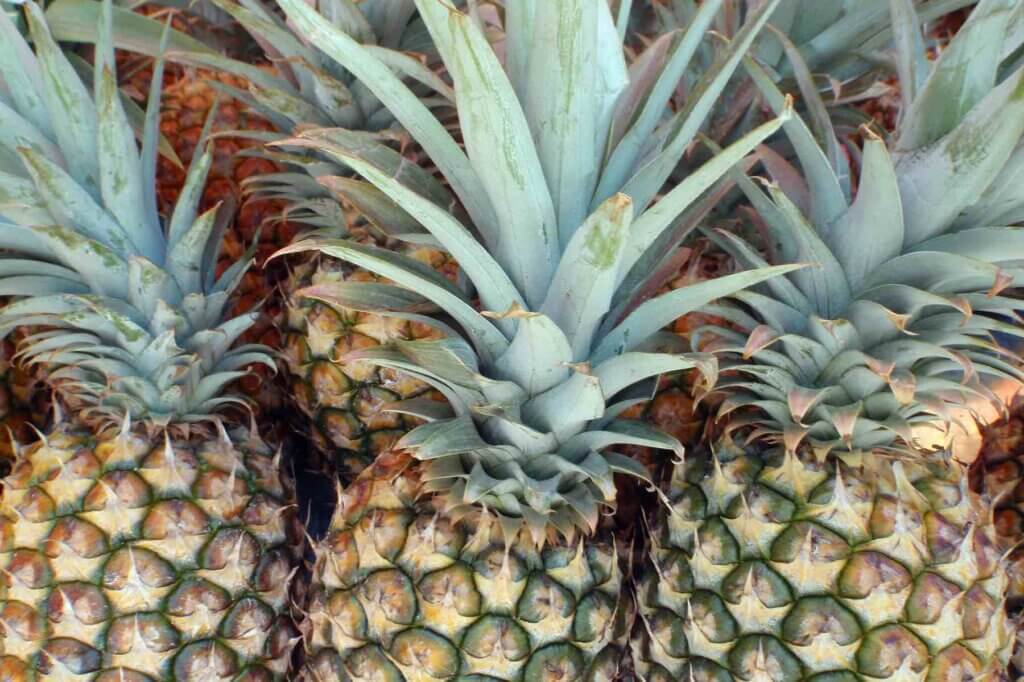 The Hilo Farmers Market is a personal favorite since it is open every day. Checking out the farmers market is one of the best things to do in Hilo Hawaii.
The Kona Farmers Market is another great choice but is closed Monday and Tuesday.
No matter which farmers market you go to, you will be pleased to find snacks, produce, and local goods for well under $10. Check out my full list of Big Island farmers markets.
6. Visit a Botanical Garden or Arboretum!
One of the things our little family loves about any trip to Hawaii is the change of scenery.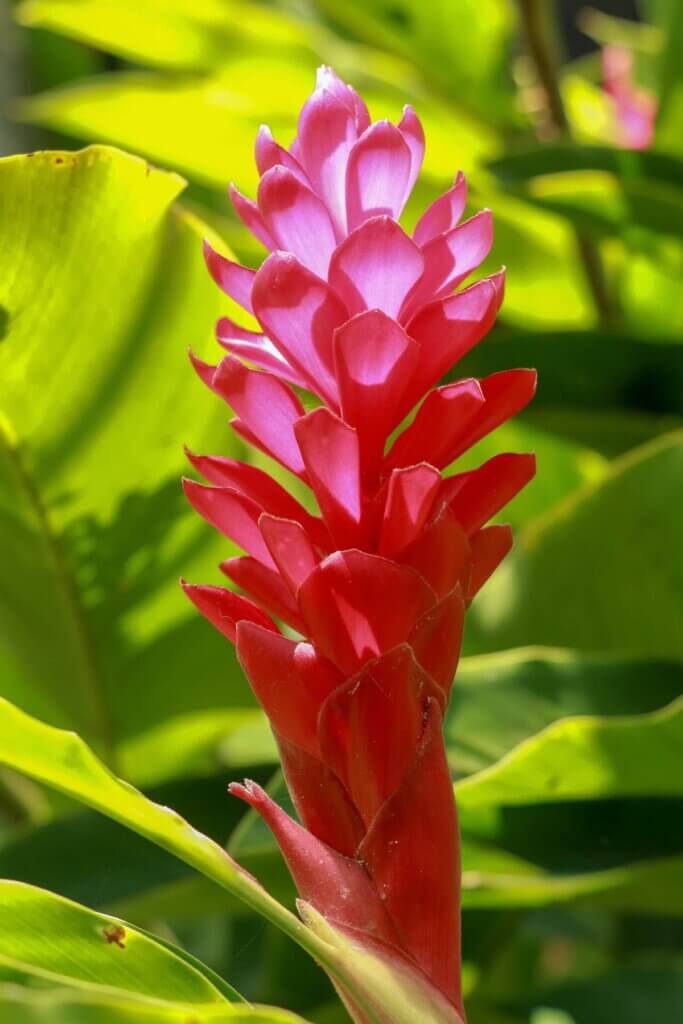 We go from dreary and cold to lush and green, and the difference is most noticeable as we tour Hawaii botanical gardens or arboretums. There are quite a few to choose from, so we usually check out the one that is closest to where we are staying.
The Botanical Gardens at UH Hilo were started in the 1980s by a professor from the University. Admission is free, and if you're lucky enough to catch Professor Hemmes, he would love to "talk shop" (and plants!) with you.
Sadie Seymour Botanical Gardens in Kona is another wonderful, free garden to visit, although donations are accepted to help offset the cost of the garden's upkeep.
Lastly, both Kalopa State Recreation Area and Manuka State Wayside have incredible arboretums to enjoy. Whatever your "nature fix" is, you'll be sure to find it on the Big Island!
7. Explore the Art Village at Holualoa!
The charming little Village at Holualoa had enough shops, galleries, and cafes to keep our little family entertained for quite a while!
There is everything you can imagine here. Ukuleles, gemstone creations, antiques, sourdough bread, and of course, lots and lots of Kona coffee!
You can definitely stick to your $10 budget here. Unless you find that perfect antique, ukulele, pottery piece, or anything else, of course!
8. Find your new favorite waterfall!
I don't know what is so calming about a waterfall, but I know that I could sit and watch/listen to one all day.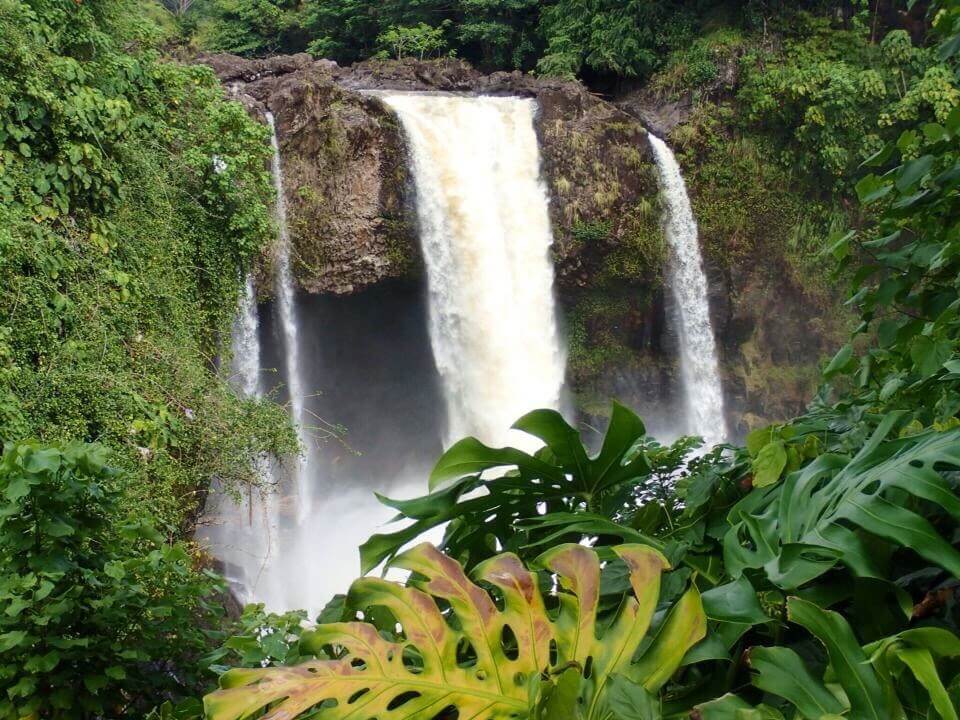 One of the most popular Big Island waterfalls is Rainbow Falls. It is an 80-foot tall waterfall located in Hilo and it's one of the best waterfalls on the Big Island.
The hike leading to the falls is moderate and the journey is full of adventure with beautiful forests, lush vegetation, and flowers to keep it interesting.
There's also 'Akaka Falls, which is located inside the 'Akaka Falls State Park in Hawaii. It's a 422-foot natural waterfall.
And before you get to 'Akaka Falls, you can also visit Kahuna Falls inside the state park. It's a 100-foot waterfall that you'll pass by on your way to 'Akaka if you follow the footpath.
Pick any of the amazing waterfalls from this list, and then just don't forget your camera. You will want to use it!
9. Learn all about Honey at Big Island Bees!
One of the benefits of being a lush, green, tropical paradise is the number of insects you get to host! (I'm trying to keep it positive!)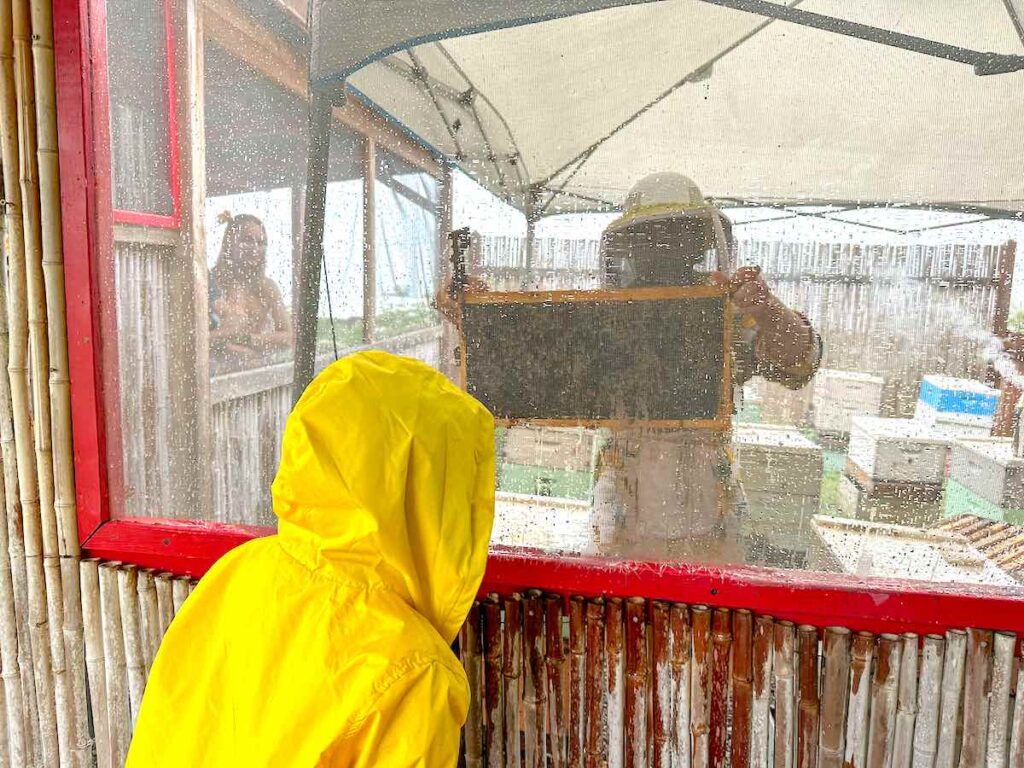 In all seriousness, so much of our agriculture depends on bees, and Big Island Bees is working to make sure the world knows that.
The tours are a bit pricey at $25 per adult and $5 per child, but check out all the other things to do before you write this experience off!
Honestly, I might prefer the museum and honey shop instead of the beehive tour, but that's just me!
10. Head to Punalu'u Bake Shop!
One of our favorite things to do when traveling in Hawaii is hit up bakeries, snack shops, and places to find food we can't get on the Mainland.
If you need a delicious, authentic, Hawaiian treat, Punalu'u Bake Shop is the place!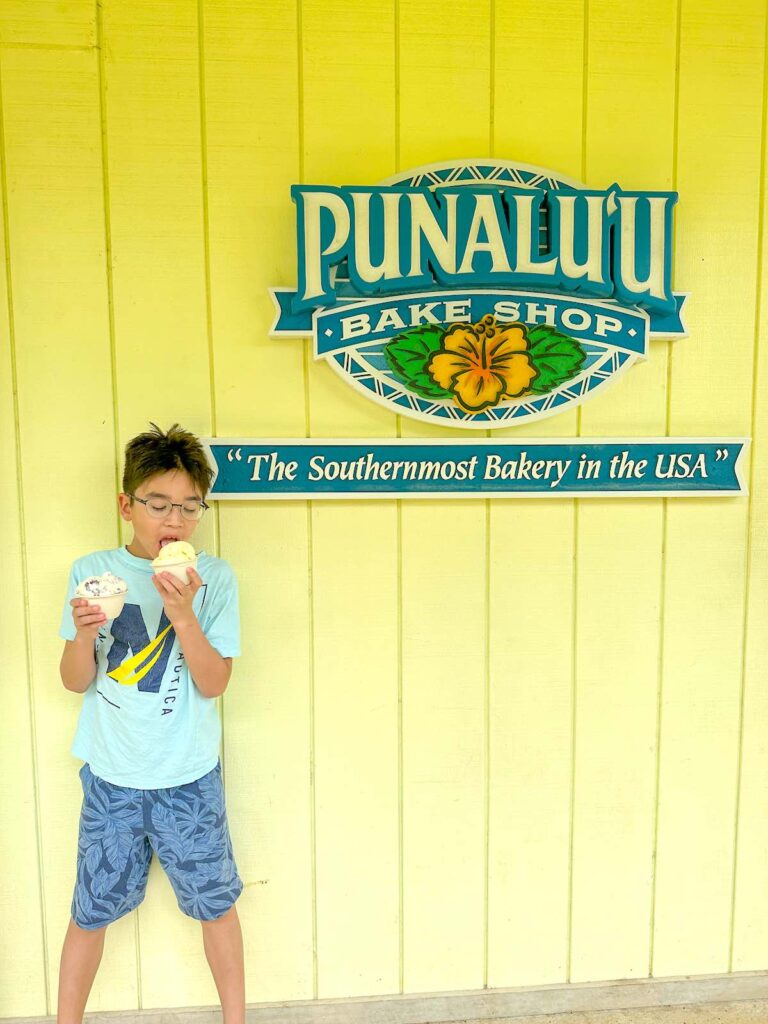 Whether you are looking for sweet Hawaiian bread, some delicious coffee, a souvenir for someone back home, or a hot and ready malasada, you won't be disappointed.
At just over $1 per malasada, you can even afford a few extra for the car ride back!
Bonus: Experience life like Hawaiian Royalty!
The Hulihe'e Palace in Kailua-Kona was built to be a summer vacation home for Hawaiian Royalty. Since 1924, it has been restored and maintained by the Daughters of Hawaii, despite many efforts to purchase the highly valuable property.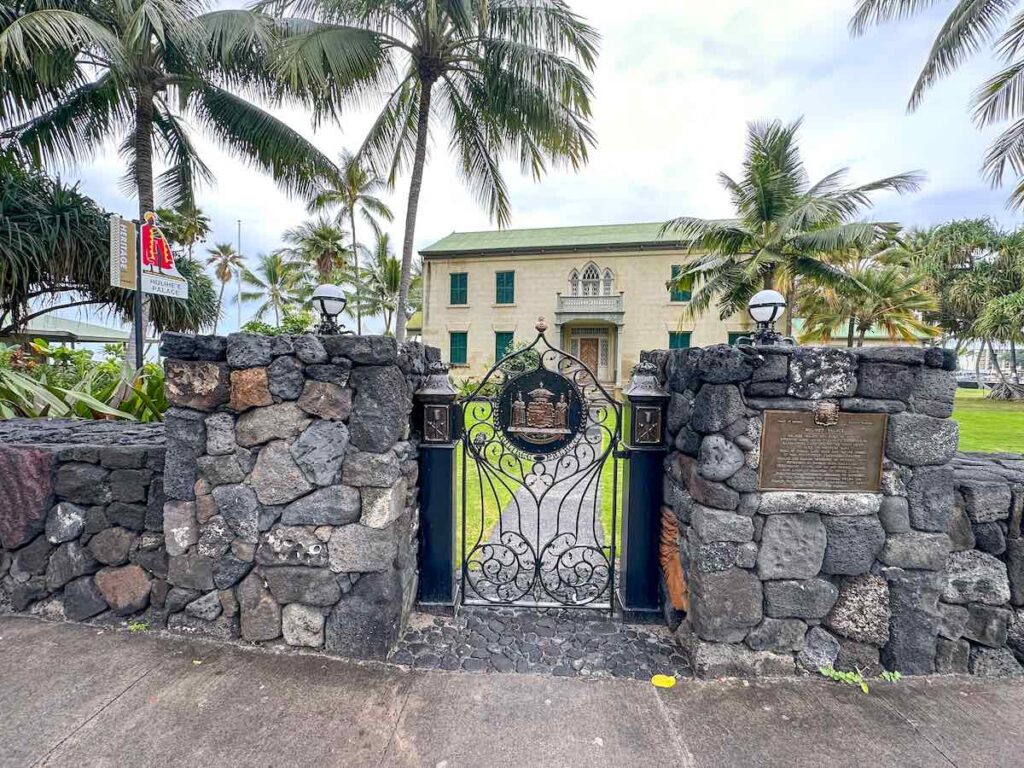 Today, you can tour the palace as a museum, and feel what it would have been like to live there as a member of the Hawaiian Royal Family.
This is one of the best Kona Hawaii activities for families who like learning a bit about history and culture in Hawaii.
Admission is $10 per adult or $1 per child. Considering the amount of history contained in this one palace, I would consider this money well spent!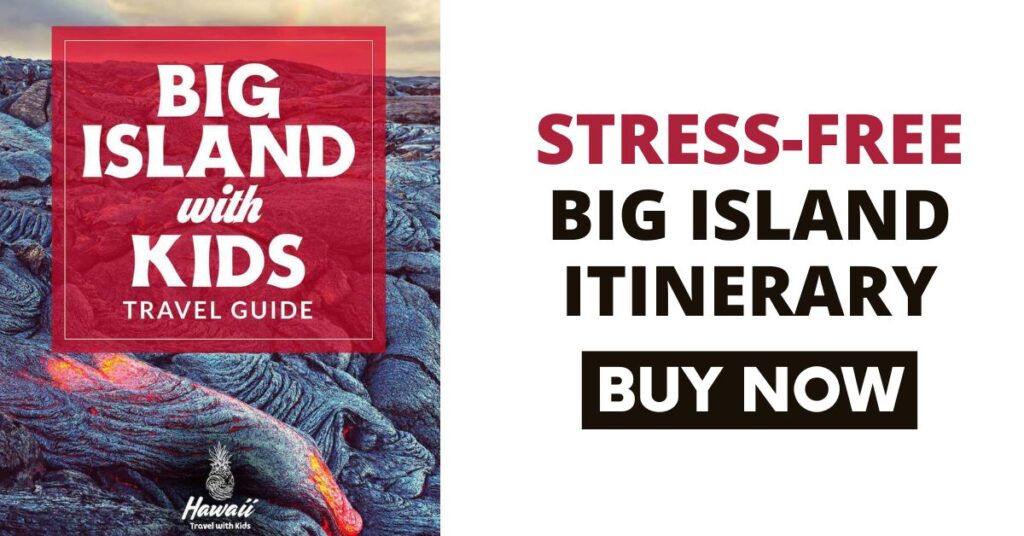 Wrap Up
Traveling to the Big Island of Hawaii is such an amazing experience. The landscape, activities, and opportunities are unlike anywhere else on earth, even the other Hawaiian Islands!
There is so much to do and see without needing to spend much (if any!) money. That leaves more of your budget for something like a special luau or other grand experience.
Which of these Top 10 Things to do on the Big Island for $10 or Under do you think you might try?