Are you thinking about planning a trip to Maui in September? Find out some of the best things to do in Maui in September that are worth adding to your itinerary!
This list of things to do in Maui in September contains affiliate links which means if you purchase something from one of my affiliate links, I may earn a small commission that goes back into maintaining this blog.
Planning a vacation to Maui in September?
There are several things to do in Maui in September. From the fantastic activities to the fun attractions, there is something on this gorgeous Hawaiian Island for everyone.
If you are planning a visit to Maui this September, you are sure to be impressed. No matter what you choose to do on the island, you are going to enjoy your vacation.
The Maui weather in September makes for a nice visit. Once the fall season starts, you are sure to enjoy an escape to warmer climates. In fact, September is arguably the best month to travel to Maui.
Don't have time to read a bunch of Hawaii blog posts and reviews? Here are some of our top picks for visiting Maui.
Popular Maui Tours/Activities
Favorite Maui Resorts/Hotels
Andaz Maui (this is a luxury resort with the best luau on Maui)
Honua Kai Resort & Spa (this is one of our personal favorites because there are tons of pools and there are condo options)
Want to Rent a Car in Hawaii?
One of the best places to rent a car in Hawaii is Discount Hawaii Car Rental because they get the best rates from top national companies like Alamo, Dollar, Thrifty, Avis, Enterprise, Budget, and Payless.
Want to skip all the planning and just access my detailed Maui Itinerary complete with daily schedules, kid-friendly activities, and travel hacks? Click the button below.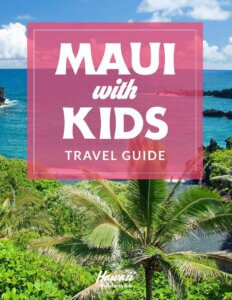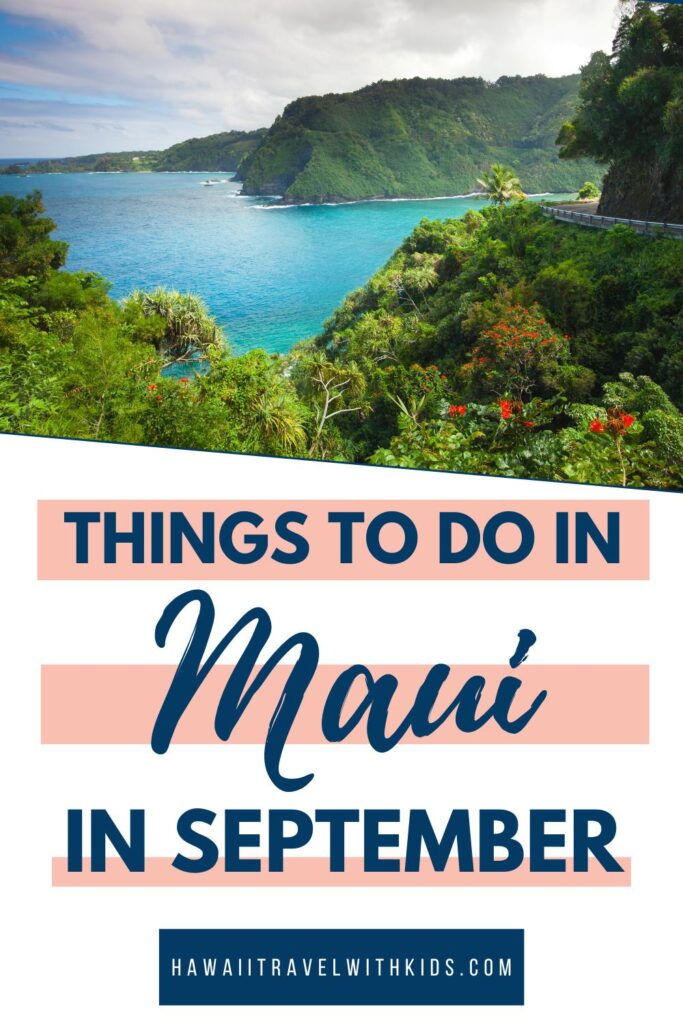 Is September a Good Time to Go to Hawaii?
September is a wonderful time to book your vacation to Hawaii. This is because the costs begin to drop, and the summer crowds are dissipating.
The month of September boasts a warm ocean, great temperatures, and activities and festivals to participate in.
If you are traveling to Maui in September, you are on the right track.
Maui Weather in September
The weather in Maui in September is fantastic. While the month of September does bring an end to summer, the temperatures in Maui continue to soar.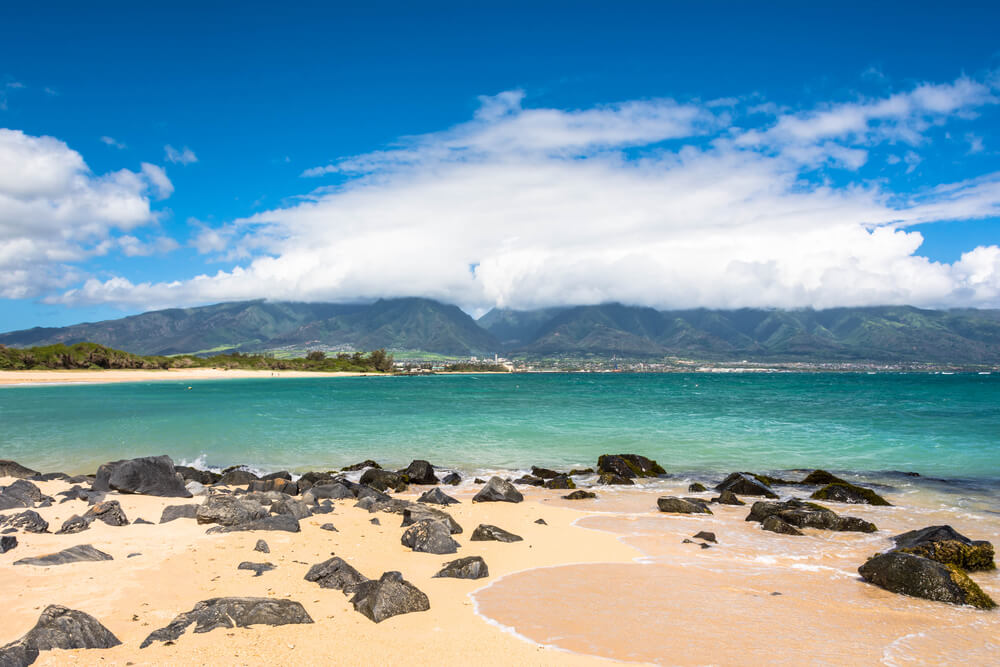 If you plan to spend your time at the beach on your vacation, September offers some of the warmest ocean temperatures of the whole year.
The coming of fall generally means Maui is heading into the rainier season; however, September does remain one of the drier months.
Temperatures in Maui in September
The average daytime Maui temperature in September is still in the mid to high 80s. The lows remain within the range of 70 degrees Fahrenheit, remaining comfortable and not too cool.
These temperatures still mean a beach day is more than possible. Especially because the ocean temperatures are at an all-time high.
Weather in Maui, Hawaii in September
There will be very few rainy days in September, which is great news, especially if you want to participate in some outdoor activities.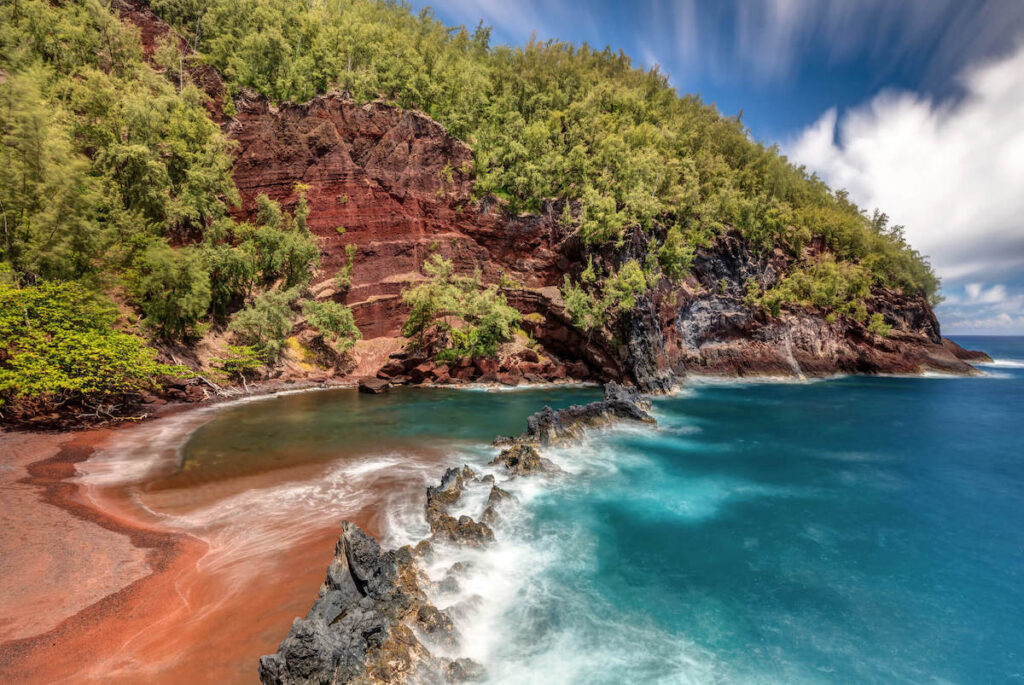 With warm temperatures and great ocean temperatures, you are going to want to make sure you visit a beach.
All in all, the weather in Maui in September is sure to impress.
For more information, check out what it's like to visit Hawaii in the fall.
Things to do in Maui in September
There is no shortage of fun events and activities in Maui in September. If you want to keep yourself entertained, you are going to want to participate in these exciting annual festivals.
With so many great Maui September events and activities, a vacation to Maui is a good choice. Especially during the month of September.
Festivals of Aloha
These festivals generally kick off in September and run through October. There are several different festivals that take place across Maui, from Lahaina to Hana.
The Festivals of Aloha honor everything Hawaiian culture has to offer. Mele, food, dance, fishing, lei making, and more!
The festival's commencement celebration usually takes place at the Lahaina Banyan Tree. You can enjoy keiki activities, live Hawaiian music, local artists, hula, and lots of excitement.
Lahaina's Chinese Moon Festival
This annual event takes place to honor Chinese traditions of giving thanks for all the local produce grown in the year.
You will see tons of lanterns and decorations, and the event will have delicious food, tea, live music, dances, and more.
It is one of the fun cultural activities in West Maui!
Check the website for more information.
Book a Family Photo Shoot
Whenever we travel to Hawaii, we almost always book a family photo shoot with Flytographer. They are super easy, affordable, AND it guarantees that I'll be in some photos. You can get $25 off if you book through this link or use the code HAWAIITRAVEL.
Four Seasons Maui Wine & Food Classic
Usually, during Labor Day weekend, you can enjoy wine tastings at Four Seasons Maui. Enjoy an all-star lineup of vintners and celebrity chefs during this weekend.
If you are in Upcountry Maui, why not stop by and try this special event?
Learn more information here.
St. John's Kula Festival
Enjoy some Hawaiian music with local musicians jamming out from the local radio station, ono food booths, silent auction, crafts, farmers market, kid's zone, live entertainment, and so much more.
It is a festival to help raise money for ministries, raise awareness, and support local charities. This Maui County festival is a fun one to visit.
Check the website for more information.
Top 10 Attractions in Maui in September
When visiting Maui in September, you won't find yourself at a loss for things to do. There are so many fantastic attractions and events that take place on this beautiful island during the fall months.
With the ocean temperatures so warm, you are absolutely going to want to visit a few of Maui's beautiful beaches. With so many to choose from, you are sure to find one the entire family will enjoy.
1. Ka'anapali Beach
This is known as one of the nicest beaches on the Island of Maui. It is appealing to many due to all the conveniences Ka'anapali has to offer.
Spend the day lounging on the soft sand and swimming in the crystal clear ocean.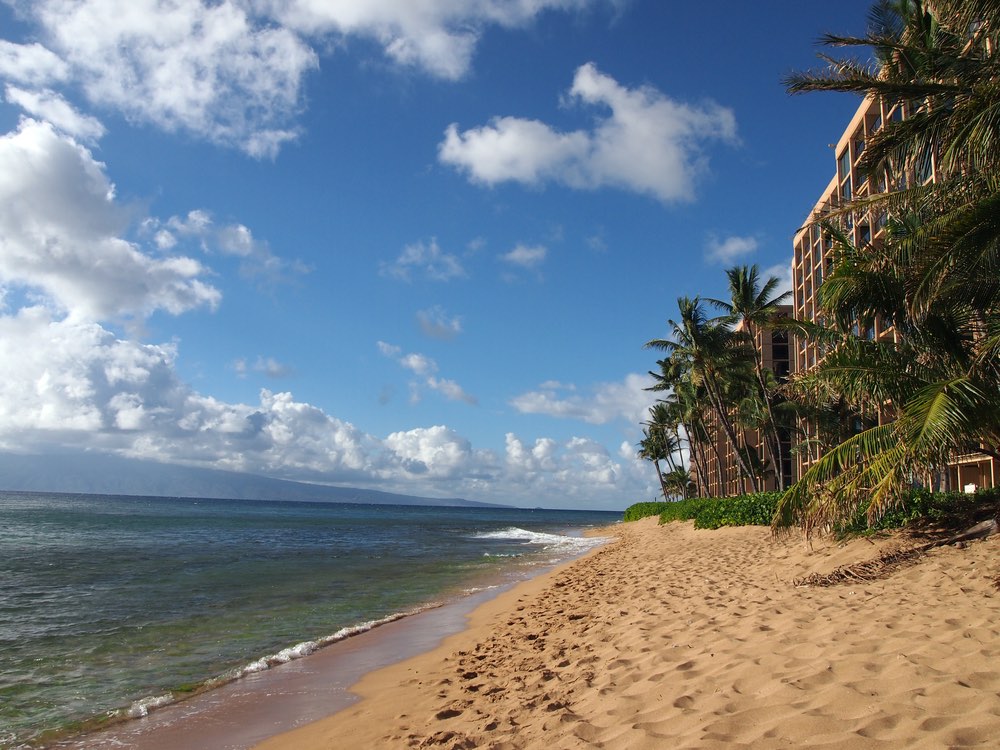 If you want to experience some other fun ocean activities, there are many available here. From boating to parasailing, surfboard rentals, and stand-up paddle boarding, there is something fun for everyone.
Located to the right of the beach is "Black Rock." Here, you can jump off a huge lava rock formation into the ocean below.
When you are done at the beach, you can walk through some of the shops or enjoy a nice lunch at a nearby restaurant.
2. Baldwin Beach Park
This beach park has so many features to enjoy. If you are looking for things to do with kids in Maui, a visit to this beach is in order.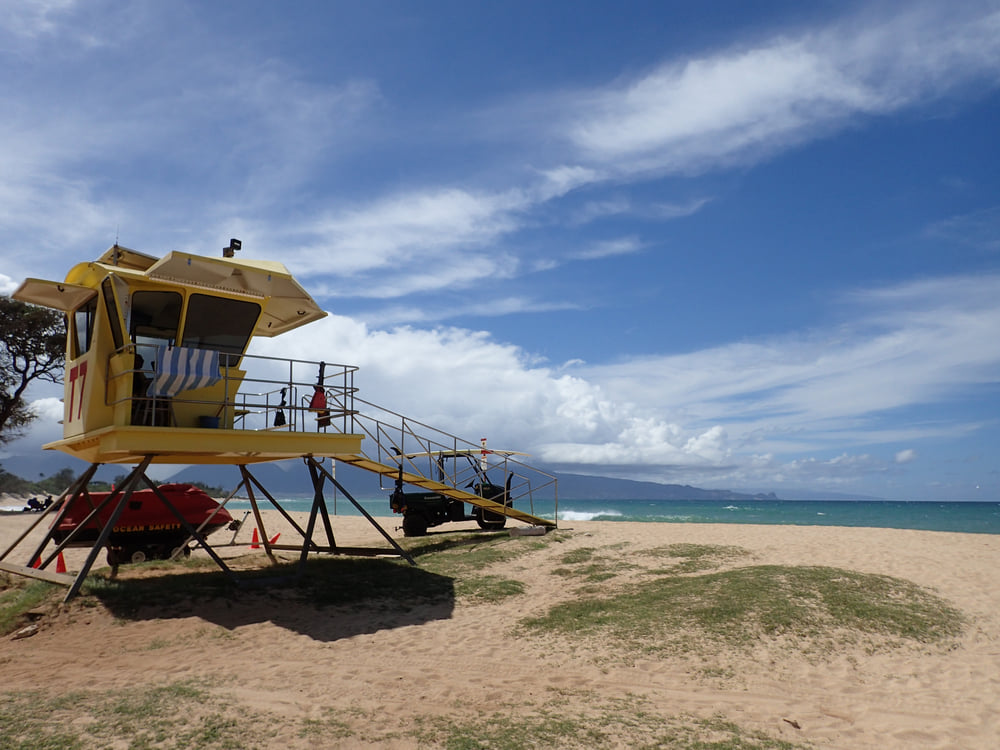 Baldwin Beach Park offers up many opportunities to go skimboarding, swimming, body boarding, and more.
If you are looking for a great place to take your babies and toddlers, head over to the west end of the beach. Here you will find "Baby Beach," where there is a protective sea wall, providing shelter for a calm slat water pool.
Head over to "The Cove" on the east end of the beach to enjoy local musicians, drum circles, and more.
A day at this beach is sure to create fantastic memories and many opportunities for sunbathing.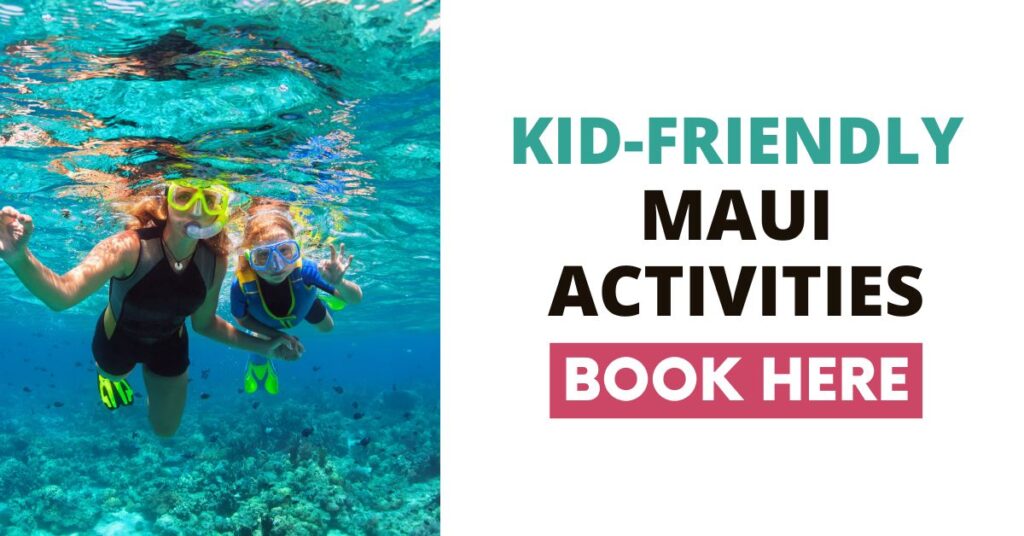 3. Snorkeling Molokini
Snorkeling is one of the activities in Maui in September that is rather popular. Molokini Crater is located just under 3 miles south of the shoreline in Maui and is known as a Marine Life Conservation District.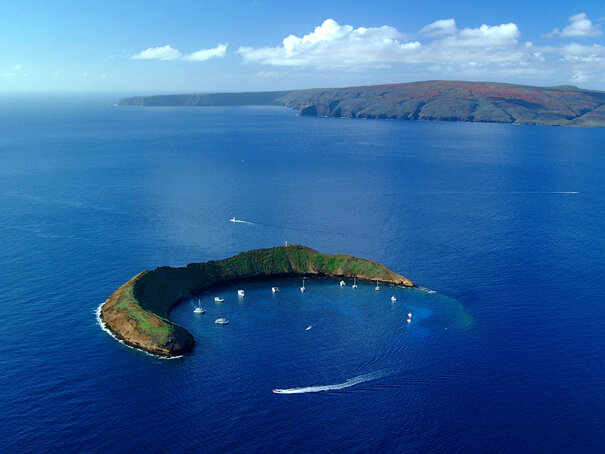 Molokini Crater is known as one of the more popular snorkeling spots in all of Hawaii.
Here you can expect to see a variety of Maui's Marine life. This includes schools of tropical fish, marine animals, Manta Rays, and Hawaiian Green Sea Turtles.
This gorgeous site is also home to 35 species of coral, over 100 different types of algae, Parrotfish, Yellow Tang, and so much more.
There is no sand surrounding the Molokini Crater, making the underwater visibility perfect for snorkeling adventures.
Book your Snorkel Tour to Molokini today. This is a must when you visit Maui.
4. Surfing Maui in September
There are so many opportunities to go surfing in Maui in September. In fact, surfing is just one popular ocean sport on Maui.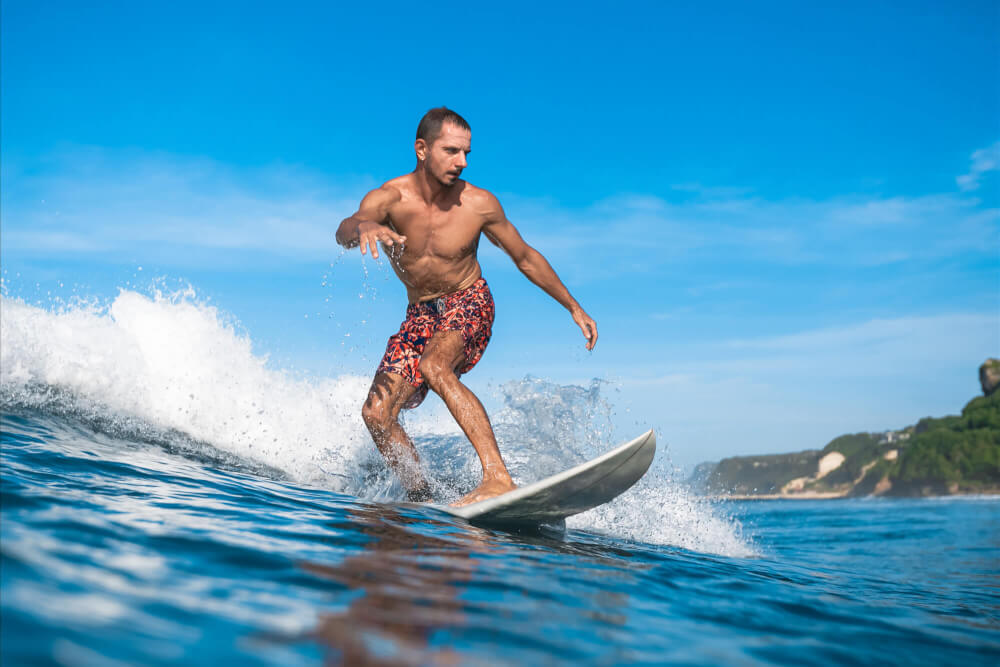 Whether you are an expert at riding the waves, or want to learn, there is something for everyone. With the trade winds in Maui in September, the waves are bigger, making it the perfect time to surf.
You can visit Ho'okipa Beach Park, Honolua Bay, or Jaws and watch professional surfers show off their skills.
Want lessons? There are several chances to learn how to surf in Maui.
5. Sunset Luau Dinner Cruise
The sunset in Maui in September is spectacular, and you aren't going to want to miss it. Why not book a Sunset Luau Dinner Cruise?
This must-see activity includes a special evening cruising around the gorgeous Pacific Ocean, complete with some memories that will last a lifetime.
On this cruise, you will get to experience luau cuisine, Polynesian dancers, and a premium open bar. All while taking in the gorgeous Maui sunset.
Book your Sunset Luau Dinner Cruise today. You won't want to miss it. Check the latest rates and availability.
6. Helicopter Tours
The best way to take in all that Maui has to offer is with a bird's eye view. Discover beautiful untouched spots of the island from the sky with a helicopter tour.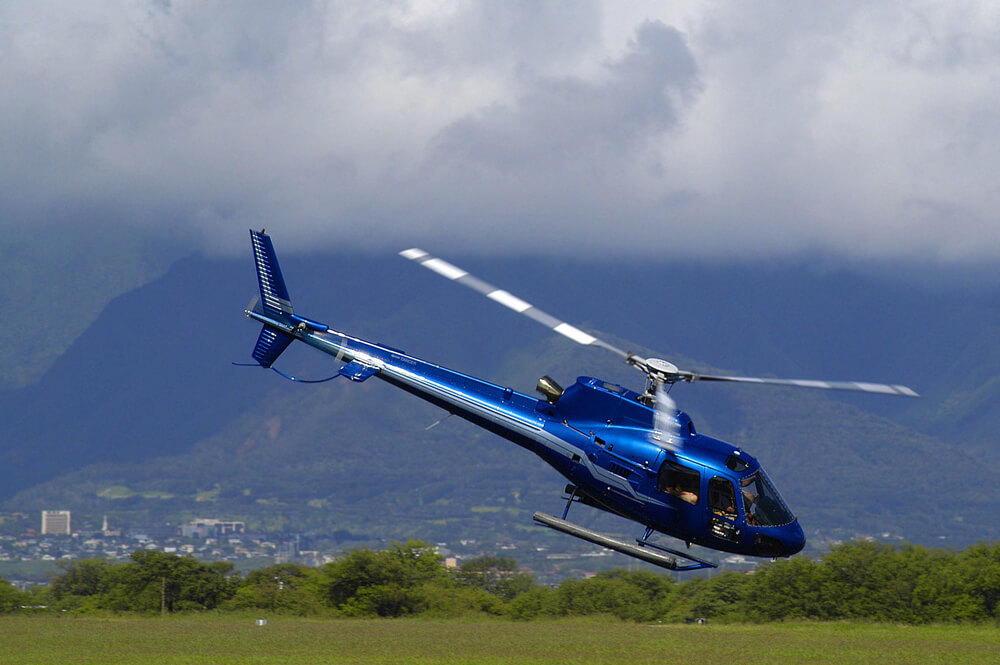 There are many different tours that you can take. Discover the complete Island of Maui or take a shorter trip and choose different spots. You can even book a helicopter tour to take in the beautiful waterfalls.
No matter what helicopter tour you book, you are sure to be impressed with the scenery from the sky.
7. Leilani Farm Sanctuary
If you are an animal lover, a tour through the Leilani Farm Sanctuary is one of the perfect things in Maui to do.
Visitors to this farm sanctuary can wander through the beautiful 8-acre property. Featuring some of Maui's most stunning tropical lands, you will see hundreds of trees and lush green pastures.
Not only will you experience an abundance of nature at this location, but you will also come across some very friendly animals.
Donkeys, goats, pigs, sheep, rabbits, geese, tortoises, and more will be there to greet you on your journey.
There are several tours available to the public. Take a guided tour of the Sanctuary while visiting Maui in September.
8. Sport Fishing
There are many chances to go sport fishing in Maui. If you like fishing, you can set out to catch large or small game fish. Visitors can book full-day tours, 2-hour tours, or take a private charter to go sport fishing.
Visitors to the island do not have to have a fishing license, and some charters will allow you to keep your catch.
There are several different fish that can be caught on Maui. From Blue Marlin, Mahi-Mahi, and Skipjack to Spearfish, Wahoo, and more, you are sure to admire your catch.
Book a Sport Fishing Adventure on Maui. You are sure to enjoy the experience.
9. Dolphins at La Perouse
One of the most exciting things to do in Maui is to see the Dolphins at La Perouse. Every morning, pods of Spinner Dolphins visit. You can watch them in their natural habitat and enjoy the beauty of all they have to offer.
After a visit with the dolphins, take a short hike through the trails at La Perouse Bay. Make sure that you stick to the marked trails, though, because there are areas that are protected by Hawaiian historical sites.
You can also see gorgeous lava formations leading out to sea and more at this beautiful must-visit location.
10. Stargazing
Stargazing on Maui presents so many great chances to see the spectacular night sky. You can even book some fun stargazing tours.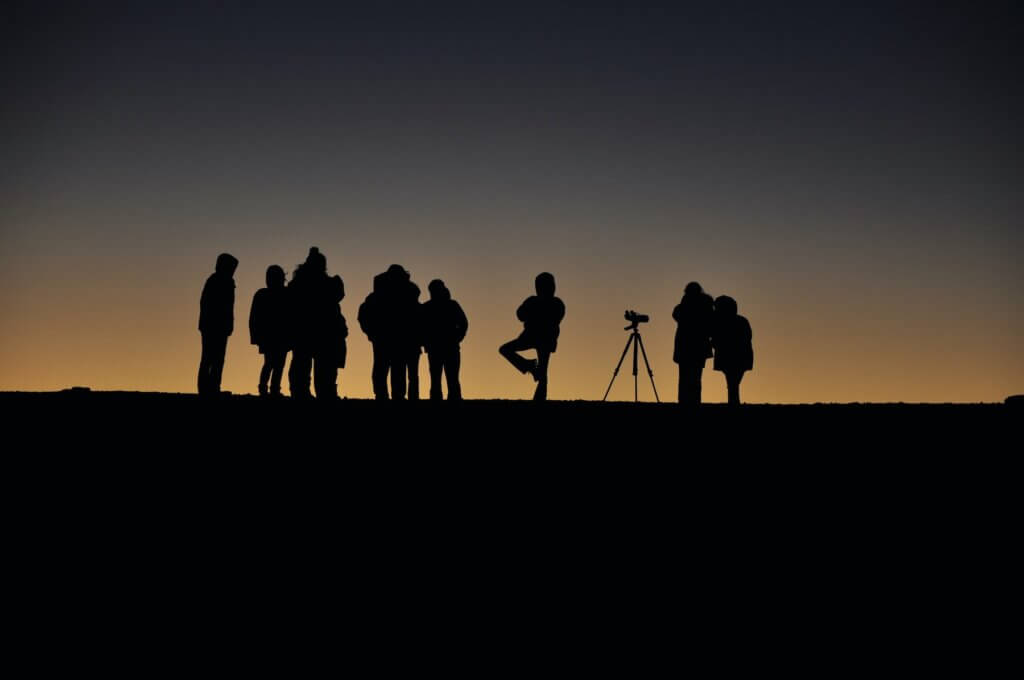 You will want to make sure to bring some warm clothes as it can get cooler in the evening, especially at higher elevations. However, don't let that discourage you from taking part in this fun activity.
There are many tours that will take you to Haleakala, which is the tallest part of the island. You can choose from many different tours and enjoy the gorgeous views.
Maui Hawaii in September FAQs
Is September a good time to go to Maui?
September is the perfect time to visit Maui! There are so many Maui events and fun activities to enjoy, plus, the weather is incredible! It is one of the best Hawaiian islands to enjoy the final summer weather.
Is Maui rainy in September?
No, it is not rainy season quite yet in September. It usually is still pretty dry and has good weather to enjoy! The average rainfall is about .8 inches for the entire month.
How crowded is Maui in September?
Labor Day might be a bit crowded, but other than that, you should not see too many crowds of people in September.
Can you swim in Maui in September?
Yes! the water temperatures are perfect in September from West Maui to South Maui and everywhere in between.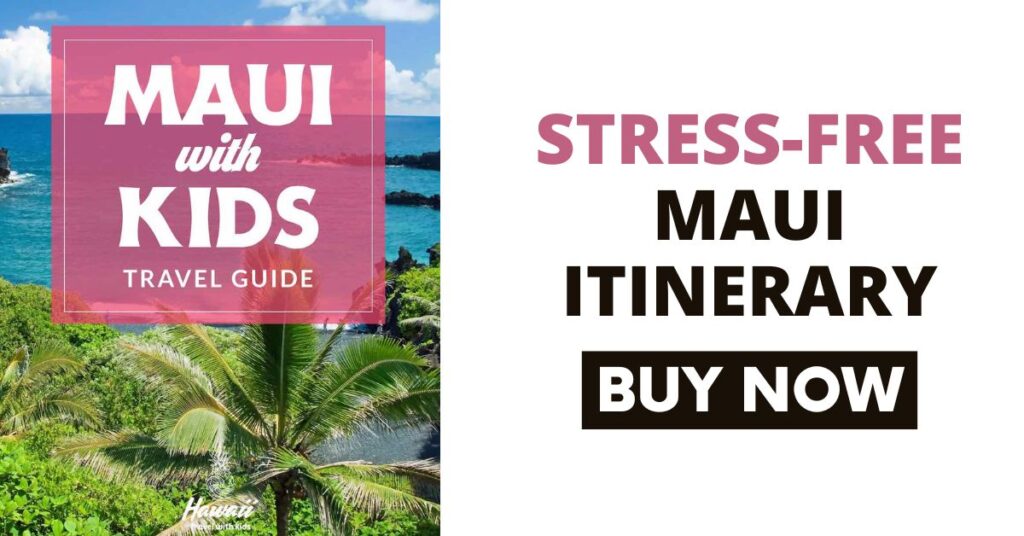 Maui Hawaii in September Wrap-Up
Visiting Maui in September is a fantastic choice for a vacation or getaway. With so many fun things to do in Maui in September, you will not be in a shortage of entertainment.
The Maui weather in September is fantastic, the ocean temperatures are warm, and you are sure to have a fabulous trip.