Are you thinking about planning a trip to Maui in August? Find out some of the best things to do in Maui in August that are worth adding to your itinerary!
This list of things to do in Maui in August was written by Hawaii travel expert Marcie Cheung and contains affiliate links which means if you purchase something from one of my affiliate links, I may earn a small commission that goes back into maintaining this blog.
Planning a Vacation to Maui in August?
If you are planning to visit Maui in August, you are making a great choice. August is a wonderful time of year to enjoy a getaway to one of Hawaii's most stunning islands.
With so many different fun activities and events taking place in Maui in August, you are sure to find yourself extremely busy and entertained.
Visiting Maui in August is a great way to spend a summer vacation. From the beautiful weather to the fun attractions, you will not be at a loss for things to do.
Get started planning your vacation to Hawaii in August. You won't regret it.
Don't have time to read a bunch of Hawaii blog posts and reviews? Here are some of our top picks for visiting Maui.
Popular Maui Tours/Activities
Favorite Maui Resorts/Hotels
Andaz Maui (this is a luxury resort with the best luau on Maui)
Honua Kai Resort & Spa (this is one of our personal favorites because there are tons of pools and there are condo options)
Want to Rent a Car in Hawaii?
One of the best places to rent a car in Hawaii is Discount Hawaii Car Rental because they get the best rates from top national companies like Alamo, Dollar, Thrifty, Avis, Enterprise, Budget, and Payless.
Want to skip all the planning and just access my detailed Maui Itinerary complete with daily schedules, kid-friendly activities, and travel hacks? Click the button below.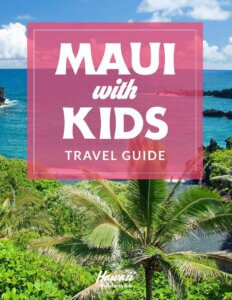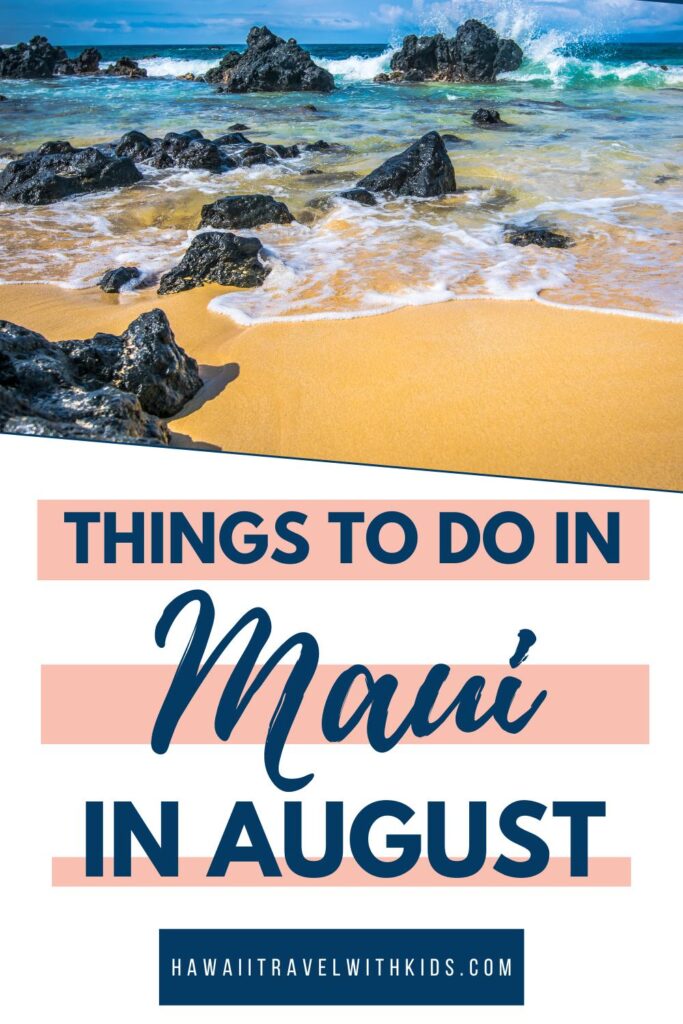 Hawaii Weather in August
The weather in Maui, Hawaii, in August is wonderful for beach days, fishing, and more. As summer is in full force, the temperature is hot and humid. The tradewinds pick up in August and are usually higher in the late morning hours.
Maui Temperature in August
Booking a vacation to Maui in August is a great way to take advantage of the amazing weather.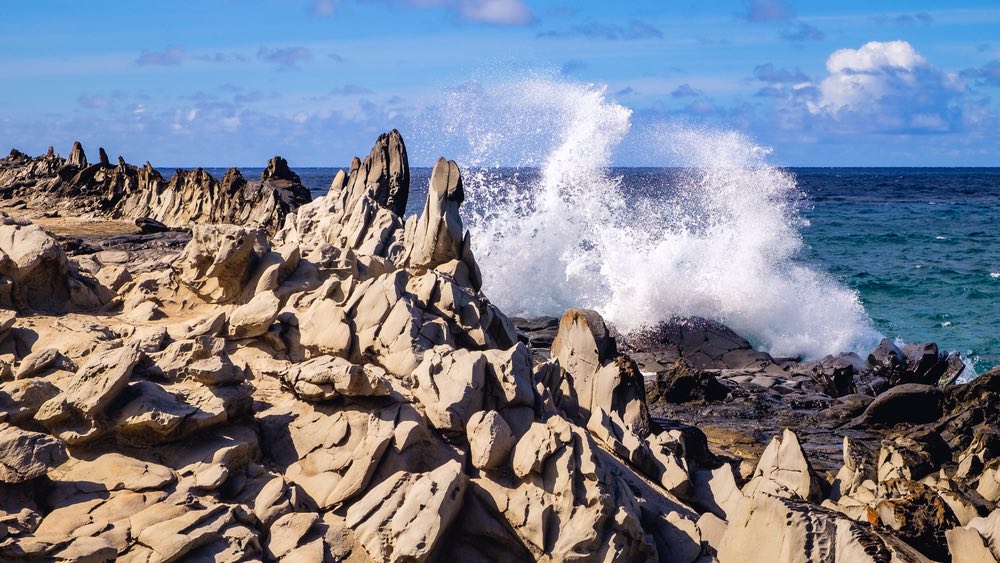 The average temperature on Maui in August is 86 degrees Fahrenheit. In the evening hours and at night, the temperature is an average high of 71 degrees Fahrenheit.
The ocean temperature when you visit Maui in the month of August is around 80 degrees Fahrenheit and perfect for swimming!
Weather in Maui in August
Plenty of sunshine and strong winds are part of the typical Maui weather in August. With hot days and warm nights, you are sure to enjoy plenty of beach days and outdoor activities.
In August, you can expect great surfing conditions due to the increasing winds. Visiting Maui in August is sure to be a fun vacation.
For more information, check out What's Hawaii Summer Like?
Things to do in Maui in August
There are so many exceptional things to do in Maui in August. Whether you choose to celebrate some of Maui's fantastic events or festivals or spend a day lounging on the beach, you are sure to find the best activity for your family.
Obon Dance & Festival
Obon festivals honor the spirits of those who have passed away. These festivals are open to the public and are celebrated with events and special services.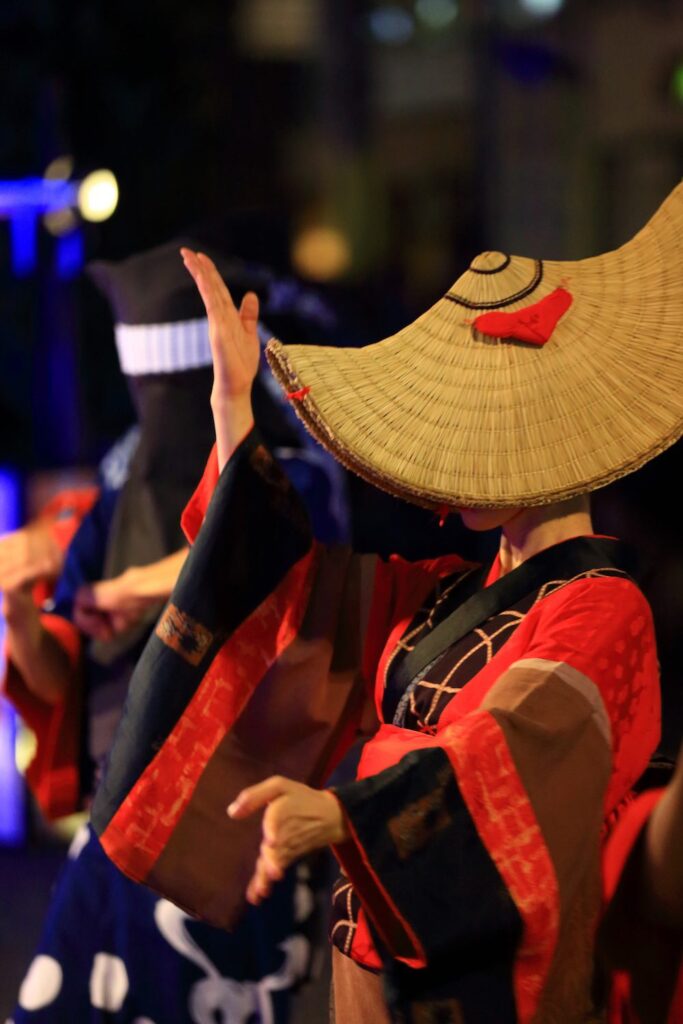 Introduced to Hawaii by Japanese immigrants, the Obon Dance and Festival hosts a variety of games for the kids, crafts, food, and bon odori dancing.
There are several locations on the island that host these festivals on different days.
The Lahaina Hongwanji Mission Annual Obon Festival is an absolute must-experience.
Check the website listings for dates and times.
Book a Family Photo Shoot
Whenever we travel to Hawaii, we almost always book a family photo shoot with Flytographer. They are super easy, affordable, AND it guarantees that I'll be in some photos. You can get $25 off if you book through this link or use the code HAWAIITRAVEL.
Emma Farden Sharpe Hula Festival
The Emma Farden Sharpe Hula Festival is a much-loved festival in Maui. It is held every year in Maui under the Lahaina Banya Tree.
Check out the free keiki activities, Maui-made art, hula performances, and workshops the festival offers.
This festival is held by Lahaina Hawaiian Civic Club, Ohana Farden, and Lahaina Town Action Committee.
Check the website for future dates and details.
Annual Seed To Cup Coffee Festival
If you love coffee, this is the festival for you to enjoy during your Maui vacation. Held by the Maui Coffee Association, you can watch coffee processing demonstrations, meet local coffee roasters and farmers, and more.
At this festival, you will taste a variety of coffees. You can even try some delicious coffee-inspired foods.
Held at the Maui Tropical Plantation, there is a variety of live entertainment and more. You are sure to love this festival.
Hana Cultural Center & Museum Ho'oleaulea
This annual event is an exciting celebration of the culture, people, and history of Hana. There is almost nothing more authentically Hawaiian than this.
A ho'olaulea is a festival that features Hawaiian food, music, a farmers market, a variety of craft booths, and more. Sure to be plenty of fun.
Held in Hana, the Hana Cultural Center & Museum Ho'oleaulea is a must-attend festival in August.
Maui Friday Town Parties
Every month in Maui, you can enjoy some Maui Friday Town Parties. Every 2nd Friday of the month is located in Lahaina, and on the 4th Friday of the month, the party is in Kihei.
The community comes together to enjoy some Hawaiian music from local musicians. Besides the live music, you can also eat from many local vendors, do some crafts, buy some souvenirs, and so much more.
These parties are a fun way to get some of the best deals on souvenirs while having fun!
Top 10 Attractions in Maui in August
There are many different fun things to do in Maui in August. Whether you are looking for something for the entire family to do or a more romantic activity, there is something here for everyone.
Visiting Maui in August presents many opportunities to participate in some fun activities and create memories.
1. Kula Botanical Garden
If you are interested in learning more about plants and native species in Hawaii, a visit to the Kula Botanical Garden is a must.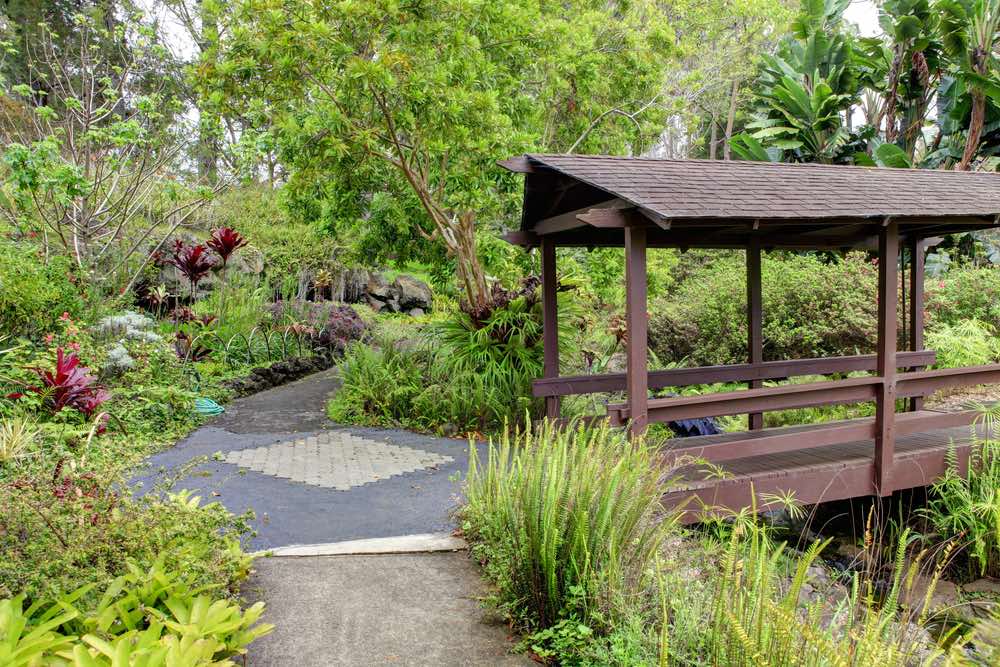 Sitting at an elevation of 3,300 feet and featuring a collection of semi-tropical and tropical plants, the garden is beautiful. Not only can you explore the plants, but there are also rock formations, waterfalls, a koi pond, and a covered bridge.
This 8-acre oasis offers tours, a gift shop, and more. Enjoy a nice native plant walk during these summer months when you visit Maui!
2. Molokini Crater
If you have never been on a snorkel adventure inside a sunken Hawaiian volcano, now is the time.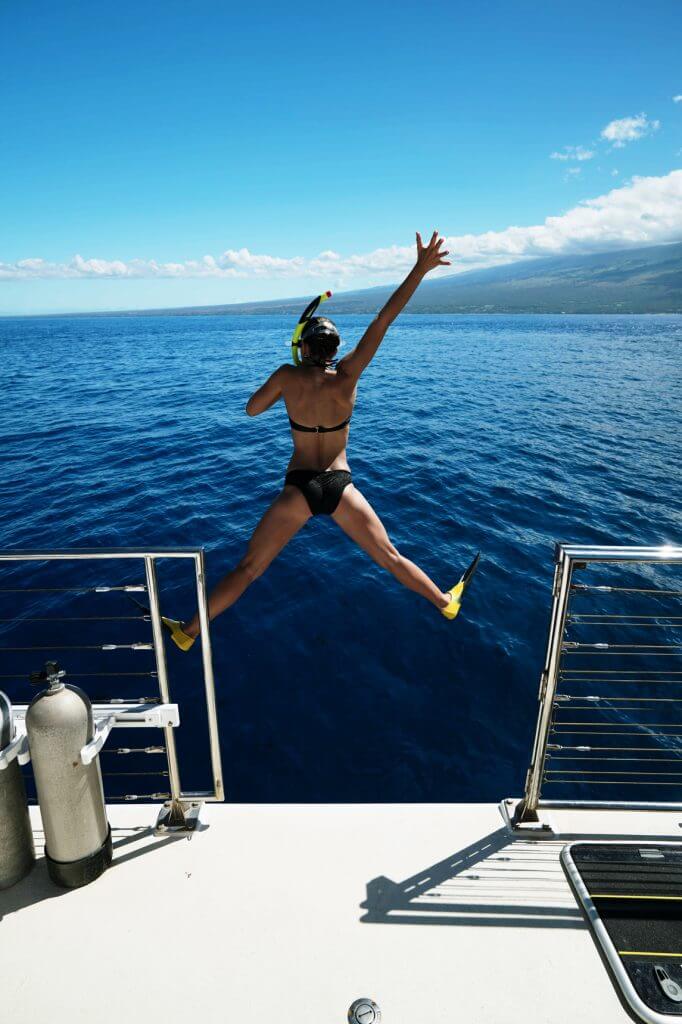 Check out the Molokini Crater and its bright coral reef, crystal clear waters, and over 250 species of tropical fish.
Spend a day snorkeling or sailing on the deck of a catamaran. No matter how you choose to visit the Molokini Crater, you are sure to enjoy your trip.
3. Wailea Beach
This gorgeous white sand beach in South Maui is complete with cabanas and is perfect for your beach day. You can enjoy gorgeous views of the Pacific Ocean while you bask in the sun during the day.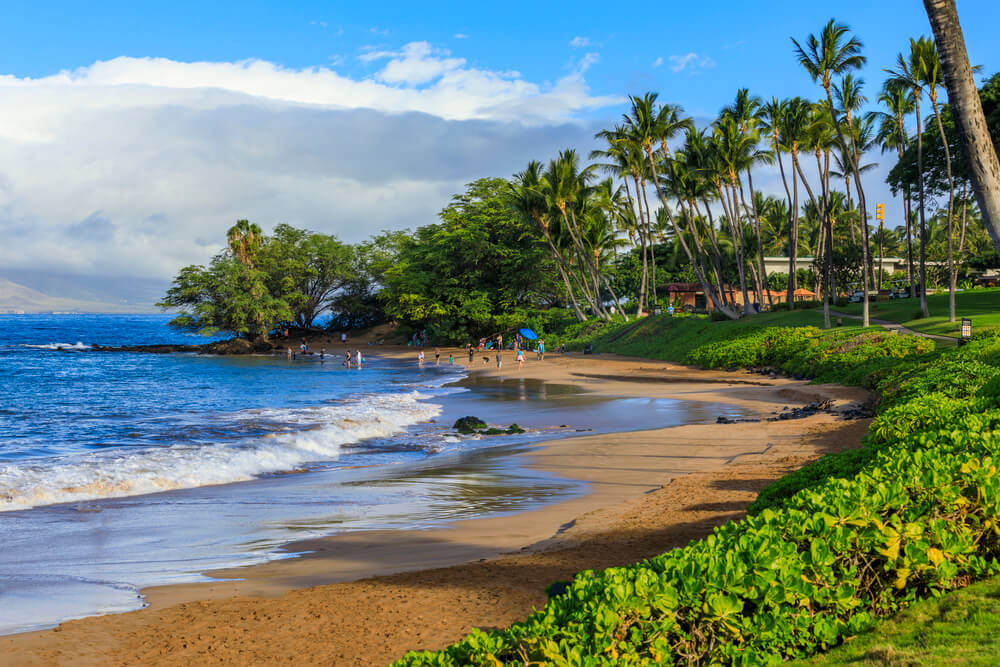 Take a swim, build a sand castle, or enjoy a beach picnic. If you want to take in a gorgeous sunset, Wailea Beach is a great place to do so.
No matter what you do at this beach, it is the perfect backdrop to beautiful family photos in Maui.
4. Kaumahina State Wayside Park
A popular stop along the Road to Hana, this 7.8-acre park is a great place to visit while in Maui.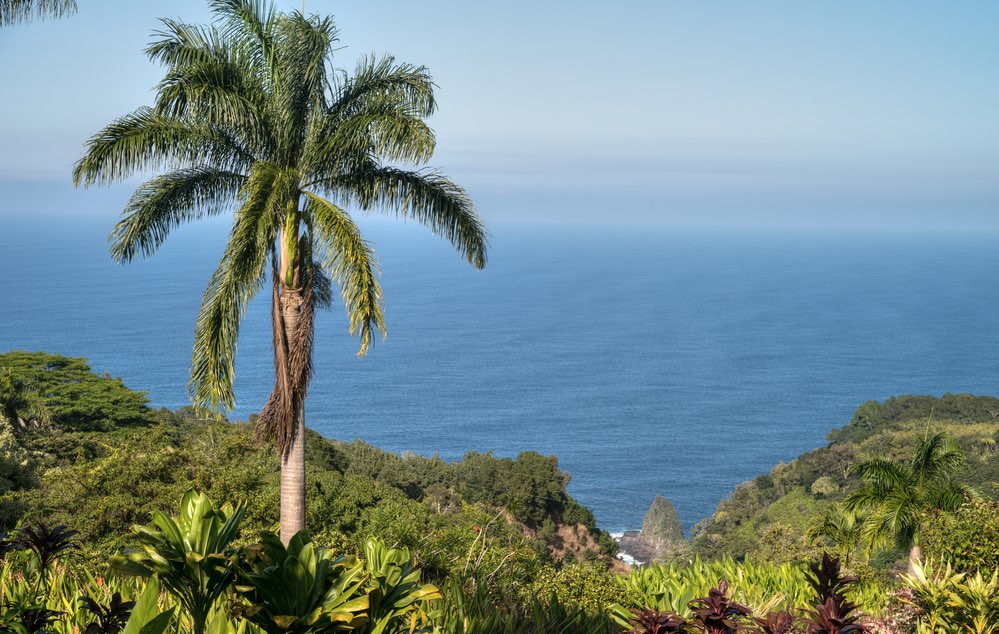 With covered picnic facilities, several hiking trails, and beautiful views, your entire family is sure to enjoy a trip to this gorgeous park.
Make sure to bring your camera, some good walking shoes, and a picnic lunch while you enjoy Kaumahina State Wayside Park.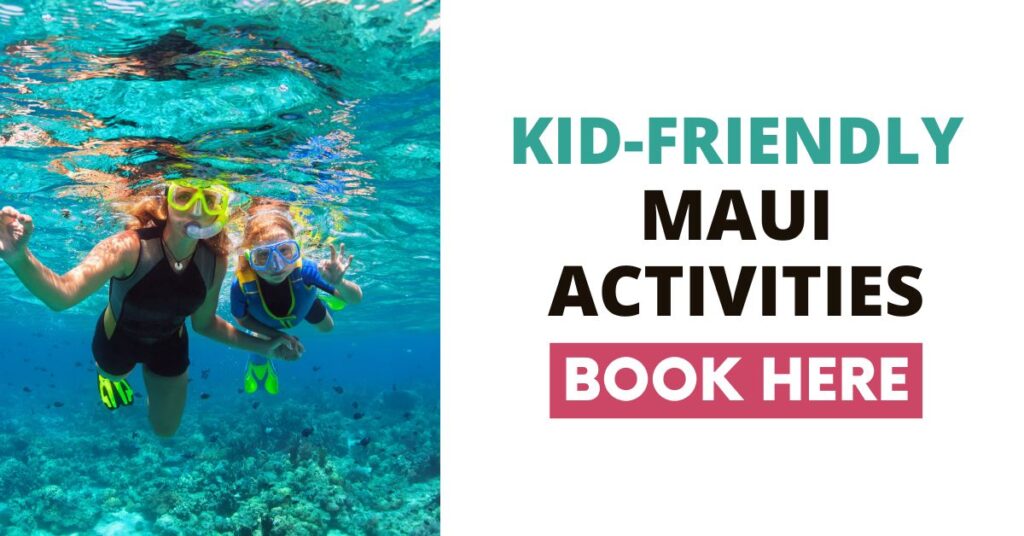 5. Honolua Bay
This designated Marine Life Conservation District is a beautiful must-visit in Maui in August.

Located on Maui's northwestern coast and sheltered by cliffs on two sides, this is a really popular spot for several activities.
You can go scuba diving or snorkeling and see an abundance of marine life. The calm turquoise waters make for ideal conditions for catching a glimpse of so many different species.
You are sure to enjoy your visit to Honolua Bay.
6. Ulupalakua Ranch
The second largest Cattle Ranch on the Island of Maui, Ulupalakua Ranch, is a must-visit.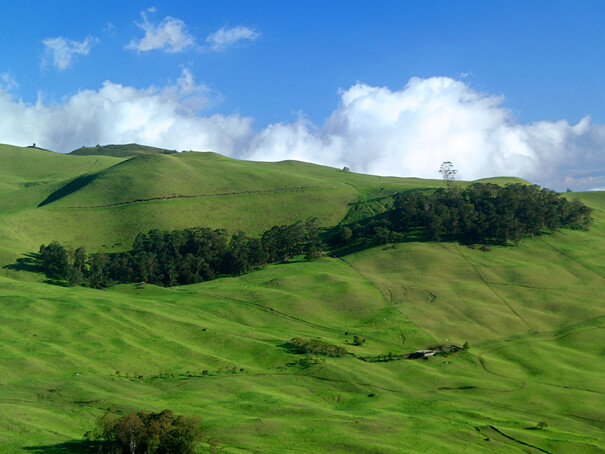 They offer several different tours and a chance to catch the stunning views of the ocean.
The ranch has many activities that visitors can take part in. If you like wine, this ranch is home to the only winery on the island of Maui. You can go horseback riding through Makena Stables and more.
Visiting the Ulupalakua Ranch in Maui County is a great way to learn more about Maui's history and traditions.
7. Hawaii Mermaid Adventures
If you are looking for a unique and memorable activity to do in Maui, Hawaii Mermaid Adventures is a great choice.
With this fun attraction, you can learn to swim like a mermaid in the ocean, or even at your resort pool. There are several different opportunities to get your mermaid on.
Want your own mermaid tail? There are chances to purchase one just for you.
These lessons are available to children and adults, making it a great Maui activity for the entire family.
8. Little Beach
Also known as Pu'u'olai, this beach is more sheltered and smaller than many of the other beaches Maui has to offer.
Separated from Big Beach by a large lava rock wall, Little Beach attracts a more free-spirited crowd.
Visit this beach to check out fire dancing and drum circles every Sunday evening.
Little Beach is a great spot to do snorkeling and watch a beautiful Maui sunset.
9. Golfing
There are many different golf courses located on the island of Maui. In fact, Maui is home to some of the most luxurious greenery on both the Hawaiian islands and in the United States.
If golfing is your forte, check out Kapalua Plantation Course. It is located on the side of the mountain and boasts some gorgeous views.
Regardless of where you decide to go golfing, Maui is a great place to do it.
10. Bike Tours
There are several fun bike tours in Maui to experience, some are self-led, and others are more intense.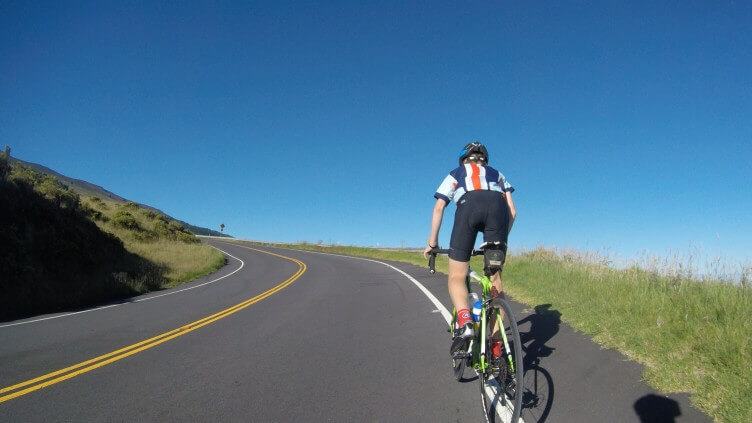 Using a bike to explore the island is a great way to soak up all the sights and sounds Maui has to offer.
You can take a ride down a volcano or participate in a sunrise bike tour. No matter what you choose, you are going to love every minute.
August Trip to Maui FAQs
Is August hurricane season in Maui?
Technically, from June to November is typically hurricane season in Maui. But, it is very rare for a tropical storm to directly hit Maui. However, you can always be prepared and check when it comes close to your trip to be sure if there will be high winds, downed trees, or a storm.
Is August a good time to visit Maui?
While you won't see fewer visitors during August, it still is a great time to visit Maui! You will find the summer full of fun events and some lovely water temperatures for the ocean to enjoy. The average low and high temperatures make for the perfect weather to visit!
How can I save money when I visit Maui?
You can save money in Maui by cooking your own food, staying at some of the cheap places on Maui, and enjoying all the free things to do in Maui as well!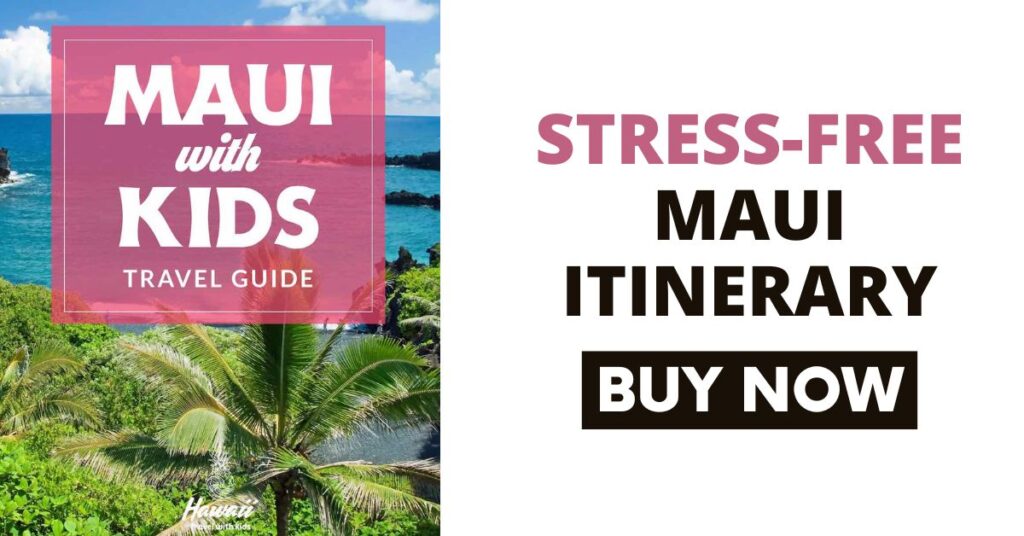 Maui Hawaii in August Wrap-Up
Visiting Maui in August is a fantastic way to spend your getaway this summer. With so many fun festivals and events in Maui in August, you will absolutely be entertained.
You will want to ensure that you take advantage of the gorgeous Maui weather in August. Maui averages high temperatures you will surely love! Book your travel today and enjoy this gorgeous Hawaiian Island.