Looking for an awesome DIY gift idea for Mother's Day or the holidays? Keep scrolling for this easy mango butter lotion bar recipe!
This mango butter lotion bar recipe contains affiliate links which means if you purchase something from one of my affiliate links, I may earn a small commission that goes back into maintaining this blog.
One of my favorite things to shop for in Hawaii are the amazing bath and body products. They smell ah-mah-zing!
It's a fun way to extend the vacay vibes at home and just one waft of tropical fragrance transports me to Hawaii, even for just a moment.
In the times when we're not traveling, I'm always trying to figure out ways to experience Hawaii at home.
One of the most fun ways is to make my own Hawaiian lotion bars that are perfect for right after a shower or before bed. These are crazy easy to make and they work well for gifts for friends and family.
The awesome part about this mango butter lotion bar recipe is that you can make it different by swapping the fragrance oil (this pack comes with a pineapple scent!)
Keep scrolling to learn how to make a lotion bar that smells like Hawaii! I swear, this is the best lotion bar recipe and you'll want to make a bunch!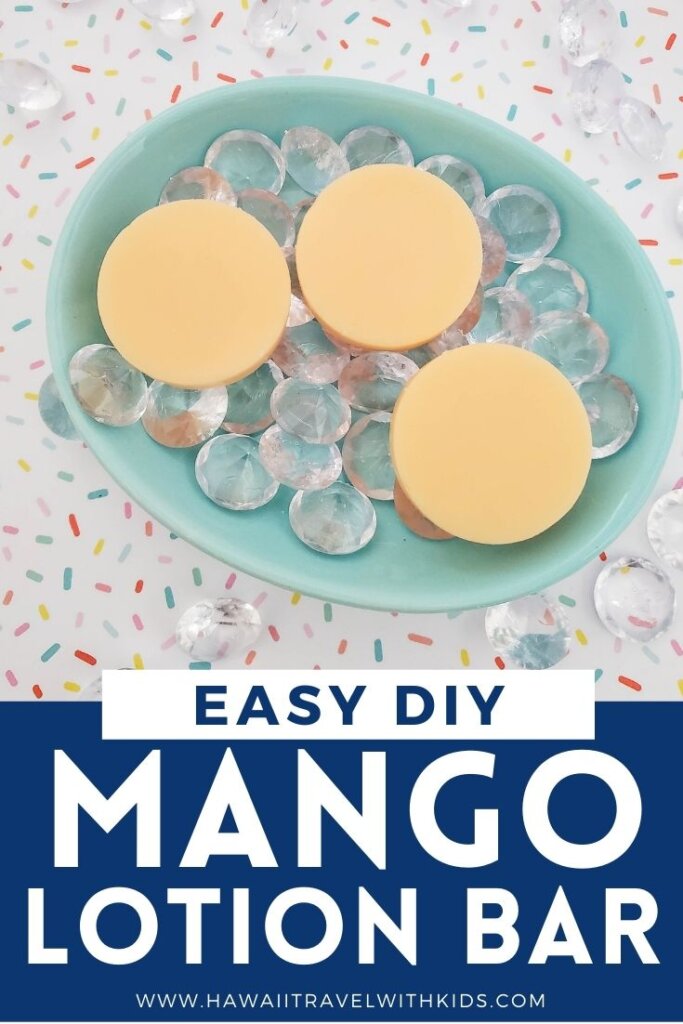 Mango Butter vs Shea Butter
There are plenty of shea butter lotion bar recipes since that is always an easy lotion bar recipe. However you can also make a mango body butter recipe too!
Here are a few key differences between mango butter and shea butter:
Shea Butter
Source: Shea butter is derived from the nuts of the shea tree (Vitellaria paradoxa), which is native to Africa.
Composition: It contains a high concentration of fatty acids. These fatty acids contribute to its moisturizing and emollient properties.
Benefits: Shea butter is renowned for its deep moisturization, helping to soothe dry and sensitive skin. It's often used to alleviate conditions like eczema and psoriasis due to its potential anti-inflammatory properties.
Texture and Smell: Shea butter has a creamy consistency and a mild nutty scent.
Mango Butter
Source: Mango butter is extracted from the kernels (seeds) of mango fruit (Mangifera indica), which is native to South Asia.
Composition: It contains a blend of fatty acids, including oleic, stearic, and linoleic acids. Mango butter also contains vitamin A and E, which contribute to its skin-nourishing qualities.
Benefits: Mango butter is prized for its ability to soften and moisturize the skin. It's often used in products meant to promote skin healing and reduce the appearance of scars. The vitamins in mango butter can contribute to skin rejuvenation.
Texture and Smell: Mango butter has a softer consistency than shea butter and is known for its slightly sweet and fruity aroma.
Both shea butter and mango butter have unique properties that make them suitable for different skincare needs.
Some people might prefer one over the other based on personal preferences or specific skin concerns.
It's important to keep in mind that individual skin types and reactions can vary, so conduct a patch test before using if you are worried.
Now that you know the difference, let's get on to the lotion bars recipe!
How to Use Lotion Bars
Before you learn how to make lotion bars, you'll need to know how to use a DIY lotion bar.
Lotion bars are a trendy new way to apply beauty products without excess packaging.
The first thing you'll want to do is take the lotion bar out of the container (it's good to store them in a jar or tin.)
Then, you can rub the lotion bar in your hands to melt the lotion and then apply it anywhere you feel especially dry (like elbows, feet, knees, etc.)
Or, you can massage it right on your skin. It just takes a few moments for it to melt. Personally, I think this method works best right after a hot shower or bath with a DIY body lotion bar.
Best Way to Store a Lotion Bar
Unless your house is insanely hot, you'll want to leave your solid body lotion bars at room temperature. But, it's best to store them in a container.
These look really pretty in a glass container for a bathroom or you can put them in cosmetic containers if you will be giving them as gifts.
If you're traveling, lotion bars can be great for your carry-on bag. I recommend putting them in a lightweight hard container, like a cute little tin, so they don't get squished.
Hawaiian Mango Butter Lotion Recipe
This mango body lotion recipe makes 9 bars, if you fill each cavity of the mold ⅓-½ full.
Mango Butter Body Lotion Supplies: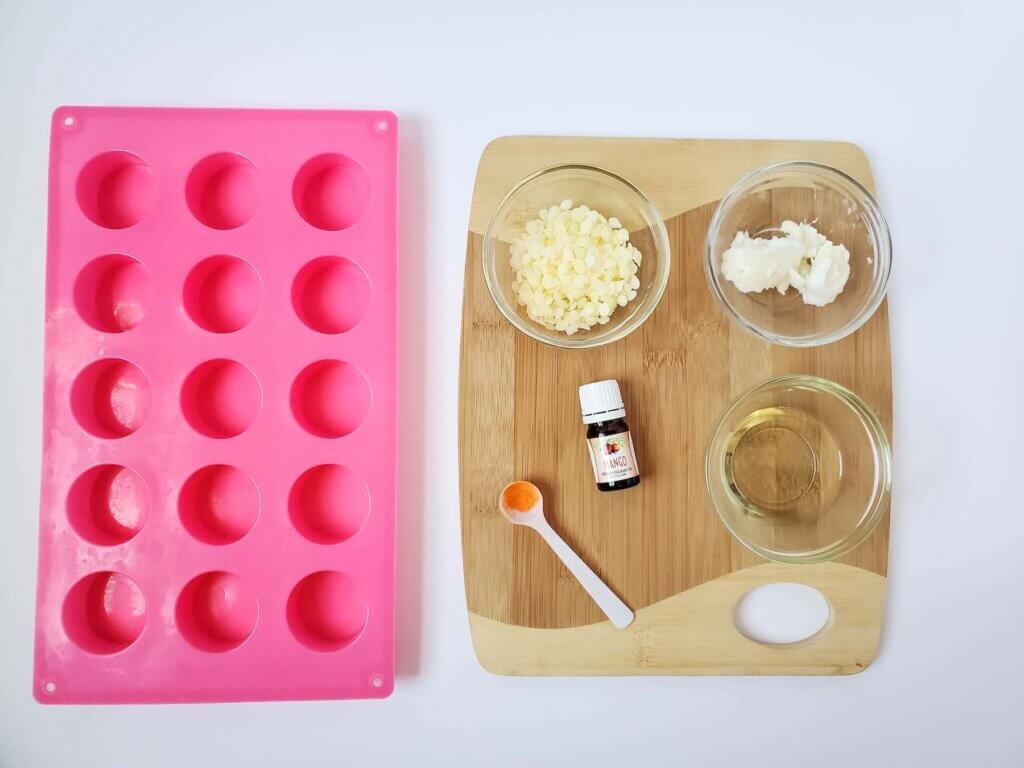 How to Make Hawaiian Body Lotion Bars
Add shea butter and beeswax to a heat-safe dish and heat in the microwave on high for about 1 minute.
Then, remove it from the microwave and give it a good stir. Pop it back in the microwave and repeat the same 1-minute heating sessions until the beeswax is completely melted.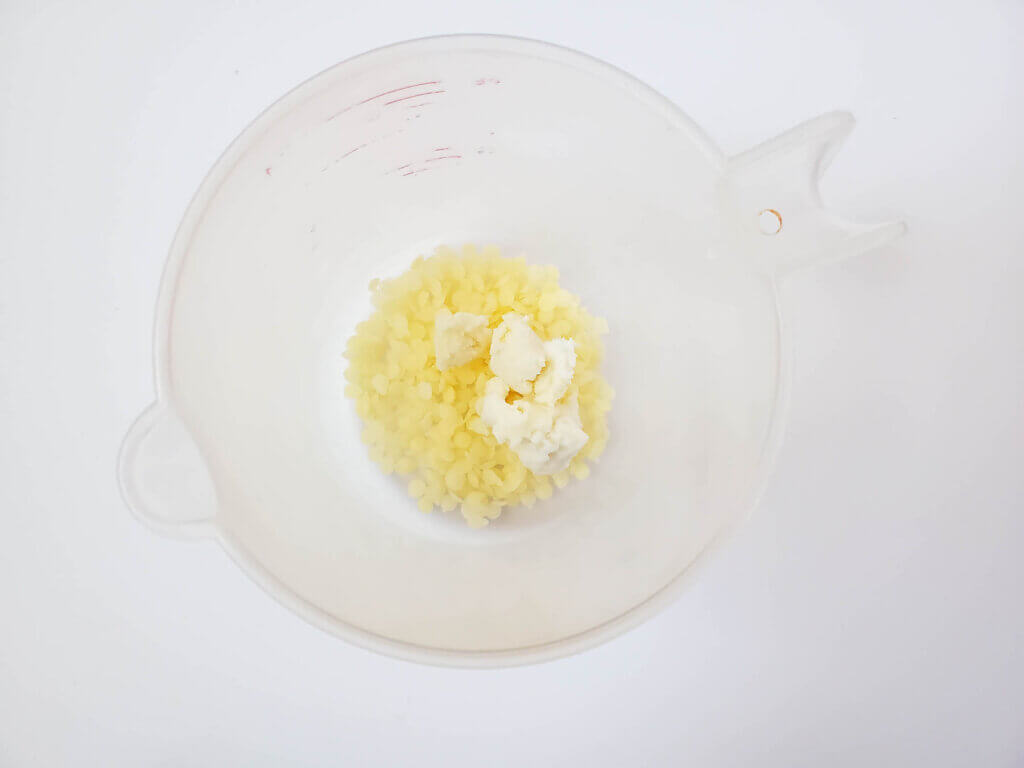 Next, it's time to add the mica powder and mango fragrance oil. Make sure to mix it all up really well with a stir stick or spoon.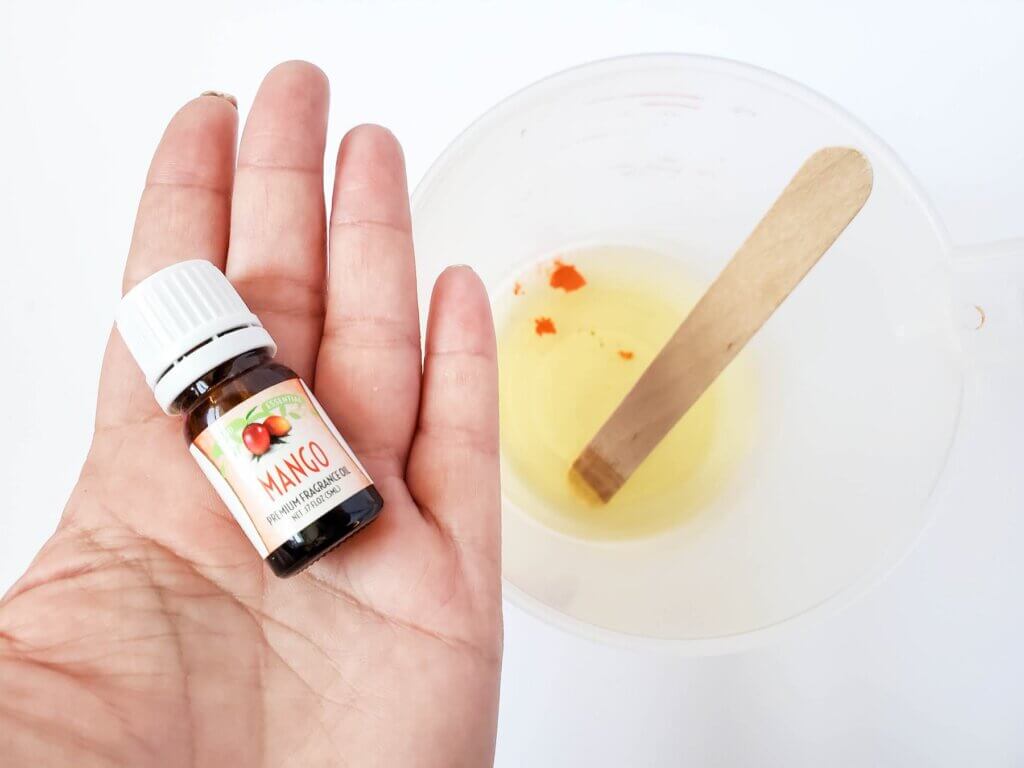 Ok, now it's time to pour the mixture into your silicone mold. Make sure to just fill 9 of the spots about 1/3-1/2 full.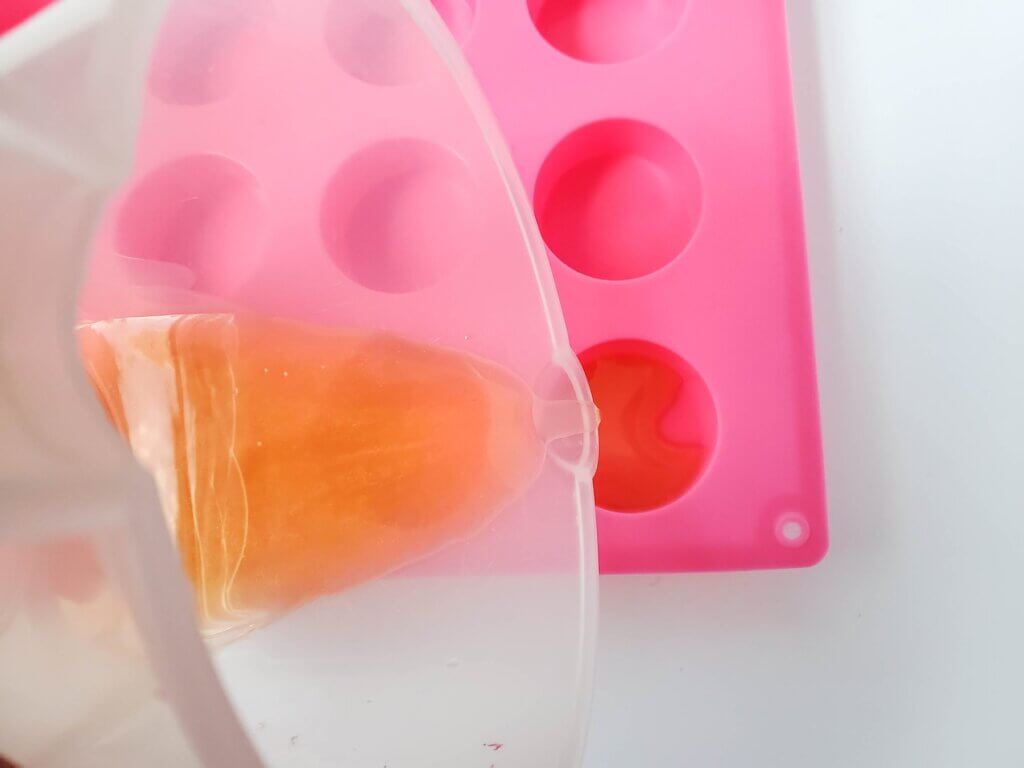 These lotion bars will set in about 5-10 minutes, but it's important to leave them in the mold for about 1 hour so that they can become completely solid. Then carefully remove it from the mold. You can also put it in the freezer as well.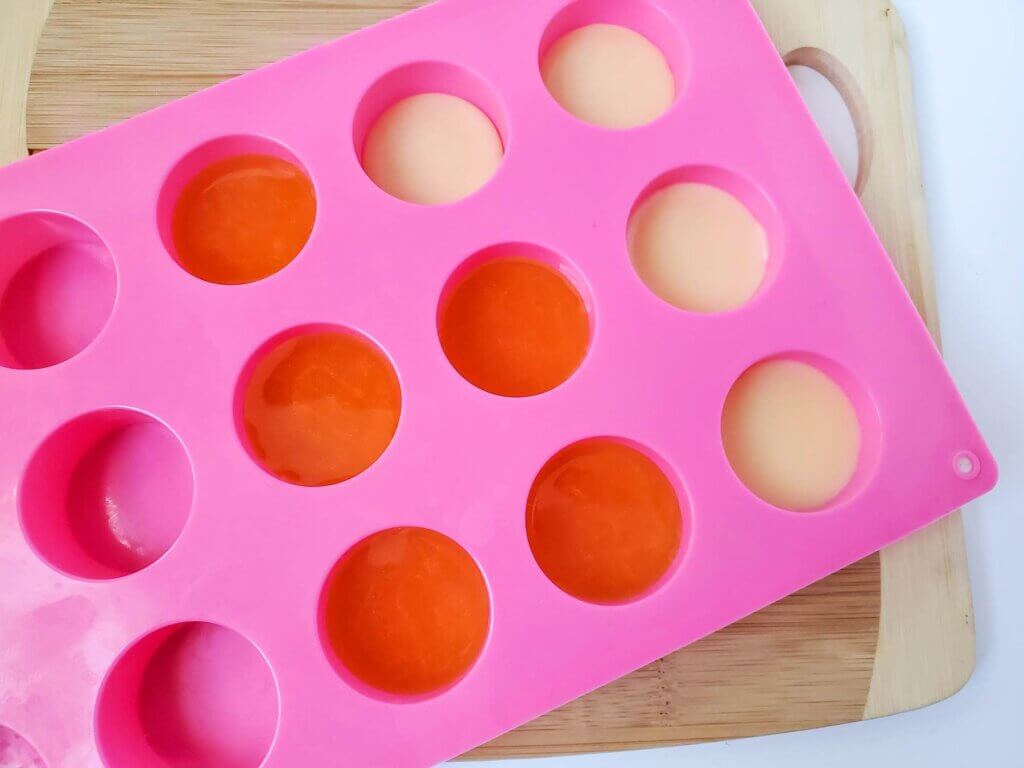 And that's it! Now you know how to make your own lotion bar! You can store these zero-waste lotion bars in any sort of container.
Notes
You can also use a double boiler to melt everything if you prefer.
Essential oils can be added instead of fragrance oil. Just choose the essential oil you want and add in the same amount of drops. Sweet orange or lavender are great essential oils.
You can use any type of carrier oil, it does not have to be sweet almond oil. Other great choices are jojoba oil, coconut oil, avocado oil, etc.
Same goes for the shea butter. Cocoa butter or mango butter are also great for a lotion bar DIY recipe too.
This recipe called for yellow beeswax but any will do. You can also use candelilla wax if you prefer a vegan recipe.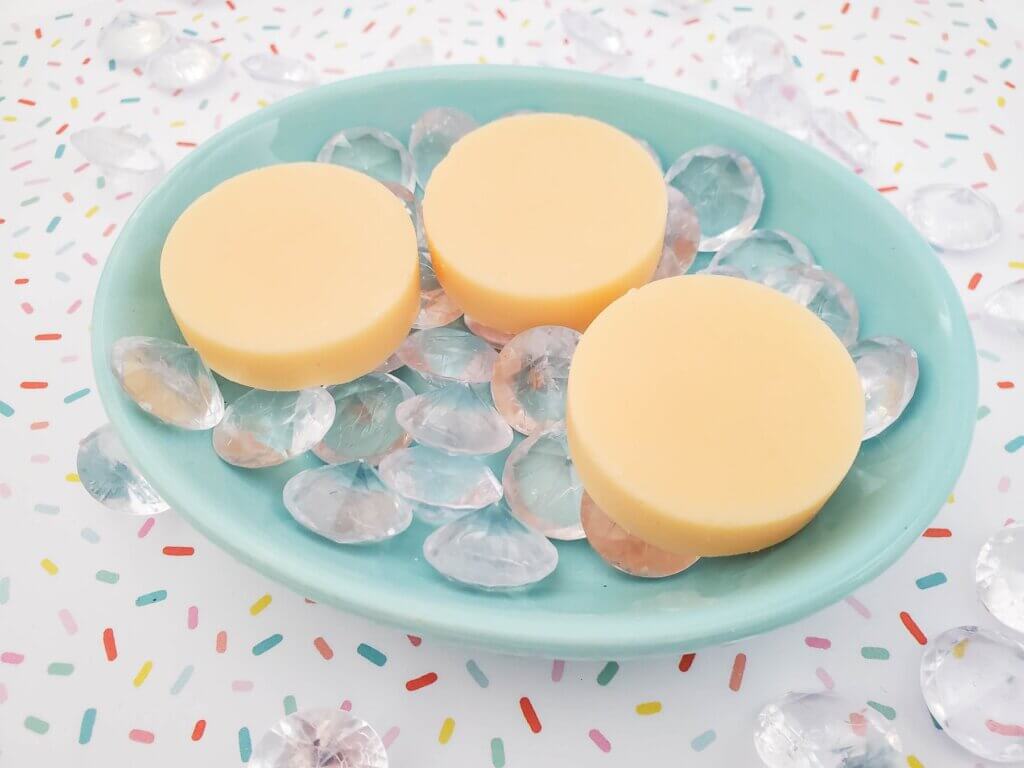 Love this mango lotion bar? Learn how to make a coconut body scrub!
Yield: 9 bars
Simple Mango Butter Lotion Bar Recipe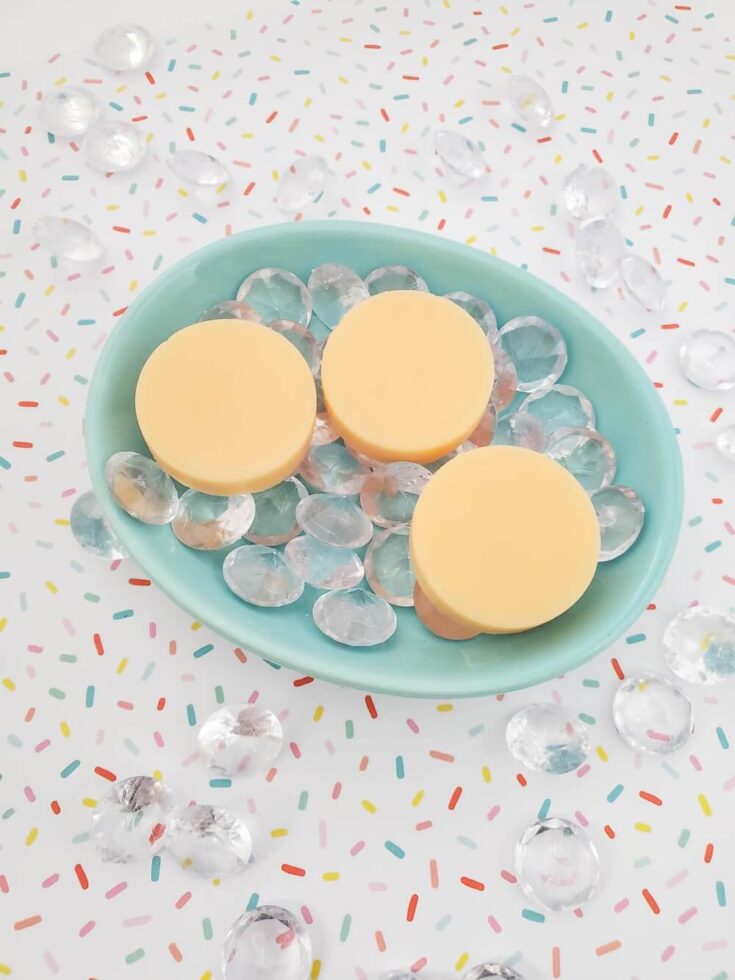 This is a simple mango lotion bar recipe that makes a great gift. It smells just like Hawaii and is perfect for a tropical spa day at home.
Total Time
1 hour
5 minutes
Materials
4oz shea butter
4oz sweet almond oil
4oz beeswax pellets
25-40 drops mango fragrance oil
⅛ tsp orange mica powder
Cylinder silicone mold
Instructions
Add shea butter and beeswax to a heat safe dish and heat in the microwave on high for 1 minute. Remove and stir well. Repeat 1 minute heating sessions until the beeswax is completely melted.
Add mica powder and fragrance oil. Stir very well.
Pour into mold filling 9 of the mold cavities ⅓-½ full.
These bars will set in about 5-10 minutes, but leave in the mold for about 1 hour so that they can become completely solid.
Solid Lotion Bar FAQs
What is a solid lotion bar?
A hard lotion bar looks like a piece of soap, but it's actually just a solid bar of lotion. They are usually made with natural ingredients and they are a zero-waste toiletry item that is great for travel. They stay solid at room temperature but are easy to apply with a little body heat.
Can you use lotion bars in the shower?
Well, you can, but the water will probably wash off the lotion. Instead, it's best to grab the lotion bar after your shower and massage it into your skin while it's hot. Your skin will quickly absorb the lotion. Then, just use a towel to pat dry and you're good to go.
How long does a lotion bar last?
This body lotion bar recipe is pretty small and last about 2 weeks if you use it every day. Obviously, it will last longer if you use it every few days.
Can you make a lotion bar without beeswax?
For a lotion bar recipe without beeswax, simply use candelilla wax or tapioca starch.
Mango Butter Lotion DIY Wrap-Up
There you have it! This is a super simple mango body butter bar recipe. All the ingredients are fairly easy to get and will help your skin feel nice and smooth.
This hard lotion bar recipe has a pretty decent shelf life, especially if you use it daily.
Love this mango butter lotion bar recipe? Learn how to make pineapple sugar scrub bars and a coconut salt scrub!