Are you looking for a cheap DIY gift idea that smells like Hawaii? Find out how to make yummy smelling pineapple body scrub bars that are crazy easy!
This pineapple body scrub recipe contains affiliate links which means if you purchase something from one of my affiliate links, I may earn a small commission that goes back into maintaining this blog.
I love giving skincare gifts because it makes me feel like I'm giving someone their special "me" time so they can take a few moments to relax and nourish themselves.
You know when your skin starts to get dry and rough, it's time for a good scrub. You might be thinking about buying one of those expensive scrubs that everyone raves about at the store or you could just make some yourself!
Today, I am going to show you how to make a DIY sugar scrub bar using only 5 ingredients: sugar, almond oil, melt-and-pour soap base, mica powder, and pineapple fragrance oil.
This is an easy Hawaii gift idea that anyone can do, even if you've never made anything from scratch before! Just wrap it up in a cute cellophane bag, and people will think you picked up the raw sugar pineapple scrub at a trendy boutique.
If you're still scrambling to find the perfect gift for your mom, aunties, or friends, this pineapple body scrub is an idea that is both easy and inexpensive.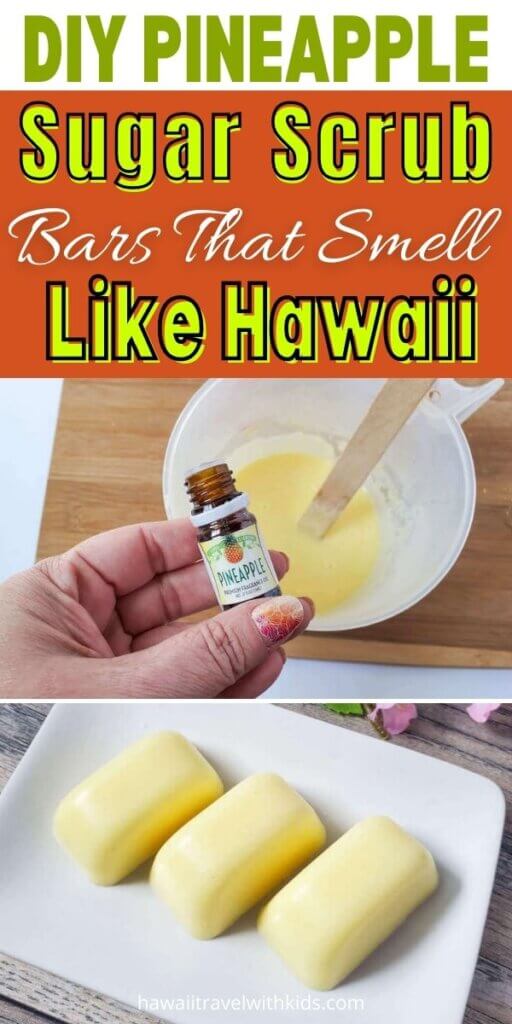 Sugar Scrub vs Salt Scrub
Ok, one of the biggest questions about making your own skincare product is whether to make sugar vs salt scrub. Let me break down some differences:
What are Some Sugar Scrub Benefits?
Sugar scrubs are the best way to scrub away dead skin cells, increase circulation, and encourage new cell growth. Because sugar granules have a rounder shape than salt (and thus aren't as abrasive), it makes them great for sensitive areas like your face. So, if you want a pineapple face scrub, use sugar!
Plus sugar dissolves in water quicker – providing you with more of an easy-going exfoliation experience!
Benefits of Sea Salt Scrub
Salt scrubs are the more intense choice when it comes to scrubbing those pesky dead skin cells off your body. Additionally, salt will also promote good circulation and healthy new skin cell regeneration, which in turn will make you look younger!
But salt is doing so much more than that: using a natural anti-inflammatory like salt can help pull toxins from our bodies as well.
How to Use a Sugar Scrub Bar
Wondering how to use this sugar scrub bar? First, you'll want to use your normal soap, shower gel, or body wash. That will help make sure your skin is nice and clean before applying the tropical body scrub.
Next, rub the pina colada body scrub over your clean body in circular motions using gentle pressure. Remember to reach all the areas you want to exfoliate.
Finally, make sure to rinse the sugar scrub off really well and then pat yourself dry with a towel.
How to Store Your Homemade Sugar Scrub Bar
Unless you live in a hot climate, you'll want to leave your sugar scrub bars at room temperature. But it's best to store them in a container. This batch should last up to 6 months, depending on how frequently you use them.
These pineapple scrub bars look really pretty in a glass container for a bathroom, or you can put them in cellophane bags if you will be giving them as gifts. You can even use different-shaped molds to elevate your spa pina colada scrub. Check out this pineapple mold I just found!
If you're traveling, sugar scrub bars can be great for your carry-on bag. I recommend putting them in a lightweight hard container, like a cute little tin, so they don't get squished.
Hawaiian Pineapple Sugar Scrub Bar Recipe
Here is how to make this exfoliating body scrub bar!
Pineapple Body Scrub Supply List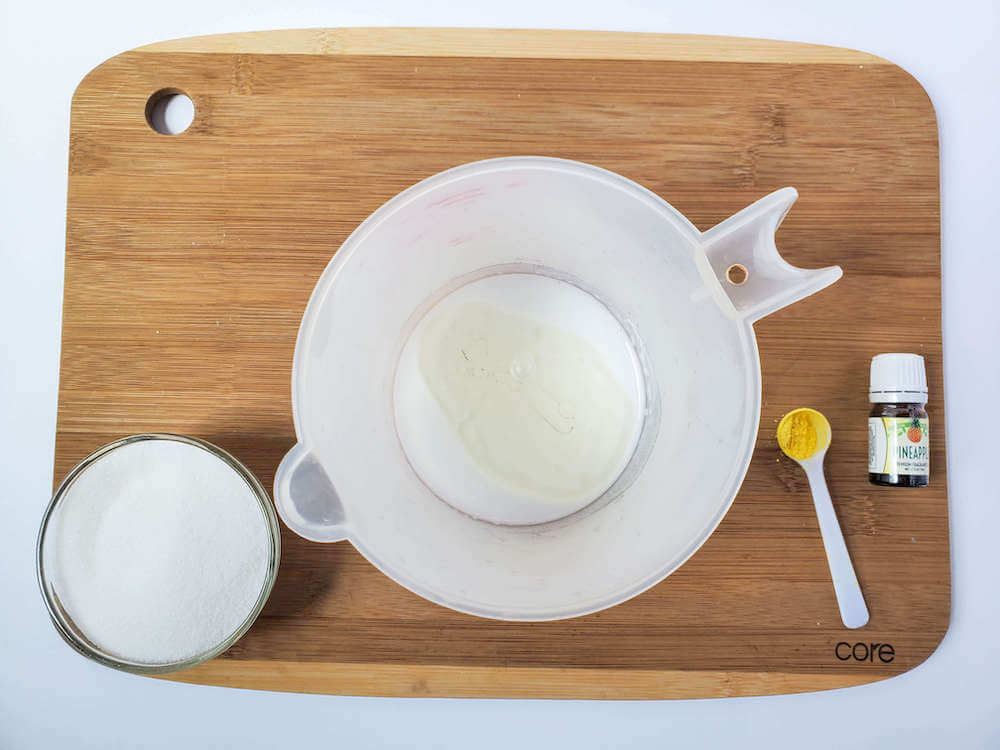 How to Make Pineapple Body Scrub Bars
This recipe for a sweet-smelling pineapple sugar scrub bar is really easy to make.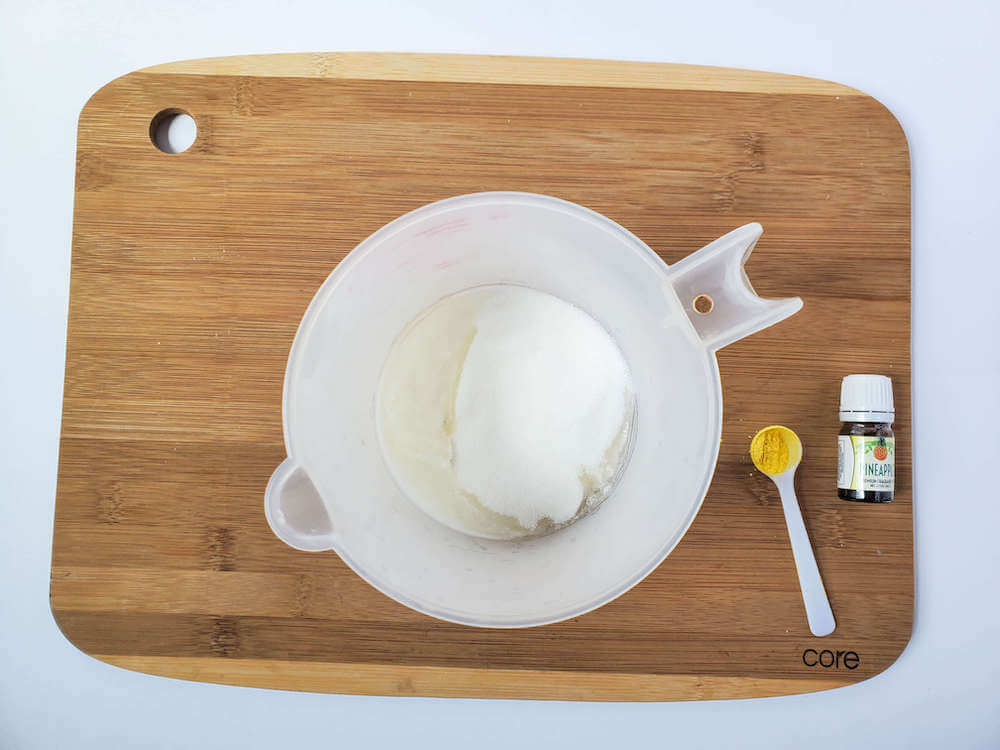 Simply add soap base and microwave on high heat for 30 seconds in a microwave-safe dish. Make sure not to burn the mixture as it will ruin your bars.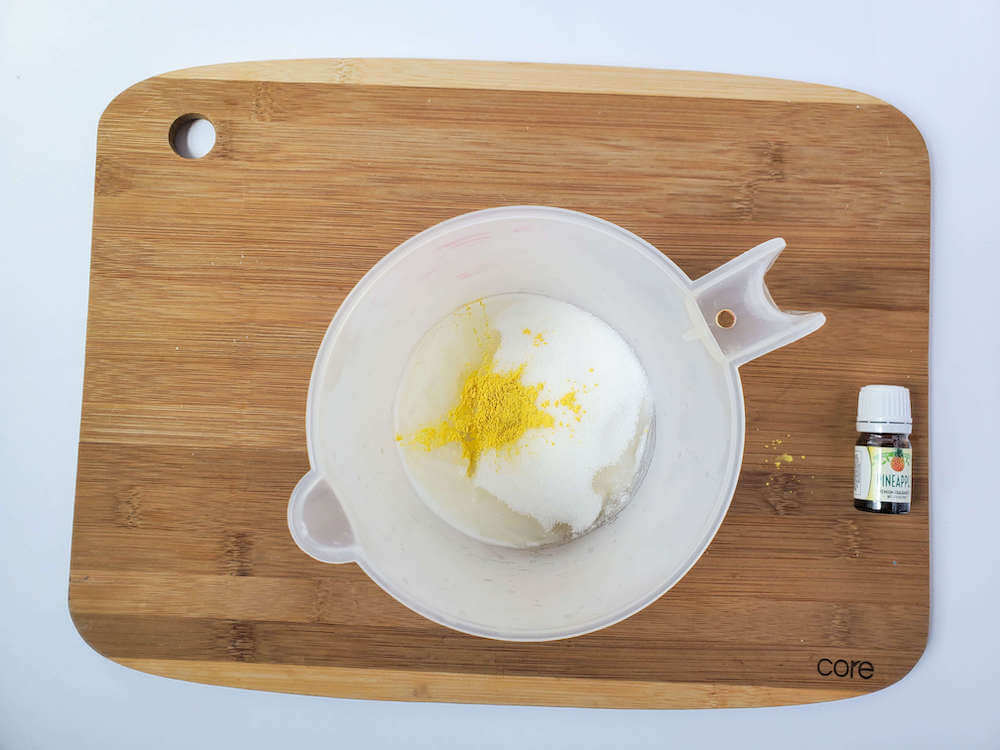 Then combine the sugar and almond oil and mix it up really well. Add the mica powder (for color) and make sure the whole thing is fully stirred.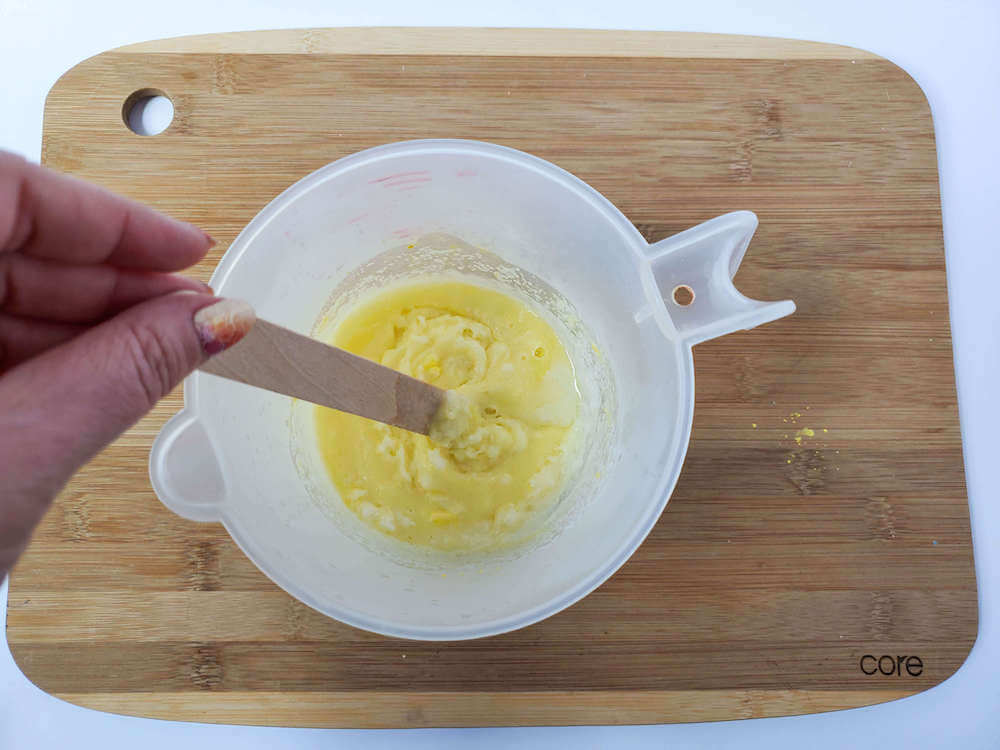 Pop it back into the microwave for 15 seconds.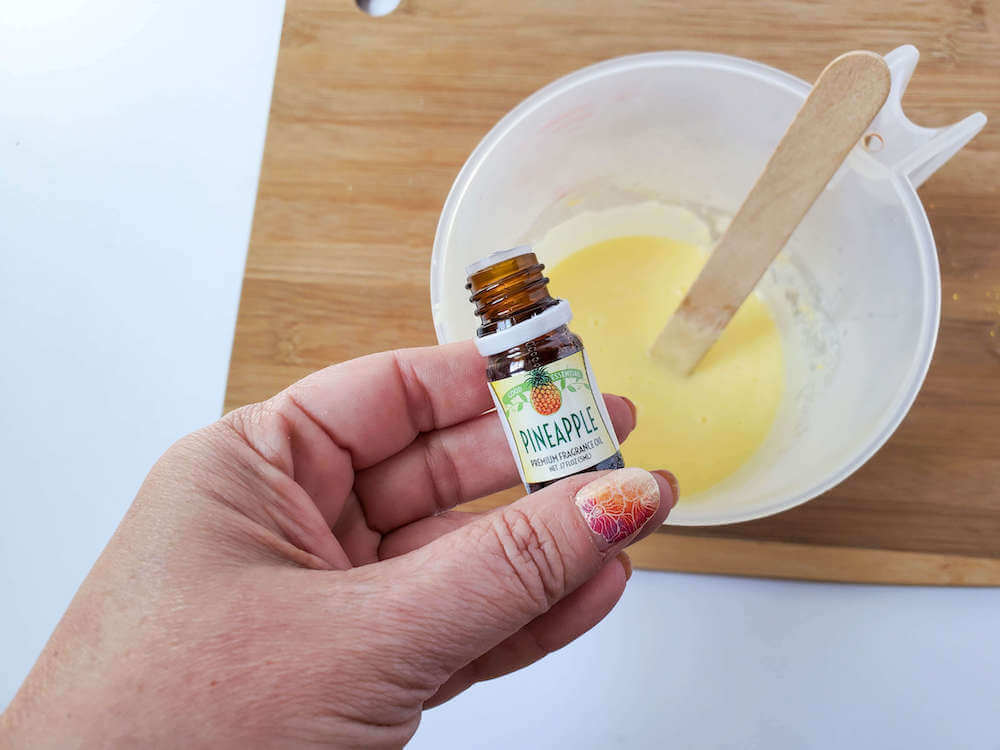 Then, add the pineapple scent and stir it up. Take a sniff and make sure it's at the fragrance level you like.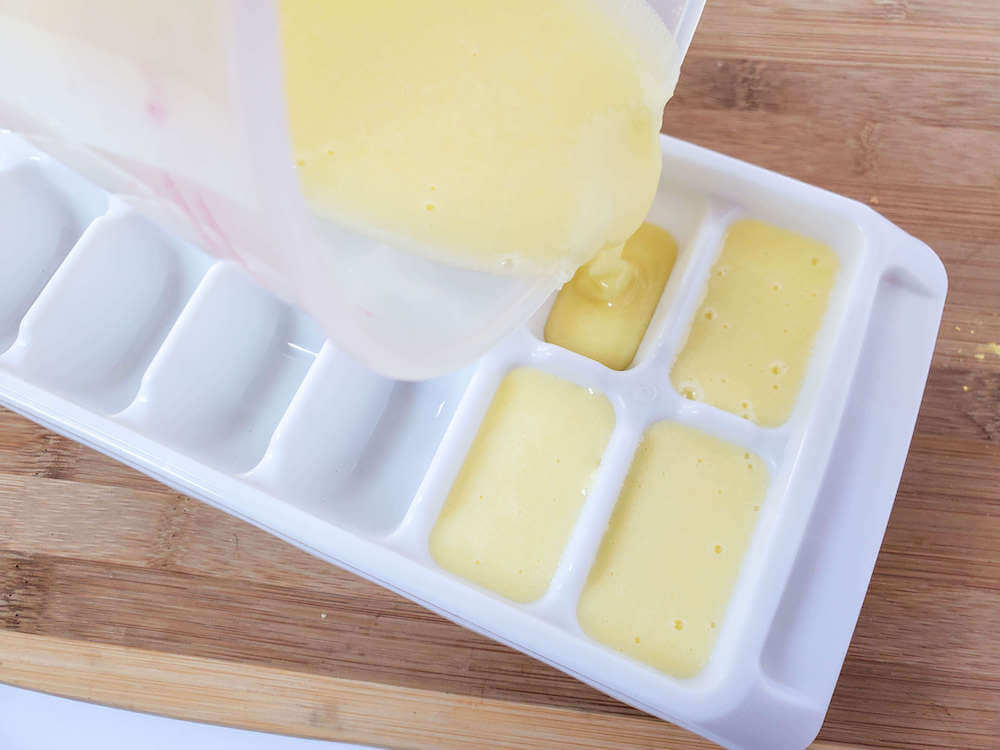 Finally, pour the pineapple scrub mixture into your ice cube tray. It will need to set on the counter for at least 30 minutes to harden up.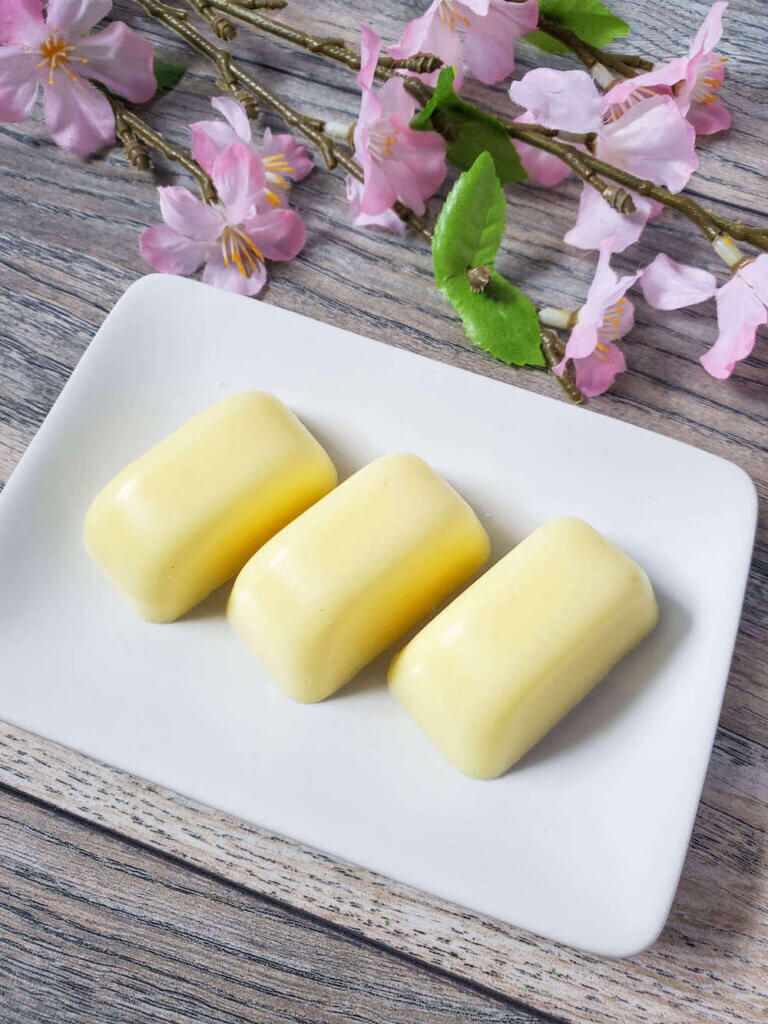 Notes
You can use any of the natural oils; it does not have to be sweet almond oil. Other oils great for dry skin include evening primrose oil, macadamia oil, hemp seed oil, avocado oil, and coconut oil.
If you don't want to, you don't have to use pineapple fragrance oil either. If you want, orange oils, like sweet orange oil, are always nice, or a floral scent would be wonderful too.
Pineapple Scrub Benefits
This pineapple body wash is so beneficial for your skin! Here are a few of those benefits:
Gentle Exfoliation: Sugar is a natural exfoliant that can effectively remove dead skin cells without causing micro-tears on the skin's surface. After you use it, it will reveal glowing, soft, smooth skin.
Even Skin Tone Appearance: Regular use of a pineapple body scrub bar can help even out your skin tone by reducing the appearance of dark spots, blemishes, and hyperpigmentation to reveal glowing skin!
Smoothing Texture: The texture of sugar granules in the scrub bars can help smooth out rough areas on the skin, such as elbows, knees, and heels. It helps to balance skin's hydration and effectively polishes your dry skin.
Natural Ingredients: Sugar scrub bars often contain natural ingredients, reducing the likelihood of exposing your skin to harsh chemicals. The sweet almond oil and melt-and-pour soap base will help you have smooth skin, all with natural oils and ingredients you love. It is also paraben-free, alcohol-free, and sulfate-free because you are making it yourself!
Aromatherapy: The pineapple oil in this scrub smells amazing and will transport you to feel like you are actually in Hawaii surrounded by this delicious tropical fruit.
Boost Circulation: Massaging the sugar scrub onto your skin stimulates blood flow, promoting better circulation and helps restore the skin's natural glow.
Prepares Skin for Other Products: By removing dead skin cells and unclogging pores, sugar scrub bars create a clean canvas for other skincare products to deeply moisturize, nourish, and soften dry skin.
Convenience: Sugar scrub bars are easy to use in the shower, eliminating the mess associated with traditional sugar scrubs packaged in jars. It definitely makes your shower routine much easier.
Suitable for Various Skin Types: Sugar scrub bars are generally gentle and suitable for most skin types, including sensitive skin, when used in moderation.
Self-Care Ritual: Using a sugar scrub bar can turn your skincare routine into a luxurious and pampering experience, providing both physical and mental relaxation.
Remember to perform a patch test before using any new skincare product to ensure that you don't have an adverse reaction to any of the ingredients.
Sugar Scrub FAQs
Can you use a sugar scrub without shaving?
Yes, you can totally use a sugar scrub without shaving. But, you can also use it before or after you shave your legs. It can help prevent ingrown hairs. Plus, it works like shaving cream! It can help you get the closest shave ever.
How long do sugar scrub bars last?
It really depends on how you store them. This batch should last up to 6 months if they are stored in a container and left at room temperature. If you live in a warm climate or your bathroom is really hot and humid, they might melt and not last as long.
How often should you use a sugar scrub?
It depends on how sensitive your skin is. If you have delicate skin, don't exfoliate more than 1-2 times a week. People with normal skin can use this sugar scrub 2-3 times per week. And people with oily skin can use it up to 4 times per week. You don't want to use it daily.
What are the ingredients in pineapple sugar scrub?
While this scrub uses a melt-and-pour soap base, sugar, and oil to make a scrub, you can use so many different ingredients! Some make a pineapple shea sugar body scrub with shea butter and pineapple enzymes. Others make a sugarcane-exfoliating body scrub too. It all depends on what you want!
What is pineapple scrub good for?
A pineapple shea sugar scrub can deeply moisturize, promote elasticity, balance hydration, and so much more! It will be amazing for your skin.
Pineapple Sugar Scrub Wrap-Up
I hope you enjoy this recipe for pineapple body scrub and get a chance to make some scrubs for yourself or as gifts. These homemade sugar scrub bars are so easy; it doesn't take many ingredients, and they're perfect for giving!
You can even use any other fruit extract in place of the pineapple if desired. A mango body scrub would be another heavenly scent!
Have fun with these scrubs-they'll leave your skin feeling soft and silky without being greasy! Which flavor scrub do you want to try first?
Yield: 12
Simple Pineapple Body Scrub Bars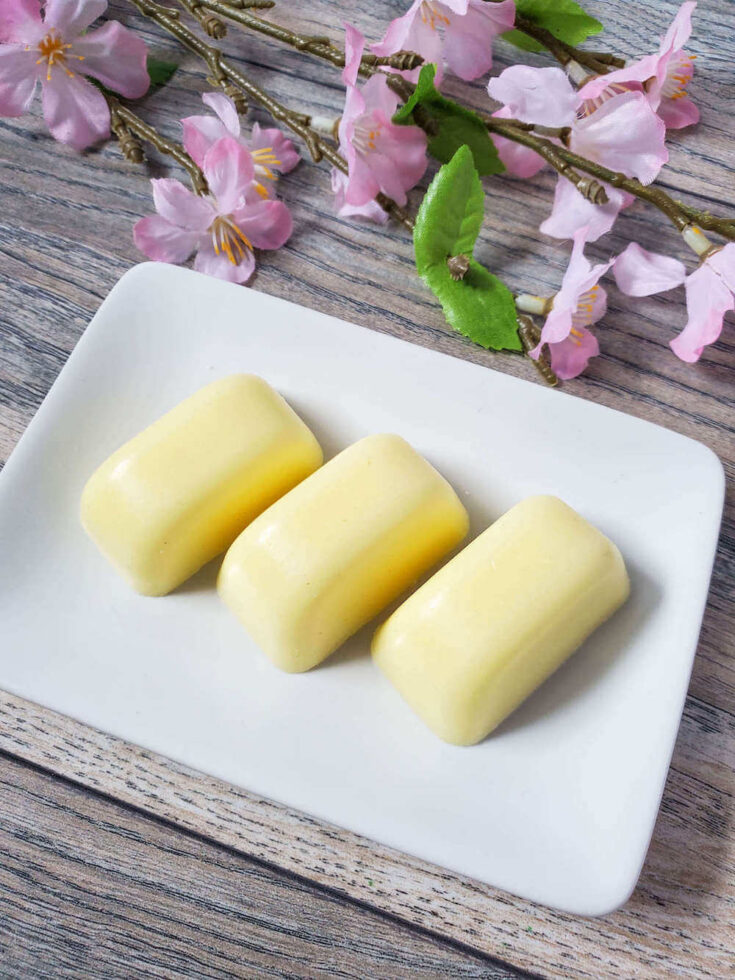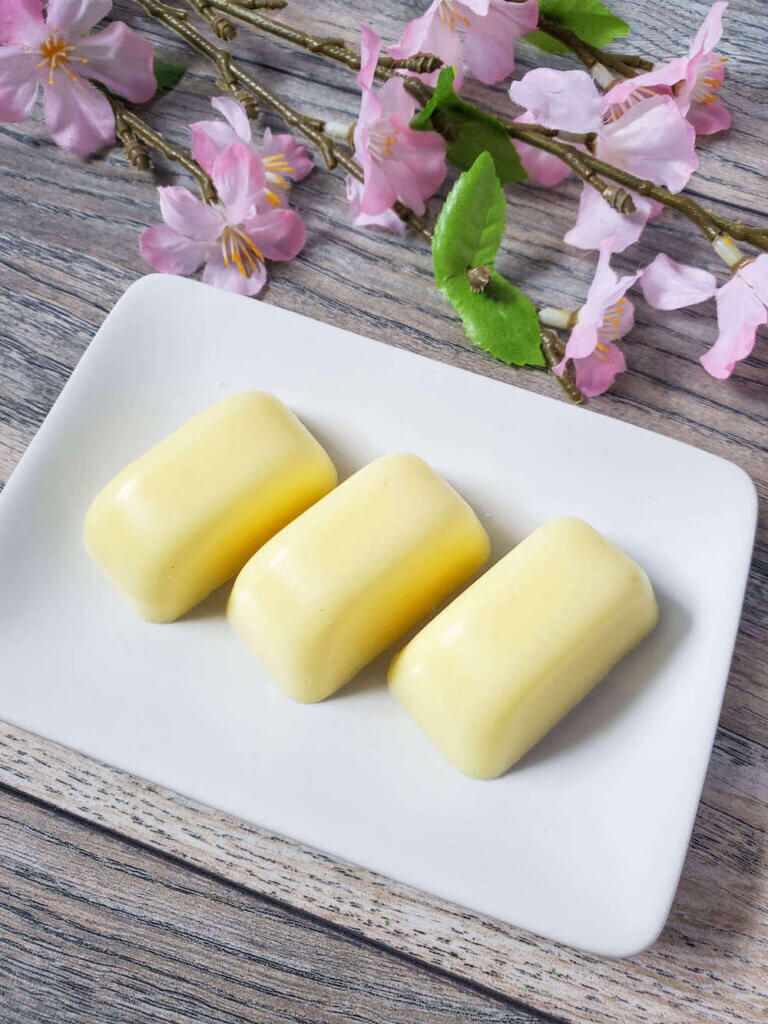 Learn how to make these easy pineapple-scented sugar scrub body bars. It's a great way to exfoliate your skin. Perfect as a DIY gift idea or to use yourself.
Additional Time
30 minutes
Materials
2 1"x1" cubes of melt and pour soap base
½ cup sugar
2 tbsp almond oil
¼ tsp yellow mica colorant powder
30 drops pineapple fragrance oil
Ice cube tray
Instructions
Add soap base to a microwave safe dish or spouted measuring cup. Heat on high for 30 seconds.
Add the sugar and almond oil. Stir well.
Add mica powder. Stir until the color is solid.
Heat for an additional 15 seconds.
Add fragrance oil. Stir.
Pour into ice cube tray.
Allow to set for about 30 minutes.
Notes
You can use any sort of mold to change the shape of the body scrub bars.