Are you visiting Maui soon and want a unique experience? Keep scrolling to read an honest review of Maui ukulele lessons to see if they are right for your family.
This review of Maui ukulele lessons was co-written by Hawaii travel expert Marcie Cheung and contains affiliate links which means if you purchase something from one of my affiliate links, I may earn a small commission that goes back into maintaining this blog.
Guest post by Jenny of Pool Mom
If variety is the spice of life, curiosity is whichever flavor wafts out of the kitchen (the one that makes a mouth salivate) of learning.
My 5-year-old Molly's curiosity keeps me on my toes, and vacations are no exception. So when she asked to learn how to play the ukulele during our last visit to Maui, it was an easy HECK YES! from me. After all, the uke is like a tropical daydream for your ears… it's so darn lovely to listen to.
What does the word "ukulele" mean? Did ancient Hawaiians play them? What is it made of? I want to learn how to play the ukulele… can we go to the music shop now? Can I take ukulele lessons now?
These were the kinds of questions Molly, a kindergartener, wanted answers to. Urgently. I did not have those answers myself.
It was time to call in an expert; someone who would dive right into the topic with her.
This is the story about how Molly landed herself under a palm tree for her first ukulele lesson, strumming along with kumu Wayne Perry from The Maui Musician. And why signing her up for a beginner ukulele lesson checked a lot of boxes for me as a teacher and a mama.
(By far, this was one of my favorite family activities we've ever done on vacation!)
Want to skip all the planning and just access my detailed Maui Itinerary complete with daily schedules, kid-friendly activities, and travel hacks? Click the button below.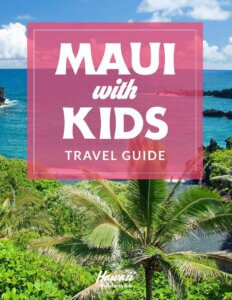 Maui Ukulele Lessons FAQs
Can I learn to play the ukulele after 1 lesson?
By the end of the first lesson, you should be able to strum along and you might even learn a full song. However, you'll need additional lessons if you want to play the ukulele like a pro!
What's the best way to learn ukulele?
The best way to learn to play ukulele is with an in-person lesson. That way, you can get personalized instructions and learn at your own pace. Plus, you can ask questions along the way.
Do I need any prior musical experience?
Nope! The ukulele is a great beginner instrument. There are only 4 strings and it's an instrument perfect for kids and novices who want to try something new on their Maui vacation.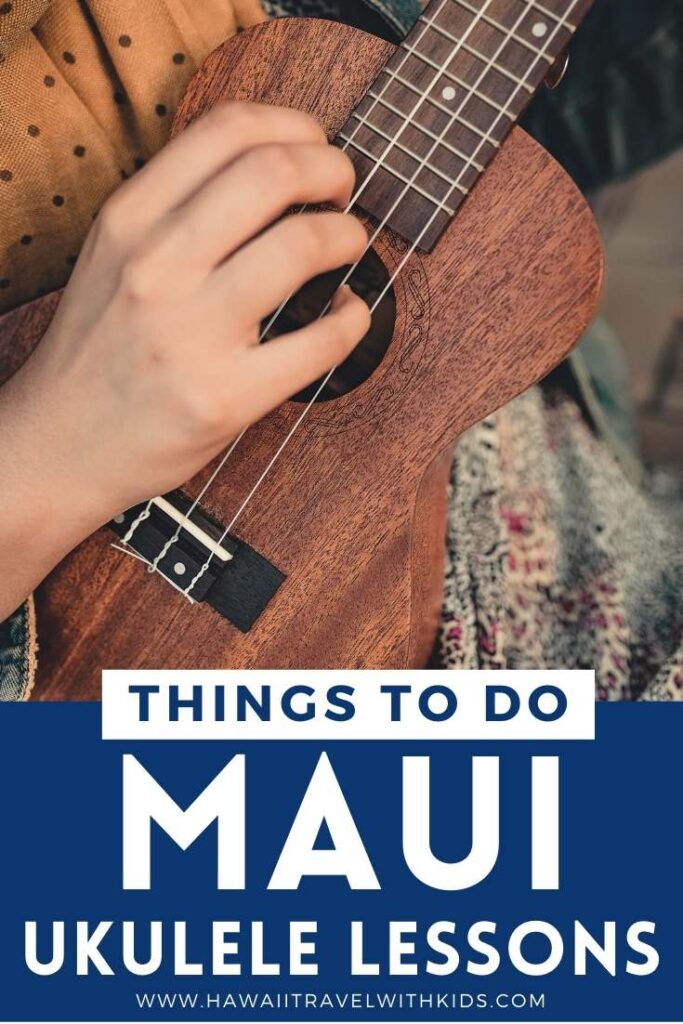 Overview of the Hawaiian Ukulele
How the instrument came to be a symbol of Hawai'i depends on who you talk to. In Hawaiian, "ukulele" is pronounced OOH-koo-lay-lay. According to our ukulele instructor Wayne, "ukulele" means "jumping flea."
As for how the instrument came to be known as such is left up to the imagination, but Wayne tells a pretty great tale about it.
The condensed version of his story (spoiler alert!) is that the ukulele first arrived with Spanish explorers, who presented it as a gift to the Hawaiian monarchy. Suddenly, some fleas jumped out! The ali'i nobility from then on referred to it in reference to the bugs.
I'm sure Molly felt like a Hawaiian queen when Wayne graciously handed her the ukulele to hold.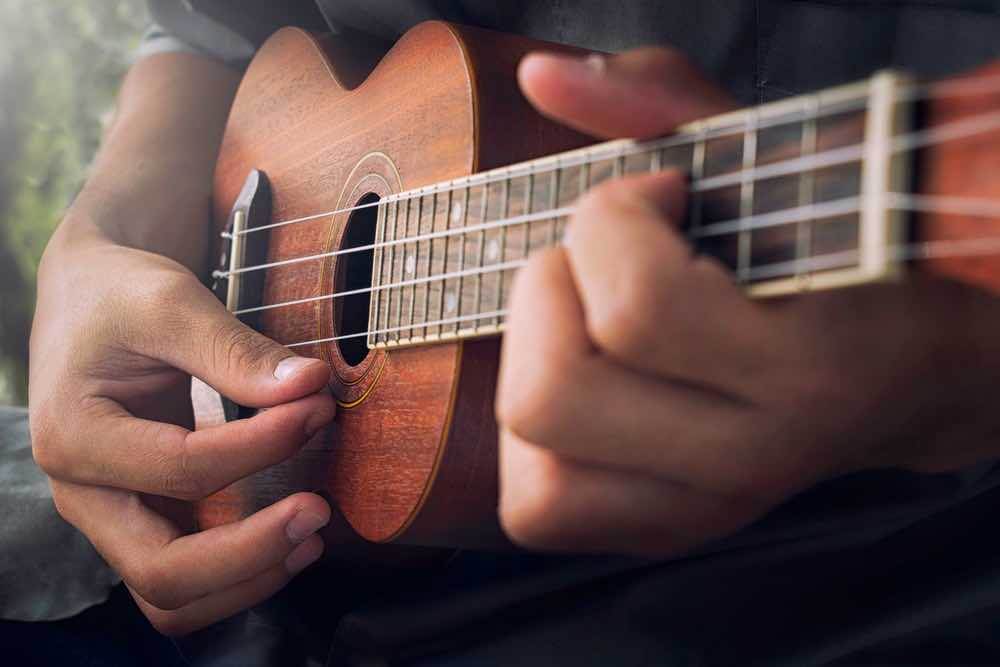 Personally, I held my breath in order to stop myself from telling her what to do and how to handle it (gently!) Wayne didn't worry (outwardly) when she twisted the tuning pegs. Instead, he named the parts of the instrument for her: the head, the neck, and the body.
I couldn't believe the way Wayne drew Molly into the story of the uke. While she explored the little wooden stringed instrument, Wayne engaged Molly's imagination with details of its journey on the ship across the ocean with the Spanish sailors (and fleas), and boy, was she hooked.
Months later as I wrote this article, I asked Molly what her favorite part of the ukulele lesson was. Without hesitation, she said: the explorers and the jumping fleas. Evidence that stories help kids learn and retain important details!
Why We Chose This Maui Ukulele Lesson for Kids
Thank you, Google, for guiding my search for ukulele lessons in Kihei. That's how I found a couple of music teachers to choose from. I skimmed the reviews and felt pretty good about calling two of the listings near us.
I swear I heard sunshine when Wayne's voicemail picked up my call. The best way I can describe the sound of his voice is absolutely sunny!
The other listing never returned my voicemail message, but that might have simply been because it was a traditional music school versus what we were looking for, which was a one-off private music lesson. Whatever the reason, it worked out in our favor.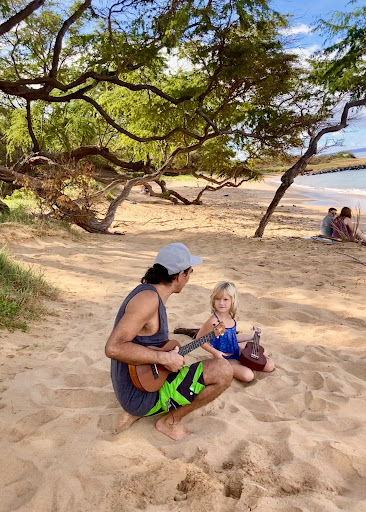 The fact that our ukulele lesson with Wayne would be taught outside was a major selling point for me. Looking back, we got really lucky; our lesson with palm trees and the ocean seems so integral to the learning now, I can't imagine a more enjoyable, connected learning environment.
Wayne comfortably followed my 5-year-old's exploratory nature. He got down on her level. Wayne joyfully answered her questions. He radiated patience. Seeing his patience helped my patience!
Can we all try to model this for each other more often in adult-child interactions? It is clear that Wayne has guided a lot of people, including young ones.
With Wayne, Molly played to the rhythm of the waves, co-wrote song lyrics, and sat transfixed by his stories.
My personal favorite was about some crabs who gathered at his feet to listen to him strum on the beach one day at sunset. (Okay, I might have imagined that last detail. But really… Disney could buy the rights to a short film about it!)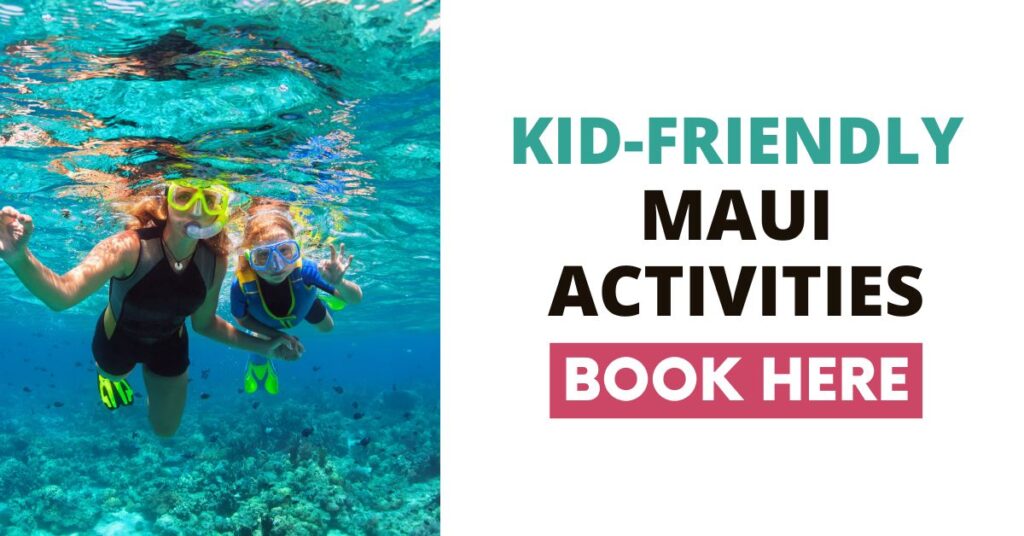 What to Know Before Your First Ukulele Lesson
When someone refers to "island time," I used to think it meant being late, and here's why I think I was wrong. Wayne was quick to return my phone calls, and promptly arrived at our meeting spot on the morning of our lesson, yet he was unhurried. We really liked his calm energy.
Nothing ever felt rushed and that helped us enjoy being in the moment with him. I think that is the real meaning of living on island time.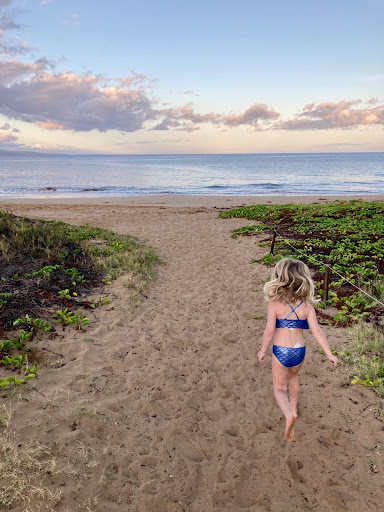 On the day of the lesson, Wayne met my kids (baby included) and me on a mutually agreed upon beach. We found a shaded patch and settled in.
That's not always easy leading up to nap time with a squirmy tot. We powered through as chill as we could. Throw in a blanket, a towel, or a mat to sit on for the lesson, and you'll be all set, too!
Wayne brought two ukuleles: his own and one for Molly to play. The lesson lasted a full hour. He showed Molly the parts of the ukulele, explained the science of sound, and guided her through the process of songwriting.
By the end of the lesson, they had written, rehearsed, and performed a song together.
Bring your phone or camera charged and ready to record! If you're like us, you might also be glad you thought to bring a sunscreen stick, water bottle, and a post-lesson snack to share afterward. You're on island time!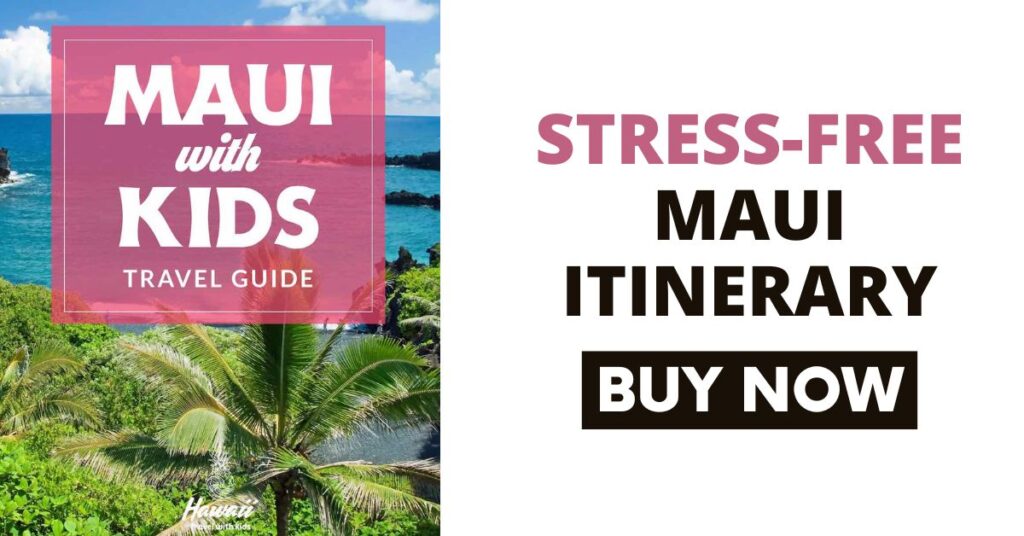 The Highlights of this Maui Ukulele Lesson and What You Should Look Out For
I've never had so much fun learning about an instrument and its origins in a music class as we had with Wayne. It was an experience we will always remember! Wayne has lived on the island since his kids were young, and I love supporting local small businesses.
Maui Ukulele Beginner Lesson Tips for Families
It's Maui and we had just climbed out of the pool and onto the beach. Since beach casual is our family's uniform on vacation, Molly learned to play the uke in her swimsuit. My one-year-old rocked a diaper. 🙂 Feel free to be sweaty but don't sweat the small stuff.
Show up as you are. Enjoy your kids and yourselves and Wayne's awesome stories. Be comfortable. Have fun.
Just remember your wallet or phone so you can Venmo him!
How Much Does it Cost and Where is it Located?
We paid $60 for our 1-hour lesson in Kihei, on the leeward/southwest shore of Maui.
So, is a Maui Ukulele Lesson Worth It?
Considering Wayne's musical expertise, teaching style, and alignment with our family's values, we will definitely call him for more lessons the next time we are on Maui.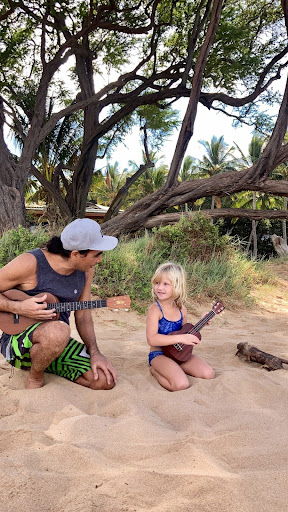 I highly recommend Wayne Perry to anyone interested in a holistic approach to learning to play the ukulele.
Now, at home many months later, my bare feet are freezing and the winter skies are overcast. My memories from the beach that day are a warm, fuzzy daydream, though!
My curious kid learned something sweet that helps her live life a little better than before. To me, that's the value of a vacation well spent!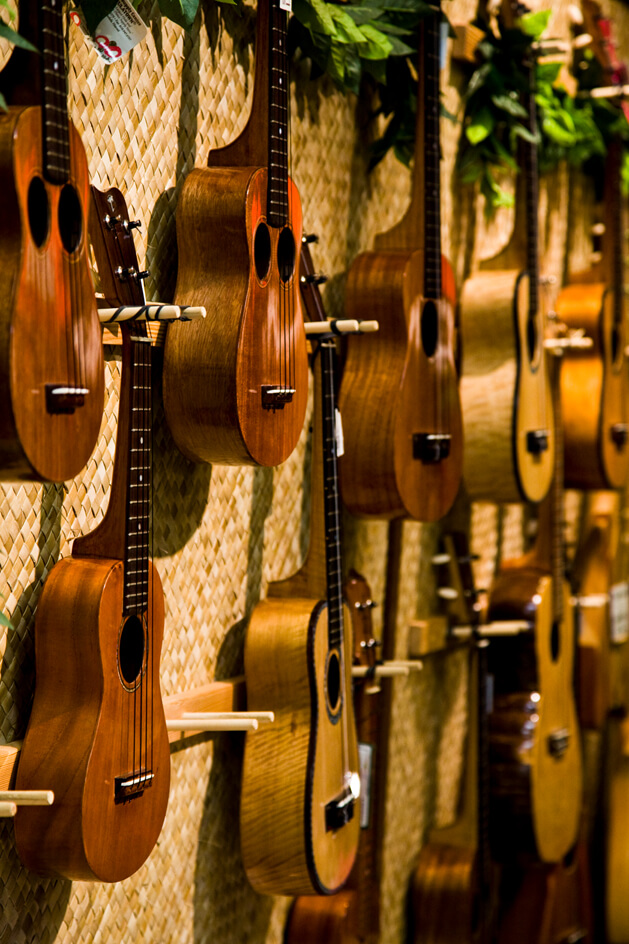 What is the Best Ukulele for Beginners?
If after this lesson, you think your child might want to pursue learning the ukulele at home, you'll probably want to buy a beginner ukulele.
While there are lots of ukuleles for kids, a few popular brands include Kala, Mahalo, and Lanikai.
Maui Ukulele Stores
You can also shop local and check out a Maui ukulele shop. This is a great opportunity to chat and have someone help you find the perfect kids' ukulele.
Mele Ukulele has shops in Wailuku and Wailea and it's where Maui musicians go to pick up ukulele stuff. And they even offer free ukulele lessons!
Lahaina Music is another option that's near a lot of Lahaina hotels and resorts. They offer online ukulele lessons and you can even rent a ukulele during your trip.
About Jenny
Jenny is a mama, educator, illustrator, and creator of At Home in Water, the innovative approach to helping parents develop your children into safer, more confident swimmers (especially while on vacation!) She has taught water safety and swim lessons in the Greater Seattle area since 2001. You can follow Jenny on Instagram @Pool.Mom and visit www.pool-mom.com for more info.