Are you thinking about planning a trip to Kauai in May? Find out some of the best things to do in Kauai in May that are worth adding to your itinerary!
This list of things to do in Kauai in May contains affiliate links which means if you purchase something from one of my affiliate links, I may earn a small commission that goes back into maintaining this blog.
Traveling to Kauai in May is a phenomenal way to have a fun vacation. May is a great time to vacation on this stunning Hawaiian island.
With lots of spectacular activities to enjoy and fun things to do, you are sure to be entertained.
Visiting Kauai in May is a memory you will cherish forever. Take part in May's phenomenal activities and events happening in Kauai during the Island's gorgeous spring weather.
From the great temperatures in Kauai, to the impressive sights, its a great idea to schedule your getaway as soon as you can.
Whether you are planning a trip to Kauai to celebrate lei day, Mother's Day, or anything in between, there are several choices of celebrations, events, and more.
Don't have time to read a bunch of Hawaii blog posts and reviews? Here are some of our top picks for visiting Kauai.
Popular Kauai Tours/Activities
Favorite Kauai Resorts/Hotels
Grand Hyatt Kauai (this Poipu resort has a luxurious pool area, romantic restaurants, and a stunning ocean view)
Koloa Landing Resort (this is a luxury resort with an amazing pool area and truly spacious rooms)
Royal Sonesta Kauai (we LOVE the pool here because it's the largest one in Hawaii)
Want to Rent a Car in Hawaii?
One of the best places to rent a car in Hawaii is Discount Hawaii Car Rental because they get the best rates from top national companies like Alamo, Dollar, Thrifty, Avis, Enterprise, Budget, and Payless.
Want to skip all the planning and just access my detailed Kauai Itinerary complete with daily schedules, kid-friendly activities, and travel hacks? Click the button below.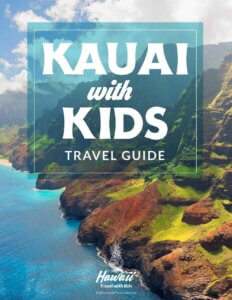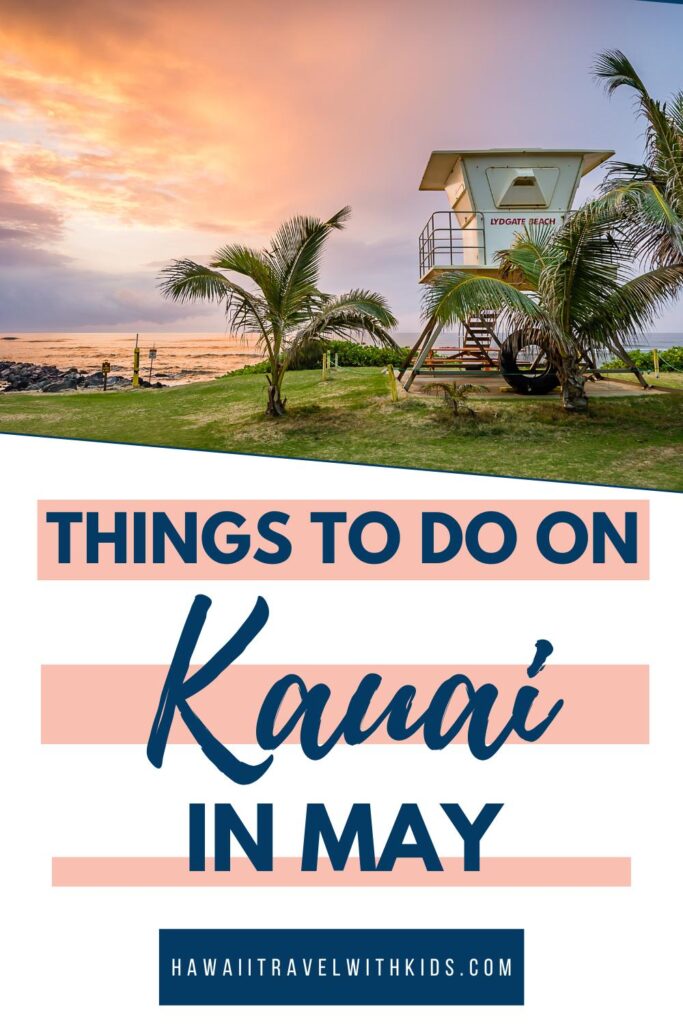 Weather in Kauai in May
The Kauai Weather in May is phenomenal. As Spring starts in Kauai, the temperature begins to rise, the sun is out for a longer duration and the rainy months have somewhat come to an end.
Kauai Temperature in May
Traveling to Kauai in May is a spectacular way to enjoy some beautiful weather. Especially considering the amazing temperatures and the increasing amount of sun.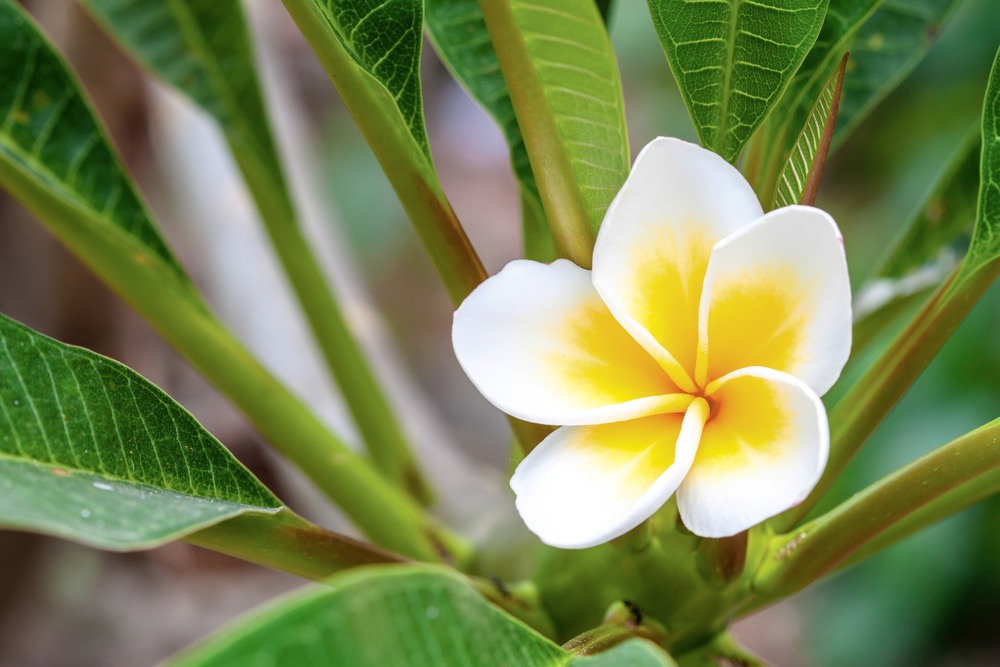 The average temperature in May in Kauai provides visitors with many chances to savor the weather and get to experience some of the great views that Kauai offers.
On Kauai in May, the temperature throughout the day is an average of 82 degrees Fahrenheit. During the evening the lows are around 71 degrees Fahrenheit.
Kauai Weather in May
The weather in Kauai in May is usually extremely nice. There is plenty of sunshine throughout the daytime hours, making it a phenomenal time to enjoy the gorgeous Kauai beaches.
Book a Family Photo Shoot
Whenever we travel to Hawaii, we almost always book a family photo shoot with Flytographer. They are super easy, affordable, AND it guarantees that I'll be in some photos. You can get $25 off if you book through this link or use the code HAWAIITRAVEL.
Things to do on Kauai in May
If it's exciting Kauai events in May that you are looking for, you are sure to be pleased. May is a month in Hawaii when there is so much to be celebrated.
From May Day on Kauai to fabulous ways to honor Mother's Day on the island, you are sure to find some great ideas and ways to celebrate.
Lei Day on Kauai
May Day is Lei Day in Hawaii and the festivities are always spectacular. Celebrations occur in Kauai on May first every single year and are sure to impress.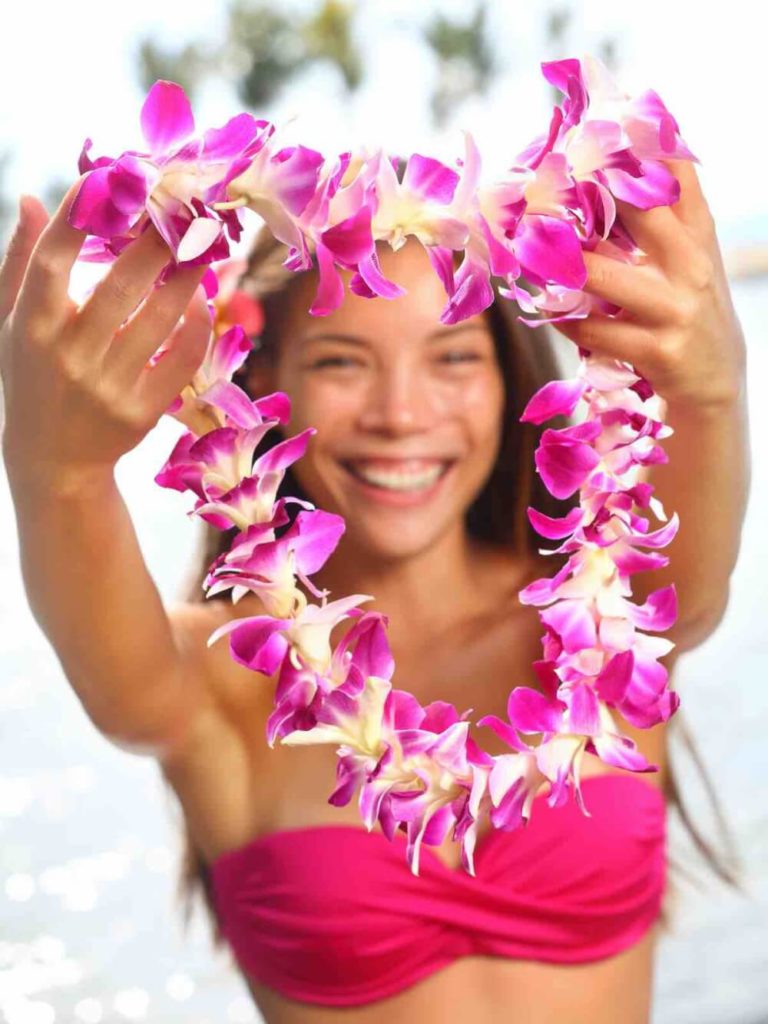 Lei day acknowledges the critical role of leis in Hawaii's Culture. Each island in the state of Hawaii has a signature lei style.
Kauai's lei is Mokihana. It is a green berry. This berry is only grown on Mount Waialeale. It is woven into Maile leaf as tradition and strung like beads. The fragrance they emit is somewhat similar to that of fennel.
Take part in Lei Day in Kauai and have a unique experience.
Visit Hawaiian Lei Day Traditions and Activities for more information.
Mother's Day on Kauai
Spending Mother's Day on Kauai is a great way to honor your mom. There are several fantastic ways to celebrate Mother's Day on this beautiful island.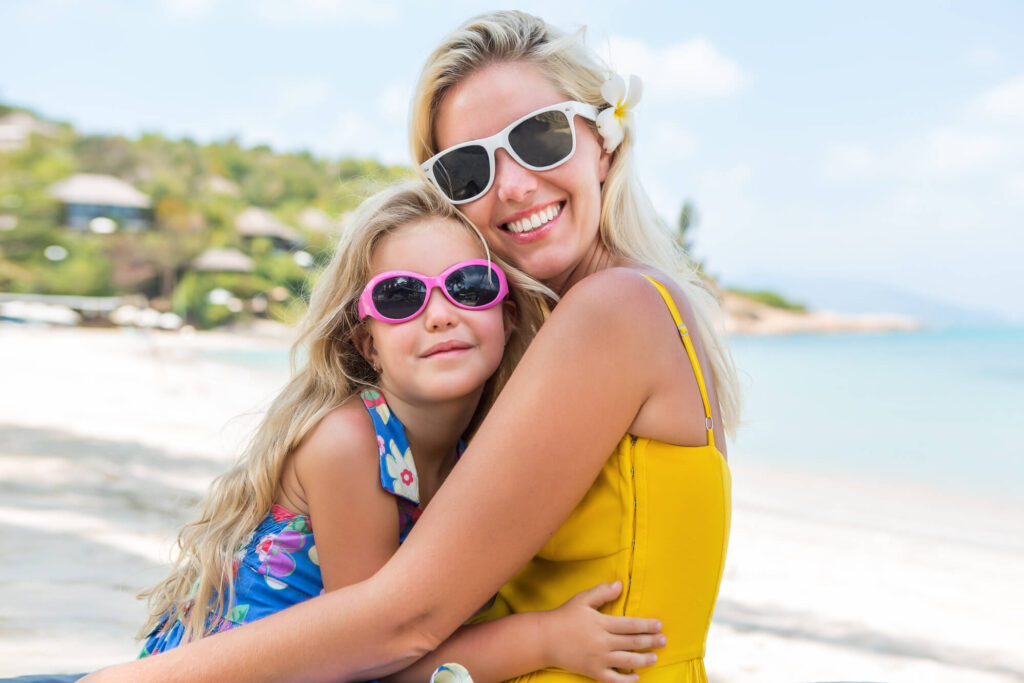 Whether you participate in a delicious meal, take her to the beach or spend a day doing something else your mother loves, she is sure to feel special.
Check out How to Spend Mother's Day in Hawaii for more great ideas.
Enjoy a Delicious Meal
Many of the restaurants and resorts on the island provide a delicious brunch, lunch or dinner menu to celebrate Mother's Day. Most will curate a specialty menu with different courses, and several bells and whistles.
Make sure to check the local listings to find out what restaurants are offering these amazing meals and packages.
View a Gorgeous Sunrise or Sunset
There are several spectacular locations across the island where you can view the sunrise or sunset.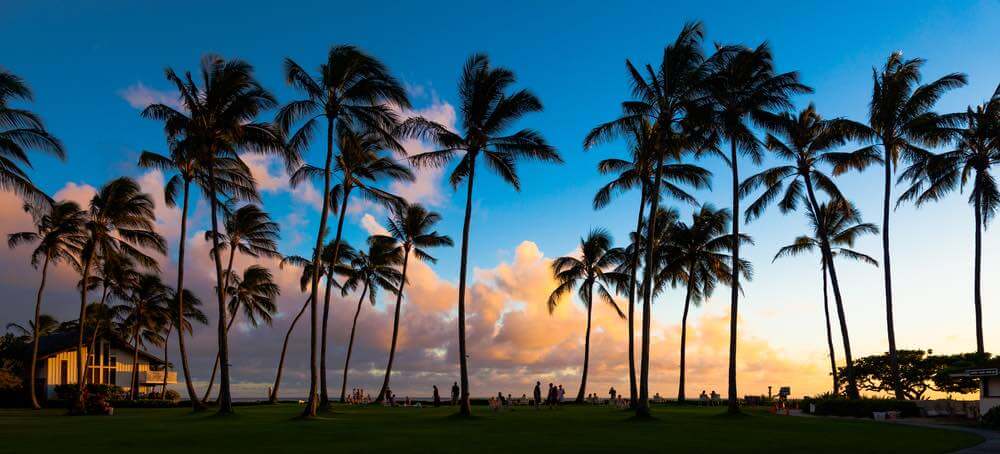 Pack a blanket and some delicious snacks and set up shop on one of Kauai's beautiful beaches to take in one of nature's most spectacular shows.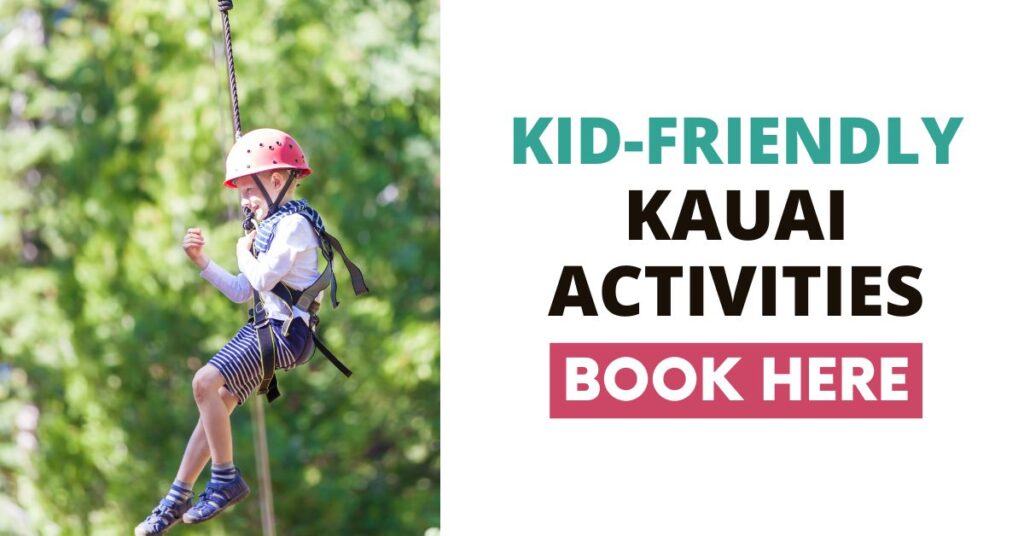 Top 10 Attractions on Kauai in May
There are several great Kauai attractions in May. No matter what you choose to participate in, they are all spectacular.
There are so many things to do on Kauai with kids, family, and friends that you are sure to find something that everyone will enjoy.
1. Kauai Mountain Tubing
If you want to go tubing through a jungle, you are in the right place. Check out Kauai Back Country Adventures. They offer a one-of-a-kind experience where you can tube through the Lihue Plantation.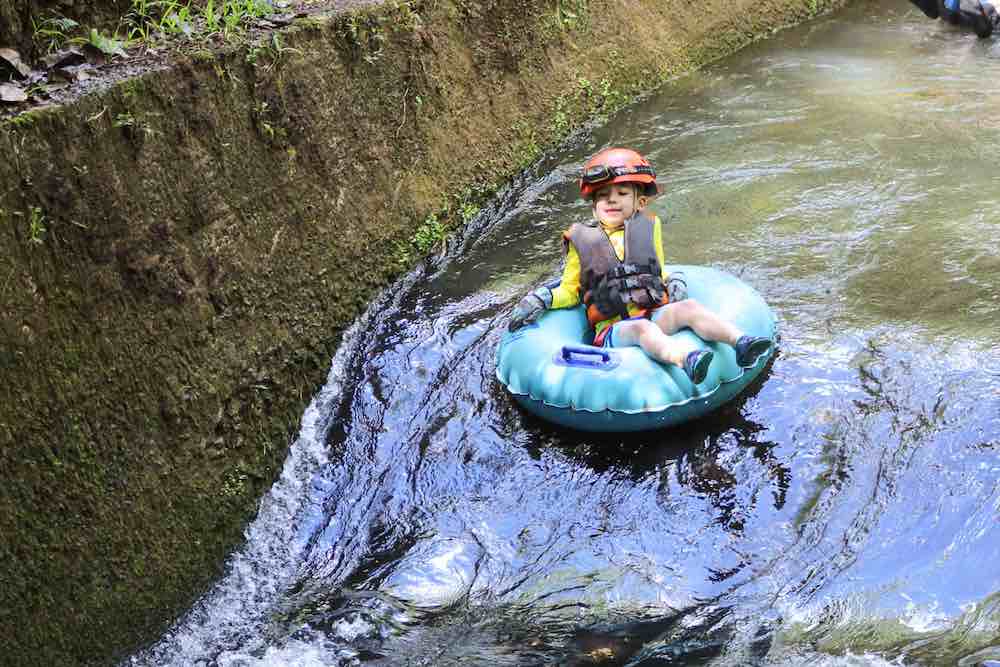 The tubes and tunnels are handmade and were dug back in the 1800s. They are a great way to explore the inner part of the island.
On your journey, guides will give you information and historical facts about the island. This tour can last about three hours and caps off with a delicious picnic at the swimming hole. Check the latest rates and availability.
2. Stand Up Paddle Boarding
Stand-up paddle boarding is an ancient Hawaiian sport. Not only is this a great core exercise, but it is also somewhat easy to learn.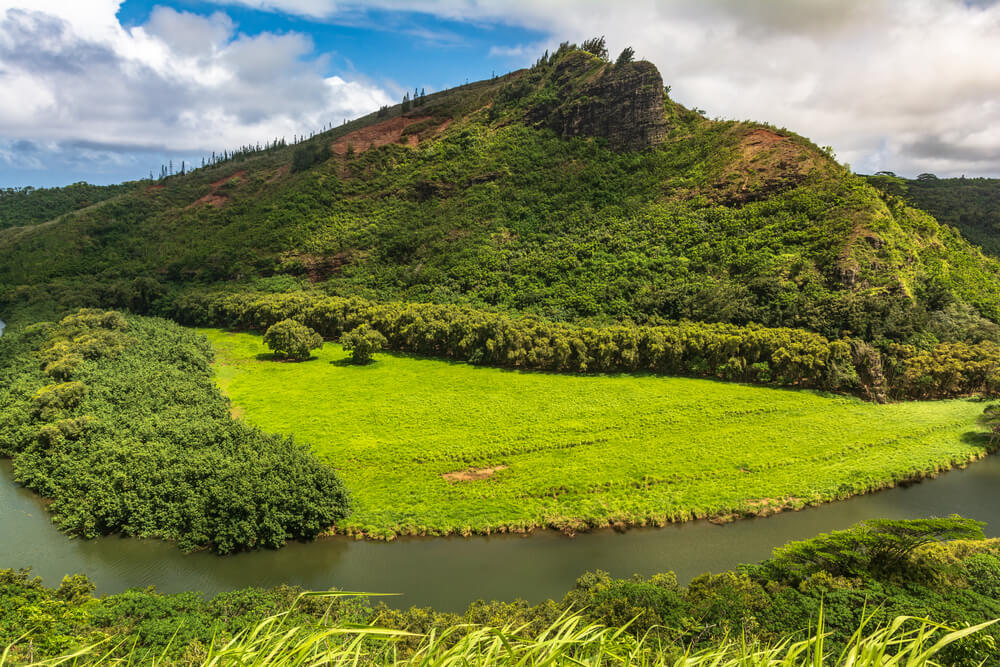 There are plenty of opportunities to go stand-up paddle boarding on the island. One of the most popular spots is the Wailua River. This is because it is calm and somewhat easy to navigate.
The month of May is a great time to go stand-up paddle boarding as the waters are calmer than in the winter.
Whether you are just learning to stand up paddle board, or you have done it before, you are sure to enjoy your experience. Check the latest rates and availability.
3. Boat Trip
Take a boat trip along the Na Pali Coast. This is quite possibly one of the best activities in Kauai.
There are no roads that access the coastline so the best way to visit the shores is either by helicopter ride or boat.
If you book a sailing excursion, they often include a few snorkeling stops as well. The views from these sailing trips are fantastic.
Not only can you see the gorgeous shores, but you can often see Spinner Dolphins along the way. Check the latest rates and availability.
4. Anini Beach
If you like water sports and other exciting water activities, Anini Beach is a great place to visit. The waters at this beach are well protected by the long reef located offshore and offer so many chances to explore.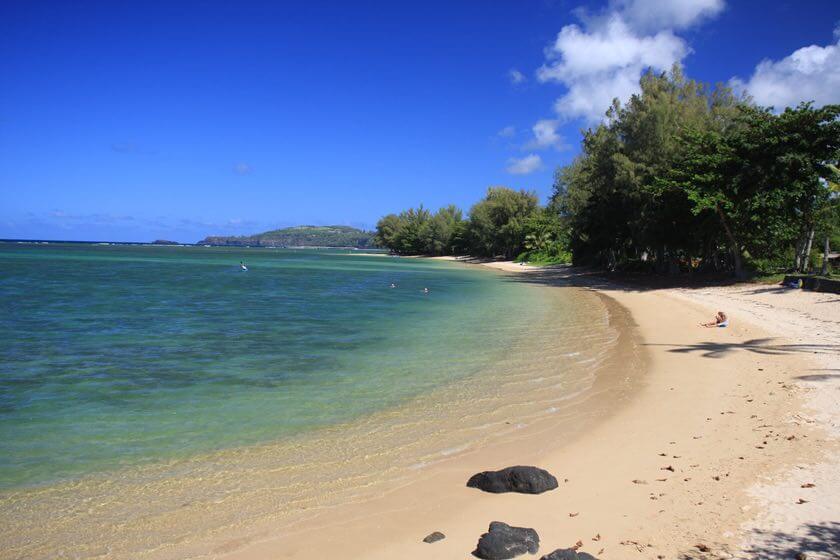 Go paddleboarding, snorkeling, windsurfing, and more. Many people also go fishing off the shore.
If you want to camp, this is a great spot for that. If you simply want to swim, you can do that too. The waters are generally calmer as they are protected so you can avoid the huge swells.
5. Kayaking
Kayaking is a fantastic activity in Kauai. There are many different places that offer kayaking tours and more. In fact, Kauai has the only navigable rivers in all of Hawaii.
One of the best places to go kayaking is along the Wailua River. If you book a kayaking tour here, you can expect to hike through the gorgeous greenery where you will end up at Uluwehi Falls, also known as Secret Falls.
The 120-foot falls are a great place to take a dip at the base of the waterfall in a gorgeous freshwater pool. Check the latest rates and availability.
6. Fern Grotto
Take a boat cruise up the Wailua River to the Fern Grotto. This gorgeous place is a natural lava rock grotto with beautiful tropical foliage and ferns that descend from the top of the cave.
Once upon a time, only royalty was permitted access to the grotto. Thankfully, that is no longer the case.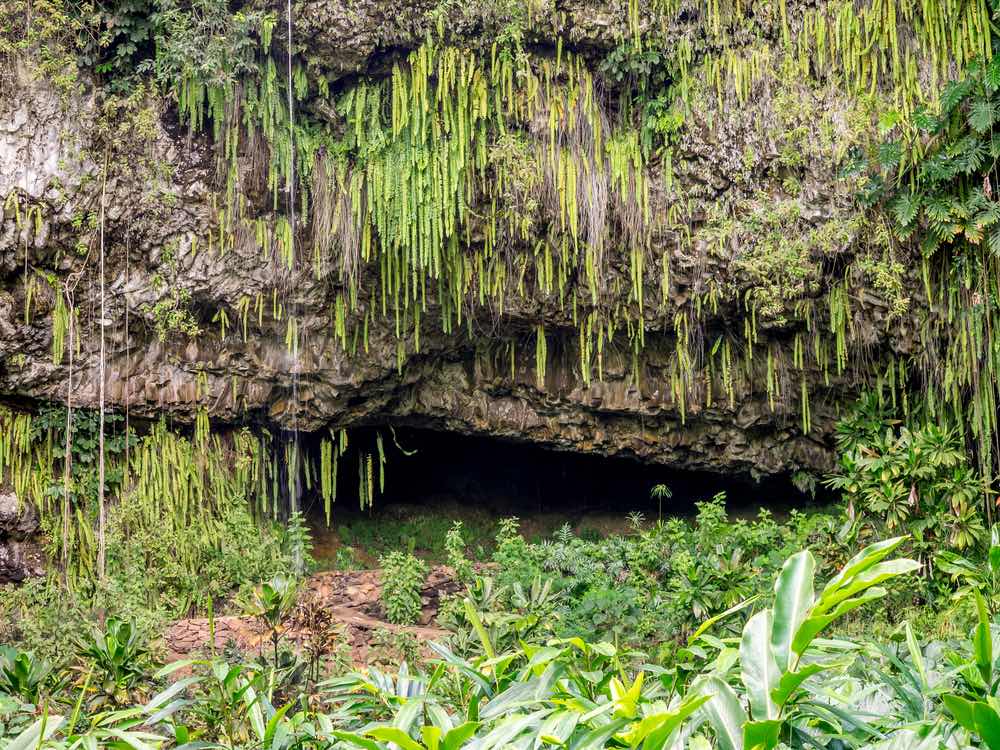 A local Hawaiian family named the Smiths takes care of this land. They have been offering Fern Grotto River Cruises for approximately four generations.
These river cruises include live music and last approximately half an hour. Once you have arrived, you will walk along a boardwalk and cement path to the viewing platform over the grotto.
While you aren't allowed to go down into the cavern itself, you can get a great look from the platform. Check the latest rates and availability.
7. Hanapepe Swinging Bridge
This is a fun and exciting place to visit with the entire family. The Hanapepe Swinging Bridge was constructed to be used as a bridge for Kauai inhabitants in the 1900s. It was a great way to get across the river.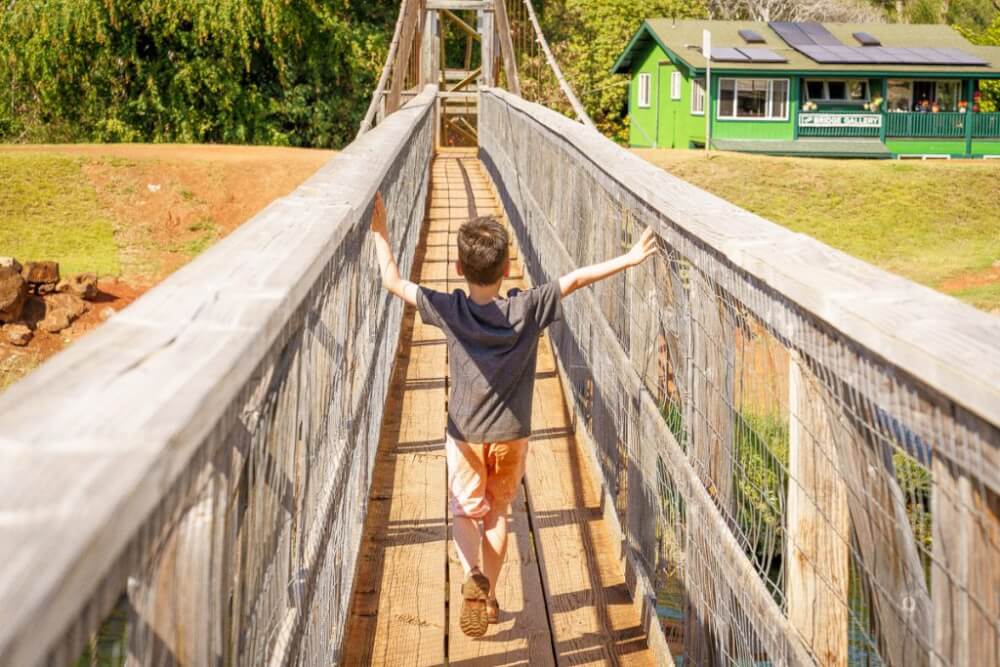 As it stands now, this amazing swing bridge has become a tourist attraction. If your kids want a thrill, this is the place to go.
Suspended high over the gorgeous river, the bridge sways and rocks as you pass over it. This is a thrilling experience for people craving a little adventure coupled with gorgeous views.
8. Na 'Aina Kai Botanical Gardens
Made up of 13 gardens, a canyon, a meadow, a hardwood plantation, and beaches, this botanical garden is a must-visit.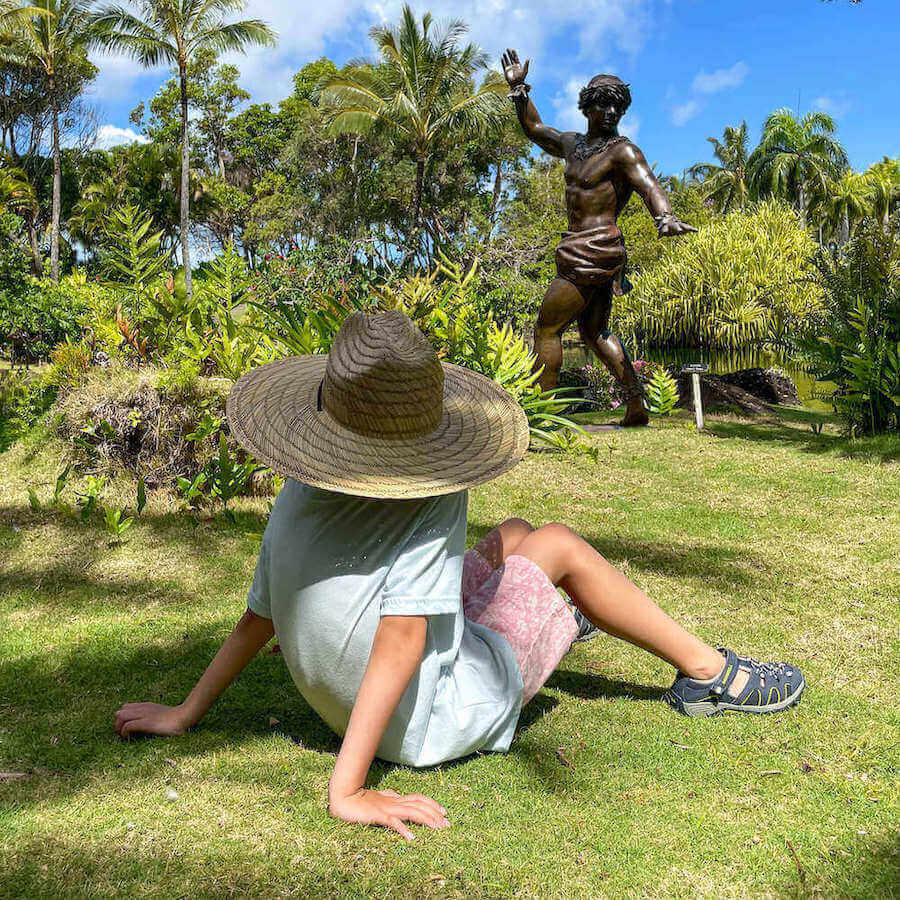 At the gardens you can also tour through a wild forest garden, a desert garden, and the Under the Rainbow Children's Garden.
While checking out these gorgeous grounds, try to find the bronze sculptures peppered through the park. There are 120 of them together.
9. The Sleeping Giant
There are three Sleeping Giant trails located on Nounou Mountain in Kauai. These trails will take you through a beautiful forest before presenting gorgeous views as you ascend.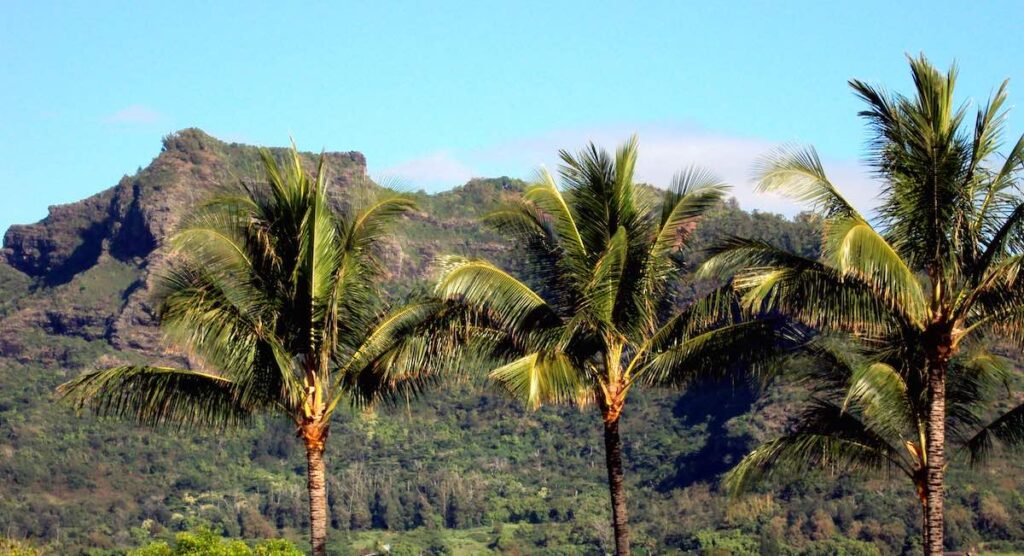 You will get to see Mt. Waialeale, Kapaa, the Wailua River, and the Makahela Mountains.
These trails are a great place to get some dramatic views and learn more about Hawaiian Culture. The profile of Nounou Mountain looks like a sleeping giant, which is where the trails have received their name.
There are many legends that revolve around the Sleeping Giant. One is that he enjoyed a large meal in his honor, laid down to rest, and has yet to awaken.
Taking a hike here is a must-try for those who want to get active and get outdoors.
10. Ziplining
If you are looking for some fun and adventurous things to do on Kauai, ziplining is a great choice. When you go ziplining, you will get some gorgeous views of Kauai coupled with an adrenaline rush.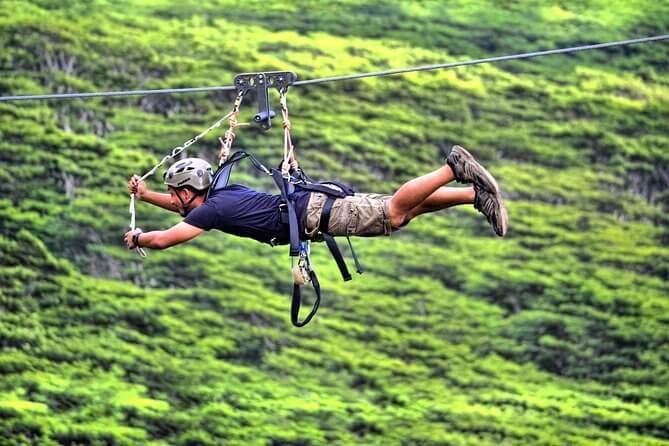 There are several options for ziplining in Kauai. One of the zipline experiences is offered by Koloa Zipline. They have some of the longest ziplines on the whole island.
Here you can zipline however you want. Whether you hold on and sit, or decide to go upside down, the sky is the limit. Check the latest rates and availability.
No matter what option you choose, you are sure to enjoy a ziplining experience in Kauai.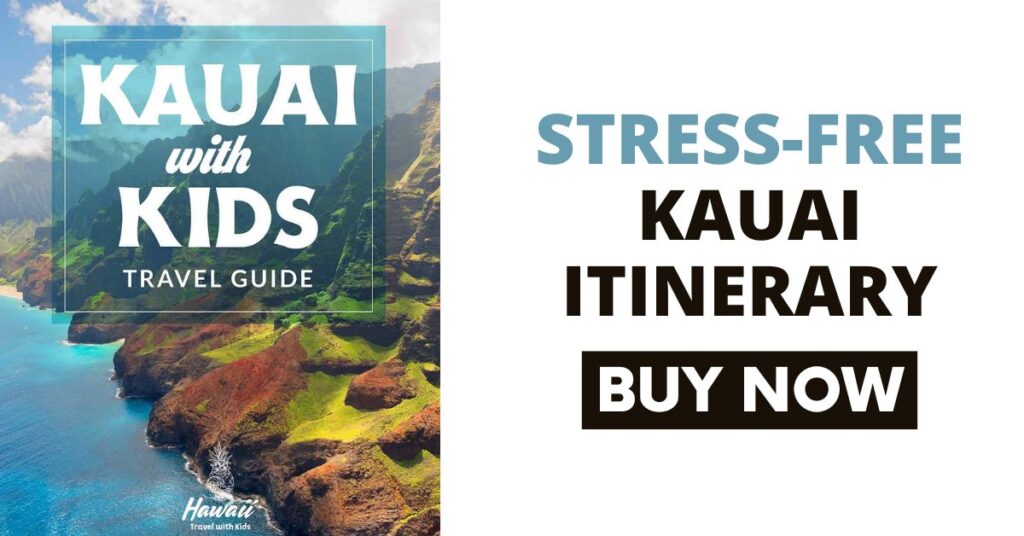 Kauai Hawaii in May Wrap Up
From the weather in Kauai Hawaii in May to all the fun activities, a visit to Kauai in May is a great option. Whether you decide to enjoy Mother's Day in Hawaii or celebrate Lei Day on Kauai, there are so many things to discover.
Plan your Kauai vacation as soon as possible. You aren't going to want to miss out on all the gorgeous sights, beautiful nature, and amazing Hawaiian culture.
Looking for more Kauai travel content? Check out surprising facts about Kauai, how to get around Kauai, and how many days on Kauai you really need!