Are you planning a trip to Hawaii and want to know how to visit a Hawaii pineapple farm? Find out the best pineapple farm tours in Hawaii worth adding to your Hawaii itinerary!
This post about how to visit a Hawaii pineapple farm was written by Hawaii travel expert Marcie Cheung and contains affiliate links which means if you purchase something from one of my affiliate links, I may earn a small commission that goes back into maintaining this blog.
Are you looking for a fun activity to do with your family on vacation?
Visiting a pineapple farm is the perfect way to spend an afternoon. You can learn about how pineapples are grown and have fun at the same time!
Plus, there are usually other activities that you can participate in as well. Here's everything you need to know about visiting a Hawaii pineapple farm!
Pineapple farming can be both educational and entertaining for all ages. Kids love seeing where their favorite fruit comes from and adults enjoy learning more about it too.
It's also great for families who want something different than just laying by the pool or hitting up the beach every day of their vacation.
There are many options available so no matter what kind of family you have, there will be something here for everyone!
Keep scrolling to see my ultimate guide to visiting a Hawaii pineapple farm!
Want to skip all the planning and just access my detailed Hawaii Itineraries complete with daily schedules, kid-friendly activities, and travel hacks? Click the button below.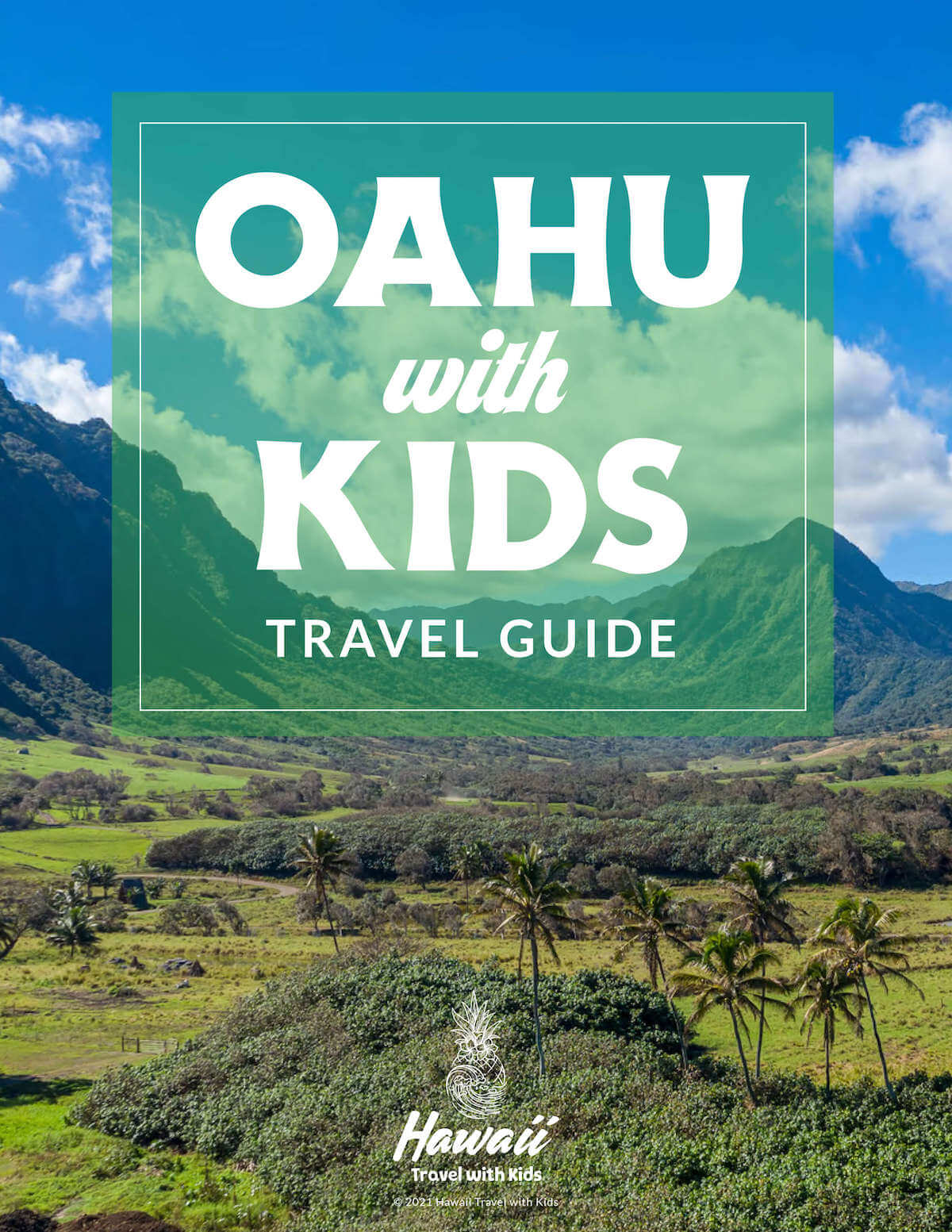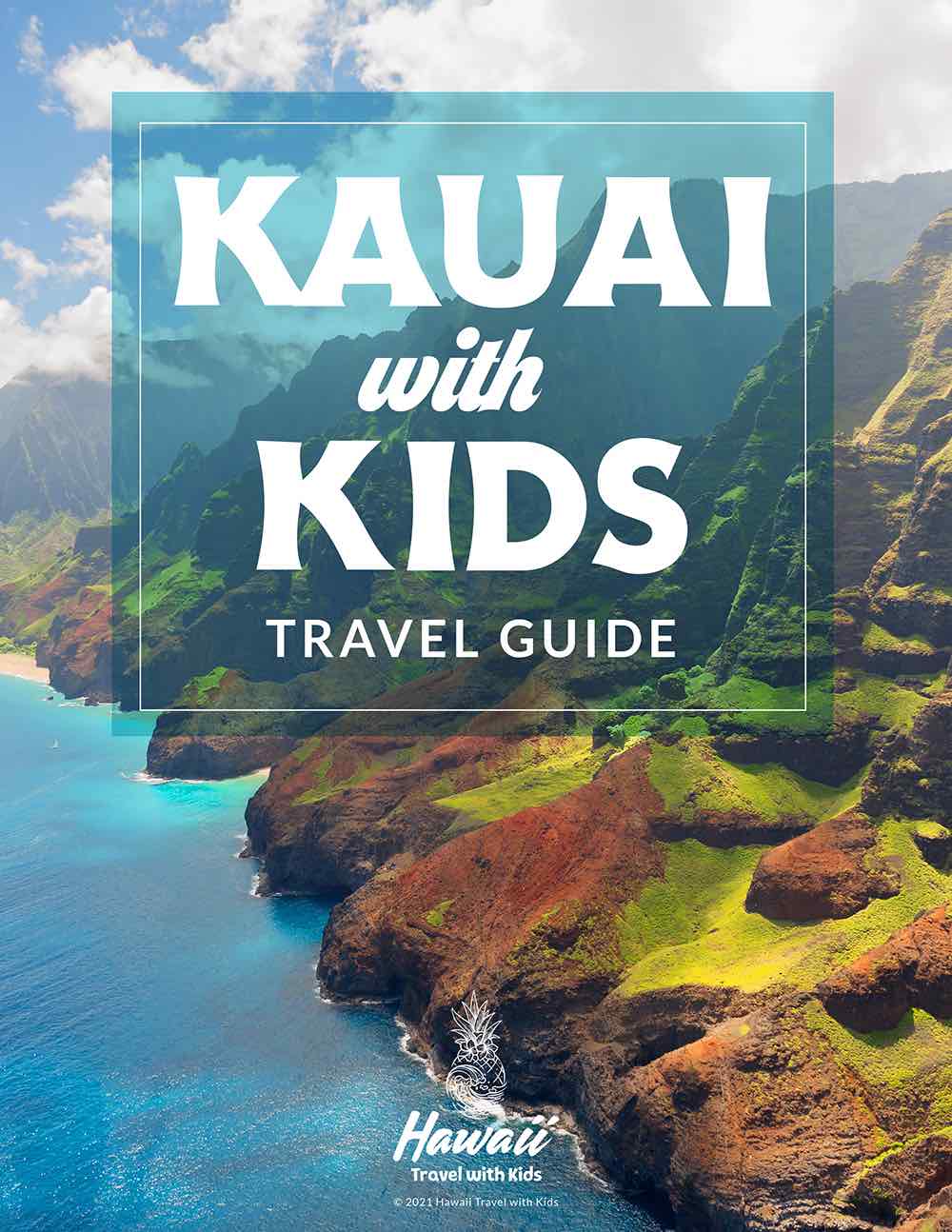 Hawaii Pineapple Farms FAQs
Can you go pineapple picking in Hawaii?
It is illegal to go pineapple picking in Hawaii. The pineapples take time to grow and need to be picked at the right time; it is best to visit a farm. Some farms will let you see the harvest process!
Are there still pineapple plantations in Hawaii? 
Yes, there are still pineapple plantations in Hawaii! Many of them allow you to tour the plantation to see how pineapples are grown.
Do you need a reservation for Dole Plantation?
You do not need reservations for the Dole Plantation. Simply come and get your tickets the day you want to visit.
How long is the Maui pineapple tour? 
The Maui pineapple tour is around an hour and a half long.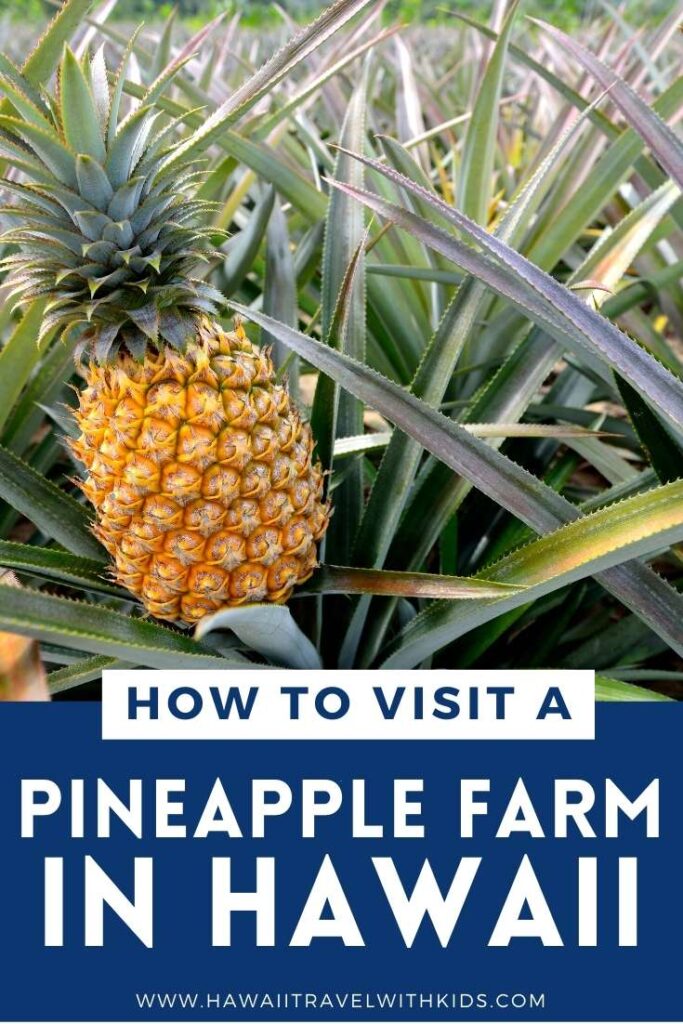 How to Visit a Pineapple Farm in Hawaii
Pineapple farms are not hard to visit at all. Each has its own requirements and age groups for the tours.
The Dole Plantation does not offer tickets in advance. Some tours stop here during a circle island tour, for instance, but most often, you simply order your ticket at the stand when you arrive.
There are tours all throughout the day, so you should be able to get enough tickets for your entire family.
The Maui Gold Pineapple Tour is available to preorder, so you can plan your trip ahead of time and reserve those tickets! This way, you can better plan your Maui itinerary. Be sure to reserve your tickets early enough, because this is something you don't want to miss out on!
You also have to reserve your spot on the Kauai Sugarloaf Pineapple Farm. This is done by emailing them how many are in your party to confirm there are open spots on the tour. You will then pay when you arrive. Currently, there is no other way to reserve tickets for this farm.
Choose which tour you want to visit depending on which island you are staying on. If you can reserve tickets in advance, be sure to do so. If not, plan the rest of your trip and then fill it in where you don't already have another tour.
Best Pineapple Farm Tours
Here are some of the best pineapple farm tours you will enjoy visiting during your vacation in Hawaii!
Dole Plantation
The Dole Plantation is the best pineapple farm tour you'll find on Oahu. At the Dole pineapple factory, you will find many fun activities for both kids and adults. There are a few free attractions, while others require a ticket.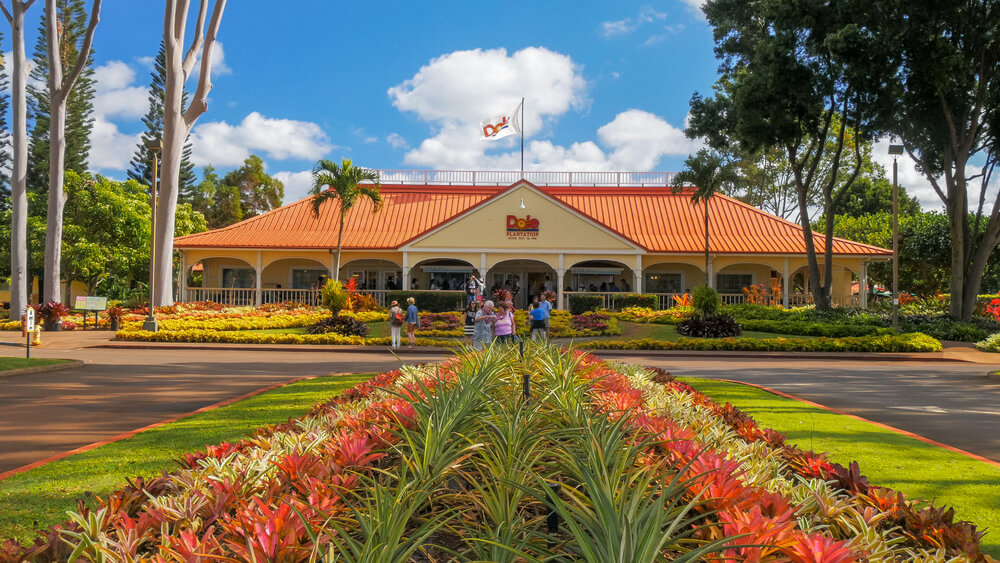 To visit the Dole pineapple farm, you will need to go on the Dole Plantation Tour. There are two tours here: the tour of the pineapple farm on a train and the garden tour.
Pineapple Farm Train Tour
If you are short on time, try the train tour. This is a 20-minute long ride where a narrator will teach you all about pineapples and the farm with fun facts and history all along the way.
This is the best pineapple tour for kids because it is short, and your children will love riding on these cute little trains!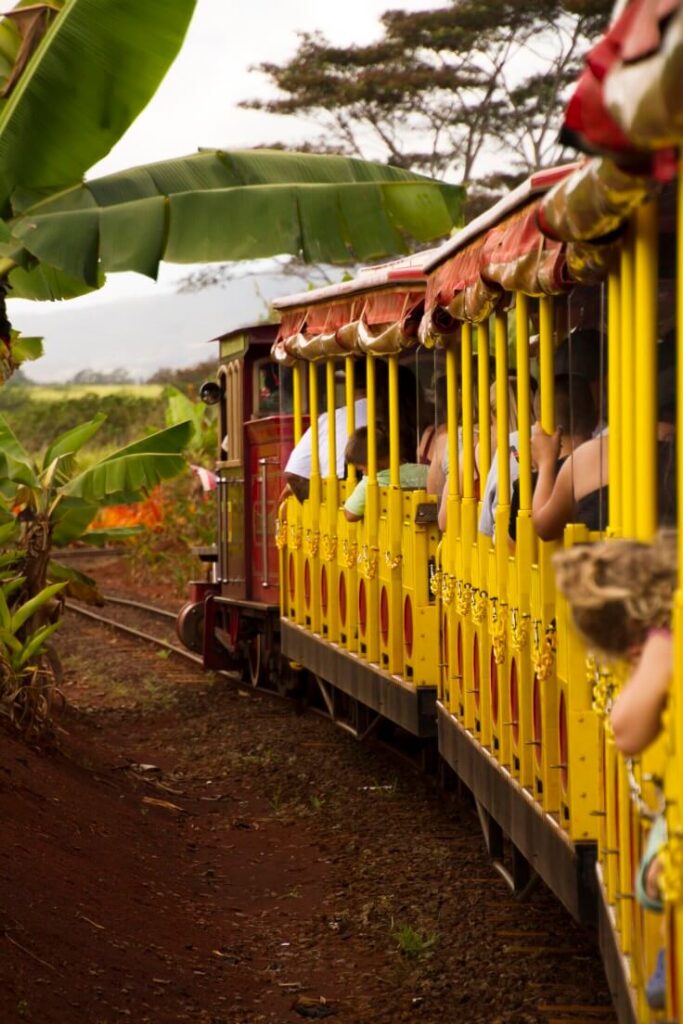 The train tour costs $12 for adults and $10 for children between 4-12 years old. Children under four are free! This tour takes you up close to see where the pineapples are grown! But, you don't get out of the train for any part of the tour.
Garden Tour
During the garden tour at the Dole Plantation, you get to see all eight of the farms here! These farms include North Shore, Hibiscus, Native Species, Lei, Irrigation, Bromeliads, Ti Leaf, and Life on the Plantation.
Even though the Dole Plantation is famous for its pineapples, you will see everything they have to offer. This Dole pineapple plantation tour is roughly an hour long. Adult tickets are $7.25, while children who are 4-12 years old are $6. Again, children under four are free!
Is the Dole Plantation Worth It?
There are so many fun activities to do at the Dole Plantation, which makes it a great pineapple farm tour place. Finish your tour at the farm, and then go play at the maze!
Learn more about everything there is to do at the Dole Plantation HERE!
Maui Gold Pineapple Tour
One of the best Maui pineapple tours is the Maui Gold Pineapple Tour. This tour takes an hour and a half and is located in Haliʻimaile. This is the last pineapple plantation on Maui, so be sure to check it out during your trip!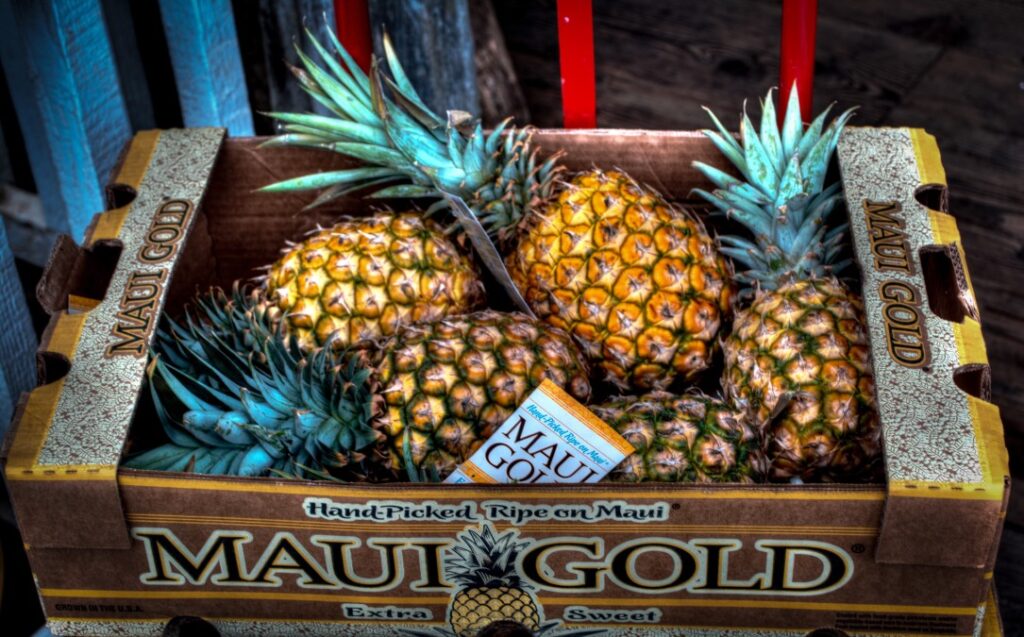 The Maui pineapple tour is advertised for children ages three and up. Unfortunately, if you are traveling with a baby, they cannot come on the tour. You will ride a tour bus with air conditioning through the Maui Gold pineapple fields.
With every tour, you will get a free pineapple! Eat it during your vacation, or take it on the airplane back home.
During the tour, guides will teach you about the farm's history, along with planting and harvesting the pineapples. The Maui Gold pineapple tour stops throughout so you can get out and explore the farm.
During some of the stops, you will be able to taste the different varieties of pineapples. Each pineapple variety is tasty and sweet in its own way. By the end of your Maui farm tour, you will feel like a pineapple expert!
Once you finish going through the plantation, you will also be able to go to the processing factory and see exactly how the pineapples are prepared for us to buy from the store! This is where you also receive your free pineapple.
The pineapple tour in Maui will cost $75 for adults and $55 for children 3-12 years old. Read my full Maui Gold Pineapple Tour Review.
Is the Maui Gold Plantation Tour Worth It?
The Maui Gold pineapple field tour is definitely worth it. It will teach you so many things with a fun, hands-on experience. Plus, who doesn't want a free pineapple?
Kauai Pineapple Plantation
There is also a pineapple plantation in Kauai that offers tours! The Kauai Sugarloaf Pineapple Farm is two hours long and costs $85 for adults, $45 for 4-12 years old, and free for children under four.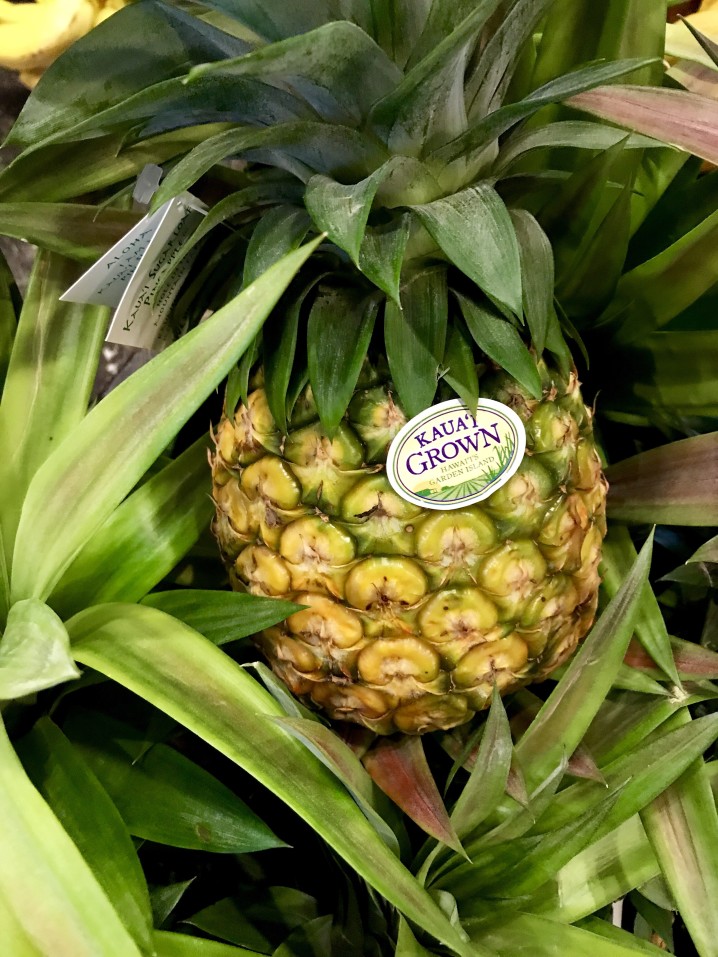 Reservations are required before going, so reserve yours with plenty of time in advance. This farm only offers tours on Thursdays at 10:00 am.
The Kauai pineapple farm is in Moloaa, close to the lighthouse. What is special about this farm is that your tour guides will be the owners of the farm, Jude and Paul Huber! You will also be walking through the farm as you take this tour, so bring your walking shoes.
During this pineapple farm tour, you will see 250,000 pineapple plants. From these, you should be able to see each stage of the pineapple growing, which is pretty awesome to see up close.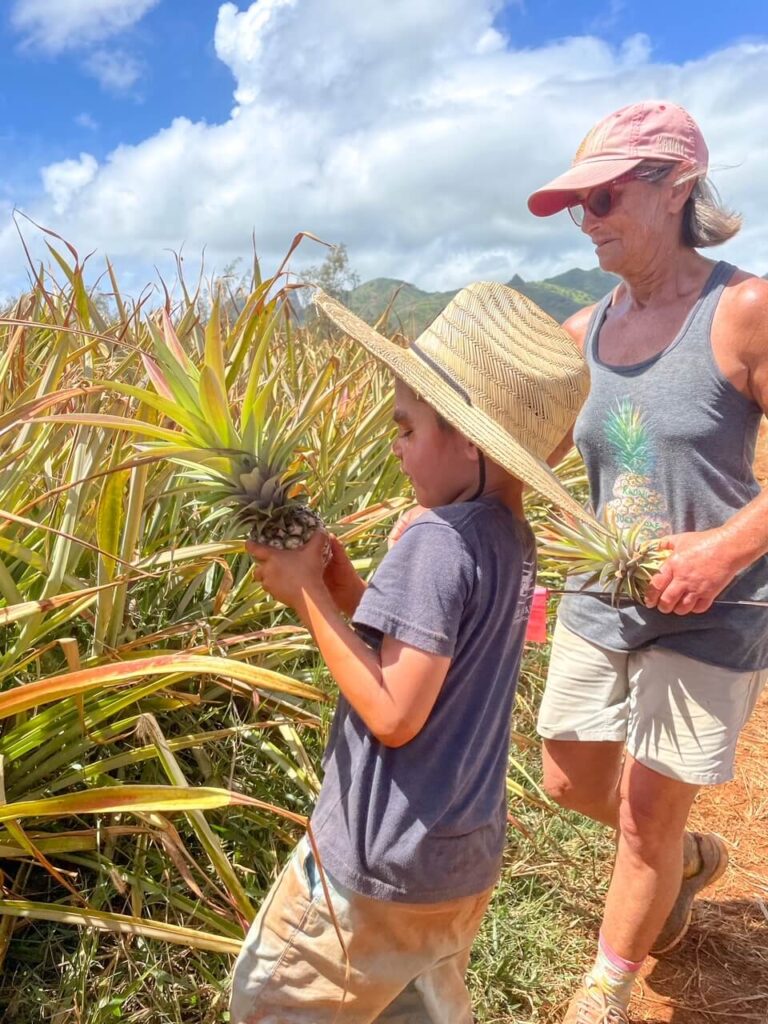 If the conditions are right, you can even harvest your own pineapple to keep! This is the only tour that actually does this.
Not only will you taste the pineapples during this trip and potentially harvest your own, but you also get to leave your mark and plant a pineapple right on the farm! At the end of your tour, you get to eat a delicious Paulie's Pineapple Phrostie, which is only made from pineapples!
Is the Kauai Pineapple Plantation Worth It?
This pineapple plantation tour is one of the best pineapple farms in Hawaii, so if you are vacationing on Kauai, be sure to visit this farm.
Not only will you experience the farm firsthand, but you can also harvest your own pineapple and plant one too! No other farm currently offers this.
Tips for Visiting Hawaii Pineapple Farms
Here are a few tips to remember when visiting a pineapple plantation in Hawaii!
Wear sunscreen, you will be outside, and you can get sunburned during your tours!
Bring a hat to wear while viewing the pineapple fields in Hawaii. This will help keep you cooler and prevent sunburn.
If you are doing the tour with younger kids, you may have to keep them entertained. Some parts of the tours are more educational, which can be hard on your toddler.
Bring snacks and water!
Try not to go on a weekend as the Hawaii pineapple farms are typically busier then.
Verify with the farm if you need to make reservations beforehand.
If you walk around the farm, it might be best to wear tennis shoes that you don't mind getting dirty.
Pineapple Plantation in Hawaii Wrap Up
Visiting a pineapple farm in Hawaii is on most people's bucket list while they vacation in Hawaii. Pineapple farms are rich with lots of culture and history, and these tours share that with fun activities to captivate you and increase your love of pineapples!
Check out any of these pineapple tours during your next trip to Hawaii.