Are you driving the Road to Hana in Maui and want to stop at a Maui botanical garden? Keep scrolling to find out whether or not the Kahanu Garden in Hana is worth visiting.
This review of the Kahanu Garden in Maui was written by Hawaii travel expert Marcie Cheung and contains affiliate links which means if you purchase something from one of my affiliate links, I may earn a small commission that goes back into maintaining this blog.
If you're looking for a nature-filled day trip while on vacation in Maui, the Kahanu Garden is a must-see!
This botanical garden is home to an impressive collection of plants from all over the Pacific region. It's definitely worth a visit if you're interested in learning more about the flora of Hawaii and Polynesia.
The garden is set on a beautiful piece of property overlooking Hana Bay. You'll love spending time wandering through the gardens and taking in the stunning views.
If you're looking for things to do in Hana Maui, the Kahanu Garden is definitely worth a visit. It's one of the most beautiful botanical gardens on Maui and it's home to some amazing plant life.
Keep scrolling for my full guide to visiting the Kahanu Garden in Hana Maui.
Don't have time to read a bunch of Hawaii blog posts and reviews? Here are some of our top picks for visiting Maui.
Popular Maui Tours/Activities
Favorite Maui Resorts/Hotels
Andaz Maui (this is a luxury resort with the best luau on Maui)
Honua Kai Resort & Spa (this is one of our personal favorites because there are tons of pools and there are condo options)
Want to Rent a Car in Hawaii?
One of the best places to rent a car in Hawaii is Discount Hawaii Car Rental because they get the best rates from top national companies like Alamo, Dollar, Thrifty, Avis, Enterprise, Budget, and Payless.
Want to skip all the planning and just access my detailed Maui Itinerary complete with daily schedules, kid-friendly activities, and travel hacks? Click the button below.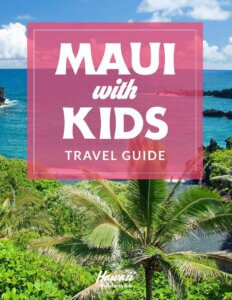 Maui Botanical Garden FAQs
Does Maui have a botanical garden?
Yes! In fact, there are several botanical gardens on Maui. The four most popular include the Kula Botanical Garden, Maui Nui Botanical Garden, the Garden of Eden Arboretum, and the Kahanu Garden in Hana.
How many botanical gardens in Hawaii?
There are tons and tons of stunning botanical gardens in Hawaii. In fact, there are too many to count. You'll find thousands of species of tropical plants that are indigenous to Hawaii as well as others that thrive in a tropical environment.
What do you do at a Maui botanical garden?
Each botanical garden on Maui offers a different set of plants, arts/cultural components, and amenities. That's why it's easy to visit more than one botanical garden on your Maui vacation.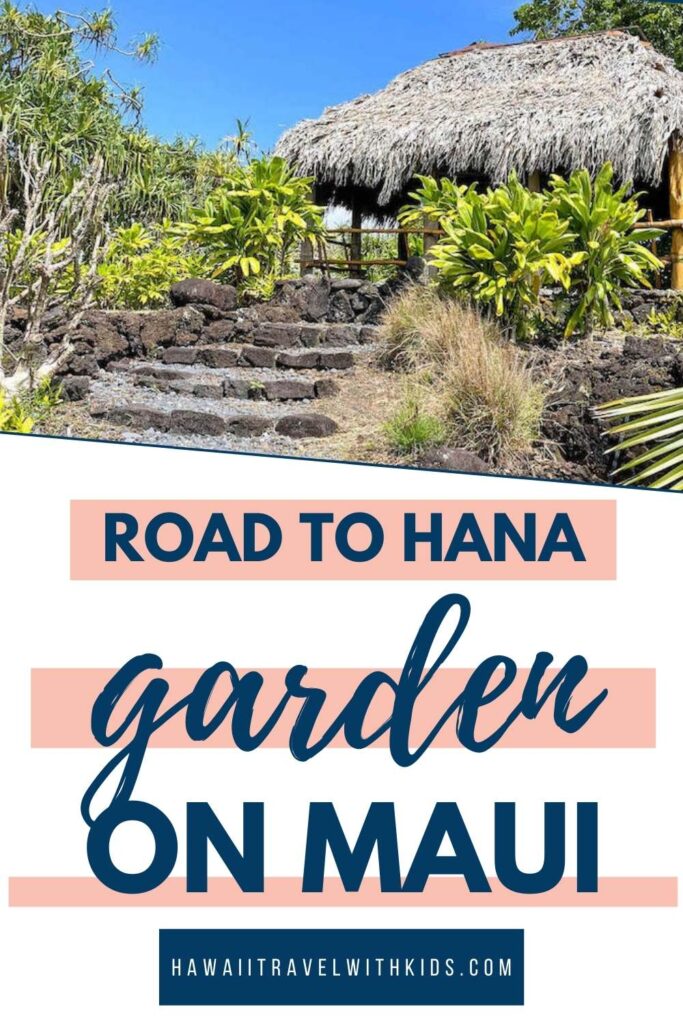 Where is the Kahanu Garden?
Kahanu Garden is located at 650 Ulaino Rd, Hana, HI 96713 off the Hana Highway. It's one of many Road to Hana stops.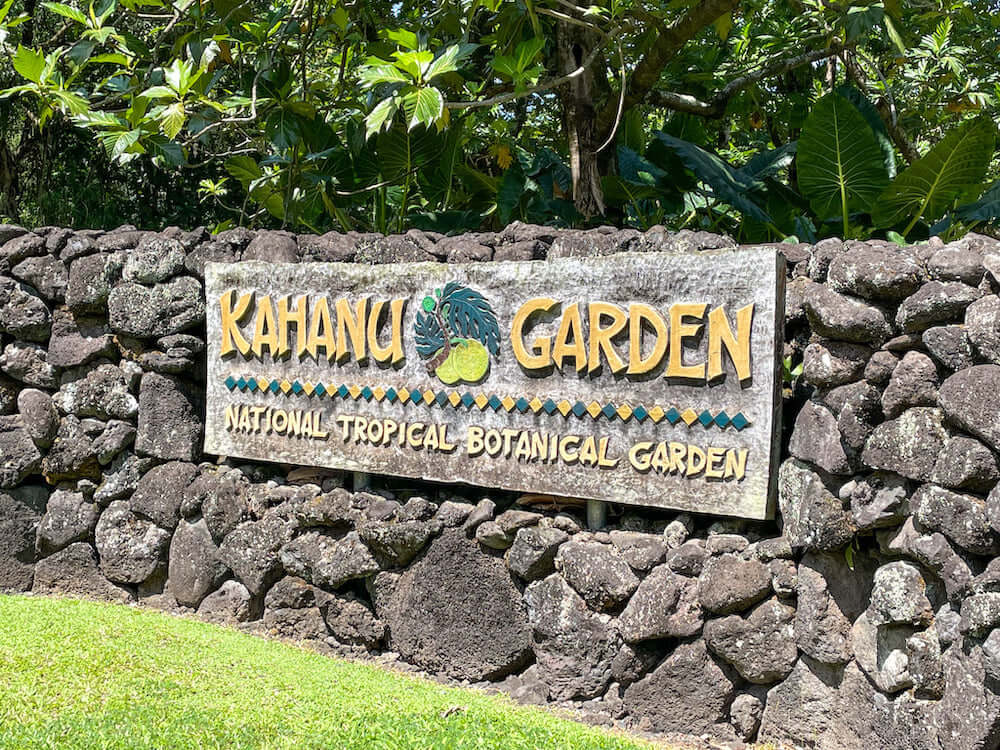 From Lahaina, it takes about two and a half hours to drive here (with no stops). From Kihei, it takes about two hours. Most people stop here when they drive the Road to Hana.
What Can You See at the Kahanu Garden in Hana?
Kahanu Garden on Maui has so many beautiful spots to soak in the scenery. You can see an ancient Hawaiian heiau, an outrigger canoe, several Hawaiian replica structures, coconut trees, ocean lookouts, and lots of plants.
Honest Maui Kahanu Garden Review
This is one of my favorite Maui botanical gardens (the other one is the Garden of Eden, also along the Road to Hana). It's seriously so interesting to walk around and it's the perfect place to take lots of photos.
Check In
After you turn off the Hana Highway, you'll drive down a road that eventually becomes more "rustic" and you might think that you missed a turn. You didn't. Keep going until you see the Kahanu Garden sign.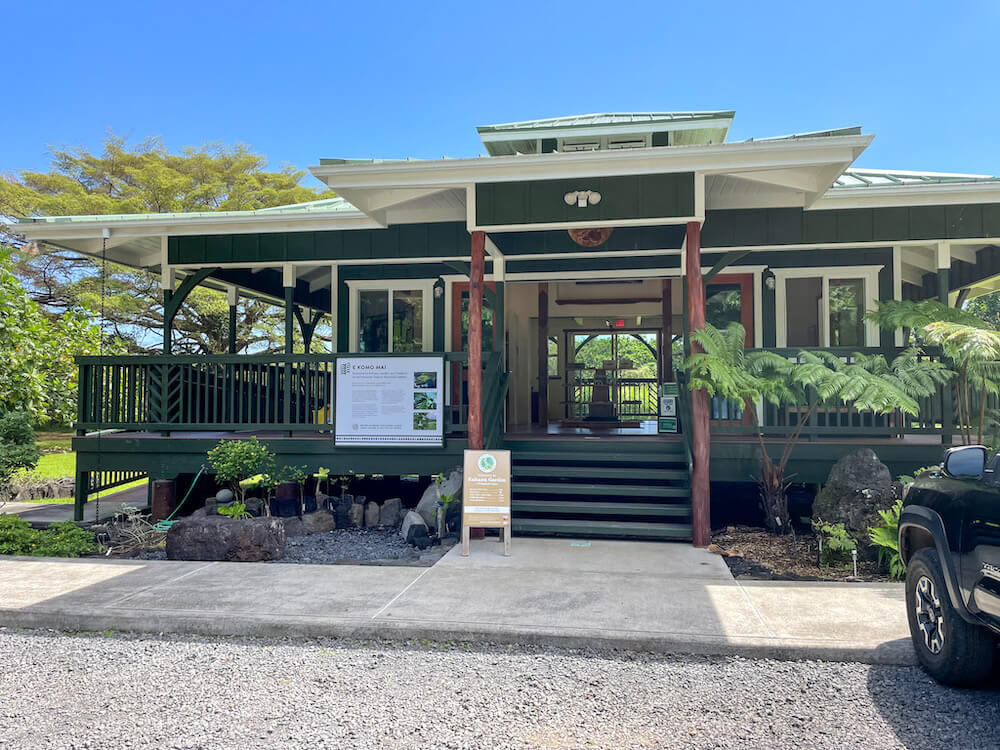 From there, you'll drive until you see signage telling you to veer to the right in order to check in. You'll see a small parking lot and a new-looking building. That's the visitor's center and gift shop.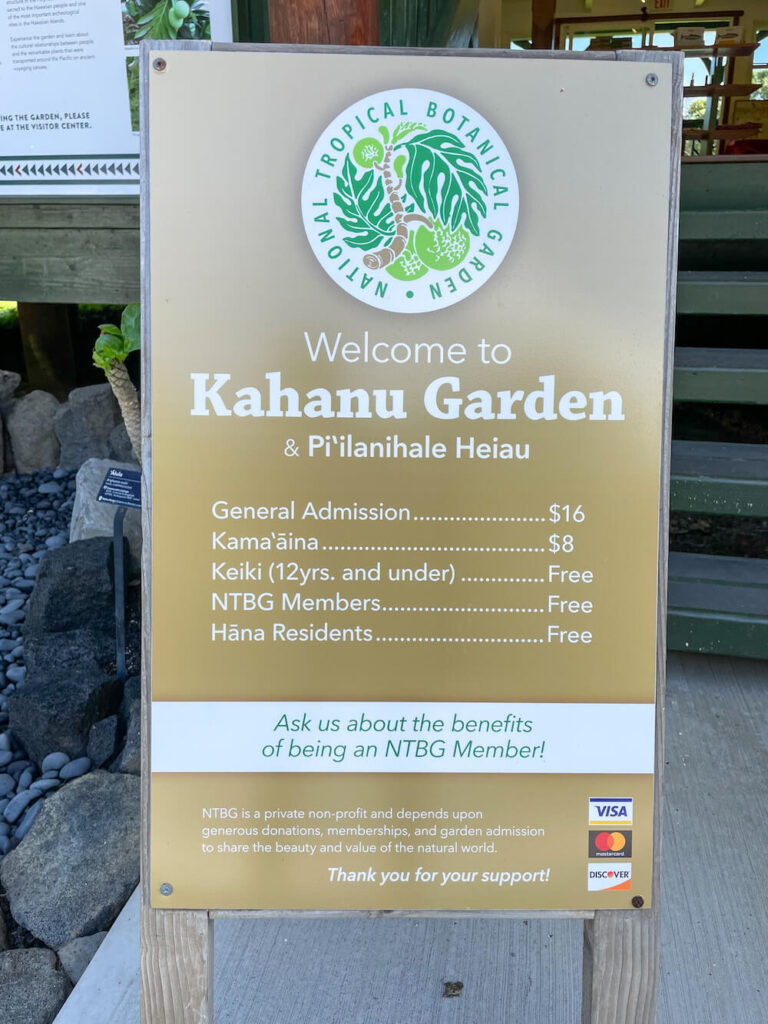 When we visited in March 2022, they encouraged people to make reservations ahead of time. But, I think they allowed walk-ups depending on the day.
We walked up to a lady sitting at a counter and she was able to quickly check us in and give us a pamphlet about the garden.
Then, we got back into our car and drove to the main parking lot that's deeper into the garden. This is where you'll find the restroom.
Highlights
Hawaiian Plants
As soon as you start walking from your car into the garden, you'll see tons and tons of native plants. And they are clearly labeled and have little displays where you can learn more about them.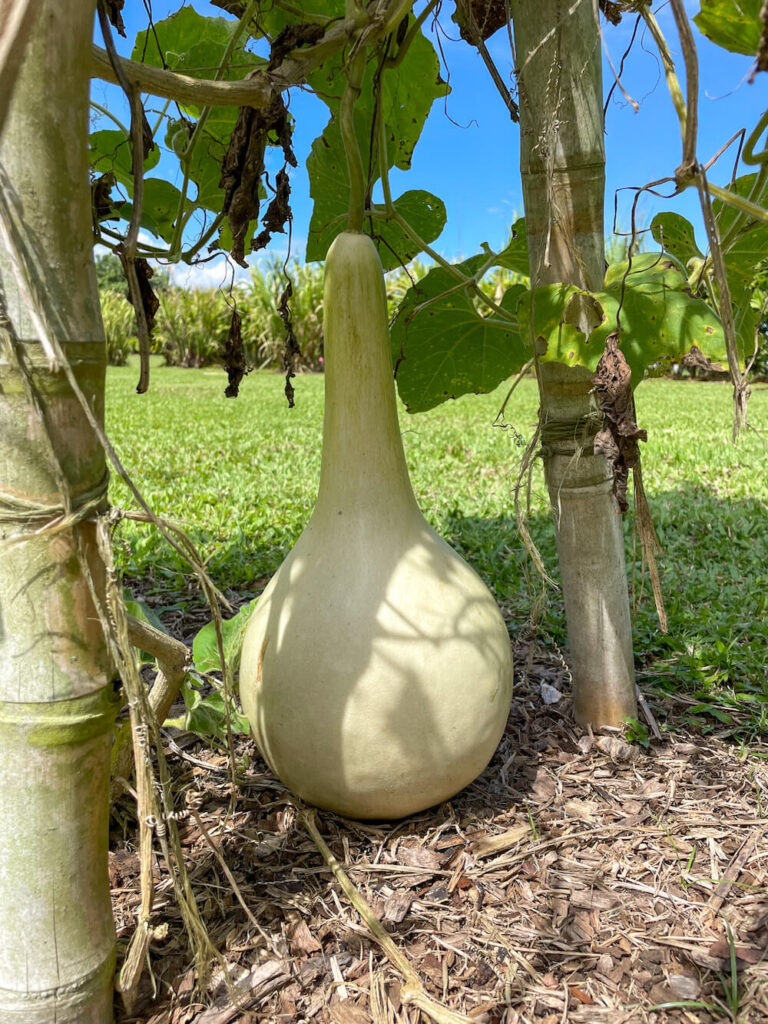 When we walked through the area, we saw taro patches, gourds, hau trees, ti leaves, kamani trees, mai'a, 'awa, and more.
Pi'ilanihale Heiau
Like I mentioned above, Chief Pi'ilani was a really important person in Hawaiian history. The name of this heiau is Pi'ilanihale, which means "home of Pi'ilani".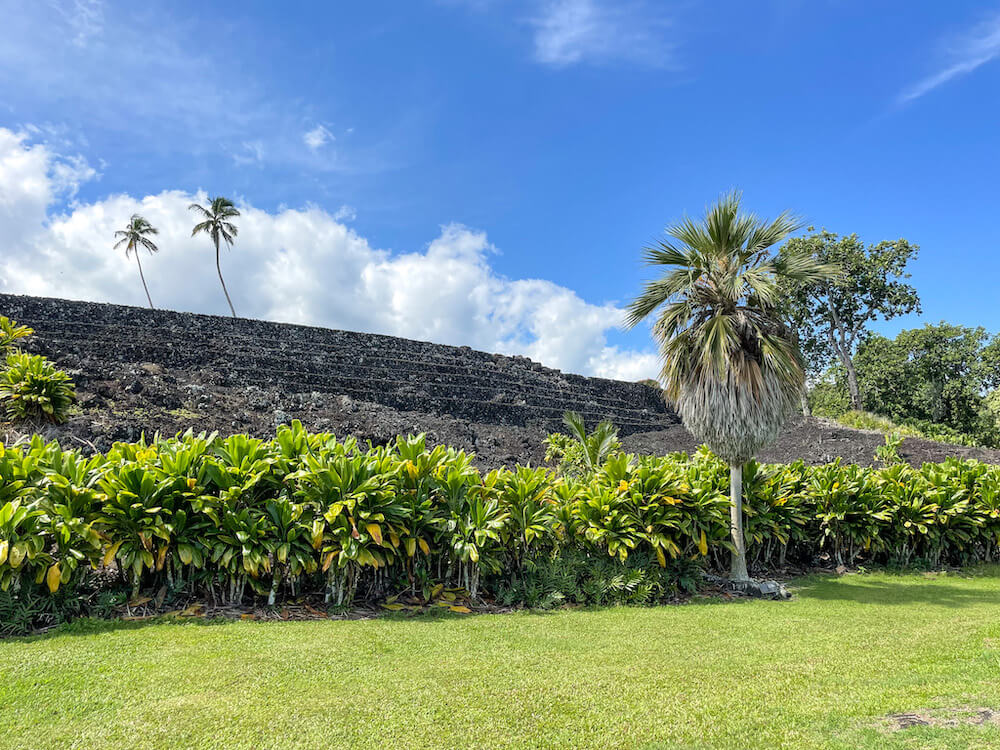 I've seen a lot of Hawaiian heiaus throughout the islands, but this one sort of reminded me of ruins we saw in Mexico a few years ago because of the stairs.
It's clearly marked that visitors are NOT allowed to climb or go near this heiau. Please be respectful and just admire it from below.
Hoana
I snapped a quick photo of this giant rock so I wouldn't forget to mention it. It was in the middle of a grassy field and it's an artifact from ancient Hawaii.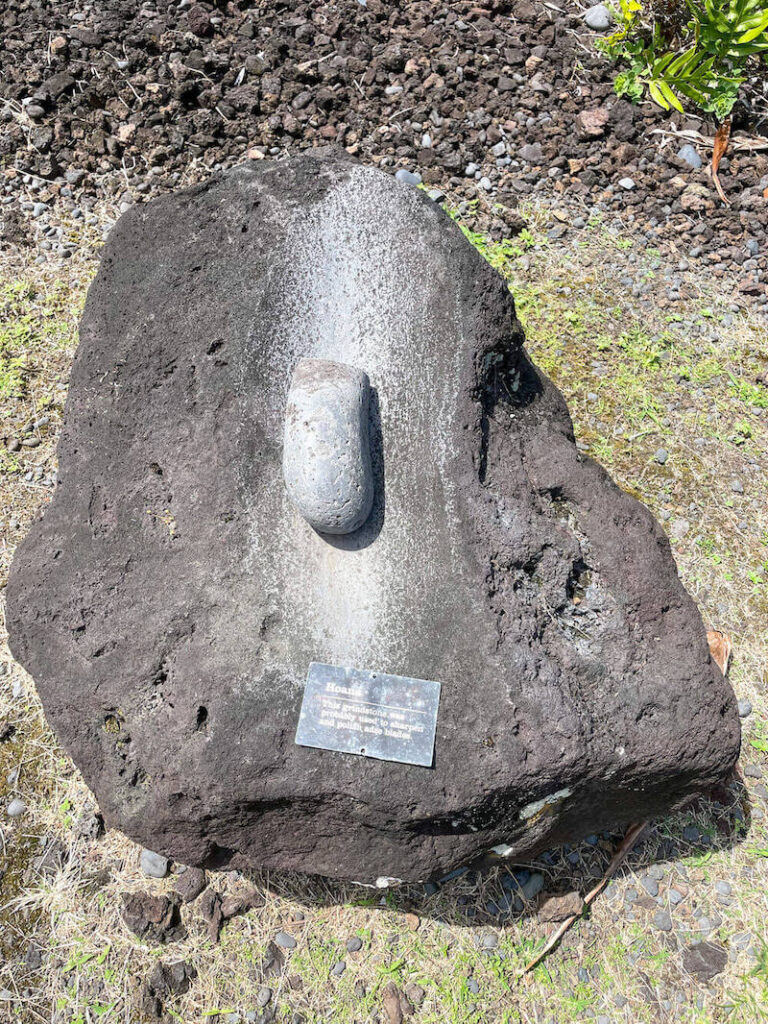 Historians think it's a grindstone used to sharpen blades in ancient times.
Thatched Canoe House
It's easy to see this giant, a-frame structure from almost anywhere in the garden. It's a replica Hawaiian canoe house and it's really impressive to see.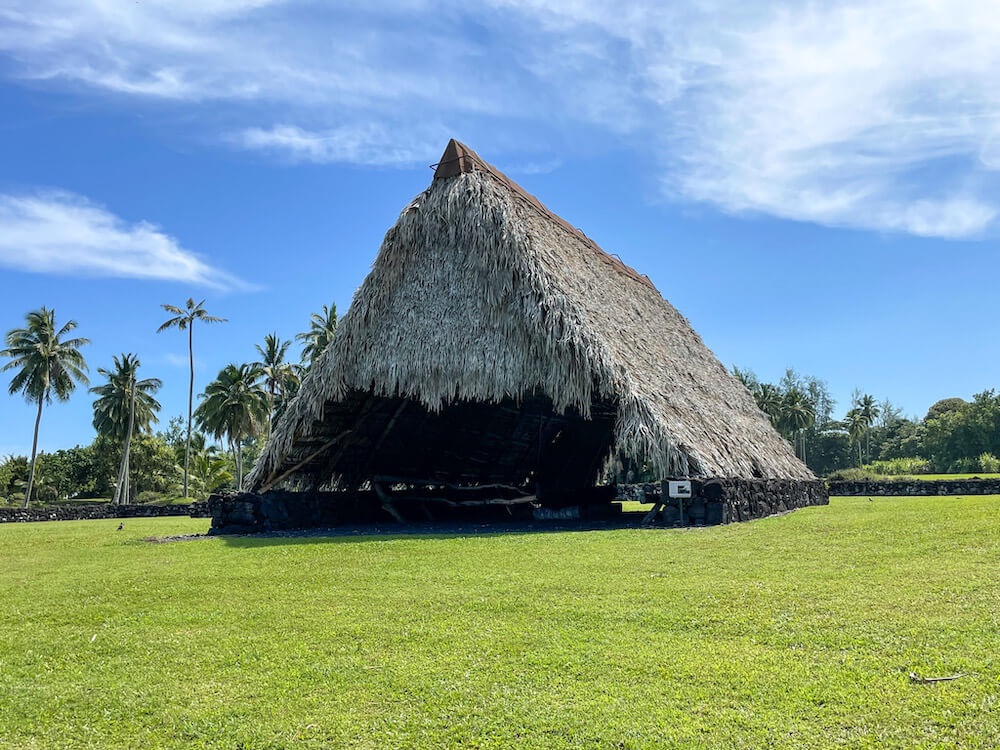 There's some signage out front that explains that the canoe was carved by John Medeiros in the 1920s and he named the canoe "Hoalua".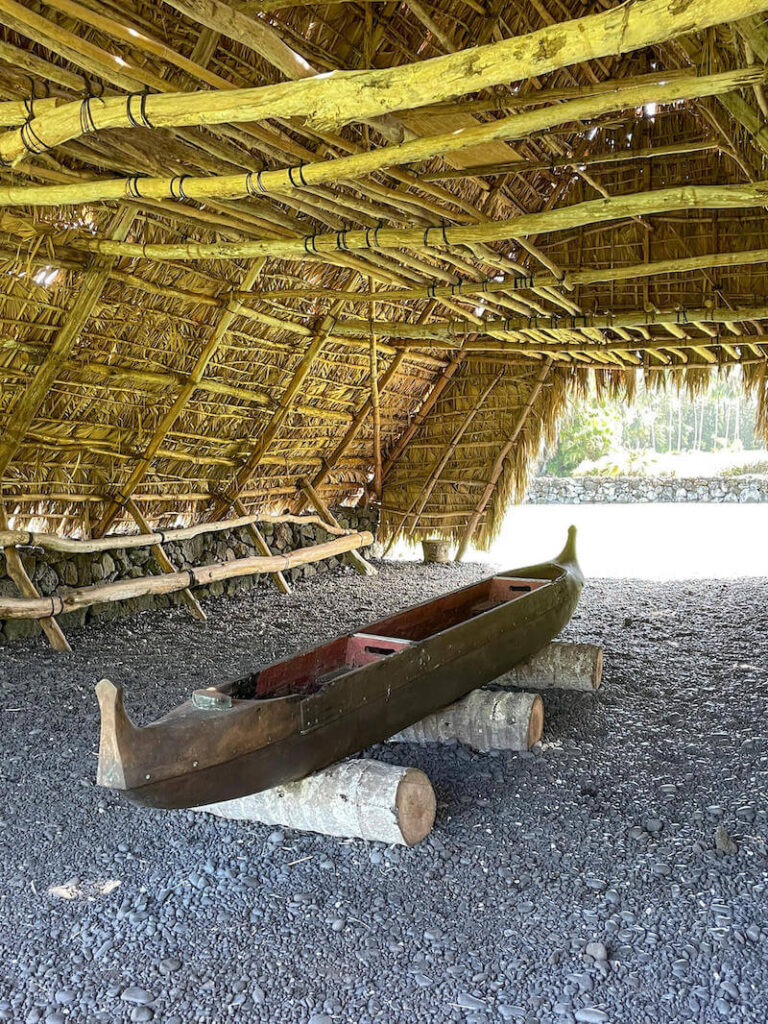 Small canoes like this one were used mostly for fishing and short journeys (not traveling between the islands).
Sweeping Ocean Views
One of the coolest features of Kahanu Garden in Hana is that you can walk right out to the ocean. There's a bunch of gorgeous lava rock that leads straight to the water.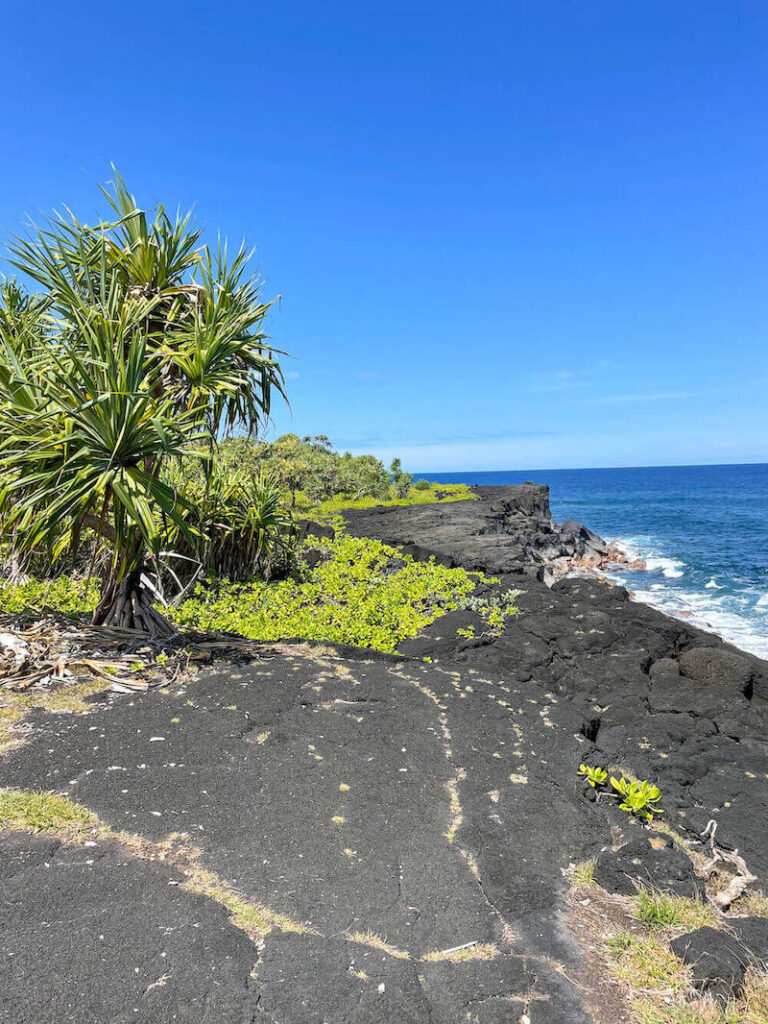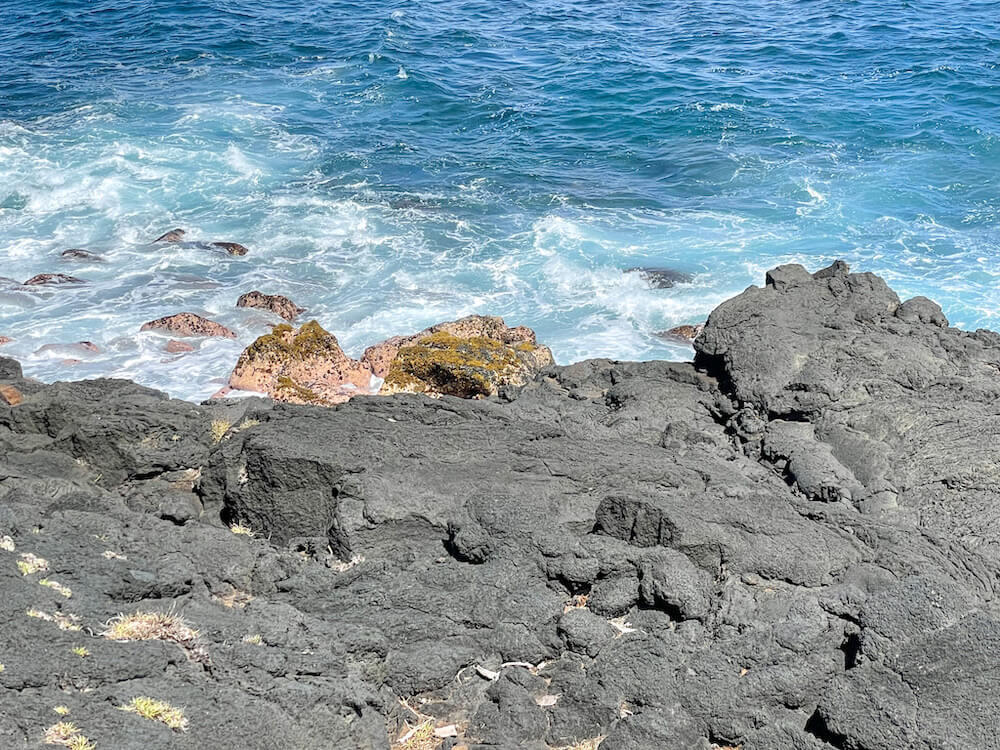 So it's fun to carefully walk out a bit and just soak in the view. We were there in the morning and the water was pretty calm. But, it's definitely not a place for swimming.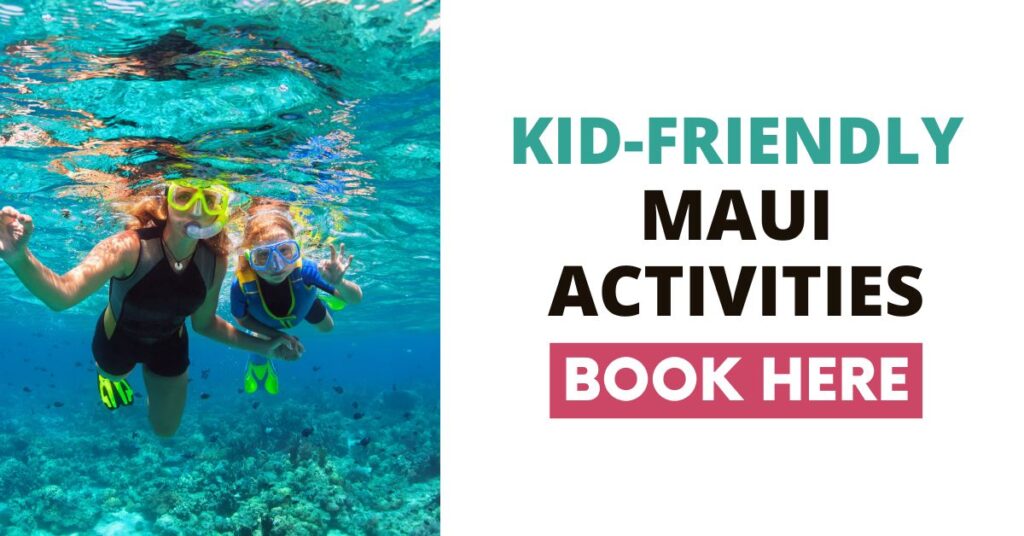 Tours
When we visited in March 2022, their Kahanu Garden tour was still suspended. But, it looks so cool that I'm including it in this post so that you know that it might be an option for your trip.
It's a 2-hour guided tour where you'll hear stories of ancient Hawaii as well as Chief Pi'ilani who was a revered Maui chief. It's a great opportunity to learn about why Polynesians brought specific plants to Hawaii and you'll have a much better understanding for why Hana is such a special place.
I'm really bummed that we couldn't do this tour and I'll definitely try to do it on the next time we drive the Road to Hana.
Kahanu Garden vs Garden of Eden
If you are doing the Road to Hana in one day, you might be wondering if it's worth stopping at Kahanu Garden if you're already doing the Garden of Eden.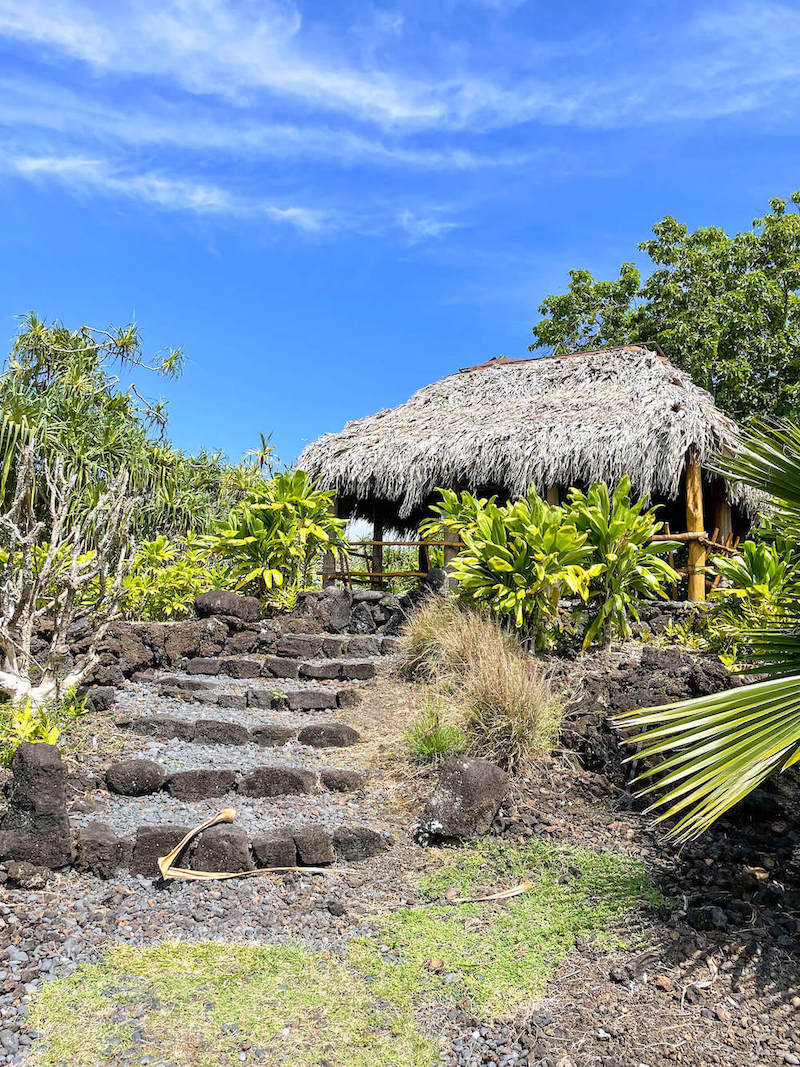 Personally, I think these are VERY different gardens and it's totally worth doing both. They each have fantastic views, cultural components, and they are simply stunning.
The main differences are that Kahanu Garden feels a lot bigger and more spacious. Plus, this is where you can find a heiau and lots of Hawaiian historical replicas.
However, I know a lot of people end up stopping more times than they expect along the Road to Hana and might not have enough time to so many stops IN Hana before needing to head back.
And that's the only reason why I suggest the Garden of Eden over Kahanu Garden, since it's near the beginning of the drive.
Tips for Visiting Kahanu Garden on Maui with Kids
What to Wear
There's not a lot of shade at this Maui botanical garden, so I'd suggest wearing lots of sunscreen in addition to sunglasses and a hat.
I also wore athletic shoes so I could walk on the lava rocks without worrying about scraping up my feet. But, I saw other people in sandals/flip flops walking around the gardens and in the grassy area and they were fine.
What to Bring
It's great to bring drinks and snacks with you to enjoy as you walk around and then you can hit the restroom before you head out. They also sell drinks at the gift shop, so you can buy some when you check in.
Visiting with Babies and Toddlers
This is NOT a stroller-friendly garden for the most part, unless you have a BOB stroller (or something all-terrain). Your best bet is to have babies in a carrier.
You'll also want to keep a close eye on toddlers and preschoolers. There are a bunch of coconut trees that still have coconuts on them and it's VERY dangerous for anyone to be underneath them. There are signs everywhere with warnings.
And you'll want to hold onto young children if you walk out near the water. The lava rock is sharp and you won't want any kids slipping on them.
Restrooms
I know I've mentioned the restrooms a few times in this post but it's worth repeating. It's really hard to find public restrooms in Hana. These restrooms are very clean and even the soap smells amazing.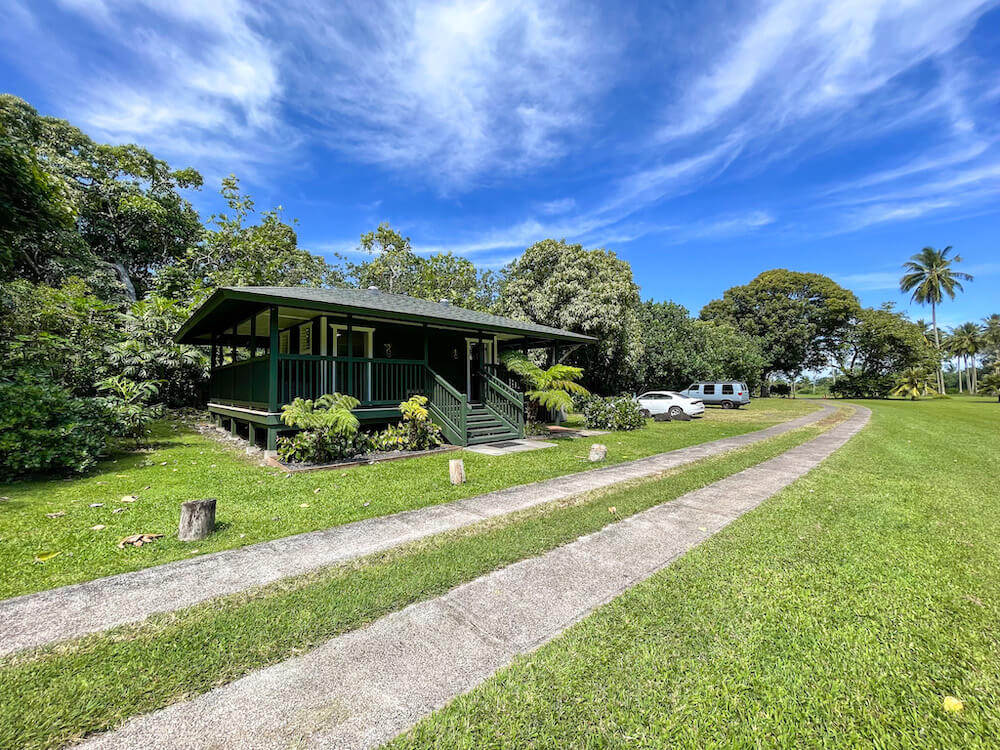 These restrooms make a great first AND last stop while you're at Kahanu Garden.
Kahanu Garden Gift Shop
I always tell myself that I need to check out every gift shop for "research". I'm so glad that I did at Kahanu Garden because they have one of the best Maui gift shops!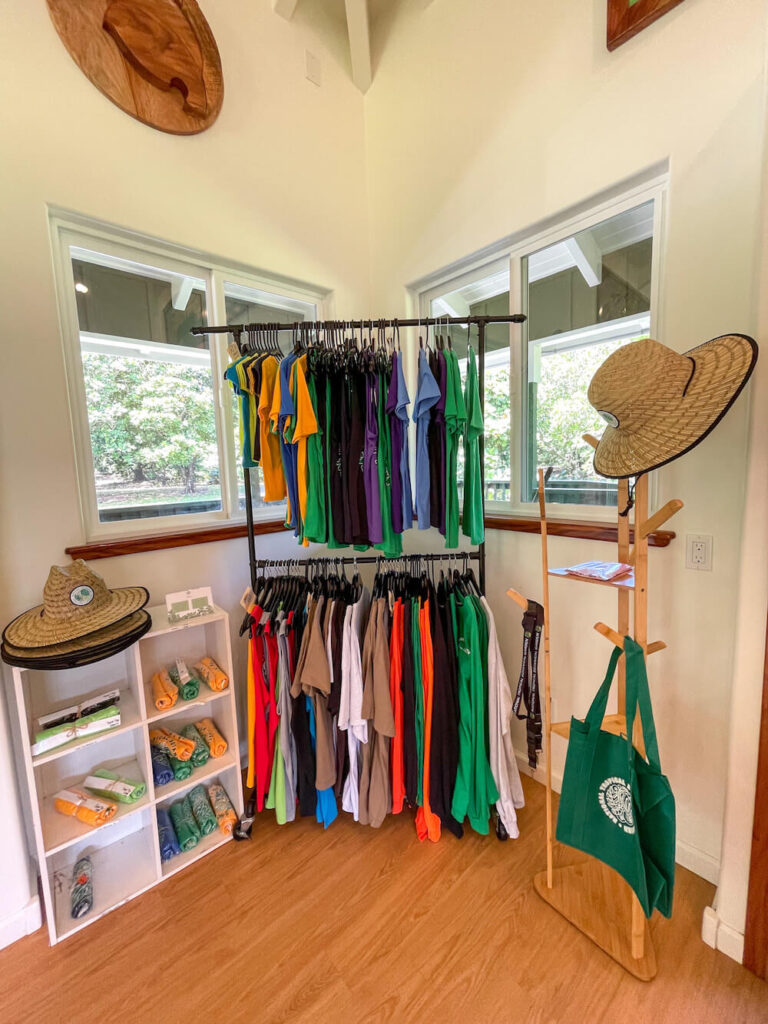 They had a great selection of cute shirts, locally made gift items, artwork, etc. I ended up buying some cute lapel pins and some gorgeous kitchen towels.
It's a great way to support such a fun botanical garden in Hawaii.
So, Is It Worth Visiting this Maui Botanical Garden?
YES! When I was researching Road to Hana stops for my last trip to Maui, I fell in love with the Kahanu Garden photos on their website.
I'm happy to report that visiting it in person actually exceeded my (already high) expectations!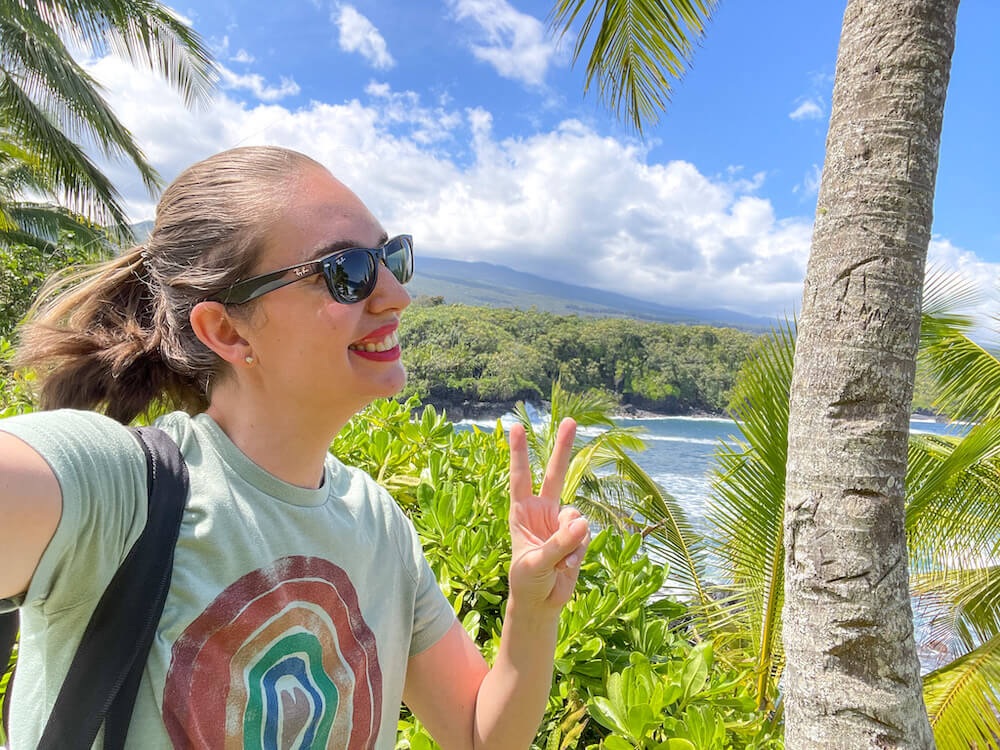 It's such a magical place that is tucked away in a gorgeous part of Maui that a lot of people don't take the time to explore.
It so cool that they showcase Hawaiian history and culture in such a nice way. I'll definitely be back with my family to do their guided tour so I can learn more about the heiau and the structures.