Are you looking for places to go on Oahu to see the natural beauty? Keep scrolling see my Oahu bucket list for nature lovers.
This Oahu bucket list for nature lovers contains affiliate links which means if you purchase something from one of my affiliate links, I may earn a small commission that goes back into maintaining this blog.
Are you looking for the most beautiful places in Hawaii?
Oahu is the perfect place to explore Hawaii's natural beauty. From hiking trails that lead to gorgeous waterfalls, Oahu gardens, and scenic lookouts, to kayaking through caves and snorkeling in some of the most beautiful reefs around, there are so many ways to get out into nature on this island.
If you love being outdoors but don't want your vacation time spent entirely at the beach, here are five must-do adventures for outdoor lovers visiting Oahu!
So what are you waiting for? Get outside and enjoy everything that makes Oahu such an incredible place!
Keep scrolling to find out what to add to your Oahu bucket list!
Don't have time to read a bunch of Hawaii blog posts and reviews? Here are some of our top picks for visiting Oahu.
Popular Oahu Tours/Activities
Favorite Oahu Resorts/Hotels
Want to Rent a Car in Hawaii?
One of the best places to rent a car in Hawaii is Discount Hawaii Car Rental because they get the best rates from top national companies like Alamo, Dollar, Thrifty, Avis, Enterprise, Budget, and Payless.
Want to skip all the planning and just access my detailed Oahu Itinerary complete with daily schedules, kid-friendly activities, and travel hacks? Click the button below.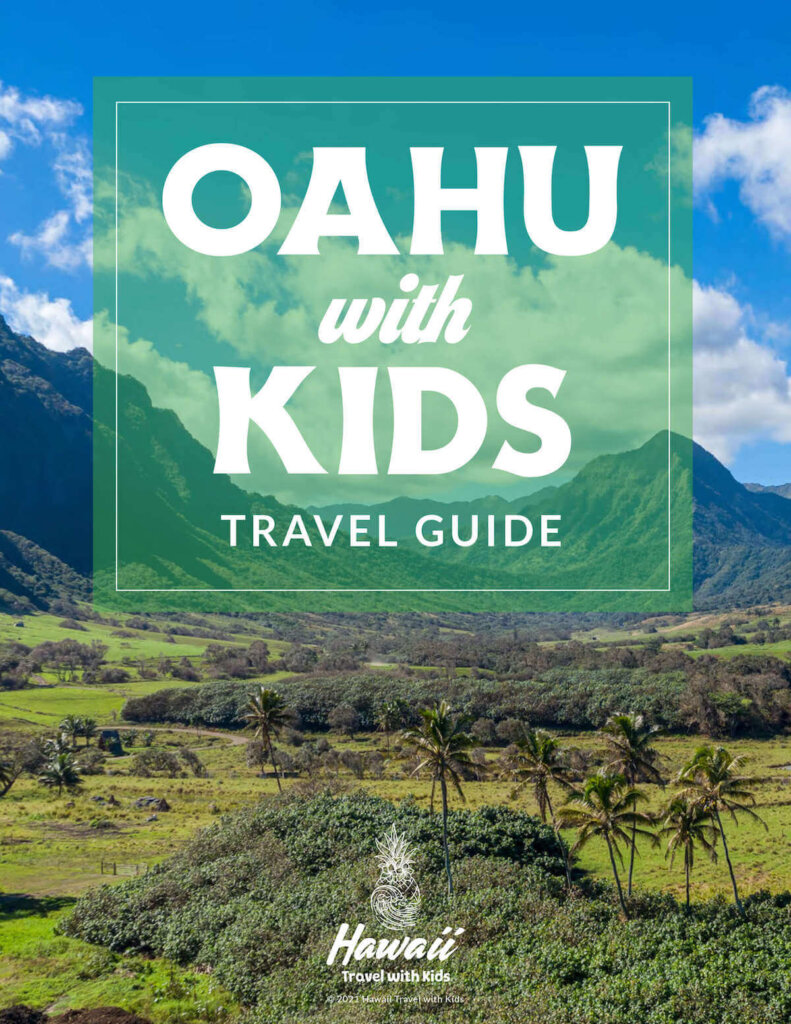 Beautiful Places in Oahu FAQs
What are the best locations for an Oahu photoshoot?
My top pick is Kualoa Beach Park because you can get photos at the beach, with Mokoli'i Island, and with the gorgeous Kualoa mountains. We recently did an Oahu photoshoot there and the photos were amazing! There are also the lagoons in Ko Olina that are easy for families staying at Disney Aulani Resort.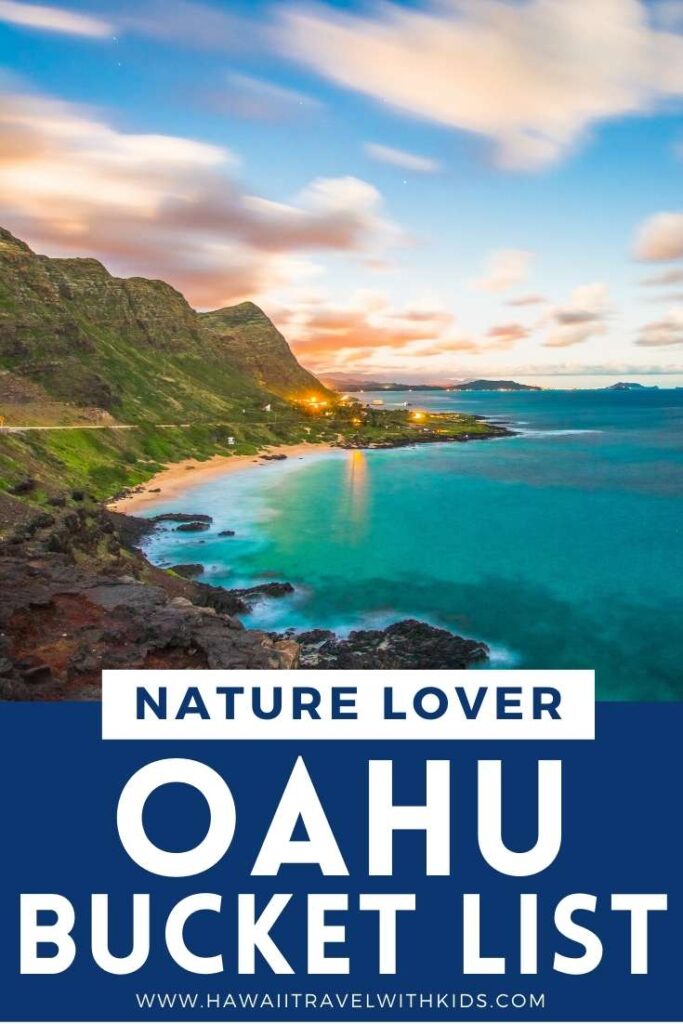 7 Oahu Hawaii Bucket List Adventures
Are you hoping to do some outdoor adventures or at least take some epic Oahu photos? You're in luck! There are tons of cool places to see on Oahu!
Diamond Head
One of the most recognizable places on Oahu is Diamond Head. You can easily see it as the backdrop to Waikiki.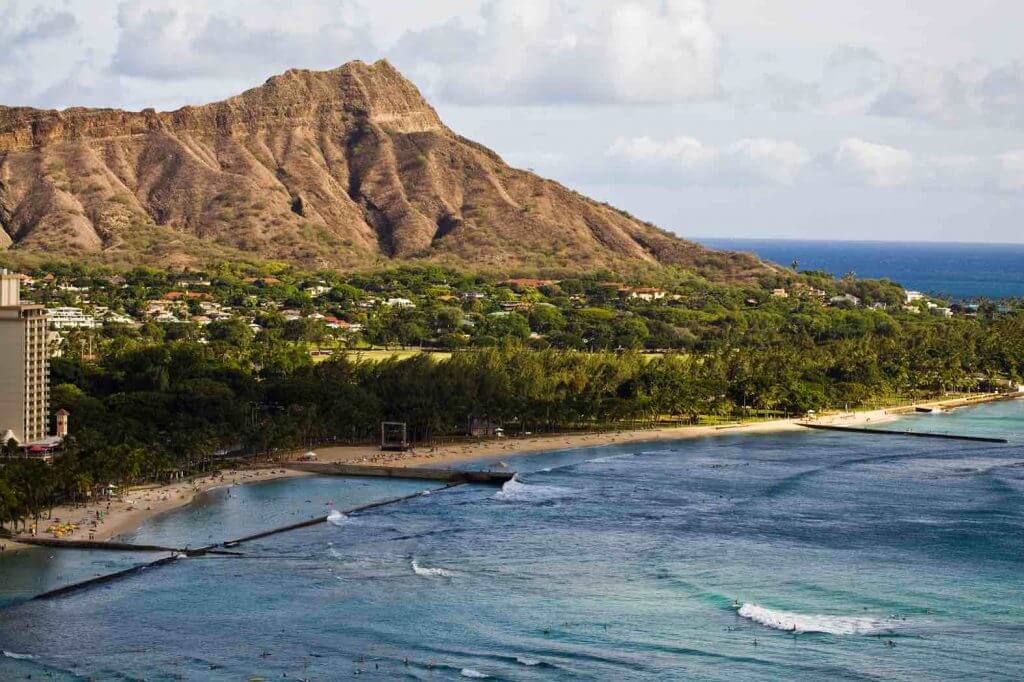 In fact, I'm sure you'll recognize it right away since it's featured on tons of Hawaii travel posters and postcards.
Hiking up to see the sunrise over Diamond Head is an experience like no other. But, this is one of the best Oahu hikes no matter what time of day.
The 1.6-mile trail offers a challenging uphill hike with beautiful views of the crater and of Honolulu.
Don't worry if you're not too used to hiking. The entire trail is paved and there are lots of stairs. And you can take advantage of the benches placed along the path.
As of May 12th, 2022 all out-of-state visitors must have an advanced reservation to enter Diamond Head State Monument. Make your reservations HERE.
Get all our tips for hiking Diamond Head with kids!
Ho'omaluhia Botanical Garden
The Hoomaluhia Botanical Gardens is a beautiful place to get close and personal with Hawaii's flora. It's one of the prettiest botanical gardens in Hawaii.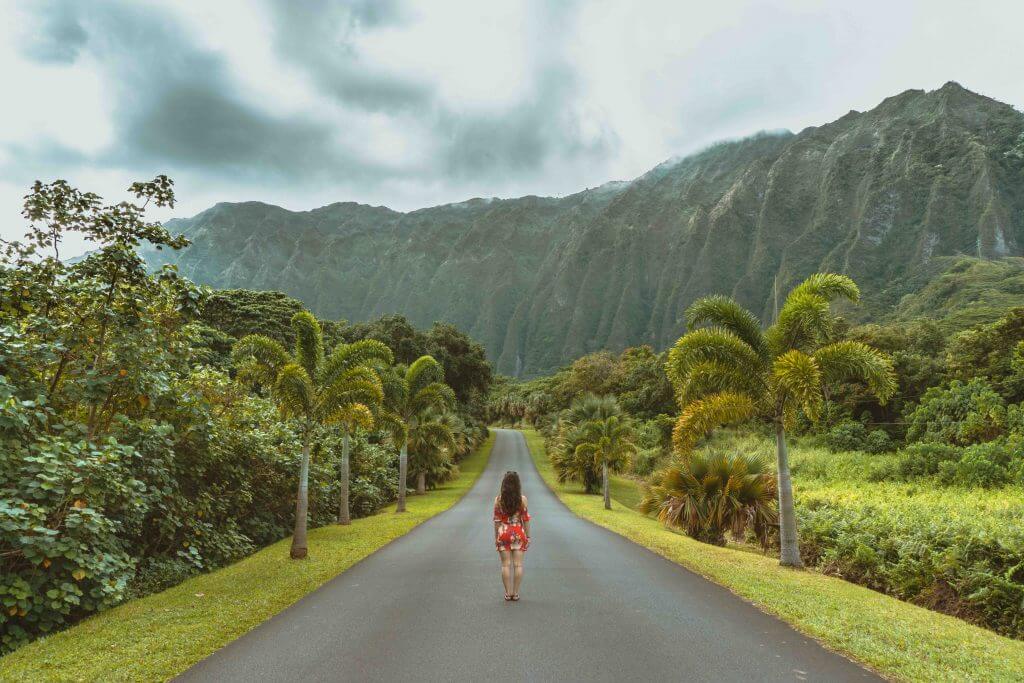 With 400 acres of lush greenery, you can freely explore this botanical haven backdropped by the magnificent Koolau mountain range as well an idyllic lake that branches out into several streams for those looking at not only nature but also an adventure!
They have a lot of free activities at these Honolulu botanical gardens throughout the year, but it's fun to just walk around and explore. It's also one of the most Instagrammable places on Oahu.
Kualoa Ranch
One of the most beautiful places on Oahu is Kualoa Ranch. It's one of the few undeveloped areas of Oahu and it has some of the most epic views.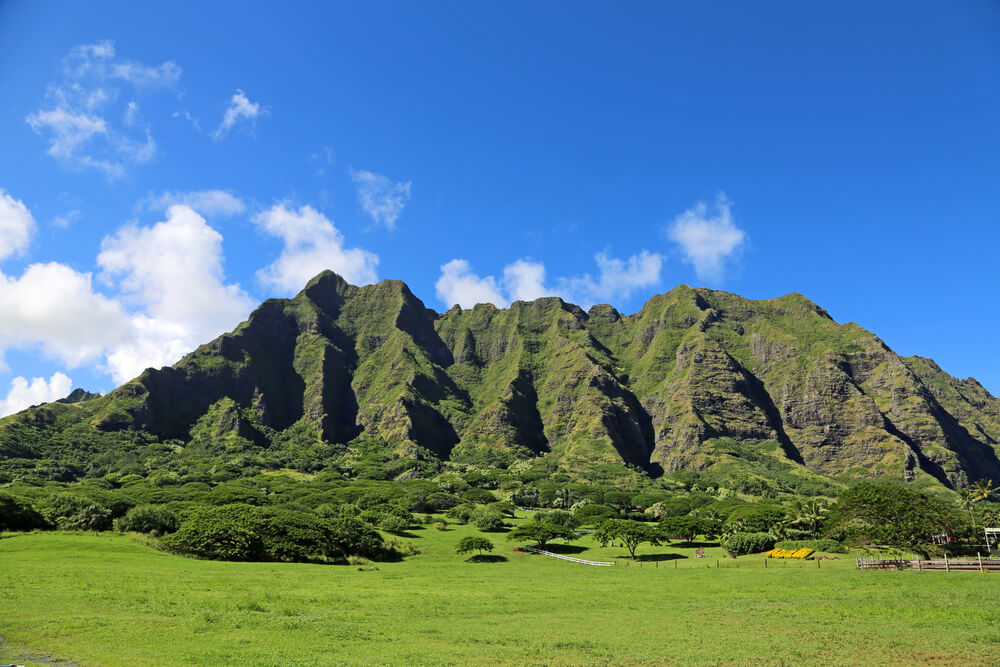 This 4,000 acre property was purchased in the mid-1800s by a doctor who specifically wanted to preserve this stunning part of Oahu.
They actually have a ton of Kualoa Ranch tours for everyone in your family. Our favorite tour is the ATV Raptor Tour that takes you to all three valleys and to some movie filming sites.
Hanauma Bay Nature Reserve
The beautiful Hanauma Bay Nature Preserve is located on the southeastern side of Oahu, just inside Koko Head volcanic region.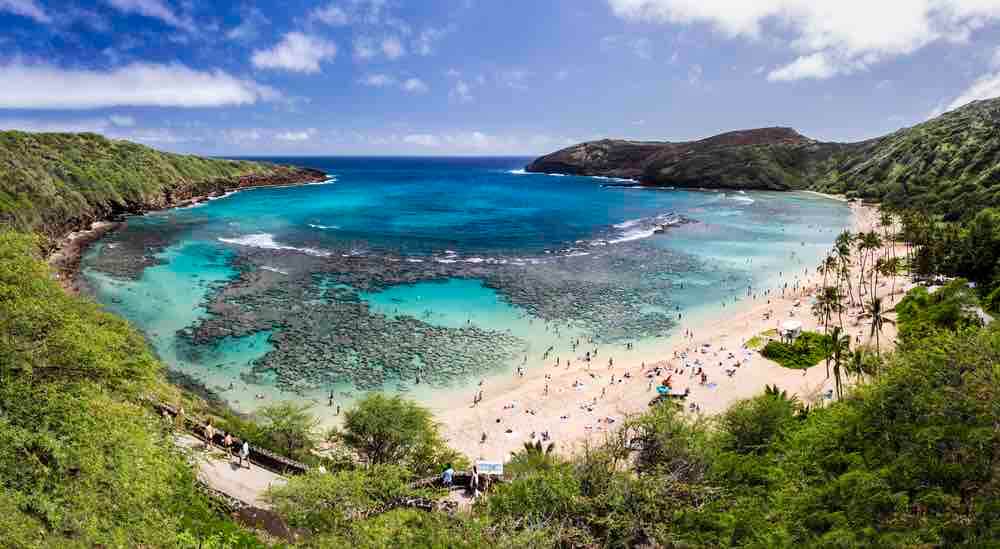 This stunning bay is enveloped by lush green hills making it a perfect beach + nature combo destination if you want to explore Hawaii's waters as well as its mountains!
Hanauma Bay is one of the best places to snorkel on Oahu for all skill levels. That's because there are more than 400 species of fish who live here. And you can even spot Hawaiian Green Sea Turtles!
In 2021, the park put a limit on visitors and even closes 2 days a week in order to help preserve this amazing Oahu bay.
Hiking is another prime activity on the bay, with tons of lush plants to look at and gorgeous vistas of the bay acting as a backdrop for a splendid experience.
If you're a newbie at hiking in Hawaii, Makapu'u Lighthouse Trail is great for beginners. Those up for a challenge should head to the Koko Head Crater Trail.
Tantalus Lookout
Mt. Tantalus is a hidden gem in the making! It offers some of Oahu's best views, both day and night. If you're looking for an adventure with your significant other or friends that will make memories to last forever then take them up on Mount Tantalus.
If you're visiting Tantalus Lookout during the day, plan to spend some time at Puu Ualakaa State Park for a lovely picnic and views.
The short 1/2-mile loop of 'Ualaka'a Trail is perfect if nature walking interests you or your children enjoy shorter walks with great opportunities to take photos from various angles.
Once sunset arrives there are several stops along 9 miles Round Top Drive where it will be easy get up close looks at Honolulu when lit up beautifully by Hawaii's city lights!
This is also the same location as Experience Nutridge Luau, one of the best Oahu luaus.
Ka'ena Point State Park
Located at the westernmost tip of Oahu, Ka'ena Point State Park is yet another incredible location in Hawaii and a must on any nature lover's itinerary.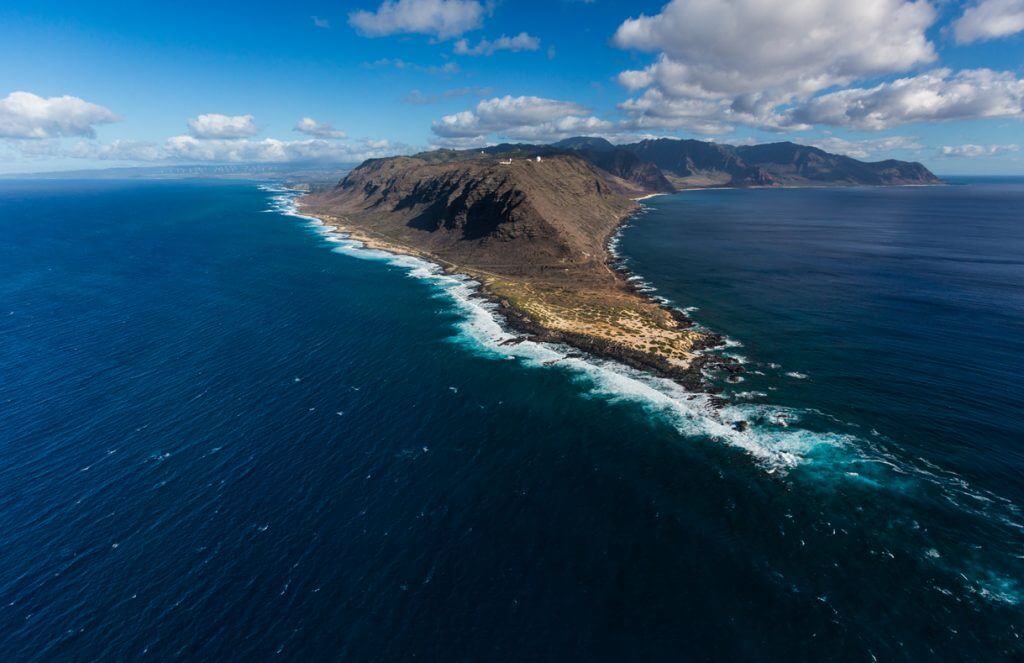 This park features some fantastic views with lots to offer for both hiking trails as well as scenic spots like tide pools where you can spot fascinating sea creatures!
If your aim this trip was not only to capture stunning photos but also take part in some adventures close-up then we recommend checking out the 5-mile long hike.
The Ka'ena Point trail leads along an extinct volcanic coastline while passing through gorgeous scenery including Pacific Ocean vistas galore (and plenty more wildlife encounters too)! Find out our top tips for families hiking the Ka'ena Point trail HERE.
Waimea Falls Park
One of the most accessible hikes on Oahu is Waimea Falls. Plus, it offers visitors a chance to learn about Hawaiian culture.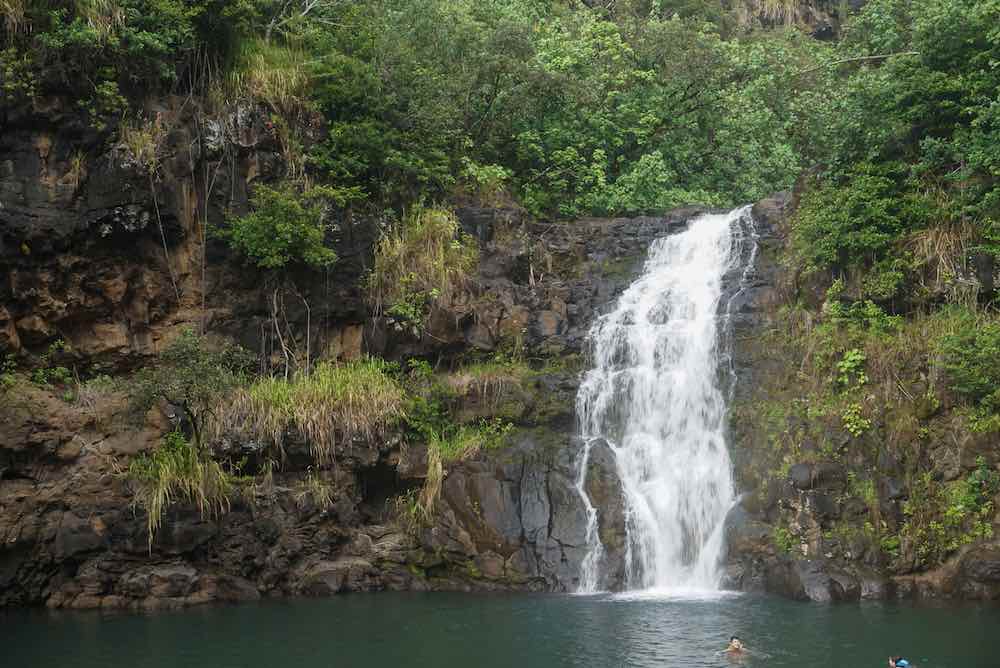 The nature walk features lush botanical gardens that lead right up next door, where you can find this beautiful 45-foot waterfall cascading down into a stunning pool near its base!
This park also has educational presentations with workshops about Hawaiian culture which make it perfect if you want an authentic experience away from tourists spots or visitor centers.
This is also where you'll find one of the best luau in Oahu: Toa Luau. When you book this look, you'll get free access to the park all day long.
Best Oahu Nature Tours Worth Booking
Island Photo Tours – Sunrise, Sunset, Rainforest & Waterfalls
Receive a deep dive into Hawaii's nature with this guided photography tour. Experience the island like never before as you navigate Oahu, from its lush forests to bustling towns and beyond!
You'll have access not only all day long but also sunrise/sunset options depending on your preference – there really is something for everyone here. Check the latest rates and availability.
Kualoa Ranch Experience – Movie Set Tour, Jungle Jeep Expedition & Farm Tour
The most popular destination in Hawaii is Kualoa Ranch. And with good reason! The Best of Kualoa Ranch experience includes three tours that are a must-do for any visitor to Oahu: the Hollywood Movie Sites Tour, Aloha 'Aina Farm tour and finally an all-new Jurassic Jungle Expedition.
But you can also choose just one or two out these offerings when traveling here with friends/family who may not want as much off roading. This is one of the most unique things to do in Hawaii. Check the latest rates and availabilty.
Honolulu Volcanic Rainforest Guided Hiking Tour at Mt. Tantalus
Take this 2.5-mile hike through Oahu's lush rainforest and explore the ancient Hawaiian volcano that lies beneath it all, learning about Hawaii from your guide as well.
Check out indigenous plant species along the way as you climb up to the 600-foot mountain peak. There, you can see Diamond Head, Waikiki, Pearl Harbor, and Kailua all from one vantage point. Check the latest rates and availability.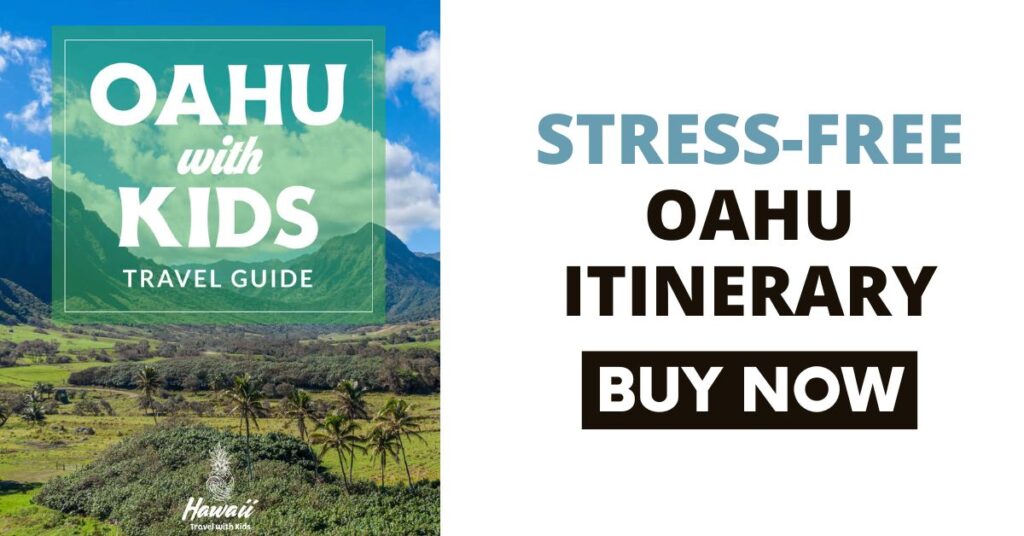 Oahu Adventures in Nature Wrap Up
I hope this list of the best destinations for nature lovers in Oahu provided some inspiration! Although there are many wonderful places to see, these spots really stand out.
They're worth planning into your itinerary and offer a chance to get more personal with Hawaii's nature beyond its beaches during your visit.