Heading to the Big Island and want to know the best places for amazing Big Island photography? Scroll to check out my top Big Island Instagram spots you have to see to believe!
This list of Big Island Instagram spots was written by Hawaii travel expert Marcie Cheung and contains affiliate links which means if you purchase something from one of my affiliate links, I may earn a small commission that goes back into maintaining this blog.
Are you planning a trip to the Big Island of Hawaii?
You're in luck! The Big Island of Hawaii is one of the most beautiful places on Earth, and there are so many incredible photo opportunities. Keep scrolling to find out where you should go for your next Instagram post!
Here is our list of favorite Big Island Instagram spots that will make your travel photos look like they came straight outta National Geographic! We promise you won't regret it.
Whether you want to take pictures at sunrise or sunset, these spots will give you some amazing photos that will make everyone jealous back home. So grab your camera and get ready for some epic shots!
Keep scrolling to check out our list of the best Big Island Instagram spots today!
Don't have time to read a bunch of Hawaii blog posts and reviews? Here are some of our top picks for visiting the Big Island.
Popular Big Island Tours/Activities
Favorite Big Island Resorts/Hotels
Want to Rent a Car in Hawaii?
One of the best places to rent a car in Hawaii is Discount Hawaii Car Rental because they get the best rates from top national companies like Alamo, Dollar, Thrifty, Avis, Enterprise, Budget, and Payless.
Want to skip all the planning and just access my detailed Big Island Itinerary complete with daily schedules, kid-friendly activities, and travel hacks? Click the button below.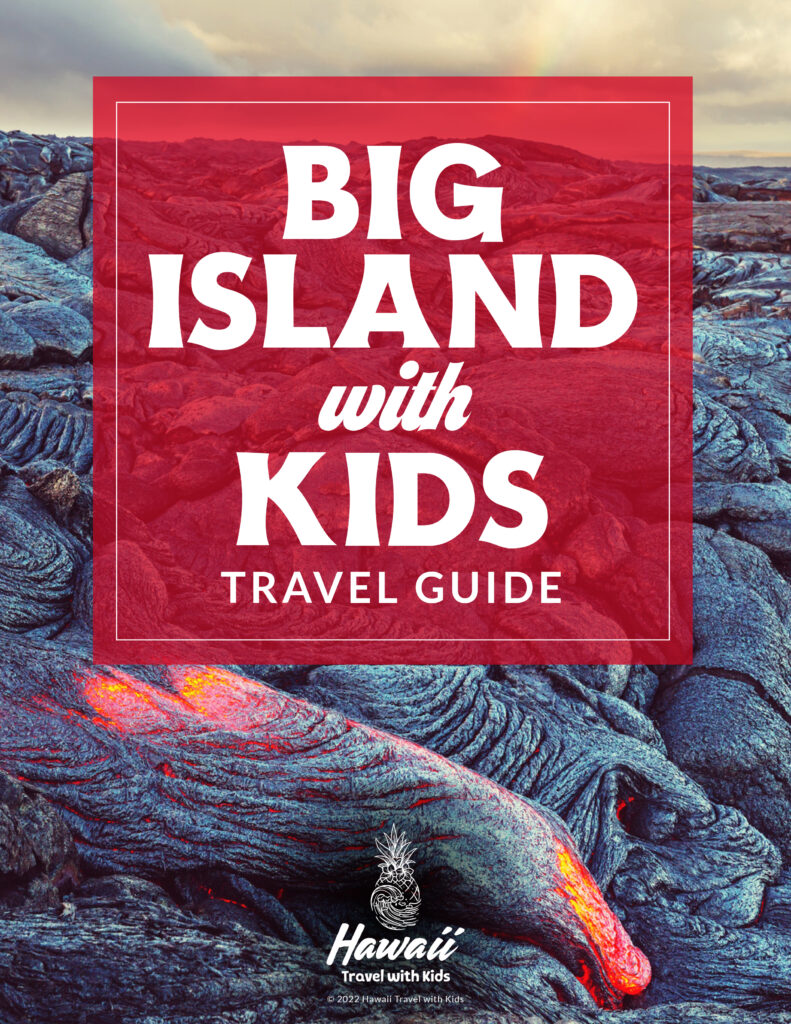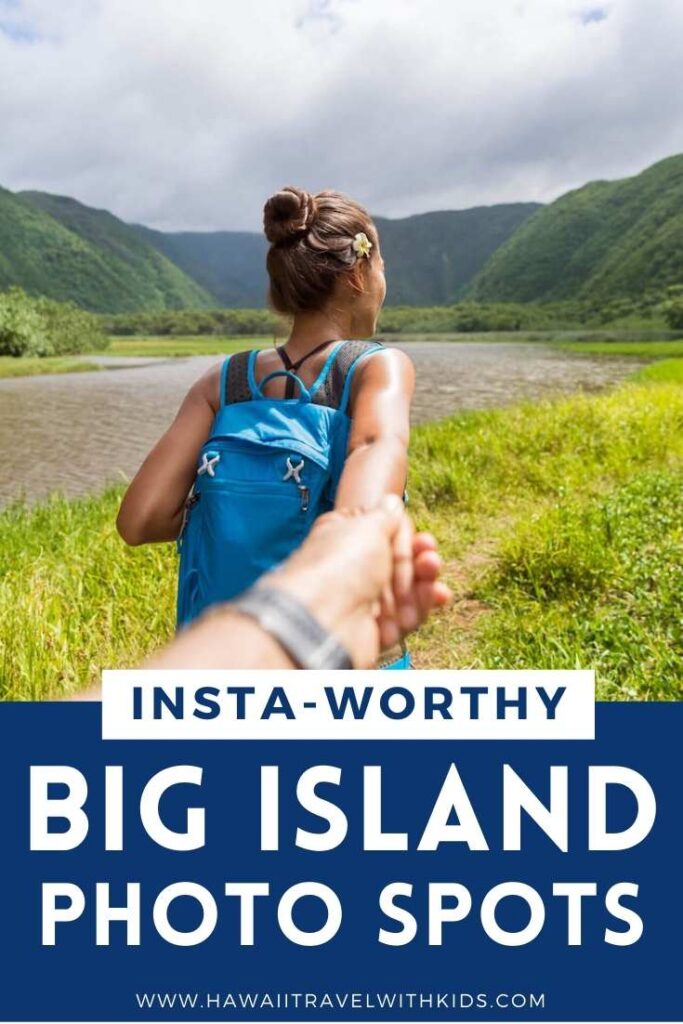 15 Instagrammable Spots in Big Island Hawaii
There are tons of photo-worthy spots on the Big Island of Hawaii. Here are a few of our favorites that I thought were worth sharing!
1. Hawaii Volcanoes National Park
One of the top Hawaii Big Island attractions is definitely Hawaii Volcanoes National Park. This is the best place to see lava in Hawaii, as long as the volcano is erupting.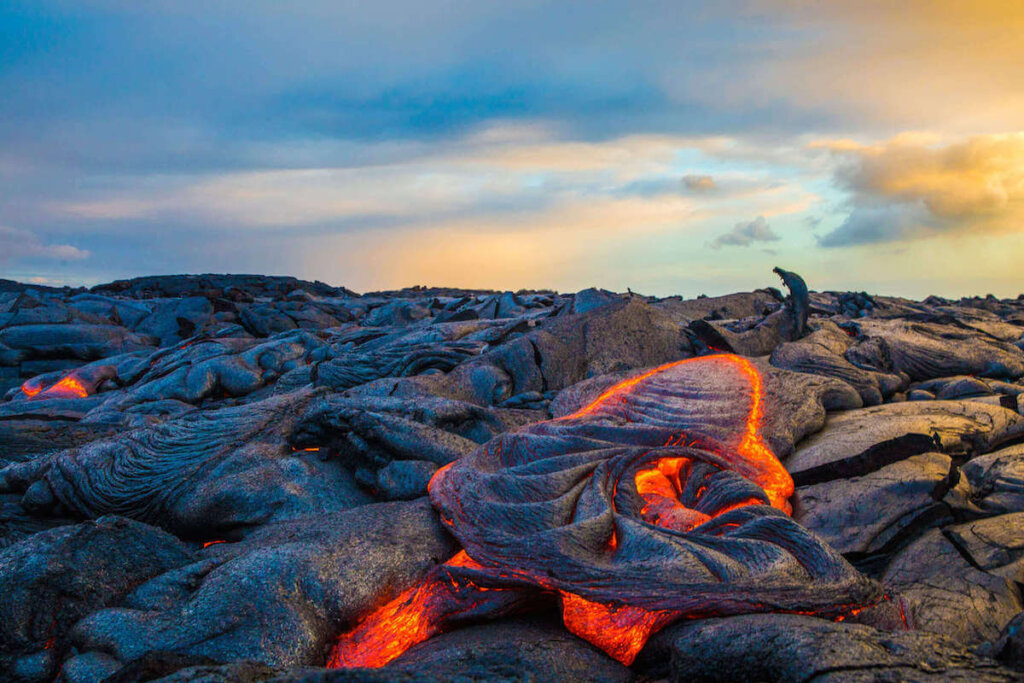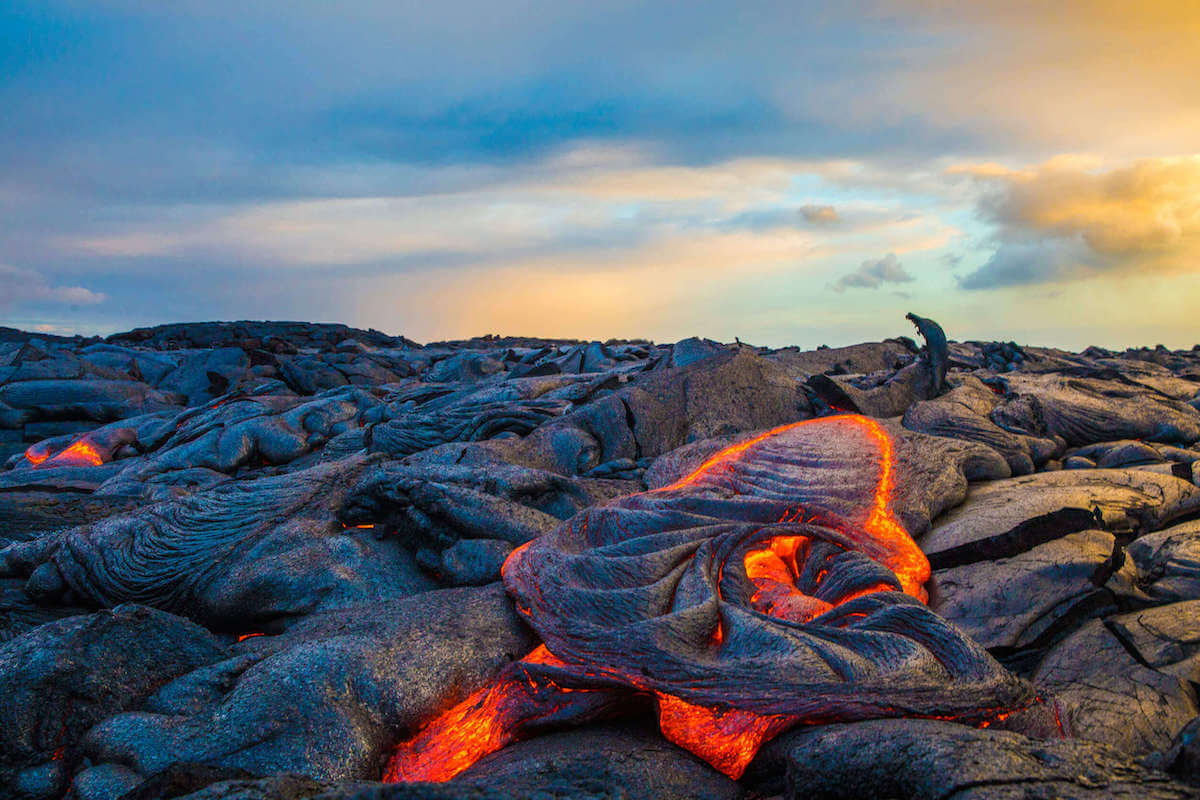 There are actually a lot of Instagrammable spots at Hawaii Volcanoes National Park because it's just so HUGE!
I recommend doing the Crater Rim Drive as well as the Chain of Craters Road. This way, you'll hit up all the top Hawaii Volcanoes National Park photo spots.
2. Rainbow Falls
Out of all the Big Island waterfalls, Rainbow Falls is one of the easiest to get to. It's literally just a few steps away from the parking lot, and BAM, you see the waterfall. And it's only a few minutes from downtown Hilo.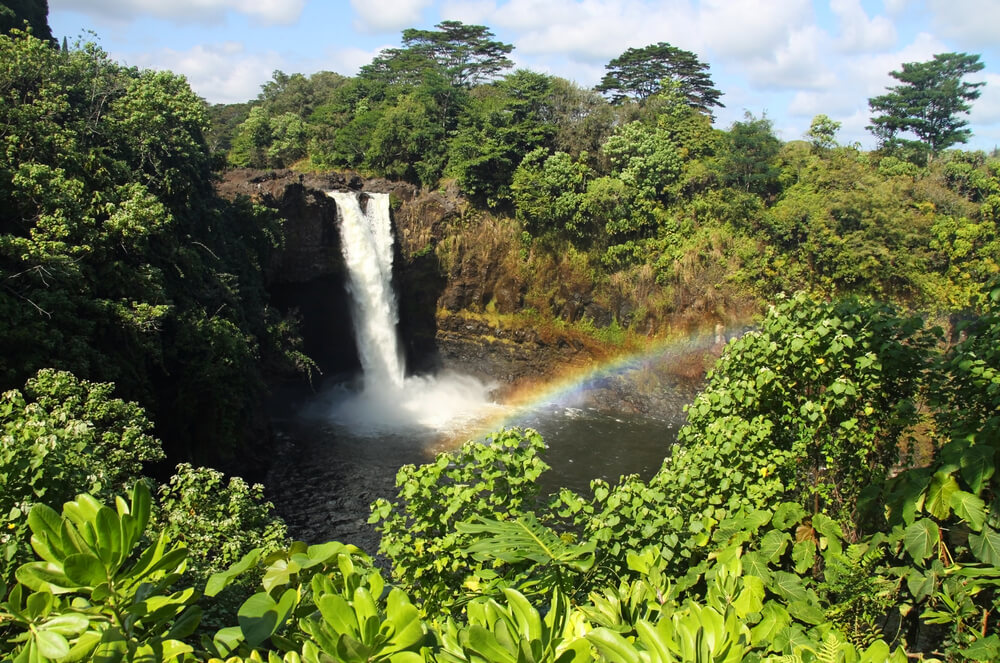 There are a few obvious areas to take photos of at Rainbow Falls. There's also a set of stairs you can climb to get a different view (although this was closed in 2021 due to COVID-19).
We heard that the best time to visit Rainbow Falls is before 10 a.m. for the best lighting. That's because the sun will be behind you. It's also much less crowded in the morning. We went at 9 a.m. one morning and about 5 p.m. the following evening, and it was PACKED in the evening.
3. Papakolea Green Sand Beach
Have you ever seen a green sand beach? It's seriously stunning and totally Insta-worthy!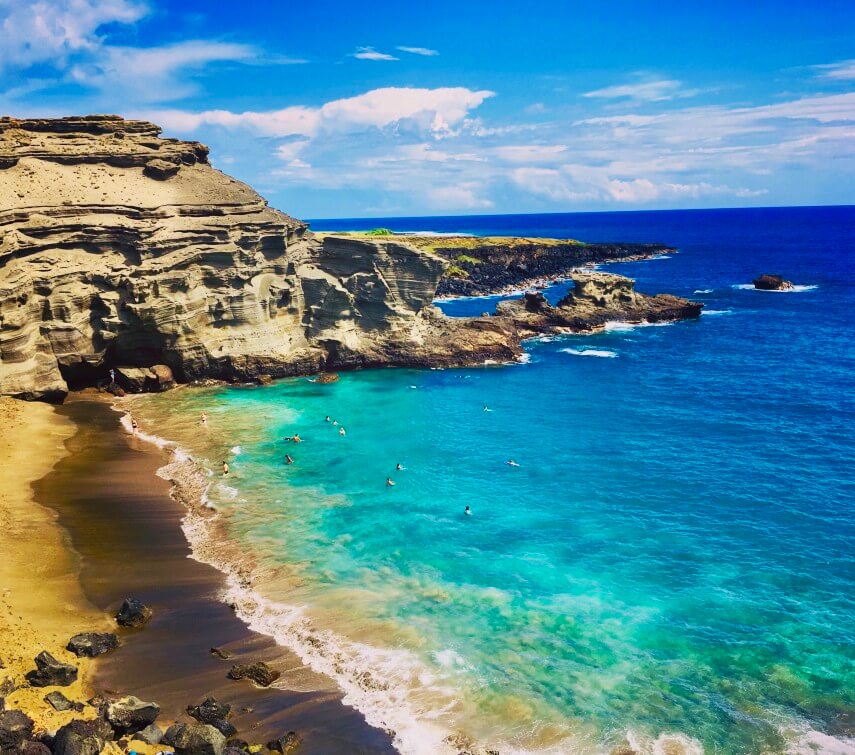 This Big Island green sand beach does require either a hike in full sunlight or paying a local driver to shuttle you in and out. But it's worth the trouble.
What makes the sand green is actually thanks to the lava. There's a mineral called olivine that is found in lava, and it has a greenish tint to it. It's mixed in with the regular sand and ground-up coral to create a really unique beach.
4. Waipio Valley Lookout
One of the most beautiful places on the Big Island of Hawaii is the Waipio Valley. This is a sacred area, so it still has the look and vibe of Old Hawaii.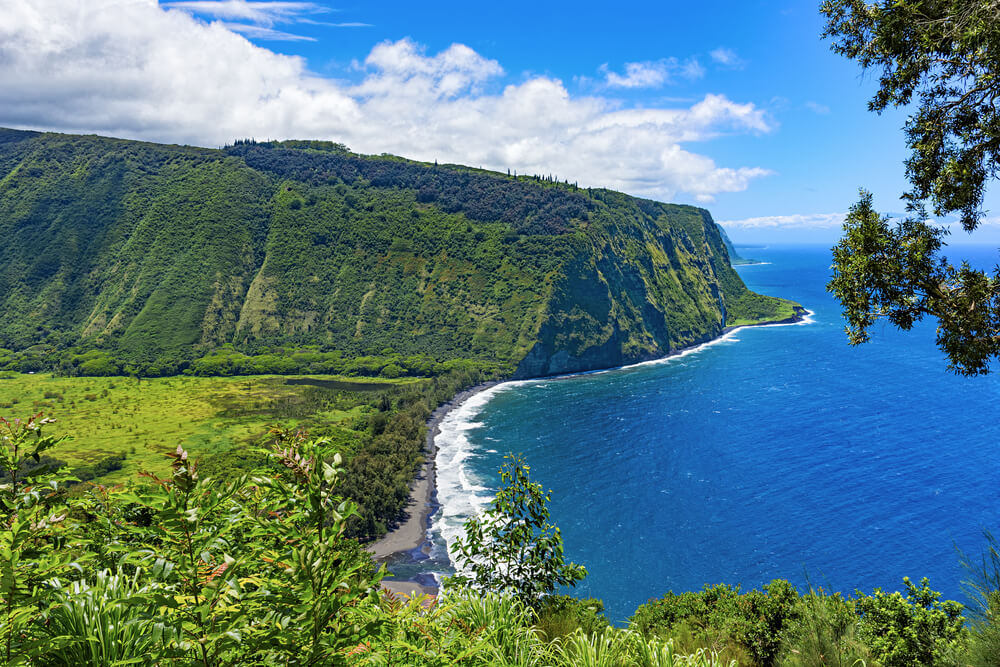 The photo above is from the Waipio Valley Lookout. But you can also head into the valley itself if you really want to explore this beautiful Big Island location.
I suggest booking the Waipio Valley Shuttle Tour. It's a 90-minute tour in a van without glass in the windows. So, it's easy to take photos right from your seat as you head into the valley. Then, there are a few stops so you can snap photos of this lust wonderland.
If you are athletic, you can hike down into the Waipio Valley. It's pretty easy to hike down (just watch out for vehicles), but the hike back up can be brutal.
Waipio Valley is the most beautiful place in Hawaii that most tourists don't get to experience.
5. Akaka Falls
Out of all the waterfalls in Hawaii, I think Akaka Falls is my favorite. That's because it requires a little effort to get there, but the views are amazing!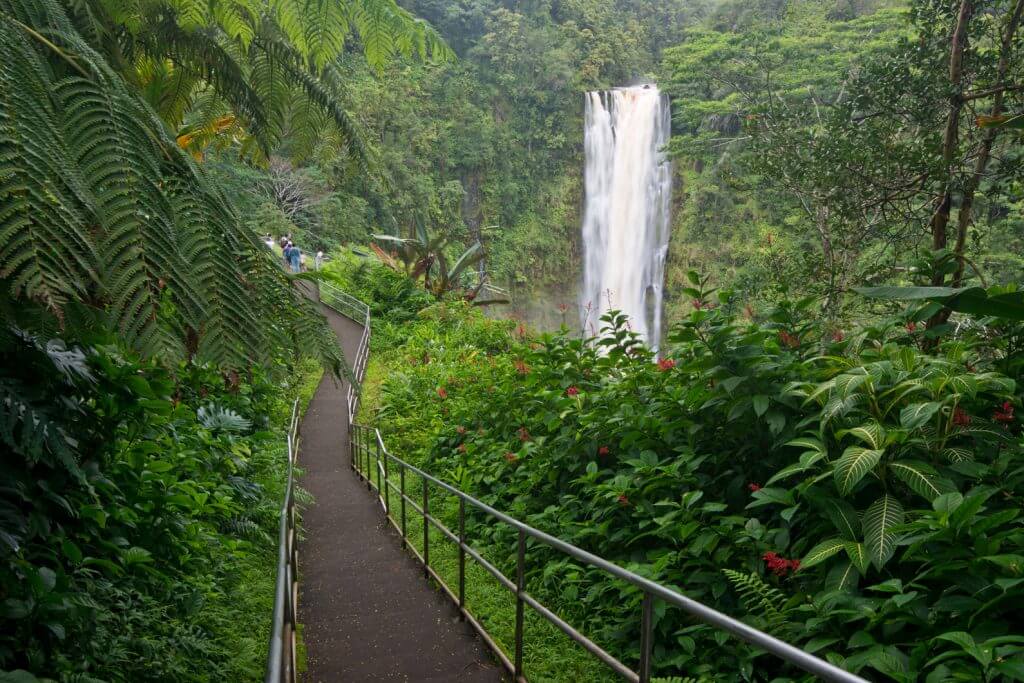 There are two walking trails to get to Akaka Falls from the parking lot. The one on the left is the shorter one to the falls. However, the one on the right will take you through the lush jungle, and you'll go to a scenic viewpoint of a different waterfall. This is the one to do.
If you do the longer loop, you'll get a pretty amazing view as you walk toward Akaka Falls. It's incredible how close the viewing platform is!
There are also some cute areas on the walk back to the parking lot, where you'll go across a little bridge and see some much smaller waterfalls.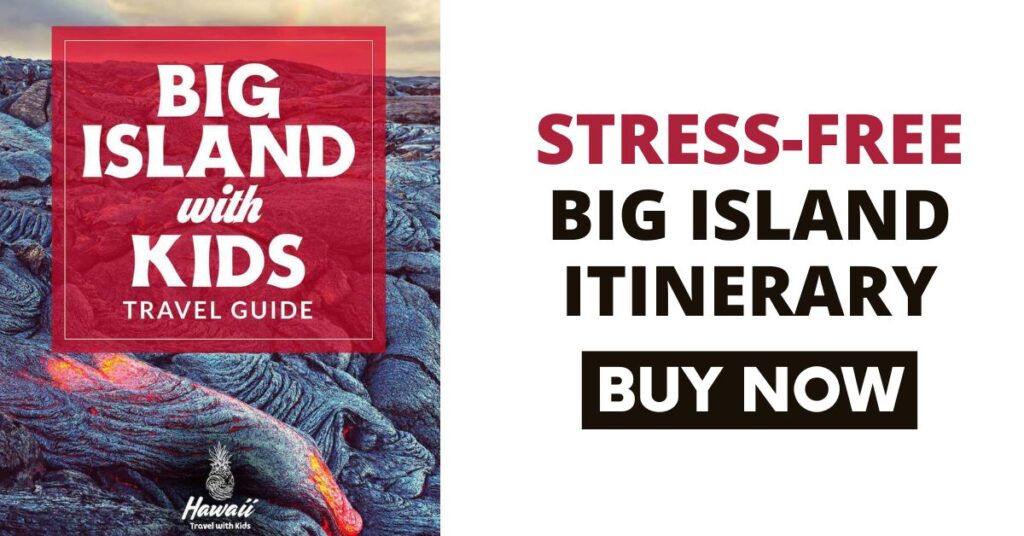 6. Hawaii Tropical Bioreserve & Garden
If you're looking for a botanical garden in Hawaii worth a stop, definitely add the Hawaii Tropical Bioreserve & Garden to your list.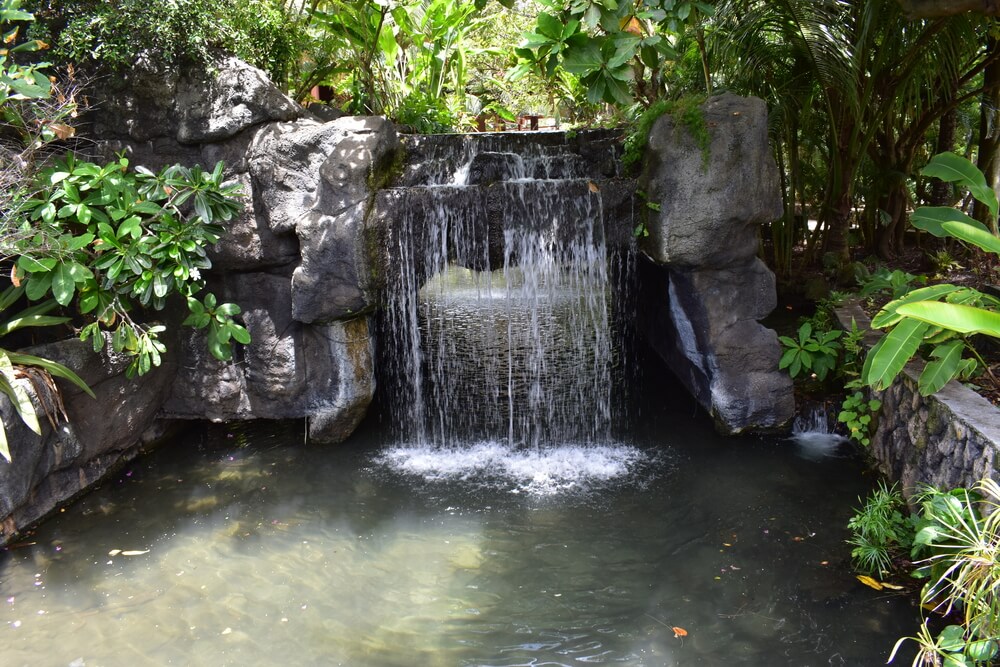 There's a nice, paved path that takes you through the tropical gardens where you can see waterfalls, a tiki statue, a wishing well, a reflection pond, and so many lovely Hawaiian flowers and plants.
What's cool about this place is that they have so many different backgrounds located close together. So, you can get a bunch of different shots in a short amount of time.
Check out our full guide to the Hawaii Tropical Bioreserve & Garden.
Book a Family Photo Shoot
Whenever we travel to Hawaii, we almost always book a family photo shoot with Flytographer. They are super easy, affordable, AND it guarantees that I'll be in some photos. You can get $25 off if you book through this link or use the code HAWAIITRAVEL.
7. Punalu'u Bake Shop
One of the most famous bakeries on the Big Island is the Punalu'u Bake Shop on the South end of the island. It's right on your way to Hawaii Volcanoes National Park from Kona.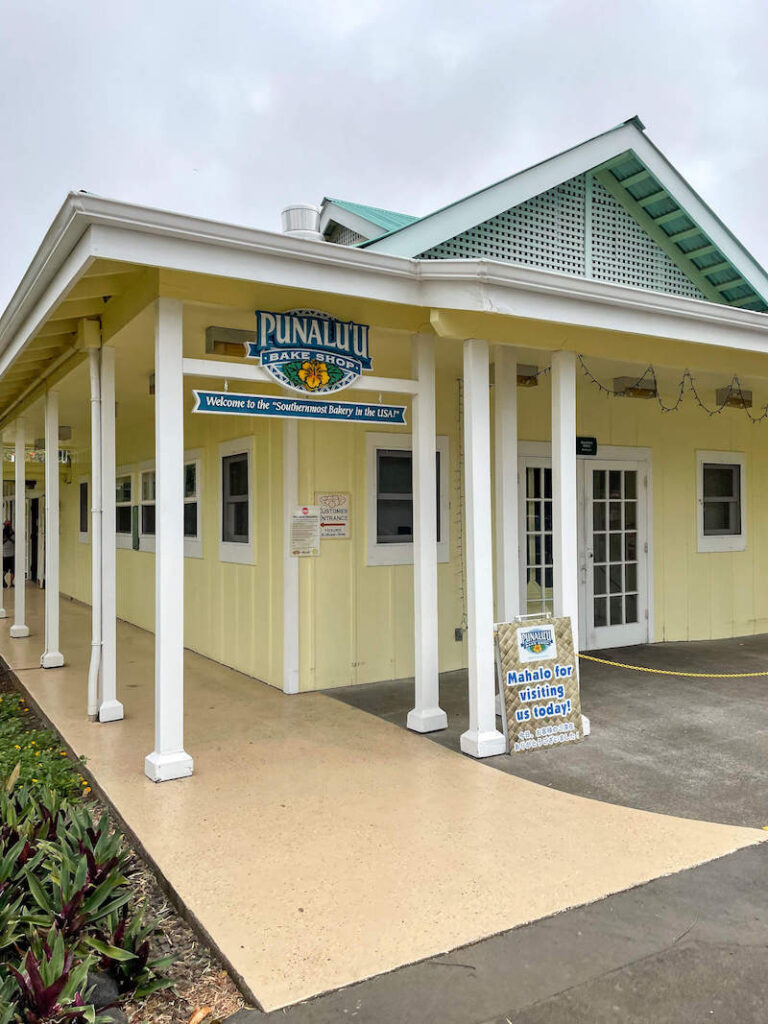 They are famous for their sweet Hawaiian bread. It comes in guava (which is pink) and taro (which is purple). So, you can get some really fun photos with the colorful bread at the Punalu'u Bake Shop.
They also sell ice cream here, which always makes for cute photos!
The shop itself is nice inside, but it tends to be busy. Your best bet is to take photos outside near the entrance (where you can see the Punalu'u Bake Shop sign) or out in the garden area.
8. Kaloko-Honokohau National Historical Park
This was actually the first Big Island National Park I've visited, and it still blows me away. Kaloko-Honokohau National Historical Park is separated into 3 areas that you can visit: the visitor center, the marina, and the bay.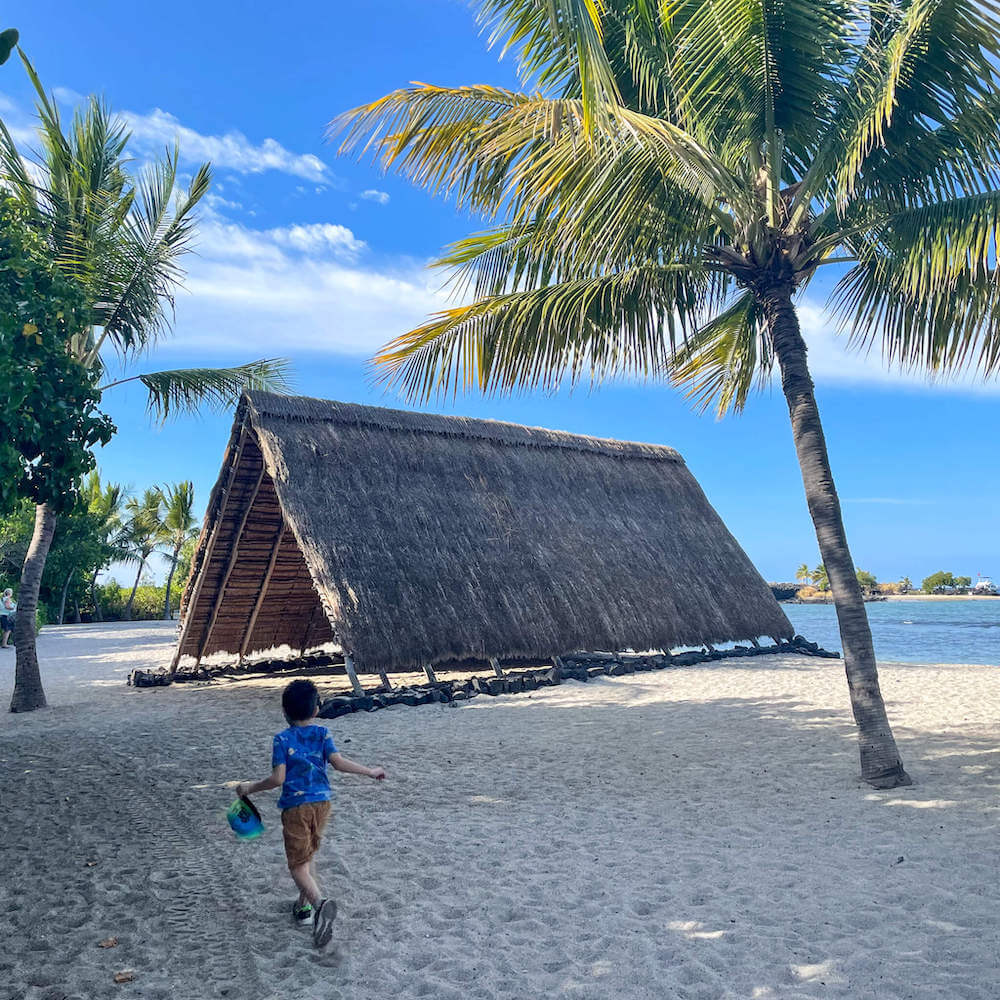 My top pick is the bay because there's a replica Hawaiian fishing house, a heiau (ancient temple ruins), and beautiful scenery. It's also one of the best beaches to see Hawaiian Green Sea Turtles close up.
It's a very short walk through the woods to get from the parking lot to the beach area. The beach itself is really small, so it's easy to walk out to the little tip on the rocks to take photos with the house in the background.
It is another great place to get some unique pictures of the Big Island Hawaii!
9. Painted Church
So, most of the places I've added to this list of Instagrammable spots on the Big Island are natural wonders. But I was so blown away by the Painted Church that I had to include it.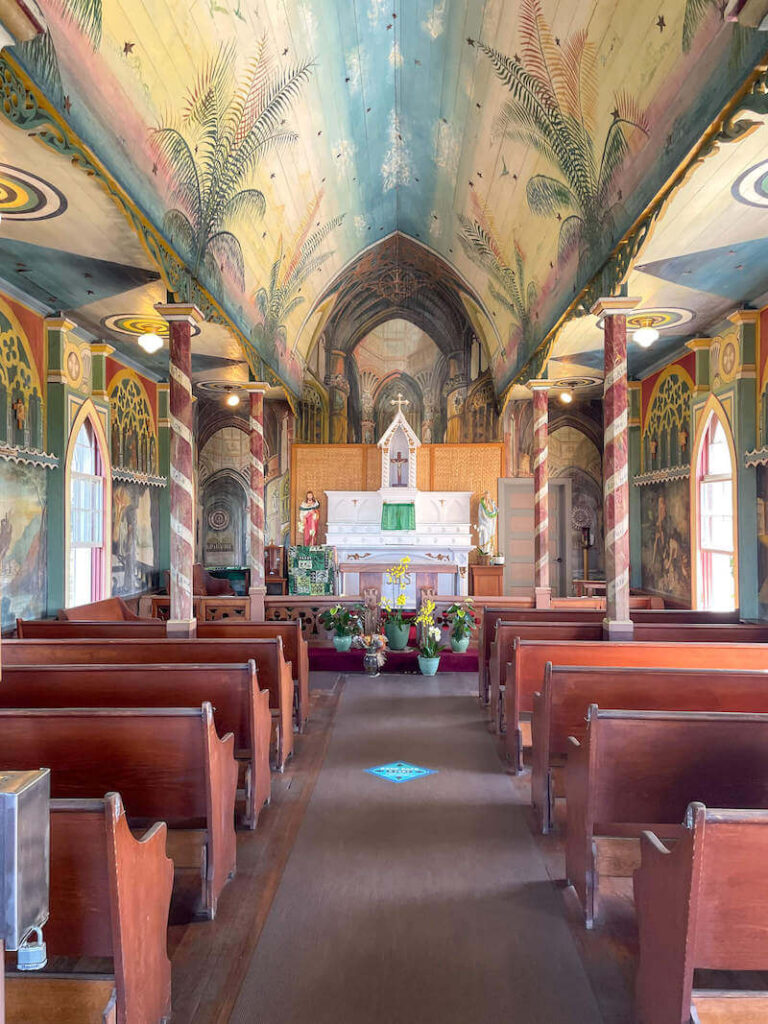 It's really close to the Place of Refuge (listed below), so it's easy to combine the two on a single outing.
While the exterior of the church is adorable, the real magic happens when you step inside. There, you'll get to see some really beautiful artwork that brings the church to life.
The church is free to visit, but there's a place to leave a donation.
10. Place of Refuge (Pu'uhonua O Honaunau National Historical Park)
Out of all the Hawaii national parks I've visited, this is definitely one of the coolest! There are so many things to explore here.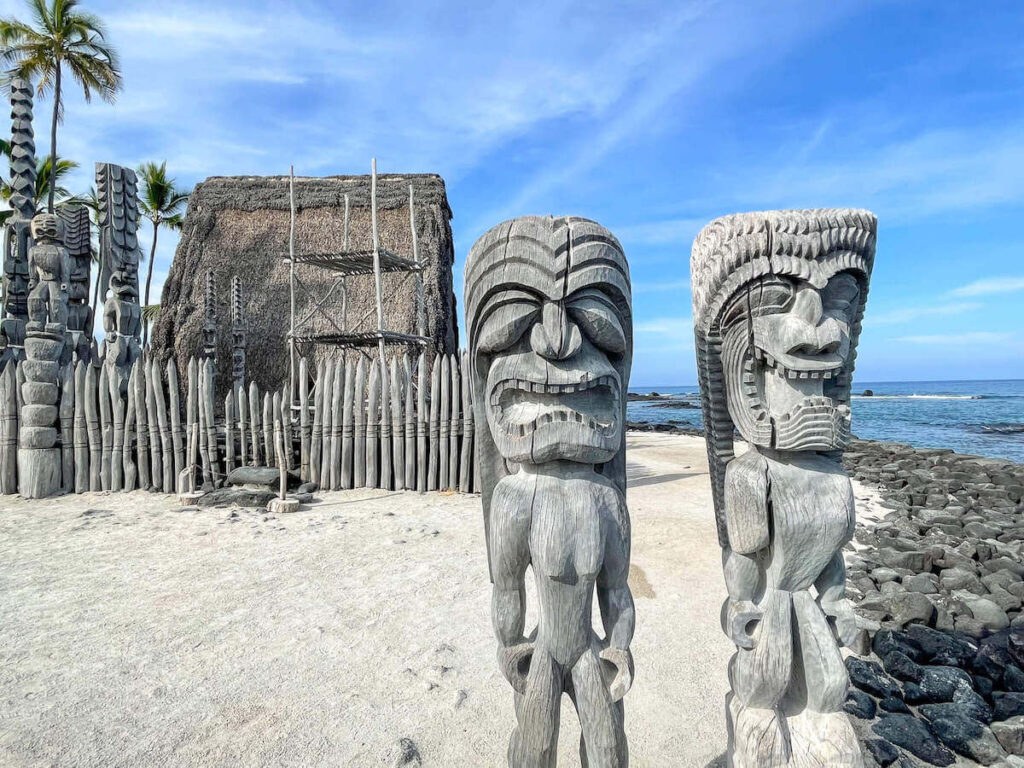 The most Instagrammable spot is with the tikis and the Hawaiian hut. The tikis are actually a lot smaller than I expected, so keep this in mind if you are planning on taking photos of people with the tikis.
What's nice about this area is that it's easy to get away from the crowds and find photo spots with unobstructed views.
11. Lavaloha Chocolate Farm
So, I added the Lavaloha Chocolate Farm to this list for a very specific reason. They have a secret waterfall on their property that you can only access by taking their Big Island chocolate tour!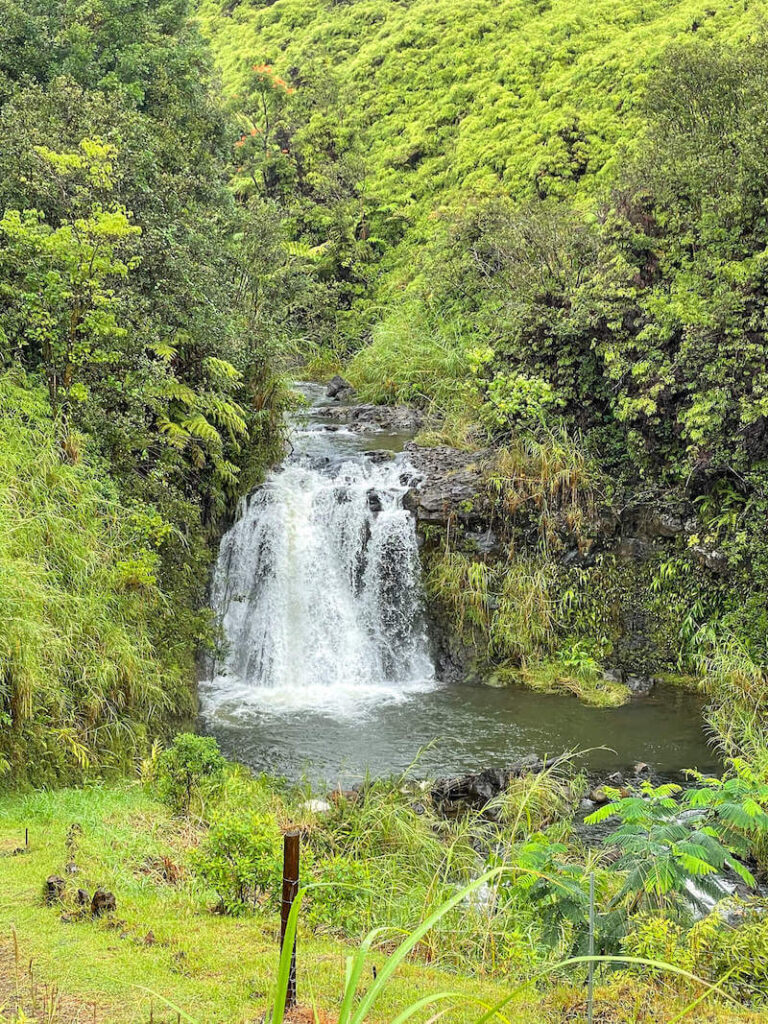 We got to see it near the end of our tour because we had some extra time. But I'm sure you could let your tour guide know that you really want to see it and they can make it happen!
This will be another one of the spots to take pictures of Hawaii's Big Island that so many others won't see!
12. Pololu Valley
Another beautiful area along the Kohala Coast is the Pololu Valley. It's more accessible than Waipio Valley, and there are some breathtaking views from both the lookout in the Kohala Forest Reserve as well as hiking through the valley.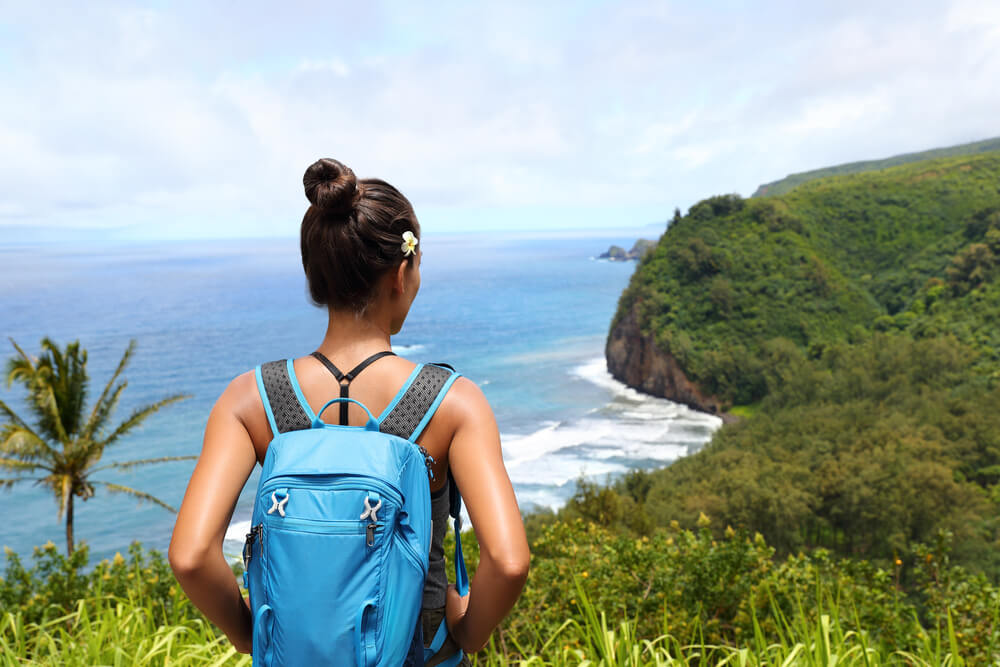 If you have the time and energy, making the hike down to the black sand beach is perfect for adventurous travelers.
13. Kamakahonu (King Kam Beach)
One of the cutest little beaches in Kona is Kamakahonu Beach. It's nicknamed King Kam Beach because it's right in front of the Marriott King Kamehameha Hotel.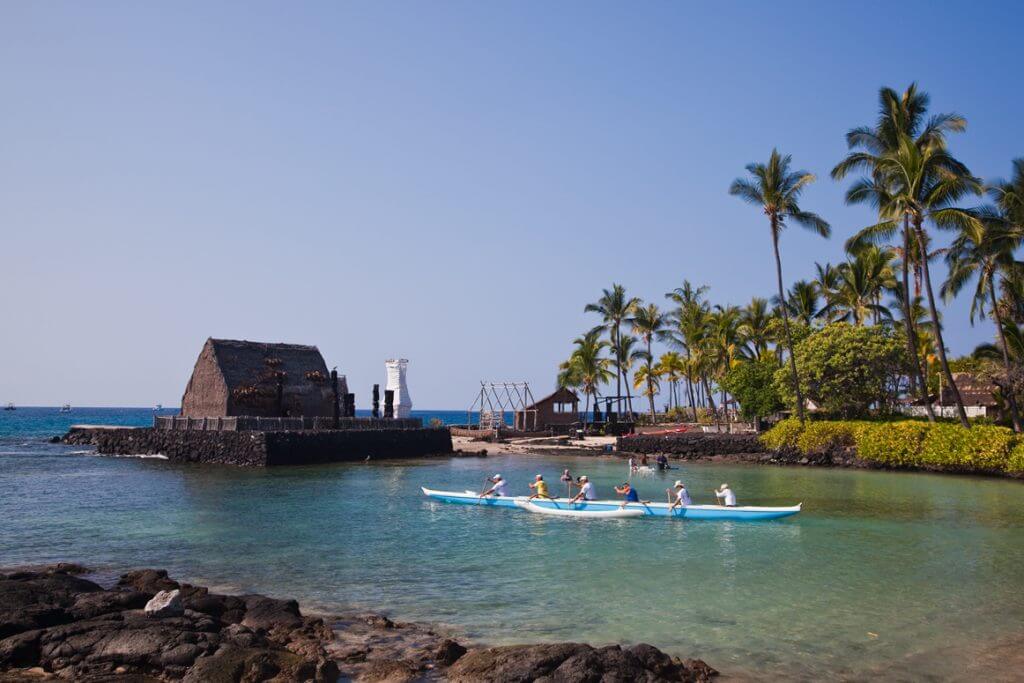 It's great for photos because you can get the replica of King Kamehameha's house in the background of your photos. It's easy to walk around the grounds to get different angles that include the beach and the water.
Plus, they have an Ululani's Shave Ice location just steps from the beach. It's always cute to use a food prop in Hawaii photos, and it doesn't get much more iconic than shave ice!
14. Mauna Kea
How often can you say you saw snow in Hawaii? Well, it definitely snows at Mauna Kea on the Big Island of Hawaii. In fact, people can even ski and snowboard here!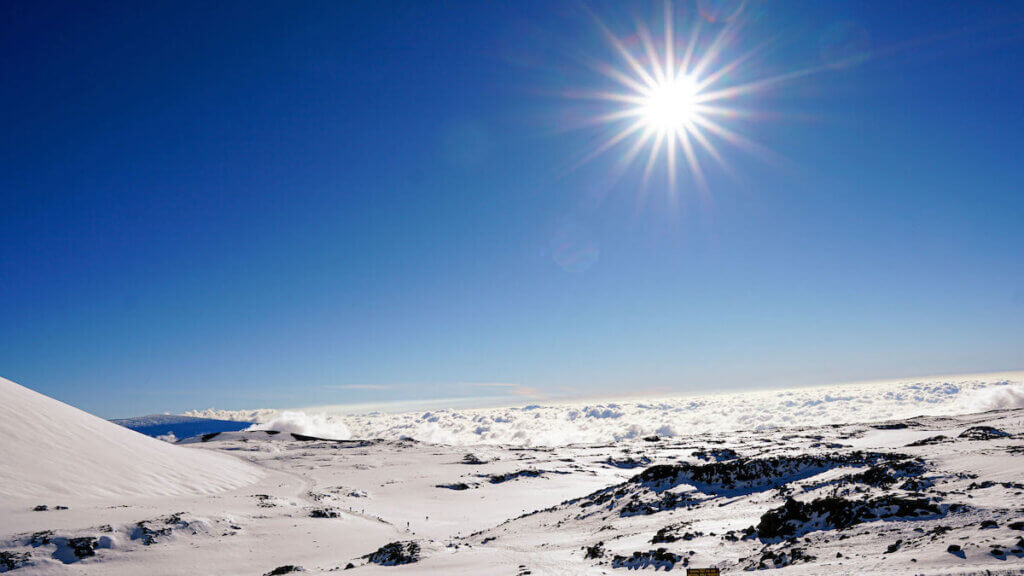 We recommend bundling up before trekking up to Mauna Kea. So, you'll want to pack some cute hats, mittens, or scarves for your photos.
And if you are able to stay late, it's one of the best places to stargaze in Hawaii!
15. Waimea Town
A lot of people don't realize that the Big Island has a large "cowboy culture." That's because there are tons of ranches. The most famous is Parker Ranch in Waimea.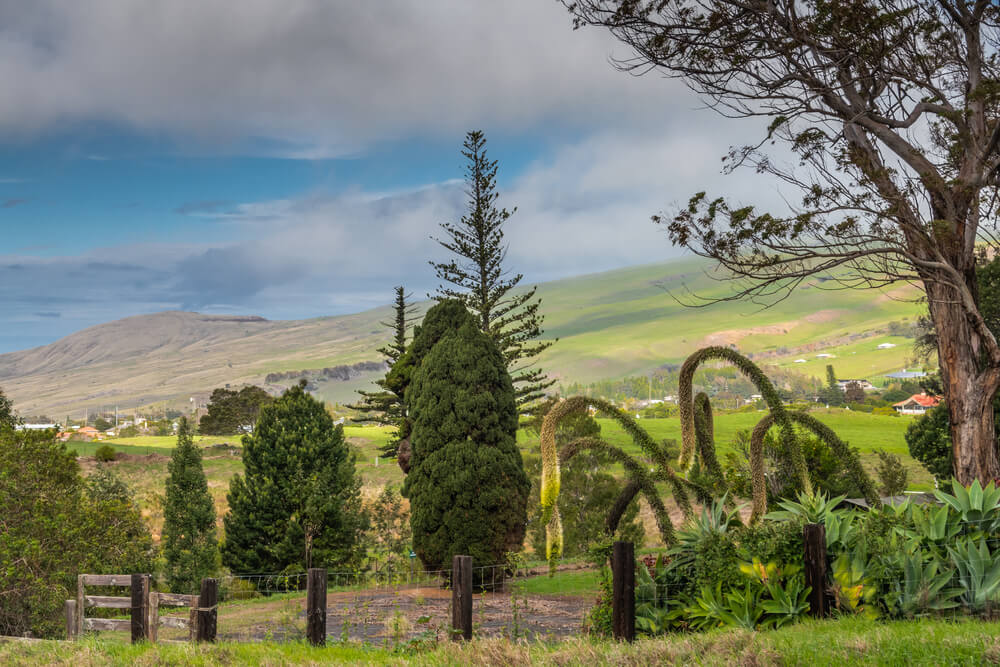 This is a great place to go if you're looking for something different than beach landscapes. Plus, you can even go horseback riding or have dinner there.
I also recommend walking around Waimea Town. It's super cute, with lots of little shops and restaurants that would be adorable for photos.
5 Tips for the Best Photo Opportunities on the Big Island
1. GET A HAKU LEI
Haku leis (also referred to as Hawaiian flower crowns or Lei Po'o) are super trendy right now! It's an easy way to add some tropical flair to any outfit!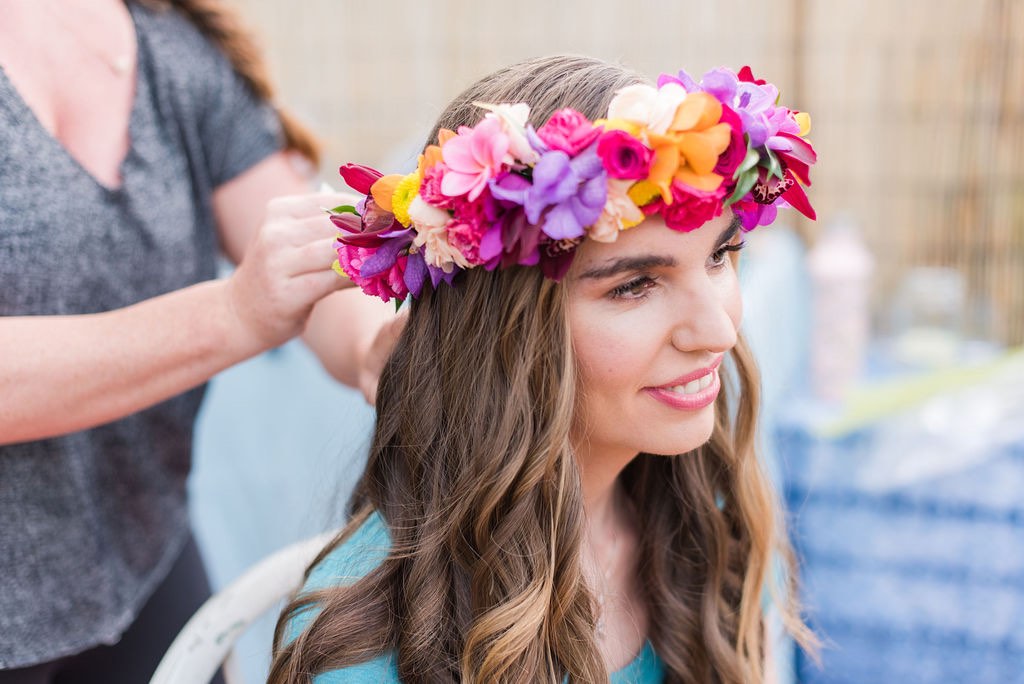 You can order one at floral shops in Hawaii. But I suggest heading to Instagram to find someone. That way, you can show them exactly which haku leis you like the most, and they can make something similar.
I suggest keeping it covered in the fridge in a box or with a wet paper towel on top. And keep it in a cooler in your car if you plan on being out all day but want to wear it for some photos.
2. WEAR THE RIGHT CLOTHES
The Big Island is not a great place to wear high heels or fancy clothes. This island usually attracts adventurous travelers. That's why wearing something cute that's also outdoorsy works well for most of the places listed above.
If you do want to glam it up a bit, I'm a fan of these flowy maxi skirts and floral maxi dresses. They are easy, breezy, and super comfortable. Plus, they are easy to throw on over a swimsuit to take a few photos.
And you should definitely find a swimsuit that flatters your body (and that you feel like a rockstar in!) Pair it with a sarong or fun beach cover-up for cute resort photos.
3. USE HAWAIIAN FRUIT AS PROPS
In case you need another reason to hit up one of the Big Island's many farmer's markets, it's a great place to pick up photo props!
Get a delicious coconut drink, pineapple, mangoes, papayas, apples, bananas, etc., and use them in your photos in fun ways.
You can also stop by a local grocery store and check out their produce department for any colorful tropical fruit.
These are fun to hold out away from your body, in front of your face, or hold them on your head! The sky is the limit!
4. CHECK THE WEATHER
The Big Island has 14 different climate zones, so the weather can vary greatly depending on which part of the island you're heading to.
Kona tends to be dry and hot, and Hilo is on the rainy side of the island. And it's usually chilly up at Hawaii Volcanoes National Park and Mauna Kea.
So, I highly recommend checking the weather every morning to figure out which side of the island to head to.
And keep an eye on what time sunrise and sunset are. That will affect your lighting.
5. HIRE A BIG ISLAND PHOTOGRAPHER
If you'd like to do professional photos in any of these spots, consider hiring a photographer through Flytographer. You can get $25 off using this link.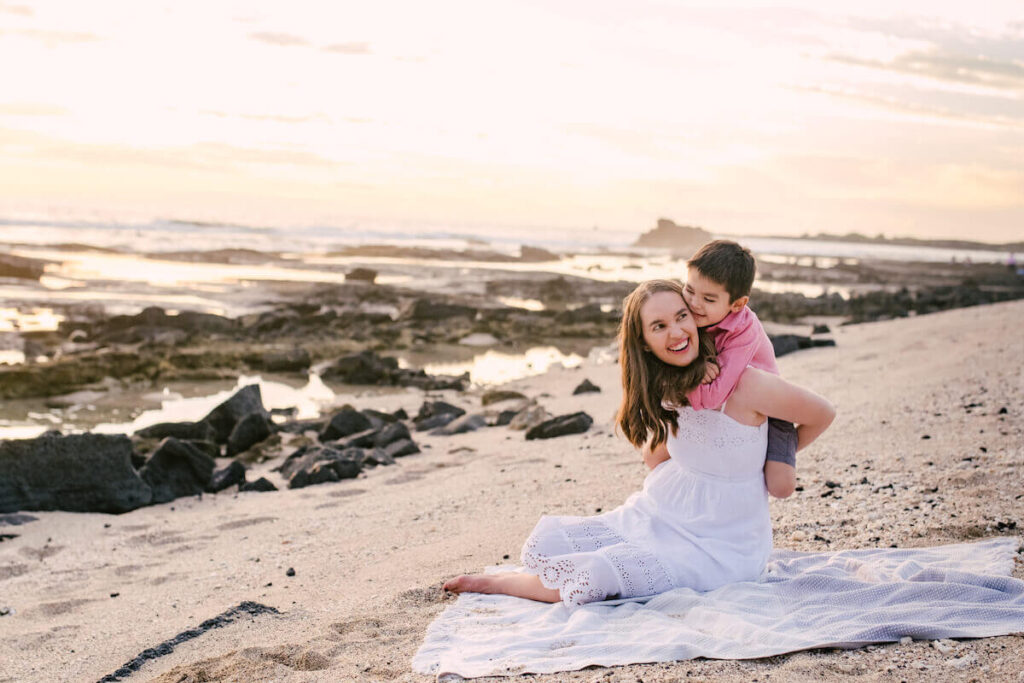 This is a great option for families, couples, and even solo travelers who want someone else to get the perfect shot!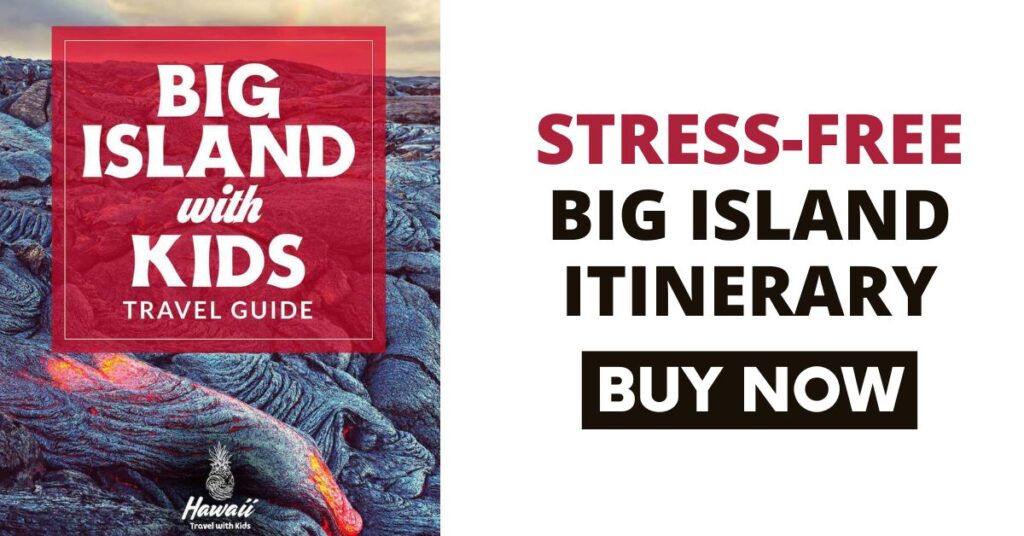 Big Island Photography Spots FAQs
What are the places to visit in Big Island, Hawaii?
It's so much fun to go sightseeing on the Big Island of Hawaii. It has the gorgeous Kohala Coast, lush Waipio Valley, small artsy towns, ranches, and the volcano! You'll also want to check out a few Big Island tourist attractions like a coffee farm, macadamia nut factory, and national parks. These are all awesome options for photos of the Big Island of Hawaii.
What are the most beautiful places in Hawaii?
Some of the most Instagrammable places in Hawaii include the Road to Hana on Maui, the Na Pali Coast on Kauai, Kualoa Ranch on Oahu, and Waipio Valley on the Big Island. These are all popular places to visit in Hawaii for photographers.
What is the prettiest part of the Big Island?
Kailula Bay, Waipio Valley, and Kohala Coast are a few of the prettiest parts of the Big Island to capture for some incredible pictures of the Big Island of Hawaii!
Most Beautiful Places on the Big Island of Hawaii Wrap Up
If you're planning a trip to the Big Island, you won't want to miss out on this Big Island Instagram guide with fun photo ops, gorgeous scenery, and places to take the best Big Island selfie!
These cool places in Hawaii are definitely worth checking out.
Plus, check out my list of Hawaii Instagram captions and Hawaii quotes to post with your awesome photos!