Looking for awesome Kauai activities? Check out this North Shore Kauai Food Tour by Tasting Kauai for your next Kauai vacation.
This North Shore Kauai food tour review was written by Hawaii travel expert Marcie Cheung and contains affiliate links which means if you purchase something from one of my affiliate links, I may earn a small commission that goes back into maintaining this blog.
Even though I have been around Kauai, Hawaii more than 30 times, there is always something new to find. On our last family trip, we decided to focus on the incredible Kauai food scene.
So of course, we booked a Kauai food tour!
Tasting Kauai is the smartest choice for food tours on Kauai. They provide food tours all around the island and every tour has a different focus.
After reading through each of the descriptions on their site, scrolling through their Facebook, and stalking them on Instagram, I eventually decided to test their North Shore food tour.
This trip, my family stayed in the magnificent Grand Hyatt Kauai Resort & Spa in Poipu. I knew we would be spending a great deal of time around the South Shore and could have chances to try out food around our hotel.
So, I figured reserving this North Shore tour will guarantee that we got to spend at least a couple of hours checking out restaurants on Kauai that we may not have time to eat at during our trip.
Additionally, the North Shore is famous for being cool and super organic and I've always been curious to try out some of their restaurants and food trucks!
My husband and I brought along our children (ages 5 and 2). And my mother came along to take a look at the tour and also help us with the kids so that we could take photographs and videos for this post. Thanks, Mom!
Know you want to book? Get discount Kauai food tour tickets here!
Don't have time to read a bunch of Hawaii blog posts and reviews? Here are some of our top picks for visiting Kauai.
Popular Kauai Tours/Activities
Favorite Kauai Resorts/Hotels
Grand Hyatt Kauai (this Poipu resort has a luxurious pool area, romantic restaurants, and a stunning ocean view)
Koloa Landing Resort (this is a luxury resort with an amazing pool area and truly spacious rooms)
Royal Sonesta Kauai (we LOVE the pool here because it's the largest one in Hawaii)
Want to Rent a Car in Hawaii?
One of the best places to rent a car in Hawaii is Discount Hawaii Car Rental because they get the best rates from top national companies like Alamo, Dollar, Thrifty, Avis, Enterprise, Budget, and Payless.
Want to skip all the planning and just access my detailed Kauai Itinerary complete with daily schedules, kid-friendly activities, and travel hacks? Click the button below.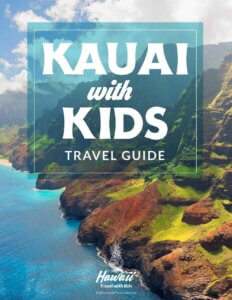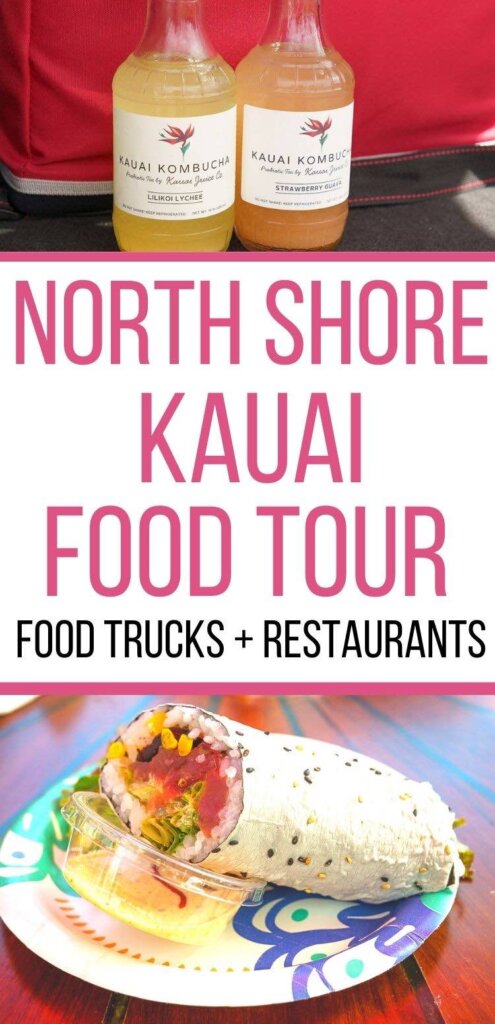 The Best North Shore Kauai Food Tour
This food tour in Kauai began in Kilauea and finished in Hanalei. There were seven locations on the excursion.
There were a few stops where we could walk to the next one, but the majority of the time we drove to another site. Our Kauai food tour guide gave us clear driving directions and all of us attempted to caravan. Nobody got lost along the way.
These Kauai food tours routes do change from time to time. These are the places we stopped in March 2019. I personally think this is one of the top things to do in North Shore Kauai. Check latest rates and availability.
KAUAI JUICE CO
The first stop of the North Shore Kauai food tour doesn't even involve food. On the contrary, it's all about the beverages!
Kauai Juice Co has many places around Kauai, yet this tour stops at their Kilauea store.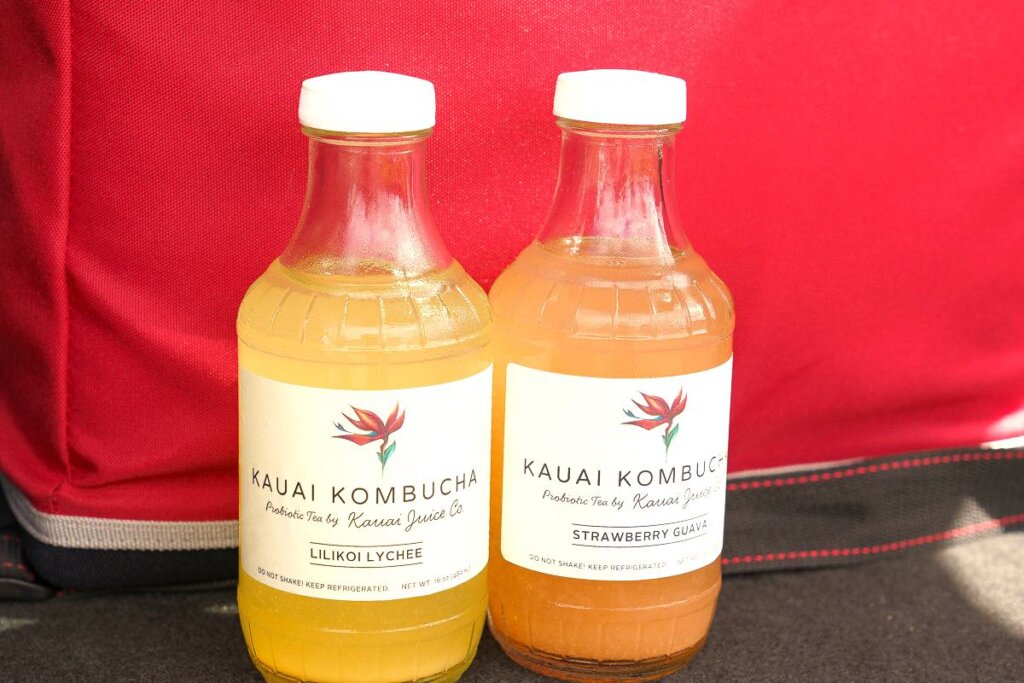 Their Kapaa location has a wonderful pineapple Instagram wall!
After we visited, they were excited to discuss their kombucha. I'd previously tried a few different bottles of kombucha from Costco and was not impressed. It had been too sour for me and I didn't understand why it was so trendy.
However, Kauai Juice Co blends its kombucha with its signature tropical juices. That's the best combination for this fermented beverage!
Their team provided us with different tastes of kombucha they had "on tap" and I enjoyed tasting the various degrees of sweetness.
Following our tasting, we all picked our own bottles to bring along with us. I picked Lilikoi Lychee and it was wonderful!
They also have a program where you can return your empty bottles for money back. I love places that encourage reusing and recycling!
SUSHI GIRL
Our second stop was our first actual food on this excursion to North Kauai.
Sushi Girl is situated directly across the road from Kauai Juice Co at the Kong Lung Historic Market Center. We were able to walk there.
They're famous for something special. 2 words: sushi burrito.
When we got our (very generous) sample from Sushi Girl, I need to be honest. It looked kind of boring because of the color.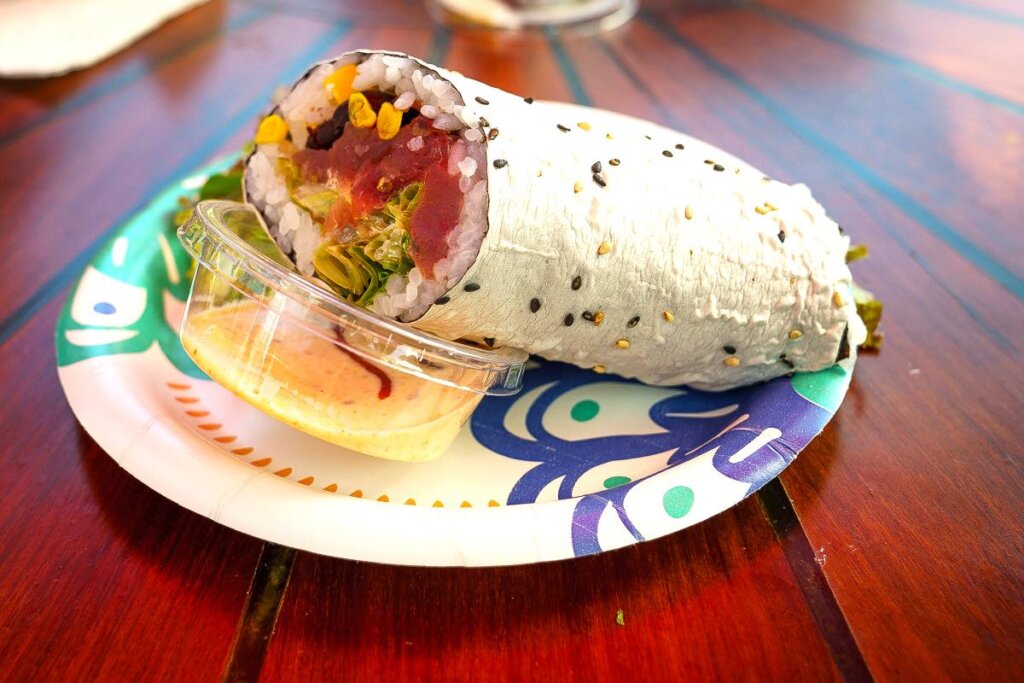 We tried "The O.G." sushi burrito. It's made with avocado, corn, black beans, greens, and raw ahi fish packed with rice and wrapped in white soy paper. The white color kind of threw me off.
However, as soon as we tasted it, I was eager to include Sushi Girl as one of my new favorite places to eat on Kauai!
It tastes exactly how it sounds. Just like a Southwest-inspired sushi hand roll with influences of California. And you need to dip it into their own "yum yum" sauce! It's seriously yummy and one of the hidden gems in Kauai.
Since this was the first food stop on the tour, I knew I needed to pace myself so I didn't finish. However, had we only stopped there for lunch or dinner, I'd have devoured the entire plateful of food.
KAUAI FARMACY
I'm all for places that include a pun in their name and this is truly "punny!}
Kauai Farmacy is off the main highway and down a little dirt street. You'd definitely miss it if you did not know it was there.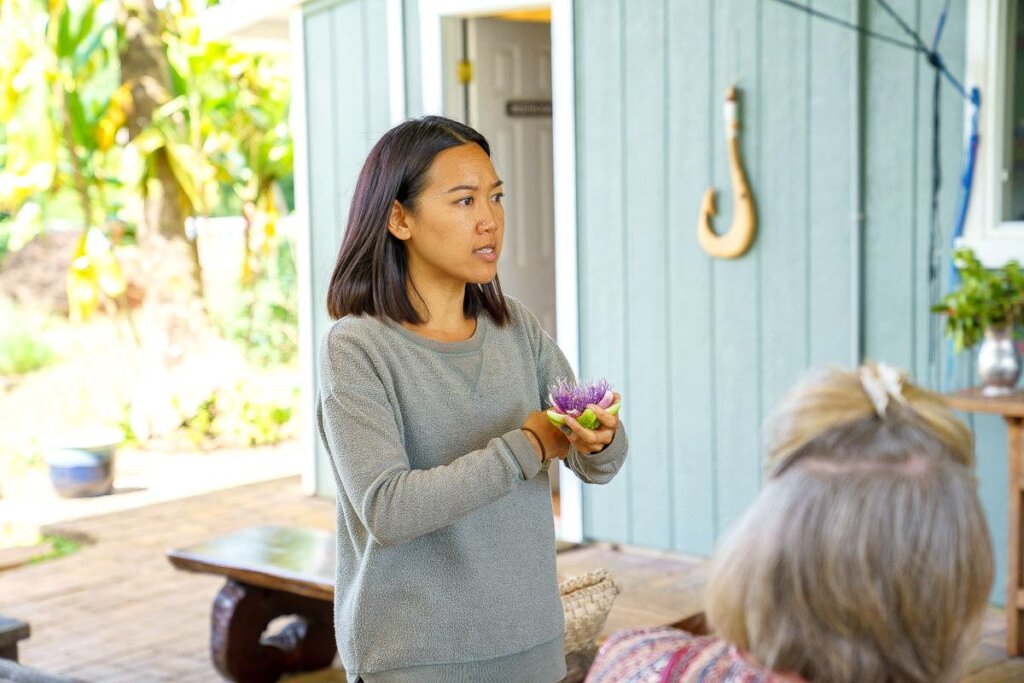 It is a farm where they grow a great deal of Polynesian medicinal herbs and make products to assist individuals to soothe their ailments naturally.
They offered us a variety of teas to taste. I enjoyed the Love Potion and Tropical Chai teas.
And they handed around spices for us to smell.
My children got a kick out of grinding up macadamia nuts for the first time! It's always great when tours have lots of hands-on activities like this.
We also tried Spilanthes. It is a bud that if you chew it, you'll get a numbing feeling. It is mostly used for toothaches.
I had never heard of it and was amazed at how fast it worked! The effects just last five minutes or so (at least for half of a little bud).
The property is really cute to walk around. There are tons of plants but also adorable seating options and even a rustic jungle gym.
My children loved hopping along their rock path, too!
They offer backyard tours where you can learn the best ways to use medicinal herbs, which sounds pretty interesting and will help you learn about the Kauai culture too.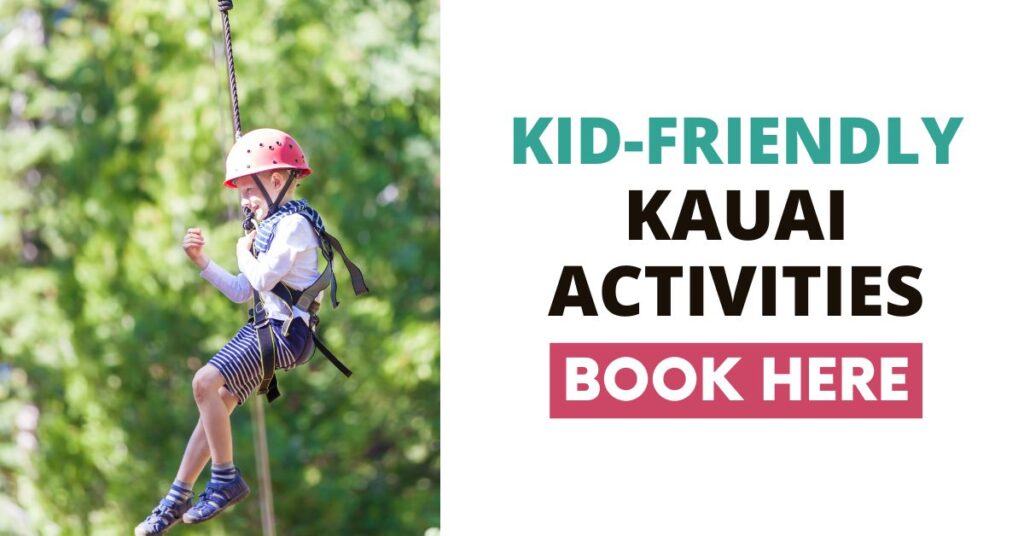 76 STATION
I understand what you are thinking. Really? Gas station pizza is worthy of a food tour stop?
Yes, it is. And you are going to want to return for seconds. Trust me. We did after that week!
After the proprietor took over the North Shore General Store at the 76 Station in Princeville a couple of decades back, he recognized he can revamp their entire kitchen set-up.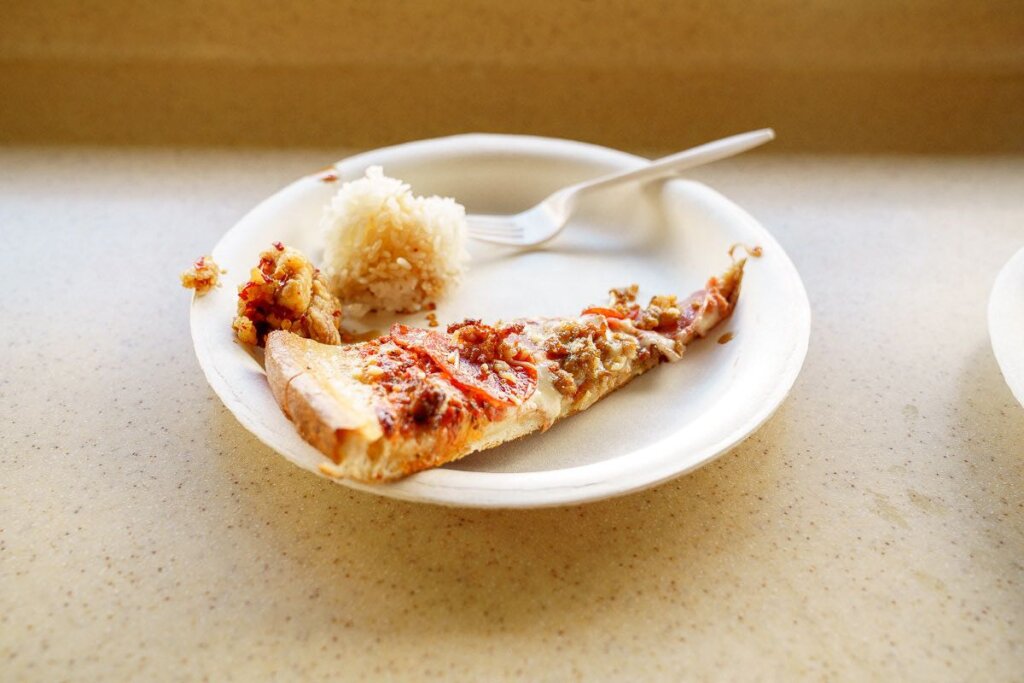 He purchased a pizza oven from New York City, that was trucked across the Mainland, placed on a ship that traveled across the Pacific Ocean, and came to Kauai months later.
As soon as it arrived, they experimented with recipes to make incredible pizza on Kauai!
We tasted "The Works" pizza and chili pepper chicken.
My 5-year-old son exclaimed, "This is the best pizza ever!" At least that is what he yelled as he devoured his entire piece of pizza.
The crust has the perfect balance of crunch and chewiness and the toppings are super tasty. It's one of the best things I've tasted on the North Shore and it's easy to pick up and take with you to the beach or back to your resort.
We also enjoyed the chili pepper rice and chicken. They were very flavorful.
In addition to pizza, they also make Kauai-grown beef hamburgers, breakfast items, calzones, hot dogs, plate lunches, macadamia nut cookies, and much more.
As I said earlier, we called in an order for pizza later that week and brought it to the playground. Great kid-friendly dinner!
This Kauai food hub, while not a fine dining restaurant, had local foods and some of the best food we tried. I think it is one of the must-eat places in Kauai for sure!
UNCLE MIKEY'S DRIED FRUIT
When our tour guide said we would be meeting a guy at a parking lot to hear about dehydrated fruit, I immediately lowered my expectations.
I enjoy dried fruit as much as anybody. But when I travel to Hawaii, I expect to eat fresh tropical fruit grown on the islands.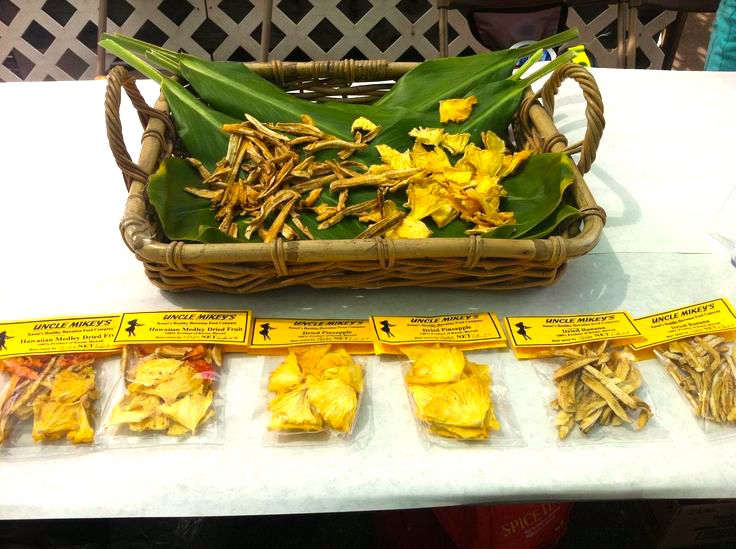 Our tour guide kept pitching Uncle Mikey as a personality and someone we would get a kick talking to. I thought that was a way of saying that we were just there for a humorous break before our next stop.
After he chatted a bit about his company, he casually passed around small baggies of dried fruit. My expectation was low and I only tried a little piece.
Holy cow! It is seriously the most delicious dried fruit I have ever had! I believe that it's because he does not use sugar or other additives, just fresh ingredients. It is simply dehydrated fruit that's grown on Kauai.
The crazy thing is that it has the exact same flavor as the fresh fruit but has a chewier texture. I am talking about Hawaiian-grown papaya, mango, pineapple, Kauai's famous apple bananas, and coconut!
And it is not leathery or gummy. Just plain and easy dried fruit and it is amazing!
I am so thankful he was generous with his samples since I tried each and every kind of dried fruit he provided. And we bought 3 bags to bring home with us. It is seriously awesome!
HANALEI TARO & JUICE CO
We ended our North Shore of Kauai food tour in Hanalei. They are famous for their taro fields. There is a great panoramic lookout at which you are able to see the "patchwork quilt" style of those fields from up above.
So, it was only fitting that we would taste the much-talked-about poi.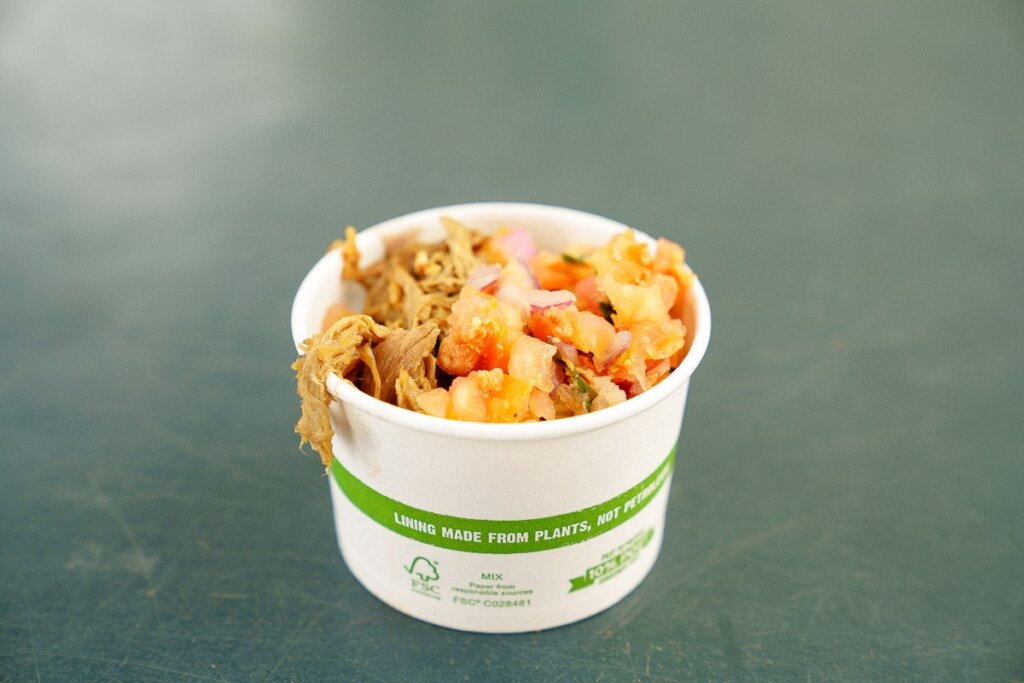 For people who don't understand what poi is, it's a fermented paste made from pounding taro root. Usually, tourists avoid it because, at many luaus, they refer to it as "wallpaper paste."
While it used to annoy me that Luaus perpetuate the stereotype that poi is not great, now I don't even mind because that means more for the rest of us!
You will find the famous Hanalei Poi at neighborhood grocery stores around the island. But, this food truck provides a lot more taro products such as taro hummus, taro veggie burgers, taro mochi cake, and taro smoothies.
We tasted their Kalua Poi Bowl. It is a bowl featuring kalua pork, lomi lomi salmon, and fresh poi.
The combination of those flavors was phenomenal! It's a great way to try Kauai local food.
I loved it so much that I attempted to recreate this exact combo at the Smith's Garden Luau after that week!
If you want to try some traditional Hawaiian food inspired by Hawaii's culture, this is a must eat in Kauai.
WISHING WELL SHAVE ICE
Our final stop was Wishing Well Shave Ice across the parking lot from Hanalei Taro & Juice Co. This is one of the best things to do in Hanalei!
My mom has been mentioning this place for the last few years and has always claimed it's the best shave ice on Kauai.
I am a bit of a shave ice snob and I can attest that it's definitely amazing Kauai shave ice!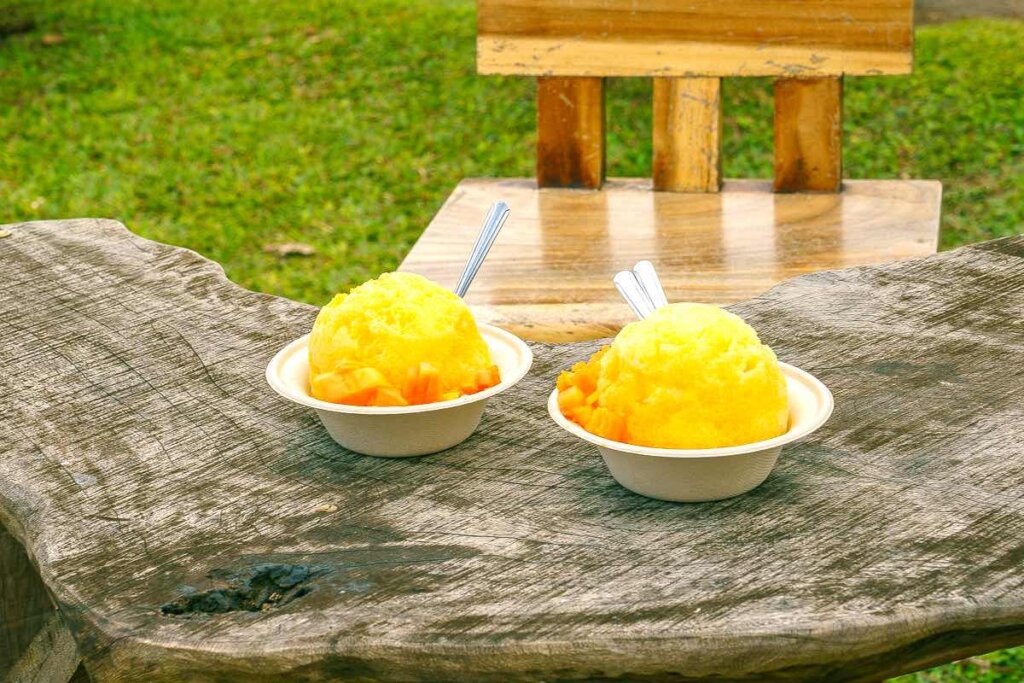 We tried their passion fruit shave ice with freshly cut papaya and it was divine! The ice was shaved so finely that almost had a creamy texture.
Additionally, they make their own organic fruit syrups. This really sets it apart from other shave ice stands in Hawaii.
Not only is their shave ice amazing, but it is also located in a scenic spot!
There are plenty of artsy boutiques in Hanalei and this shave ice stand even sells its own products (like super cute shirts and hats).
For handcrafted desserts that are simple and delicious, you will love this stop! It is a flavorful adventure, that's for sure.
Why Should You Book a Tasting Kauai Food Tour?
Whenever we travel as a family, we make it a rule to avoid all fast food and chain restaurants. We try to eat local and support small businesses.
What I really like about the Tasting Kauai Food Tours is you get to try out the signature dish at neighborhood Kauai Hawaii restaurants. We loved trying out North Shore Kauai restaurants we hadn't heard of before.
And the sample size is just enough to give you the flavors of the dish, without making you too full to continue the tour.
FIRST TIME TO KAUAI
If you are visiting Kauai for the first time, going on a food tour of Kauai is a terrific way to get used to the island. And you'll get to visit a lot of restaurants you probably have never heard of or had time to try. You will get the best food Kauai has to offer on this guided tour.
Additionally, you'll meet a lot of local business owners, your tour guide, and a variety of other tour participants that can share their favorite places on the island and Kauai tips.
RETURNING VISITOR
If you have been to Kauai a couple of times, you most likely have a couple of preferred restaurants which you always stop by. That is fantastic!
However, a food tour provides you the chance to try out a bunch of new restaurants without sacrificing a full meal at each place.
Therefore, you are still able to visit your must-eat Kauai restaurants, while also finding a couple of new favorites. Win-Win!
KAUAI RESIDENT
If you live on Kauai (like my mom), a Kauai food tour is a superb way to check out the food scene on different parts of the island.
And if you are in the tourism business, it is a terrific way to talk with people and see what kinds of restaurants and food items people like the most.
You get to sample the sights flavors, learn more about the food culture, and see some food inspired by Hawaii's diverse cultures; what is better than that?
Is this Kauai Food Tour Kid-Friendly?
YES! My husband and I kept saying that we loved the pace of the tour since we had sufficient time at every stop for potty breaks and diaper changes.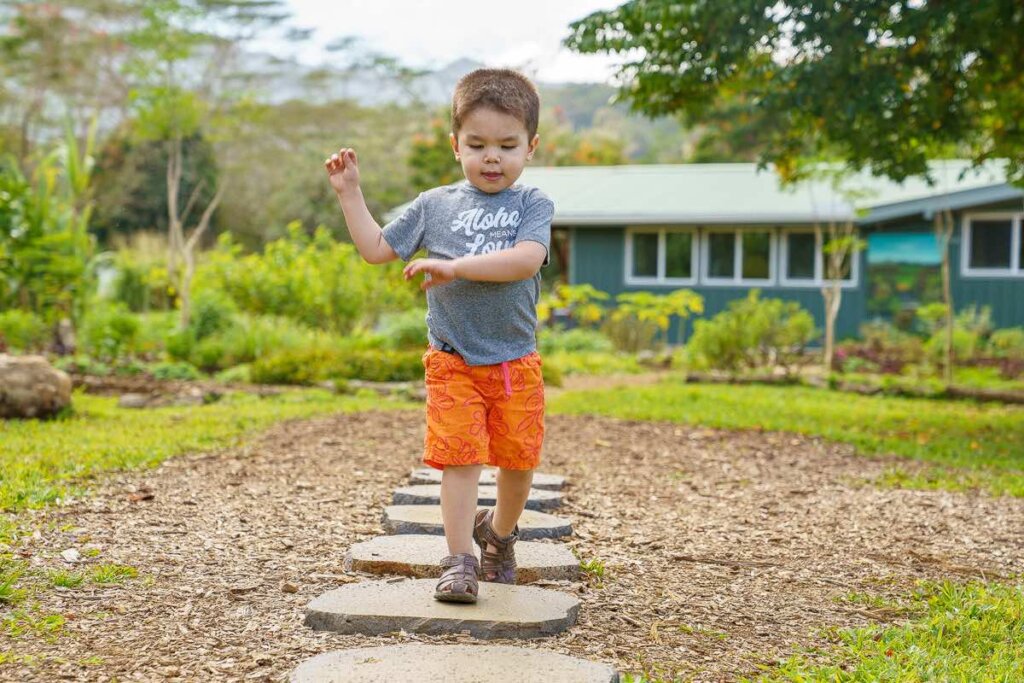 And there were areas for the kids to run around and stretch their legs. Some even had cute photo ops.
Plus, there was actually not too much driving. And the drives were short enough that we didn't worry about the kids falling asleep before the next stop. It was partly a walking food tour too I would even say!
The food portions were large enough to share with kids. I believe that it's a good way for children to try local cuisine without wasting full meals.
Plus, the intimate food tour runs for a few hours, which isn't too bad for kids. There is a variety of food stops, each with different food artisans, so your kids will have tons of choices to choose from!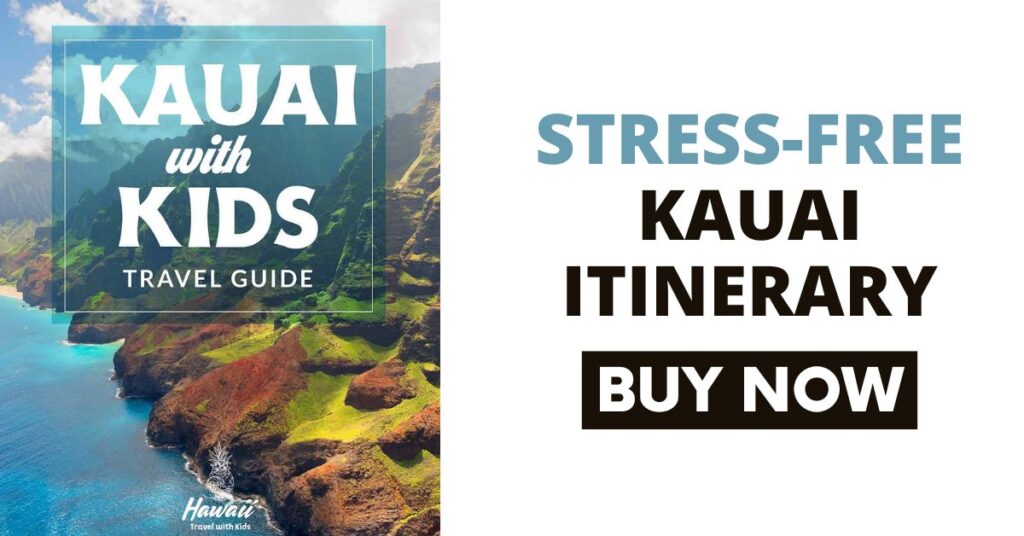 Additional Food Tours on Kauai
For more food places on Kauai, best food choices and hidden gems are not only on the North Shore. Here are other food tours worth going on!
SOUTH SHORE (POIPU)
If you are staying at one of those popular Poipu resorts on the garden island's South Shore, this Kauai food tour is really handy! This excursion is each Wednesday.
You will get six tastings including award-winning sushi and super fresh Japanese food and molecular gastronomy. Plus, you can try flavorful tropical fruit jams and candy treats.
And you're going to have to see a gourmet farmers market!
If you are on Kauai's sunny South Shore, you will love this!
EAST SHORE (KAPAA)
Explore Kauai's Royal Coconut Coast for this Kauai food excursion each Thursday.
You will receive six tastings with a few of the East Shore's best chefs. And you'll try farm-to-table food while hearing the stories about Kapaa.
This tour concentrates on places Kauai residents go on the East Side of the island.
CENTRAL (LIHUE FARM TOUR)
This tour is each Saturday and it seems pretty interesting for people who wish to find out more about where their food comes from about Kauai's farms.
You will get to meet local farmers, explore farmer's markets, taste farm-to-table cuisine, and even check out a local brewery!
WEST SHORE (HANAPEPE WALKING TOUR)
Hanapepe is Kauai's largest little town. It is also the home of Disney's Lilo & Stitch!
This adorable small town is totally walkable and features art galleries, souvenir stores, and small cafes with excellent food! This tour is each Friday.
And following your tour, you will want to conserve time to walk across the Hanapepe Swinging Bridge!
Kauai Hawaii Tours FAQs
What are some of the best Kauai tours to book before your trip?
There are so many fun things to do in Kauai. I recommended booking a tour every other day of your trip. Some popular Kauai tours include a Na Pali Coast snorkel boat ride, kayaking up the Wailua River, going mountain tubing on Kauai, and booking a Kauai luau.
What are the top Kauai attractions worth seeing?
Whether you book a tour or go on your own, there are plenty of awesome Kauai attractions to add to your itinerary. Be sure to see the Waimea Canyon, Spouting Horn, the Tunnel of Trees, Hanapepe Town, Wailua Falls, Hanalei Bay, and Kilauea Lighthouse.
What else to do in North Shore Kauai?
If you're looking for more fun things to do in North Shore Kauai, you're in luck! You can head up to the end of the road to explore Ke'e Beach (make sure to make reservations), go stand-up paddling at Hanalei Bay, check out Kilauea Lighthouse, or see some gorgeous Kauai waterfalls. Don't forget to find the best Kauai North Shore restaurants too!
What food is Kauai known for?
There are tons of Kauai Hawaii foods to try! Be sure to try the local food, including poke, loco moco, kalua pig, and so much more. Eating in Kauai usually means a tasting adventure, with so many local ingredients and culinary diversity, all inspired by Hawaii's diverse cultures. You will love all the new flavors you try at all the Kauai local restaurants.
Kauai Food Tours Wrap-Up
Enjoy a celebration of food inspired by Kauai with this food tour! You will have a diverse selection of food artisans as you sample new and delicious food.
Even though the exact location of each tour may be different, I know it will not disappoint! Enjoy this North Shore food tour next time you are visiting Kauai with your family.
Tasting Kauai gave us two free tickets in exchange for my honest comments. All comments are my own.