Are you planning a trip to Disney Aulani Resort but aren't renting a car from the airport? Keep scrolling to find out how to get from Honolulu Airport to Aulani Resort.
This guide to how to get from Honolulu Airport to Disney Aulani Resort was written by Hawaii travel expert Marcie Cheung and contains affiliate links which means if you purchase something from one of my affiliate links, I may earn a small commission that goes back into maintaining this blog.
So, you're planning a stay at the kid-friendly Disney's Aulani Resort and Spa in Oahu!
You're in for a treat! My family of 4 stayed there a few times and had a blast. There's so much to do that you hardly need to leave the resort grounds! Whether or not you explore the rest of Oahu, you should think about transportation.
When it comes to getting from Honolulu Airport to Aulani resort, you have a few different options. I'll go over each of them and give my recommendations for which is the best!
Keep scrolling for the best ways to get from Honolulu Airport to Aulani!
Don't have time to read a bunch of Hawaii blog posts and reviews? Here are some of our top picks for visiting Oahu.
Popular Oahu Tours/Activities
Favorite Oahu Resorts/Hotels
Want to Rent a Car in Hawaii?
One of the best places to rent a car in Hawaii is Discount Hawaii Car Rental because they get the best rates from top national companies like Alamo, Dollar, Thrifty, Avis, Enterprise, Budget, and Payless.
Want to skip all the planning and just access my detailed Oahu Itinerary complete with daily schedules, kid-friendly activities, and travel hacks? Click the button below.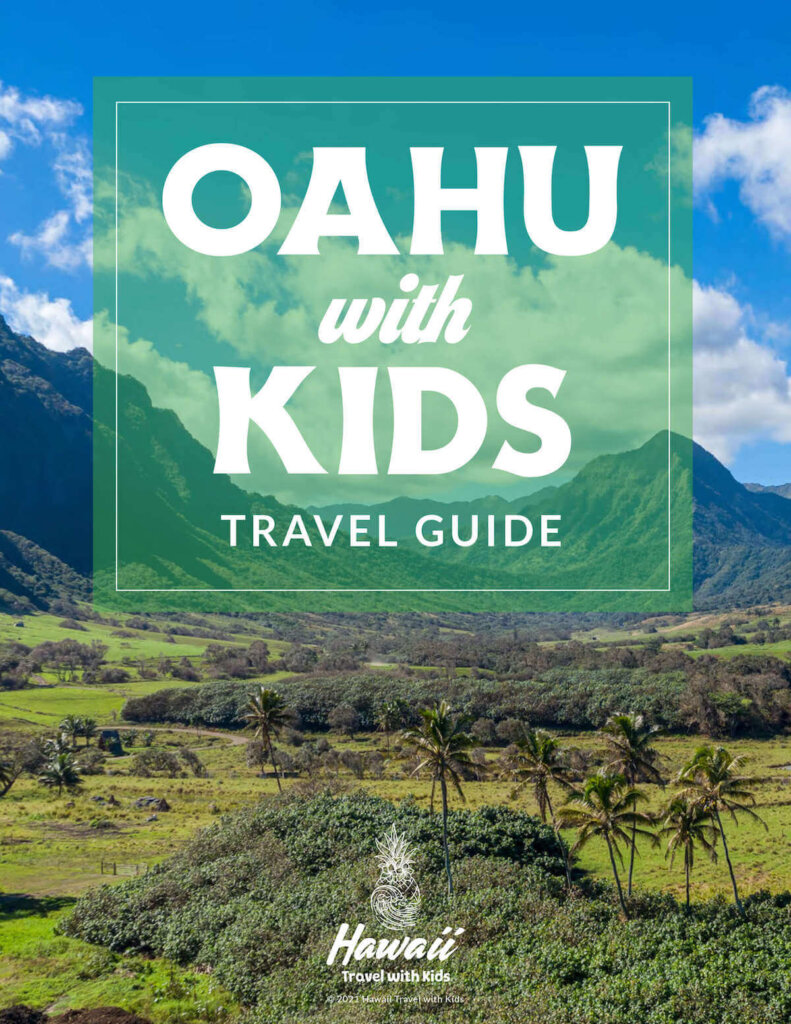 Aulani to Honolulu Airport FAQ
What is the nearest airport to Aulani Resort?
While Kalaeloa Airport is the airport closest to Aulani at a distance of only 6.5-miles, it's not open to commercial flights. The next airport near Aulani is Oahu's main hub, Daniel K. Inouye International Airport (HNL). Commonly called the Honolulu Airport, all major commercial airlines fly here. While there are 2 other airfields on the island, they're run and used by the US Army and Marines.
How far is Disney Aulani from the airport?
The distance from Honolulu Airport to Aulani Resort is 25 miles. You'll travel on Oahu's H-1 West until it turns into Farrington Highway (IH-93). Then you take the exit for Ko Olina and follow the signs for a few miles to the resort. It usually takes about 30 minutes by car.
Is there a Waikiki to Aulani shuttle?
Aulani doesn't offer a shuttle service to Waikiki. However, you can get to Waikiki from Aulani in less than an hour by car. While you could take the bus, it'll take 90-minutes to an hour to get there. If you want to go to Waikiki, I recommend renting a car for a few days. You can also book a taxi or car service. Just be prepared to pay $75-$90 one-way for the convenience.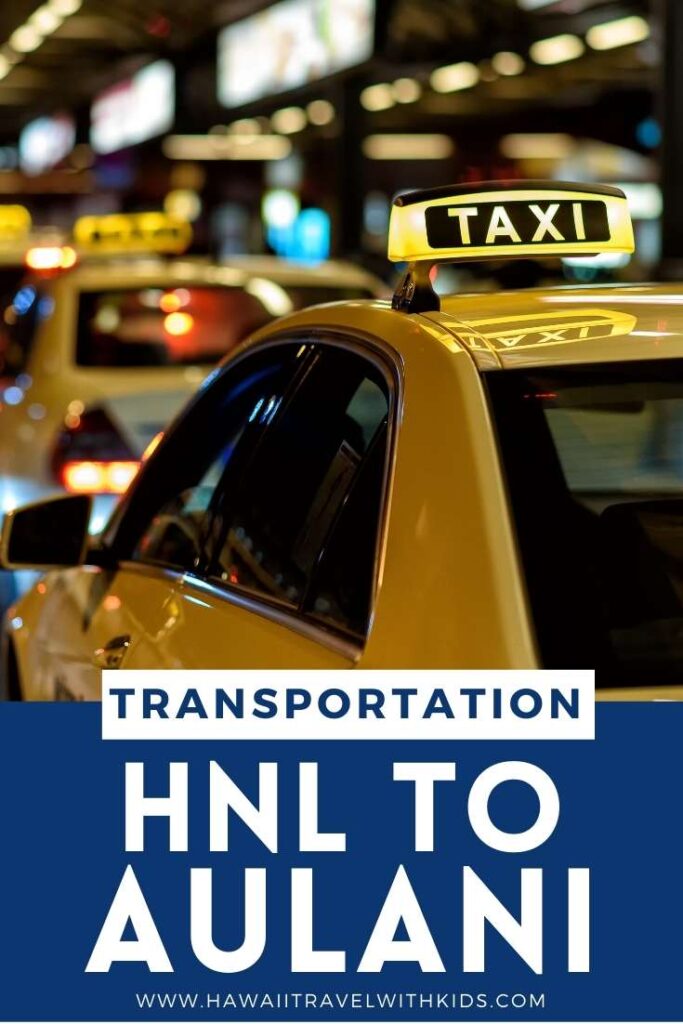 Aulani Resort and Spa is in Ko Olina
It's important to note that Honolulu Airport is on the south coast of Oahu. Aulani is near Kapolei town on the west coast.
The beachfront Disney resort is part of the Ko Olina, a luxury resort destination. It's over 600 structured acres that include a golf course, marina, 4 lagoons, and other large resort partners like The Four Seasons and Marriot.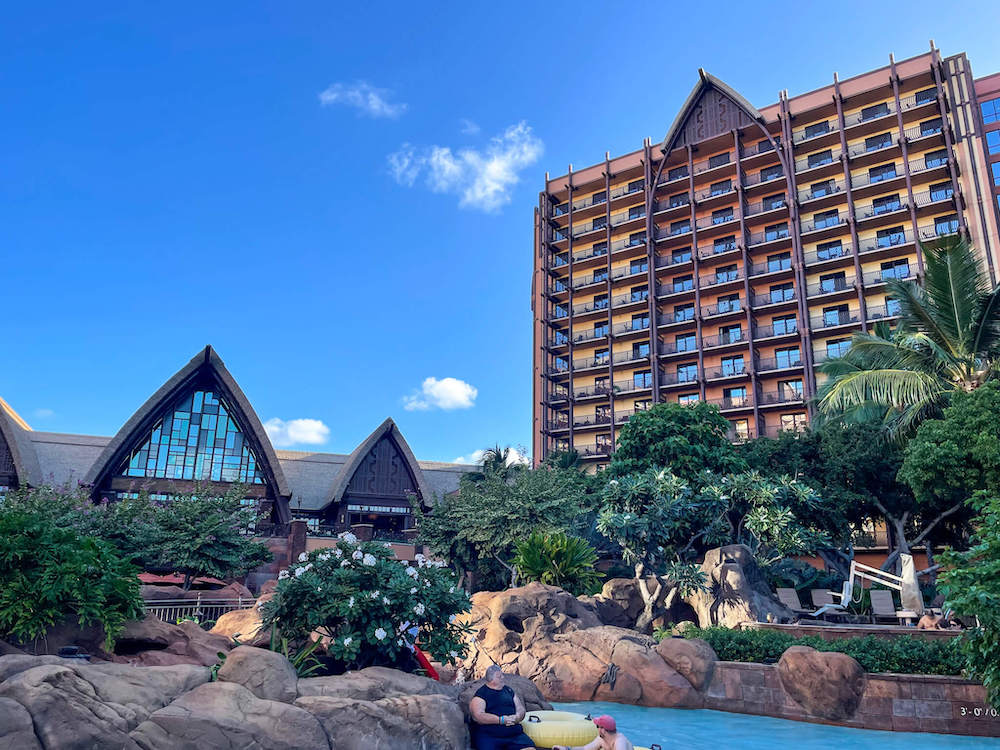 Getting from Honolulu Airport to Aulani Resort, you'll ride the H-1. This is a highway that runs along the south coast from Honolulu to Kapolei. No matter if you use the Oahu bus, a taxi, a car service, a shuttle, or a rental car, this is how you'll get to the resort.
Best Ways to Get from Honolulu Airport to Aulani
You have choices when it comes to transportation from Honolulu Airport to Aulani Resort. It really comes down to a few questions.
First, are you on a budget, or are you able and willing to splurge on comfort and convenience? Second, what are your family's needs? Third, do you plan on exploring other parts of Oahu rather than sticking to the resort?
Keep reading for the best ways to get from Honolulu airport to Aulani hotel. There's something for every budget and family!
Take Public Transportation
Oahu's public bus system, TheBus, is the cheapest option. It's very well planned out and easy to follow. On the second level of the airport, Bus 20 stops every 30 minutes outside Terminals 1 and 2.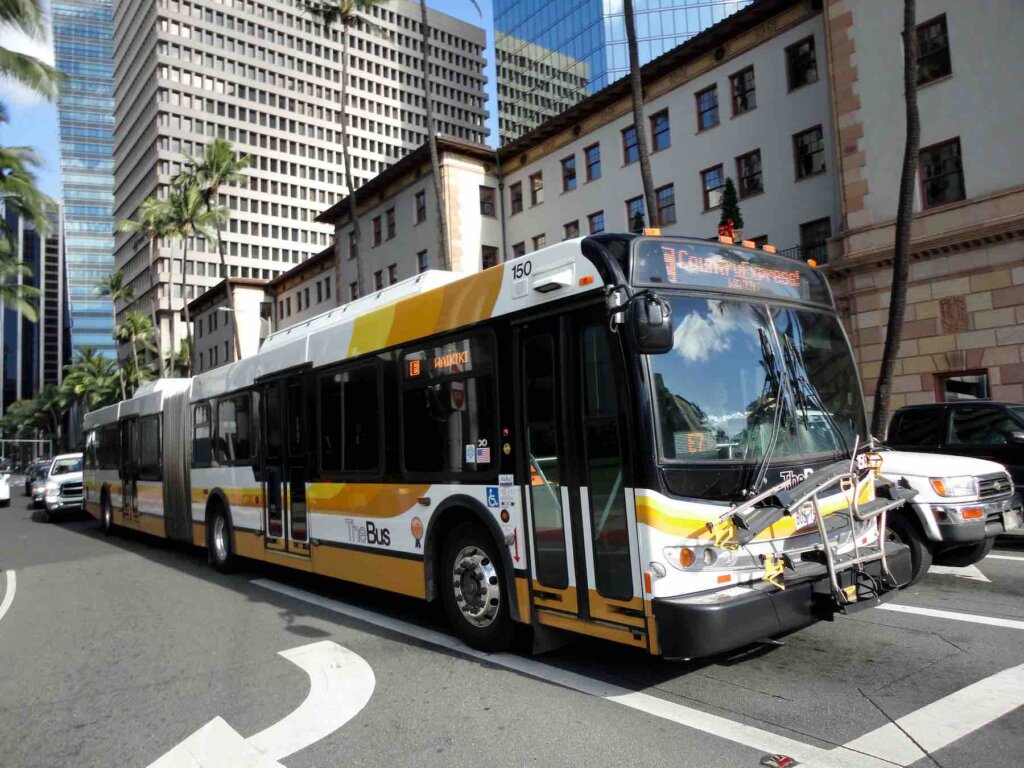 There are a few things you should be aware of. First, Bus 20 doesn't go all the way to Aulani. At Pearl Harbor, you'll have to transfer to Bus 40. This bus will take you to Farrington Highway, where you'll have to walk a mile to the resort.
Getting from Honolulu airport to Disney Aulani this way takes about 2-hours.
Adult fare for the bus is only a few dollars, and children ages 5-17 are a few cents less. Children under 5 are free, but only 1 child. Every additional child under 5-years after that will equal the child's fare. You can pay with cash or a card.
There's a discounted Holo Card that works like a day pass, but it starts at $70. So, I don't think it's worth it unless you're planning on taking the bus everywhere on Oahu Island.
Go with the bus if you're on a budget, have older children, and have less luggage. Etiquette allows one bag per passenger. If you plan on sticking to the resort once you arrive, it's certainly doable for some families!
Take a Taxi to Aulani Resort
Another option is to take a taxi from Honolulu Airport to Aulani. There's a taxi stand just outside of luggage claim, or you can book a taxi in advance.
The 30-minute ride to the resort is less than $100 for a family of 4. This is a great option if you need to transport things like a car seat or extra luggage.
Use Car Service Apps in Oahu
Car service apps have their pros and cons. You'll find Uber, Lyft, and HoloHolo in Oahu. They're great because you don't have to wrangle kids while you stand in line and wait for a taxi! Just book one in advance and message your driver when you deboard the plane.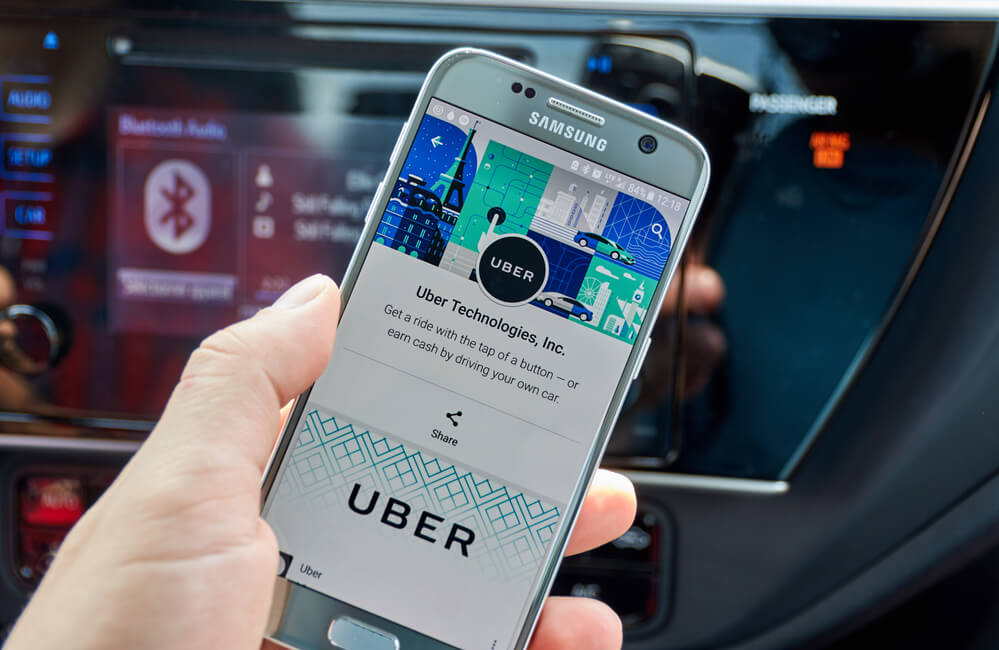 Also, by taking a car service like Lyft or Uber from Honolulu airport to Aulani, you're going to pay competitive prices. While these rates can go up or down during the holidays and busy times of the day, discounts are offered for groups of 3 or more. They can also be more reliable than taxis.
Take an Aulani Airport Shuttle
For a quality experience that's still pretty affordable, check out a Honolulu Airport to Aulani shuttle!
These van shuttles are basically a car service that gives you a good first impression of the island! They take you to a series of specific destinations for flat rates.
There are several shuttle services in Oahu for all occasions, like luaus and island tours. You'll find both private Aulani shuttles and shared ones that go from Disney Aulani to Honolulu airport and back.
If you can afford the expense, a shuttle is a great way to take all the guesswork out of your transfer to Aulani Resort after a long fight.
Shared Shuttle Van
One convenient shuttle from Honolulu Airport to Aulani is Hele Hele Shuttle. It's $25 per person and $10 for children 2 and under. While it is a shared Aulani resort shuttle, it's a great option for a few reasons.
First, you can book it as part of your Walt Disney Travel Company Aulani Resort vacation package when you book.
Also, it's cheaper if you're a smaller family, and it leaves from the airport every quarter after the hour. However, they limit you to 1 bag per person or charge you an additional fee per bag.
Private Taxi Shuttle Service
If you prefer the comfort of a private Disney Aulani airport shuttle, go with companies like Honolulu Airport Transfer or Honolulu Airport Shuttle Services. It's a much more comfortable way to take a Honolulu Airport shuttle to Aulani based on your arrival.
Honolulu Airport Transfer offers a flat rate of $70 for a one-way Honolulu Airport to Disney Aulani transfer. This rate is based on a family of 4. You can even request a lei greeting for your arrival for a small fee!
If you're a family of 5 or more, go with Honolulu Airport Shuttle Services. They offer a round trip package starting at $210.
You can also buy a lei greeting, rent a car seat, and add additional passengers if you wish. This way, you don't have to worry about getting to and from the airport for your entire trip!
Rent a Car and Park at the Resort
If you can handle the expense and plan on leaving the resort and exploring other parts of Oahu, I suggest renting a car at least for a few days. Plan to rent a car at the airport and schedule your excursions on Oahu Island for the time that you have it.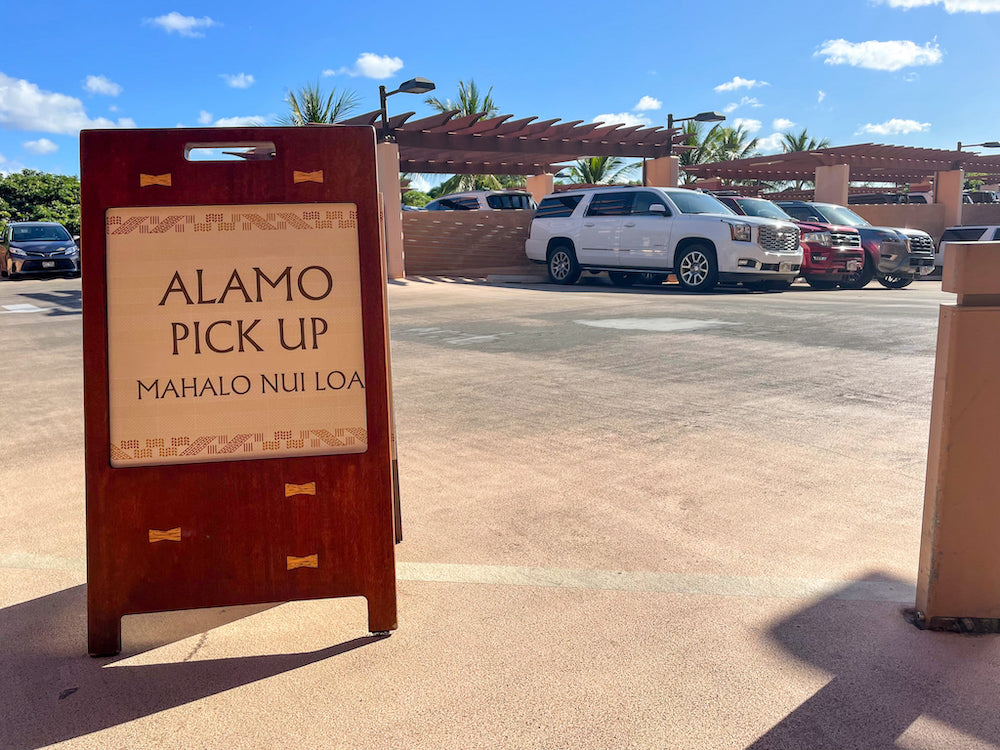 Disney Aulani actually has an Alamo car rental on-site. This is a great option if you just need a car for the day and want the convenience of not going to the airport. However, prices tend to be higher here.
You can't beat the convenience of driving your family around yourself, but you'll have to think about parking. You'll also have to figure out how you're going to get from Aulani to Honolulu Airport unless you rent a car for your entire stay.
We like to use Discount Hawaii Car Rental when renting a car in Hawaii.
Basically, they get screaming deals on rental cars from top companies like Alamo, Dollar Car Rental, Avis, Thrifty, Enterprise, Budget, and Payless. And then they pass the savings onto you.
Plus, they can often get free extra drivers or reduce the young driver rate. It's definitely the way to go. Check out the latest prices and more details.
You'll find both self-parking and valet parking at Aulani for $37 a day for overnight guests. If you're a Disney Vacation Club member, mention this when you book and they'll give you self-parking for free!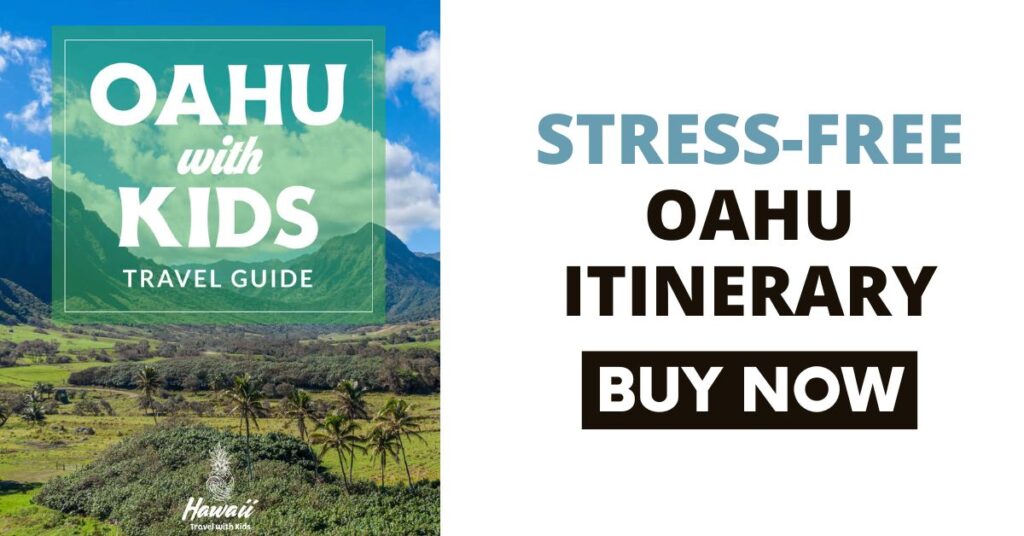 Traveling from the Airport to Aulani Resort
The best way to get from Honolulu Airport to Aulani depends on what you prefer. My suggestion is to budget for a private shuttle or car service. I know that when I'm on vacation, budgeting for things like transportation allows me to relax!
The bus is the most affordable option, but it could be a hassle to transfer with luggage and jet-lagged kids! You can always find a taxi if you need one, but these days a car service app is more reliable, in my opinion.
For the family on the ultimate Oahu outdoor adventure who also loves Disney, your best bet is to rent a car!
Did my list help you decide the best way for your family to get from the airport to Aulani? For more tips on how to get around Oahu without a car, I have great ideas for you! Or check out my other posts for more Oahu travel resources.