Are you planning a trip to Kauai and considering renting bikes? There are tons of amazing bike trails on Kauai. Scroll down to find out more about Kauai mountain biking and exactly where to go!
This list of the best Kauai mountain biking trails contains affiliate links which means if you purchase something from one of my affiliate links, I may earn a small commission that goes back into maintaining this blog.
Guest post by Jess of Biking Kids
Ready to explore the beautiful island of Kauai with your family?
We know that getting outside and being active is a must while on vacation. That's why we've curated a list of the best bike trails on Kauai – something for everyone in the family.
Whether you're pedaling at a relaxed pace with the kids on a paved trail, or racing down the famous Waimea Canyon route, there's something for every bike lover in Hawaii.
You'll be able to see some of the most amazing sights on Kauai while getting some exercise at the same time. What could be better than that?
Keep scrolling to find out more about our favorite Kauai bike trails!
Don't have time to read a bunch of Hawaii blog posts and reviews? Here are some of our top picks for visiting Kauai.
Popular Kauai Tours/Activities
Favorite Kauai Resorts/Hotels
Grand Hyatt Kauai (this Poipu resort has a luxurious pool area, romantic restaurants, and a stunning ocean view)
Koloa Landing Resort (this is a luxury resort with an amazing pool area and truly spacious rooms)
Royal Sonesta Kauai (we LOVE the pool here because it's the largest one in Hawaii)
Want to Rent a Car in Hawaii?
One of the best places to rent a car in Hawaii is Discount Hawaii Car Rental because they get the best rates from top national companies like Alamo, Dollar, Thrifty, Avis, Enterprise, Budget, and Payless.
Want to skip all the planning and just access my detailed Kauai Itinerary complete with daily schedules, kid-friendly activities, and travel hacks? Click the button below.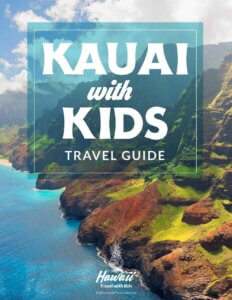 Kauai Mountain Biking FAQs
Is it possible to bike around Kauai?
Yes and no. There are lots of stretches of flat roads that are easy to bike, especially on the East Shore (they even have a designated bike path). However, it might be challenging to ride up a bike up to Waimea Canyon or some of the waterfall lookouts.
Is there mountain biking on Kauai?
Absolutely! You'll find tons of Kauai mountain biking trails for all skill levels. Sometimes they are tricky to find as they don't all have signage. It's always a good idea to ask other bikers for tips on where to find them. And make sure you check the weather before you attempt any trail, in case it's muddy or dangerous.
How long is the Kauai bike path?
One of the best places to bike on Kauai is the Kauai Coastal Bike Path. It's 10 miles long and stretches from Lydate Beach Park to Donkey Beach. This is actually a multi-use path and lots of people rent bikes in Kapaa so they can ride this Kauai bike path.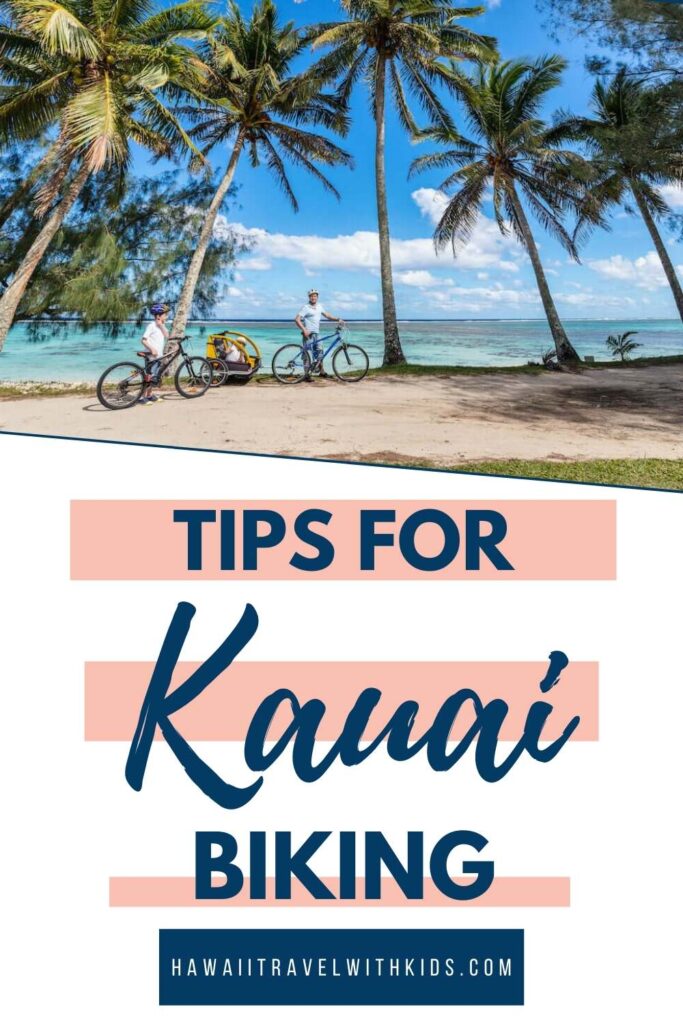 Bike Safety In Hawaii
As Kauai becomes more and more popular with tourists, the traffic and crowds are starting to get much bigger.
While you can legally bike on most roads in Hawaii, it isn't recommended unless you are very experienced in driving in traffic and on the shoulder of the road.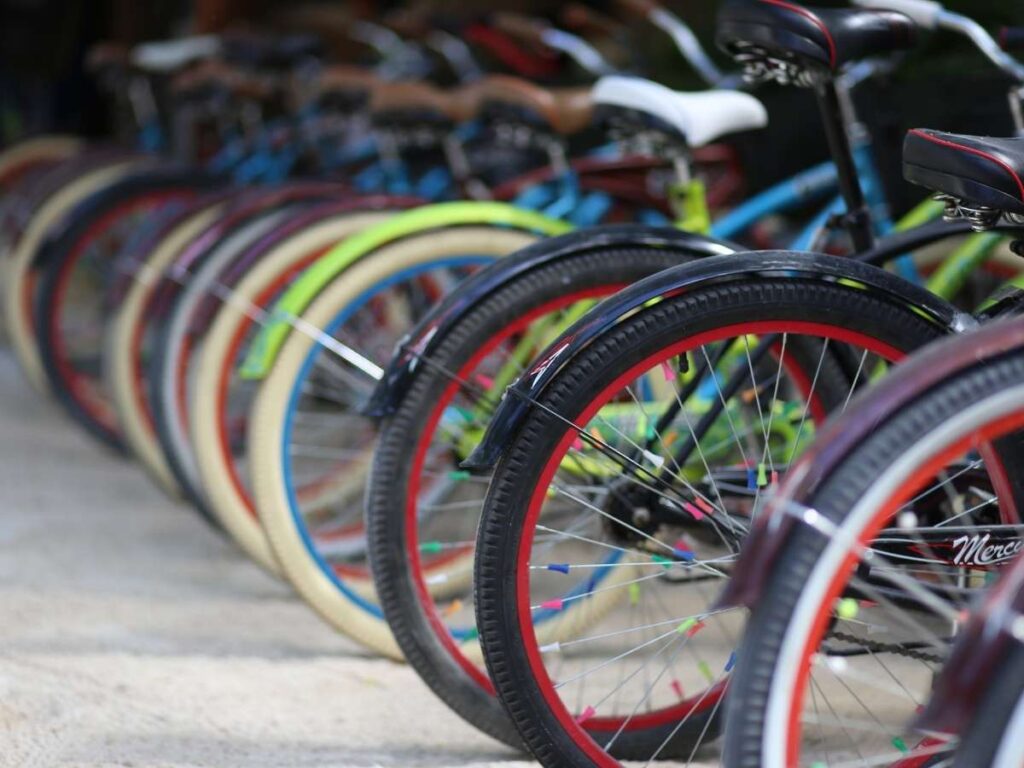 Many of the drivers on the road are more concerned with admiring the scenery than they are with paying attention to road conditions, so this can create unsafe riding conditions for bikers.
For most people who bike in Hawaii, we recommend staying on designated bike or multi-use trails where you don't have to worry about car traffic, and it's safer for biking. This is especially true if you're biking Kauai with kids!
Above all, always make sure to wear a properly fitting helmet for ALL RIDERS (not just kids). Even though helmets are not required by law, don't ever ride a bike without one.
Helmets save lives every day, and a head injury from a bike crash is one of the worst souvenirs you can take home from a trip to Hawaii.
What To Pack For Biking In Hawaii
If you're visiting Hawaii and plan on biking, we suggest that you rent a bike on the island instead of flying your own bike from home (unless you have very specific bike needs).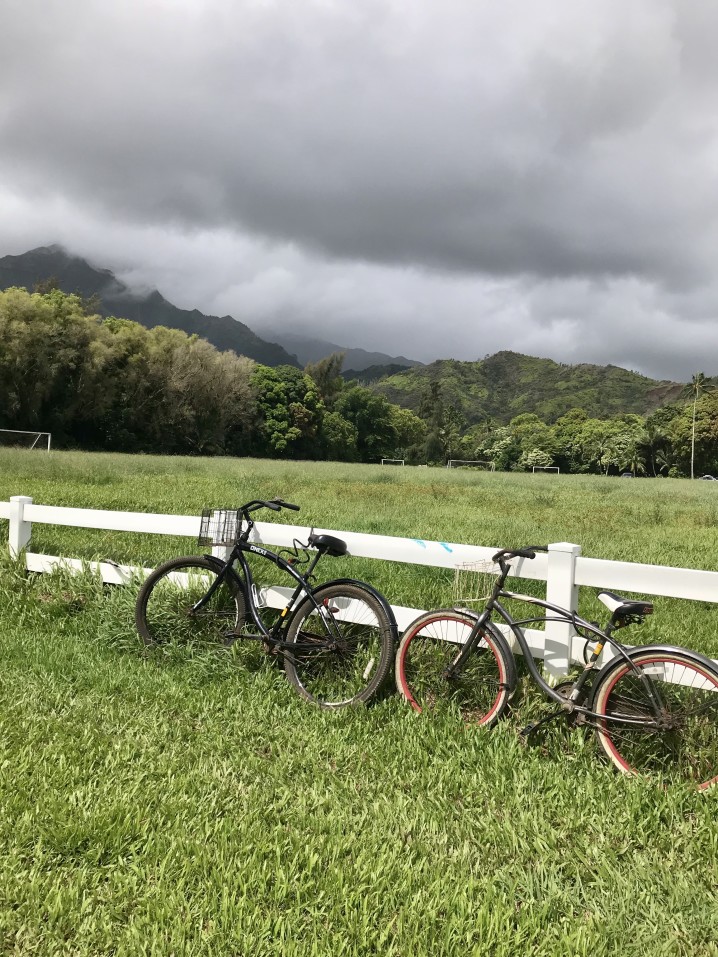 Here are a few smaller bike essentials that we do recommend you bring from home:
Padded bike shorts (especially for longer rides)
Small patch kit and pump (unless your rental company provides this)
Bike gloves (for longer rides or mountain bike trails)
Small first aid kit to carry with you
If you have room in your luggage, we always recommend bringing your own helmet as well, since then you can guarantee that it fits well and hasn't been damaged in an unknown accident.
Best Kauai Bike Trails
Kapaa Bike Trail
Distance: 4.6 miles
Difficulty: Easy
Type of Trail: Paved
The Kapaa Bike Trail is one of the most popular cycling routes on Kauai. It's a paved path that begins at Kapaa and travels all the way to Ahihi Point along the island's east coast.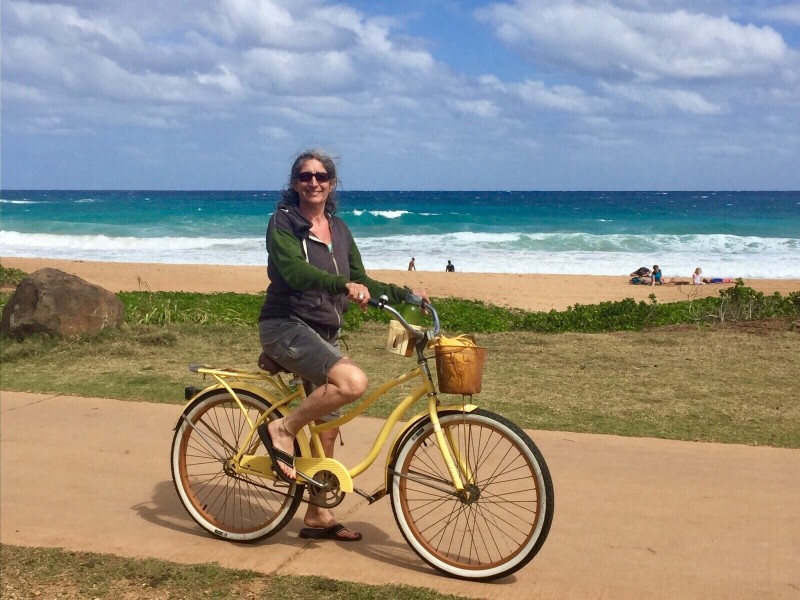 The trail is 4.6 miles long and is great for all levels of cyclists, especially for biking with kids in Hawaii. There are some hills along the way, but nothing too strenuous.
There are also several places to stop and take in the amazing views of the ocean and the nearby mountains. The Kapaa Bike Trail is a great way to see some of the best sights on Kauai.
Take note also, that the Kapaa bike trail is not shaded, so plan on avoiding it during the heat of the day. We recommend getting your bikes the night before and going for a sunrise ride or keeping them late to start biking in the evening.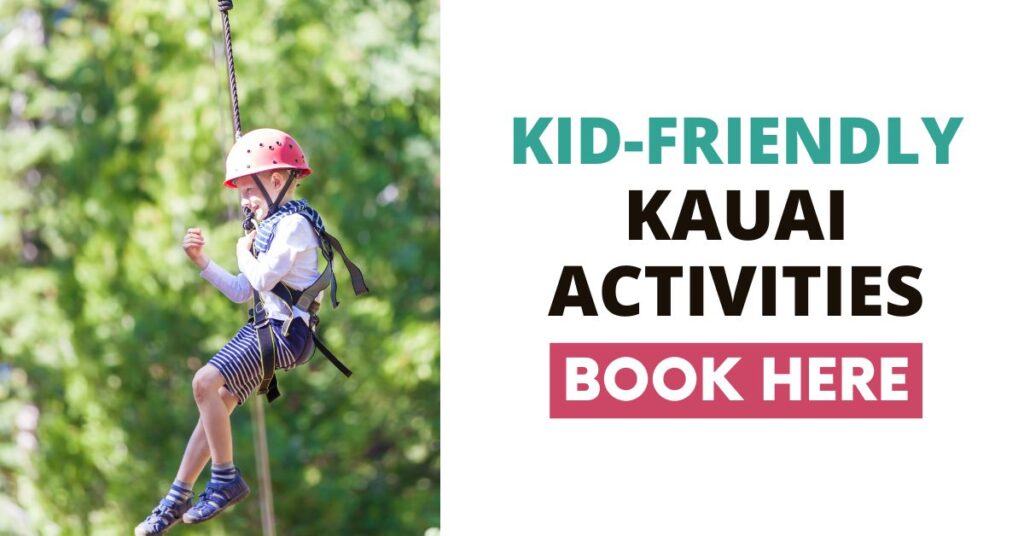 Ke Ala Hele Makalae Bike Trail (Lydgate Beach Park to Wailua Beach Park)
Distance: 4 miles
Difficulty: Easy
Type of Trail: Paved
This trail goes along the Royal Coconut Coast and is a nice trail that's paved and really easy for biking. The views from this trail are incredible, and if you're planning on biking Kauai with kids, this is a must-do ride.

One of the best things about this Kauai bike trail is that it's separate from the roads, making it significantly safer, especially for biking with kids. While you're riding, take time to stop and enjoy some of the archaeological and cultural stops along the way.
During the winter months, from December to March, whale and monk seal sightings along the coast are common, so this trail can also be one of the best places to see whales from shore in Kauai.
Kuilau-Moalepe Mountain Bike Trail
Distance: 4.2 miles
Difficulty: Intermediate
Type of Trail: Singletrack dirt trail
Elevation Change: 884 ft
This trail starts at the Moalepe trailhead, where the gate is (to prevent cars from getting in, not bikes). The trail is generally a smooth trail but does require you to have solid intermediate biking skills and to be in great shape.
With nearly 900 ft of elevation gain, your legs will get quite the workout, so come prepared.
The trail starts off as a gentle uphill on a gravel road, but soon changes to a dirt singletrack bike trail. You'll know that you're getting closer to the summit when the trail starts to wind up and down more.
When you get near the top, there's a long clear ridgeline that will give you some pretty great views of the jungle you've been riding through. The trail then takes you to a large picnic area (complete with picnic tables, and even a shelter), before you start your descent down the Kuilau Ridge downhill trail.
While there's no right or wrong direction to ride this trail, most riders prefer to do the Moalepe section uphill and the Kuilau Ridge as the downhill biking section.
Waimea Canyon Mountain Biking
Distance: 13 miles
Difficulty: Advanced Beginner
Type of Trail: Paved
Elevation Change: 3600 ft, all downhill
If you love the thrill of adrenaline, you'll want to ride Waimea Canyon. This mountain bike ride starts at the rim of Waimea Canyon and travels 3600 feet down to the shores of the Pacific Ocean, literally taking you from the high altitude canyon rim down to sea level.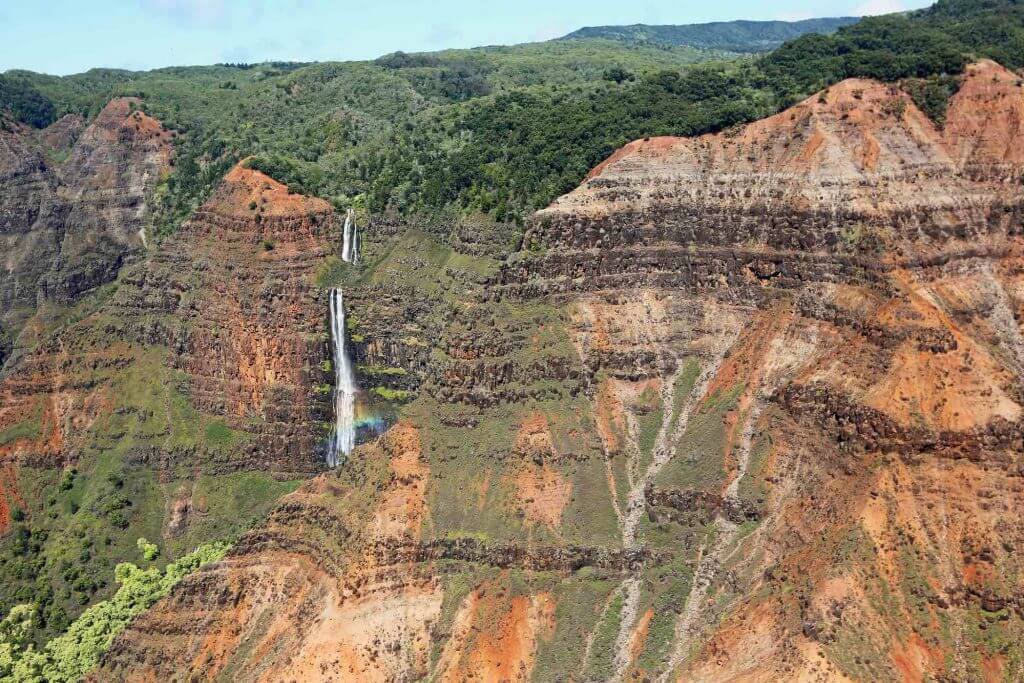 This Kauai bike trail is not for beginners, as it's a 13-mile trail with some pretty steep sections, so always be aware and alert. The views from this trail are incredible, and you'll get to see some of the best parts of Kauai from your bike. Just make sure that you're prepared for a long ride.
This Kauai mountain bike ride is done with a shuttle, so you start at the top of the canyon and end at the ocean at the bottom, so make sure to plan for a shuttle drop-off or pick-up.
This Kauai bike ride is commonly done around sunrise and it's usually COLD at the top. Plan on dressing in layers to keep you warm and protected from the wind on this long ride. Chances are, you'll be sweating by the time you reach the ocean, so layers allow you to take some of that extra clothing off.
Kohua Ridge Bike Trail at Kokee State Park
Distance: 5.3 miles
Difficulty: Intermediate
Type of Trail: Singletrack dirt trail
Elevation Change: 1407 ft
Koke'e State Park is a great place for Kauai mountain biking, and the Kohua Ridge trail is one of the best places to mountain bike there.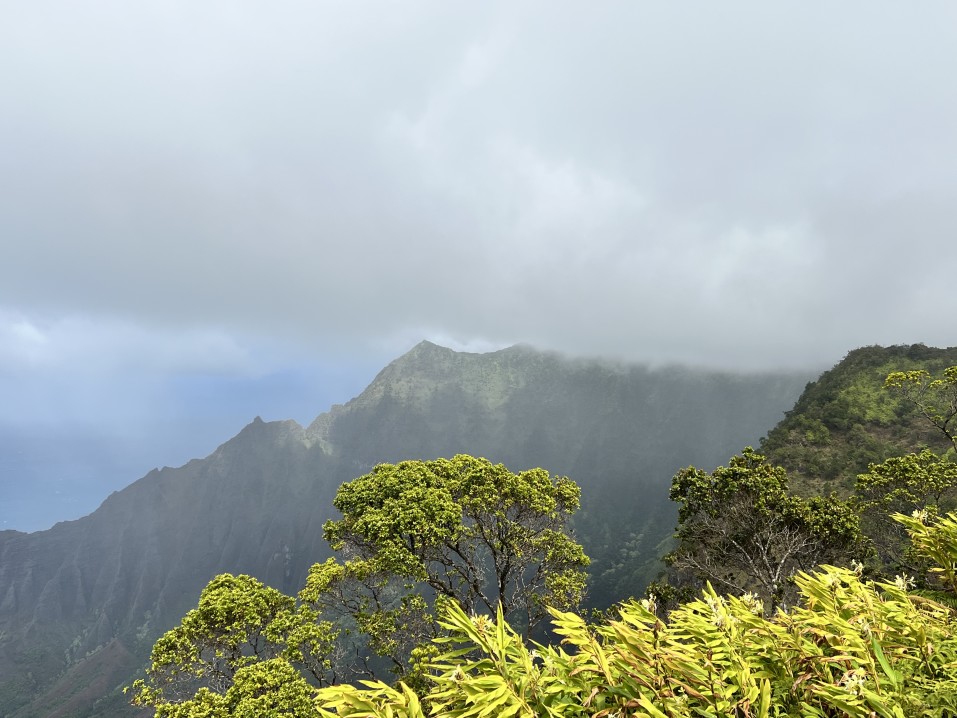 The trail goes through a thick jungle, which can get a little overgrown in areas, which can have branches and thorns protruding onto the trail. This trail is often muddy and there is one stream that must be crossed, so plan on getting a little bit dirty as you ride.
Wai Koa Loop Bike Trail
Distance: 5.3 miles
Difficulty: Advanced Beginner – Intermediate
Type of Trail: Singletrack dirt trail
Elevation Change: 1407 ft
This well-maintained Hawaii trail is a multi-use trail that's shared by both hikers and bikers. This loop is great for intermediate riders with some trail riding experience already.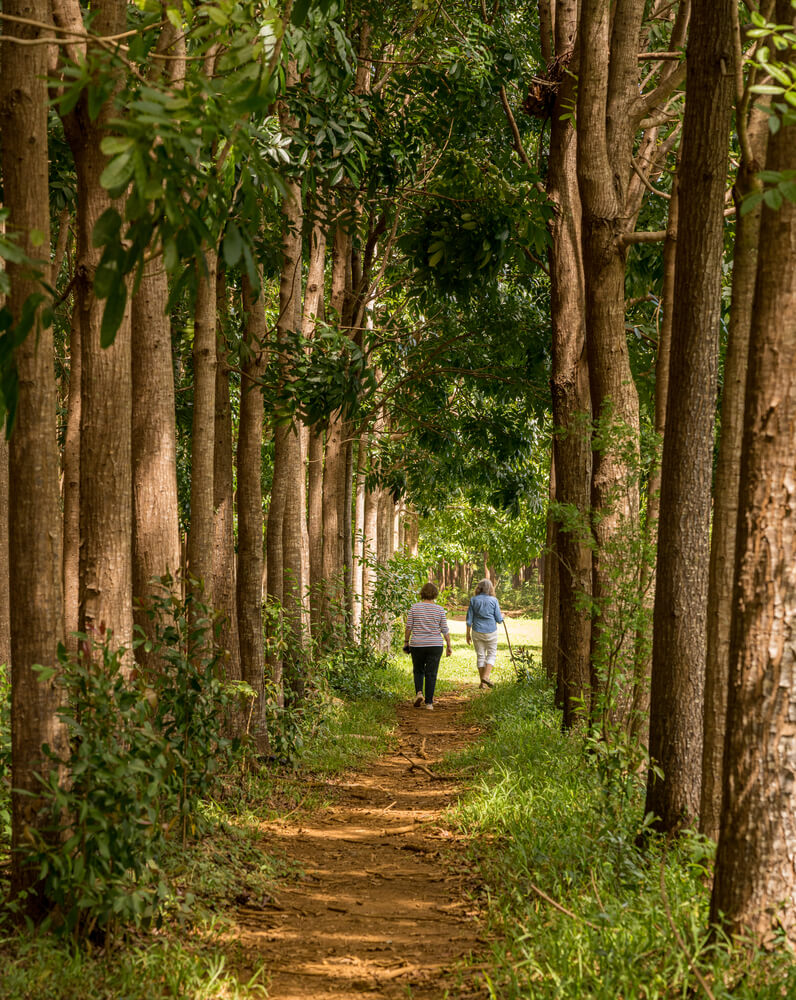 Along the loop, you'll get to go to a fantastic swimming hole and a dam-created waterfall, which are the perfect places to stop and cool down.
Before you start on the trail, stop in at Anaina Hou Welcome Center to sign a waiver because this trail is on private property.
Guided Bike Trips in Kauai
If you want to go on a bike adventure in Hawaii, but want a guide with you to show you the way and help support you on the trail, there are some great options.
The most popular bike trail in Kauai is the Waimea Canyon mountain bike trail. It's 100% downhill, so most visitors like to have a guide with them to instruct them on how to get down steeper sections and to help them know when there are upcoming obstacles (or great photo stops).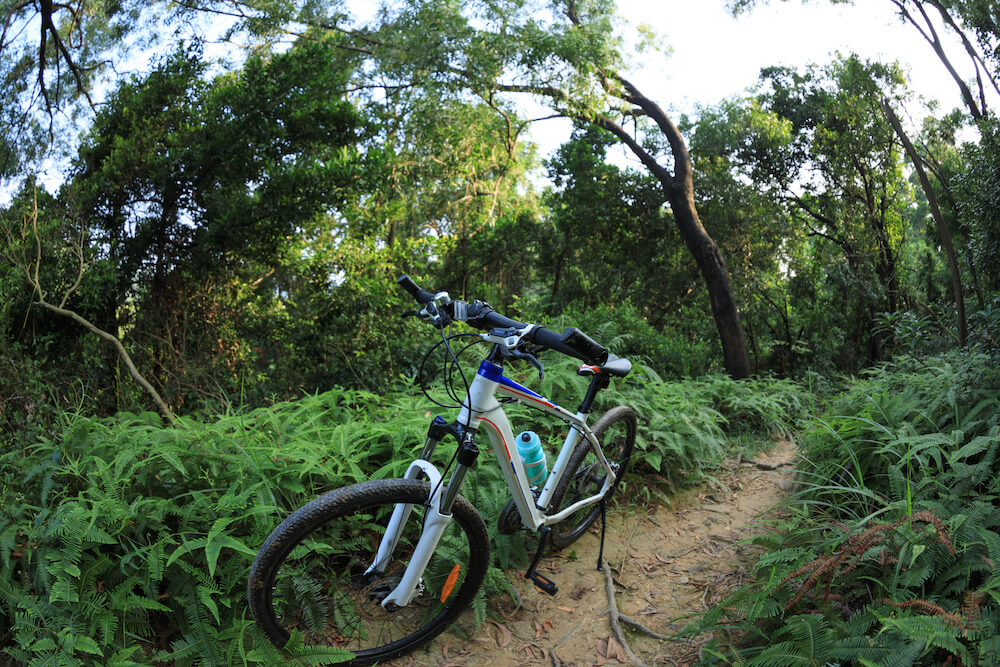 Adventure in Hawaii provides guided Waimea Canyon bike trips for $137 per rider and will provide a bike, helmet, and roundtrip transportation to your meeting point. Adventure in Hawaii has an age minimum of 14 years old.
Tom Barefoot offers the same ride down Waimea Canyon, but has certain rides that are open to kids ages 12-14, while a majority of rides are geared towards riders ages 15 and older.
This is a great option if you have tweens or younger teens who want to join in this Kauai bike ride. Prices start at $89 for kids and $109 for adults.
Where To Rent Bikes In Kauai
Biking is very popular in Kauai, and with so many tourists, you'll find plenty of places to rent bikes. Nearly all bike rental shops also offer helmet rental as well, though many often say that helmets are optional for adults. TAKE THE HELMET!
Kauai Beach Bike Rentals
This bike rental shop has a massive selection of rental bikes that are perfectly suited for wherever you want to bike in Kauai.
Starting from simple beach cruisers and fun tandem bikes, to high-end full suspension mountain bikes, this is a great bike rental shop, conveniently located in Kapaa.
We especially love that they also rent bike trailers for kids to ride in as well as trail-a-bike setups for kids who aren't quite ready to pedal on their own.
Boss Frogs
Boss Frogs has Kauai bike rentals available in Poipu, Koloa, and Kapaa. If you're looking to rent ebikes in Kauai, this is the shop to get them from.
Ebikes are a great way to get around the island that allows you to both cover a good amount of distance in a short period, but also to slow down and enjoy the scenery more than you would by car! Boss Frogs also has beach cruisers, road bikes, and mountain bike rentals.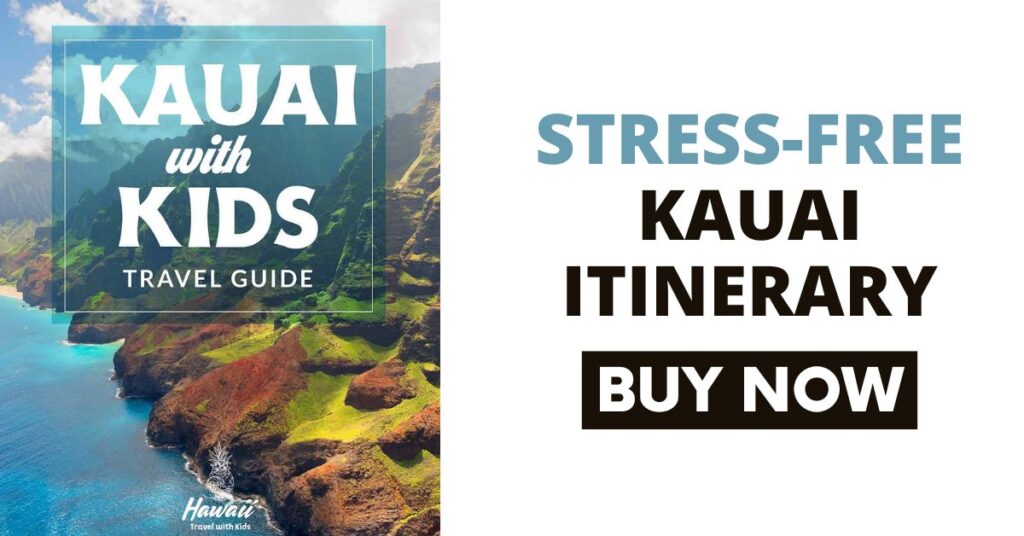 Best Places To Repair Bikes in Kauai
Kauai Cycle
This bike shop in Kapaa is one of the top places for bike maintenance in Kauai. They've got a local team with lots of biking experience who can help repair your bike whether it just needs a tune-up or if you crashed and have parts that need to be replaced.
About Jessica
Jessica Averett loves exploring new places by bike. When she's not riding a new trail, she's chasing her kids through town on their bikes. Read all of her tips about biking with kids at BikingKids.com