Are you planning to travel with toddlers? Find out the best travel toys for toddlers that are perfect for flying with kids or family road trips. Scroll to see them all!
This best travel toys for toddlers post contains affiliate links which means if you purchase something from one of my affiliate links, I may earn a small commission that goes back into maintaining this blog.
Traveling with kids can be quite a hassle sometimes but that shouldn't be a reason to leave the rascals at home.
Traveling as children can help make them more adaptable and flexible. It teaches them culture and educates them the ways of the world. It's keeping them entertained that's a challenge.
No amount of earplugs or in-flight entertainment can shield anyone from a bored and uncomfortable baby's cry.
And let's not forget the sheer awkwardness that comes with it. You don't want to spend the entire flight keeping your head low.
It's always important to come prepared when traveling with toddlers. It is ideal that you bring the essentials: sippy cups, diapers, snacks, strollers, and a change of clothes.
It's also imperative that prior to boarding, the tots get their proper potty breaks or diaper changes. It's also important to keep kids properly entertained because they're easily bored and have a low attention span.
If you're about to travel and or have traveled and experienced problems with a bored toddler, we've got you covered!
We've put together a list of toys and activities your toddlers can enjoy in-flight or on the road.
We've divided them into three categories: toys for 1-year olds, 2-year-olds and 3-year olds.
Interested? Let's get to it!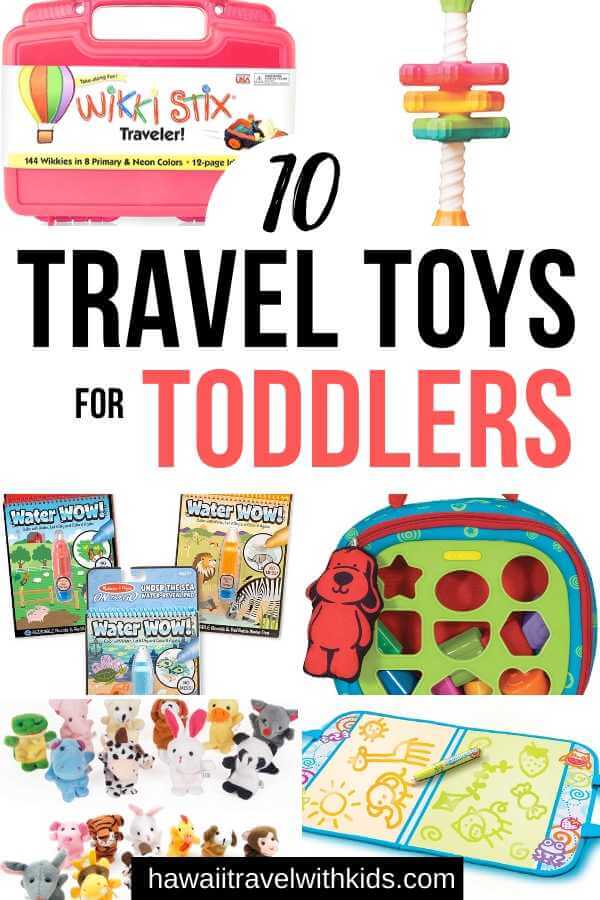 Travel Toys for Toddlers FAQs
How do I keep my 2 year old entertained on a flight?
If you're okay with screens, download some apps that don't require WiFi as well as some favorite TV shows or movies. In addition, bring some quiet toys and lots of snacks to keep toddlers occupied.
How can I keep my 2 year old entertained in the car?
Give them lots of snack options! That can keep them busy for awhile and keep their mood calm. Books are another fun option to try.
How do I calm my toddler on the airplane?
While you're at the airport, let you kids run around empty gates where no people are. Or walk laps with them to burn off some energy and to keep them awake before your flight. Then, get them nice and cozy when you get on the airplane. With the change in air pressure and altitude from take off, sometime kids get a bit sleepy or mellow out a bit.
The Best Travel Toys for Toddlers: a Complete Shopping Guide
Best Travel Toys for One-Year-Olds on Amazon
Ah, yes. The first few months of having a baby are probably the best months.
This is when your baby starts to crawl or even walk. This is when they begin to recognize everyday objects and know which things are which. They start to learn how to recognize songs and maybe even some stories.
Here are some toys we think are best for one year-olds:
Mini Spinnys are fun and educational toys that entertain your toddler for hours on end.
There are 3 vibrant propellers that spin down the corkscrew pole – just keep flipping it over and over to see it go again and again and are designed to help your toddlers practice naming their colors and count how many limbs each propeller have.
The Mini Spinnys are made for toddlers aged 10 months above.
The Mini Spinnys encourage sensory exploration, fine motor skills, hand-eye coordination, early counting skills, color recognition, cause-and-effect learning.
It stimulates and strengthens growing brains, making it one of the best toys for traveling toddlers. Check out the latest prices and more details.
We have so much fun with the one we own and I find myself playing with it, too!
Next on the list is a classic from Melissa & Doug: the Take- Along Shape Sorter. This toddler toy is perfect for travel because of its size!
It includes a padded case with 2 activity sides, a handle and 9 textured blocks in different colors and shapes.


This toy not only entertains your toddler, but also helps develop their sensory, fine motor and communication skills. The crinkly flaps on the back let the toddler become familiar with the matching shapes.
This toy has been recognized by the American Academy of Pediatrics as a partner for fostering early brain development. Check out the latest prices and more details.
Another creative choice on the list is Sealive's Plush Finger Puppets. This set comes in 22 pieces of different animals including turtles, pigs, bears, ducks, mice, hippos and etc.


These toys are great for traveling because they are safe and educational. They are best for imaginative play and will keep the toddlers entertained.
While an actual puppet show may become a bit noisy during travel, plush toys can actually be used just for hugging.
These plush finger puppets can improve toddlers' memory skills, ability to focus and of course, can enhance parent-child relationships. Check out the latest prices and more details.
Best Travel Toys for Two-Year-Olds on Amazon
The age two has been dubbed as the "Terrible Twos" but your toddler doesn't necessarily have to go through with it. Or at least we can keep our fingers crossed!
Because this can be such a tricky age (especially for my youngest son), I always pack more toys than I expect to need. Kids are so fickle sometimes.
Here are a couple of toys that will develop their creativity and cognitive skills:
Activity books are one of the best things that can entertain children. Melissa and Doug water pen books let kids explore their creativity without the mess that painting brings with it.


Painting has been known to be therapeutic and educational. Toddlers love painting but it can truly be a hassle. The mess that comes with it sometimes isn't even worth it.
Melissa and Doug's Water Pen books, however, replace traditional paint with water. Their books come with its own water pen that is perfect for travel. Check out the latest prices and more details.
Stickers are one of the best toys for travel because they aren't messy, they're easy to pack and best of all, they keep the toddlers entertained.


Stickers can become tools to develop basic skills such as grasping and even recognizing colors.
Not only are they visual stimulants for children but they can also improve their communication skills. They can learn different things from different sticker packs.
There are various sticker packs to choose from. Most develop spatial awareness while some, like the scratch and sniff ones, can develop sensory exploration.
Toddlers can also learn about different numbers, colors, and shapes. This set of stickers teach kids about direction and animals.
Another type of sticker set would be various sticker books like this Kicko Fake Passport sticker book that include 24 passport books that parents and kids can enjoy.
The toddlers or kids can learn about different countries and cultures while traveling themselves! Perfect, right? Check out the latest prices and more details.
Wikki Stix are wax-coated pieces of yarn that can be shaped into various shapes and designs. These are perfect for travel because they are easy to pack and engaging.


The Traveler pack comes with 144 Wikkies in various colors. These toys can be shaped into different things that can then be placed as decorative pieces on walls or rooms.
These Wikki Stix are definitely going to entertain your toddler without the help of any screens, though! Check out the latest prices and more details.
Books are easily the best tools for learning and development.
This book from Melissa & Doug is both interactive and entertaining. The soft texture of the book makes it durable, easy to clean, and all the more appealing.


Toddlers will be entertained by the 5 peekaboo animals, the entertaining story and the absolutely colorful artwork.
Parents will likewise be excited to teach their tots the different colors, animals, and items in the book, as well. Check out the latest prices and more details.
Another creative and innovative item on the list is the Travel Doodle by AquaDoodle. This nifty little doodle mat is both entertaining and durable.


Just like the water pen books, all you need to do is place water in the pens and it creatively works as a pen/marker.
One of the best things about AquaDoodle is that unlike the usual water pen book, it lets your toddlers create art for themselves.
The neon travel doodle comes with 1 Aquadoodle pen and is made of durable materials such as plastic, fabric and paper. It's soft, portable and creative.
One thing's for sure, this will definitely keep your toddler busy while waiting for a flight, during a flight, or even a roadtrip! Check out the latest prices and more details.
Best Travel Toys for Three-Year-Olds on Amazon
Toddlers aged three tend to be noisy, energy-filled little humans. They are beginning to ask about things and yearn to learn more.
The following toys are the best ones for your curious little tykes:
One of the classic toys that entertain any toddler would be Playskool's Dressy Kids. These plush toys entertain and teach your tots how to get dressed at an early age.


While this toy is appropriate for 2 years and up, these can definitely develop your kids' ability to dress themselves. It comes with a zipper, buttons, ties and buckles.
Each toy also comes with a toddler-friendly size with a carry-along clip, making them easily portable. Check out the latest prices and more details.
Last but definitely not least on the list is PP Opount's Basic Skills Activity Board.


This board is easily portable because of its Velcro lock, shoulder strip buckles and 0.6-pound weight. The board features various activities that kids aged 2-5 will like practicing with.
Equipped with 12 buckles, ties, counts, buttons and pockets, the Basic Skills Activity board will definitely keep toddlers occupied and entertained while stimulating their brain.
Parents can also guide and teach them about the basic life skills related to the different activities on the board. Check out the latest prices and more details.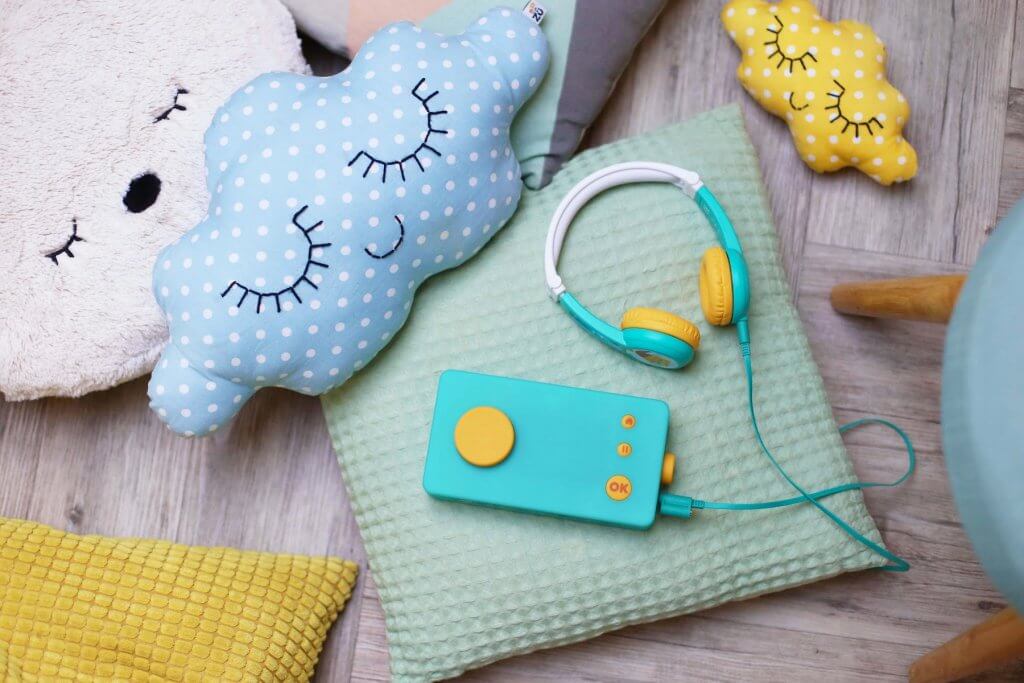 I've always found it nice to have something to entertain kids in the hotel room. We've tried out a lot of toys, but the clear winner has been the Lunii.
Basically, it's a storytelling device that kids can operate all on their own. It comes pre-loaded with some stories and you can always download more.
The best part: it's completely screen free!
My 4 year old is pretty obsessed with it and it's his favorite way to wind down. There are some guided meditations that are pretty awesome.
You can totally plug in headphones if you want to use it on the airplane, too. Check out the latest prices and more details.