Are you planning to visit Pearl Harbor on your trip to Oahu? Check out these places to eat near Pearl Harbor, Hawaii. Scroll for the full list!
This list of the best places to eat near Pearl Harbor was written by Hawaii travel expert Marcie Cheung and contains affiliate links which means if you purchase something from one of my affiliate links, I may earn a small commission that goes back into maintaining this blog.
A day at Pearl Harbor National Memorial can be rewarding for the entire family!
You might not know that the harbor is still an active American military base. It's neat to see everything in action, but there are a lot of rules, especially around food.
So, if you're looking for places to eat near Pearl Harbor, I've got you covered.
When we took our family, we started early and made a day of it. By the afternoon, the boys were hangry and ready to get out of the summer sun!
While we were at the memorial we were able to buy snacks inside, but there isn't really a lot of variety for places to eat.
Your best bet is to check out one of the wonderful restaurants near Pearl Harbor, Hawaii.
Below, you'll find a list of 15 of the top-rated restaurants, cafes, and even dessert shops close to the memorial.
And if you need more ideas on what to expect at Pearl Harbor, you can read my honest review on visiting Pearl Harbor with kids!
Don't have time to read a bunch of Hawaii blog posts and reviews? Here are some of our top picks for visiting Oahu.
Popular Oahu Tours/Activities
Favorite Oahu Resorts/Hotels
Want to Rent a Car in Hawaii?
One of the best places to rent a car in Hawaii is Discount Hawaii Car Rental because they get the best rates from top national companies like Alamo, Dollar, Thrifty, Avis, Enterprise, Budget, and Payless.
Want to skip all the planning and just access my detailed Oahu Itinerary complete with daily schedules, kid-friendly activities, and travel hacks? Click the button below.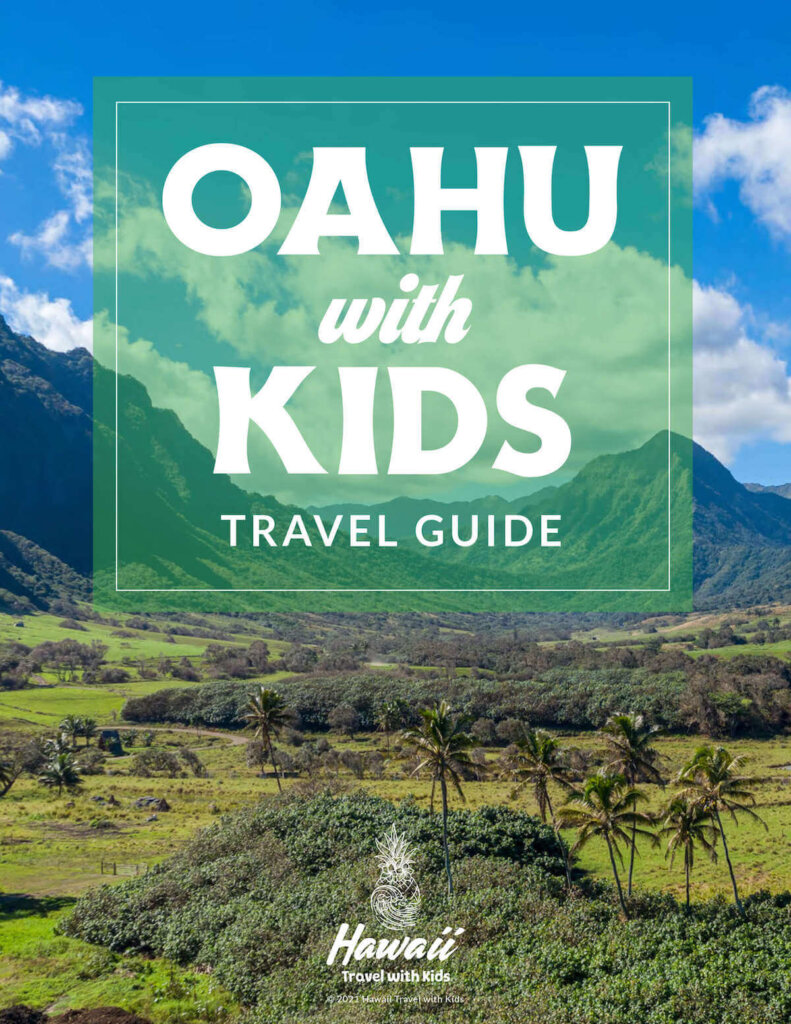 FAQ about Visiting Pearl Harbor
How much time do you need at Pearl Harbor?
Just plan on taking a full day! If you plan on seeing all 4 sites, you'll need a few hours for each. If you only plan on seeing certain sites like the main USS Arizona Memorial, plan on taking 2 or 3 hours.
Can you eat at the restaurants on Joint Base Pearl Harbor-Hickam?
I don't recommend going on-base unless you have previous access or have plans to meet someone who lives or works with the DOD. Even escorted non-military guests have to go through a lengthy process to access the base. If you're looking for places to eat near Pearl Harbor, there are plenty of great options off-base.
Are bags allowed inside Pearl Harbor?
You can't bring a bag that conceals what's inside, so they actually sell clear plastic bags to hold your things if you need one. Even medication and wallets have material and size restrictions. But for a fee, you can keep your bags and things at a storage facility near the entrance.
Can I visit Pearl Harbor without a tour?
What's great about the Pearl Harbor Memorial is that you don't have to book a tour to visit, and it's free to get in! Some sites inside the base are separate and cost money, but you don't have to book them to visit. So, if you want to leave to go get food and come back, it's not a big deal. Just keep in mind that there's a limited number of admissions per day and you're not guaranteed to get back in.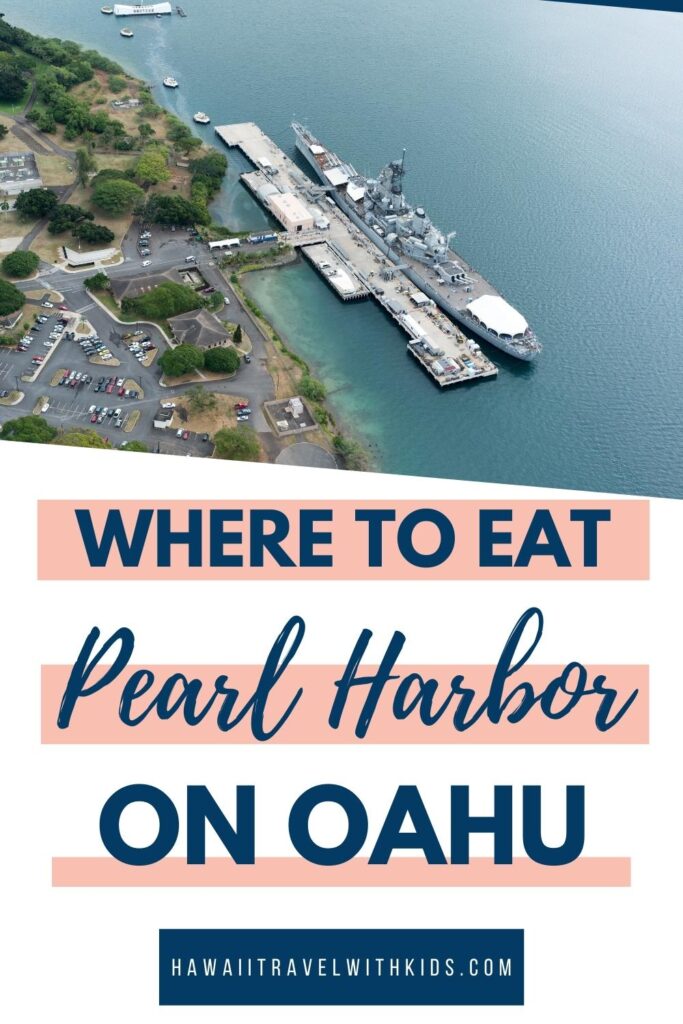 Can you Eat at Pearl Harbor?
Inside the Pearl Harbor National Memorial entrance, you'll find a few places to eat.
When my boys got tired of walking around, we took a break and got Dole Whip at the snack hut outside the USS Battleship Missouri.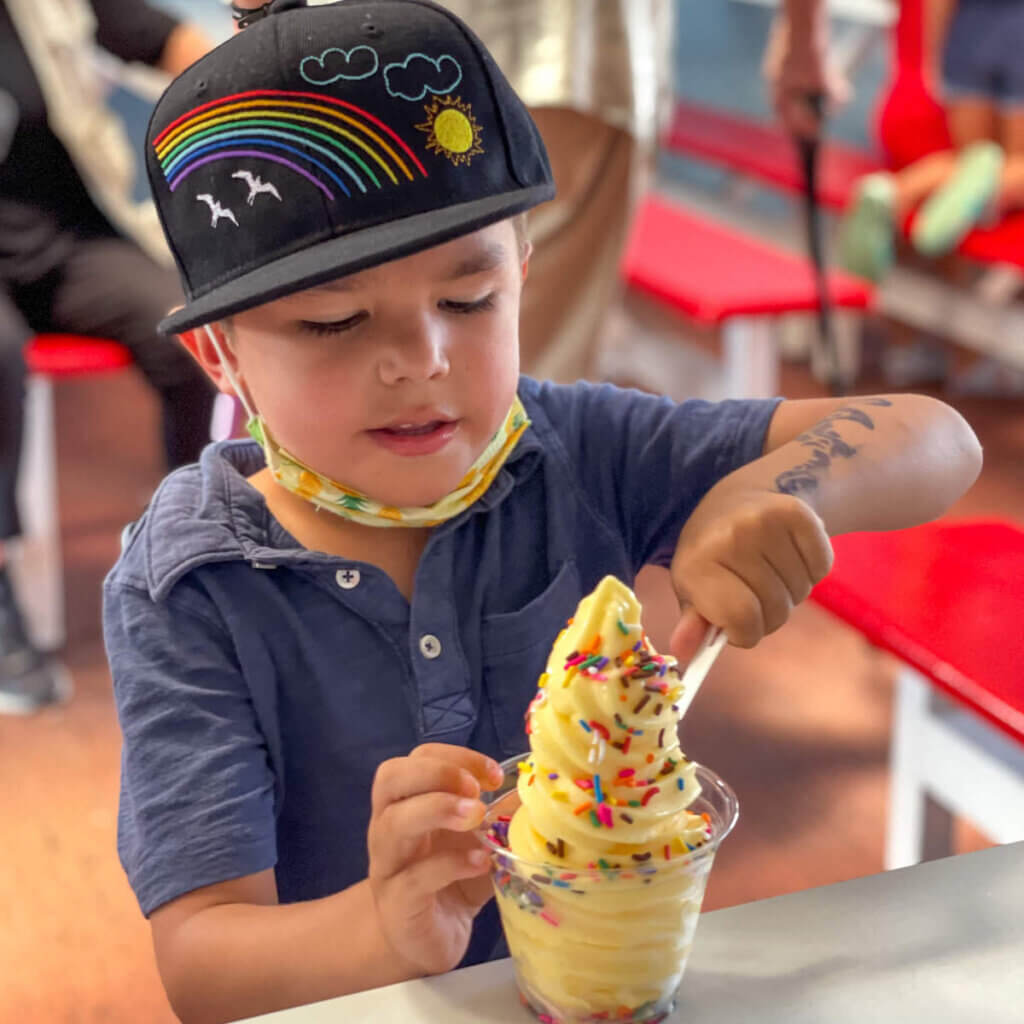 They also have lunch items, packaged snacks, and drinks. And there are tables and chairs outside where you can sit and eat.
Also, inside the aviation museum, there's the Lanaikea Café. It's a great place to cool off in the AC and enjoy a burger or salad!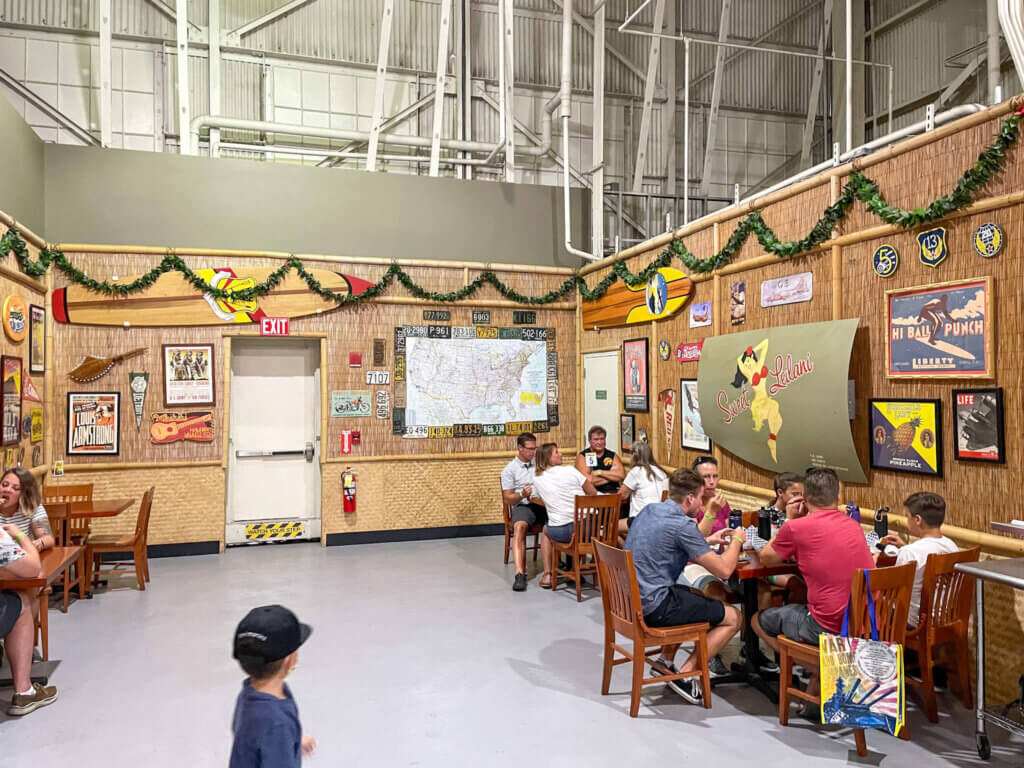 But remember that only bottled water is allowed inside the memorials if you go on a tour. Plus, there's tons of walking, and if you have younger kids, they can get bored pretty fast.
Sometimes, breaking up the day or ending your tour with some nearby food is the best thing! So, let's look at some great places to eat near Pearl Harbor.
Great Places to Eat Near Pearl Harbor
Restaurant 604
57 Arizona Memorial Dr
Honolulu, HI 96818
Located at the Rainbow Bay Marina next to the memorial parking lot is Restaurant 604.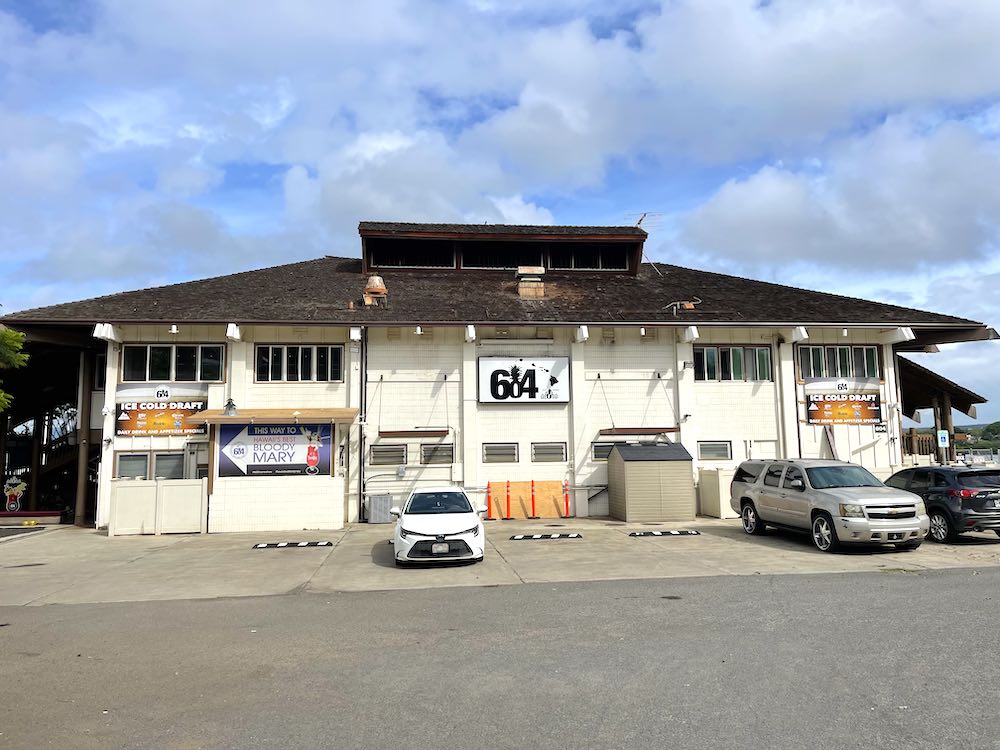 When you're looking for food near Pearl Harbor, this is the closest stop! You can enjoy great views of the boats on the water while you relax in a friendly atmosphere.
Try the Kalua Pork loaded nachos or one of their famous bloody marys. They have a small children's menu as well.
Thai Cuisine Express
98-020 Kamehameha Hwy
Aiea, HI 96701
Most places to eat near Pearl Harbor are a few minutes north in Aiea. The furthest out is just 2-miles up Route 99 from the Pearl Harbor National Memorial.
This restaurant is inside the Waimalu Shopping Center. There are actually several laid-back dives in the strip mall where you can get a variety of local food. But Thai Cuisine Express is a quality choice!
Their pad thai and Panang curry are some of the best dishes on the island.
Kapiolani Coffee Shop
98-020 Kamehameha Hwy
Aiea, HI 96701
A few storefronts down also inside the Waimalu Shopping Center is the Kapiolani Coffee Shop, that's been in Oahu for over 70 years.
It's actually a great diner for local food, like their delicious oxtail soup! There are tons of booths and tables for enjoying a meal. Everything feels like home with cozy chinaware and hot coffee.
Kehau's Kitchen
98-150 Kaonohi St b118
Aiea, HI 96701
For places to eat near Pearl Harbor that guarantee a quick and delicious meal, go to Kehau's Kitchen. Also on Kaonohi Street, this one's in the smaller Westridge Shopping Center behind Anna Miller's.
It's a local favorite with authentic no-frills Hawaiian food. They hit everything out of the ballpark like their Mexican street tacos and poke nachos! But everyone loves the lau lau and the pulehu ribs.
Anna Miller's Restaurant
98-115 Kaonohi St
Aiea, HI 96701
If the family craves good old American classics, you must visit Anna Miller's. It's at Kaonohi Street and Route 99 on the way to the Pearlridge Shopping Center.
You can't miss the beautiful diner on the corner! The restaurant opened in 1973 and everything inside is nostalgic for that time. Enjoy a wide variety of breakfast, lunch, and dinner items. Make sure to save room for Anna Miller's famous pies!
Bravo Italian Restaurant
98-115 Kaonohi St
Aiea, HI 96701
For a place with a solid kids' menu and great Italian food in a casual setting, head to Bravo Italian Restaurant. They share the building with Anna Miller's! It's a roomy, dated place in all the best ways.
You can order a variety of Italian favorites from garlic knots and calamari to pizza and all kinds of pasta. Bravo opens at 11 AM for lunch and stays open till 9 PM.
Mamaya
98-199 Kamehameha Hwy A-7B
Aiea, HI 96701
Enjoy an easy meal of Japanese bento boxes to go at Mamaya on the southern side of Route 99 inside the Pearl Kai Shopping Center.
Pretty much everything is prepackaged, making for an easy and quick checkout. Take it with you or sit and eat! There's everything from chicken and fish bento boxes and poke bowls to sushi and desserts.
They're open from 8 AM to 2 PM and they sell out fast, so come a little early!
MangoMango Dessert
98-1005 Moanalua Rd Unit# 2208
Aiea, HI 96701
For lighter places to eat near Pearl Harbor, take a break from all the history and enjoy some ice cream with fun toppings at MangoMango! You'll find it inside the Pearlridge Shopping Mall, very close to a children's activity center.
Try a dessert of mango juice with white rice and mango ice cream or a million different decadent variations. There are also crepe cakes, smoothies, bubble tea, and more.
Uncle's Fish Market & Grill
98-1005 Moanalua Rd
Aiea, HI 96701
Also, inside the Pearlridge Shopping Mall is Uncle's Fish Market & Grill. This restaurant has deep roots in the local community, started by a local fisherman and islander.
You can enjoy some of the best fresh fish on Oahu and some of Uncle's famous mixed drinks! There's something on the list for all seafood lovers, from poke and sushi to fish tacos, sandwiches, and pasta.
Or for the family member who's not a fan of seafood, there are steaks, burgers, and desserts!
Leonard's Pearlridge Malasada Mobile
98-1005 Moanalua Rd
Aiea, HI 96701
For a fun place to eat on your way to Pearl Harbor National Memorial, consider a stop at Leonard's Mobile Malasada shop! It's open every day from 7 AM to 7 PM and stays busy.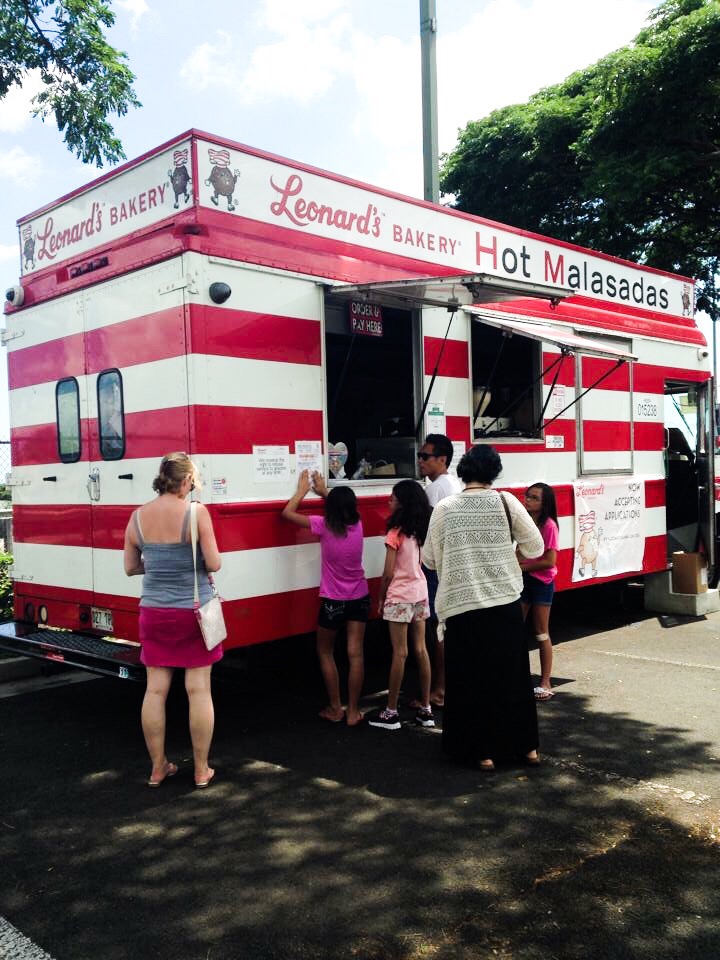 Locals and regular island visitors come to get their pink box of assorted Portuguese fried donuts. You can try them with a few different sugar toppings and custard fillings.
For the best experience, eat them hot and cut them in half with a knife!
Forty Niner Restaurant
4304, 98-110 Honomanu St
Aiea, HI 96701
It's worth the trip to the Forty Niner Restaurant on the corner of Honomanu Street and Route 99!
You'll love this casual family-owned restaurant that has been serving burgers and pancakes since 1947. Their garlic chicken is a must. Or order the popular saimin.
For a treat, get the banana macadamia nut Forty Niner Pancakes.
Dixie Grill
4111, 99-016 Kamehameha Hwy
Aiea, HI 96701
You can find all kinds of places to eat near Pearl Harbor, including great American BBQ! Dixie Grill has a passion for BBQ, especially from the southeastern United States.
You can try everything from po'boys and brisket to cornbread and even key lime pie. Fresh butter popcorn is served at every table. And everything is served butcher style by the quarter-pound on tin trays.
There's a bar with great beer options, and in the back, there are games for the kids!
Aiea Manapua & Snacks
99-149 Moanalua Rd #103
Aiea, HI 96701
There's a great "hole in the wall" type place if you're looking for really great food that the tourists don't know about. Aiea Manapua & Snacks is a storefront and a city's hidden gem.
Besides shelves of packaged items and coolers of drinks, you can enjoy Hawaiian-Chinese steamed or baked manapua. These savory pastries make for a great meal that travels well.
Shaka Shaka Tea Express
848 Ala Lilikoi St
Honolulu, HI 96818
For a caffeine fix and some sweet snacks to or from the memorial, make a stop at Shaka Shaka Tea Express. You'll find this bright and colorful storefront inside the Salt Lake Shopping Center off Salt Lake Boulevard in Honolulu.
They have walls lined with everything from candy and chips to macarons and fresh pastries. But the big draw to Shaka Shaka is the milk teas, coffees, and smoothies.
Kau Kau Grill
852 Mapunapuna St,
Honolulu, HI 96819
When you start to look for places to eat near Pearl Harbor, you realize there aren't a lot of places outside of Aiea. That's because no one is allowed on Pearl Harbor base without privileges.
So, while there are only a few places on the west side of Honolulu near Pearl Harbor, one of the great ones is Kau Kau Grill off Puuloa Road. You'll be content and happy with heaping portions of southern and Hawaiian BBQ!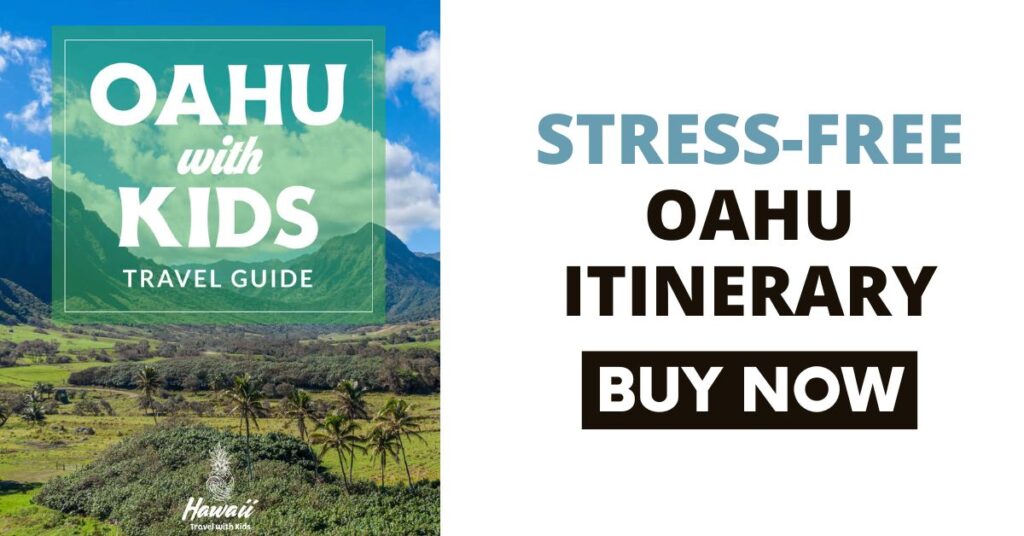 Try the Tastiest Restaurant near Pearl Harbor
Our trip to the Pearl Harbor National Memorial was such a rewarding experience! But we realized pretty quickly that it makes for a long day.
Now you have a list of a variety of places to eat near Pearl Harbor, both before and after your trip.
You can fuel up and enjoy a day of walking in the Hawaiian sun and learning about a huge part of the island's past and present. Or break up your day with a quick trip out for some amazing local cuisine.
And why not cap a beautiful trip to Pearl Harbor with a memorable family meal? From tea and dessert to a hearty BBQ or Italian dish, you'll find it near Pearl Harbor.