Is Dole Whip one of your favorite dairy-free treats? You'll love this easy pineapple Dole Whip recipe that will remind you of Disney Parks or visiting Dole Plantation in Hawaii. Scroll to learn how to make Dole Whip!
This pineapple Dole Whip recipe contains affiliate links which means if you purchase something from one of my affiliate links, I may earn a small commission that goes back into maintaining this blog.
One of my favorite treats to eat in Hawaii (besides shave ice) is Dole Whip. You used to only be able to find it at the Dole Plantation on Oahu, but in the past few years, this yummy dessert has popped up all over the islands.
Of course, outside of Hawaii, you can find it at Disneyland and Walt Disney World.
I love ordering loaded Dole Whip at Tropical Hideaways in Adventureland at Disneyland. The toppings change from time to time, but it usually features Pocky, fresh fruit, and shredded coconut.
But that got me thinking. I bet there are all kinds of yummy toppings that could be added to Dole Whip. I started thinking about the types of toppings available at soft serve ice cream shops, like Menchie's.
Then, I started thinking about toppings at some of my favorite shave ice stands on Oahu and Maui.
One of the great things about Dole Whip is that it's completely dairy-free. So, if you've been asking yourself "Is Dole Whip vegan?" the answer is a resounding YES!
I'm lactose-intolerant and I love not having to take a Lactaid pill when I enjoy Dole Whip.
So, I came up with this recipe for Vegan Dole Whip that will transport you to Hawaii!
Check out all my favorite Hawaii dessert recipes including these Dole Whip Popsicles!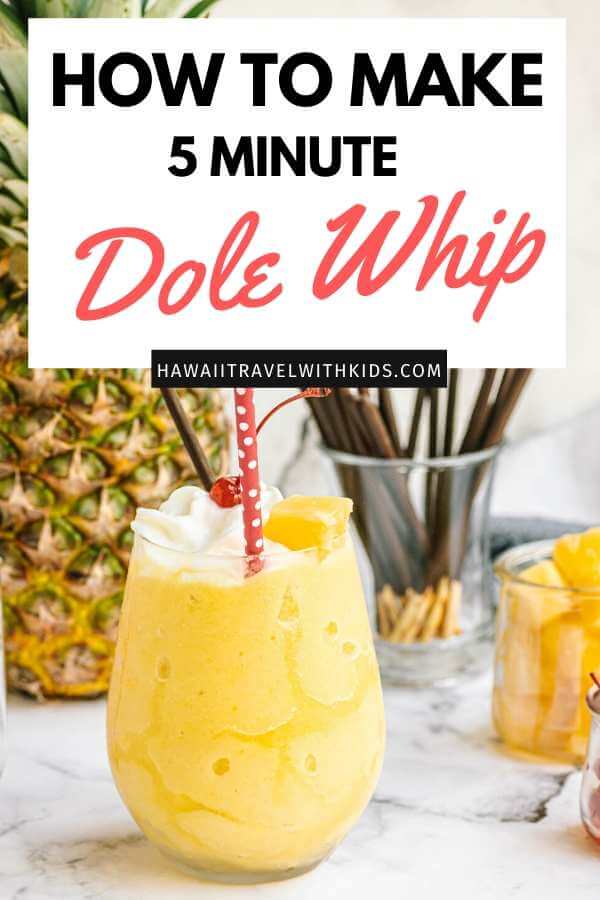 Dole Whip FAQs
Can you buy Dole Whip in stores?
Sort of. Dole released some frozen smoothies that come in pineapple banana flavors at local grocery stores. But, they aren't officially Dole Whip.
Is Dole Whip only at Disney?
No, if fact you can find it all across Hawaii. The best place to try it in Hawaii is at the Dole Plantation on Oahu.
What's the difference between Dole Whip and ice cream?
Dole Whip doesn't have any dairy in it, but it's smooth and creamy like soft serve ice cream. If you want pineapple ice cream, I've got a tasty recipe that's super easy to make!
Copy Cat Disney Dole Whip Recipe
Ingredients
OPTIONAL TOPPINGS*
*Note: Some of these topping may include dairy products. It's always important to check ingredients if you have a food allergy or sensitivity.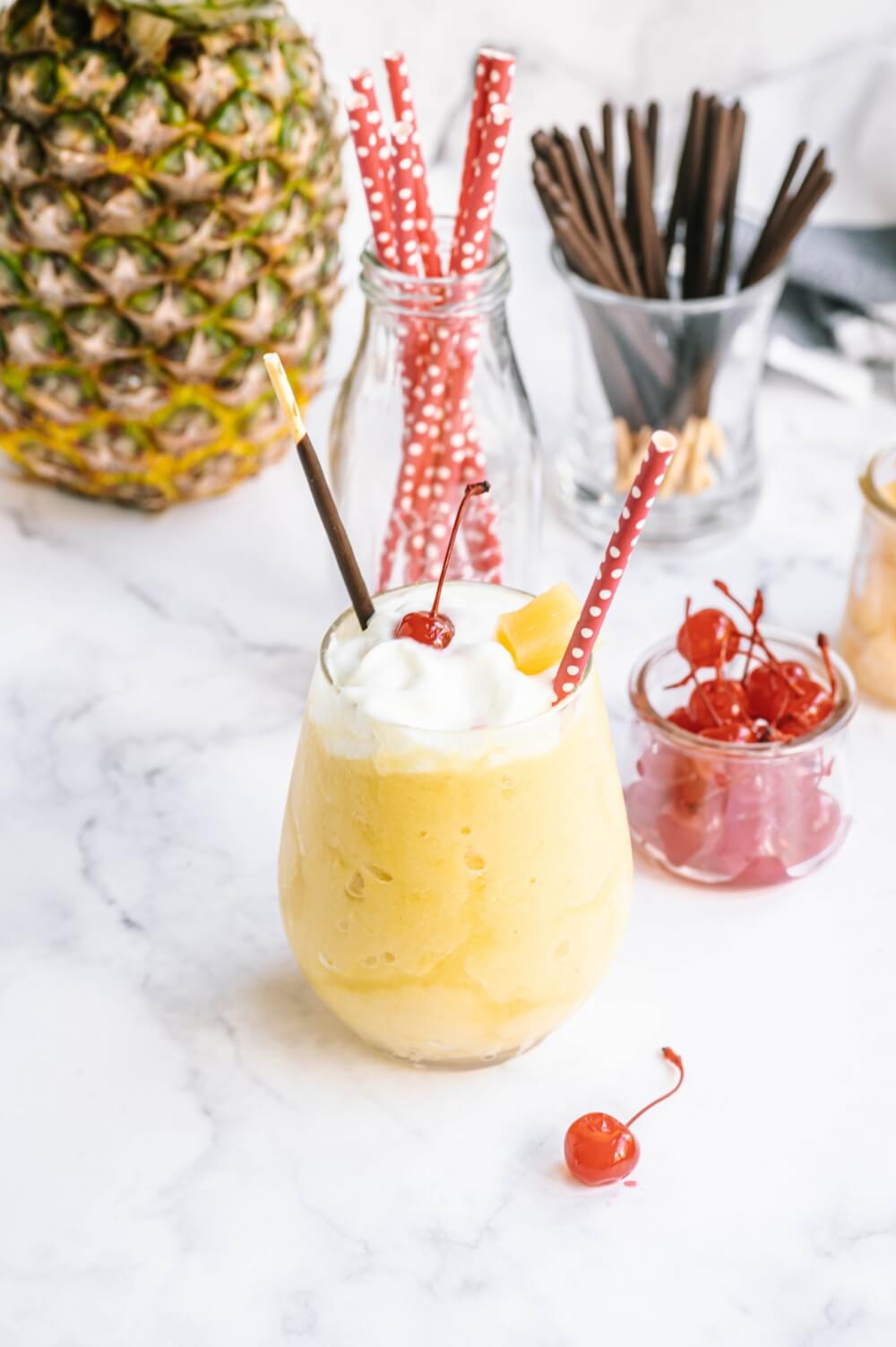 How to Make Pineapple Dole Whip
Measure out all the ingredients

Combine all Dole Whip ingredients and put in a blender

Blend until smooth

Spoon out Dole Whip into cups or bowls

Add toppings
Yield: 2 servings
Copycat Disney Pineapple Dole Whip Recipe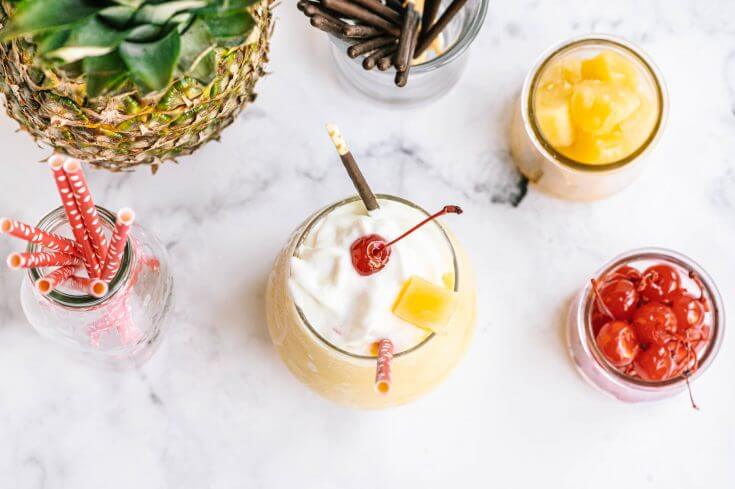 One of the tastiest treats in Hawaii and at Disney Parks is Dole Whip. Here is an easy, copy cat pineapple Dole Whip recipe perfect for making as a family.
Additional Time
5 minutes
Ingredients
DOLE WHIP
2 cups frozen pineapple
1/3 cup coconut milk (or any dairy-free milk)
3 tbsp granulated sugar
1 tsp lemon or lime juice
1 pinch of salt
LOADED TOPPINGS
Pocky (chocolate or strawberry)
Canned mandarin oranges
Canned lychee
Pineapple chunks (fresh or canned)
Mango chunks (fresh or frozen)
Maraschino cherries
Popping boba (I like passion fruit best)
Mini mochi
Instructions
Measure out all the ingredients
Combine all Dole Whip ingredients and put in a blender
Spoon out Dole Whip into cups or bowls
Add toppings
Notes
You can substitute any milk substitute for the coconut milk if you don't like the taste of coconut milk.
There are limitless options for toppings, so get creative!
Nutrition Information:
Yield:
2
Serving Size:
1
Amount Per Serving:
Calories:

940
Total Fat:

15g
Saturated Fat:

11g
Trans Fat:

0g
Unsaturated Fat:

3g
Cholesterol:

2mg
Sodium:

214mg
Carbohydrates:

206g
Fiber:

9g
Sugar:

161g
Protein:

8g