Looking for a tasty Hawaiian recipe to make on your grill? You'll love this recipe for Hawaiian Teriyaki Beef Skewers that's simple to make and tastes awesome!
This Hawaiian Teriyaki Beef Skewers recipe contains affiliate links which means if you purchase something from one of my affiliate links, I may earn a small commission that goes back into maintaining this blog.
We love getting our kids to help out in the kitchen as much as possible.
They went to a Montessori preschool where they learned how to chop, so they love practicing on veggies.
This is an easy meal to make with kids. They can help measure and pour to make the teriyaki sauce, chop all the vegetables, and assemble the skewers.
And if you're short on time, you can always substitute your favorite pre-made teriyaki sauce (our family favorite is Hawaiian Huli Huli sauce.)
We usually serve it with Pineapple Fried Rice, but you can also do potatoes.
This is also an awesome camping recipe to make! Just prep all the items before your trip so all you have to do is assemble and cook!
Ok, ready to dive in?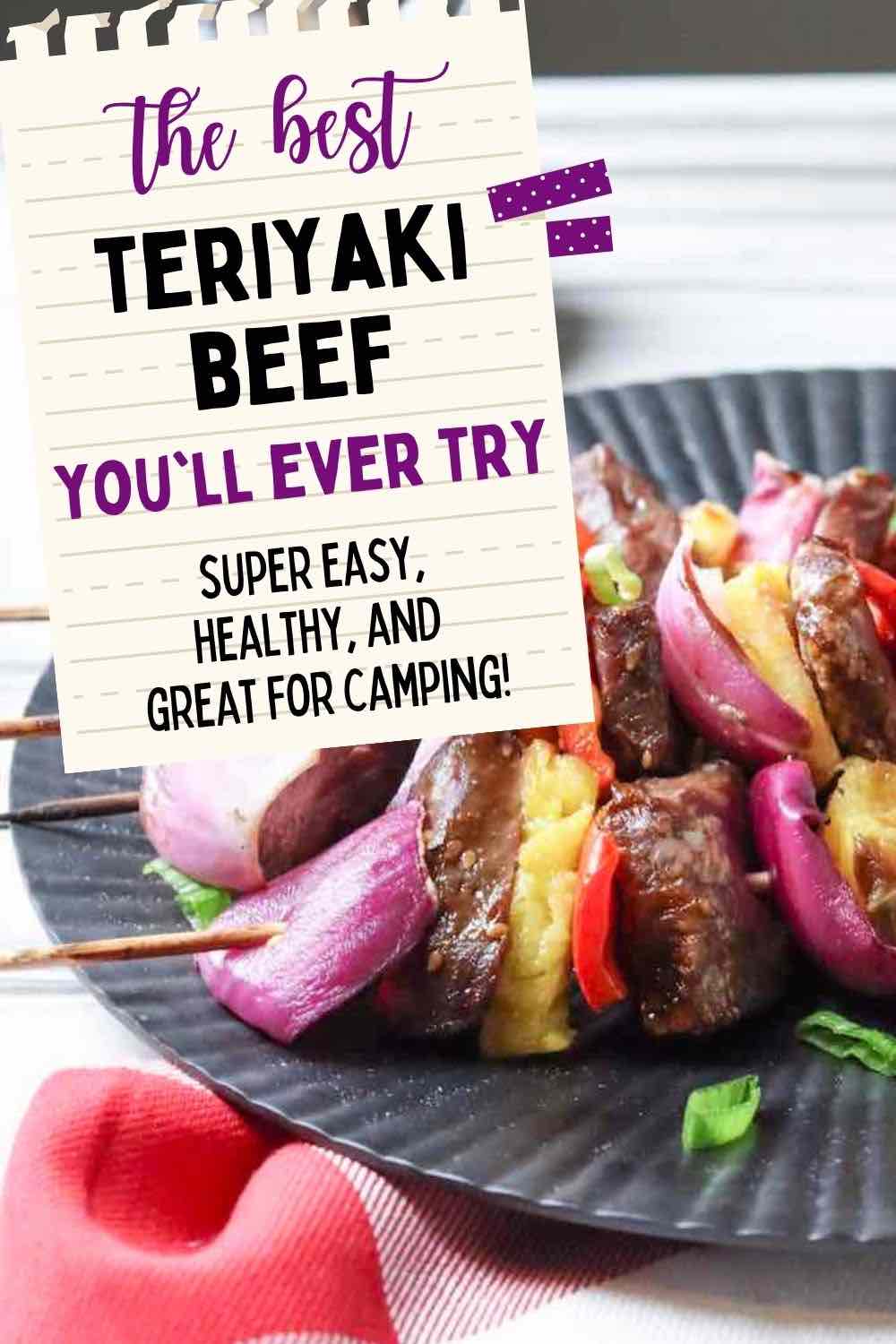 Hawaiian Teriyaki Beef Recipe
Cook Time: 10-15 min
Serves: 6
Hawaiian BBQ Beef Ingredients
2 lbs sirloin steak cut into 1" pieces
2 red poblano pepper cut into 1" pieces
1 red onion cut into 1" pieces
1/2 pineapple cut into 1" pieces
Hawaiian Teriyaki Sauce Ingredients
How to Make Hawaiian Teriyaki Chicken Skewers
1. In a saucepan, add all ingredients for the teriyaki sauce except the sesame seeds on
medium heat
2. Allow to simmer 8-10 minutes or until slightly thickened. Remove from heat and stir in the
sesame seeds. Let cool 20 min in fridge.
3. Marinate steak in teriyaki 1 hour
4. Thread steak, pepper, onion, and pineapple through skewer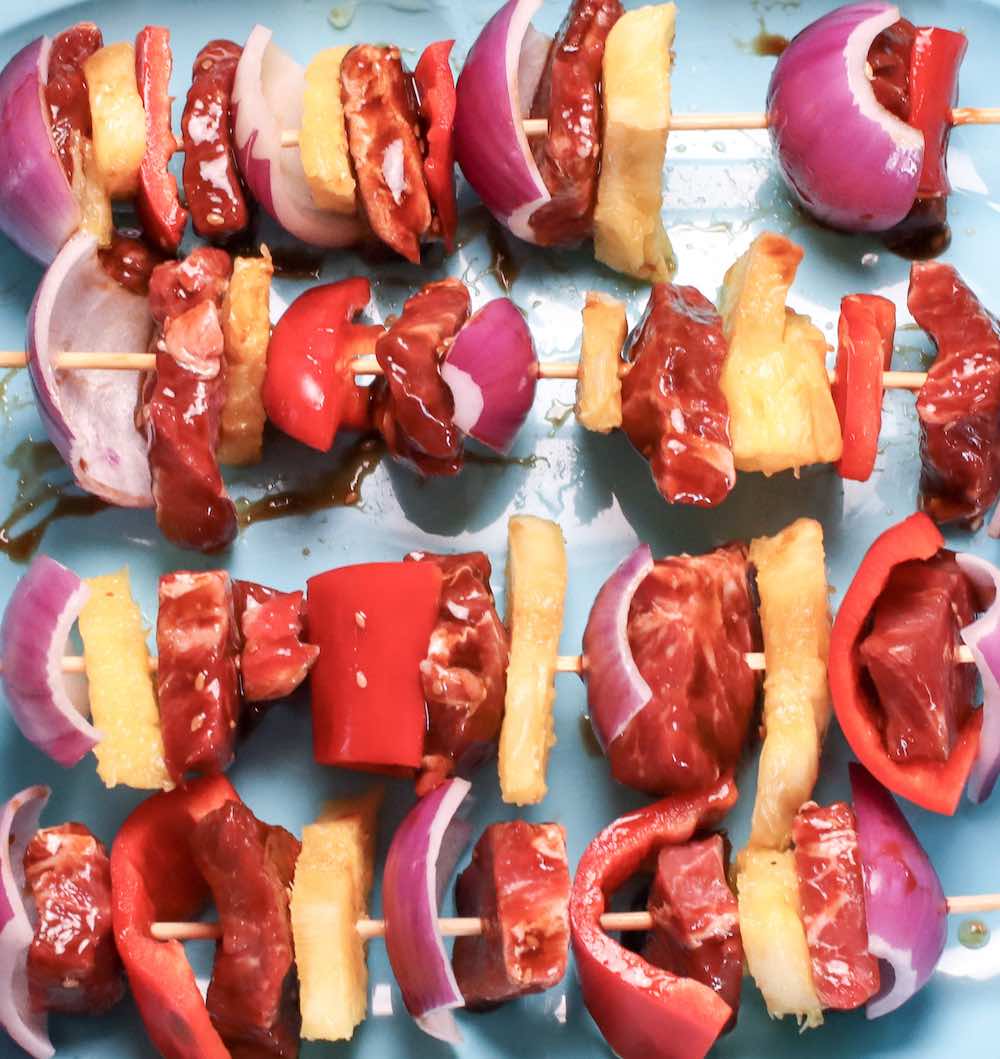 5. Grill 10-15 minutes, or until vegetables are tender and meat is browned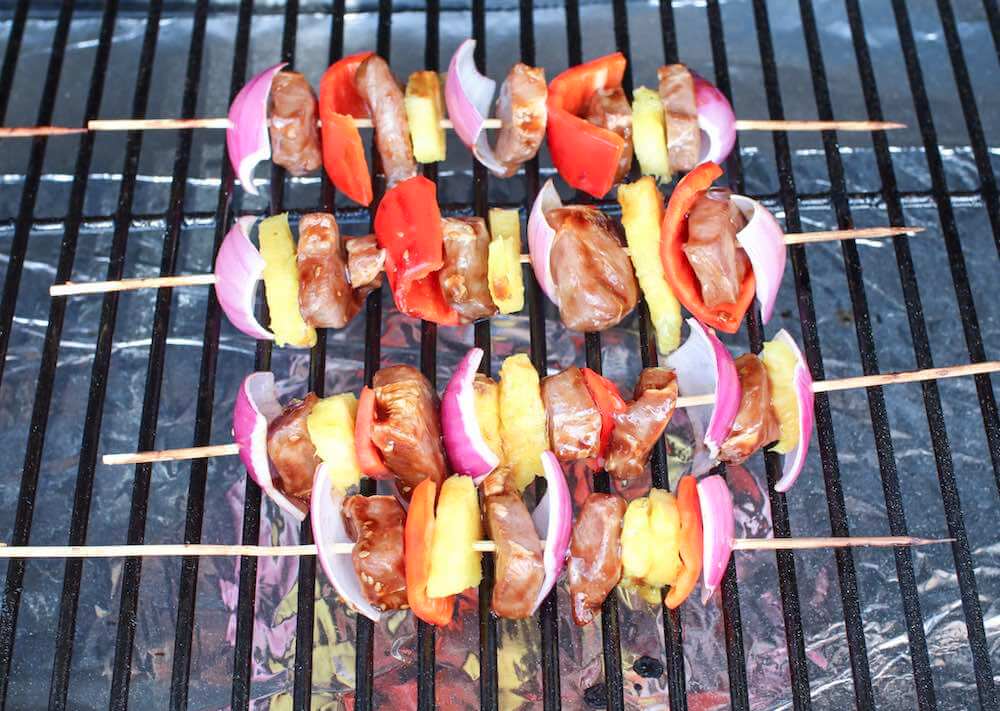 And that's it!
Now you have a tasty and healthy dinner option that you can feel good about serving to your family.