Are you planning a trip to Oahu with family or friends? Keep scrolling to find out the best private Oahu tours to book before your trip!
This list of the best private Oahu tours may contain affiliate links which means if you purchase something from one of my affiliate links, I may earn a small commission that goes back into maintaining this blog.
Enjoy more intimate encounters while traveling by taking some of the many private Oahu tours available to locals and tourists.
When you're heading out on any tour in Oahu, you want to have the best experience possible.
However, you likely have concerns about overcrowding and situations like those that could prevent you from having the best time.
With these different Hawaii private tours, you won't have to worry about sharing your fun time with dozens of other people you don't know.
Check out this list of some of the best private tours in Oahu, including Honolulu tours by locals.
You can find plenty of fun things to do for everyone, whether you'd like to explore the island, check out different restaurants, see historic Honolulu and the Hawaiian culture, or spend lots of time in the water.
Click HERE for the top-rated private tour on Oahu!
Don't have time to read a bunch of Hawaii blog posts and reviews? Here are some of our top picks for visiting Oahu.
Popular Oahu Tours/Activities
Favorite Oahu Resorts/Hotels
Want to Rent a Car in Hawaii?
One of the best places to rent a car in Hawaii is Discount Hawaii Car Rental because they get the best rates from top national companies like Alamo, Dollar, Thrifty, Avis, Enterprise, Budget, and Payless.
Want to skip all the planning and just access my detailed Oahu Itinerary complete with daily schedules, kid-friendly activities, and travel hacks? Click the button below.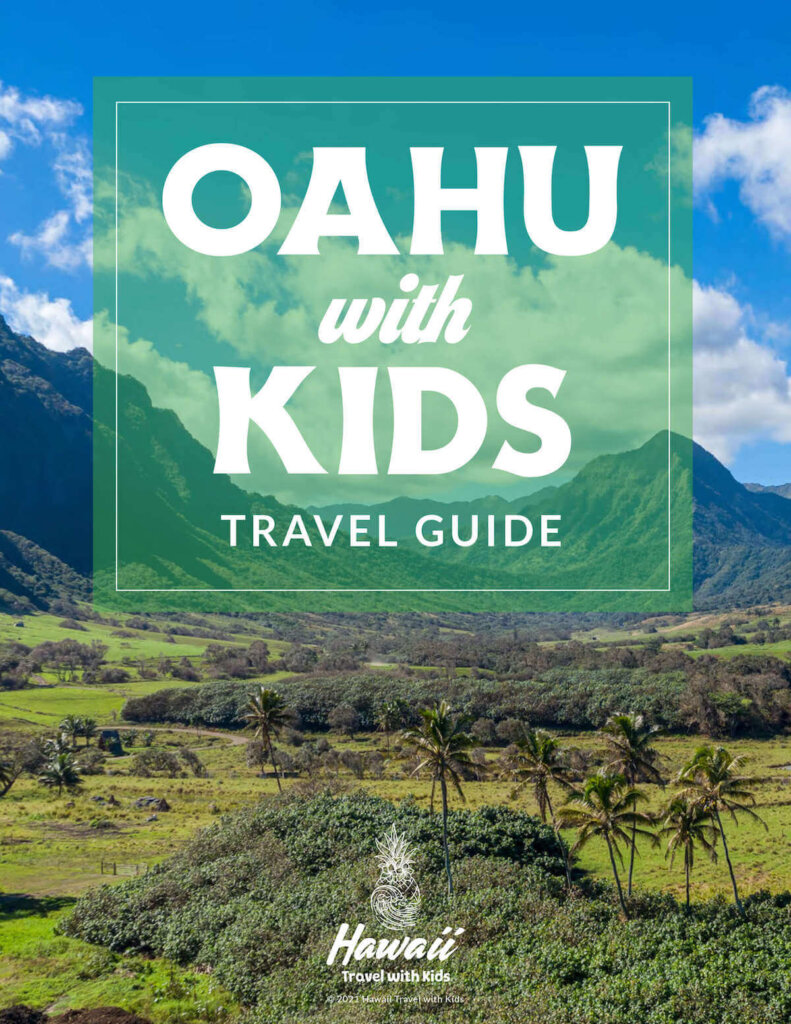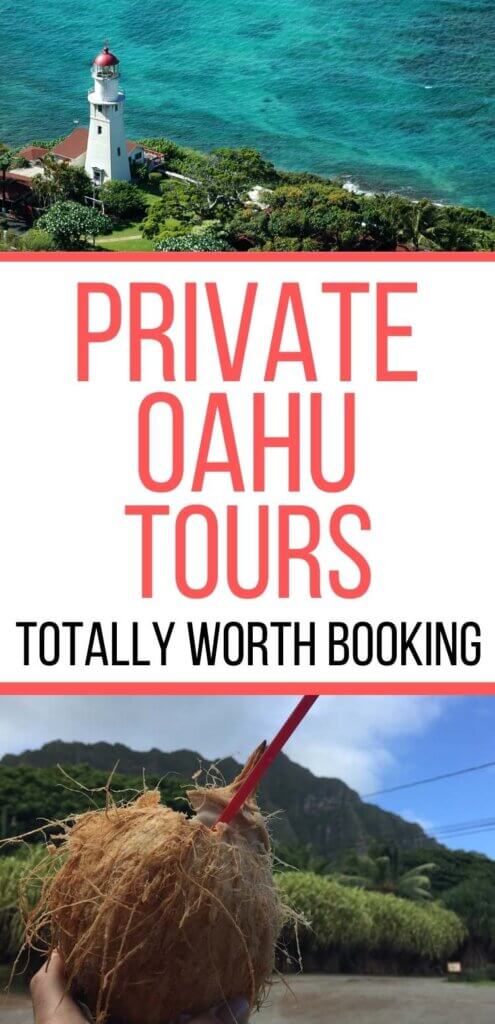 The Best Reasons to Take a Private Tour in Oahu
Oahu is a beautiful island that has so much land worth exploring. There's a lot to love about the island, from the fantastic forest reserve to beautiful beaches and even the bright, clean ocean water.
While many tours are available, some include many people, and that isn't always comfortable for everyone.
If you'd rather go on an intimate tour with only a handful of people, such as the ones you've traveled with to Oahu, a private tour is a great idea.
With private tours in Oahu, you'll get that one-on-one time with experienced guides who know so much about the area because they live on the island.
It's also a fantastic way to have more experiences and feel safer while trying new things, such as snorkeling or riding in a helicopter.
Go on any of the following private tours in Hawaii for your next trip; you won't regret it!
13 Incredible Private Oahu Tours Worth Booking
One of the best ways to see Oahu is with a circle island tour. The ultimate way to experience it is with a private tour of Oahu. This tour is the best of both worlds.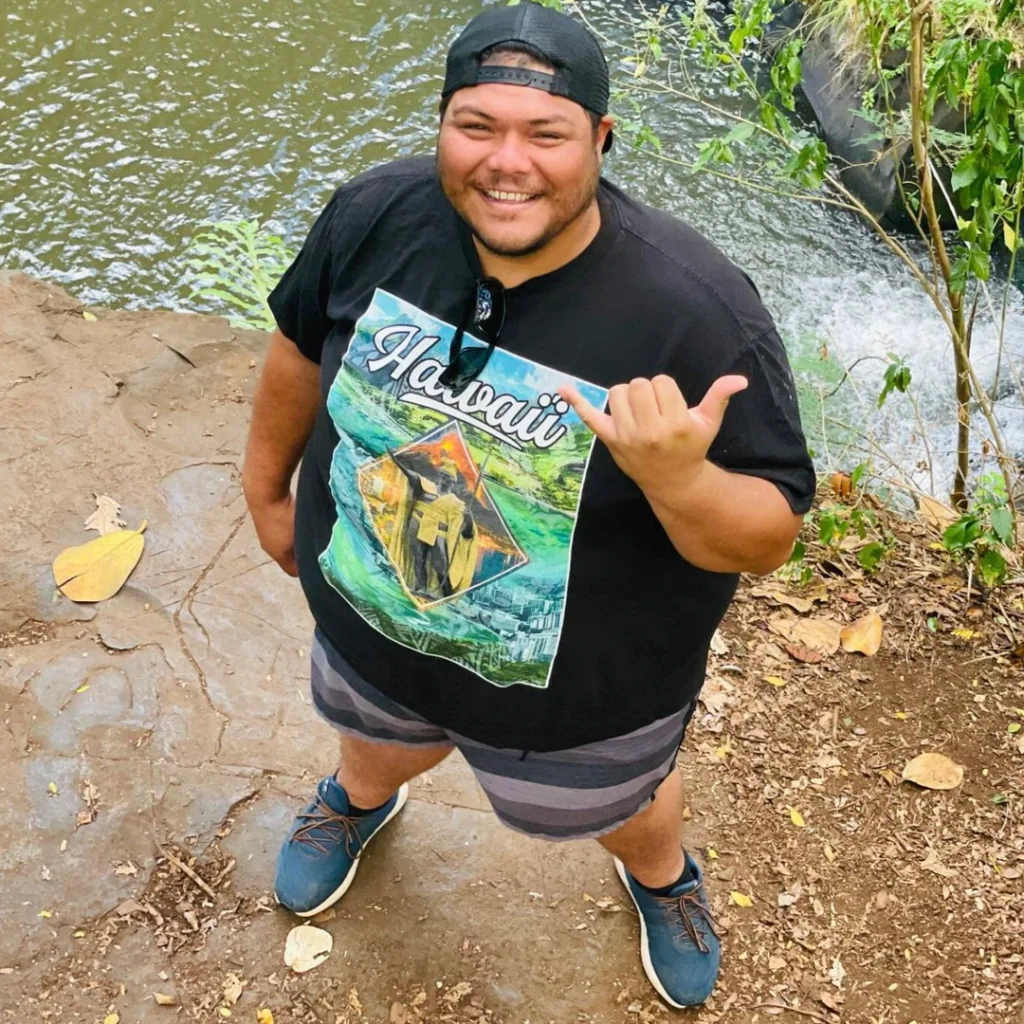 You'll set the pace as you hit up Oahu's top attractions, sights, and gorgeous scenery. Plus, you'll learn a lot about the island with your local tour guide. Check the latest rates and more information.
This is the best Oahu circle island tour I have found. I love that you can go at your own pace and create your own itinerary with the small group size. They even offer free pickup!
Some places you might get to see on this Oahu private island tour are the Dole Plantation, Pali Lookout, China Man's Hat, Turtle Beach, Pearl Harbor, Sunset Beach, and other top places around Oahu.
Your tour guide might take you to see some surfing beaches, the Byodo-In Temple, Waimea Bay, Iolani Palace, and just about anything you could hope for!
If you want to go on an Oahu circle tour, this is the top circle island tour Oahu has to offer.
Take a private sunset cruise in Honolulu, where you'll get to go snorkeling in the water. It's the perfect cruise for a maximum of six people. Check the latest rates and more information.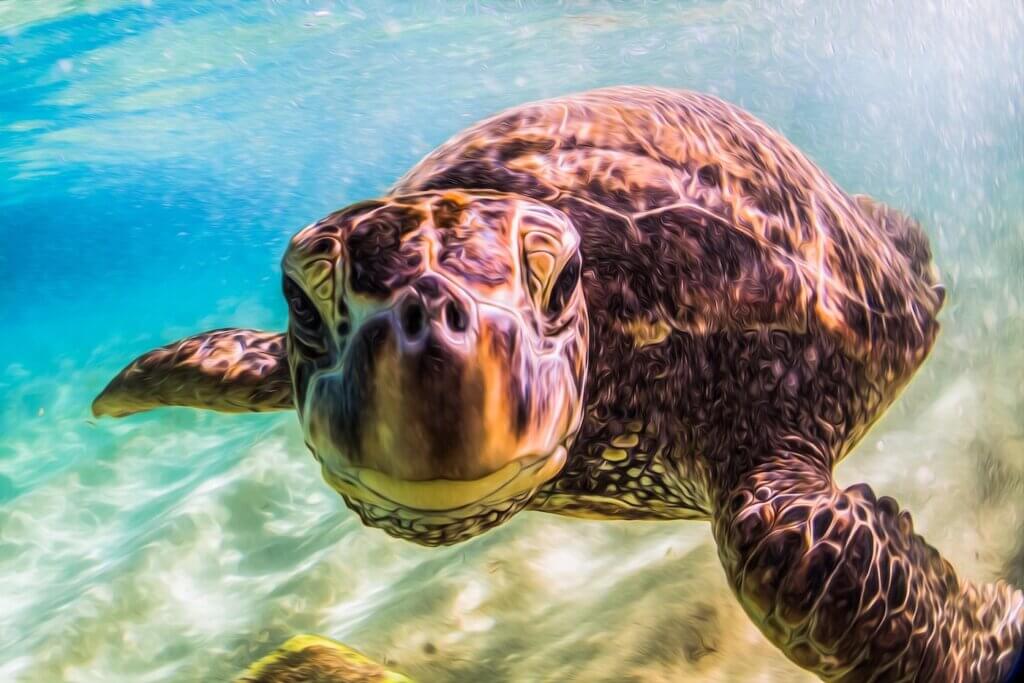 You'll start the journey at the Kewalo Basin in Honolulu and head out on the water in the direction of Diamond Head. The guide will set the anchor down at an ideal location to give you a chance to swim and snorkel.
Even if you haven't snorkeled before, you'll have access to the snorkel gear and support needed to have a fun, safe, and enjoyable time doing so.
During these Oahu private boat tours, your guide will talk to you about the island, its history, and the island culture. Going on one of these Honolulu private tours is one of the best ways to spend the day. Click here to see more reviews.
I think it is the top private snorkel tour Oahu has to offer!
If you're not scared to swim with sharks, go on a private snorkeling adventure with One Ocean Diving. You'll get to head out on the coast of Oahu with guides available to lead the way. Snorkeling equipment is available for guests. Check latest rates and more information.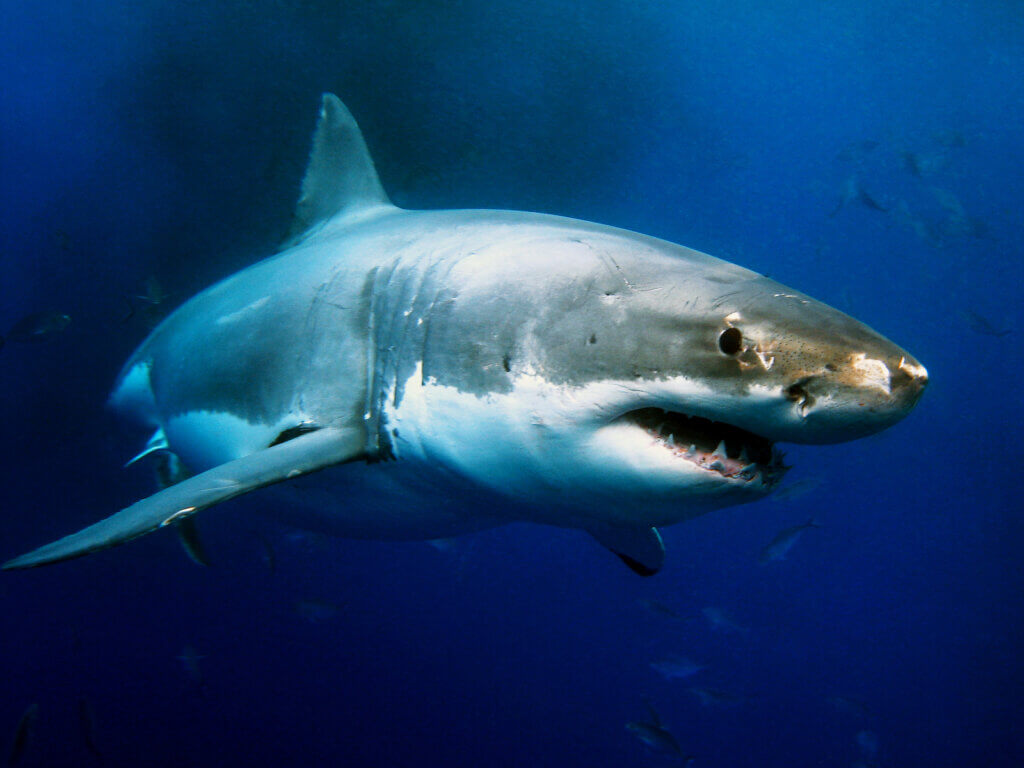 You can talk with the guides before heading out in the water to get tips and advice for staying calm and making the most of your experience.
They're experienced divers who will gladly lead the way for you. Don't let the idea of swimming with sharks scare you.
These giant creatures aren't nearly as frightening as they're made out to be in those movies you've watched in the past. This is one of the best tours on Oahu for people looking for a little adventure. Click here to see more reviews.
This is one of the best Oahu tours if you are up for an adventure and one of the only places on the island of Oahu to go swimming with the sharks!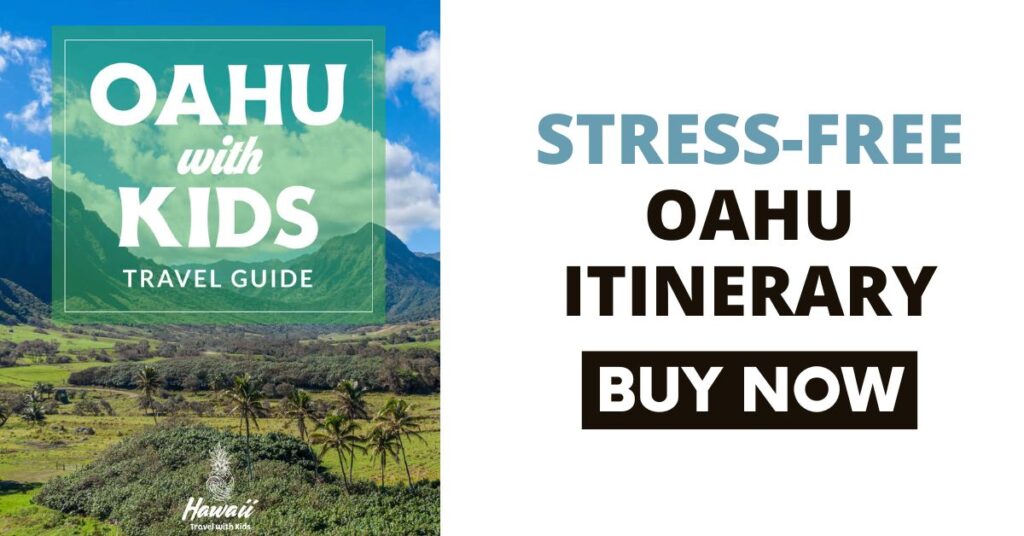 See Oahu from a bird's perspective with this Private Helicopter Tour in Honolulu. It's the perfect tour for two or three people. If you're looking for a way to have a romantic moment in Oahu, this is the ideal tour for you. Check latest rates and more information.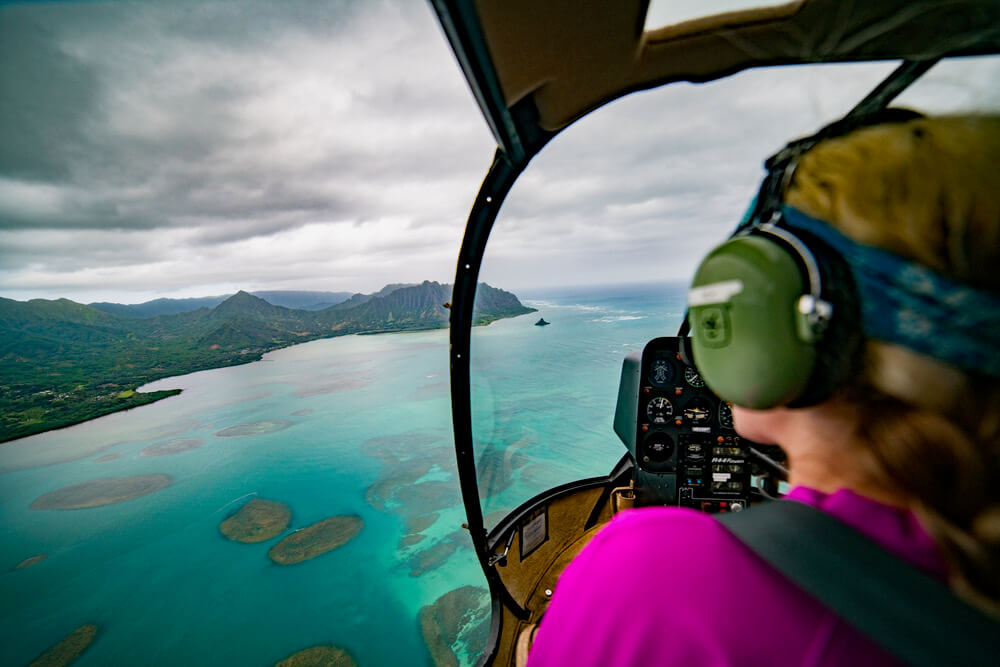 You'll get to see some of the most impressive sights from the helicopter, including the bright and beautiful water, lush grass-covered mountains, waterfalls, and other stunning scenery in the area. It's a view like none other offered in Oahu.
The tour lasts for 60 minutes and is, by far, one of the most unforgettable tours offered to guests of Oahu who want to see it from a unique perspective. During your time in the air, you'll pass over the USS Arizona, Battleship Missouri, and Pearl Harbor.
Don't forget to grab your phone and take some photos of everything you'll see while hundreds of feet in the air. It's seriously one of the best tours on Oahu. You can even have the doors off during your ride to see all the scenic views! Click here to see more reviews.
It truly is one of the best tours in Oahu.
Sail in the water while watching the sunset on the Polynesian Canoe Sunset Sail tour. Ride around in a traditional canoe for two hours while learning more about the area. Check latest rates and more information.
You can ask questions and get all the information you want on the culture of the island. When taking this tour, you'll spend roughly two hours at sea.
Both dinner and plenty of refreshments are available for guests to enjoy, ultimately enhancing the experience even more.
If you're hoping to learn more about the culture, chants, great stories, and even common myths, you need to go on this tour at least once in your lifetime. Going on one of these Oahu private tours is a calming way to spend the day. Click here to see more reviews.
It is truly a unique private boat tour Oahu has to offer.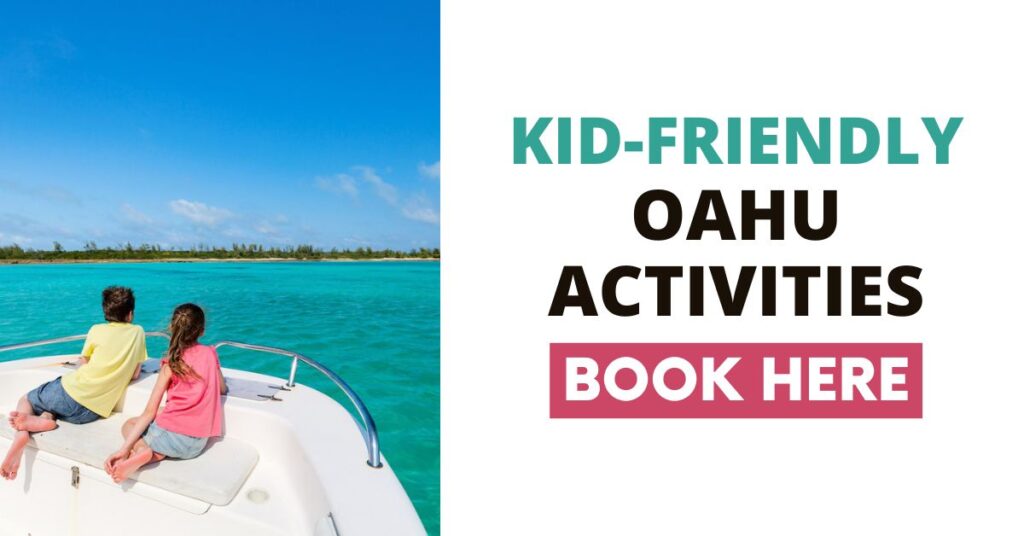 Take a private tour of Pearl Harbor and Honolulu. The tour lasts for up to five hours. You'll get to skip those long lines while taking a private tour with a knowledgeable tour guide which is available to answer all your questions. Check latest rates and more information.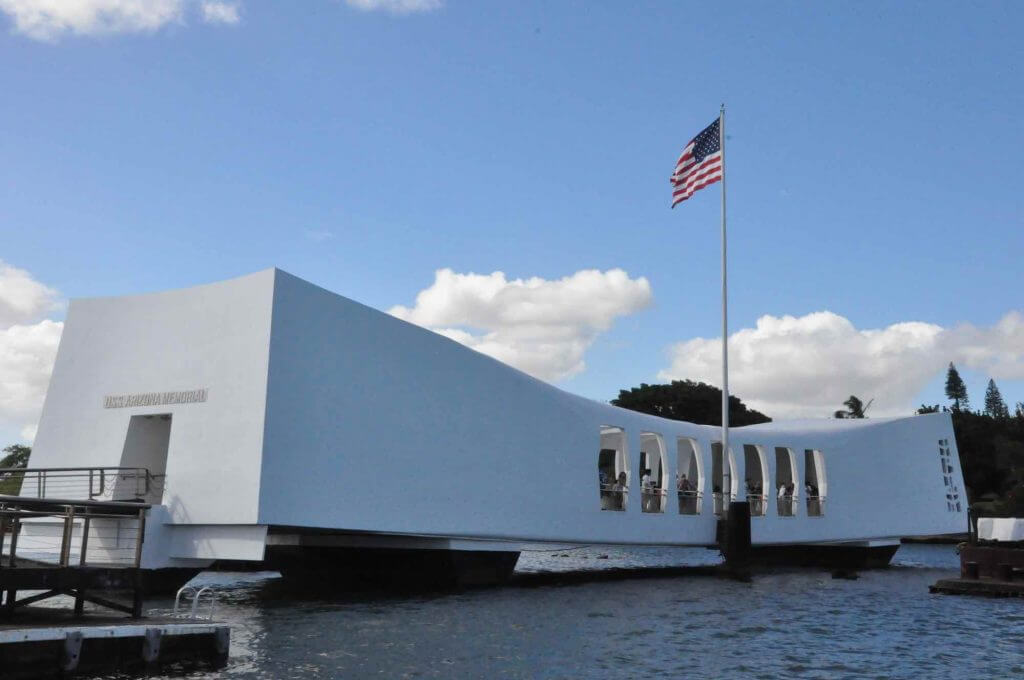 You can get picked up at your hotel and dropped back off at the end of the day, so you won't need to worry about transportation. This is a great option for visiting Pearl Harbor with kids.
During the tour, you'll get to try locally grown fruit, learn new things about Pearl Harbor and the surrounding area, and ride through different places. Snacks and water are available to all guests throughout the duration of the trip.
You won't have to wait in line for the USS Arizona Memorial! You can also see the Pearl Harbor Visitor Center and the Pacific Aviation Museum and learn as much as you want about World War II history.
After visiting the historic sites at Pearl Harbor, you will then get to explore Downtown Honolulu to see more historical sites, including the Iolani Palace, King Kamehameha statue, the Punch cemetery, and more.
If learning about Pearl Harbor and having fun are two of the things you'd like to do, take this convenient sightseeing Oahu tour! It's one of the best private tours Oahu has to offer. Click here to see more reviews.
Book a Family Photo Shoot
Whenever we travel to Hawaii, we almost always book a family photo shoot with Flytographer. They are super easy, affordable, AND it guarantees that I'll be in some photos. You can get $25 off if you book through this link or use the code HAWAIITRAVEL.
Ride on a private boat and get the chance to go snorkeling with this fun Oahu tour. You can avoid the crowds and spend time with those closest to you, such as your partner, children, or friends that you've traveled with to Oahu. Check latest rates and more information.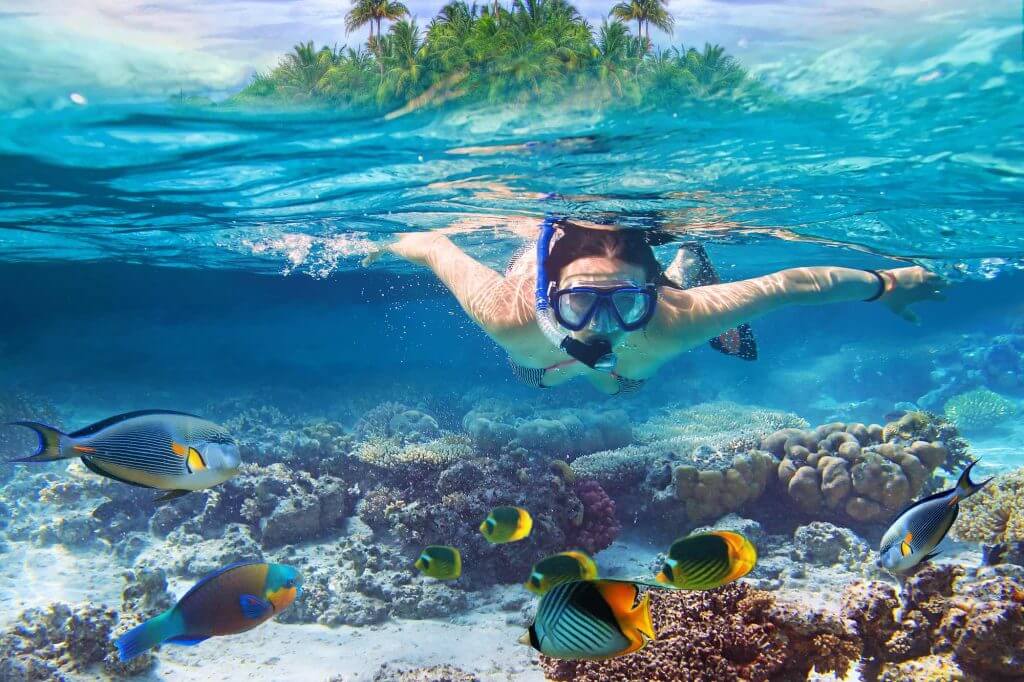 This Oahu tour company provides a customizable itinerary that allows you to choose where you'd like to go and what you'd like to do first, whether you want to go snorkeling before anything or wait until later to head out in the water.
Having more of a say is certainly a convenience when going on this private tour in Oahu. It makes it even more enjoyable.
The boats used for these tours are fast and will get you where you want and need to go in no time. Expect to have the time of your life while surrounded by experienced Oahu tour guides and your loved ones.
You might get to see some sea turtles, dolphins, and even whales if you are going out during the winter months.
Snorkeling equipment is available for you to use, so you won't even need to worry about buying the equipment and hauling it along with you. Click here to see more reviews.
If you'd consider yourself a foodie, you're going to love the Hawaiian Food Tour that you'll go on while riding bikes around Oahu. You can get away from all the crowds, get some exercise, and have a great time trying out delicious cuisine on the island. Check latest rates and more information.
You'll get the chance to ride around on a bicycle to some of the local hot spots in the area, including restaurants and cafes offering some of the tastiest and freshest foods you've ever tried.
If you'd love to taste some Hawaiian staples, you need to go on this tour! You can meet at the central point in Waikiki to head off on the adventure.
The tour lasts for approximately five hours and is totally worth it! You can expect to feel tired after a long day of bicycling and enjoying fantastic food with wonderful people. Click here to see more reviews.
This is definitely one of the fun Waikiki tours you will want to try!
Step away from the water and beach and go on an exhilarating private off-road adventure. You'll get to ride around on an off-road vehicle for 90 minutes while traveling through the forests and witnessing nature at its finest. Check latest rates and more information.
The Oahu tour guide who drives you around will also provide you with more than enough information on the area.
It's a great way to see what Oahu offers besides the beautiful beaches and fantastic ocean water. This private tour is located on the North Shore Oahu in Kahuku.
You never know what you'll see while off-roading. Some guests have come across lots of beautiful plants, trees, and even cows on their journey!
Lunch is provided to those who participate in the off-road tour. So, if you head out in the late morning hours, you can finish the tour by lunchtime and enjoy a delicious meal.
Nothing feels quite as good as enjoying flavorful Hawaiian cuisine while taking in the fresh air and comforting breeze around you. Click here to see more reviews.
This is another one of the most romantic Oahu private tours you will find. You get to go on an off-road ATV ride enjoying the adventure with your significant other at Gunstock Ranch, located in Kahuku. Check latest rates and more information.
It is similar to the one above, but with this Oahu tour, you get a relaxing sunset campfire dinner. Dinner will include a delicious farm-to-table meal you won't find anywhere else!
During the drive, enjoy seeing some Hawaii 5-0 movie sights, a cave, and some gorgeous ocean views. Click here to see more reviews.
If you don't want to go on any full-day tours, this two-hour Private Boat Tour is definitely more your style. You'll hop aboard a 55-foot power boat and enjoy the ocean. Check latest rates and more information.
Along with your local guide, you will customize your private tour so you get to explore what you actually want. Some options include Hawaiian cultural performances, snorkeling, paddle boarding, kayaking, and more.
There is even a 20-foot waterslide on the boat to enjoy too! Your kids will definitely love that.
Up to 15 people can go on this Oahu private tour, making it a great tour for multi-generational family vacations! Click here to see more reviews.
If you love hiking and exploring all Oahu has to offer, book this private hiking tour. Choose from Waimea Valley, Manoa Falls, or Diamond Head. Check latest rates and more information.
Your private tour guide will help you make the most out of your hike and will help you go sightseeing when you are finished too!
Whether you want to hike on the North Shore or visit Diamond Head, this private Oahu island tour is well worth it! You can even add on pick-up and drop-off round trips too! Click here to see more reviews.
Enjoy this Private Sightseeing Tour and get some stunning pictures in the process! Your local guide is a professional photographer and will take you to all the hidden spots on Oahu to capture pictures of your family. Check latest rates and more information.
You might go explore Pali Lookout, Hanauma Bay, Waimanalo Bay, Makapuu Beach Lookout, and more! Let your tour guide lead you along while you simply relax and enjoy.
What is amazing about these photography Oahu private tours are that they offer both sunrise and sunset pictures too. It doesn't get much better than this! Click here to see more reviews.
I think it's another one of the best Oahu private tours!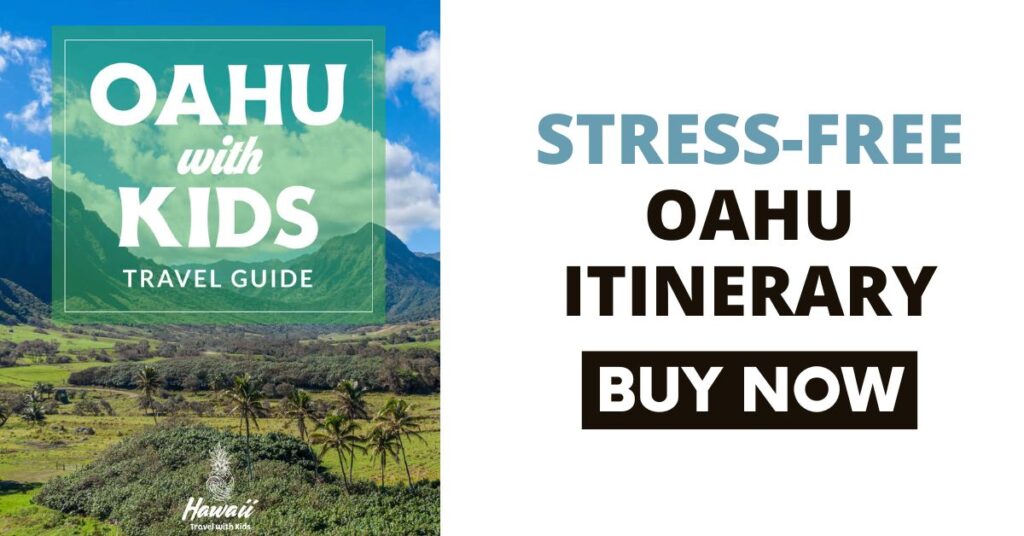 Private Tours Oahu Hawaii FAQS
What should you not miss on Oahu?
When people are planning a trip to Oahu, they usually want to see Pearl Harbor, Diamond Head, Waikiki Beach, the North Shore Oahu, and the Polynesian Cultural Center. In addition, they often want to go snorkeling, take a boat tour, go on a few Oahu sightseeing tours, see a luau, and go shopping at Ala Moana Center.
What's the best luau in Oahu?
There are lots of Oahu luaus to choose from. Personally, my top picks are Toa Luau up on the North Shore and Experience Nutridge Luau near Honolulu. These are the most intimate (i.e., least crowded) and are super authentic.
How many days do you need on Oahu?
If you are planning on doing a lot of tours on Oahu, you'll want to make sure you have enough days for the tours AND time to relax and enjoy the island. I'd only book one tour per day and make sure you have a free day or two in case one of your tours gets rescheduled due to weather.
What is the best way to tour Oahu?
One of the best ways to tour Oahu would be to go on an Oahu island tour. You will have a fun day tour where you visit the best spots all over the island of Oahu, including many hidden spots. It usually is a full-day tour where you will have a wonderful time!
Are private Oahu Hawaii tours worth it?
It all really depends on what you want to do and the private experience you go on. Most private sightseeing tours are worth it to see the most scenic sights and hidden gems you probably wouldn't see on your own. A local guide can offer you a fantastic day and will offer some of the best private island tours Oahu has to offer!
Make More Memories and Have Fun on Private Oahu Tours
As you can see, you'll have plenty of ways to have fun and enjoy intimate encounters by going on some of these convenient private tours in Oahu.
Whether you'd like to go snorkeling, hop on a helicopter for an incredible view, or even spend the day bicycling throughout the island to explore everything it offers, you have many options.
You can make the most of these unique tours while bonding with your loved ones and the caring guides who are there to provide you with more information.
The guides want to show you the island while teaching you everything they know to ensure your experience is the absolute best.