Looking to bring a taste of the tropics to your favorite baked goods? You'll love this Hawaiian style Mango Lime Curd that is perfect for scones, crepes, malasadas, muffins, breads, and just about anything you can dream up! Scroll for the full Mango Lime Curd recipe!
This Mango Lime Curd recipe contains affiliate links which means if you purchase something from one of my affiliate links, I may earn a small commission that goes back into maintaining this blog.
I'm a huge fan of Afternoon Tea. I love those little finger sandwiches, tea cakes, and bite size nibbles. But, my absolute favorite menu item are scones.
I'm talking about those buttery, flaky, scones that just scream to be lathered in clotted cream or lemon curd. Or both.
Lemon curd is actually one of my favorite condiments. I love the punchy flavor and the smooth, creamy texture. And it's so versatile. It goes well with so many of my favorite bakery items.
So, that got me thinking about what other types of curds we could make.
Of course, I'm a huge fan of tropical fruit. My whole family can devour a case of mangoes in just a few days. I'm not even joking. My mother-in-law will often drop off cases of fresh mangoes at our house on a weekly basis during the summer.
But sometimes, we have just one mango left in the case that is starting to get over-ripe. That's where this recipe comes in handy.
Whether you live in Hawaii (or any tropical area) and have access to fresh mangoes, or you tend to buy a lot of them when they are in season (like our family), this recipe is for you!
We love spreading this Mango Lime Curd on Fisher scones (my absolute favorite) and it makes a great filling for fresh malasadas or as a layer in this coconut cake recipe.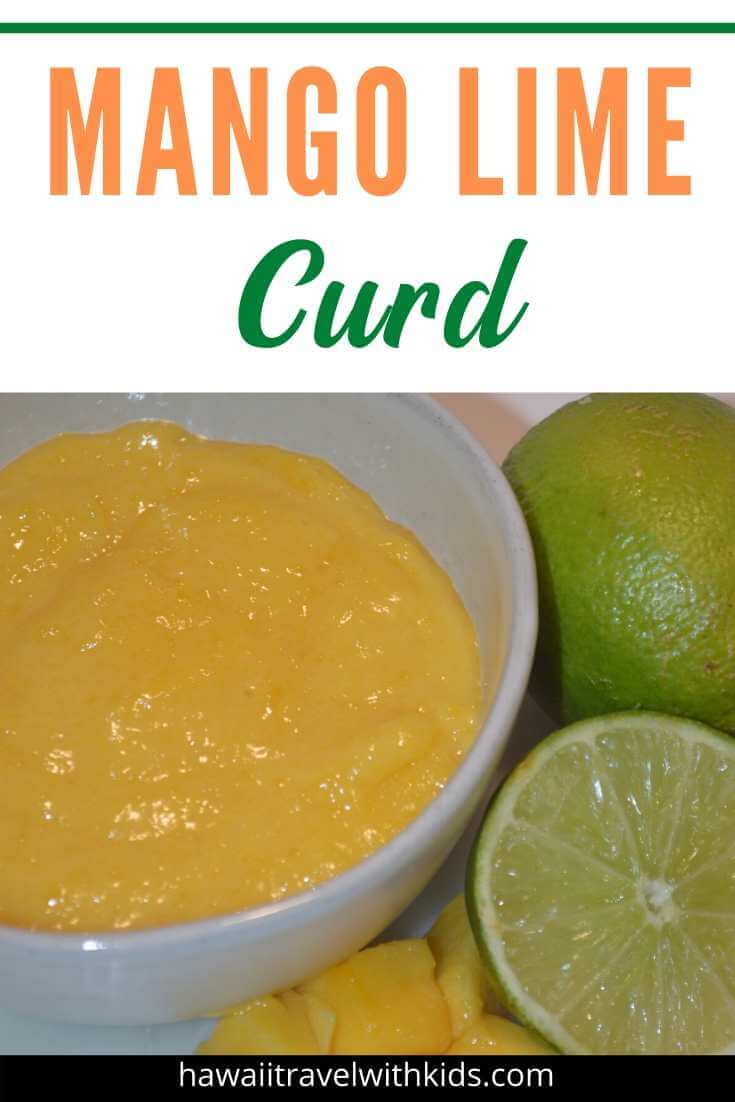 Mango Curd FAQs
What makes a curd a curd?
If you're wondering how a curd is different than jam, it's pretty simple. Curds usually have eggs, sugar, fruit, and sometimes zest or butter. It's a bit creamier than jelly or jam.
How long does curd last?
You can keep it in an airtight container in your fridge for about a month or you can store it in your freezer for up to a year. You'll just want to let it thaw in your fridge for about 24 hours before using.
Do you need to refrigerate fruit curd?
Yes, you'll need to refrigerate any open container of curd. If you've canned it, you can leave it in your pantry.
Hawaiian Style Mango Lime Curd Recipe
Ingredients:
1 large, ripe mango
½ cup lime juice
1 tsp vanilla
1 cup of sugar
3 egg yolks
1 egg
½ cup (1 stick) cold, cubed butter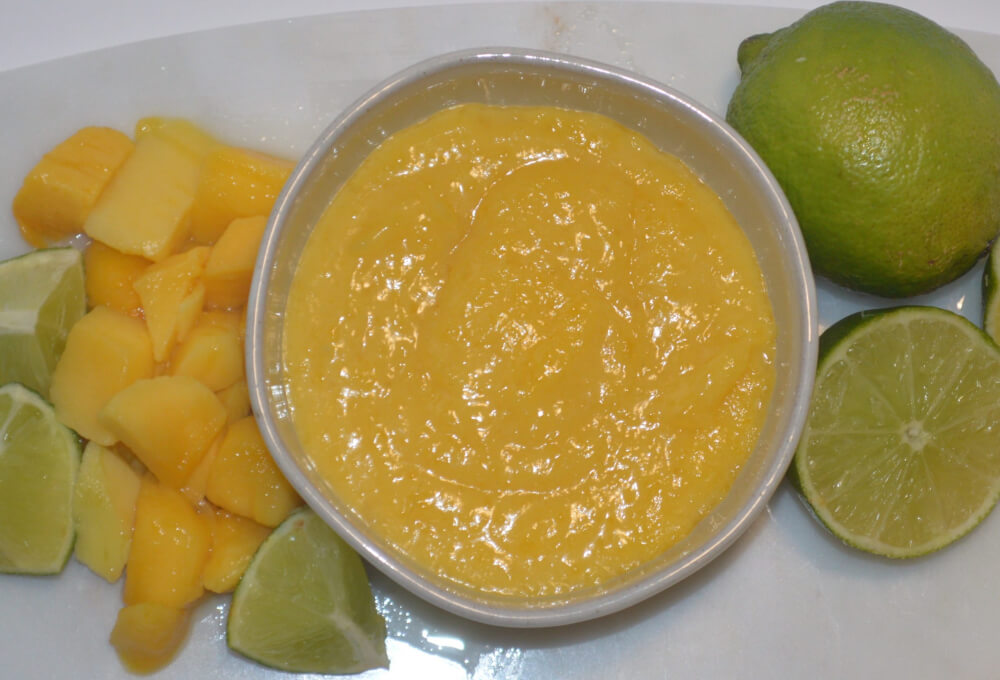 How to Make Mango Lime Curd:
Peel, slice, and puree mango.

Add mango puree, lime juice, ½ cup of sugar, and vanilla to medium saucepan. Cook over medium-high heat until sugar is completely dissolved (about 5-7 minutes). Remove from heat.

In a separate bowl, combine egg yolks, egg, and remaining ½ cup of sugar. Whisk together until mixture is frothy and most of the sugar is dissolved (about 2-3 minutes).
While continuing to whisk, slowly pour a 1/3 cup of mango-lime mixture into egg mixture. Whisk for another 30 seconds and then transfer tempered egg mixture into the saucepan.
Over medium heat, cook the mixture until it thickens and coats the back of a spoon (5-7 minutes).
Remove saucepan from heat and add cold butter, a few cubes at a time. Make sure butter is fully incorporated before adding more.
Strain curd through a fine mesh sieve.
Refrigerate the curd for 2-4 hours before using. Recommend laying a layer of plastic wrap directly on top of the curd while cooling so that it does not form a skin.

Yield: 4 servings

Mango Lime Curd

This delicious Mango Lime Curd is perfect on scones, French Toast, and as a cake filling.

Total Time

2 hours

22 minutes

Ingredients

1 large, ripe mango
½ cup lime juice
1 tsp vanilla
1 cup of sugar
3 egg yolks
1 egg
½ cup (1 stick) cold, cubed butter

Instructions

Peel, slice, and puree mango.
Add mango puree, lime juice, ½ cup of sugar, and vanilla to medium saucepan. Cook over medium-high heat until sugar is completely dissolved (about 5-7 minutes). Remove from heat.
In a separate bowl, combine egg yolks, egg, and remaining ½ cup of sugar. Whisk together until mixture is frothy and most of the sugar is dissolved (about 2-3 minutes).
While continuing to whisk, slowly pour a 1/3 cup of mango-lime mixture into egg mixture. Whisk for another 30 seconds and then transfer tempered egg mixture into the saucepan.
Over medium heat, cook the mixture until it thickens and coats the back of a spoon (5-7 minutes).
Remove saucepan from heat and add cold butter, a few cubes at a time. Make sure butter is fully incorporated before adding more.
Strain curd through a fine mesh sieve.
Refrigerate the curd for 2-4 hours before using. Recommend laying a layer of plastic wrap directly on top of the curd while cooling so that it does not form a skin.

Nutrition Information:

Yield:

4

Serving Size:

1 Amount Per Serving:

Calories:

326

Total Fat:

6g

Saturated Fat:

3g

Trans Fat:

0g

Unsaturated Fat:

3g

Cholesterol:

189mg

Sodium:

37mg

Carbohydrates:

66g

Fiber:

1g

Sugar:

62g

Protein:

4g