Are you looking for some awesome information about Hawaiian green sea turtles to teach your kids? Keep scrolling to download my free Sea Turtle Activity Pack!
This sea turtle activity pack contains affiliate links which means if you purchase something from one of my affiliate links, I may earn a small commission that goes back into maintaining this blog.
Kids love sea turtles! They are one of our favorite animals to see on our Hawaii trips. We usually see them swimming in the ocean or lounging on the beach.
If you're looking for a fun and engaging way to teach your kids about sea life, this sea turtle activity pack is just the thing. It's full of activities that are easy to print off and use at home with friends or in the classroom!
Grab some crayons and draw on one of these cool turtle pictures we've included, then color it in. In addition, there's a word search, a tracing worksheet, coloring pages, cut and paste activities, etc. There are all sorts of things for kids to enjoy while learning something new!
Your whole family will love our free printable sea turtle activity pack for kids.
Sea Turtle FAQs
Is it okay to touch a sea turtle?
No, it's actually illegal in Hawaii to touch a sea turtle. That's because they are federally protected as an endangered species. So, if you see a sea turtle in Hawaii, be sure to keep some distance. Snap your selfie far away from the turtle to keep everyone happy.
Are sea turtles dangerous?
Nope! Sea turtles are pretty gentle creatures, unless something provokes them. Then, they will bite. They are not one of the most dangerous animals in Hawaii.
Why do sea turtles cry?
One of the craziest facts about sea turtles is that they actually do cry. It's their way of removing excess salt (from swimming in the ocean all day) from their bodies.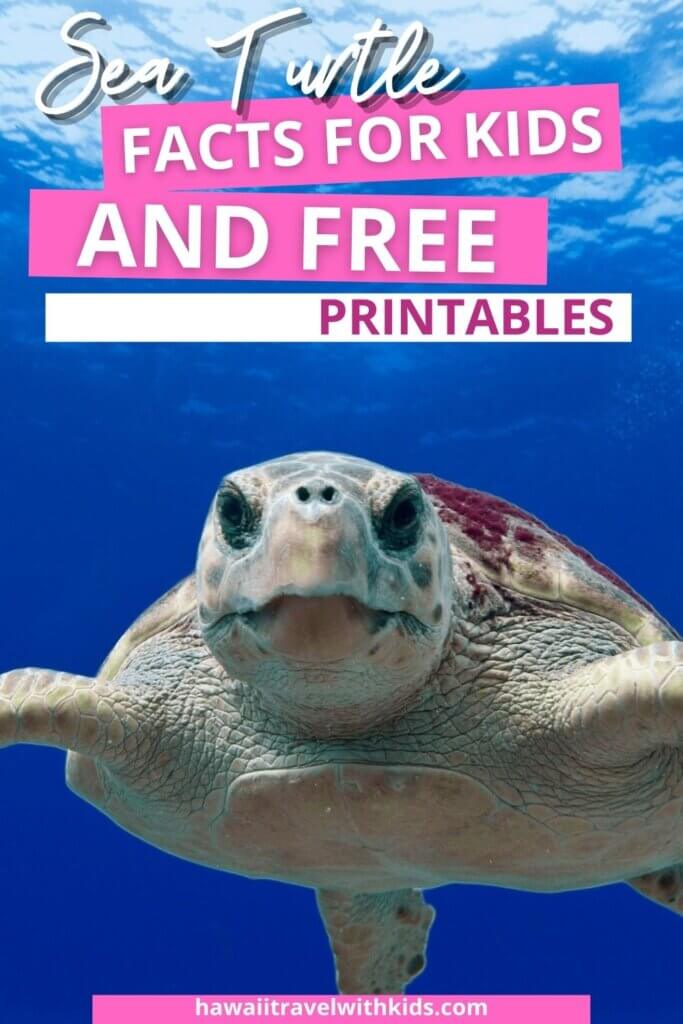 Sea Turtle Activity Pack for Kids
I've always found it easier to teach my kids about something if we have hands-on activities to go with it.
This is an awesome printable activity pack to include in a homeschooling lesson plan or for world-schooling on your next trip to Hawaii.
Ok, let's take a look at what's inside!
Sea Turtle Life Cycle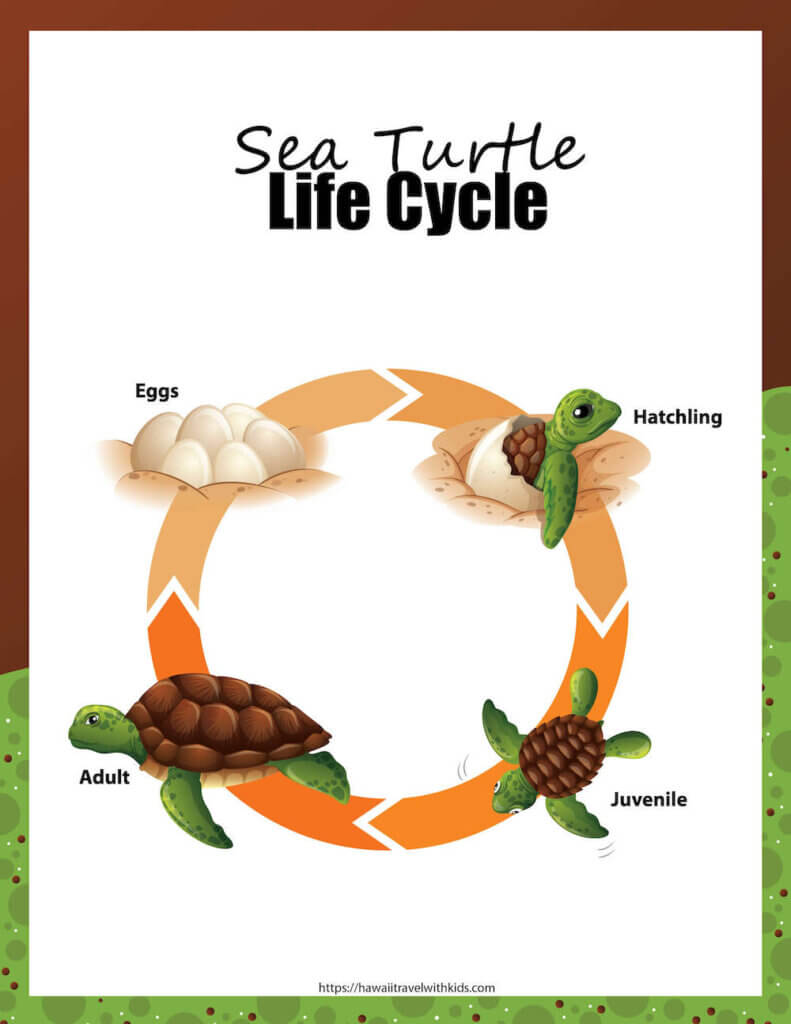 The first page is all about showing your kids the sea turtle life cycle from egg to fully grown adult. It's a great overview before really diving into the pack.
Sea Turtle Tracing Worksheet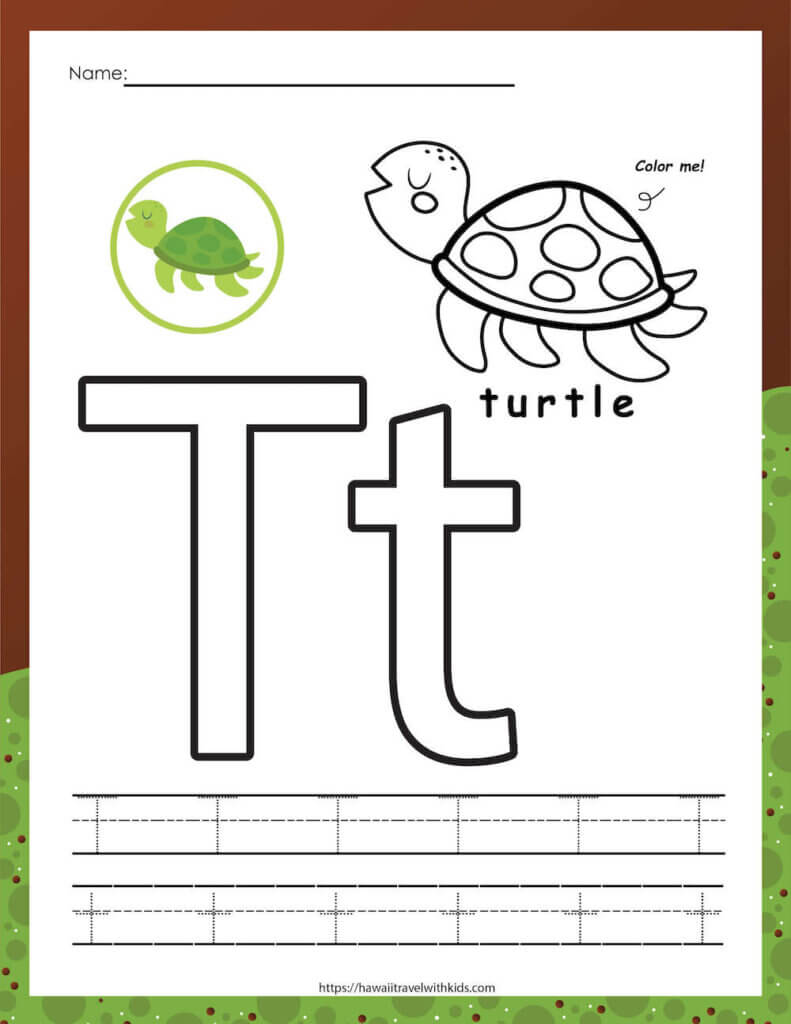 This is a really cute way for kids to learn that the word turtle starts with the letter t. They can practice writing the letter t (both upper case and lower case) and there's even a sea turtle coloring image.
Parts of a Sea Turtle: Diagram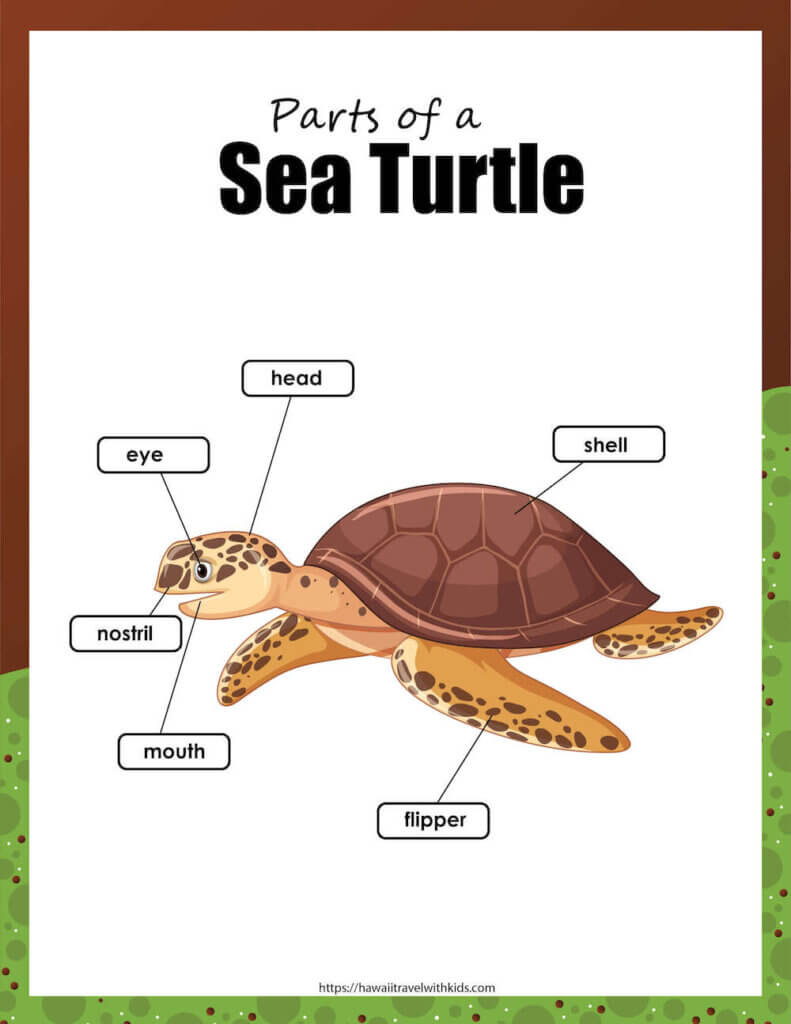 Next, they will learn the basic parts of a sea turtle. These include the head, eye, nostril, mouth, flipper, and shell. This will come in handy for the next activity.
Parts of a Sea Turtle: Cut and Paste Activity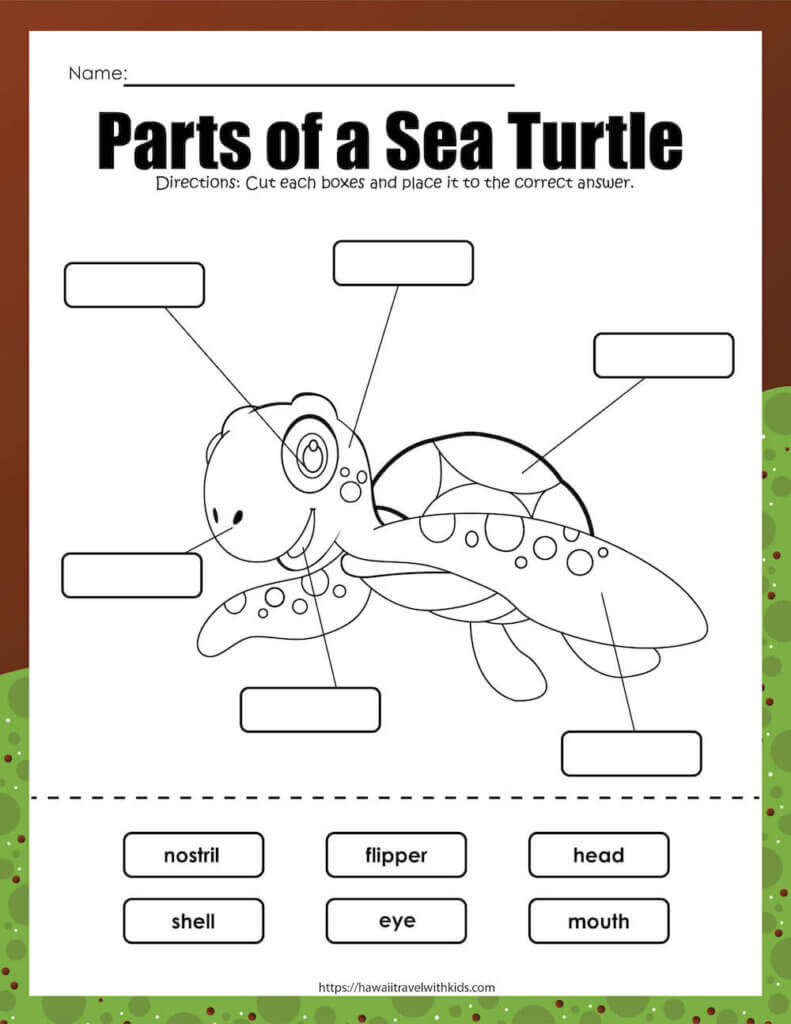 After learning the different parts of a sea turtle, it's time for kids to label the sea turtle themselves! Simply cut out the words and paste them in the rectangular boxes to the correct body part.
Sea Turtle Word Search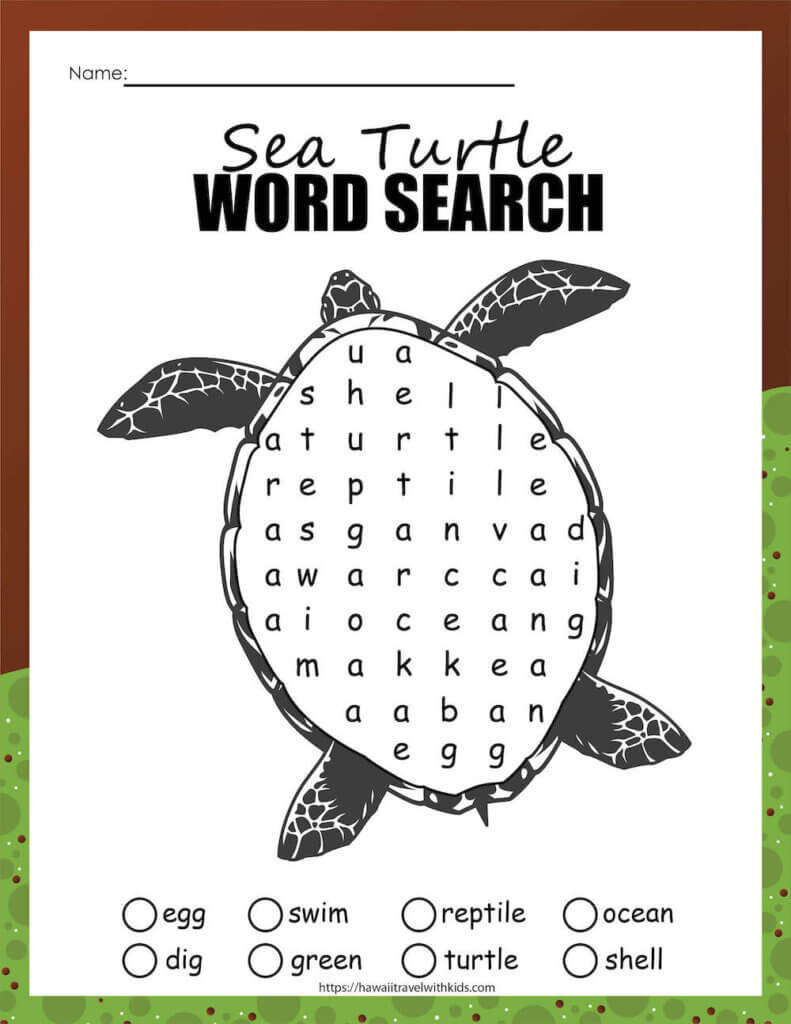 Another fun sea turtle activity is this simple word search. It's just 8 words to find and all the letters are arranged inside the turtle shell. How cute is that!
Sea Turtle Shapes: Cut and Paste Activity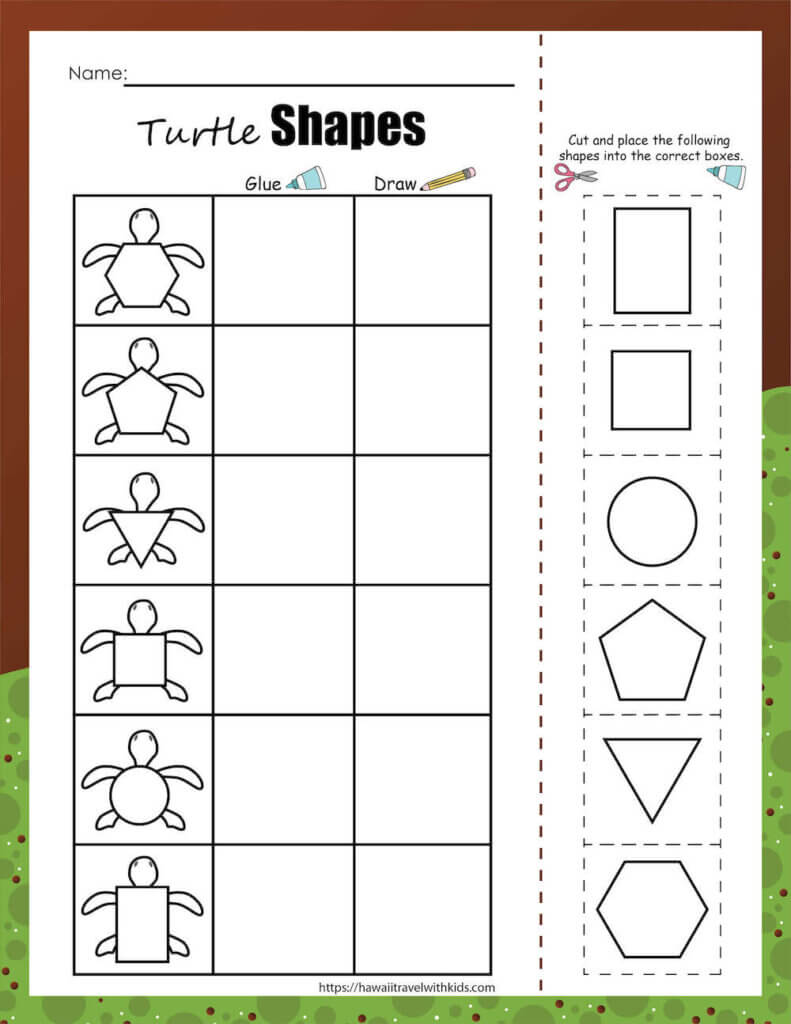 This is sort of an art activity. Kids will cut out the shapes on the right side of the page and paste them next to the sea turtle that features that shape. Then, they will draw the sea turtle with the shape as the shell.
Sea Turtle Report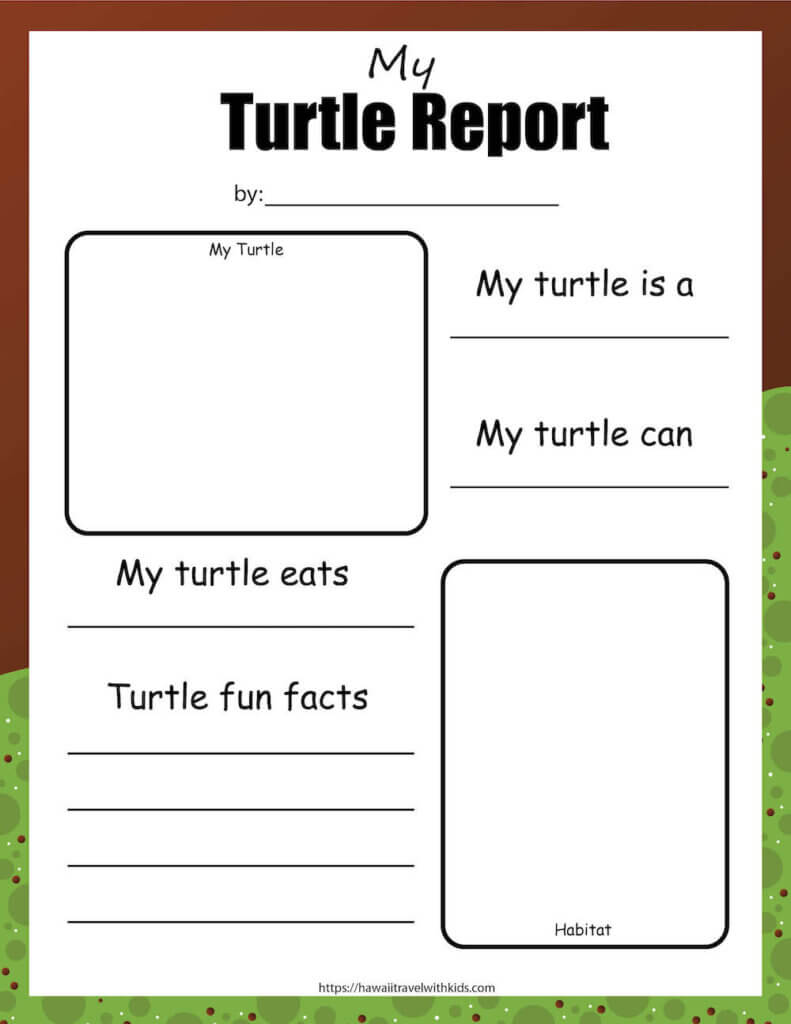 This is one of my favorite sea turtle worksheet pages. That's because it gives kids the opportunity to write about what they have learned about sea turtles.
Sea Turtle Mystery Puzzle: Cut and Paste Activity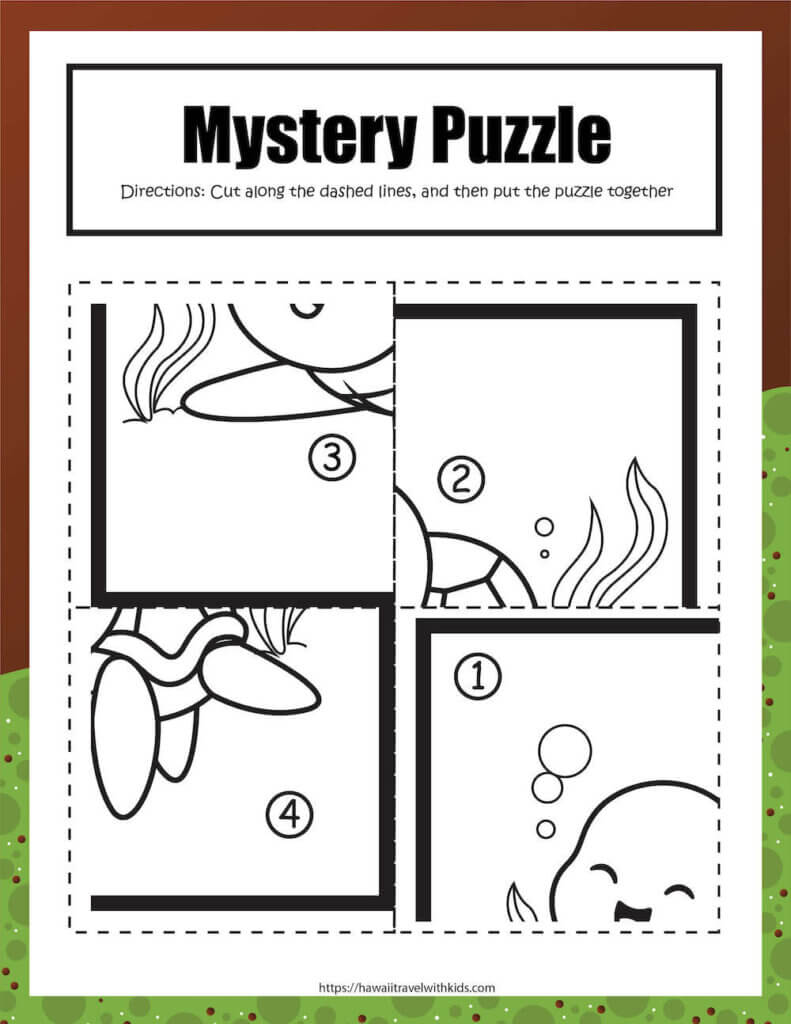 This is a pretty simple puzzle. Kids will cut out the boxes and arrange them in order to make a picture. Once they do that, they can color the whole thing.
How to Get this Free Sea Turtle Activity Pack
Now that you've seen what's inside, you're probably ready to print it out. It's really easy to get this sea turtle activity pack. Simply download the file HERE!