Heading to the Big Island and want to know the best beaches in Hilo Hawaii worth a stop? Scroll to check out some of the best Hilo beaches for splashing in the water or suntanning!
This list of the best beaches in Hilo Hawaii contains affiliate links which means if you purchase something from one of my affiliate links, I may earn a small commission that goes back into maintaining this blog.
When most people visit the Big Island, they think of great coffee and beautiful white sand beaches.
Kona beaches indeed are some of the best on the island, but you'll also find some of the best beaches in Hilo, Hawaii.
Hilo is a region and city in Hawaii on the northeastern shore. It's not as popular with guests because there aren't any resorts and just a handful of hotels and vacation rentals.
But Hilo's a great option for families because it's nestled in a protected bay, which makes its beaches naturally calm!
Try to take a few days and visit Hilo. Downtown is hip and busy with museums and shops. The Hilo Farmers Market is super popular, and the city is home to 2 state parks with stunning waterfalls. You'll find plenty to do here!
But the beaches are special all on their own.
You'll find Hilo south of the Hamakua Coast and north of the Hawaii Volcanoes National Park.
The beaches can range from dark and sandy to rough and rocky because of volcanic minerals in the ground. Some are excellent for swimming, while others are better for snorkeling and fishing.
Below you'll find a list of the best beaches in Hilo, Hawaii, as well as honorable mentions nearby. Try to include this great city in your Big Island itinerary!
Don't have time to read a bunch of Hawaii blog posts and reviews? Here are some of our top picks for visiting the Big Island.
Popular Big Island Tours/Activities
Favorite Big Island Resorts/Hotels
Want to Rent a Car in Hawaii?
One of the best places to rent a car in Hawaii is Discount Hawaii Car Rental because they get the best rates from top national companies like Alamo, Dollar, Thrifty, Avis, Enterprise, Budget, and Payless.
Want to skip all the planning and just access my detailed Big Island Itinerary complete with daily schedules, kid-friendly activities, and travel hacks? Click the button below.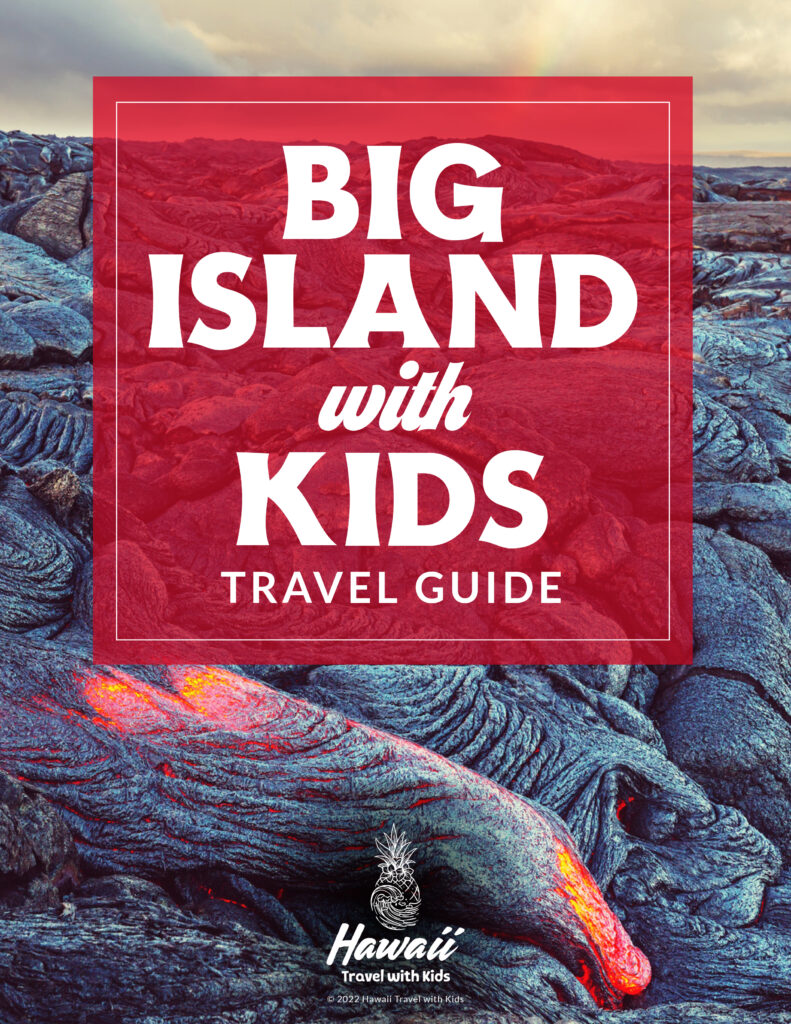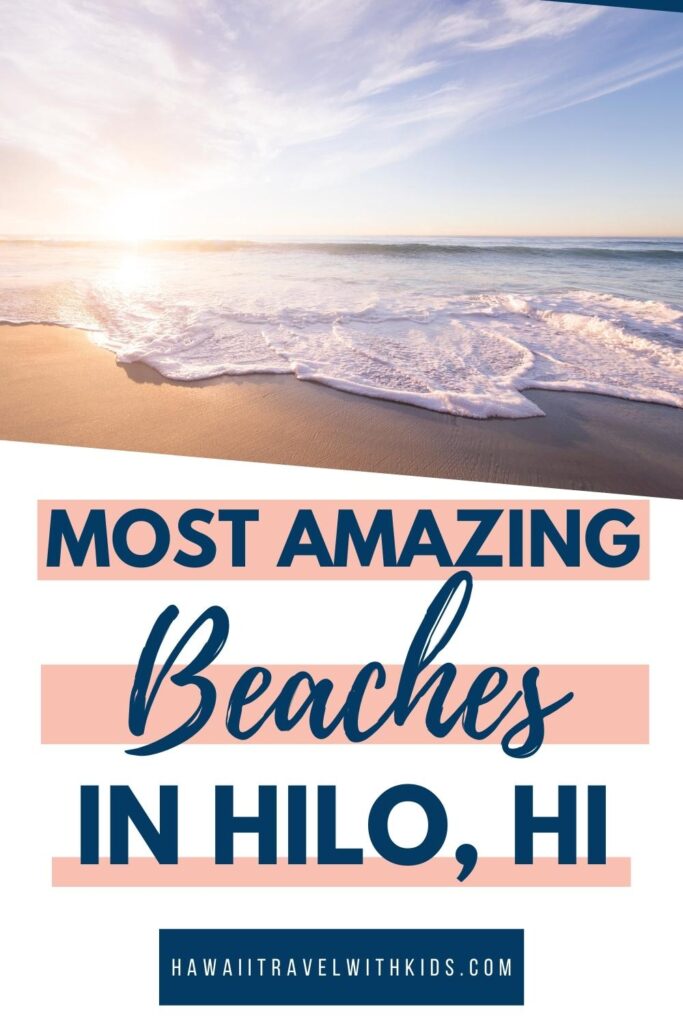 The 9 Best Beach in Hilo Hawaii
Below you can read about the best Hilo beaches. They're not in any particular order, other than closest to farthest from downtown Hilo.
Keep reading for some great swimming and snorkeling in Hilo!
1. Hilo Bayfront Beach Park
You'll find a lot of black sandy beaches in Hilo, and Hilo Bayfront Beach Park is one of the best. It's across the highway from downtown Hilo and the lush, green Wailoa River State Recreation Area.
The beach is calm enough for paddle boarding and snorkeling. There's a place to rent water gear right off the beach, and you can watch a canoe club practicing in the water.
On both ends of the beach park there are cafes, as well as the Hilo Farmers Market that's open every day from 7 AM to 3 PM. You can get some takeout and use the picnic and washrooms at the park.
2. Coconut Island/Mokuola
A lot of people don't realize that you can swim at Coconut Island in Hilo! This island off the coast of Hilo is just off the beautiful Liliuokalani Gardens.
Just cross a footbridge and access an entire city park with lawns and two small beaches.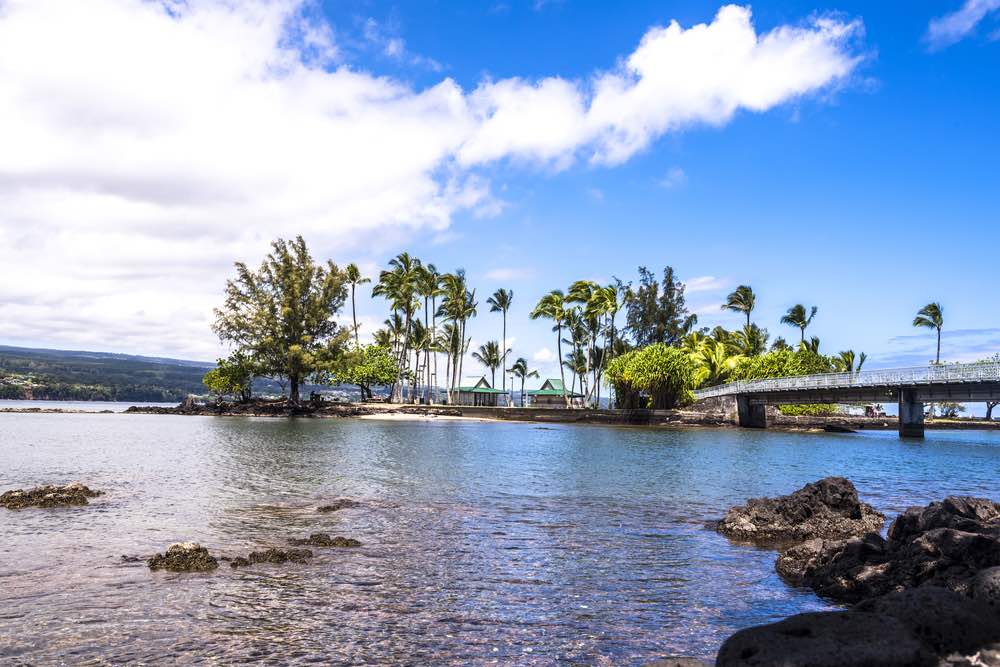 Coconut Island is actually a historic site. It was once a residential area until a tsunami wiped everything out in the 1940s. You can read a historic plaque about that time or enjoy the manicured grass with coconut and banyan trees.
This is a great spot for a picnic. Sit under the shade of a coconut tree or at one of the picnic tables. There's even a pavilion and restrooms. The beaches are very narrow but nice for a dip.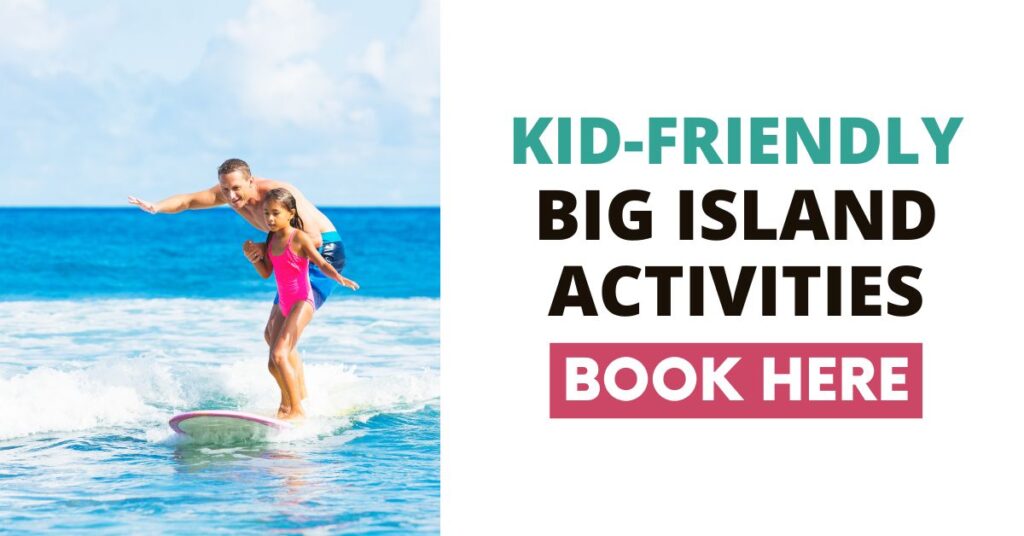 3. Reeds Bay Beach Park (Ice Pond)
Reeds Bay Beach Park is one of the best beaches in Hilo, Hawaii. It's a swim beach in a small bay protected by a breakwater. The ocean is super calm and clear, so you'll see lots of tropical fish and sea turtles!
And Reeds Bay Beach is unique actually fed by an underground freshwater spring.
You might hear it called "Ice Pond" because it's so cold, which can be quite refreshing in the summer. Because of this, the water can be cloudy and brackish, so there's some debate on whether or not it's the best spot for snorkeling.
There are restrooms and picnic tables and it's cool to watch the cruise ships come into Hilo Harbor. And there's a shave ice hut just off the beach.
4. Keaukaha Beach Park
While there's no sand at Keaukaha Beach Park, it's a beautiful, relaxing place to spend an afternoon. It's a favorite for fishermen and offers some of the best snorkeling in the Hilo area.
It's a simple beach park off Kalanianaole Street with lots of grassy lawns and shade trees. There are steps into the water or you can sit along the canal and watch turtles swimming in the quiet waters.
A lot of people come here on their way to hiking the Hilo Breakwater Wall. While some spots along the wall feel sturdy, some people have gotten hurt slipping on wet volcanic rocks when the waves come up. It's currently closed to visitors for this reason.
Despite this, it's still a popular pastime with visitors, but I don't recommend it.
5. Onekahakaha Beach Park
If you have younger children, Onekahakaha Beach Park is a great option! This manmade beach has a sandy shore and is surrounded by a rock breakwater.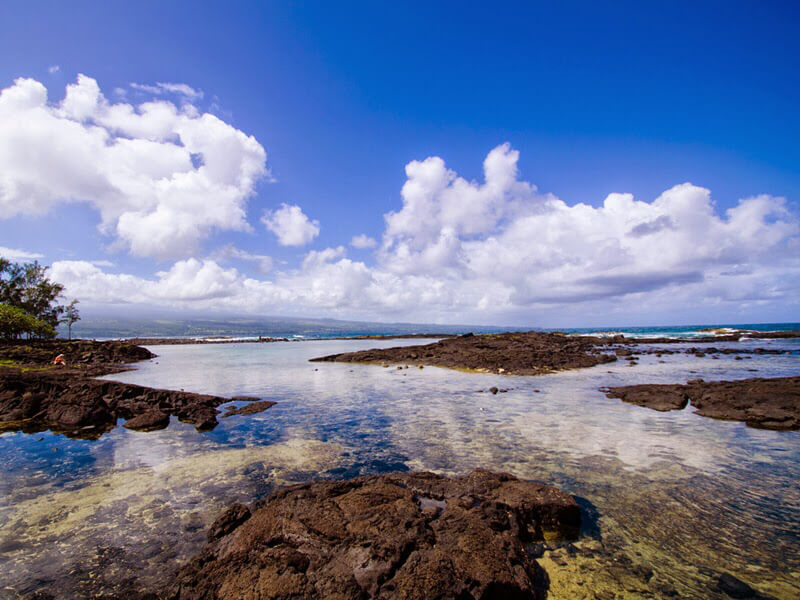 There are lots of amenities like picnic tables, grills, pavilions, showers, a playground, and lifeguards. And the water is super shallow all the way to the breakwater.
To the side, there are tidepools you can explore for sea urchins, sea stars, mollusks, and crabs.
6. Kealoha Beach Park
Check out Kealoha Beach Park if you're going to be on the Big Island in the winter and want a great surf spot.
It has impressive waves and is a little less protected from the bay, but don't try it if you're less experienced. There are lots of sharp rocks in the water that you have to watch out for!
This is a popular spot for fishermen, families going swimming, and snorkelers in the summer.
It's a pretty simple beach with a few sparse tables and grills along the road. But it has iconic views looking out from the beach with the rocks and waves.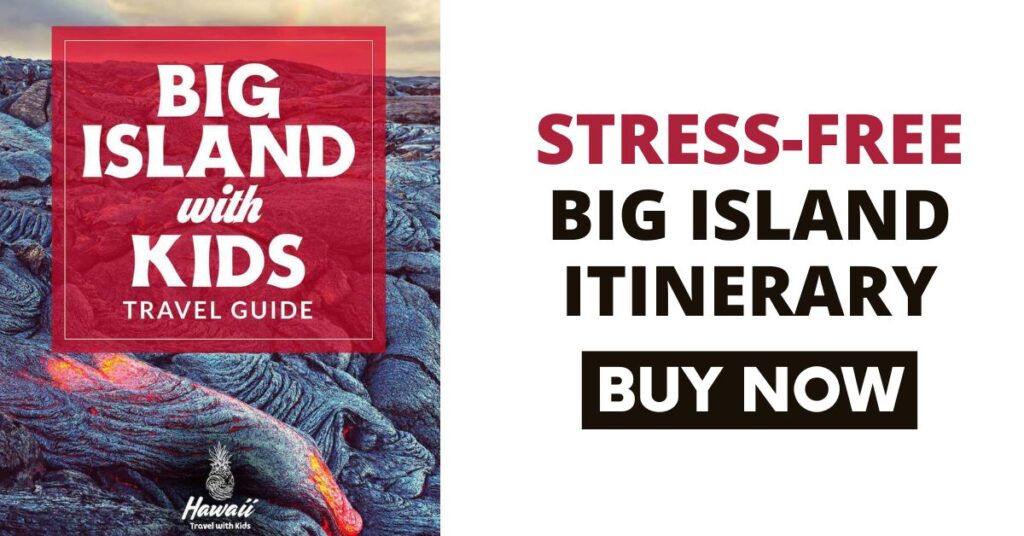 7. Carlsmith Beach Park
Combined with Kealoha Beach, Carlsmith Beach makes up what locals call Four Mile Beach. But Carlsmith has a different feel. Volcanic rock created different pools in the water here, and there's even a magical covered lagoon!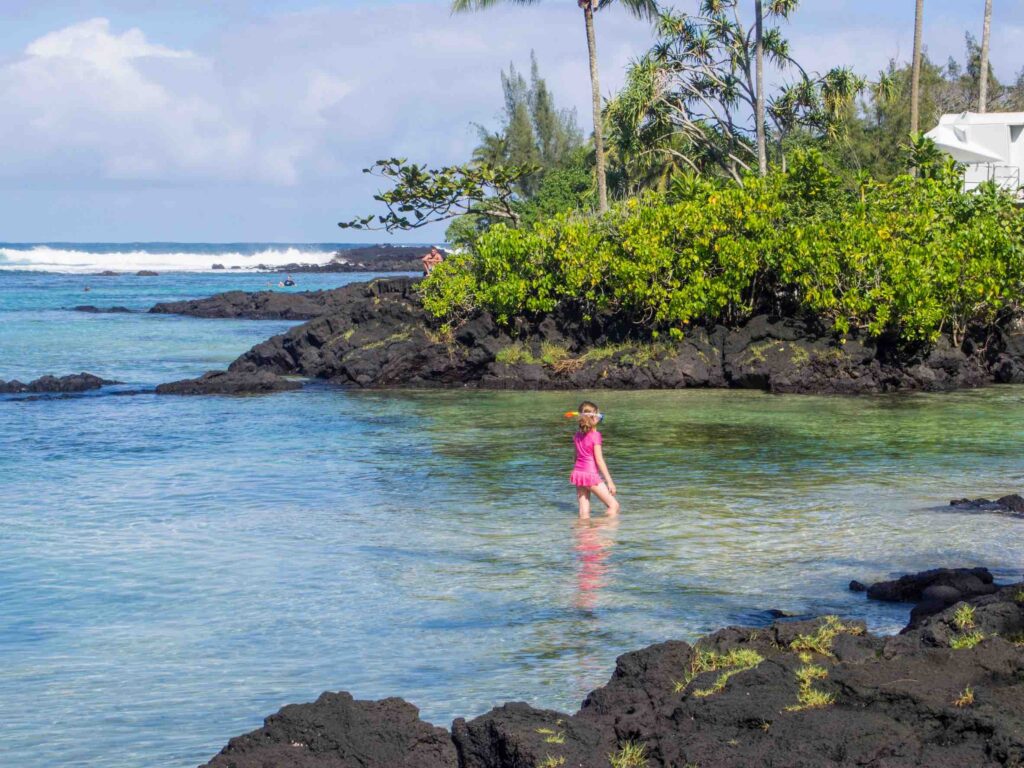 While the water at this beach can be brackish because it's fed by a nearby spring, it still offers some of the best snorkeling in Hilo, Hawaii. Marine life love the quiet pools and you'll see a lot of turtles and tropical fish.
Just keep in mind that there's no sandy beach here. You'll have to use stairs or slip down into the water. There are showers, picnic tables, and grassy spots under shade trees.
8. Leleiwi Beach Park
A lot of the beach parks along Kalanianaole Street so if their parking lot is full, you can just hop to the next one.
Leleiwi Beach Park is another great spot for a picnic with pavilions next to the water. Lots of people come here to watch the sunset beyond the palm trees.
This is also a great beach if you want to go swimming or snorkeling. The pools closest to the park are best for children. There's no sand but it's easy enough to step across the rocks into the water.
9. Richardson Ocean Park
Richardson Ocean Park is called Richardson's by locals. It's an especially unique beach on my list for a few reasons.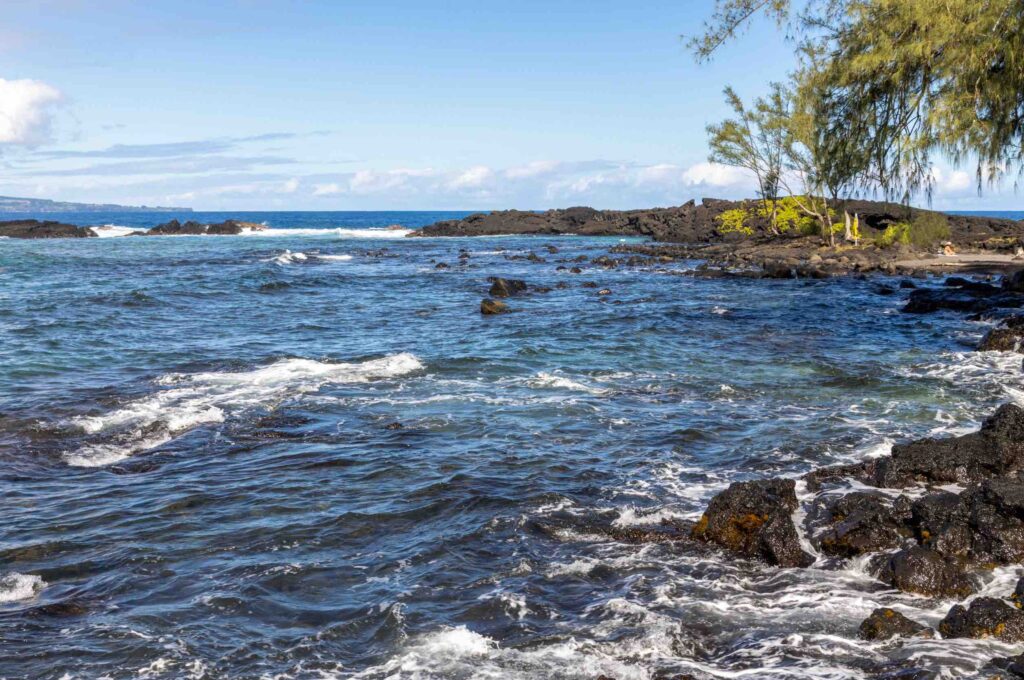 First, it's part of a marine conservation area. There are protected pools that are fed by underground springs so the water is extra cool! The pools are very calm and a great place to snorkel and see coral and other sea life.
Also, at Richardson's the sand is different. At first, it looks like a typical Big Island black sand beach, but you'll notice it has a green color.
That's because of olivine crystals in the sand due to volcanic activity! It's similar to the green sand beach on the island's southern shore but less obvious.
Richardson's has a nice, wide sandy beach with picnic tables scattered about. There are restrooms and a lifeguard. And the rocks all around are a really busy spot for sunning sea turtles!
More of the Best Beaches Near Hilo
We've looked at some of the best beaches in Hilo, Hawaii. If you want to get outside the city limits, there are a few quality beaches north and south of Hilo as well.
Lehia Beach Park
Head south of Hilo until the road ends, literally! Lehia Beach Park is at the end of an unpaved road and it's the perfect rugged beach.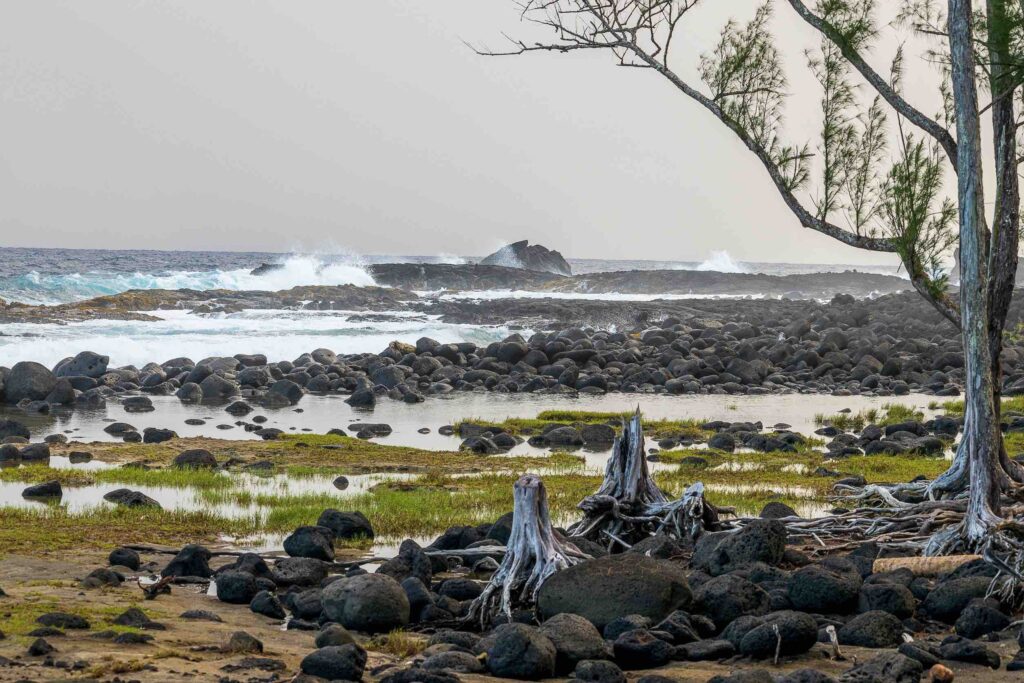 There are tons of textures with banyan trees, palm and pine trees, volcanic rocks everywhere, and a golden sandy beach.
There aren't any restrooms or other amenities at Lehia Beach Park. You can swim in the water or explore a little bit and find quiet pools and lagoons.
Haena Beach
If you're up for a great hike with a secret beach at the end, Haena Beach is for you! Also called Shipman Beach, it's further south from Hilo along the eastern coastline.
You'll start at the Beach Road Parking lot in Keaau. The 2.5-mile hike is considered an easy nature walk because it's a straight hike on a clear path.
But it's a long walk and shouldn't be done in the winter or after rain because it can get really muddy!
When you finally get to Haena Beach, you'll feel like you're the only one on a deserted island.
It's a quiet, very undeveloped beach known for some of the best snorkeling near Hilo. The water is calm and a gorgeous experience away from the city's hustle.
Honolii Beach Park
The last beach on my list of the best beaches in Hilo is one just a few miles north, and it's a treasure. Honolii Beach isn't the best swim beach, but you should make time to check it out!
It's a prime spot for experienced surfers, besides just being an absolutely beautiful setting.
There's jet-black volcanic sand, dense forests of tall trees, and an alcove with sea glass. At the northern end of the beach, there's a calm area where the river meets the ocean and it's perfect for swimming with kids.
There are restrooms and showers, as well. Just be prepared to walk down a long stairway from the parking lot and road above.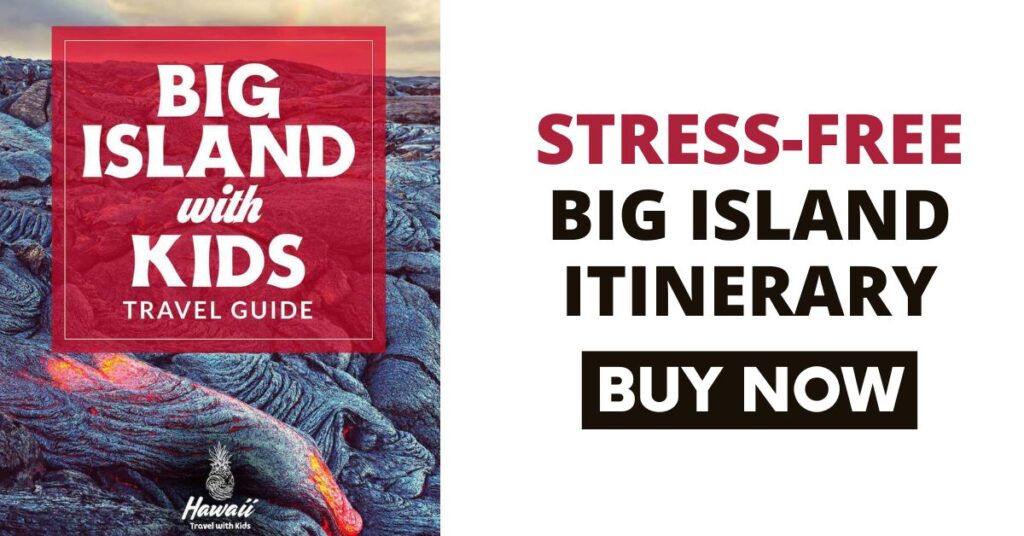 FAQ about Hilo Hawaii
Where are the best beaches on the Big Island?
The most popular beaches are in Kona and the Kohala Coast on the island's western side. But there are opportunities for unique beach experiences across the entire island. Hilo Hawaii beaches like the ones on my list offer shallow, calm waters. And then there's the very rare green sand beach on the southern tip of the Kau region!
Can you take shells from the beach in Hawaii?
It's not illegal to take seashells or rocks. But it's best to respect the local ecosystem and leave what you find on the beach. Also, consider that the island's natural elements are a huge part of Hawaiian culture and should be left alone out of respect. Instead, take a picture of what you find and visit the gift shops.
Which is better, Hilo or Kona?
Kona is the most popular region for visitors to the Big Island. It has the best weather, miles of glittering white sand beaches, resorts and hotels, and great nightlife. Hilo is more residential so it's harder to find places to stay and things to do. But if you're looking for a more local experience, it's worth visiting for a few days.
Check out the Best Beaches in Hilo, Hawaii
Now you have my top picks for the best beaches in Hilo, Hawaii! While Kona on the opposite end of the island has some of the most popular beaches, you don't want to miss out on Hilo.
This side of the Big Island has tons of quality beaches, each with unique features. You'll find the best snorkeling in Hilo, as well as swim beaches and great rocky beaches that are perfect for exploring tide pools or watching pro surfers.
If you're looking to really experience the Big Island, I recommend taking a few days in Hilo and heading to the beaches!