Looking for some tropical dessert recipes that are perfect for summer BBQs and outdoor parties? Scroll for the best pineapple dessert recipes!
This pineapple dessert recipe roundup contains affiliate links which means if you purchase something from one of my affiliate links, I may earn a small commission that goes back into maintaining this blog.
Whenever we are in Hawaii, we stop at a local Farmers Market to grab a bunch of Hawaiian fruits to enjoy during our vacation. And we can't leave without picking up at least 2 pineapples!
It's nearly impossible to think about Hawaii without picturing all the delicious pineapple desserts and drinks. We use fresh or frozen pineapple a lot when making Hawaiian smoothies for breakfast or Hawaiian cocktails to enjoy out on our lanai.
Now that our Hawaii trips have been postponed this year, we've resorted to baking a bunch of our favorite pineapple recipes as part of our effort to recreate our canceled Hawaii vacation at home.
I thought I'd share some of the tastiest pineapple dessert recipes I've found so far that are sure to make your mouth water!
Find out my favorite Hawaiian dessert recipes!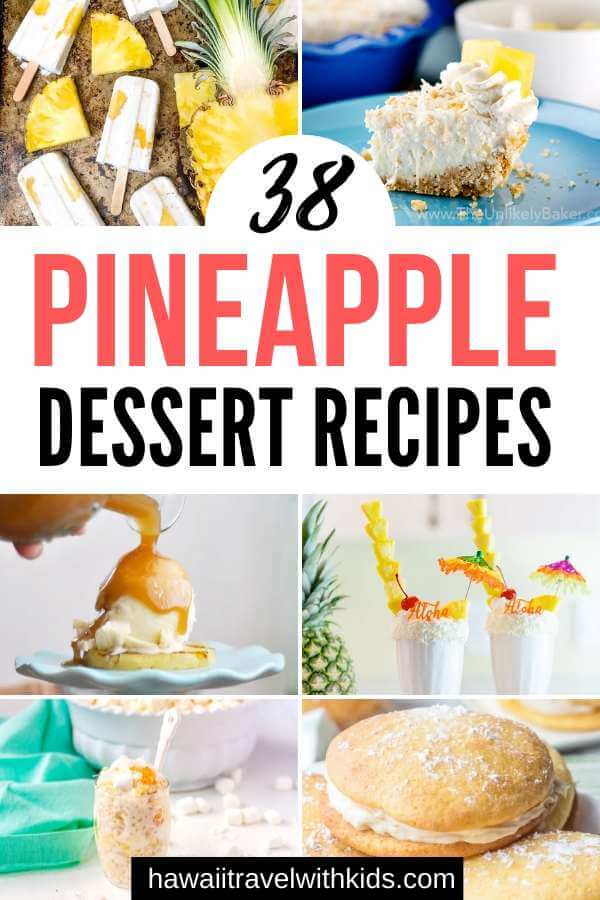 40 Pineapple Dessert Recipes You Have to Try!
PINEAPPLE DESSERT RECIPES: PIES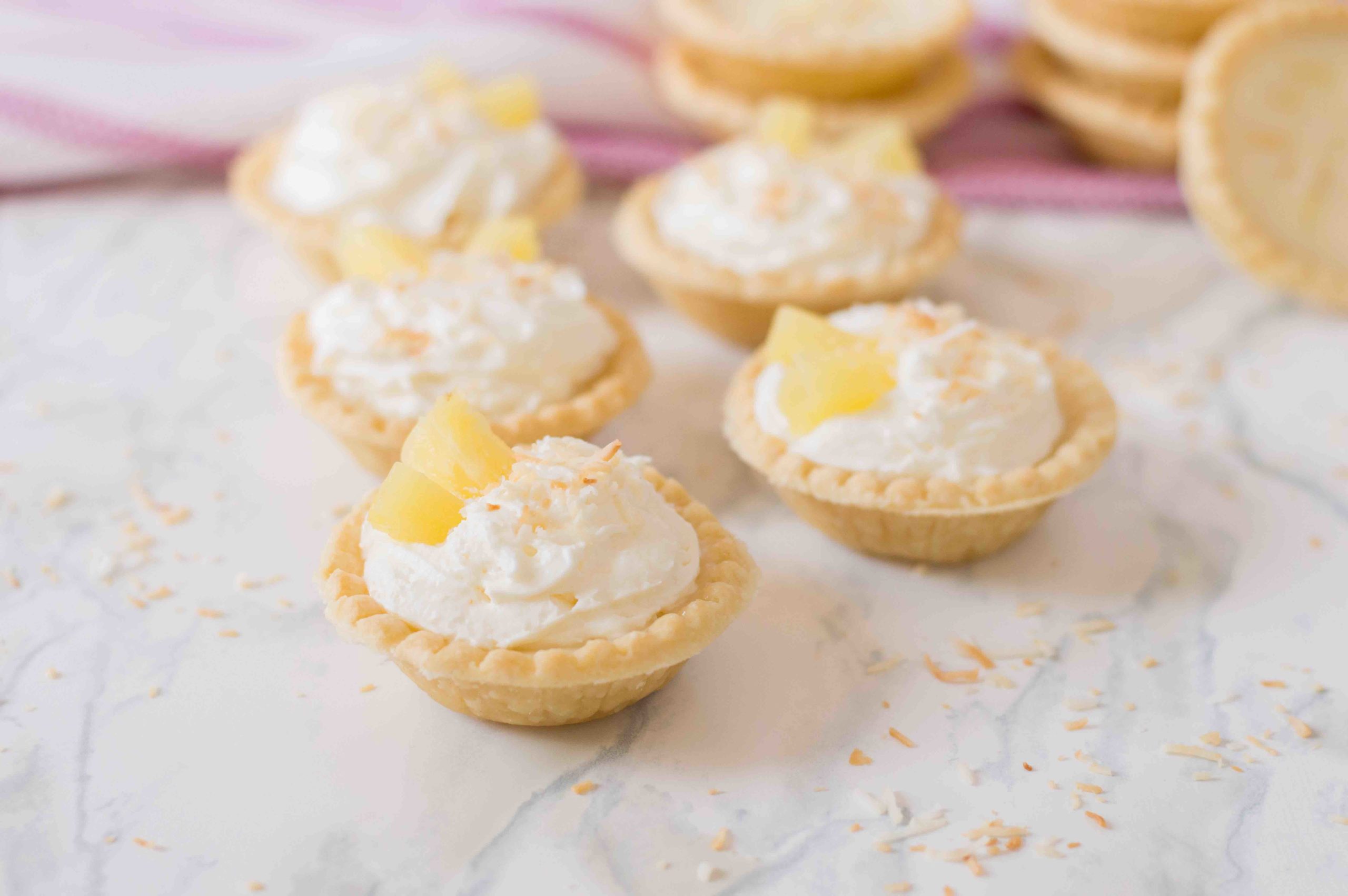 These mini pineapple tarts are super easy to make and great for parties or sharing at potlucks. These bite-size pineapple pies are chilled in the fridge using frozen pie shells.
This easy pineapple dessert is super refreshing for summer!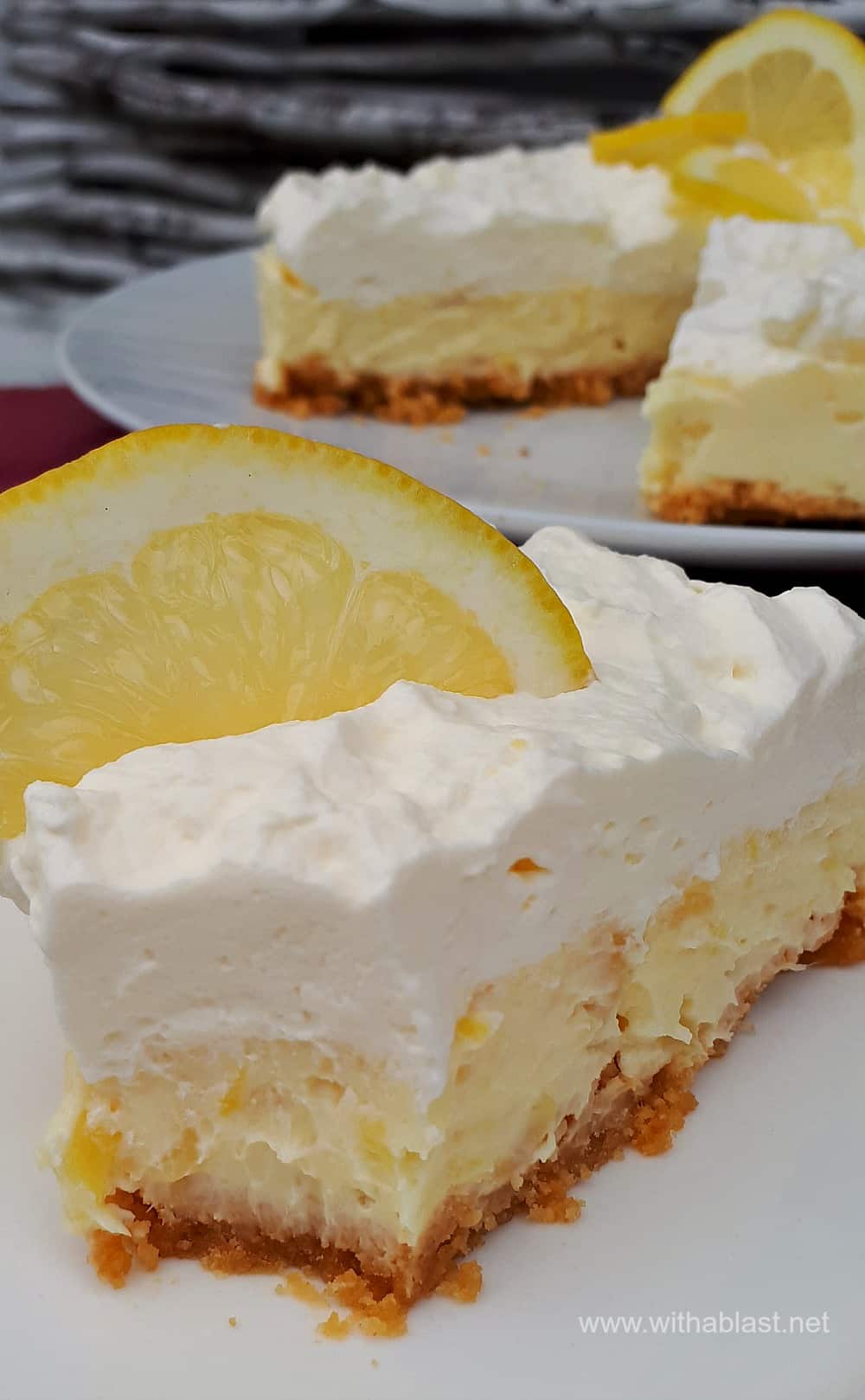 No-bake pineapple lemon cheesecake cream pie is a delicious, creamy, easy-to-make dessert. Refreshing and a must-have recipe for all cheesecake lovers!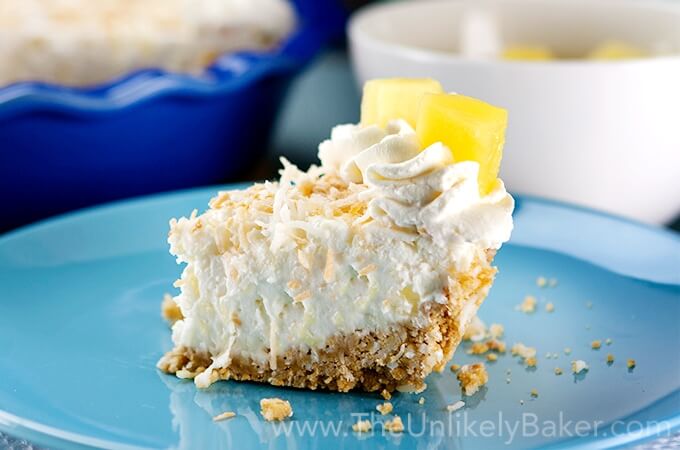 From the sweet and tangy crushed pineapple to the fluffy whipped coconut cream to the crunchy toasted coconut, this is summer in a pie!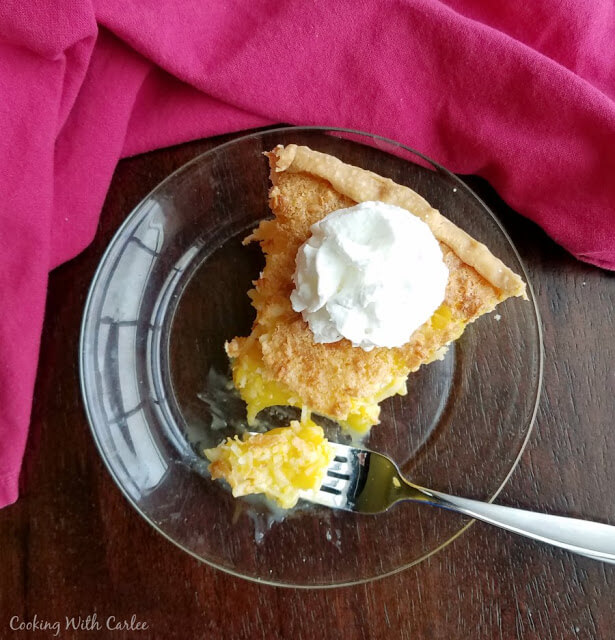 Bright, sweet, and full of flavor and texture, this baked pineapple dessert is the perfect combination of coconut and pineapple for a taste of the tropics in pie form!
FROZEN HAWAIIAN PINEAPPLE DESSERT RECIPES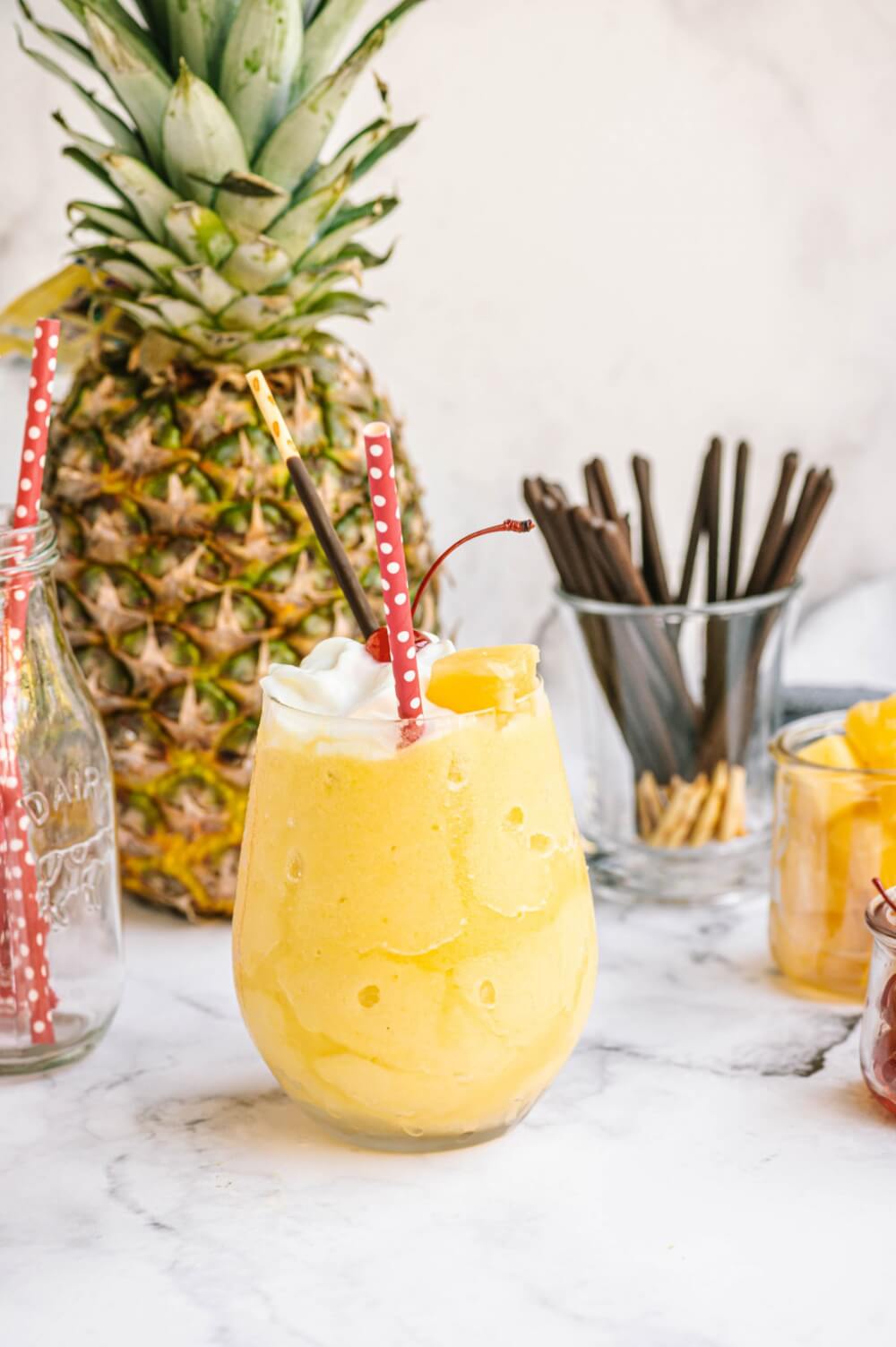 It really doesn't get much better than this super easy Dole Whip recipe! It's ready in just minutes and uses a special ingredient to make the flavor really come alive. Plus, it's vegan and dairy-free, making it perfect for people with food sensitivities.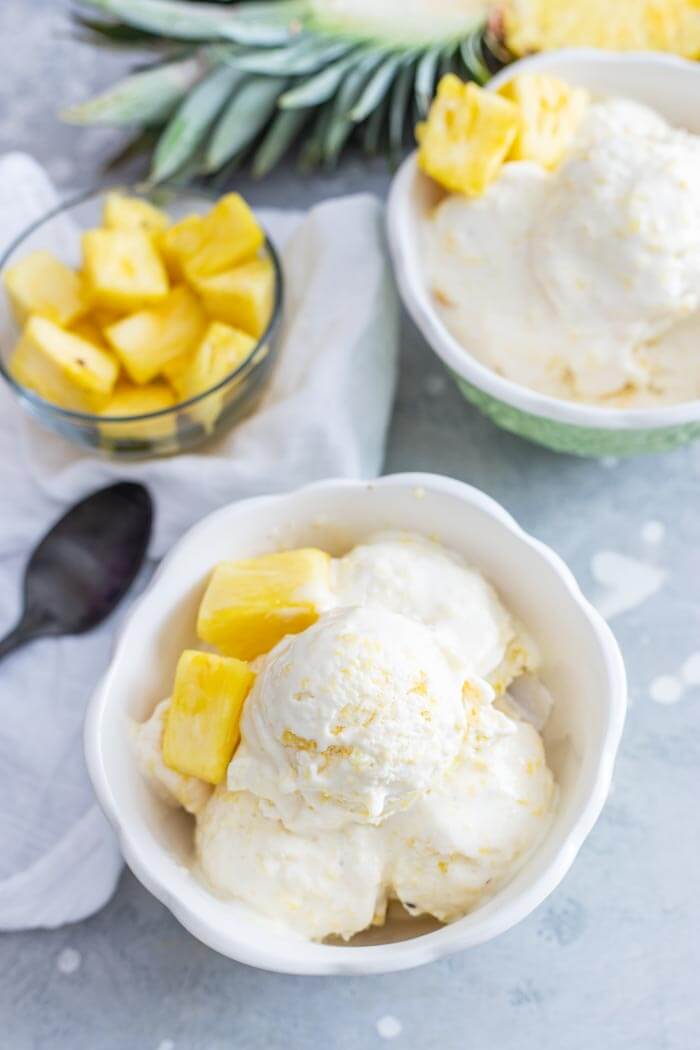 This no-churn homemade pineapple ice cream recipe uses canned pineapple, condensed milk, and whipping cream to create a smooth, creamy tropical ice cream that is delicious with pie or gobbled up on its own. Plus, it can be assembled in just 5 minutes!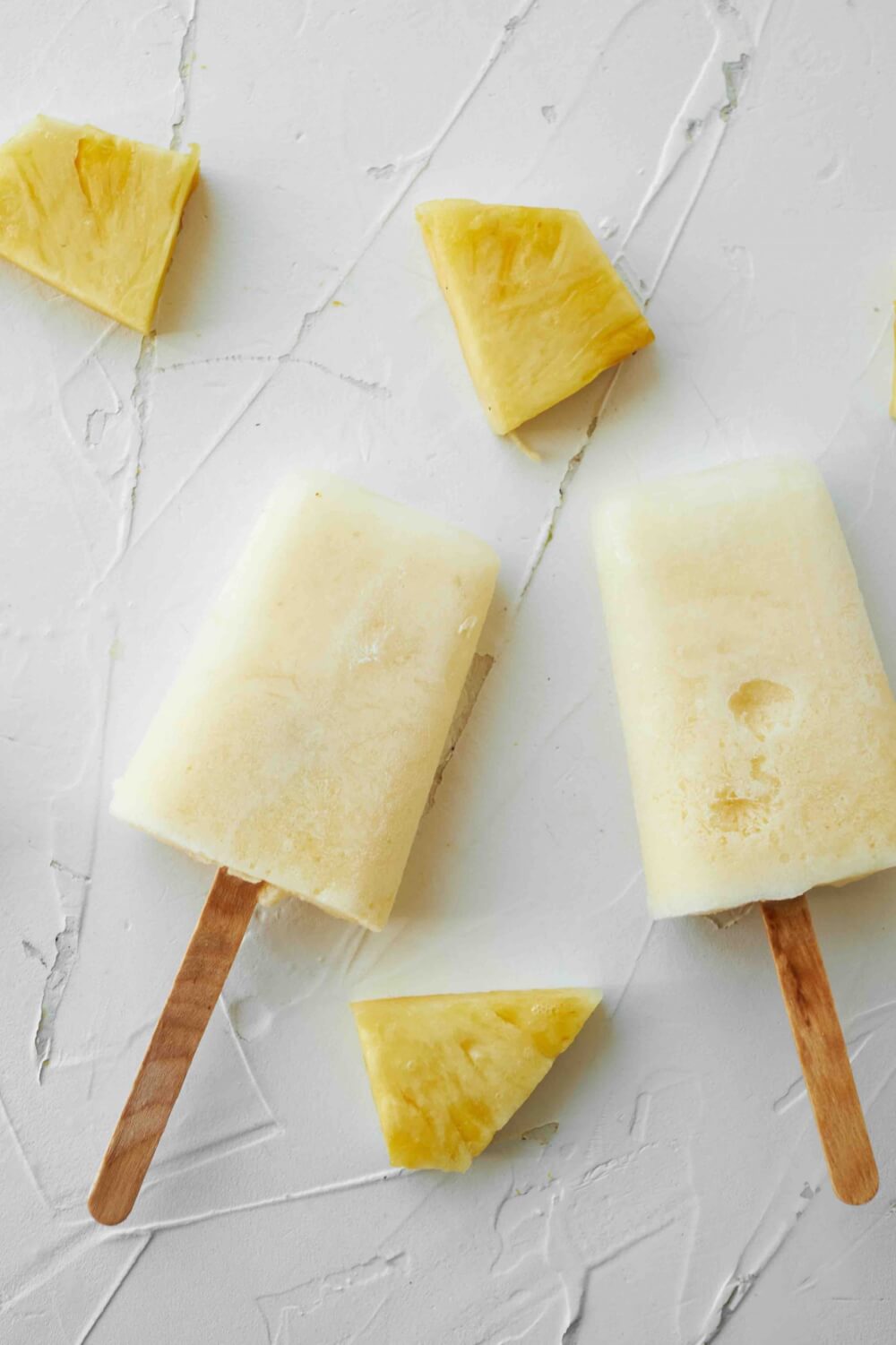 This super easy pineapple popsicle recipe only requires 2 ingredients, and it is completely vegan with no added sugar. It's a basic pineapple recipe that can easily be used as a blank canvas to add in other tropical fruit or toppings.
If you're looking for a healthy pineapple dessert recipe, it doesn't get much better than this!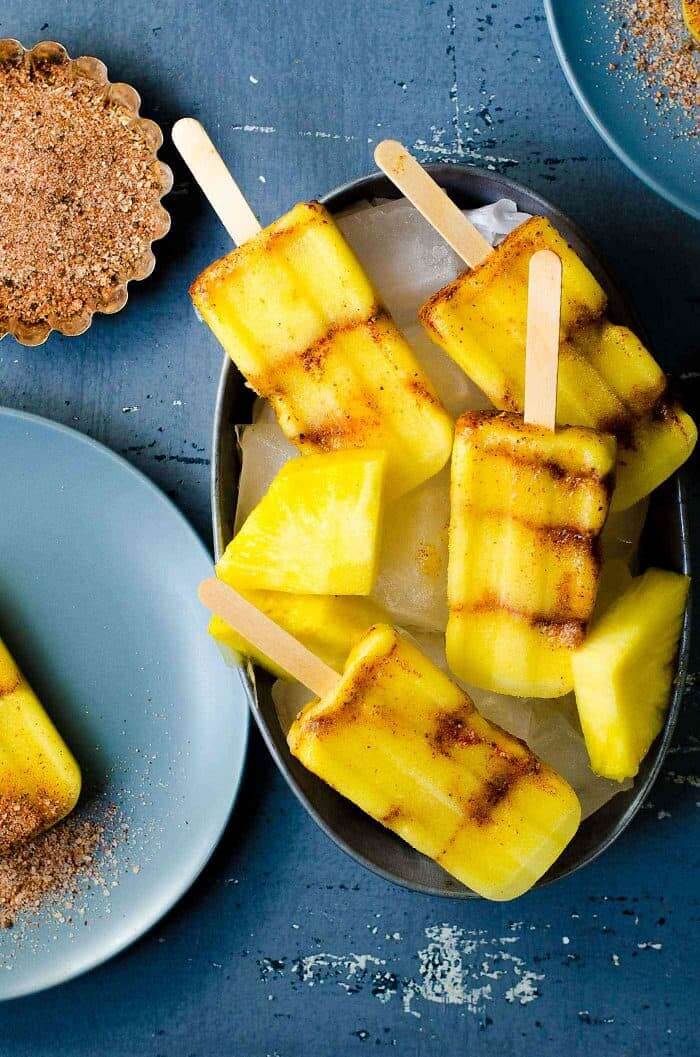 These refreshing Spicy Pineapple Popsicles (Paletas) are layered with a spicy, salty spice mix that enhances the fruity freshness and sweetness even more!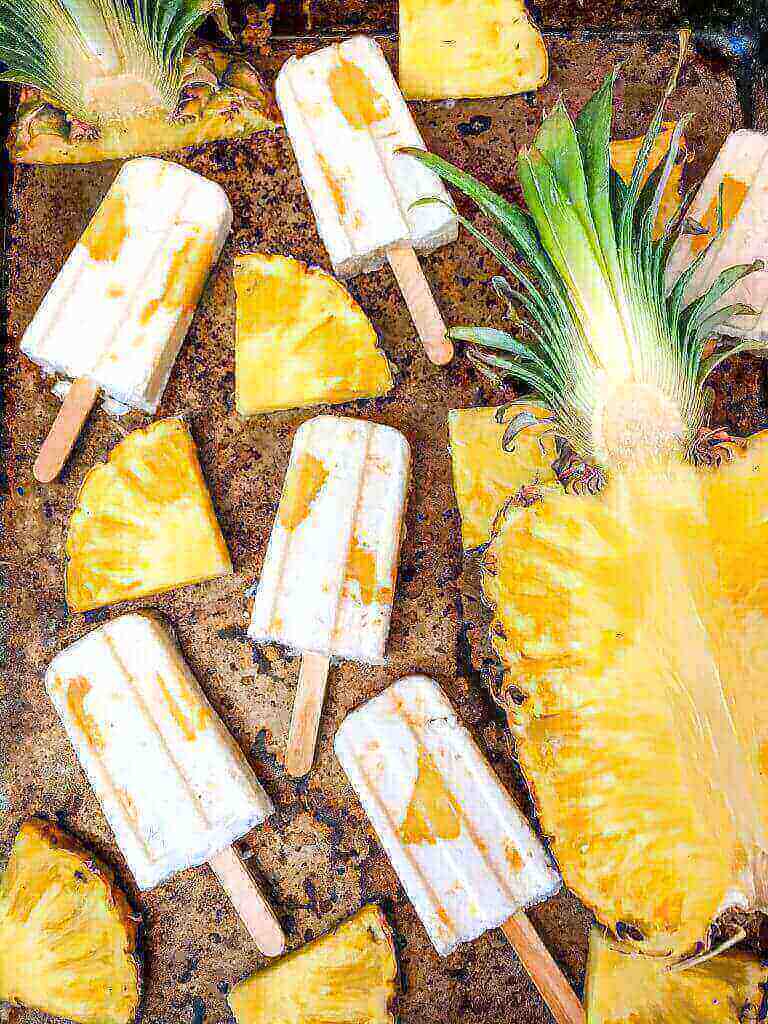 Paradise on a stick! These simple popsicles are made with coconut milk and lots of pineapple. Make them with or without rum!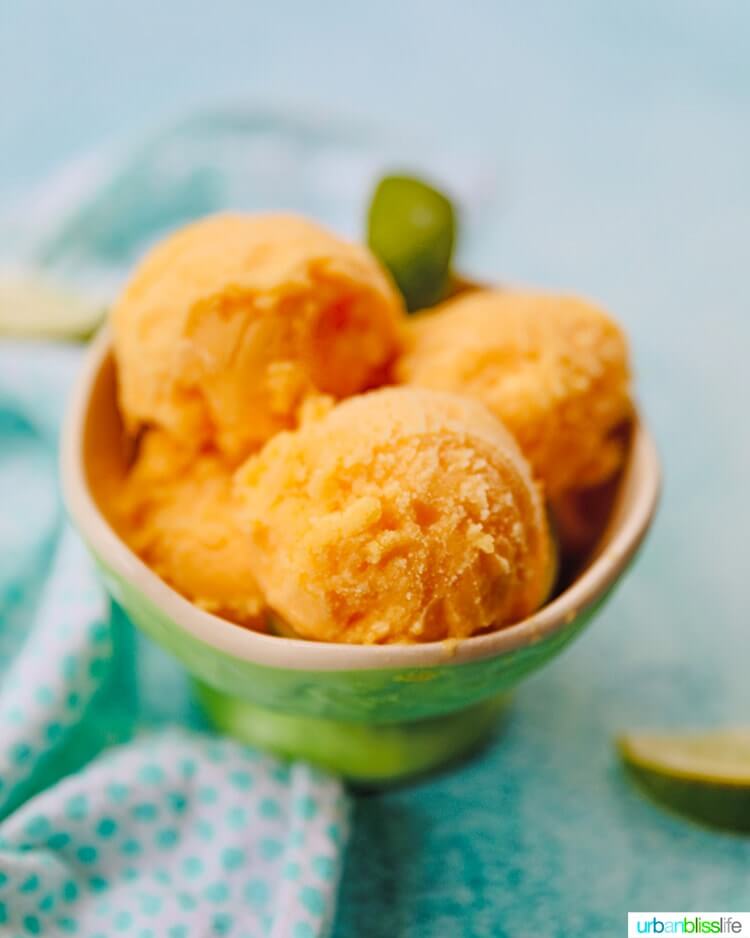 Scoop up a taste of the tropics with Pineapple Mango Sorbet! This easy-to-make tropical treat takes just 3 ingredients and is a light, refreshing dessert.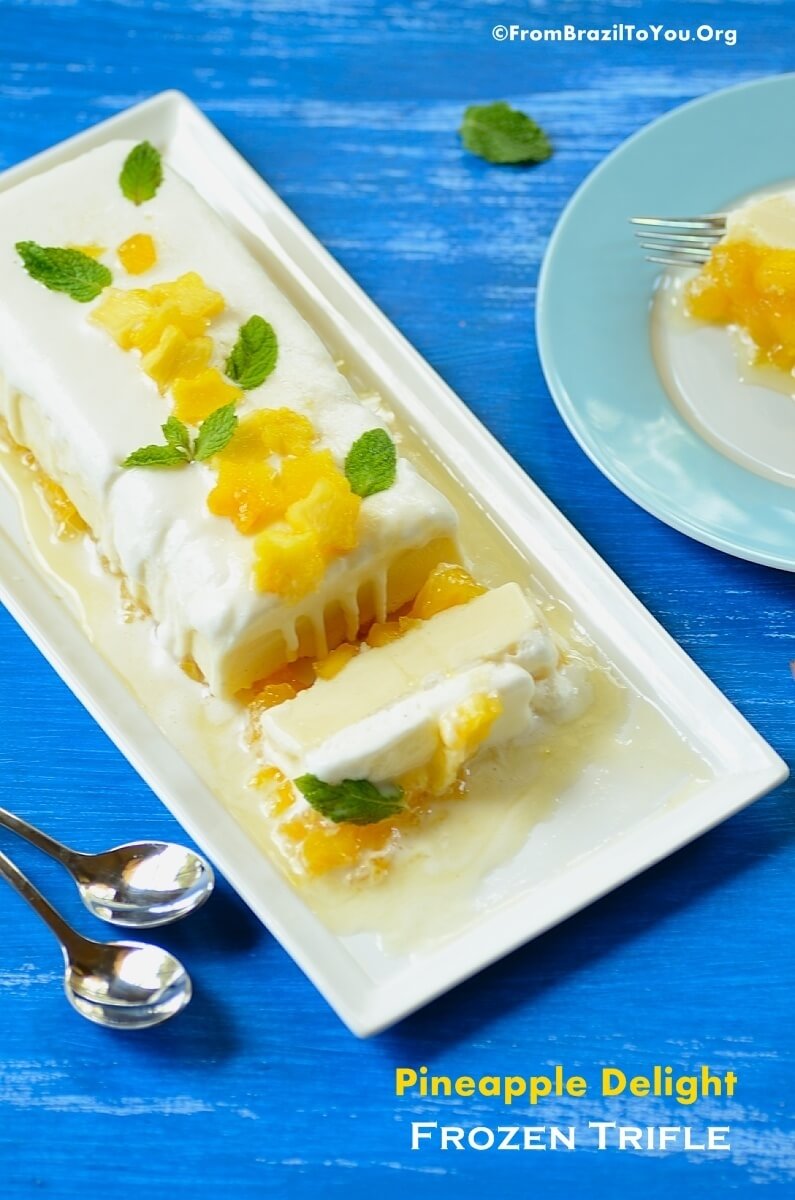 Pineapple delight, known in Brazil as delicia de abacaxi, is a triple-layered frozen trifle made with pineapple, vanilla custard, and whipped cream. It is a tropical treat perfect for summer!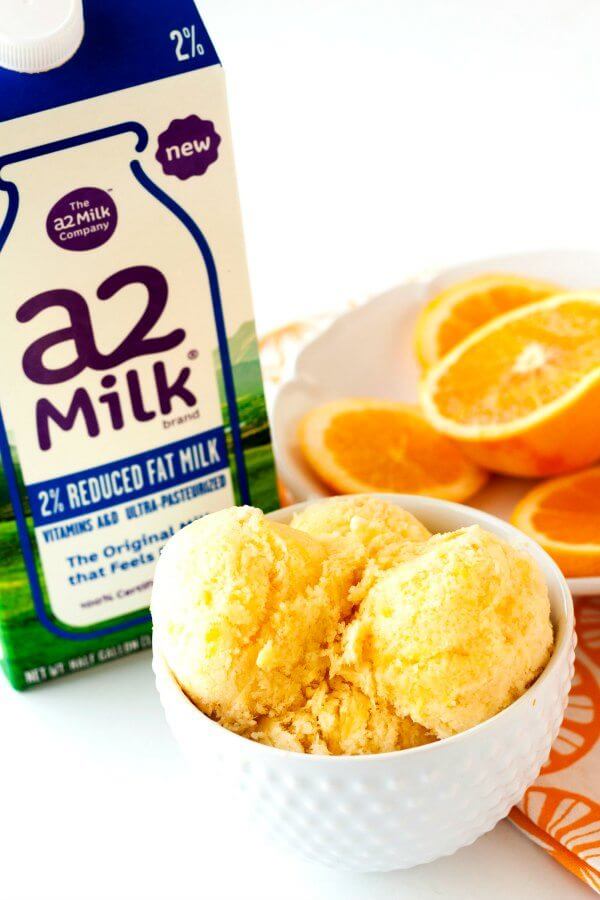 This Pineapple Orange Sherbet recipe is simple to make and so refreshing. It's just the thing to make when the weather starts to warm up!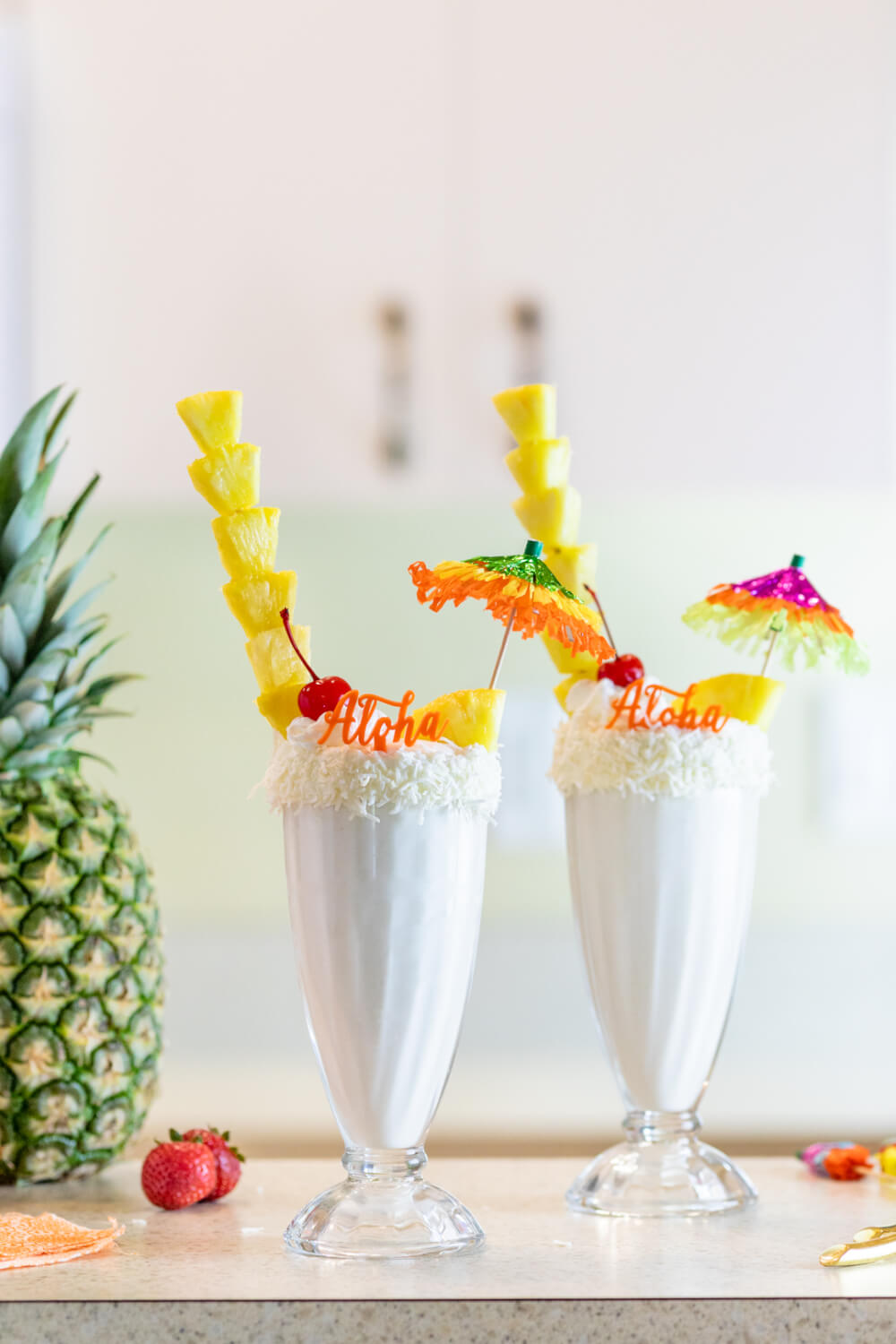 Pineapple is the star player in this delicious twist. Cool off with this tropical milkshake that's so easy to make.
PINEAPPLE DESSERT RECIPES: CAKES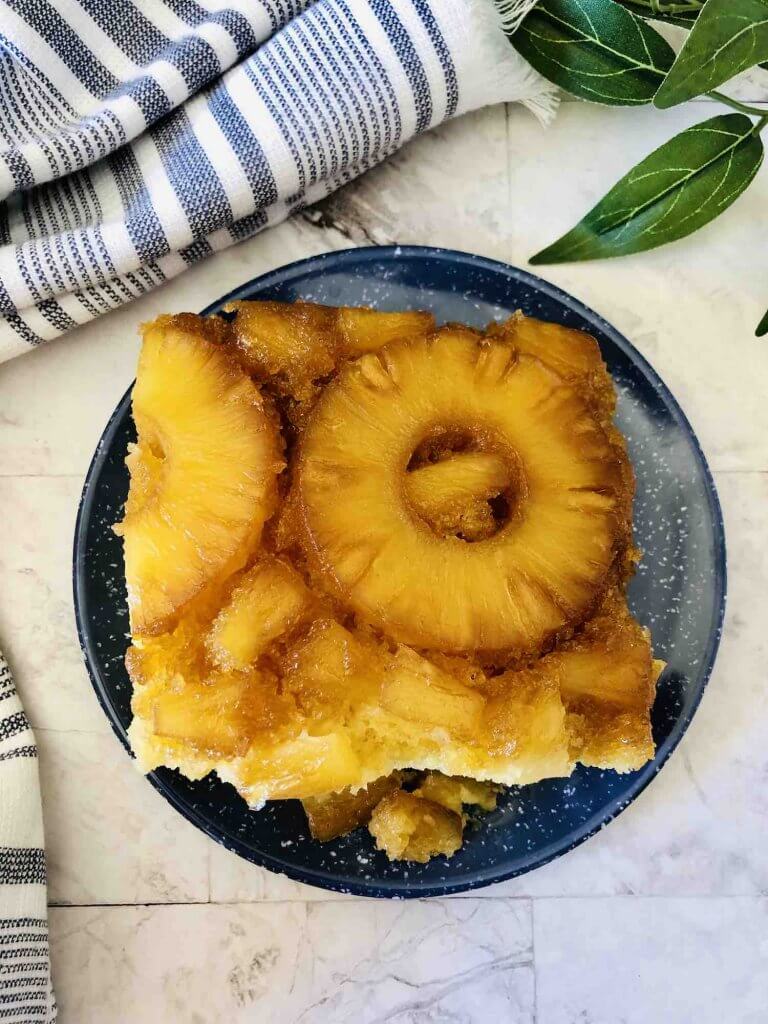 This is a super easy pineapple upside-down rum cake that is perfect for summer parties or backyard luaus. It's always a hit with crowds!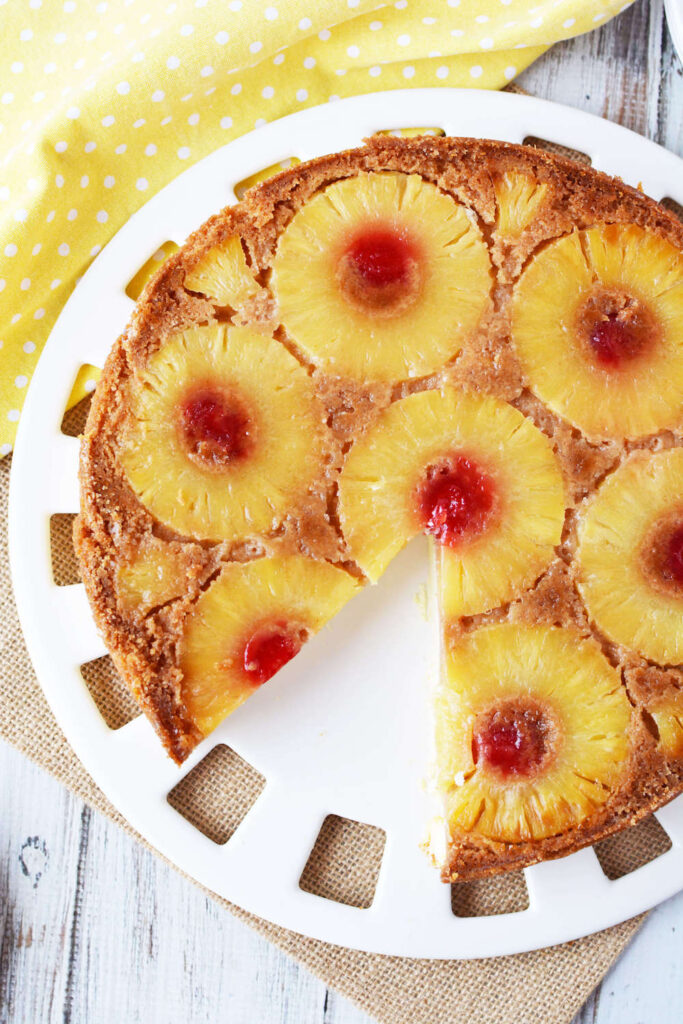 This is a fun twist on the classic pineapple upside-down cake. This one has a layer of cheesecake which makes it perfect for a summer day!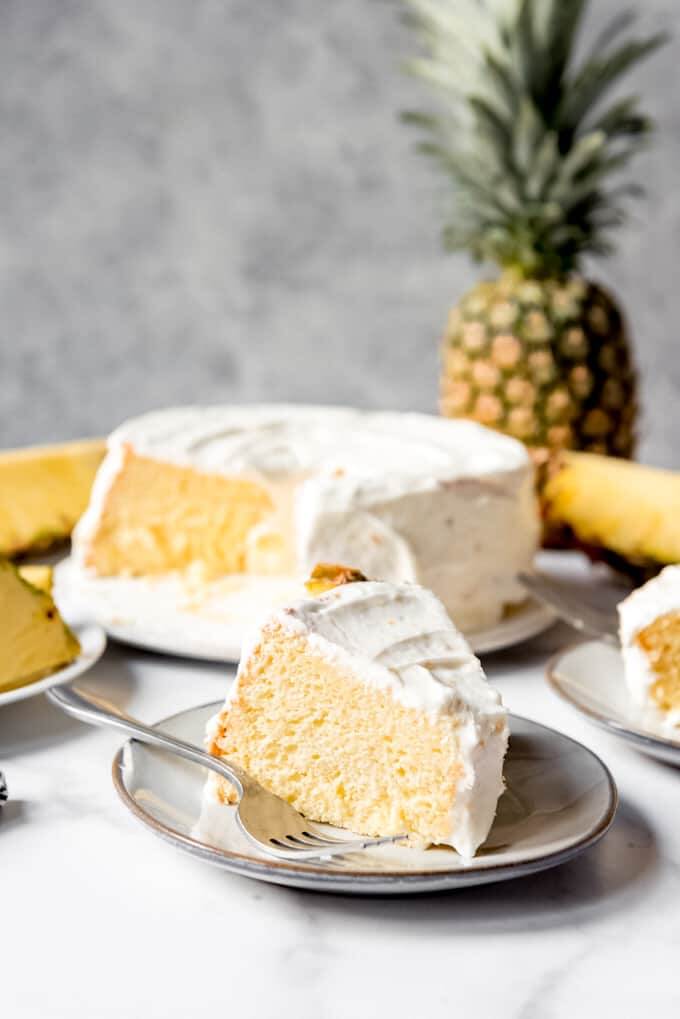 This light and fluffy Pineapple Sponge Cake is a vintage dessert that is perfect for Easter, Mother's Day, or any other spring or summer occasion!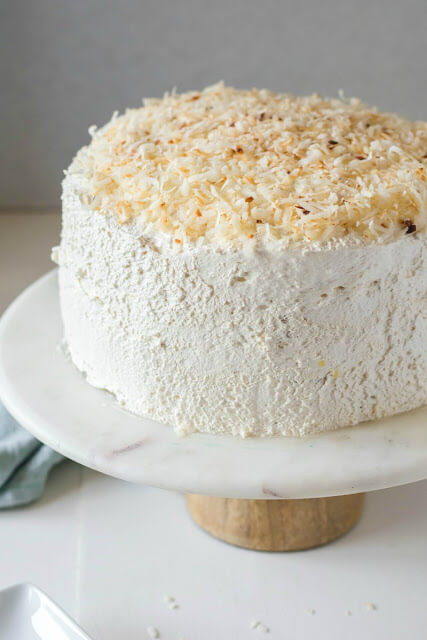 This Haleakala cake is LOADED with pineapple and then coated in a big white cloud of frosting. Add a little coconut to drive the taste of the tropics home!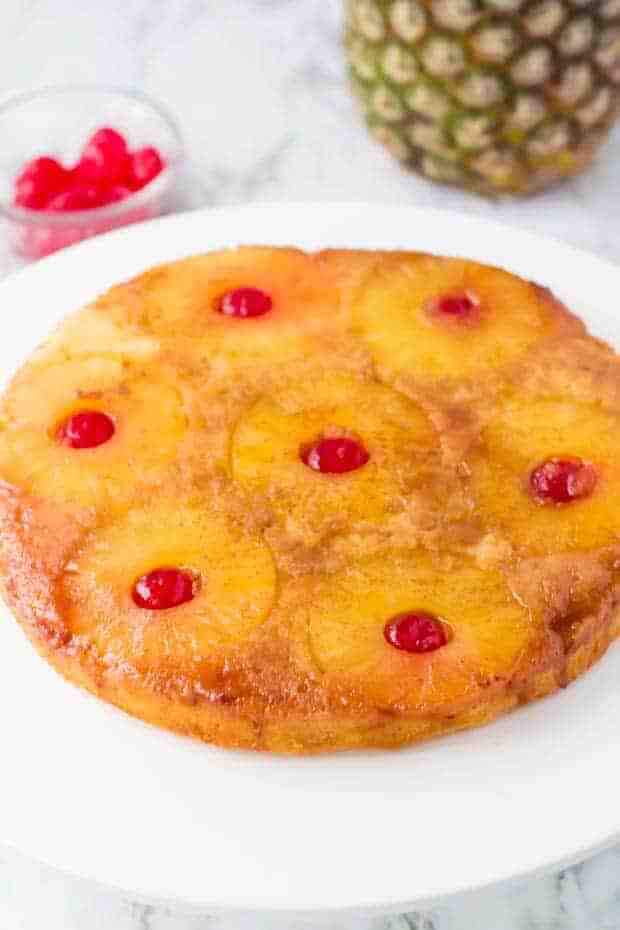 This homemade Pineapple Upside Down Cake is made with an easy buttery and moist vanilla cake, delicious caramelized pineapple topping, and even a cherry on top. The perfect spring and summer dessert!
It's no wonder it's one of the most classic canned pineapple dessert recipes!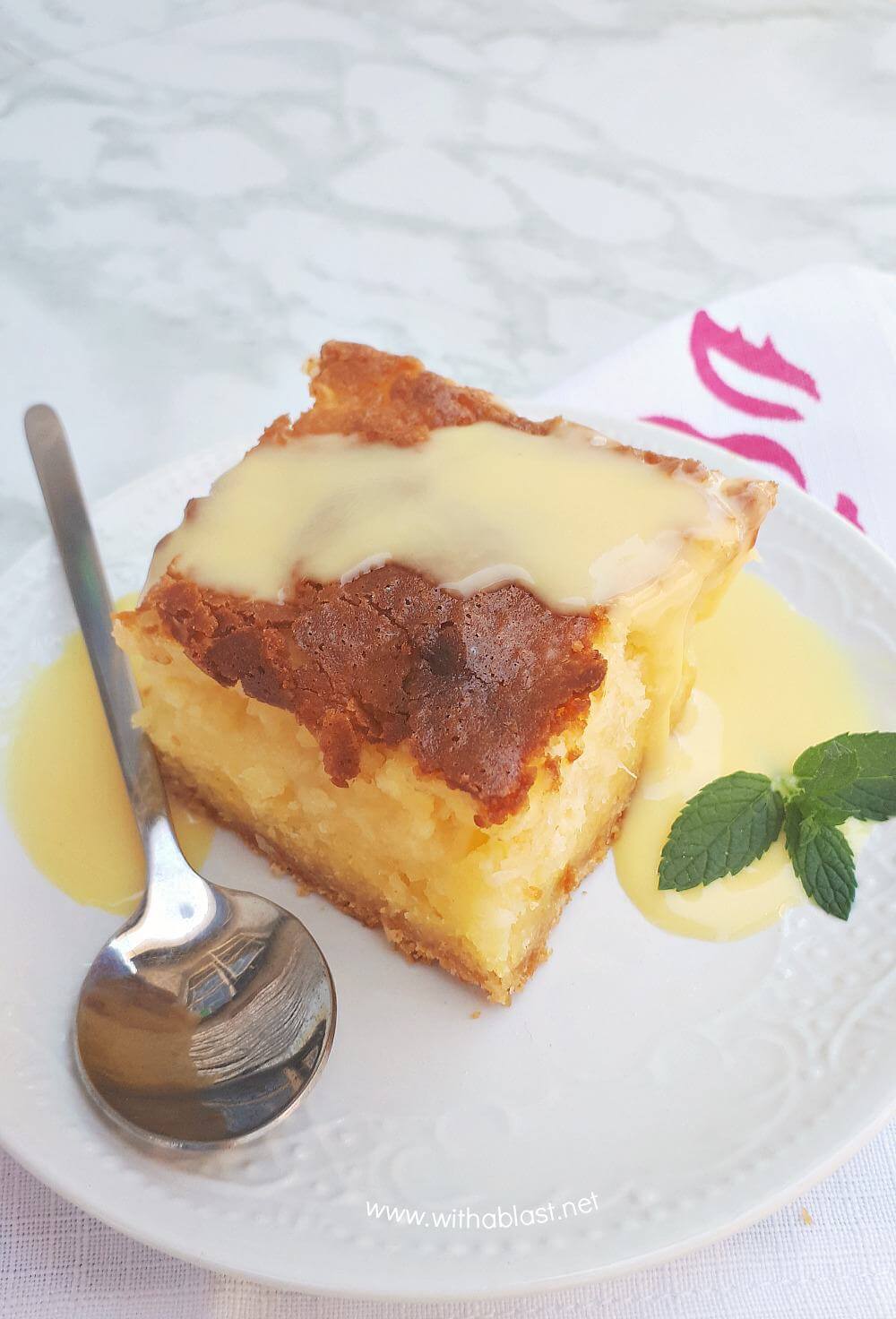 Gooey Coconut Pineapple Butter Cake is a moist, delicious cake and no need for frosting. Easy cake starting with a cake mix and with cream cheese too!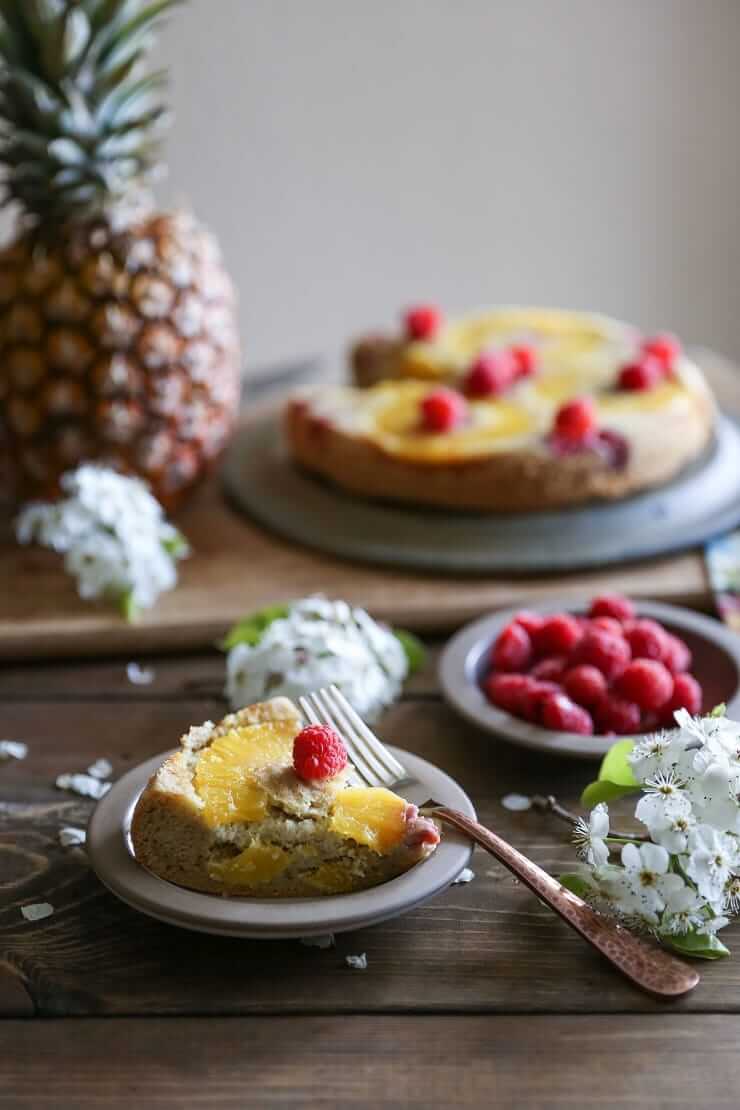 Grain-free pineapple cake made with no refined sugar or dairy for a gluten-free paleo dessert. This healthier take on pineapple upside-down cake is magically delicious!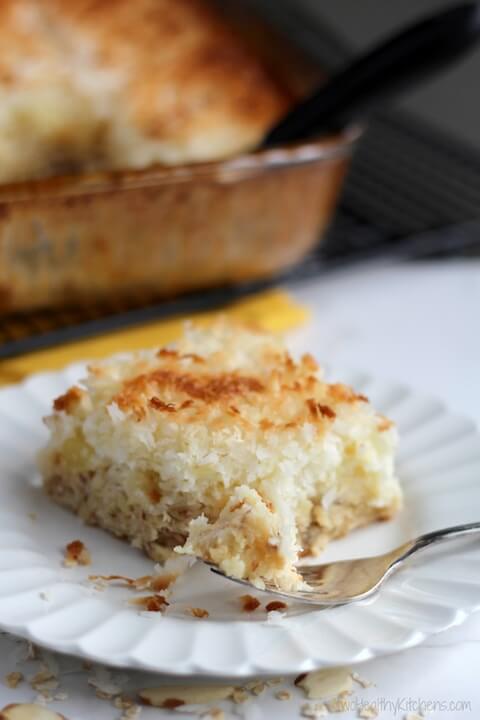 This amazing pineapple angel food cake recipe is so easy to throw together in just moments using pantry staples! It's the perfect go-to recipe when you're out of time but still want to create something impressive!
Loaded with juicy pineapple, crunchy almonds, and toasted coconut…quick and simple, yet so delicious!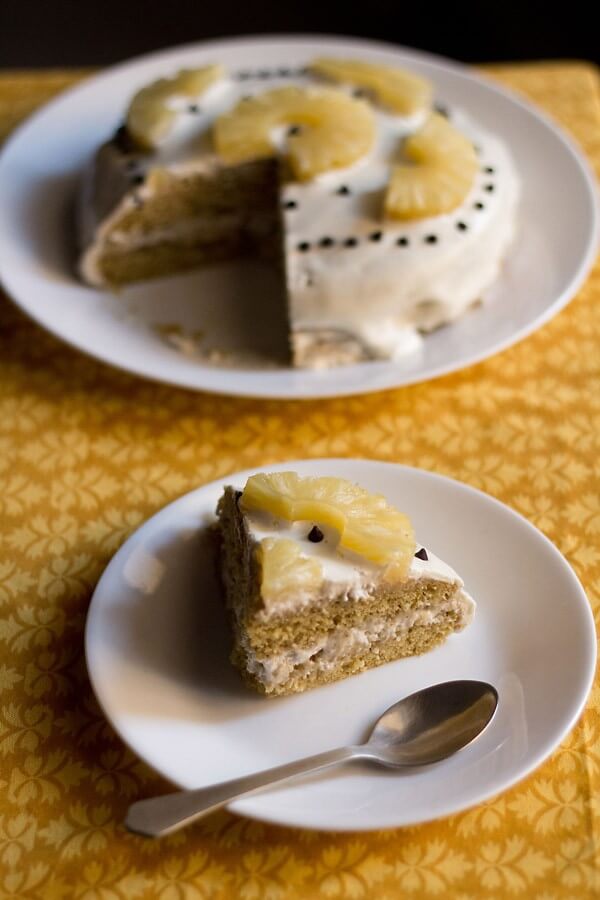 Eggless pineapple cake recipe with step-by-step photos. This eggless pineapple pastry recipe is not difficult and an easy recipe. The recipe uses easily available ingredients.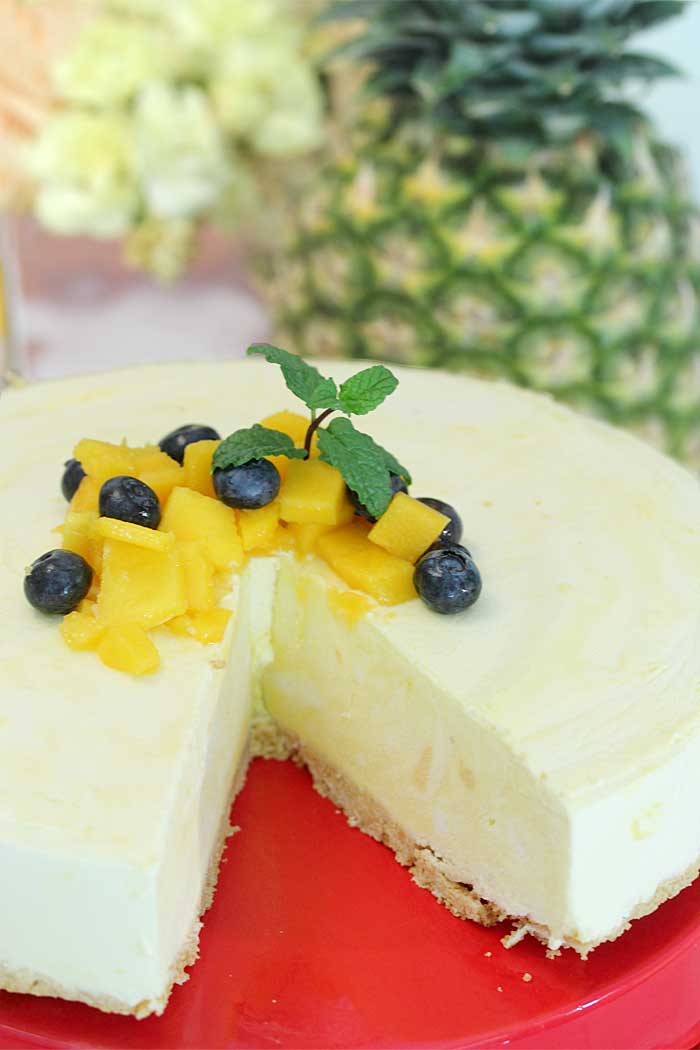 Cool off this summer with a sweet & creamy Mango Pineapple Icebox Cheesecake. Reminiscent of a mango-flavored pina colada, this frozen no-bake dessert is a decadent mixture of cream cheese, fresh mango and pineapple, a touch of rum, and plenty of whipped cream.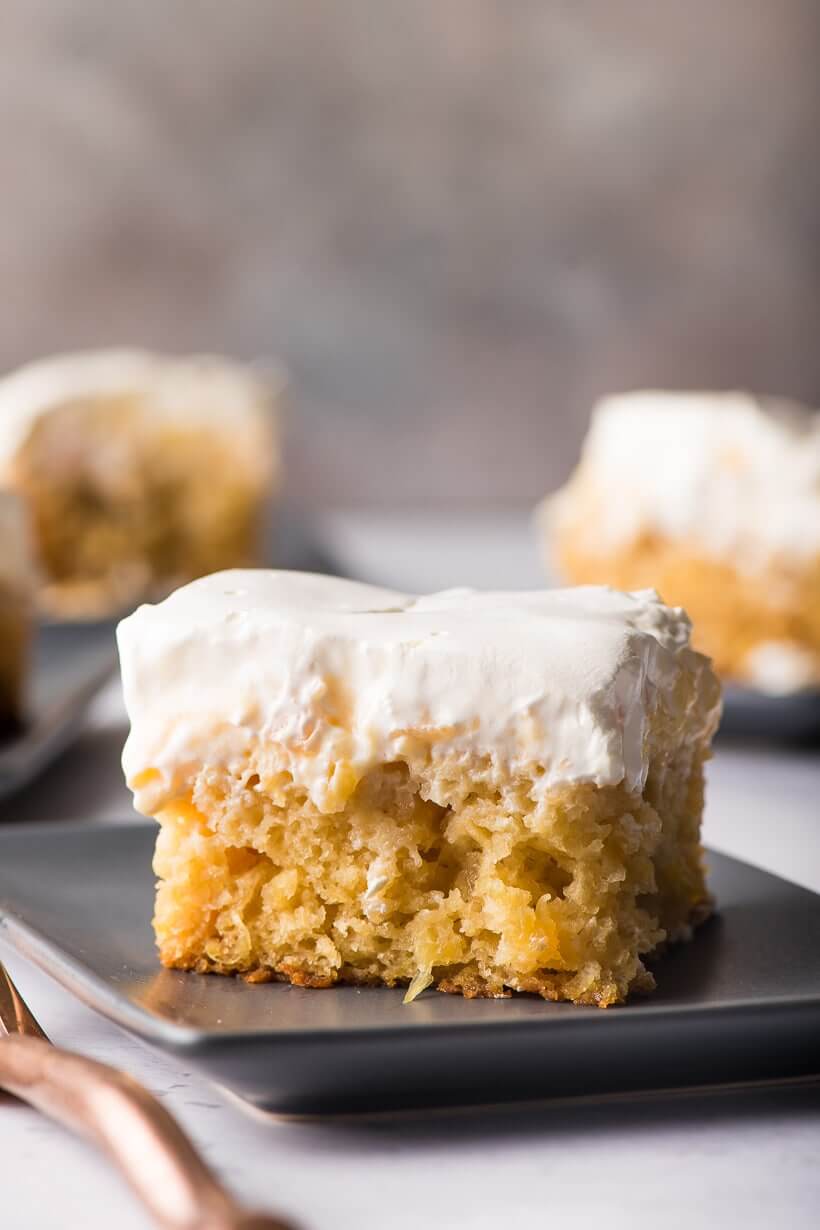 This refreshing Pineapple Sunshine Cake has the most delightful whipped pudding topping.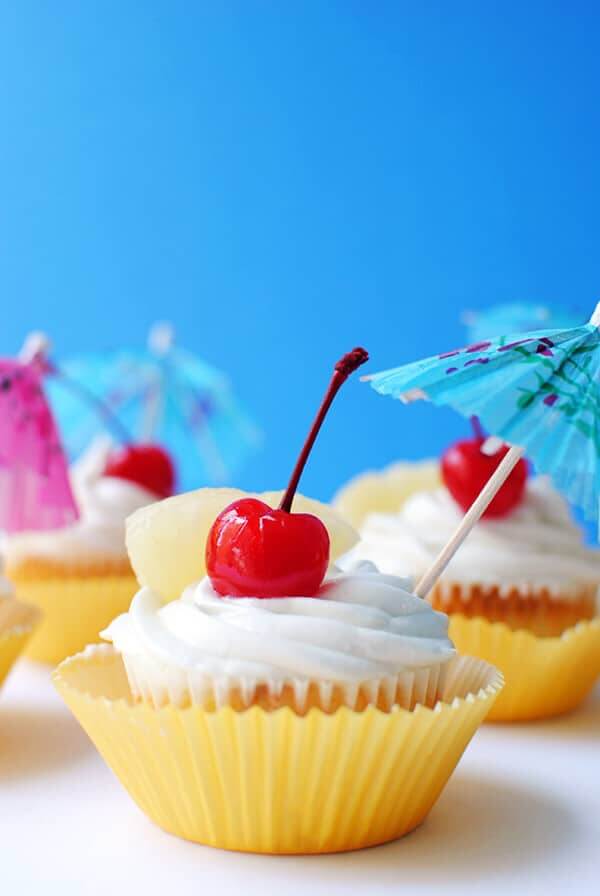 These Pina Colada cupcakes have a pineapple cake and a coconut frosting! They taste just like a tropical cocktail!
Seriously one of the best-canned pineapple recipes!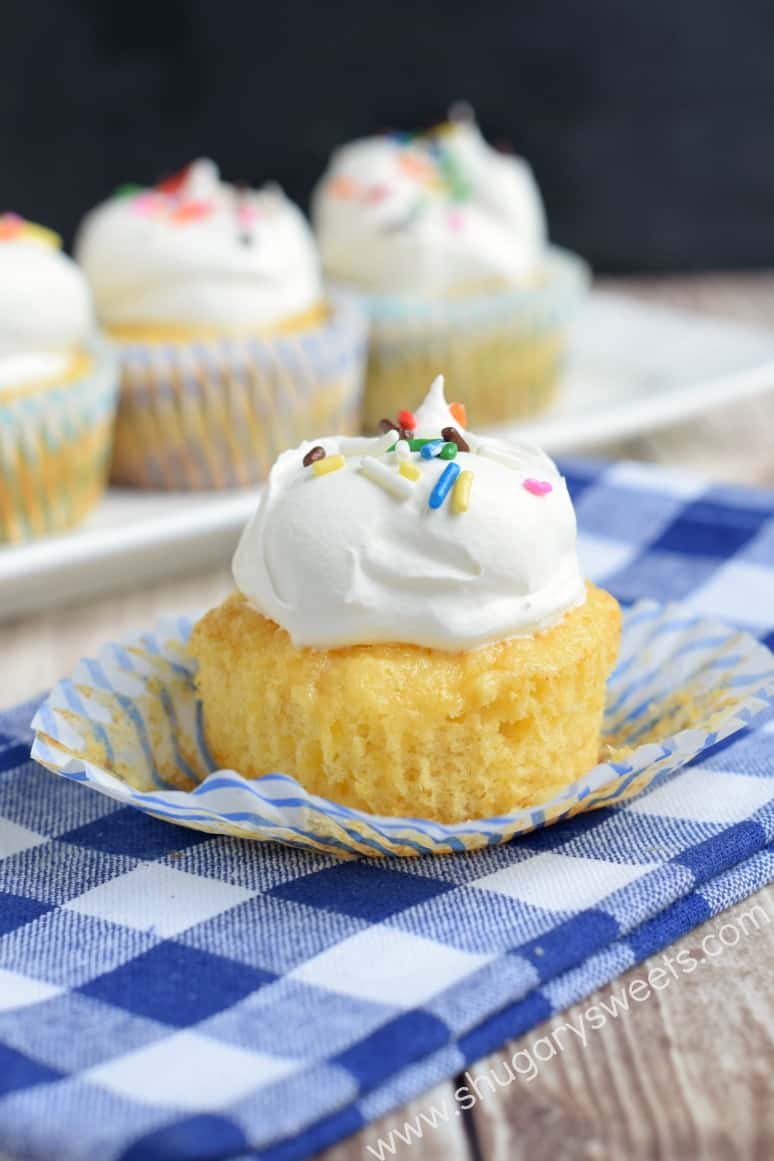 Indulge in one (or more!) of these Skinny Pineapple Cupcakes for dessert! Made with only 3 ingredients, this lightened-up dessert won't leave you feeling weighed down.
PINEAPPLE DESSERT RECIPES: VARIOUS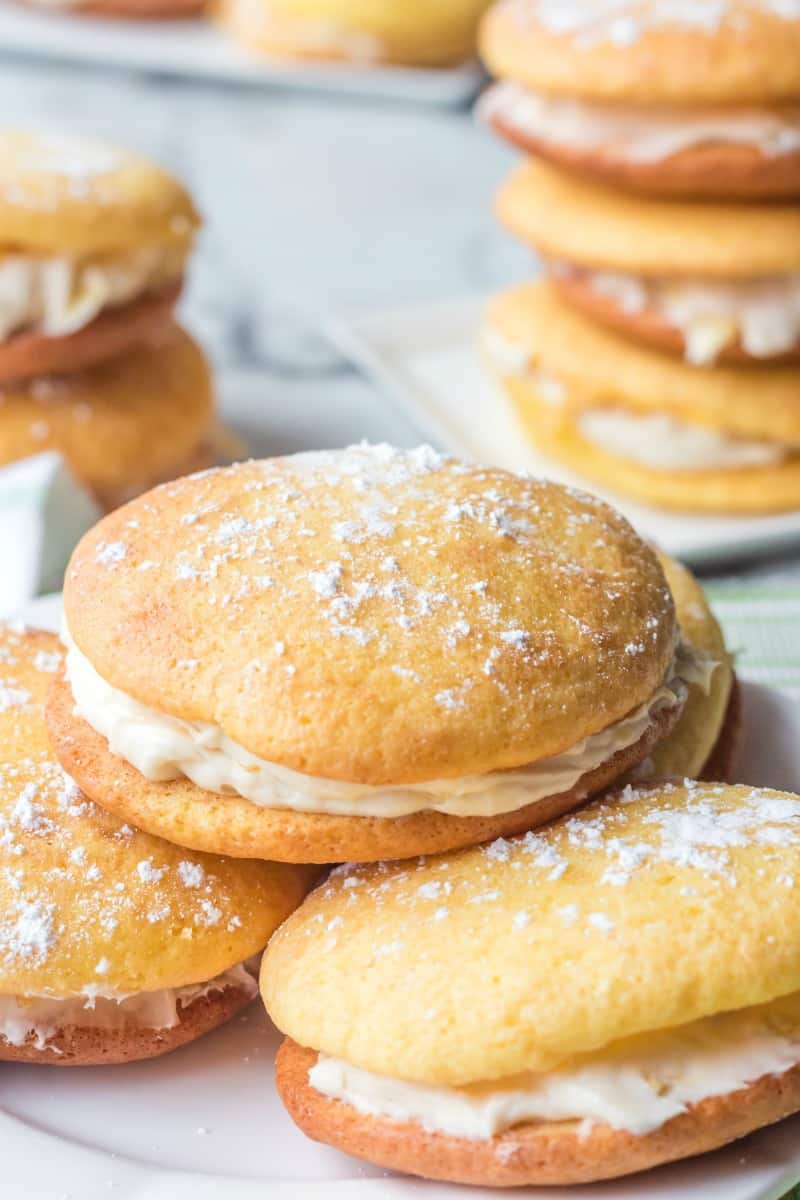 Have you ever wondered if you can make whoopie pies with cake mix? You can! You will love these tropical pineapple whoopie pies!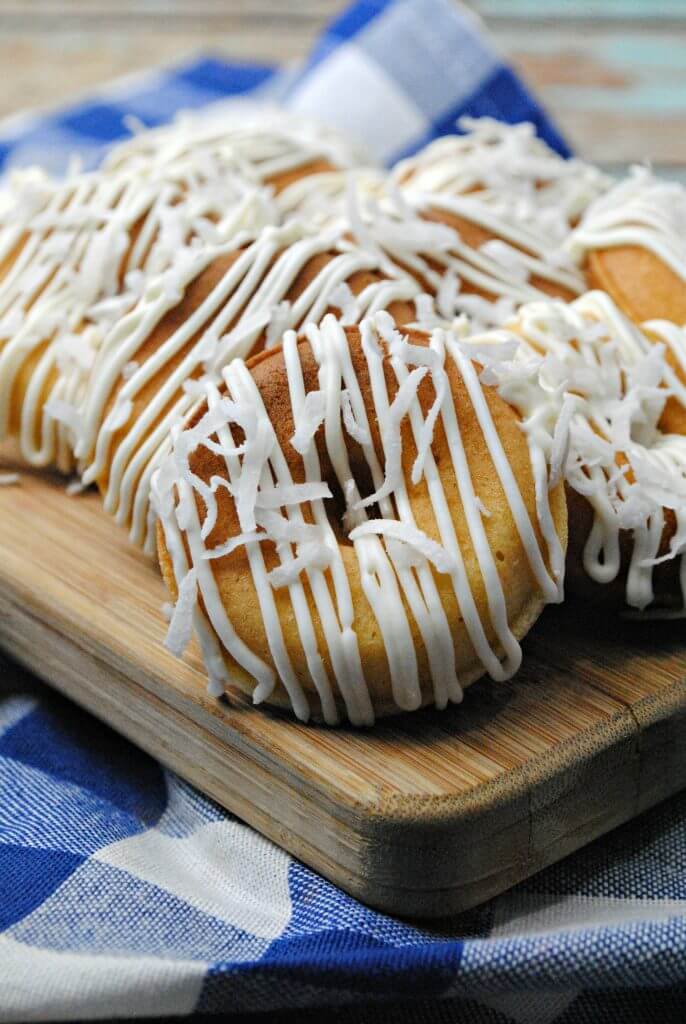 If you haven't had a tropical doughnut, you are in for an amazing treat! What could possibly make a doughnut better? Coconut and pineapple!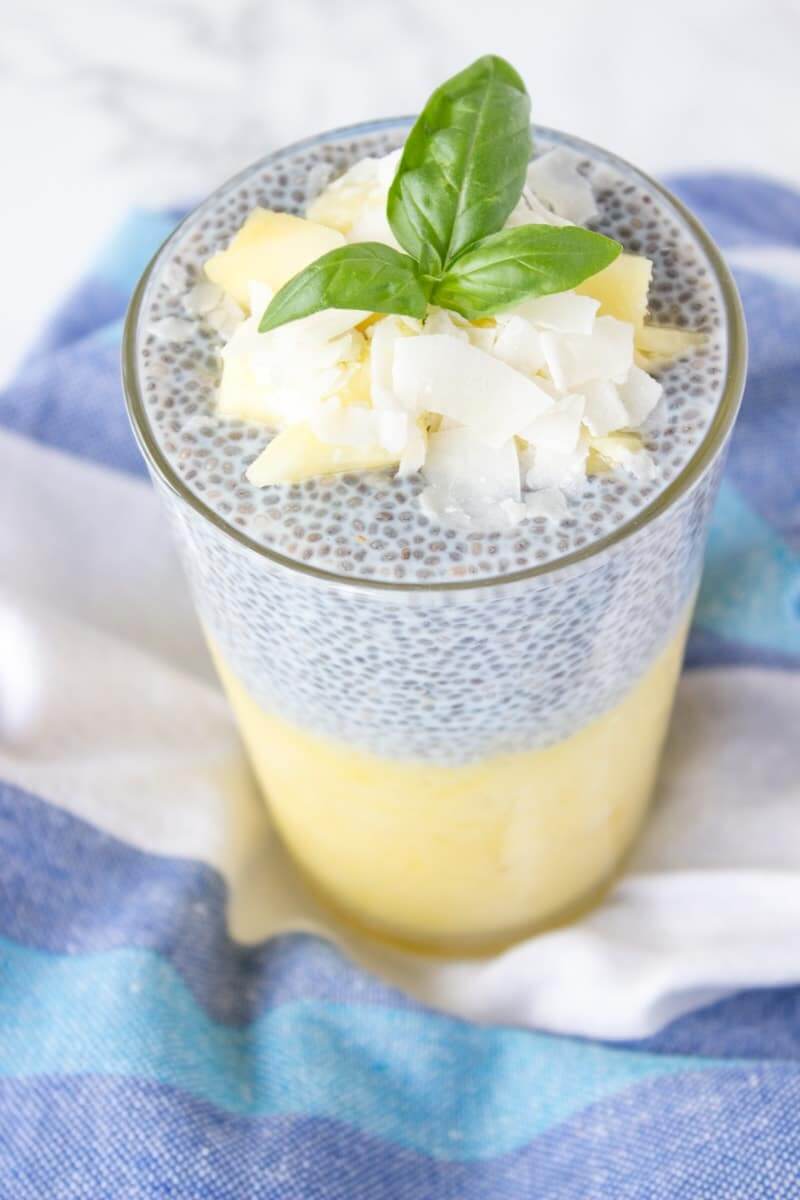 Refreshing and full of tropical flavors, this Pineapple Coconut Chia Pudding is the perfect Summer treat. You can serve this chia pudding as a healthy breakfast or a refreshing dessert.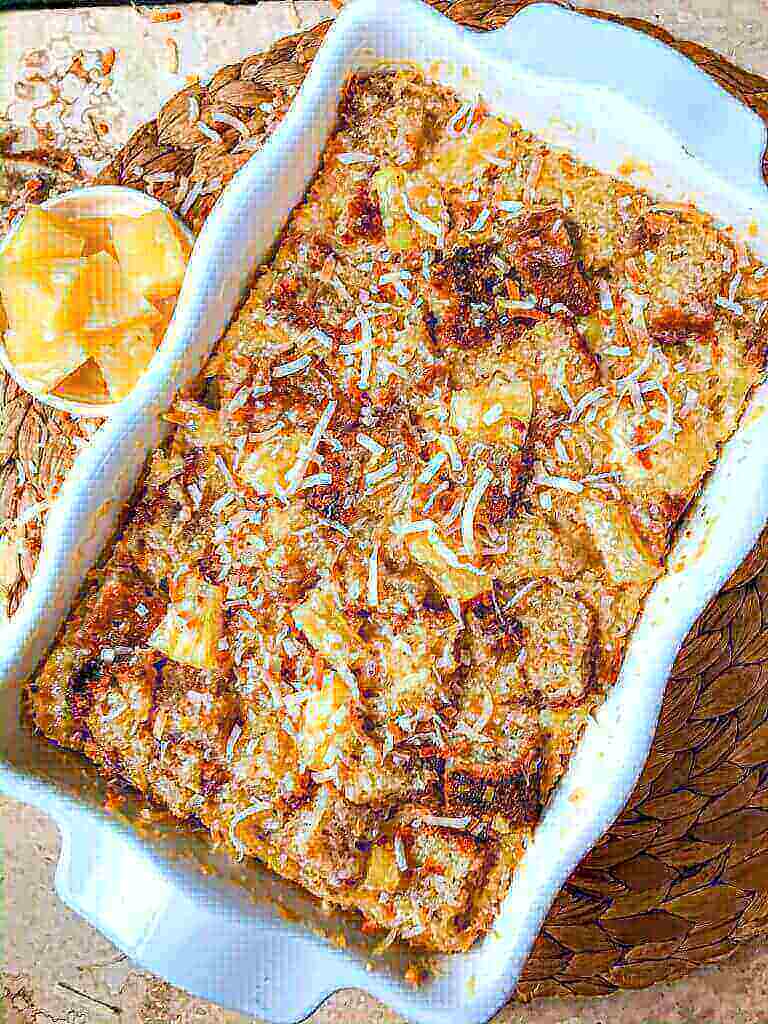 A homemade bread pudding filled with lots of pineapple and coconut! Travel to paradise on your fork with this fun, tropical dessert.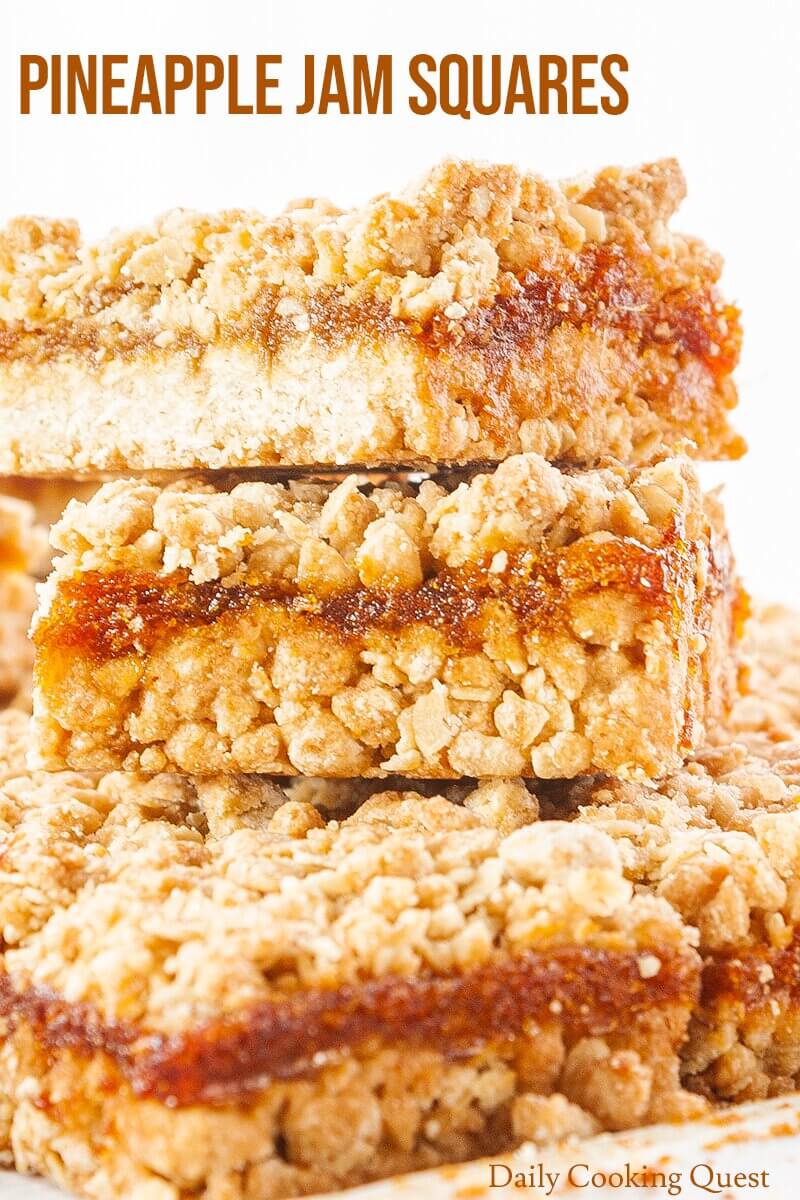 For those familiar with Chinese pineapple tart, this tastes just like that, but in a bar form. They are so easy to put together, and they will be gone in a heartbeat.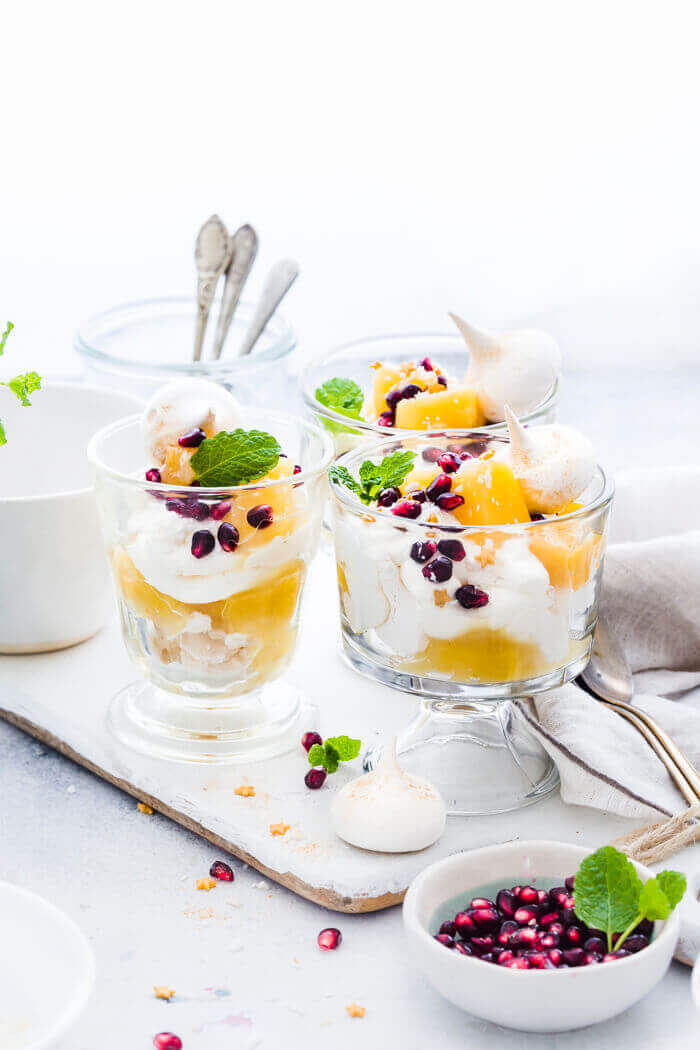 This vibrant Malaysian Pineapple Mess is a treat to behold and an ideal dessert to be enjoyed all year around. Layered with Meringues, Pineapple Compote, whipped cream, and finally finished with a layer of toppings.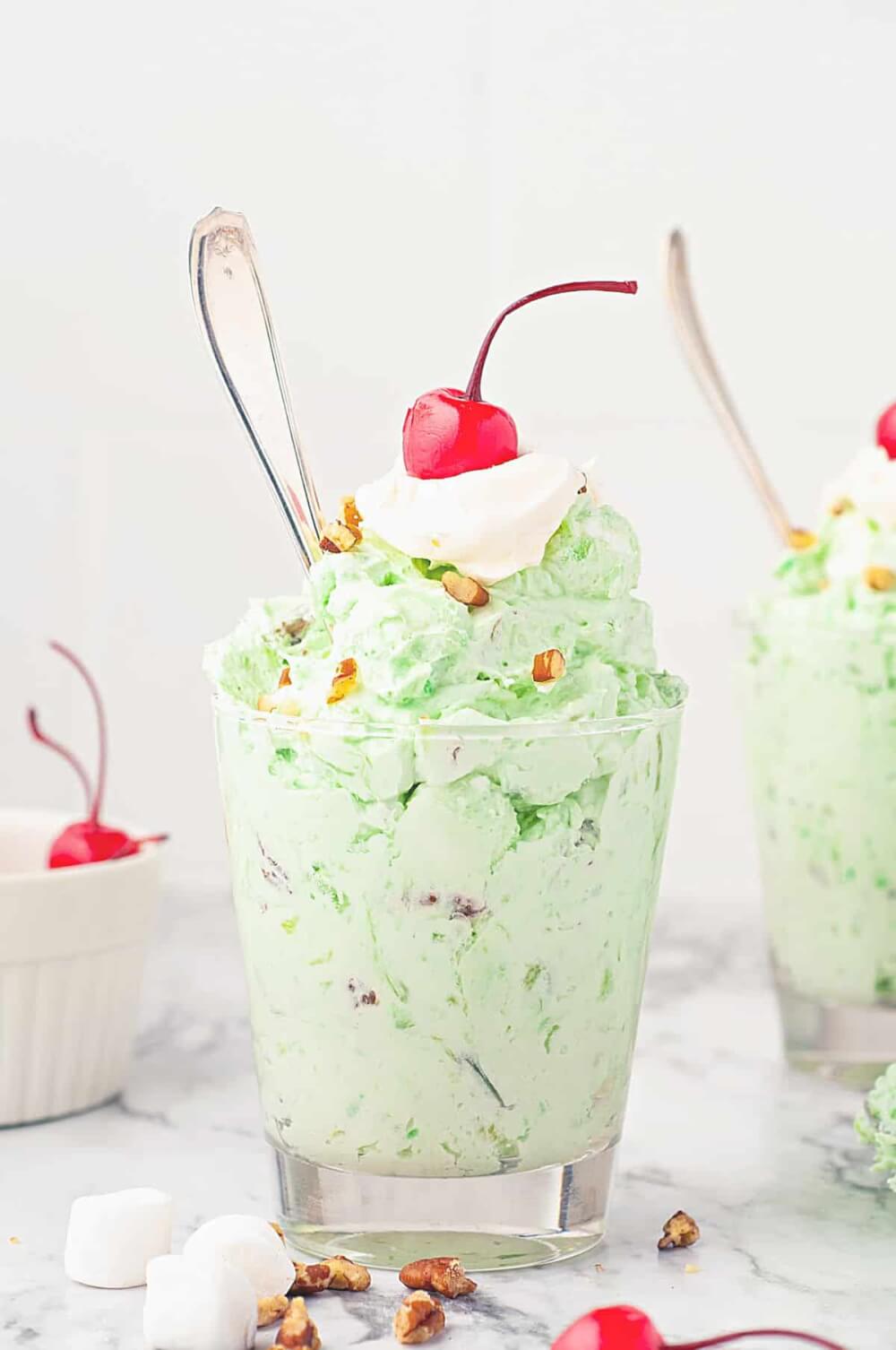 Watergate salad is a creamy and delicious pineapple dessert salad that makes for the ultimate sweet summer dish to pass! This old-fashioned recipe can be made in less than 5 minutes and is a total throwback to your childhood picnics and potlucks!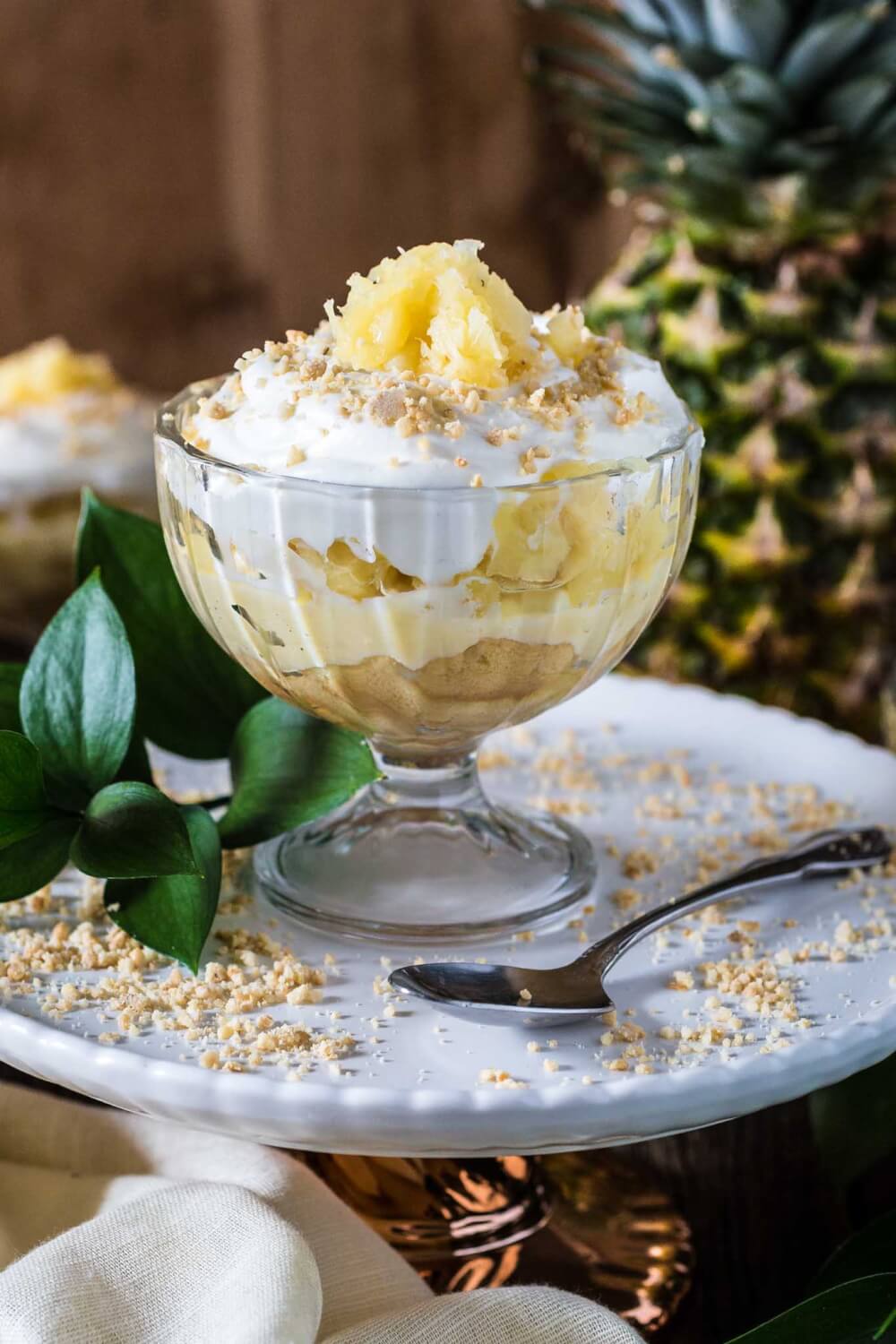 A Brazilian pineapple trifle that is perfect for summer gatherings! It can be made with fresh or canned pineapple.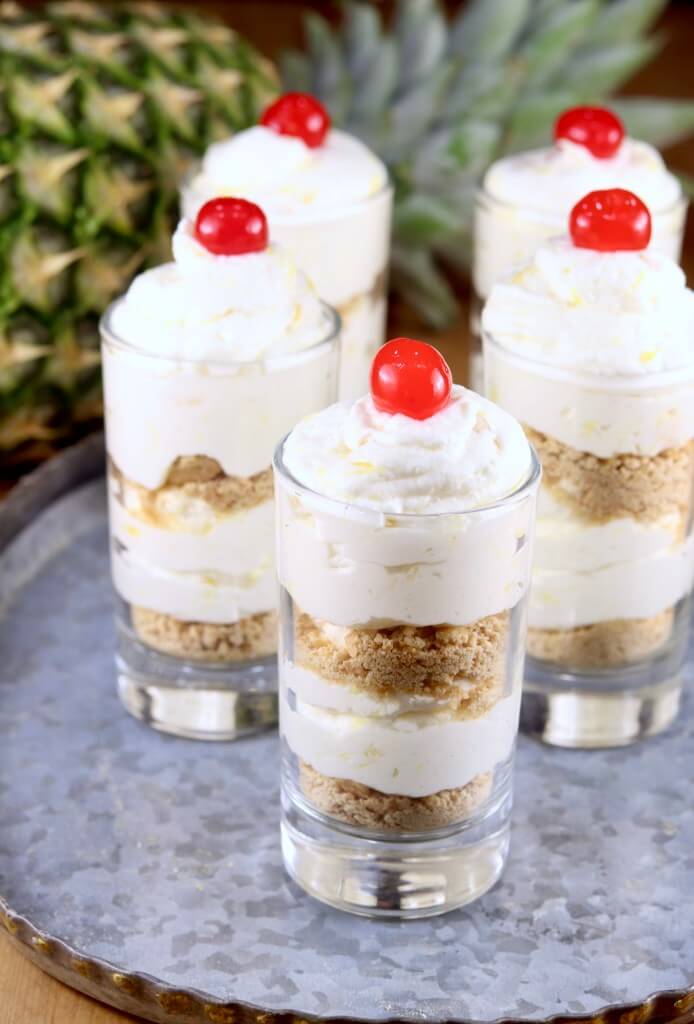 No Bake Pineapple Cheesecake is a quick and easy dessert for any occasion. There are only a few ingredients, and it comes together in about 10 minutes. Great for holidays and celebrations but simple enough for any day of the week!
Classic Magic Cookie Bars turn into a tropical dessert with flavors of macadamia nuts, pineapple, and coconut. Easy to make, chewy, and irresistibly good!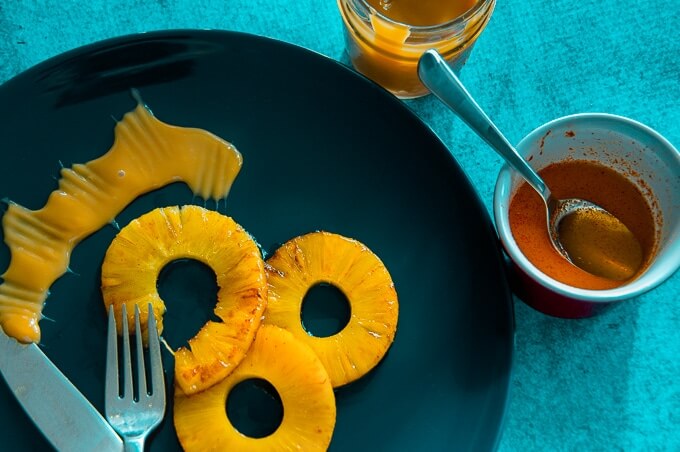 This simple dessert mixes a classic dulce de leche recipe with spiced grilled pineapples for an easy and satisfying dish!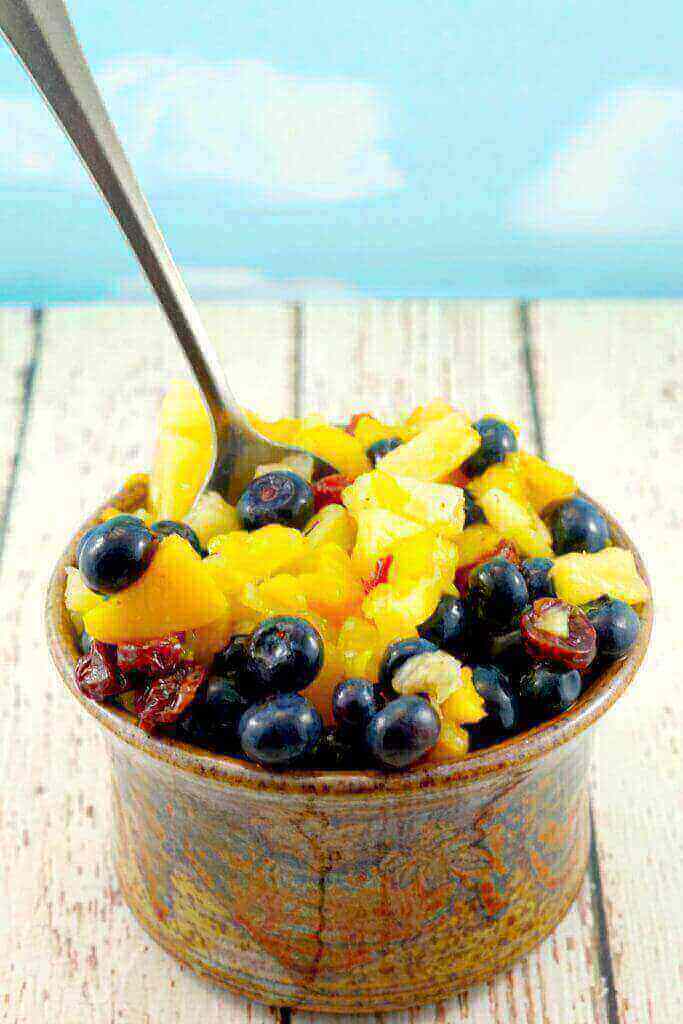 This unique Peach Pineapple fruit salsa is a little spicy and a great summer or winter salsa, as it can be made with fresh or canned fruit. Serve it with cinnamon crisps, cookies, or crackers for dessert or as an appetizer, or on fish, chicken, or pork! It's ready in 5 minutes. Only 2 Weight Watchers Points on the blue plan!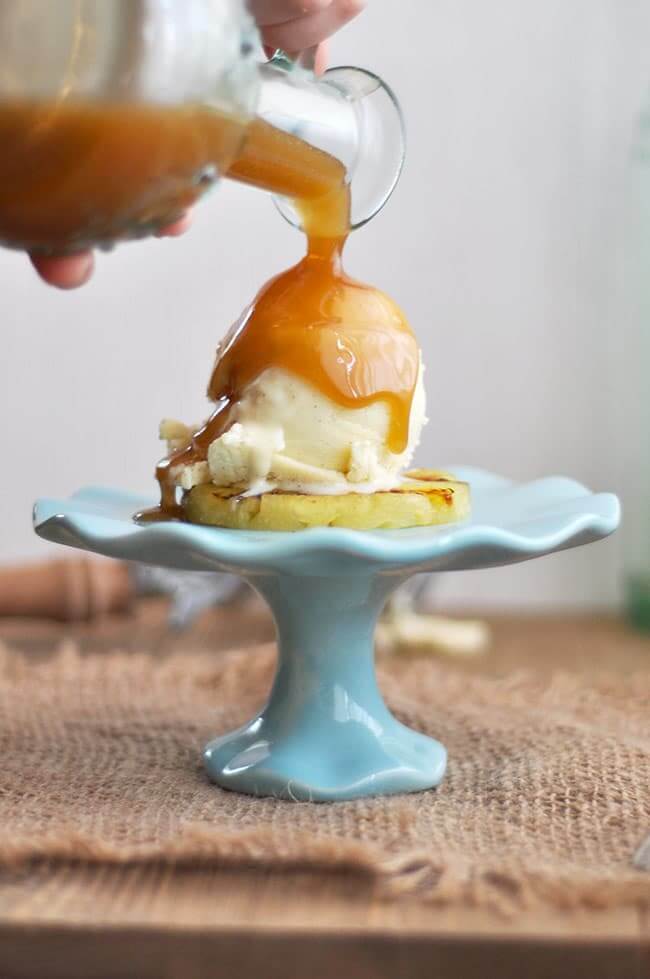 A simple yet delicious grilled dessert! The perfect way to cool off and enjoy something sweet with a touch of healthy this summer.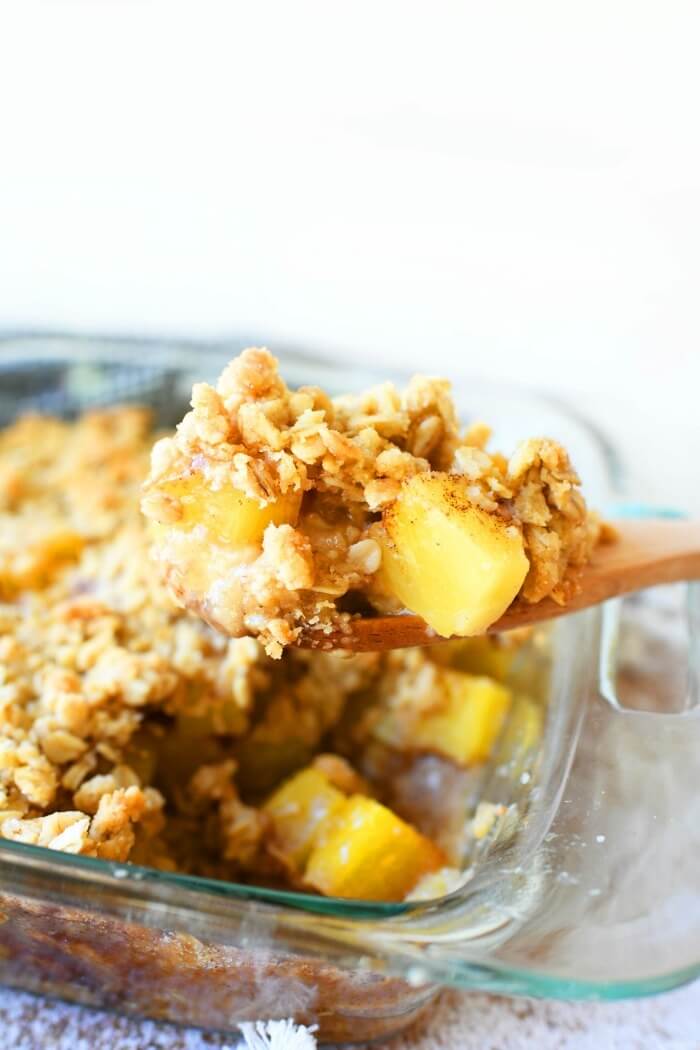 This easy, classic pineapple crisp dessert recipe is made with canned pineapple and easy-to-find pantry staples. It features a homemade sweet, buttery topping that envelopes spiced, juicy pineapple chunks.
Served with vanilla ice cream, this canned pineapple dessert recipe is an old-fashioned treat that all ages will enjoy.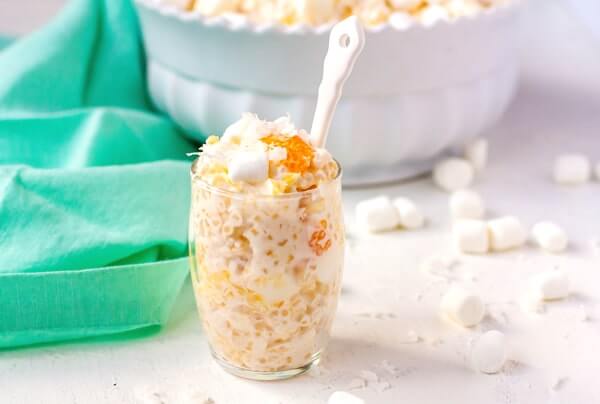 Frog Eye Salad is a creamy and fluffy pineapple, orange, and coconut pasta salad that can be served as a dessert! This canned pineapple dessert recipe serves a crowd, so it's great for BBQs and potlucks!
Pineapple Dessert FAQs
What can I do with fresh cut pineapple?
There are so many options! You can grill it or caramelize it and put it on top of ice cream or other desserts. You can blend it into smoothies, or chop it up and put it in pineapple ice cream or for pineapple popsicles.
Can pineapple be cooked?
Yes! You can cook both fresh and canned pineapple and put them in all kinds of baked goods, pop them on the grill, or even cook with meat.
What can I do with a pineapple that's not sweet?
If your fresh pineapple isn't very sweet, you can always sprinkle it with sugar before eating. Or, plan on using it for one of these amazing pineapple dessert ideas!