Are you looking for eco-friendly things to do on Kauai with kids? Keep scrolling to read my top Kauai farm tours for families worth a stop.
This list of Kauai farm tours for families was written by Hawaii travel expert Marcie Cheung and contains affiliate links which means if you purchase something from one of my affiliate links, I may earn a small commission that goes back into maintaining this blog.
Planning a trip to Kauai with the kids and want to include some eco-friendly fun?
One of the best ways to experience eco-tourism on Kauai is by visiting one of its many working farms. Kids will love learning about where their food comes from and sampling delicious tropical fruits.
These fun, educational farm tours will keep the whole family entertained while you're on vacation in Kauai. Make sure to add one of these tours to your Kauai itinerary!
Keep scrolling to check out these amazing Kauai farm tours that are perfect for kids!
Don't have time to read a bunch of Hawaii blog posts and reviews? Here are some of our top picks for visiting Kauai with kids.
Best Kid-Friendly Kauai Tours/Activities
Best Kid-Friendly Kauai Resorts
Grand Hyatt Kauai (this is a personal favorite for my kids because of the water slide and saltwater lagoon)
Royal Sonesta Kauai (my kids LOVE the pool here because it's the largest one in Hawaii)
Hilton Garden Inn (we like renting the cottages here because you can walk to a massive playground)
Want to Rent a Car in Hawaii?
One of the best places to rent a car in Hawaii is Discount Hawaii Car Rental because they get the best rates from top national companies like Alamo, Dollar, Thrifty, Avis, Enterprise, Budget, and Payless.
Want to skip all the planning and just access my detailed Kauai Itinerary complete with daily schedules, kid-friendly activities, and travel hacks? Click the button below.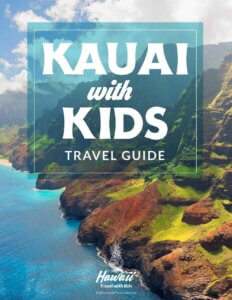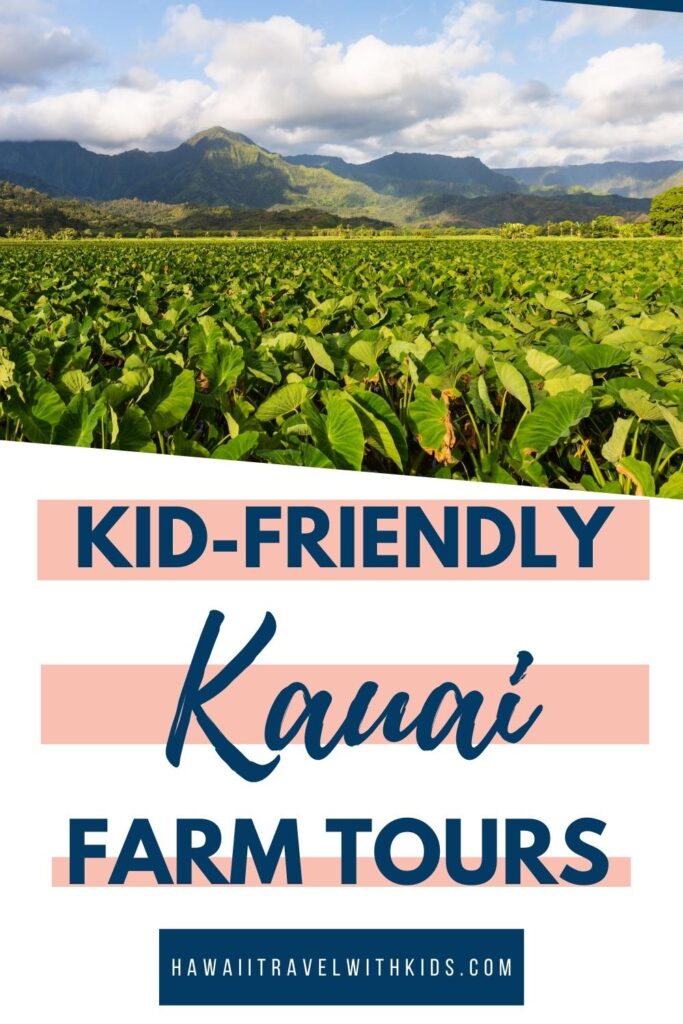 Best Kauai Farm Tours for Kids and Teens
1. Lydgate Chocolate Farm Tour
If your family wants to check out a farm on Kauai AND taste some incredible chocolate, you'll want to sign up for this tour.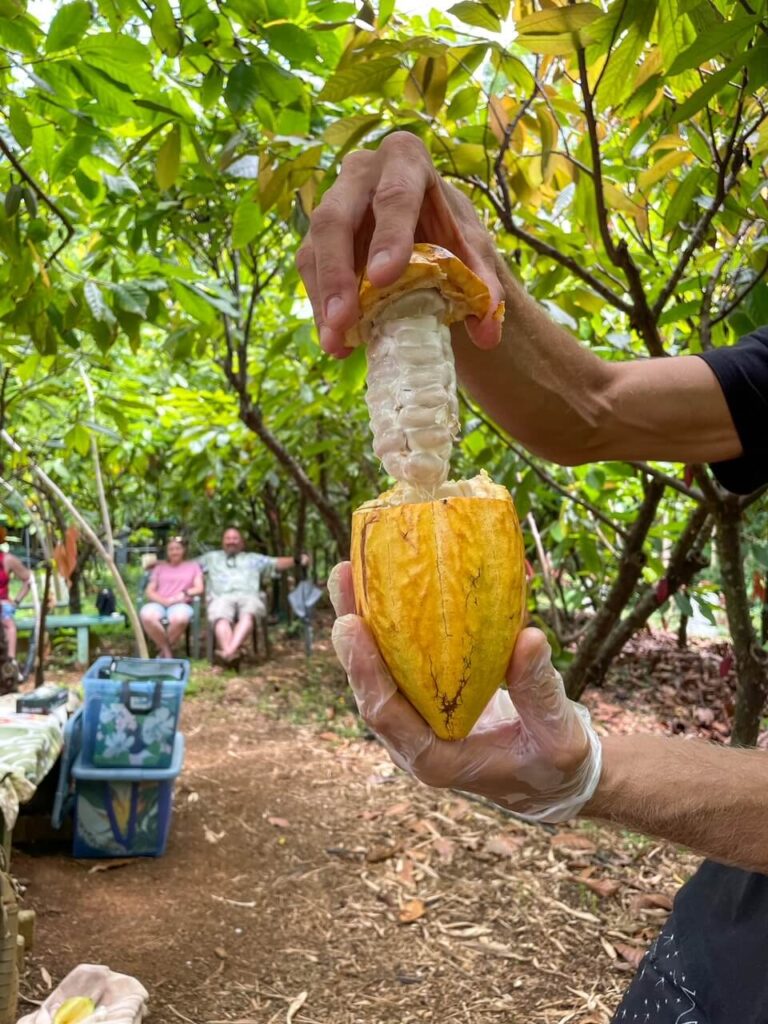 Lydgate Farms is located on the East side of Kauai and it's been around for generations.
During the three-hour Lydgate Farms chocolate tour, you'll get to explore a tropical farm, taste Hawaiian fruit, and sample lots of chocolate.
My 8-year-old thought this was the "best farm tour on Kauai" and insisted that I list it first. Read my full Kauai chocolate farm tour review.
Age restrictions: Kids must be at least 7 years old.
2. Kalalea View Farm Tour
If you're looking for a private Kauai farm tour, head to Kalalea View Farm on the East side of Kauai.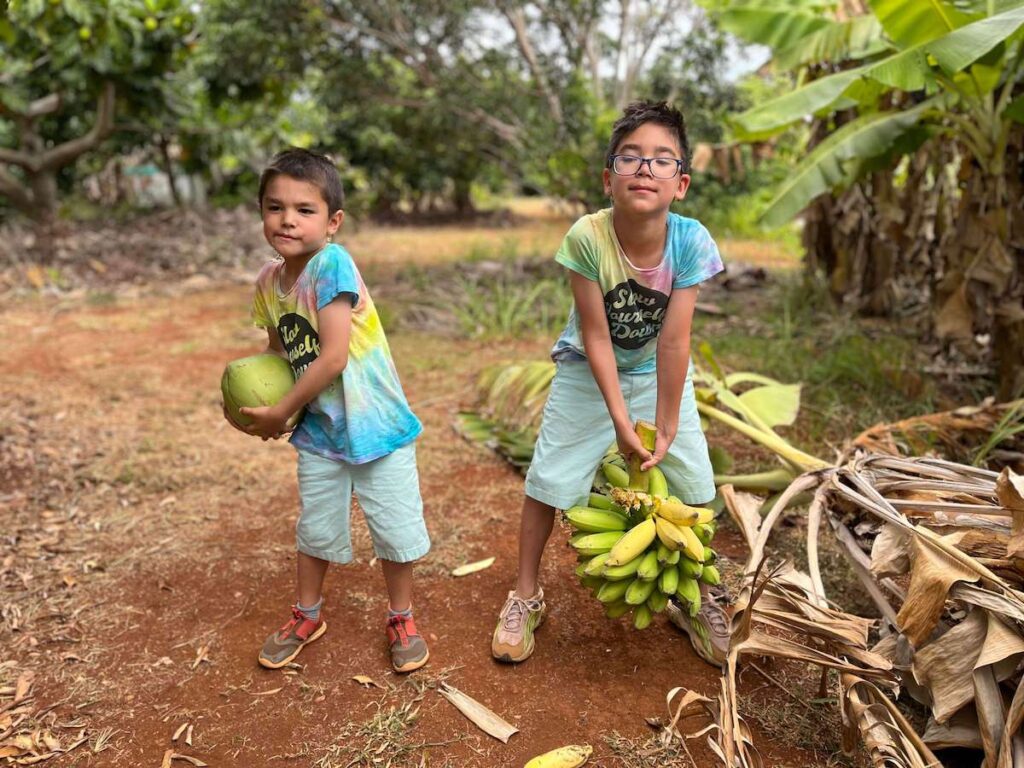 This is my top pick for a farm tour on Kauai because there are TONS of hands-on activities for kids of all ages. You get to pick 3 of them to do on your tour.
A few of the activities available include making your own sugar cane juice, picking tropical fruit, making guacamole, making hot sauce, and cutting down a banana tree. Read my full Kalalea View Farm tour review.
Age restrictions: No age restrictions, but use your judgment.
3. Kauai Coffee Company Farm Tour
If you'd like a Hawaii farm tour where you get to ride around in an open-air vehicle, sign up for the Kauai Coffee Company farm tour.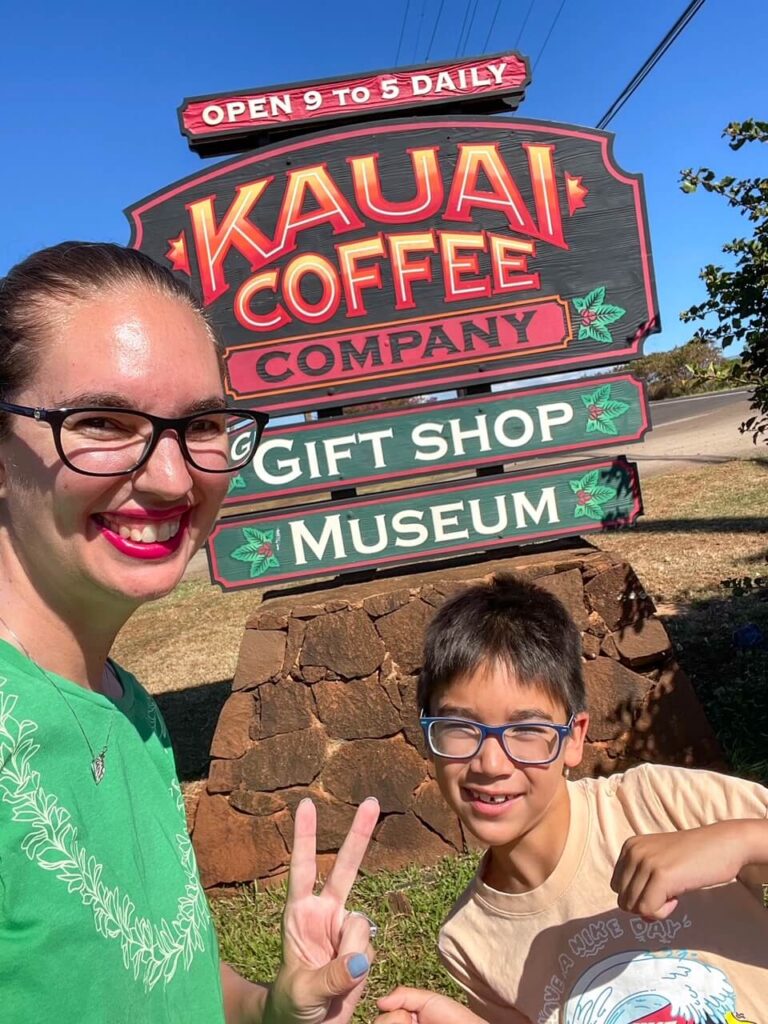 It's located on the South shore of Kauai and it's one of the best coffee farm tours in Hawaii.
You'll get to see the coffee plantation, epic views of the ocean, the processing plants, farm animals, a gulch, and more.
There's also an option to do a free Kauai Coffee tasting before or after your tour. Read my full Kauai coffee farm tour review.
Age restrictions: Kids must be at least 8 years old.
4. Kauai Sugarloaf Tour
For those who want to pick their own pineapple in Hawaii, it doesn't get much better than this Kauai Sugarloaf Pineapple tour on the East side of Kauai.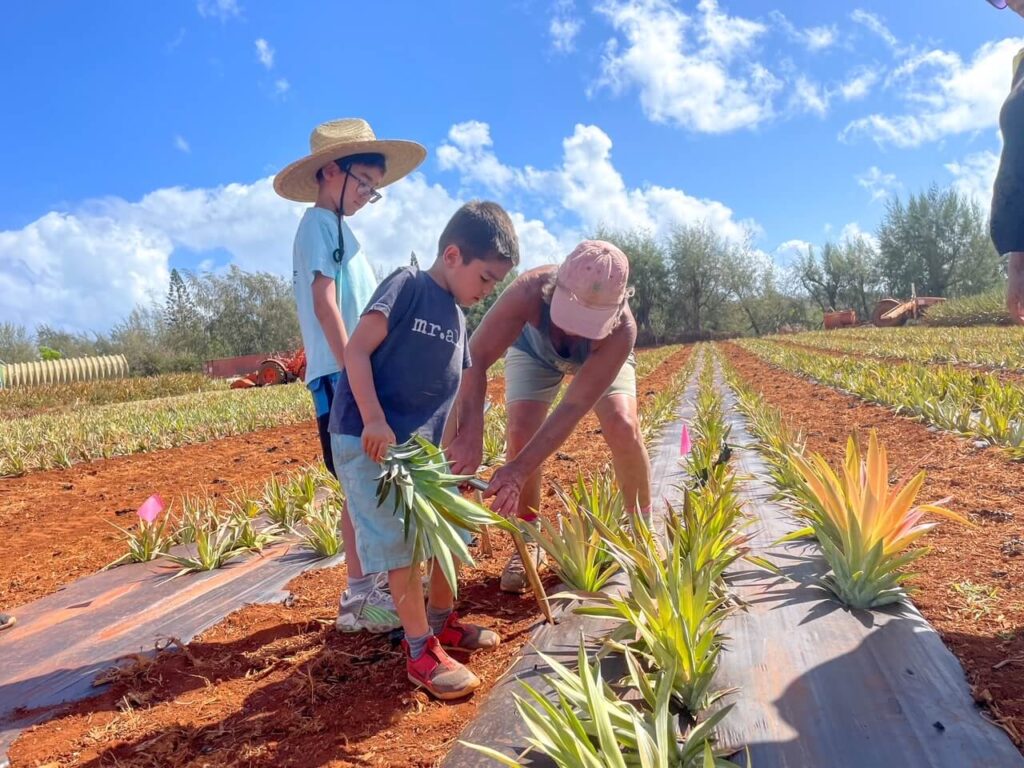 There are several hands on opportunities to prepare the pineapple crowns for planting, plant the pineapple, and pick your own pineapple to take home.
Plus, they have Sugarloaf Pineapple tastings, juice tastings, and even give you your own Pineapple Phrostie to enjoy at the end of the tour. Read my full Kauai pineapple plantation tour review.
Age restrictions: This is for kids of all ages.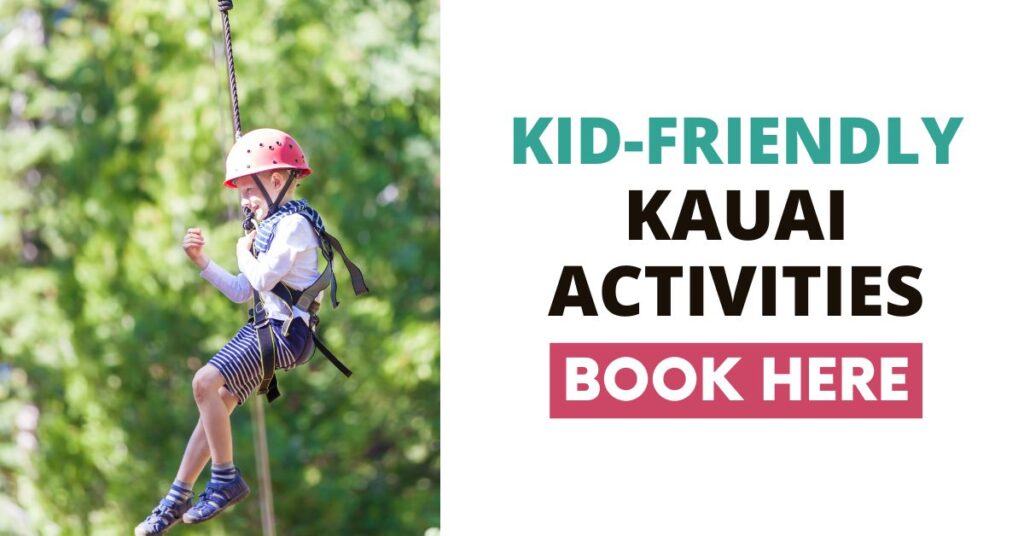 5. Ho`opulapula Haraguchi Rice Mill and Taro Farm Tour
While tours haven't restarted yet, I wanted to include this Hanalei taro farm tour so you can have it on your radar.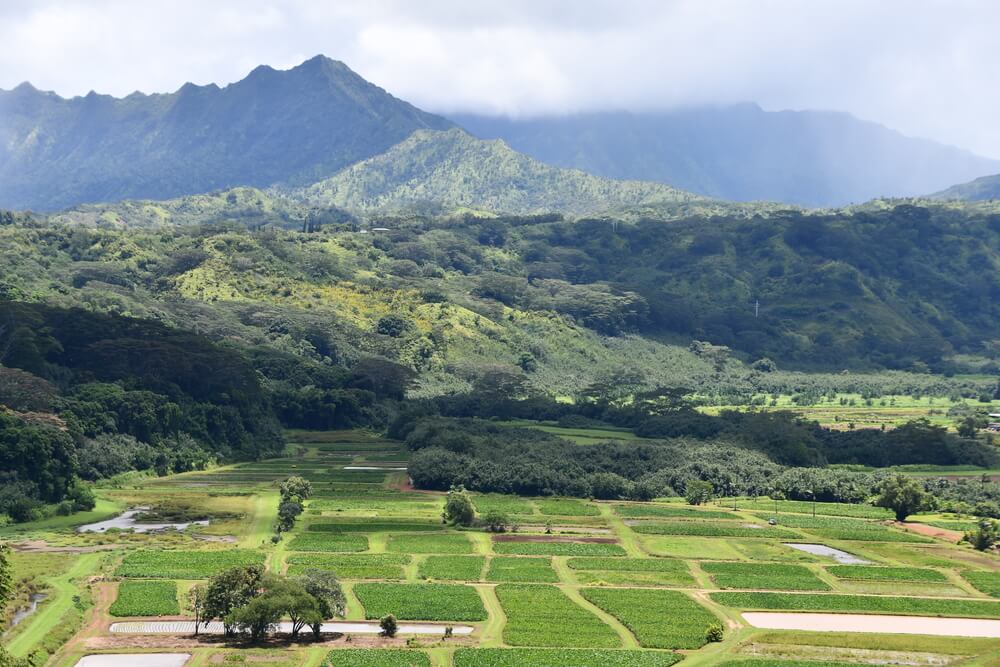 Hanalei is a gorgeous area in North Shore Kauai that is famous for growing taro. This is a cool tour where families can get into the taro patches and actually pick taro plants.
You can also check out the last remaining rice mill in Hawaii!
Get the latest information on this Kauai taro farm tour.
Age restrictions: TBD when the tour resumes.
6. Kilohana Plantation Train Ride
I really only added the train ride at Kilohana Plantation to the list for families with babies, toddlers, or preschoolers.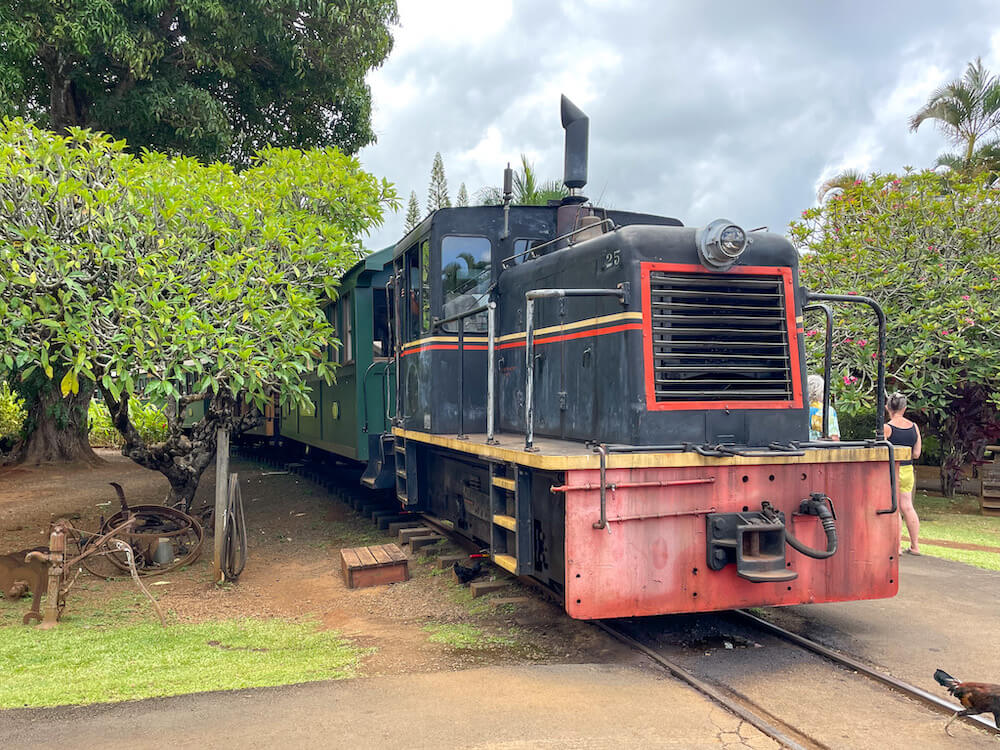 It's an easy way to see lots of tropical fruit trees and even get out and feed farm animals like pigs and horses.
This is a nice stop if you're already heading to Kilohana Plantation to do the Koloa Rum tasting, stopping by the Sweet Shoppe, or have lunch at Gaylord's.
Age restrictions: This is for kids of all ages.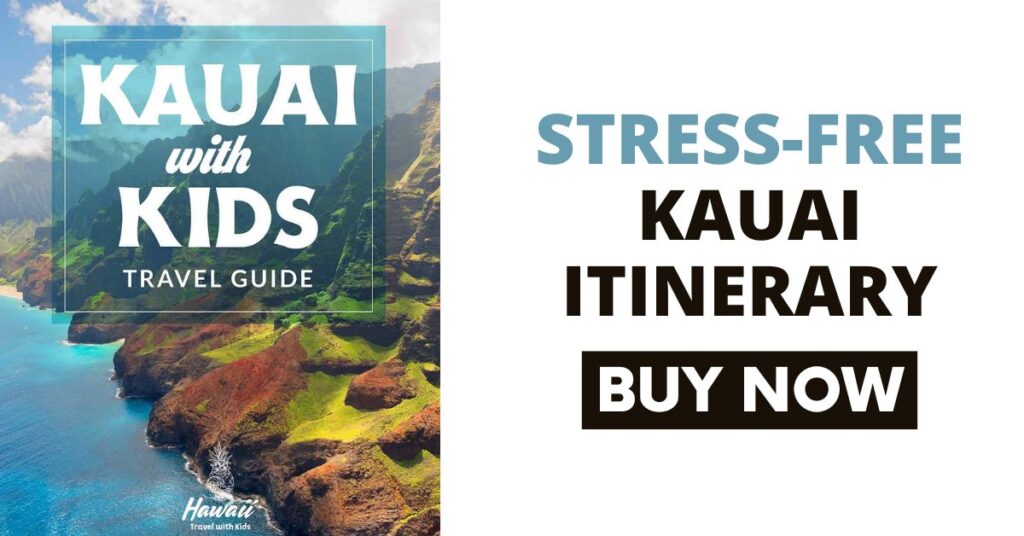 Hawaii Farm FAQs
What is farmed in Hawaii?
The Hawaiian islands have a nice tropical climate which means its the perfect environment to grow lots of items. A few popular fruits grown in Hawaii include papaya, banana, mango, citrus, coconut, and more! Plus, there are several coffee, chocolate, and taro farms in Hawaii.
Which Hawaiian island is best for farming?
While each Hawaiian island has farms, the Big Island of Hawaii has the most, by far. There are more than 4,000 farms on the Big Island that grow everything from coffee and chocolate to tropical fruits.
Does Dole still grow pineapple in Hawaii?
Not really. Dole and Del Monte moved most of their pineapple production out of Hawaii in the 1980s. The biggest commerical pineapple farm in Hawaii is Maui Gold.
Best Farm Tours on Kauai Wrap Up
As you can see, there are a lot of amazing Kauai farm tour options for families wanting to learn more about farming in Hawaii. Plus, there's an opportunity to get dirty!
These are such fun ways to teach your kids about agriculture and sample locally grown products.
P.S. Join our Hawaii Travel with Kids Facebook group to get connected with other families planning a trip to Hawaii!