Are you curious what it's like to do a 7 day Hawaii cruise? Keep scrolling for a detailed review of the Norwegian Hawaii cruise between Oahu, Maui, Kauai, and the Big Island.
This guide to the Norwegian Hawaii cruise contains affiliate links which means if you purchase something from one of my affiliate links, I may earn a small commission that goes back into maintaining this blog.
Guest post by Jeana Kinne
Have you ever wanted to experience Hawaiian life from the sea?
Cruising the islands provides a unique experience, seeing islands from a different perspective, keeping kids entertained (even while traveling), and experiencing fresh Hawaiian foods every day!
If you like to move around and be entertained while traveling (instead of sitting in a car or plane), you won't be disappointed on the Norwegian 7-day island cruise!
Keep scrolling to learn more about Norwegian cruises in Hawaii.
Want to skip all the planning and just access my detailed Hawaii Itineraries complete with daily schedules, kid-friendly activities, and travel hacks? Click the button below.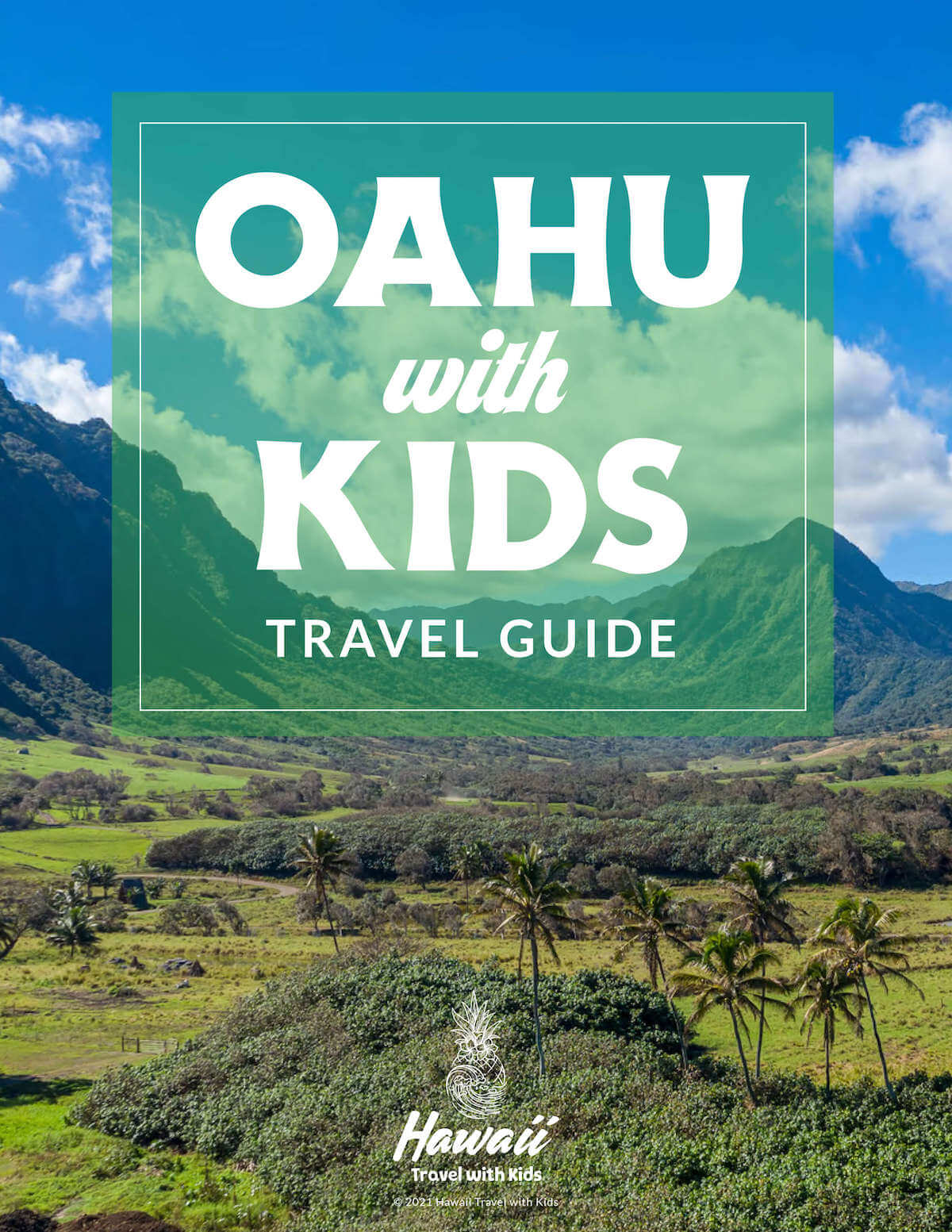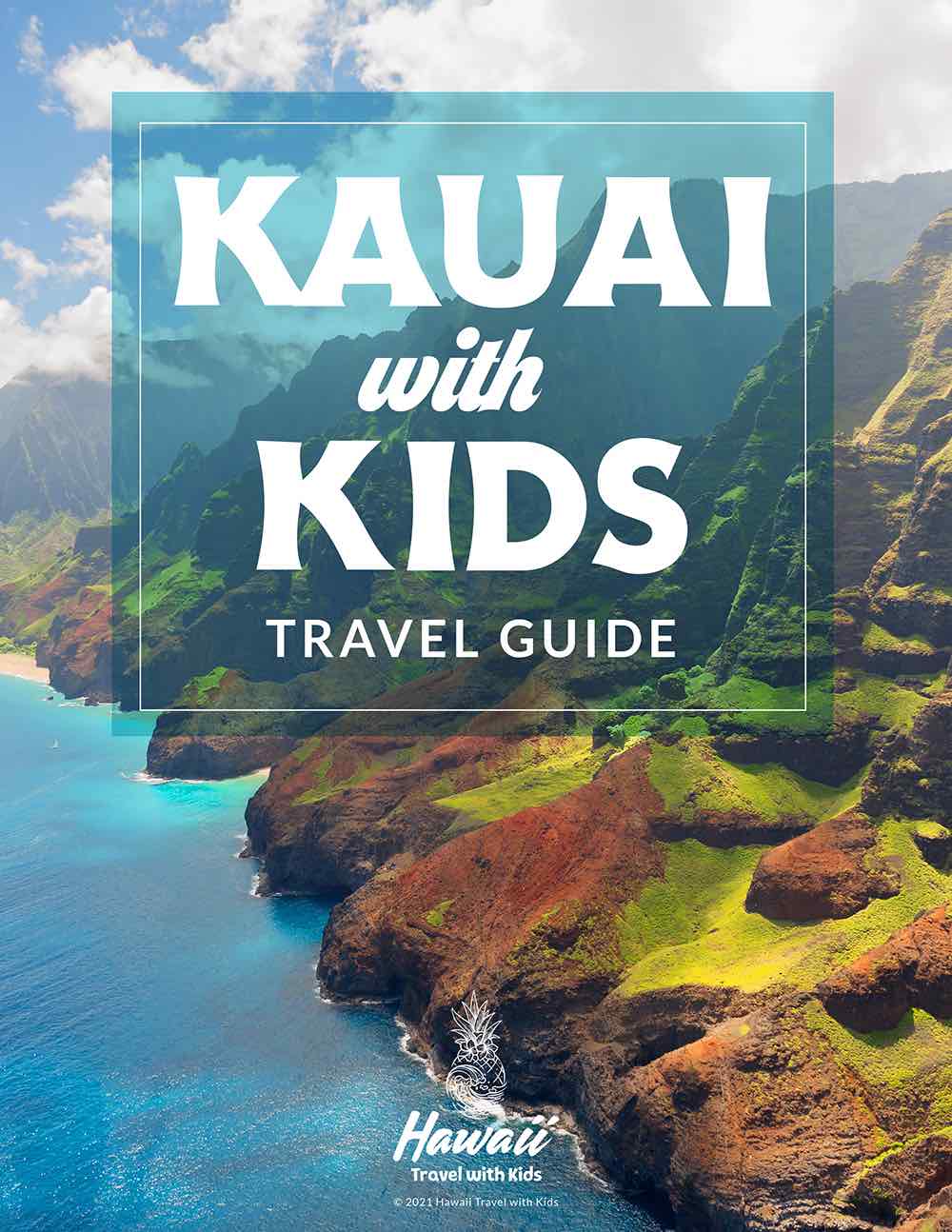 Hawaiian Island Cruise FAQs
Is a 7 day Hawaiian cruise enough time to explore Hawaii?
While I usually recommend that people spend 7 days on one island to explore, a 7 day Hawaii cruise is a great way to get a taste of all the islands so you know which one(s) to return to. Plus, you can always add on a few days either before or after your cruise to explore Oahu.
Which companies do cruises of the Hawaiian islands?
There are several cruise lines that go around Hawaii, such as Princess, Disney, Crystal, Holland America, and the Royal Caribbean. However, Norwegian Cruise Line has a ship that's based in Honolulu Hawaii. There's also a company called UnCruise Adventures that sails throughout Hawaii.
What is the best month to cruise to Hawaii?
If you're looking for the most bang for your buck, head to Hawaii in the fall. This is the shoulder season in Hawaii. And that's when you'll score the best deals on Hawaii cruises (especially in September and October). Plus, there are usually sales on flights to Oahu.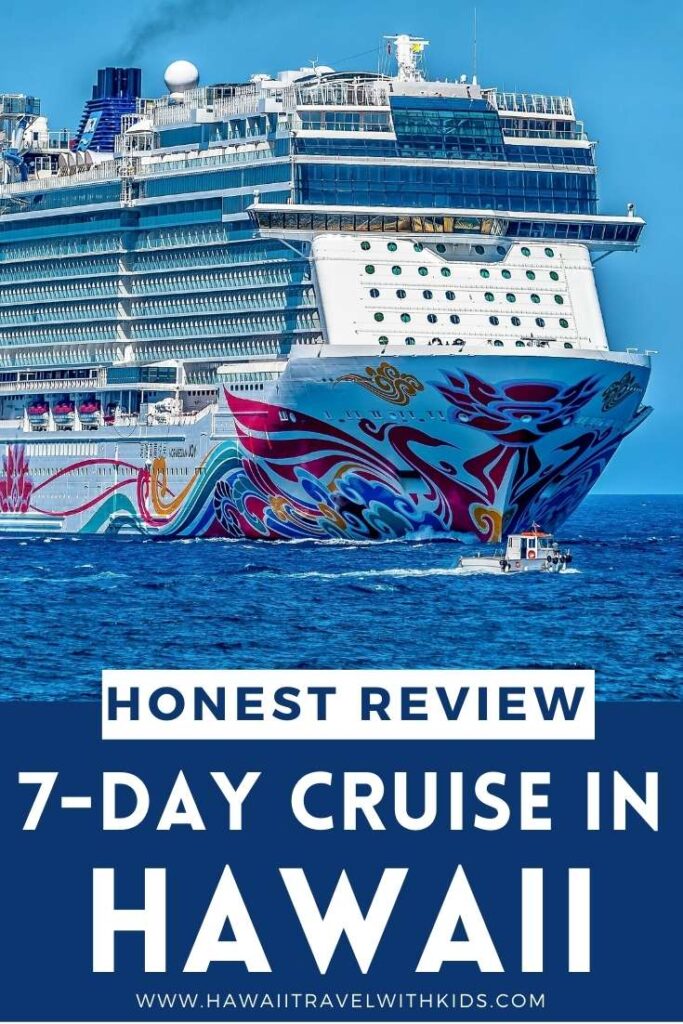 Why We Picked Norwegian Cruises in Hawaii
My husband and I chose to visit Hawaii for our honeymoon because we had never been to the islands before. It is something we had always wanted to do but didn't seem to have the time.
As we scoured the internet, searing at all of the different islands, it became overwhelming trying to figure out which islands to visit and for how long. We wanted to go to them all!
Soon we came across the Norwegian 7-day island hopping cruise. We were shocked at how many islands we could visit in such a short amount of time. This is one of many Hawaiian island cruises.
Taking this amazing Hawaiian cruise would give us a taste of what each island was about. And it would give us some insight on where we would want to spend more time on future island visits.
What Are Norwegian Hawaiian Cruises Like?
This was our very first cruise! We had no idea what we were walking into but as two people that love boating, we knew it would be great. We had no idea how much fun we would have. This 7-day Hawaiian cruise was so exciting, we left wanting to go on more!
As you walk into the cruise ship, Norwegian Cruiseline Pride of America, you are greeted with leis and some Hawaiian drinks! (Not a shabby way of commuting!)
The cruise ship was humongous. It reminded me of a resort that was floating on water! There were several stories, the first few floors had our rooms and the middle and top floors had dining and entertainment venues.
Activities/Entertainment
No matter what your interests are, you will find something that you love on the ship. There are sports courts, shopping areas, a casino, live entertainment, multiple pools, and hot tubs, a spa, a gym, and many bars and restaurants.
My favorite part was the "all you can eat" buffet that has food available all day long. So, you can eat when it's most convenient for your family. The never-ending ice cream machine was my husband's favorite!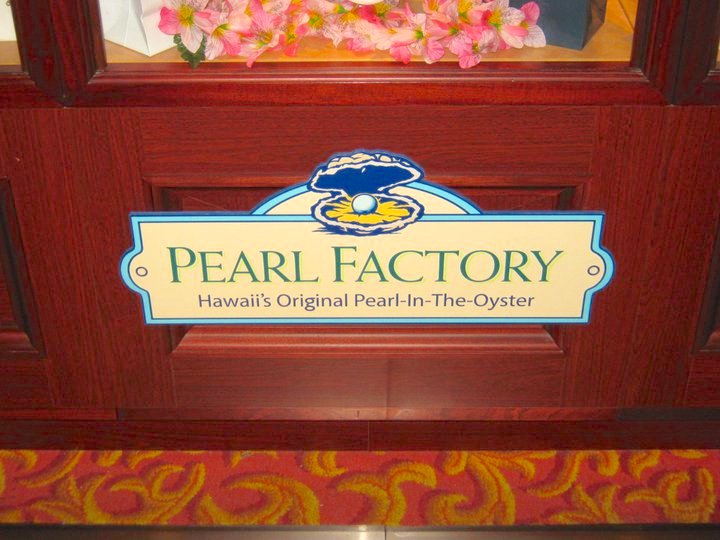 The middle deck had all of the entertainment venues, including the theater and shops. One of the shops is called the "PEARL Factory." This is where you can create your own pearl necklace by opening up your very own oyster. It is a one-of-a-kind experience. I wear that pearl necklace often.
There is endless entertainment for every age. The theater shows are truly magnificent. They are filled with talented actors and actresses, and there is a different show every night.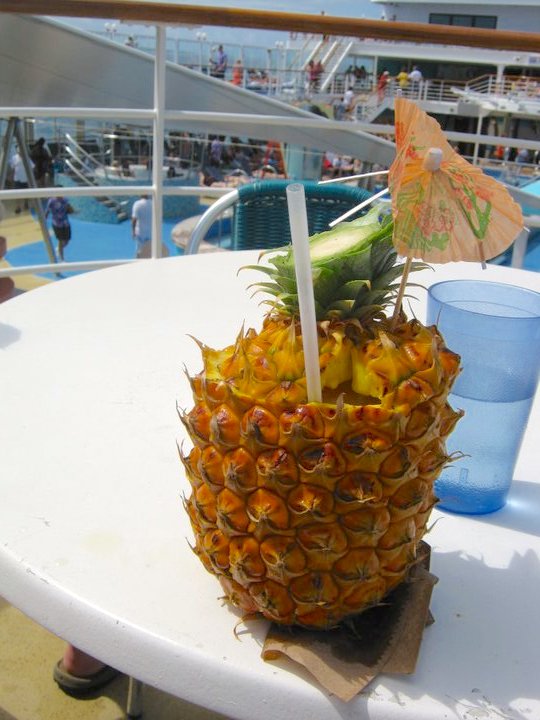 Just grab yourself a pina colada (given to you in a pineapple with a straw in it) and head into the stadium seating theater to watch a magic show, view a Broadway show, or watch singers that have all-star talent. There are poolside games, outdoor movie nights under the stars, and so much more!
Kids Area
If you have children, the Splash Children's Area will be a must-visit! This complimentary area is for kids only, filled with staff to watch children, facilitate games and activities just for kids! They go on "ship trips" around to kid-friendly activities and shows just for them.
These complimentary childcare areas watch children as young as 6 months old. They give parents some much-needed downtime to watch a show, spend some time in the adult's only hot tub, or get a massage. Find out more about what is available for children of all ages here.
Hawaii Shore Excursions
About a month before you depart on your cruise, you will want to book your shore excursions to make sure that you are able to take part in what you want to do. Shore excursion options include beach days, tours, active experiences and so much more.
You can book directly through the Norwegian cruise ship website. Or you can use Shoretrips.com, which is a smaller company that has trip options everywhere.
Shoretrips tend to have smaller group excursions and ones that last the entire day. They are created and reviewed by travel agents and their excursions are a wonderful way to explore the islands. For this particular cruise, we booked all of our excursions through Shoretrips.com.
Norwegian Hawaii Cruise Island Hopping
Experiencing the Hawaiian islands from a ship is very different than traveling by plane.
When you plan the Hawaiian Cruise, you don't have to think about lodging, plane tickets, food, transportation, or being certain places by specific times. The 7-Day Hawaiian Island Hopping cruise is all-inclusive, except for what activities you choose to do on each island.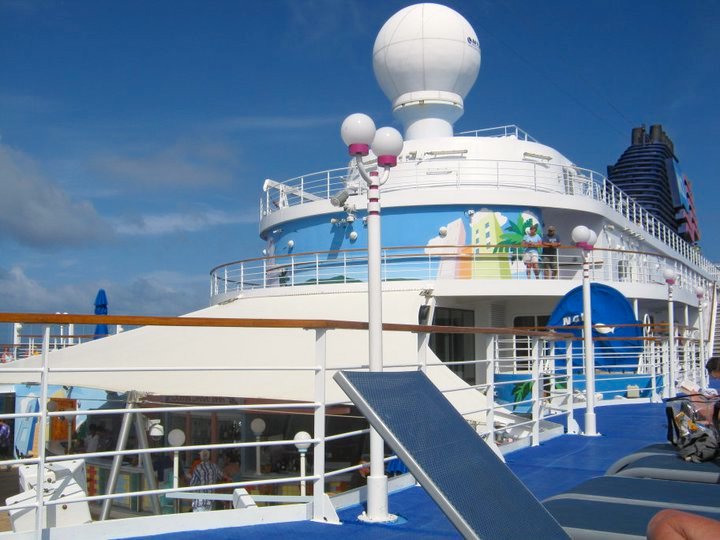 You never have to worry about how you are going to get somewhere, where you are going to eat (you have several restaurants and a buffet available to you 24 hours a day), or where you are going to stay.
Instead of spending part of your day traveling, by choosing the Norwegian Island Hopping cruise, you will travel while you sleep!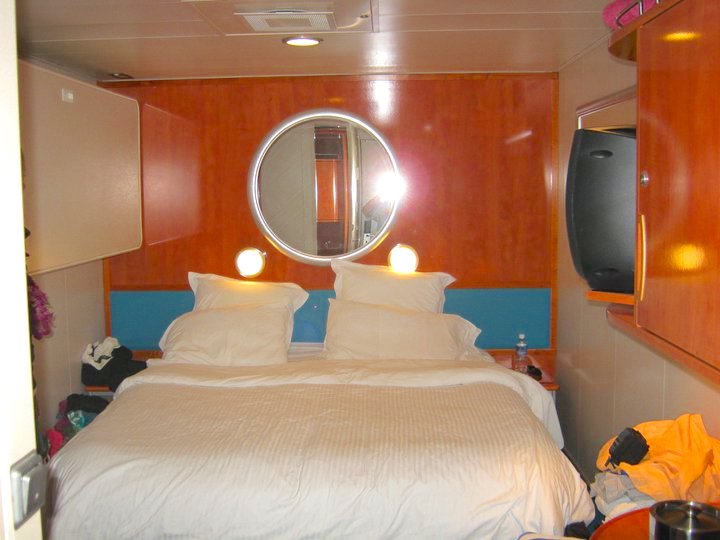 As this was our first cruise, we stayed in an indoor cabin, which was perfect for us. We slept in the room at night and were out and about throughout the day. So, we didn't need much room.
If you like to spend more time in your cabin, you can choose from an ocean view room, a balcony room, or even a suite. We would spend all day out on the islands, come back to the ship for dinner and evening entertainment, go to sleep, then wake up on a new island.
When you island hop by plane, you do see the islands by air. But when you island hop by boat, you see the island by sea.
Have you ever seen the Kawaikini mountains up close before? We had the privilege of seeing them under a rainbow when cruising by them on our last day of the cruise. The captain of the ship is always on the ship's loudspeaker when boating past landscapes, so you can run to the window to see, and point out rainbows and animals.
What is it Like to Cruise the Hawaii Islands?
Although you do spend a lot of time on the ship, you have plenty of time on each island. For most ports, you dock by 8:30 am and have until 6:00 pm on that island.
After spending a full day exploring the island, we looked forward to returning to the ship to shower, eat and relax. We did spend two days on Maui and two days on Kauai where we didn't need to be back on the boat by a certain time.
Honolulu Cruise Port
There are lots of Hawaii cruises from Honolulu. That's because it has a large port and most people fly into Honolulu International Airport.
The main port of Honolulu is off the beaten path from the main city. We didn't spend much time here as we wanted to board the ship early in order to find our rooms and get familiar with the ship, as this was our first cruising experience.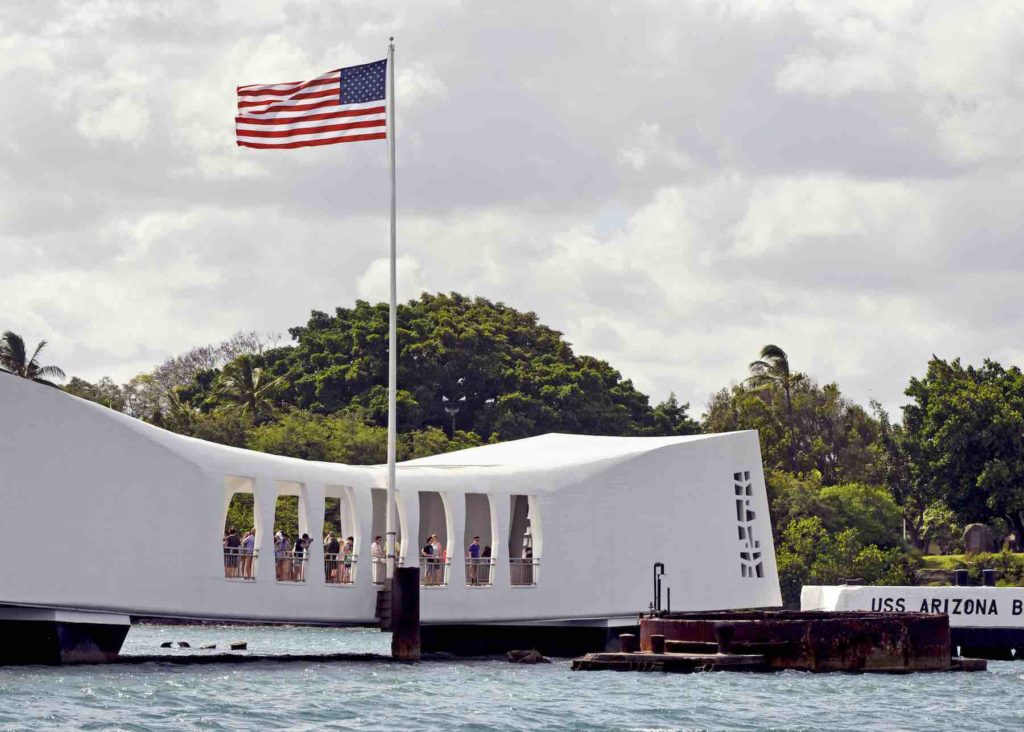 Some shipmates who had arrived earlier that week spent time exploring Honolulu, spending the day at the beach, shopping, or visiting Pearl Harbor.
Hawaii Cruise: Day 1
The cruise boarding started around 1 pm for early arrivals. After you complete the boarding line, and your bags are tagged, you are able to enter the ship. Your bags are delivered to your room by 4 pm that same day.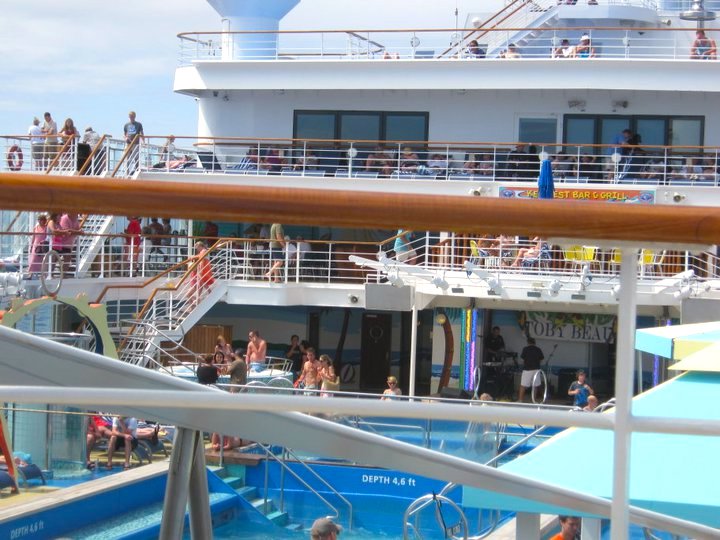 In between that time, you spend the day visiting different areas of the ship, familiarizing yourself with the layout, spending time laying out by the pool deck, and grabbing a snack at the buffet by the pool. There are plenty of activities to keep you occupied while you wait for the ship to depart from the port.
Maui Cruise Port
We arrived at Kahului (Maui) at 8 am on our second day of the cruise. After grabbing a hearty breakfast from that "build your own crepe" bar, we were ready for adventure.
Hawaii Cruise: Day 2
Since we chose to book shore excursions ahead of time, we had our tickets and our pick-up time already set. For this Maui Shore Excursion, we chose the Waterfalls and Rainforest Hike. This is still my favorite shore excursion to date!
On this excursion, we met our guide at 8:30 am outside of the terminal building. Children ages six years and older were allowed to join the hike. We were given water bottles, bagged lunch, and information on hiking the mountains.
This hike was an easy to moderate hike, walking up the rainforest hill on switchbacks, taking breaks every five minutes to eat something fresh right from the forest.
I refer to this hike as the "eat my way through rainforest hike!" Our guide was hilarious, and had us try edible roots, flowers, and fruit that were picked right in front of us!
We walked through the forest, over some streams until we came to a very large waterfall pond that we swam in! Some of the men and children did some cliff jumping and others swam under the waterfall.
We ate lunch at this waterfall and then headed back to the beach where we got back on the boat in time for a nice nap by the pool.
The cruise ship stayed overnight in Maui. So we were able to get off the ship and walk around the port that evening.
Hawaii Cruise: Day 3
The following morning we decided to spend the day at the beach, and do this through an excursion called "Beach Day in Maui." We met a tour bus at 9 am on the pier, which took us down to Wailea Beach.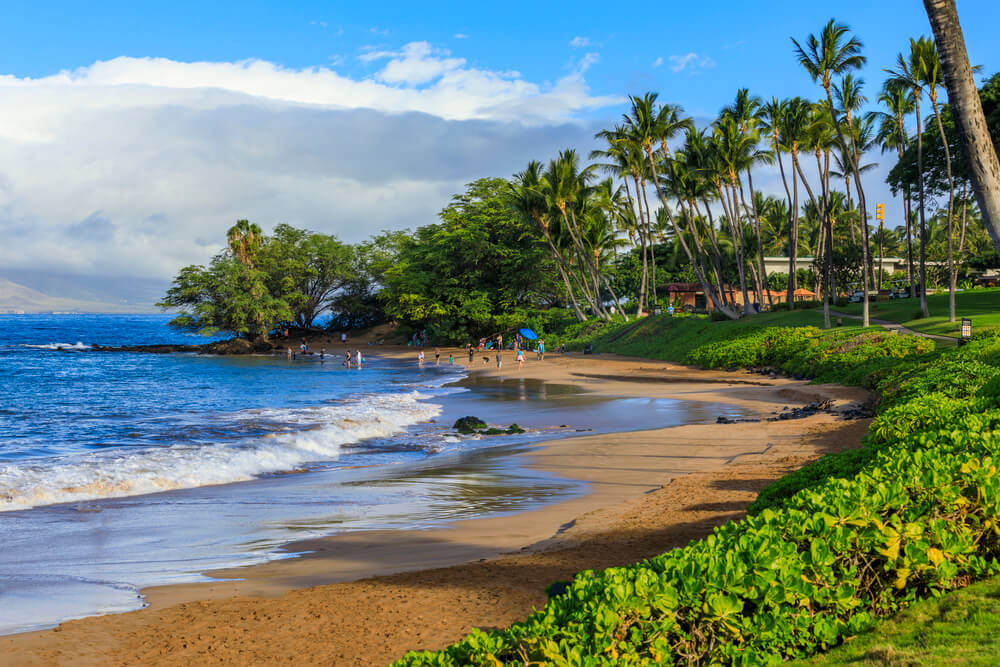 There were beach chairs and beach umbrellas there for rent, along with an area to buy food and drinks. We spent all day lounging by and swimming in the ocean, soaking up the amazing Hawaiian sun!
The Norwegian Cruiseline left the Maui port at 6 pm. We returned to the ship for onboard entertainment and dining.
There are so many different shore excursions to choose from on Maui, including food tours, snorkeling, ocean kayaking, and touring the Road to Hana. You can find all of the different shore excursion options for this port here:
Hilo Cruise Port
The next morning (day four of the 7-day Hawaiian cruise) we woke up in Hilo Hawaii. This is on the East side of the Big Island.
Hawaii Cruise: Day 4
Our trip for the day was a bike ride around the Kilauea Volcano at Hawaii Volcanoes National Park. We met our excursion guide in the terminal building and hopped into a van that took us to the top of the Kilauea volcano. Here we were able to view the volcano before we were fitted with our bikes and helmets.
Once on our bikes, we rode around the level, slightly inclined roads around the active volcano area. As we made our way to different areas of the volcano, we rode our bikes through empty lava tubes and explored volcanic ash.
Given that we just biked around a volcano, we chose to take a nap on the ship when we returned from the tour and stay on board for dinner. Our ship left the island at 6 pm that night as we headed to Kona, on the other side of the Big Island.
For those that aren't into biking around volcanos, there are many other excursions available to choose from waterfall hikes, zipline tours, volcanic tours, Japanese gardens, and much more. You can view more options here.
Kona Cruse Port
Kona is an amazing area, filled with volcanic ash areas, coffee plantations, and so much more. Since we had explored volcanoes in Hilo, we decided to spend this day in the water.
Hawaii Cruise: Day 5
At 8 am, our guide met us on the front of deck 5, prepping us for our exciting day kayaking and snorkeling in the Pacific Ocean.
This Kona excursion was for children ages 10 years old or older. It included transportation to the beach, kayak equipment, and snorkeling equipment.
This 3 ½ mile, round trip kayaking experience isn't for the faint of heart. Kayaking in the ocean includes some pretty large waves! This was my first experience kayaking in an ocean and it was amazing!
The coral reefs and fish that we saw under the water during our snorkeling hour were amazing. The vibrant colors and landscape of the hidden beach cove kept the large waves out!
This half-day trip ended by dropping us back off at the ship in time for lunch. There are many different excursions available in Kona, including coffee and wine tasting, a history bus tour, small cruises, catamaran, hiking tours, submarine tours and so much more.
You can find more Kona excursions available through NCL 7- Day Island Hopping Hawaiian cruise here.
Kauai Cruise Port
Kauai was our last stop in this seven-day island hopping Hawaiin cruise with NCL. We were able to spend two days on this amazing island. And we tried to experience as much of it as we could.
Hawaii Cruise: Day 6
On the first day, we chose the CJM Country Stables horseback riding beach tour. These horses were amazingly calm (especially for a novice rider!)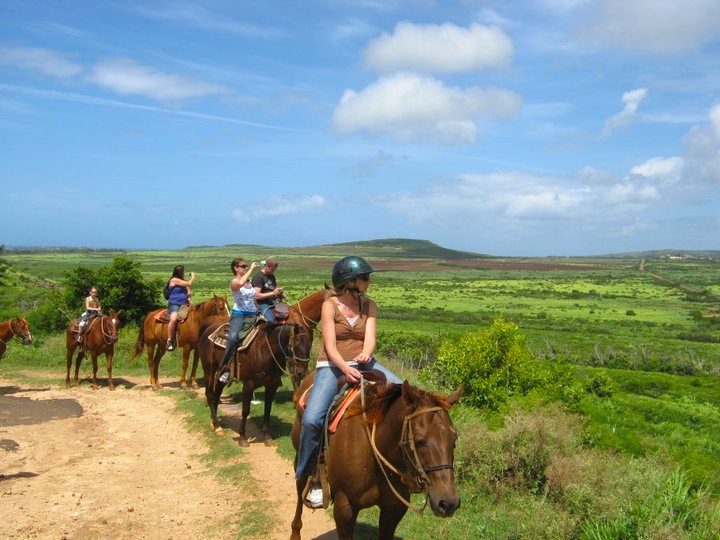 We explored the backcountry, sea cliffs, and sandy beaches, all by horseback. This is a wonderful tour for children and adults who want to see an island from horseback!
Once we returned to the ship, we ate lunch then left for our afternoon adventure. We hailed a taxi and explored Opaeka Falls, Wailua River, Wailua Falls, Menehune Fish pond, Kauai Lagoons, and Sea Turtle Cove.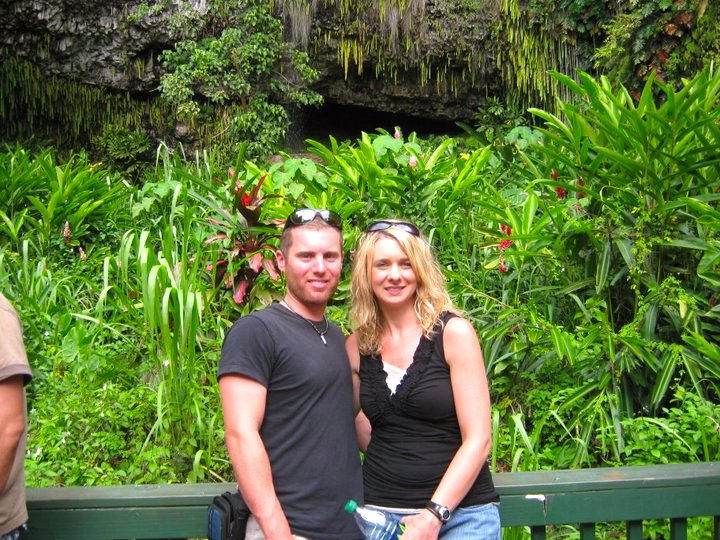 On our way back to the cruise ship, we saw a sign for the Fern Grotto Wailua River Cruise and I had to stop! This wonderful cruise was $20 per person ($10 for children under 10) for a 90-minute roundtrip tour of the Wailua River.
As you ride the boat down the grotto, we were serenaded by traditional Hawaiian music (live) and stories of the history of the river. It included a short, twenty-minute nature walk through the rainforest to the fern grotto and historic cave.
Hawaii Cruise: Day 7
The following day was our last full day on the cruise and what better way to end a trip than to get dirty?
Yes! We went mudbugging with the Mud Bug Waterfall Safari tour from the Kauai ATV company. And oh what a trip it was!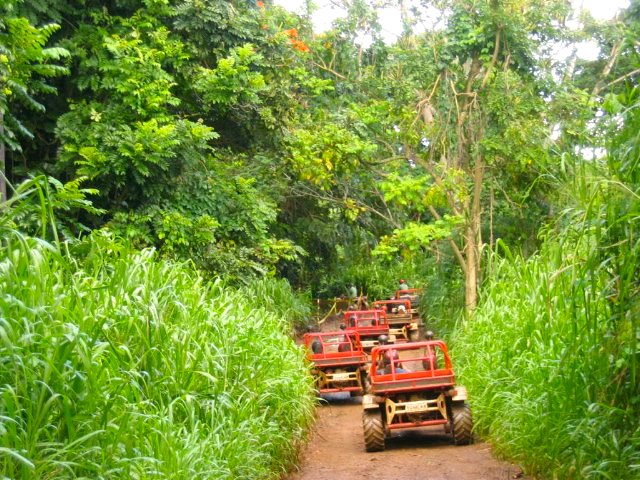 We left at 6:45 am in a small bus to our ATV nook. From here, we were given old shirts and pants to put over our clothes, as we were headed through wet lava (a VERY stainable mud!) at high rates of speed!
We splashed through the rain puddles and drove past the area where Jurassic Park movies were filmed. We cleaned off in a waterfall before heading back to port.
There is a huge variety of Kauai excursion options including evening Hawaiian luaus (this is the island that most people saw live luaus on), hiking, brewery tours, zip-lining, kayaking, and walking tours.
You can find more about the NCL Kauai excursions here.
The NCL cruise ship left the Kauai port at 2pm that day as we had to make it back to Honolulu to depart the cruise the next morning.
So, is a Norwegian Hawaiian Cruise Worth it?
We had so much fun on this cruise. The ability to visit multiple islands and not worry about traveling or getting to places on time made vacation really feel like a vacation.
Everything was paid for ahead of time, so there was no stress about money. The food was delicious and there was a variety of entertainment.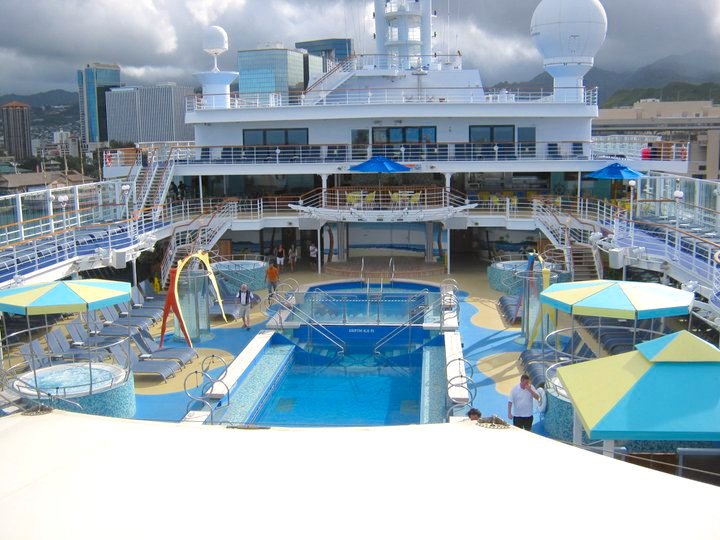 I highly recommend this cruise if you haven't been to the islands before, or if you are wanting to experience the islands from a different view.
The Norwegian 7 Day Hawaiian Island Hopping cruise was great for those who have seasickness, since the boat stayed between islands and didn't travel far out to sea.
We had the most amazing time and I can't wait to hear how you like it too!
About Jeana
Jeana Kinne is a children's book author of the Sammy the Golden Dog children's books for preschoolers and early elementary-aged children. When she isn't working with infants and toddlers with special needs, she and her husband love to travel and experience new places around the world. You can find her at www.JDEducational.com.