If you're heading to Hawaii with kids, you'll definitely need to pack a kids rash guard to protect your child from the strong UV rays. Keep scrolling to find out the best kids rash shirts for your next trip to Hawaii.
This post about the best kids rash guard contains affiliate links which means if you purchase something from one of my affiliate links, I may earn a small commission that goes back into maintaining this blog.
Traveling to Hawaii always means preparing for all the activities you're going to be doing, like snorkeling, kayaking, hiking, going to luaus, and more.
Traveling with kids, on the other hand, will mean preparing 10x more than usual. It means reviewing all the activities you might do while in Hawaii.
Our guides like the 101 Best Things to Do on Kauai with Kids, 17 Historical Places in Hawaii to Visit with Kids, and Kid-friendly Guide to the Best Kauai Beaches, Hotels, and Activities will help any parent plan their family's trip to Hawaii.
With all those water activities planned out, it's important to keep your kids geared and ready to go.
In this article, we've put together a list of the best rash guards for kids that are fit for water activities ranging from casual swimming at the hotel swimming pool to exploring tidepools in the Islands!
Don't miss my top beach essentials for babies!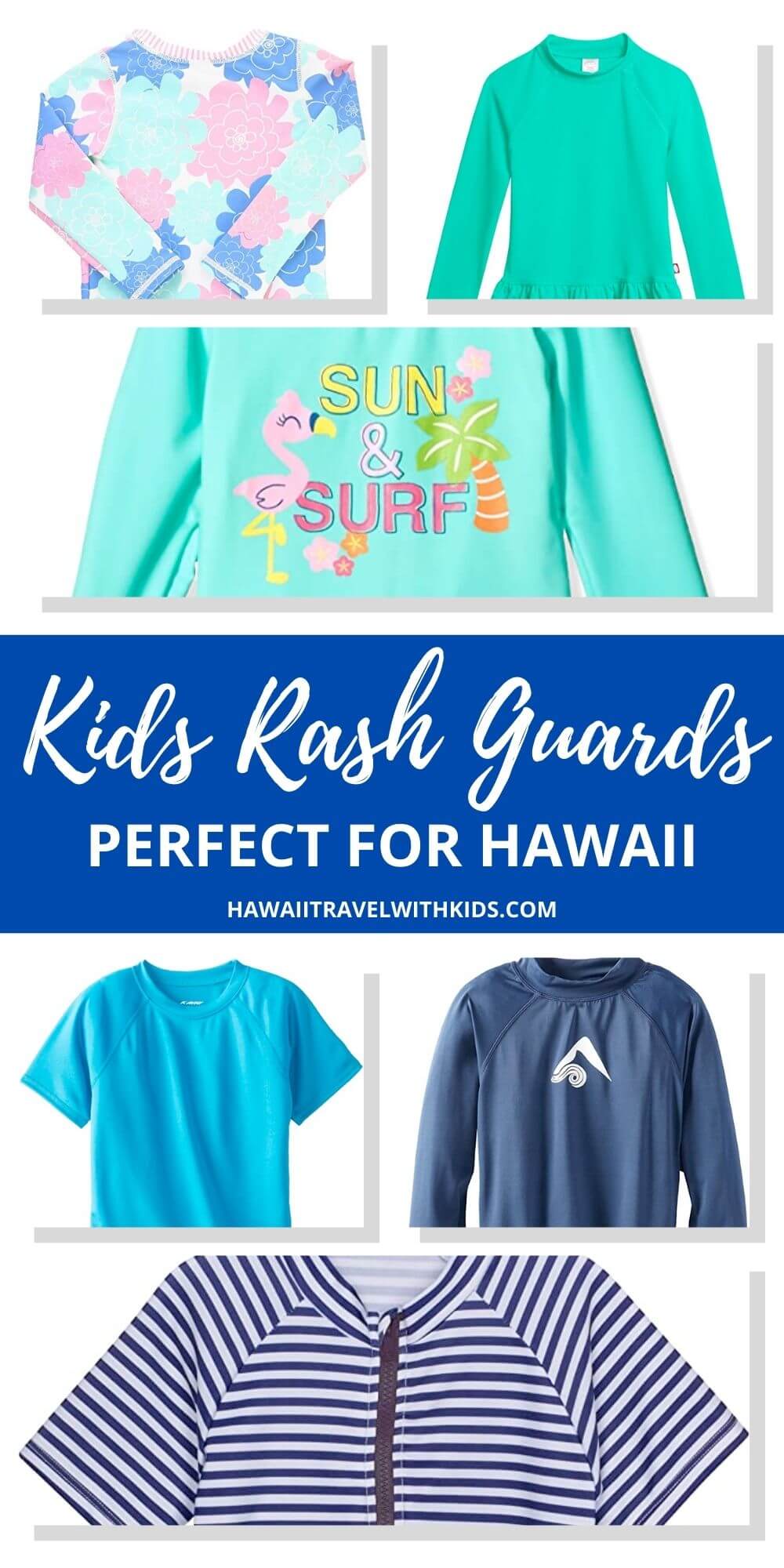 Kids Rash Guards FAQs
Should toddlers wear rash guards?
Absolutely. It's important for kids of all ages to keep their skin protected from the sun's harsh rays. It's extra important for toddlers because they often try to wriggle away from sunscreen.
Can you swim in rash guards?
Yes! They are made from material that works really well in the water. So much more comfortable than trying to wear cotton t-shirts. Plus, they dry really quickly.
Should rash guards be tight?
Usually, you'll want to make sure that rash guards fit snugly. If they are too loose, they might cause uncomfortable chaffing.
The Best Kids Rash Guards for Girls
Girls are definitely people who are more inclined to focus on detail.
We've put together some of the best rashguards for girls that have great design, high comfort, and have a high UPF rating.
So, what are you waiting for, moms? Read up and head on over to Amazon to check out these beautiful rash guards for girls.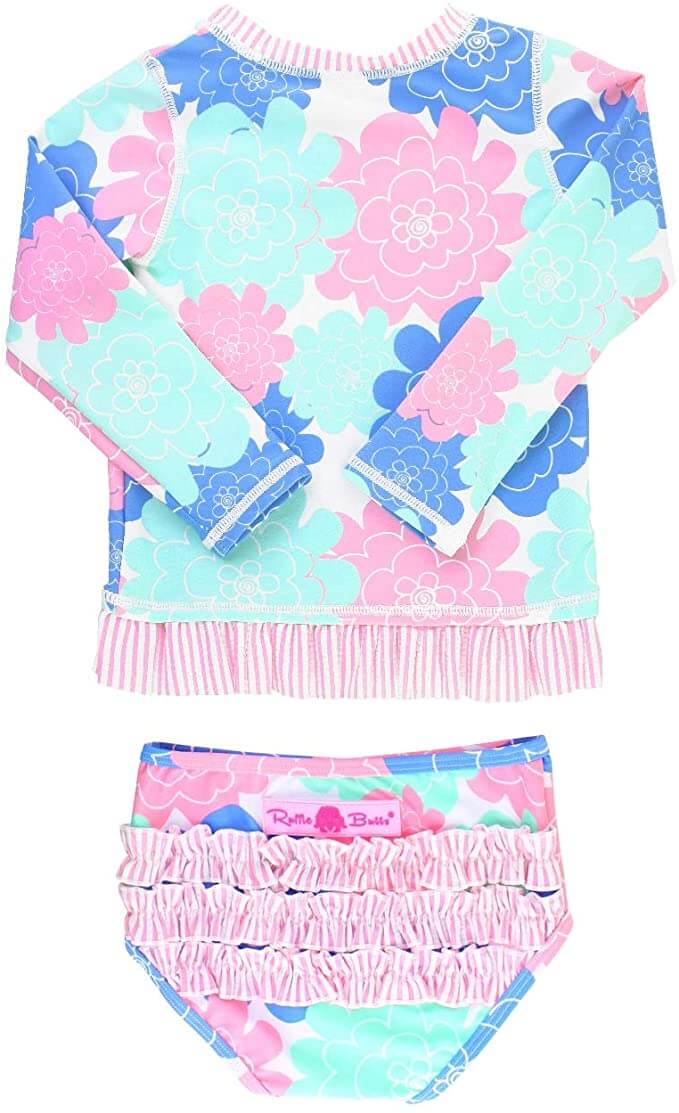 The RuffleButts Girls' Rash Guard is a two-piece swimsuit set that comes in seven equally beautiful and stylish designs.
Among the seven designs, three floral designs are perfect for Hawaii-themed photos.
This baby rash guard suit is made up of 80% Nylon and 20% Spandex, perfect for the Hawaiian weather. The rash guard comes in 8 sizes, including ages 2 to 10. Check out the latest prices and more details.
As a result, your toddlers and girls can enjoy all the activities under the Hawaiian sun.
One of the most important things to consider when choosing the right rash guards for your kids is whether it has sun protection.
For example, the RuffleButts Girls' Long-sleeved Rash Guard has a built-in UPF of 50+, allowing for less worrying about sunburns!
The rash guard is designed with a stretchy neckline is easy to pull on and off without the need for a zipper. The rash guard and bottoms ensure full and modest coverage, all comfortable for playing, swimming, and strolling around the island.
Buy this girls rash guard set on Amazon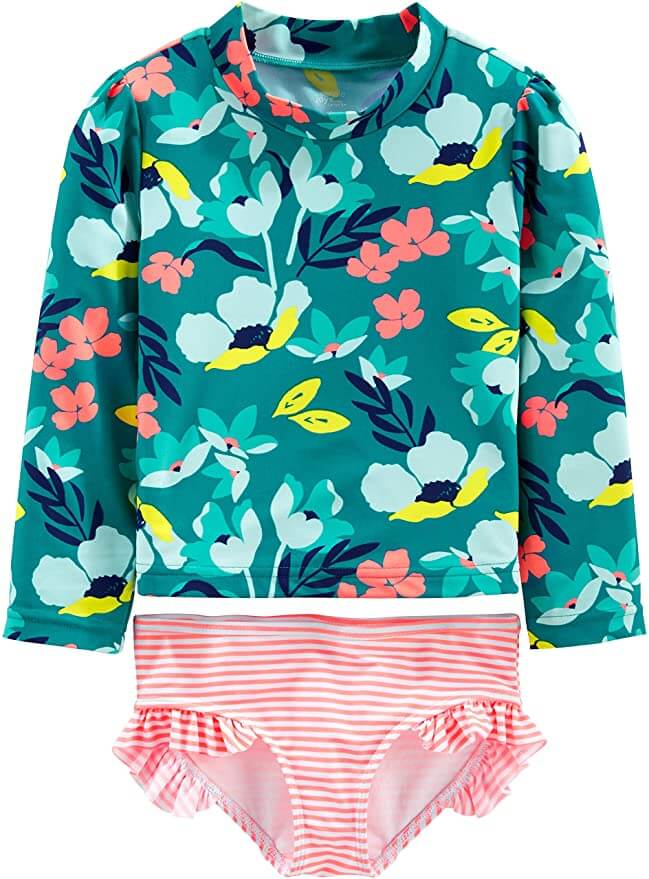 The Simple Joys Rash Guard for Girls is perfect for your little ones' Hawaiian activities.
The two-piece infant rash guard comes in five fun designs, making it perfect for any toddler's blooming personality. Specifically, the Floral and Popsicle designs reflect all the great activities your little girls can enjoy in the islands.
In addition, 83% of the fabric is made of polyester and 17% Elastane. Much like other swimsuits, the rash guard is only hand-washable. Check out the latest prices and more details.
This baby rash guard swimsuit is made specifically for babies and toddlers aged 3-24 months, making it something parents can buy in multiples sizes.
At the price of $15-$16, you'll surely get a bang for your buck and have your little ones prance around in cute outfits!
Buy this adorable baby girl rash guard swimsuit on Amazon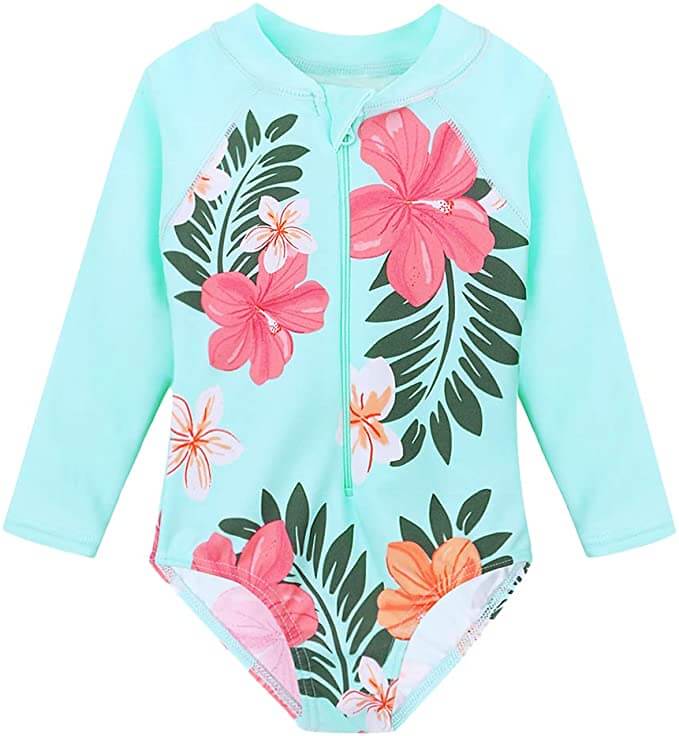 Ah, yes. The TFJH Kids Rash Guard for Girls is perfect for our little surfer girls!
The suit comes in twelve colorful designs that will make your tropical holiday one for the books.
Aside from this, the rash guard comes in 5 sizes, making it a great rash guard for children aged 4 to 11. Check out the latest prices and more details.
The rashguard also has a 50+ UPF rating, blocking out more than 97% of the sun's harmful Ultraviolet radiation.
An important factor in purchasing youth rash guards or any swimsuits is whether or not they can withstand chlorine and saltwater. You don't want to waste your cash on suits that won't last.
The TFJH Rashguard for girls is both Chlorine and saltwater-resistant, making sure that your kids can make use of this suit multiple times without worrying about faded prints or tears.
It's definitely a contender for the best rash guard for kids!
Buy this girls rash guard set on Amazon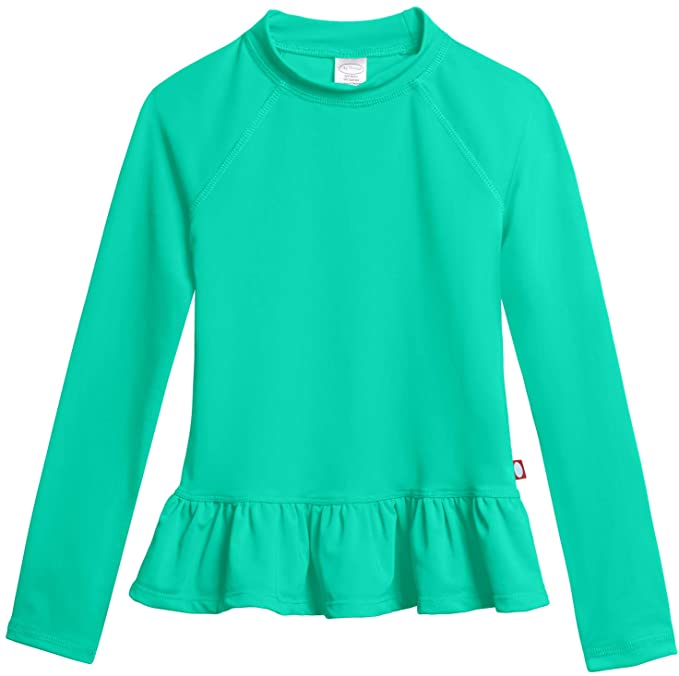 One of the daintier rash guards on the list, the City Threads Big Girls' Rashguard comes in 10 colorful designs.
Unlike the first couple of rashguards on this list, the City Threads Rashguard for Girls is a single top made of 82% nylon and 18% spandex. Check out the latest prices and more details.
It's beautifully made and has been associated with the kids of various celebrities like Ashlee Simpson Wentz, Christina Aguilera, and Sandra Bullock. Talk about fancy!
The rashguard's smooth and silky fabric ensures 100% comfortability.
The fabric is also made with UPF 50+ sun protection so your girls can play and swim all day without the worry of sunburn!
Buy this cute girls rash guard set on Amazon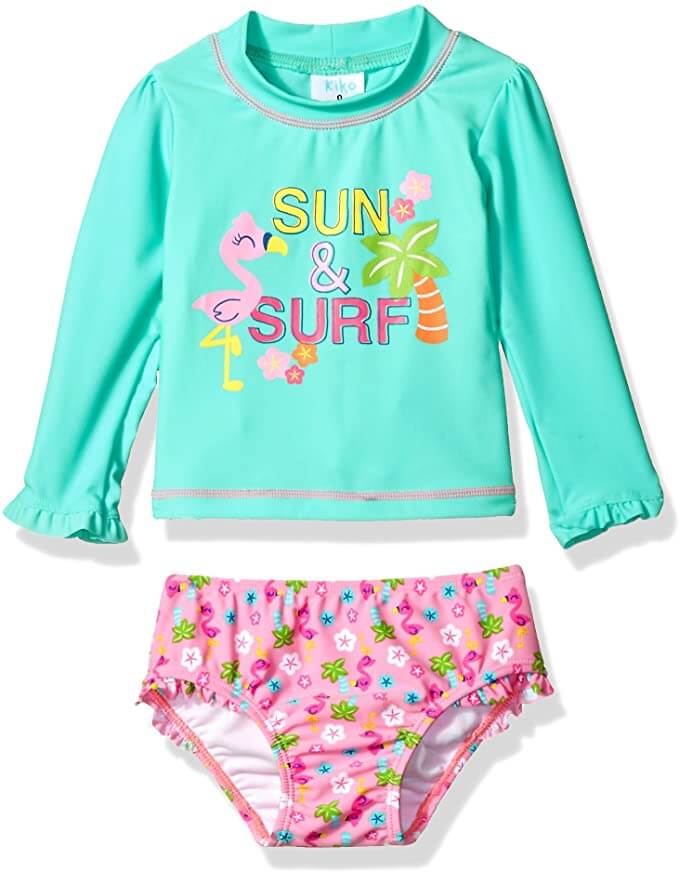 Another cute two-piece rashguard set for your toddlers is from Kiko & Max.
The rashguard for girls comes in 9 beautiful and tropical designs. It is made with 100% Polyester, has a pull-on closure, and is hand-washable. Check out the latest prices and more details.
In addition, the swimsuit has a UPF rating of 50+. The suit holds well over multiple swims, perfect for all those swims under the Hawaiian sun.
Aside from this, parents can easily fit swim diapers in the bottoms for all-day comfort! Definitely one of the cutest baby rash guard swimwear I've seen!
Buy this baby swim rash guard for girls on Amazon
The Best Rash Guards for Boys
While boys are sometimes more focused on the activities rather than what they'd be wearing, you'll still want to find rashguards that protect your little boys' adventures in the islands.
We've chosen a couple of rashguards that are both fashionable, sturdy, and require no fuss.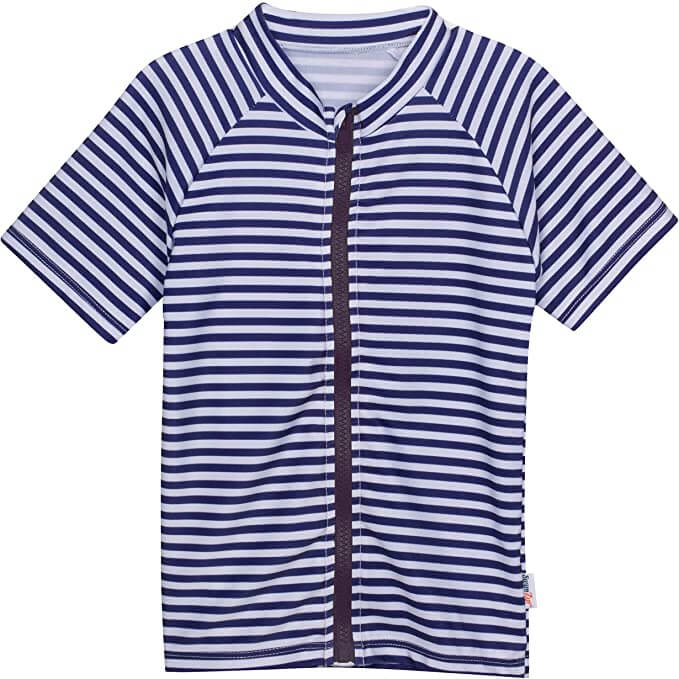 Dress up your little boys in a variety of 12 designs that keep them protected from sunburns!
SwimZip's short-sleeved rashguard has built-in sun protection of UPF 50+, blocking over 98% of UVA & IVB Rays. Fewer worries about sunburns mean more time to enjoy the beach and tidepools all over the island.
The rashguard comes in a variety of sizes, meaning you mix and match your kids! They offer rashguards that can fit newborns to kids aged 14! Check out the latest prices and more details.
The SwimZip short-sleeve rashguard is well-known for providing comfort. The rashguard is designed with a zipper garage, making sure that your boys don't get chaffing.
This boy rash guard swimwear also doesn't come with a neck tag, removing the usual itchy neck ordeal.
SwimZip's rashguard is designed with your kids in mind; less hassle and more time for play!
Buy this boys rash shirt on Amazon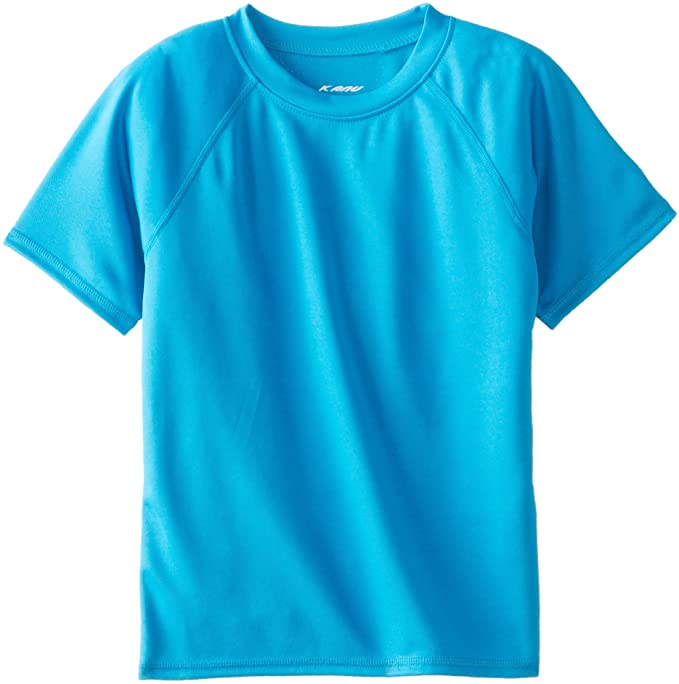 The Kanu Surf Boys' Rash Guard holds the top spot as the bestseller in Boys' Rash Guard shirts on Amazon and here's why: it's easy, fuss-free, and efficient!
It comes in 32 cool colors and designs. Kids aged 2 to 16 can enjoy this fuss-free rashguard that's made up of 100% Polyester anywhere. Check out the latest prices and more details.
Kanu is praised as one of the best sellers of rashguards because of its history creating swimwear for surfers.
Their swimwear, especially the short-sleeved rashguard for boys, is lightweight, made of quick-dry material, breathable, and is equipped with a UPF rating of 50+.
The rashguard's loose fit is more comfortable and versatile. The rashguard can be used for different types of activities including running, swimming, and working out.
Dress your boys in the bright neon colors to easily keep an eye on them during swims!
Buy these kids swim shirts on Amazon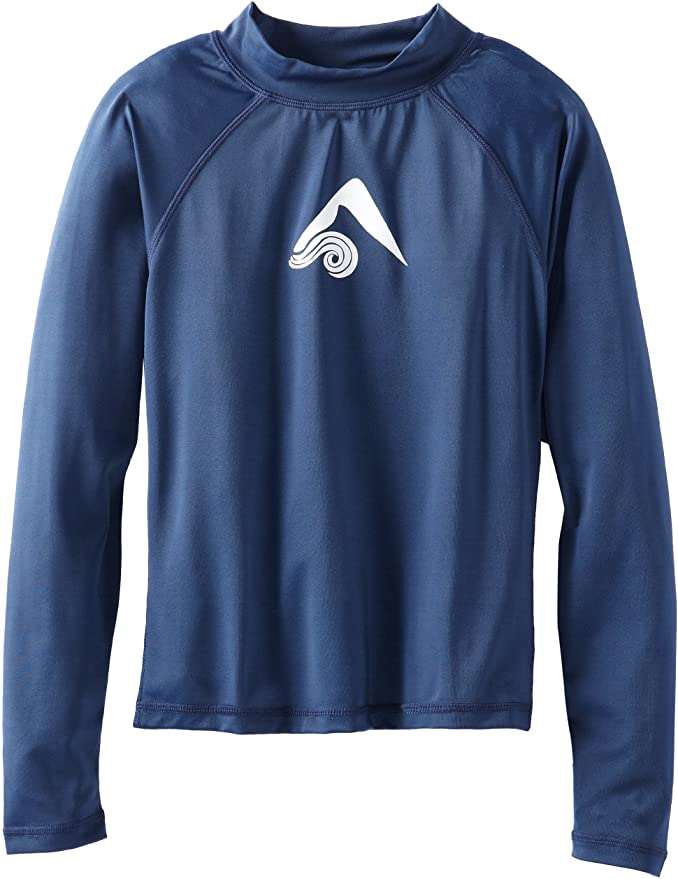 Another contender for best rashguard for boys is another rashguard from Kanu Surf. The Platinum Rashguard comes in ten colorful designs.
The sizes are categorized into three: toddler, big, and little boys. Each category then includes the sizes that would fit that age group. Check out the latest prices and more details.
The Platinum Rashguard for boys is made up of 83% Nylon and 17% Spandex, machine-washable and has a UPF rating of 50+.
The Platinum Rashguard is equipped with long sleeves to ensure sun protection and maximum coverage. Kanu Surf's quicky dry ability allows for convenient dips around the various beaches on the island.
Buy this kids long sleeve rash guard on Amazon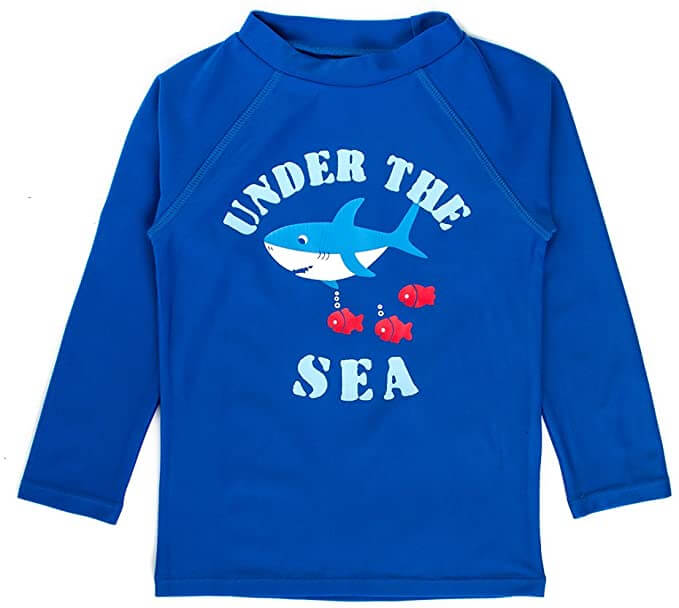 The Estamico Boys' Long-Sleeved Rashguard Shirt is perfect for all the Hawaiian activities you've got planned.
The rashguard for boys is incredibly versatile, perfect for going to the park to swimming in the pool. It comes in 12 colors and designs. Check out the latest prices and more details.
This super cute baby boy rash guard is made of 82% Nylon and 18% Spandex, made of durable, stretchy, and quick-dry fabric. The long-sleeved rashguard is also ideal for sun protection since it has a UPF rating of 50+.
In addition, the baby swim shirt is designed as a slim fit. It's also advised that parents who don't think their kids will like the fit should order a higher size.
The high-collar design also protects the neck from any sunburns on the neck.
Buy these kids rash shirts on Amazon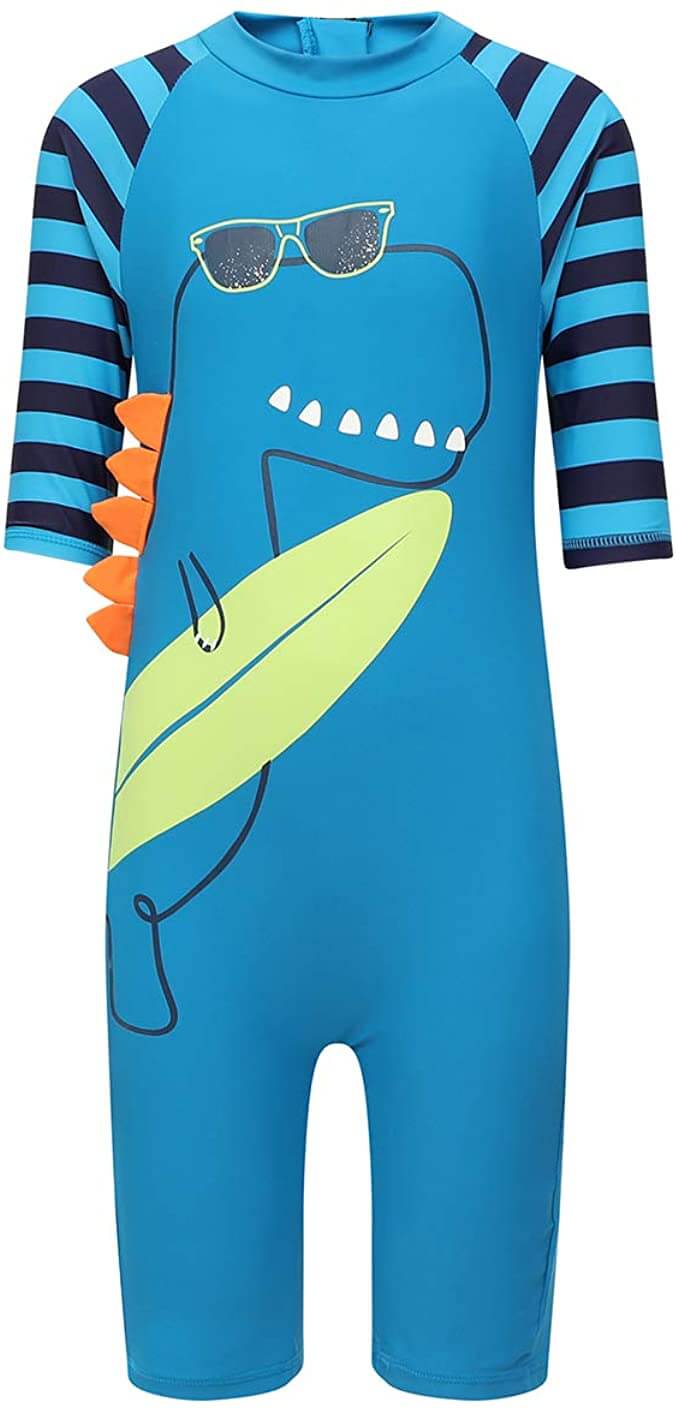 The PHIBEE One-piece Sun & Sea Suit is constructed with a durable and stretchy fabric. The fabric that consists of 82% Nylon and 18% Spandex is also made with maximum Chlorine resistance to ensure the longevity of wear.
The suit is also constructed with quick-dry technology, lightweight material, and includes a UPF rating of 50+ as sun protection. Check out the latest prices and more details.
The PHIBEE boys' one-piece sun & sea suit is the perfect rashguard for boys who love to go on adventures. Its half sleeve and back-zip design with cover flap make it easier for your boys to wear and remove it.
The suit comes in 5 cool and eye-catching designs that would suit boys aged 2-10.
Buy this boy rash guard swimwear on Amazon
Overall, all these kids rash guards are perfect for all day fun in the sun. The suits all value sun protection and ease of use.