Are you thinking about cooking with pineapple outside of dessert dishes? Keep scrolling for some amazing savory pineapple recipes full of tropical flavor!
This savory pineapple recipes roundup contains affiliate links which means if you purchase something from one of my affiliate links, I may earn a small commission that goes back into maintaining this blog.
Don't Want to Scroll? Here Are the Top Savory Pineapple Recipes
hide
My family is pretty obsessed with anything pineapple. Of course, we love yummy pineapple desserts like Dole Whip and Pineapple Ice Cream.
But, we're also fans of dinner recipes with pineapple. Adding just a touch of sweetness really intensifies the flavors of some of our favorite dishes.
So, I thought I'd pull together some awesome recipes with pineapple that are perfect for dinner.
Keep scrolling for the best pineapple pork chop recipes, zesty pineapple salmon recipes, punchy pineapple shrimp recipes, and so much more!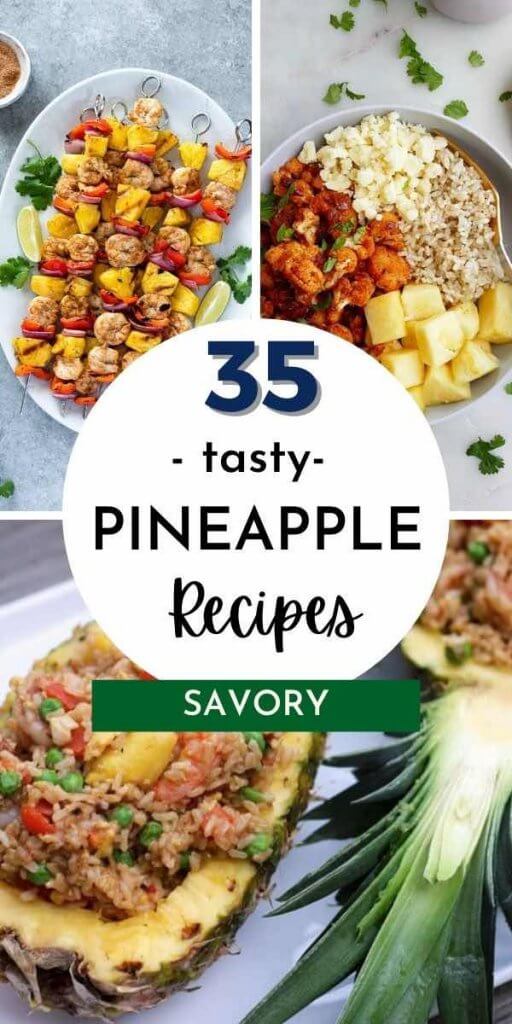 35 Savory Pineapple Recipes Worth Trying
Here are some of the top pineapple savory recipes I've found!
PINEAPPLE CHICKEN RECIPES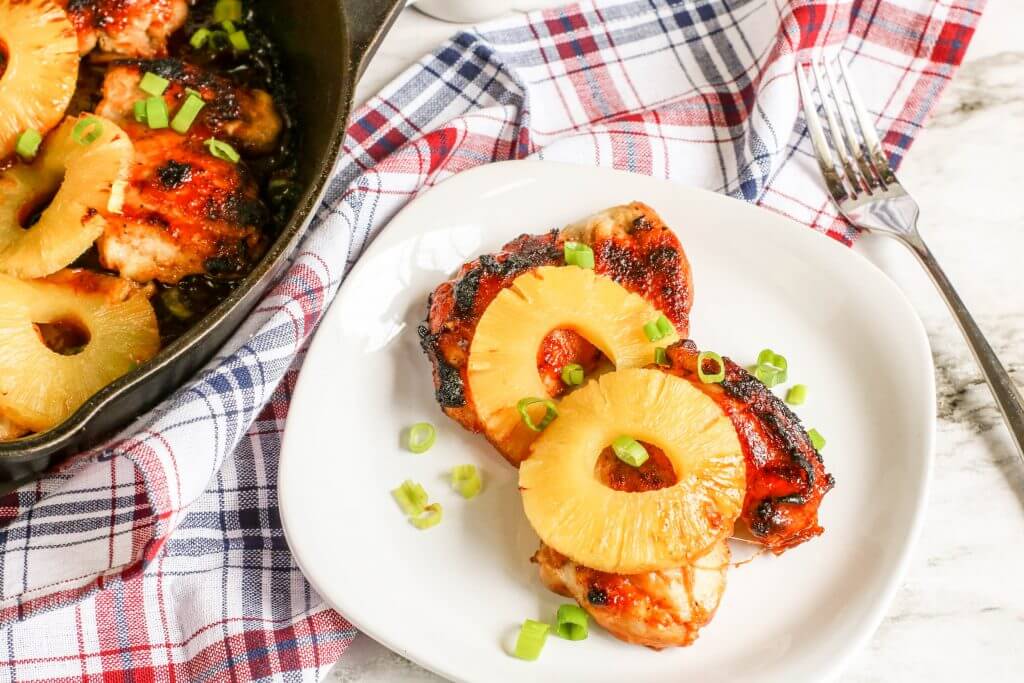 When it comes to pineapple and chicken recipes, this one is a slam dunk! It's sweet, sticky, and has a little kick to it!
It is one of the easy Hawaiian dishes with pineapple!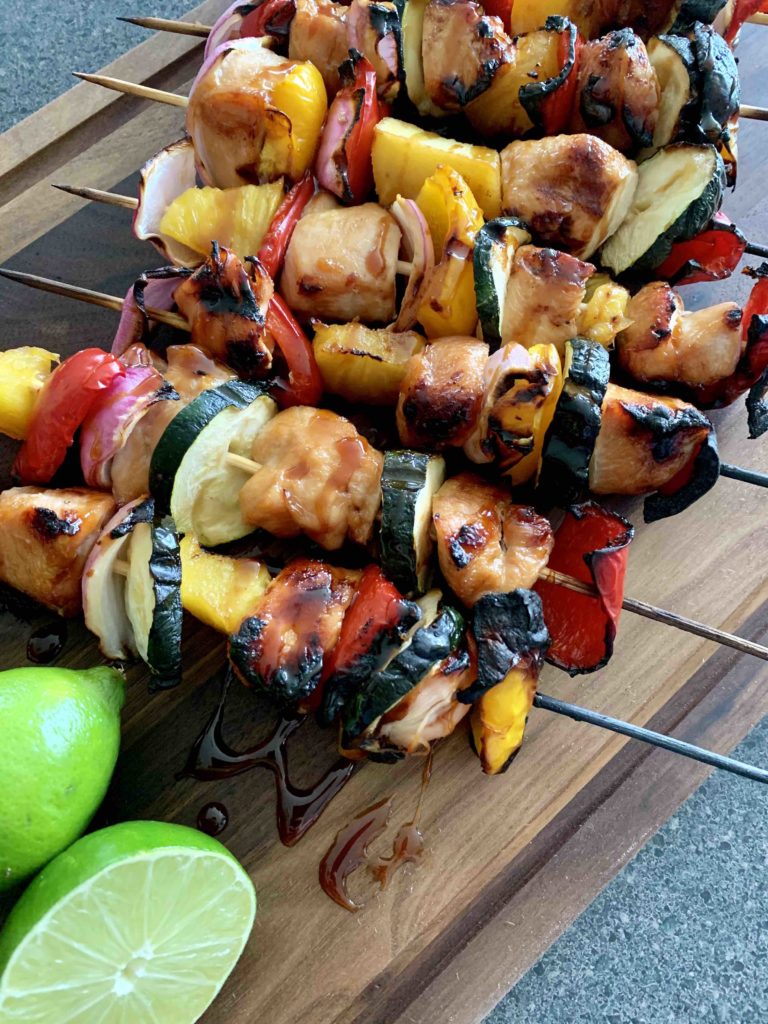 This pineapple chicken breast recipe is a light, healthy, and flavorful meal to make on the grill.
Enjoy over hot steamed rice or eat them right off the skewer! It is one of the pineapple dinner ideas my kids love to have!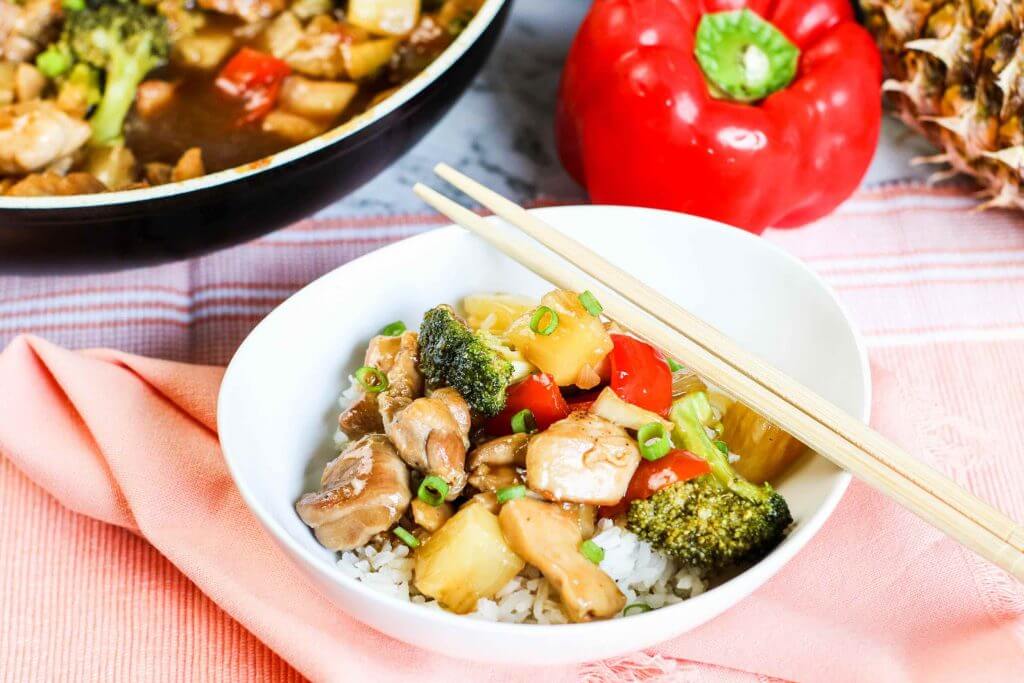 This Hawaiian pineapple chicken recipe is light and healthy. It's one of the best savory pineapple recipes for summer nights and you can throw in extra veggies or swap the chicken for pork.
It is one of the top pineapple recipes for kids as you can easily change up the veggies to make what your kids like.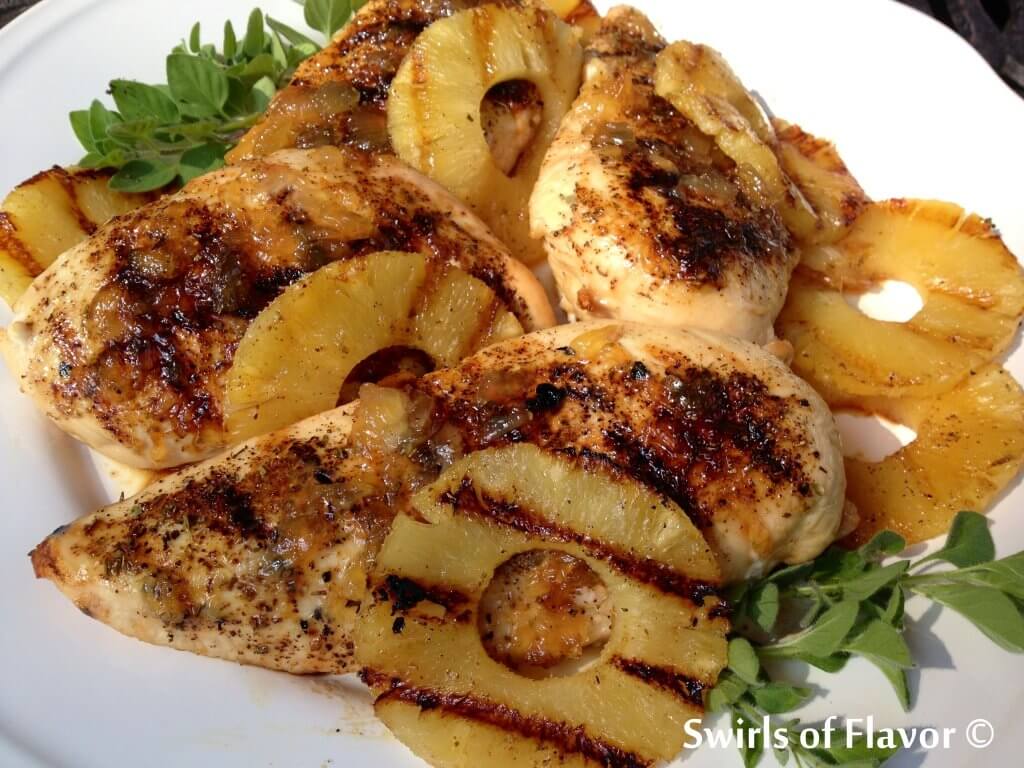 Grilled Pineapple Rum Glazed Chicken Breasts is an easy recipe for grilling season that will transport you to a tropical paradise.
Chicken breasts and pineapple slices are seasoned then topped with a pineapple preserves and rum glaze and grilled to perfection.
Doesn't this sound like one of the best dinner ideas with pineapple?
This grilled Hawaiian chicken is stuffed with ham, fresh pineapple and melted smoked Jarlsberg cheese with a sticky sweet teriyaki glaze.
It is one of the top pineapple meals you will love to try out!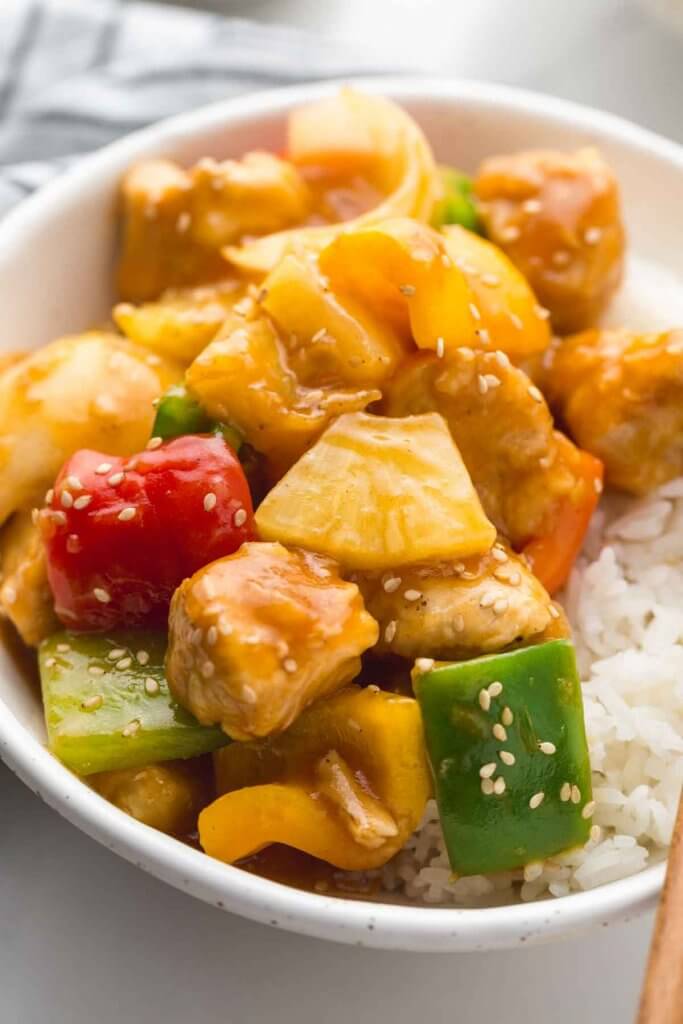 Super delicious Instant Pot Sweet and Sour Chicken made healthier and more flavorful.
Chicken is cooked with pineapple and bell peppers covered in a sweet glaze-like sauce and ready in less than 30 minutes!
For one of the meals with pineapple you can make, this is at the top of the list.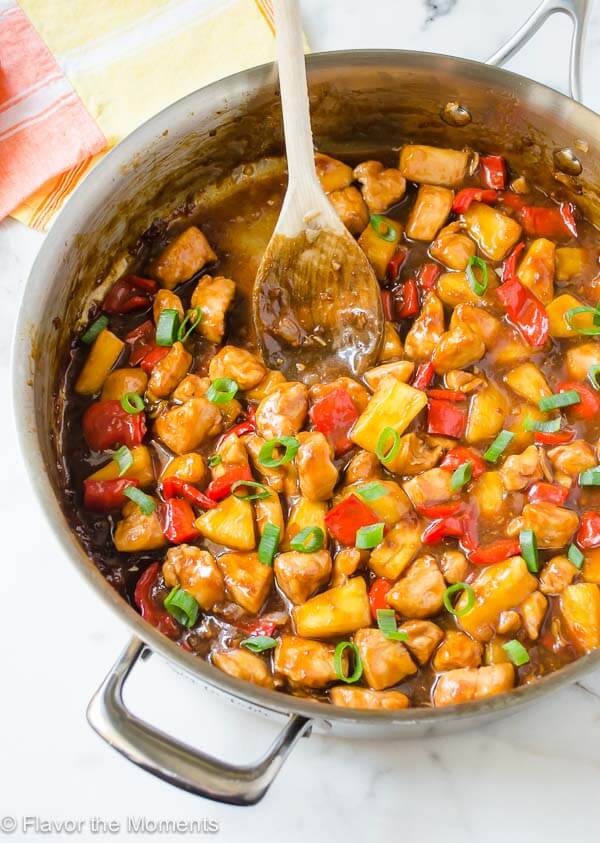 Honey Pineapple Chicken Teriyaki Skillet is tender chicken and juicy pineapple in a honey teriyaki sauce. It's on the table in 30 minutes!
It's another one of the savory dishes with pineapple the entire family should enjoy.
This Pineapple Chicken Quinoa Salad is easy to make, especially if you have rotisserie or canned chicken on hand.
It's also hearty enough to keep the hunger pangs at bay for the rest of the day. Best of all, it is a really healthy, nutrition packed meal.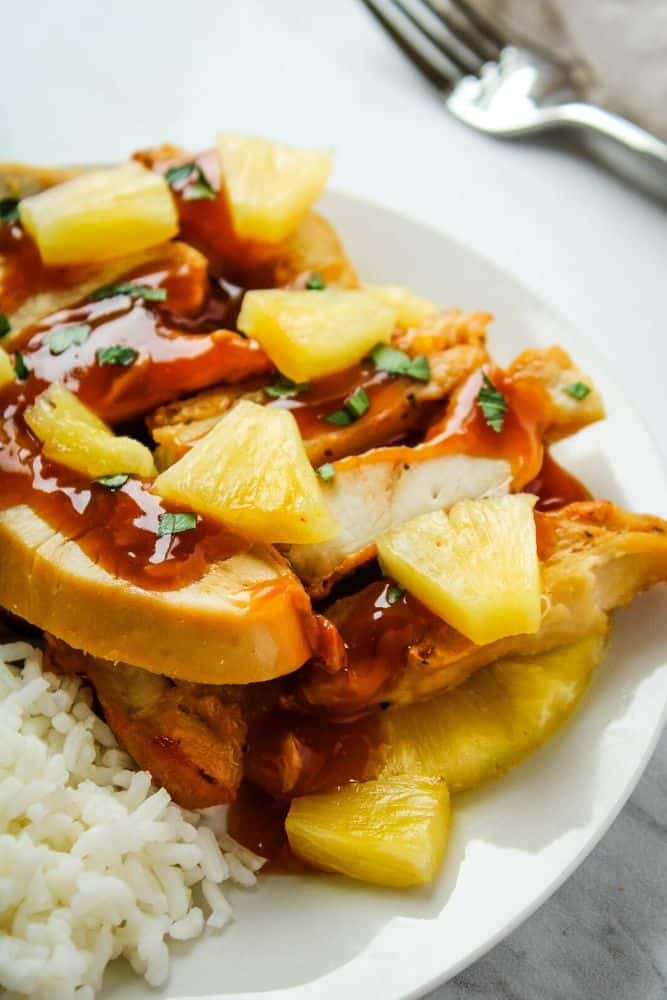 Air Fryer Pineapple Chicken is made straight in the air fryer! Smother it with pineapple sauce and chunks of pineapple for the ultimate air fryer dinner.
If you want pineapple for dinner, it doesn't get better than this!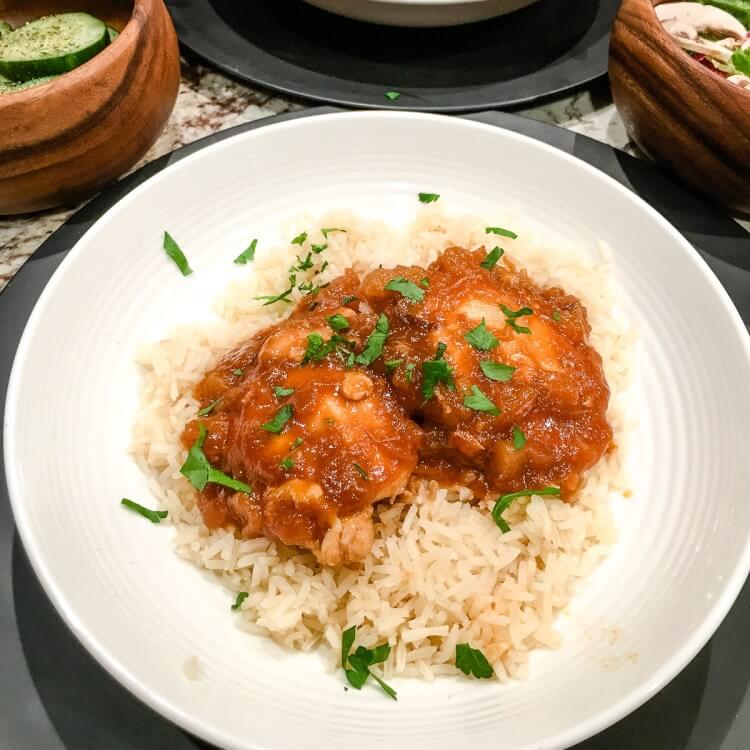 Take your taste buds on a vacation to the Hawaiian Islands with this deliciously tangy Instant Pot Huli Huli Chicken recipe.
It combines juicy chicken pineapple, soy sauce and ketchup to create just the right balance of sweet and savory flavors.
Huli Huli Chicken is another one of the top savoury pineapple recipes!
Try this quick and easy Hawaiian Chicken Salad with pineapple and ham in a sandwich or as lettuce wraps on busy days when you need a quick lunch or snack!
It's one of the quick recipes using pineapple that you can't go wrong with!
PINEAPPLE FRIED RICE RECIPES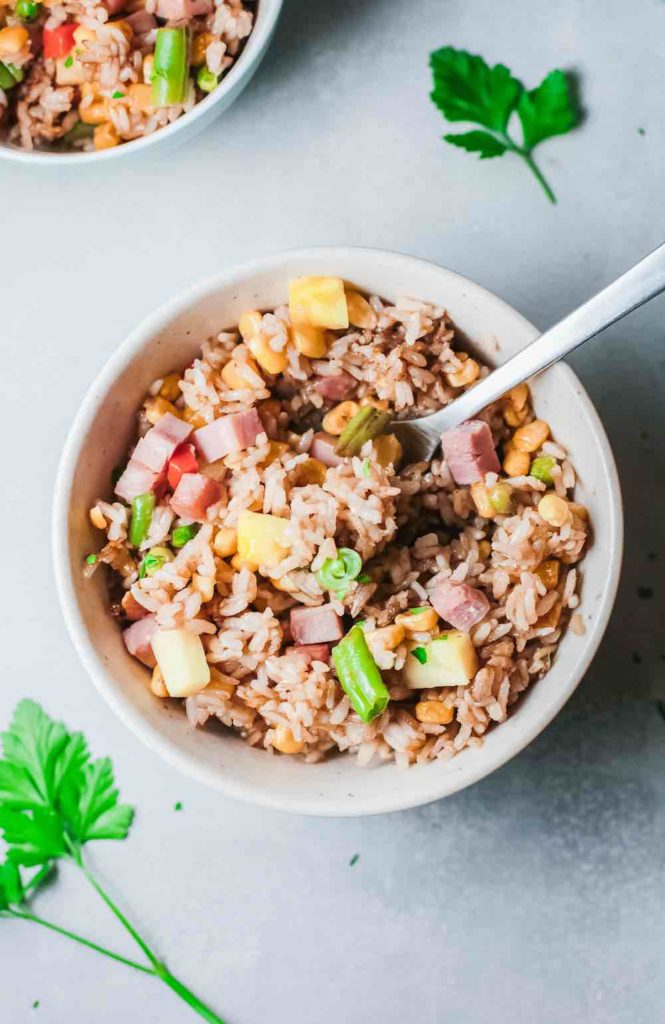 This is one of the best pineapple recipes for fried rice. And the Spam gives it an extra Hawaiian "local" flavor that makes a great side dish or meal on its own.
It's one of the most popular savory pineapple recipes we make at home and one of the best Hawaiian pineapple dishes.
This pineapple fried rice is loaded with Thai flavors, sweet pineapple and lots of Asian style vegetables for a healthy flavorful side dish or meatless meal.
It is another one of the top savoury recipes with pineapple!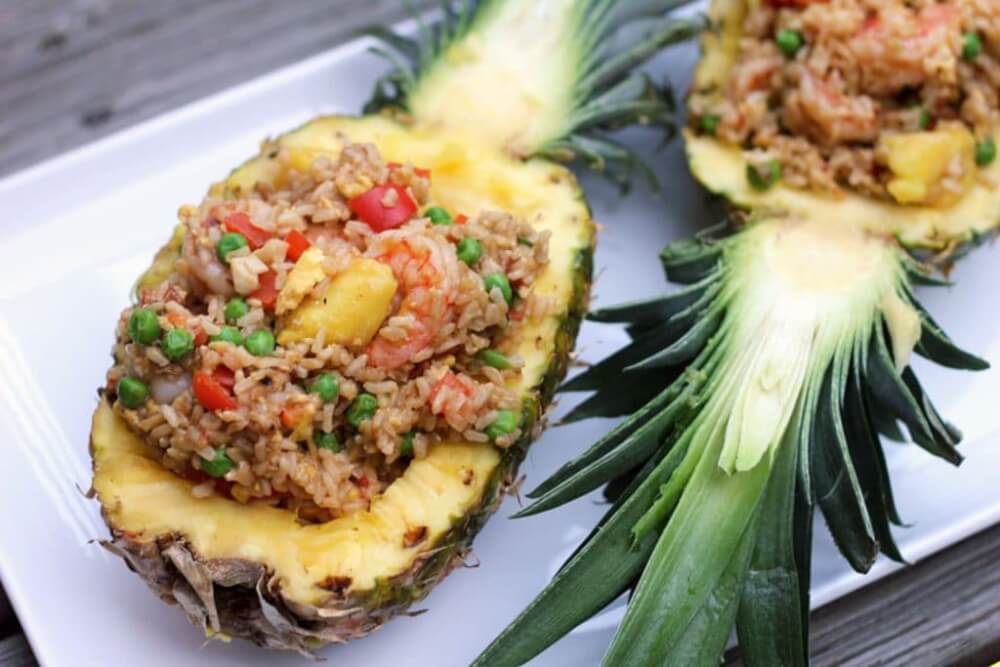 A little bit spicy and a little bit sweet, this Chili Mango Shrimp Pineapple Fried Rice is packed full of flavor. And it's served in a pineapple for some extra tropical fun!
It sure is a cool savory pineapple side dish!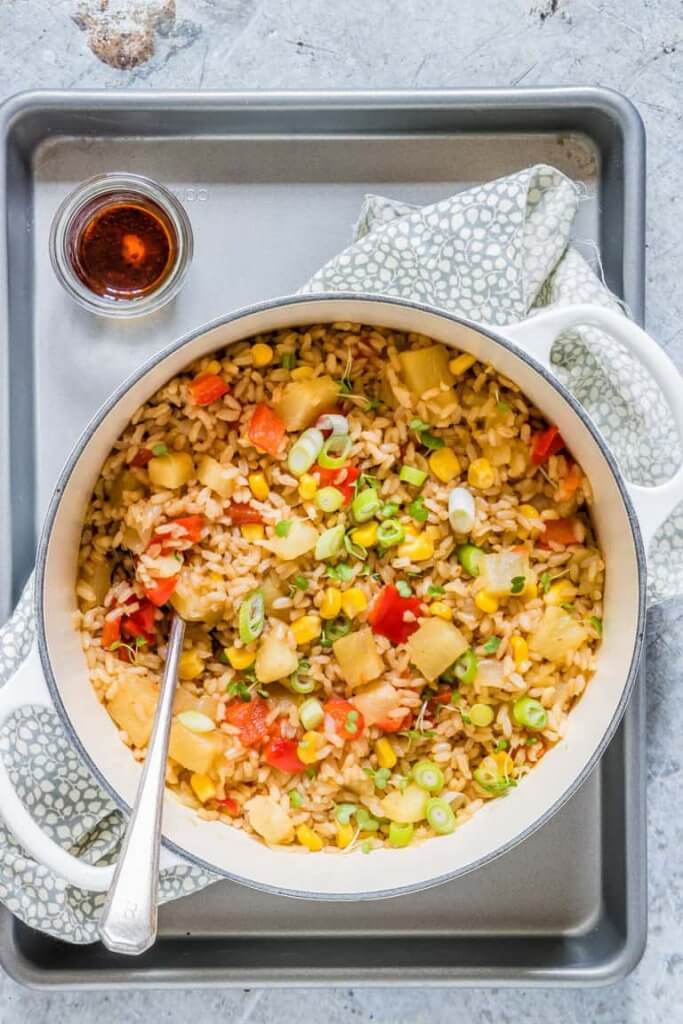 Pineapple Fried Rice is bursting with tons of flavor, tender vegetables, and sweet pineapple chunks.
The perfect way to use up all those leftovers, this pineapple fried rice recipe comes together quickly and is ready to serve in just 15 minutes!
PINEAPPLE HAM RECIPES
Crockpot Ham with Pineapple is an easy recipe to make. This old fashioned ham is made with simple ingredients like brown sugar, pineapple slices, and cherries.
Free up space in your oven with this simple recipe perfect for a special holiday meal like Easter or Christmas.
Make sure to add this to your fresh pineapple recipes to try out next!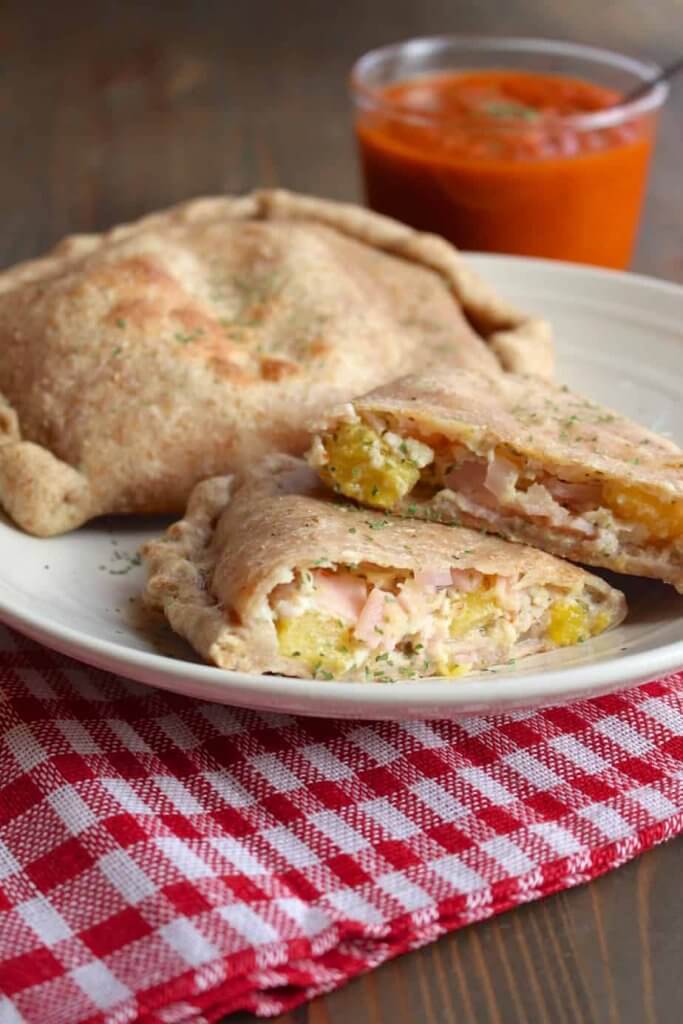 These Ham and Pineapple Calzones are a perfect, personalized lunch or dinner treat!
These are rich in flavor and full of nutrition and is one of the fun savory dinner ideas!
PORK PINEAPPLE RECIPES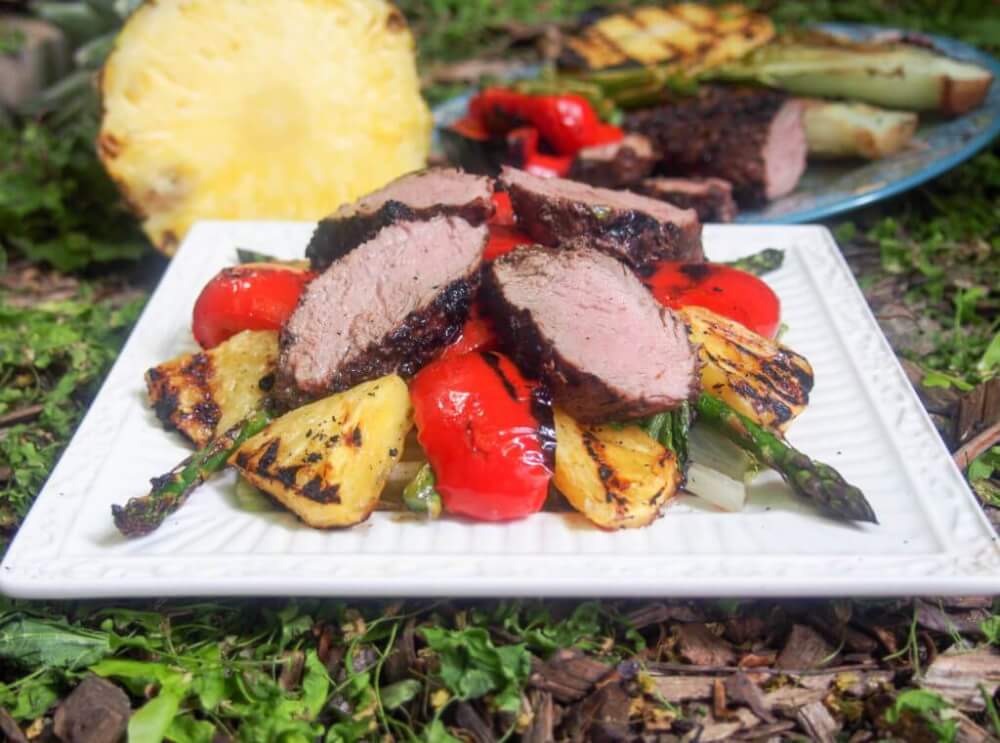 This grilled pork and pineapple salad is an easy, tasty meal. It's easy to prepare as everything is grilled, salad greens included!
If you want a savory pineapple salad, this is the one to try!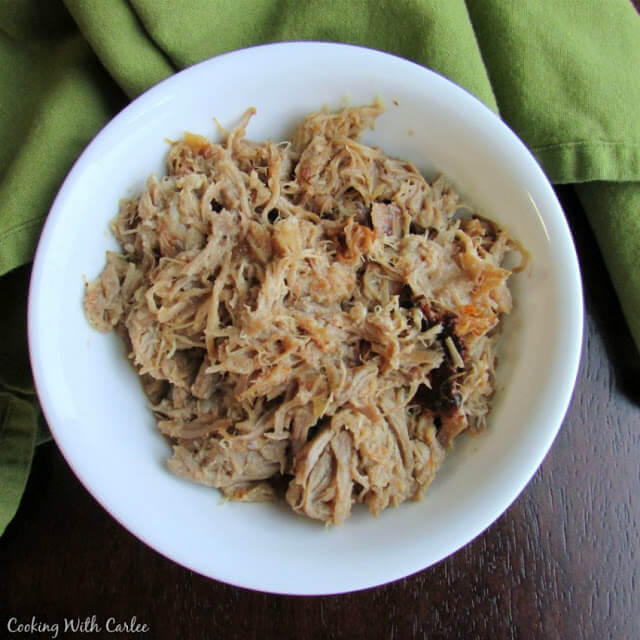 This pulled pork is a little bit teriyaki and a little bit char siu and all flavor! It is great on a sandwich and perfect over rice. Throw it in your slow cooker and dinner will be ready when you are!
It is another one of the Hawaiian pineapple recipes we love to eat whenever we can.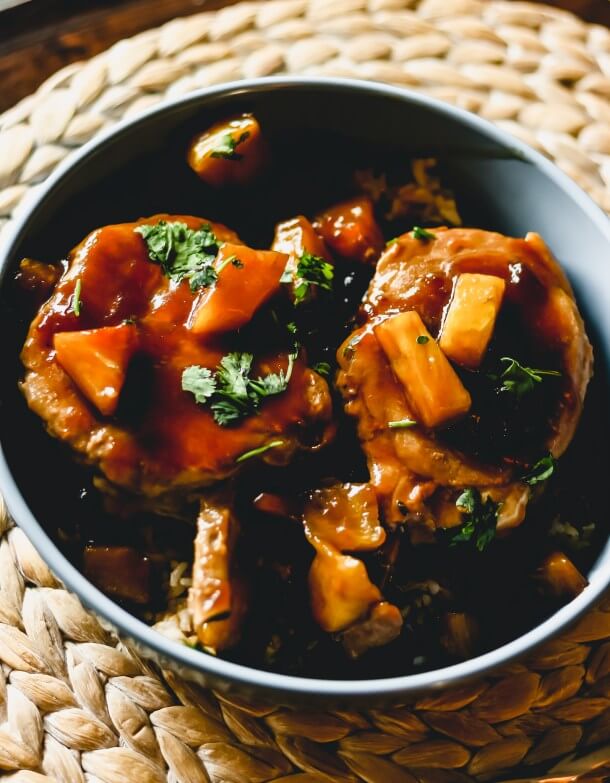 This Slow Cooker Hawaiian Pork Chops Recipe is a sweet & tangy quick weeknight meal that tastes like steakhouse quality. Serve this pineapple Hawaiian food over rice.
Pineapple screams dessert for many but for me it means sweet and sour!
Pineapple rings top these pork chops that are cooked in a, from scratch, sweet and sour sauce with onions, sweet peppers and carrots.
Here you have an easy, delicious and low carb Spicy Pineapple Pork with Cabbage Pepper Salad and extra Spicy Pineapple Sauce on the side for dipping.
It is one of the delicious dinner recipes with fresh pineapple!
MORE PINEAPPLE DINNER RECIPES
Need more pineapple recipes dinner ideas? Here are a few more delicious options for you.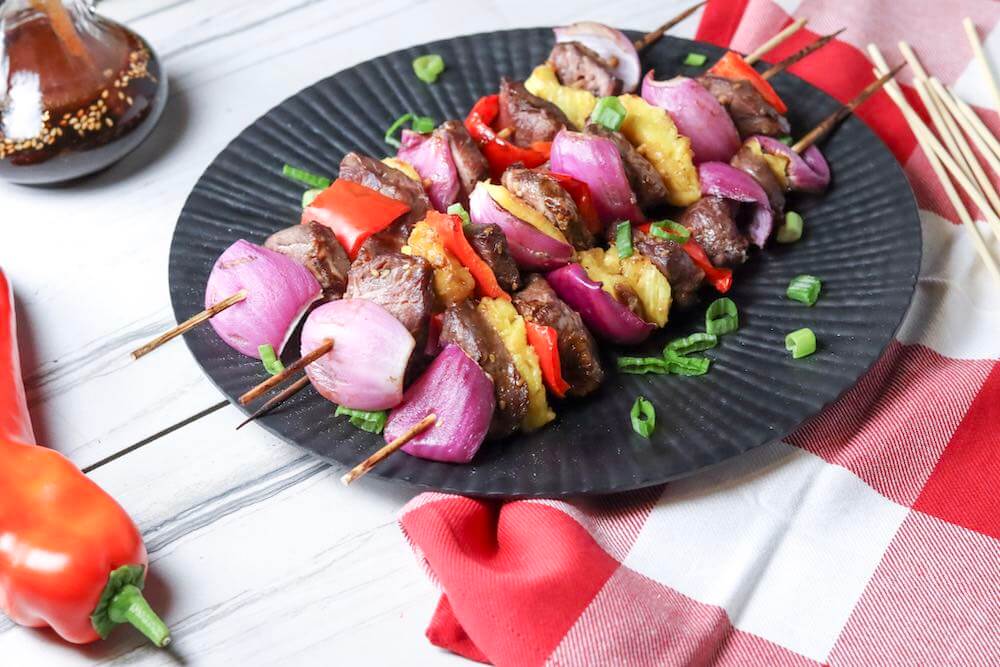 This is the ultimate beef and pineapple recipe. Perfect for the grill or to make while camping.
Serve it over hot rice or enjoy them on their own. It is one of the favorite savory fresh pineapple recipes in my household!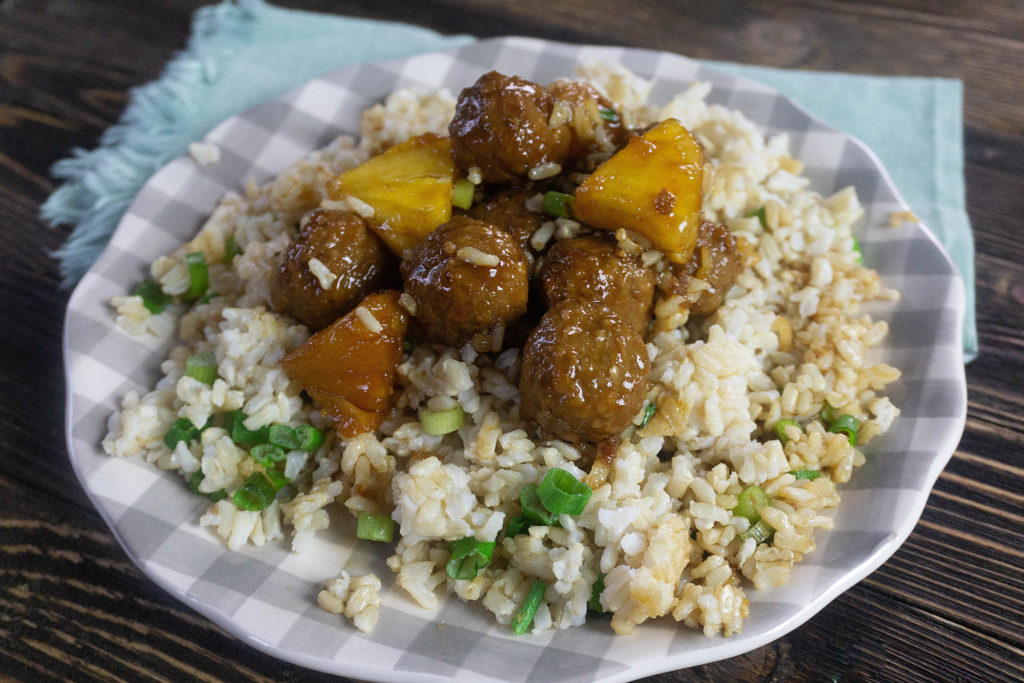 It doesn't get much easier than this teriyaki meatball Instant Pot recipe. And it's ready in just a few minutes!
Make it when you need one of your easy Hawaiian themed appetizers or even as a meal.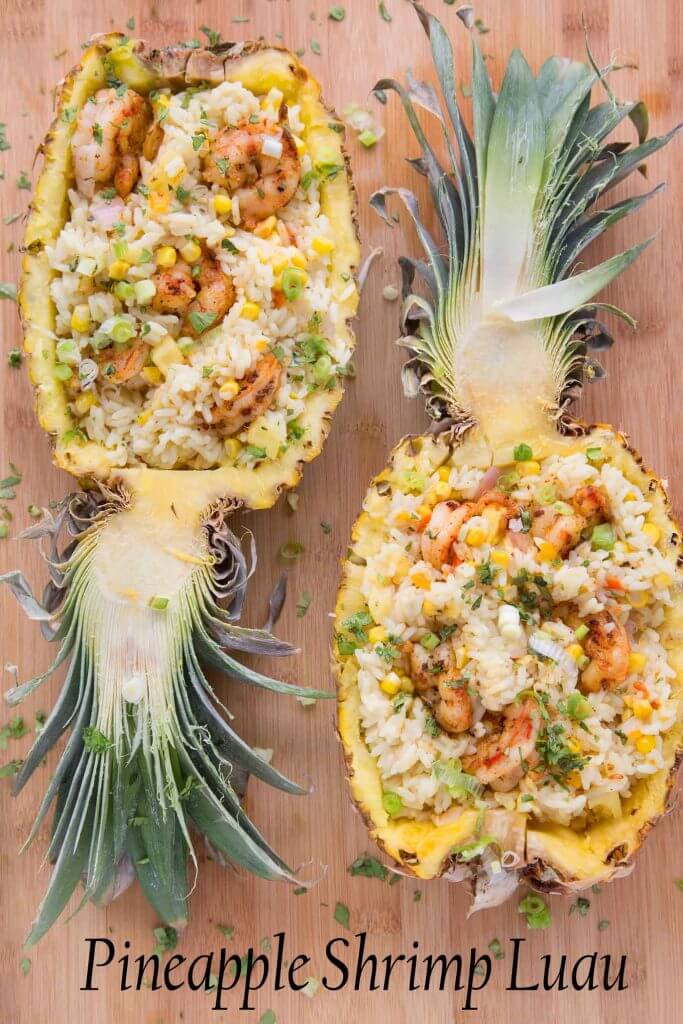 This easy to make tropical rendition of shrimp and rice will make any night a special occasion.
Bring some smiles to your table with this Pineapple Shrimp Luau.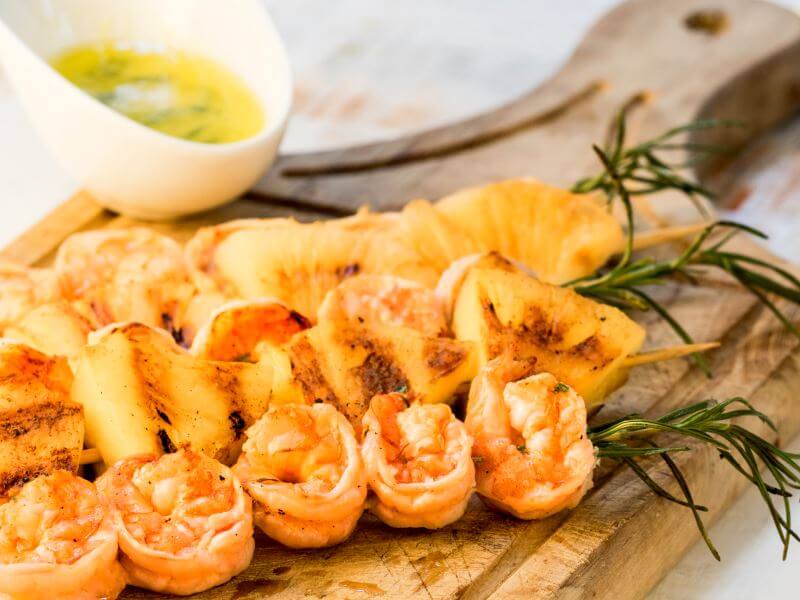 Skewered food always make for wonderful appetizers that are easy and fun with the grab-and-go servings and the combination of flavors.
These shrimp and rosemary skewers with rum-soaked, grilled pineapple wedges will absolutely be a hit at your party.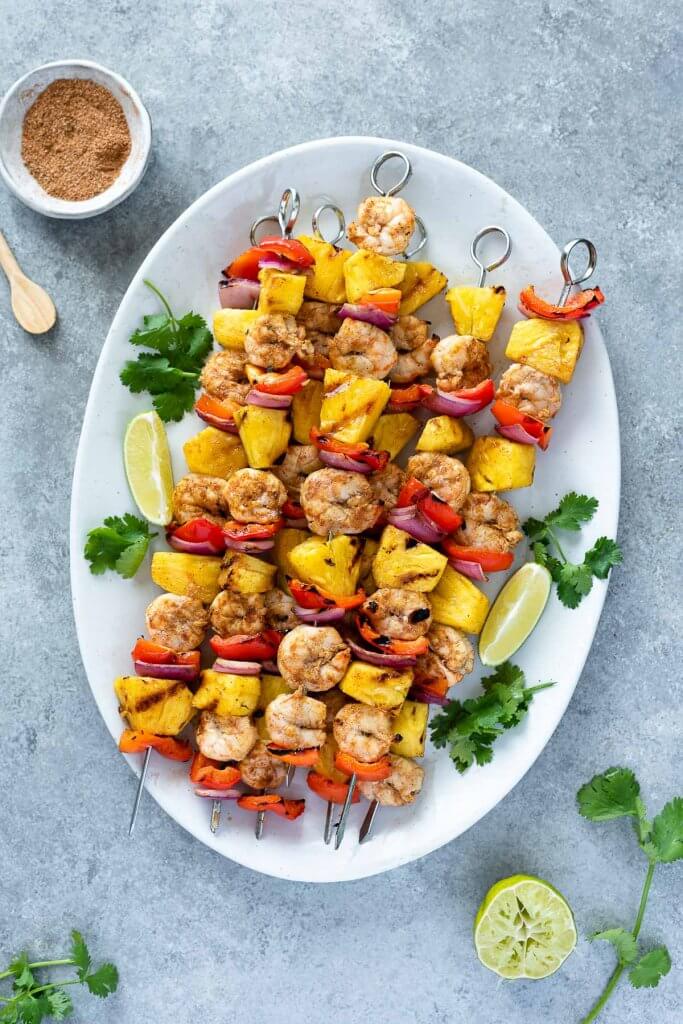 Your taste buds will travel to the Caribbean with these Jerk Pineapple Shrimp Skewers marinated in a flavorful Jamaican jerk marinade!
They're sweet, smoky and they cook up in under 10 minutes!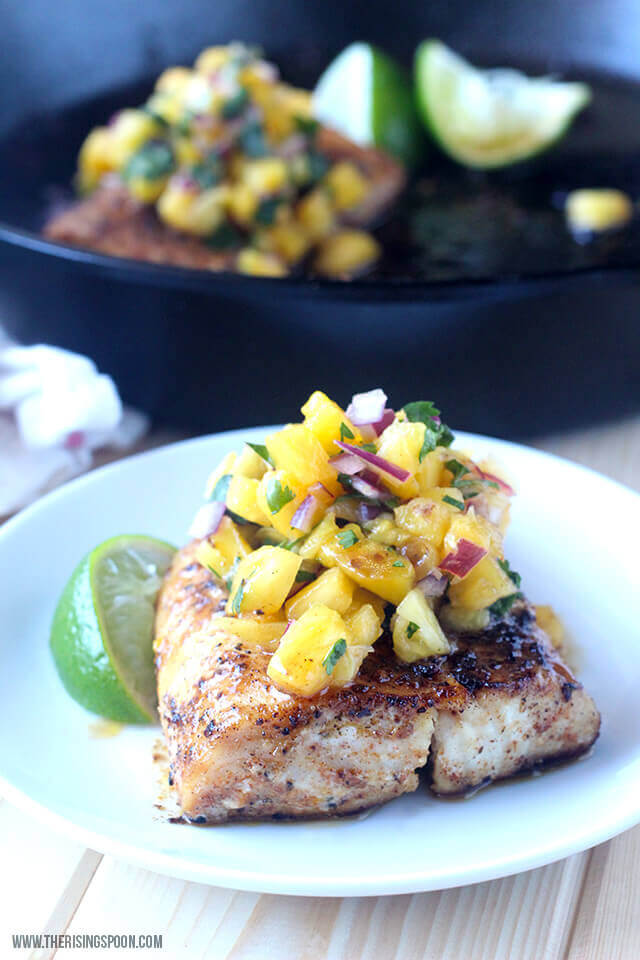 Need an easy & healthy fish recipe? Try this pan-seared mahi-mahi (a neutral-tasting white fish) topped with fresh pineapple salsa.
Serve it with your favorite sides for a quick weeknight meal in less than 30 minutes.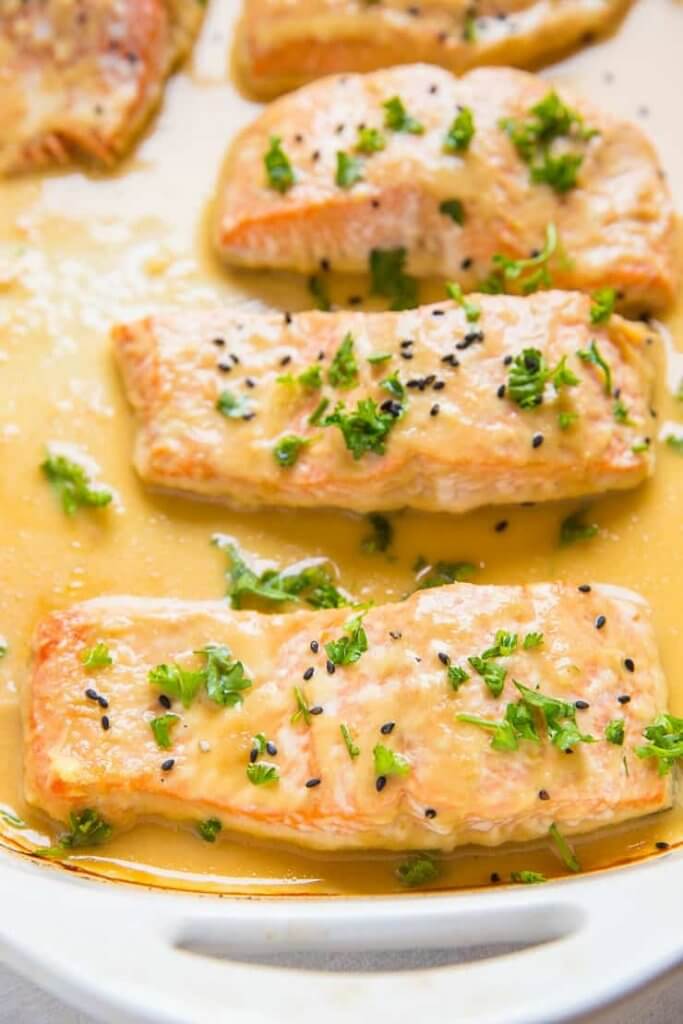 Pineapple Ginger Glazed Baked Salmon is a sweet and tangy healthy salmon recipe with an amazing pineapple-ginger glaze.
This nourishing main entree is requires just 6 ingredients, easy to prepare, packed with flavor, protein, and omega-3 fatty acids. Bake it or grill it for a mouth-watering delight!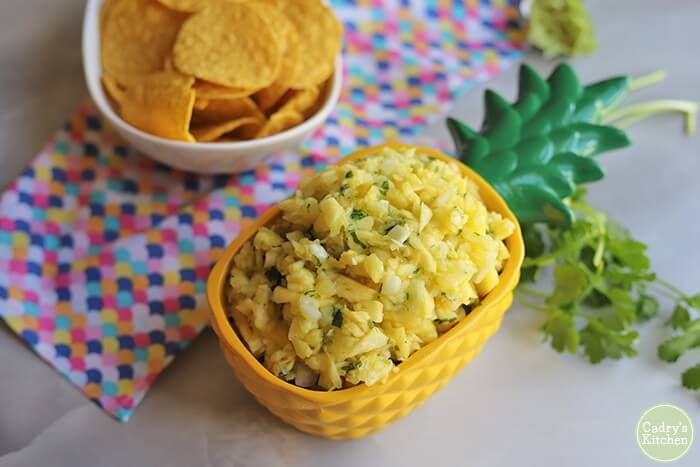 Pineapple salsa is a fresh & juicy addition to gatherings. Or keep some in the refrigerator for quick snacking with a handful of tortilla chips.
It only takes 10 minutes to make and is one of the best savoury pineapple recipes to enjoy!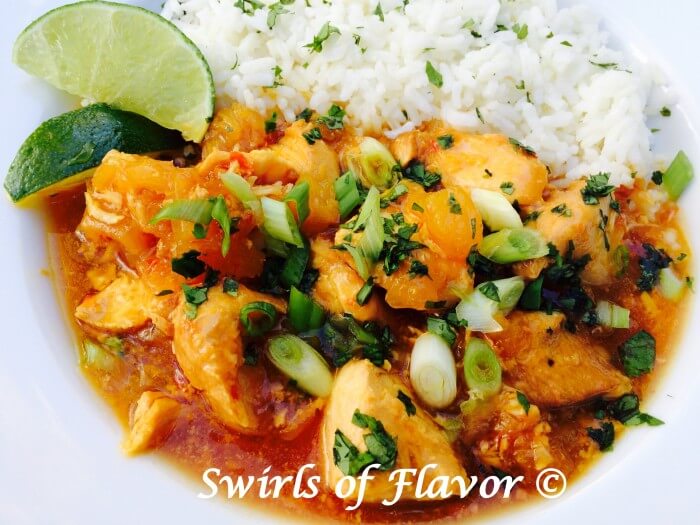 Slow Cooker Pineapple Chicken Chili is an easy pineapple recipe that makes it's own tangy sauce as it cooks in your slow cooker!
Sweet chili sauce, crushed pineapple and fresh lime juice combine with juicy chicken breasts making this a crockpot pineapple chicken recipe that's bursting with flavor!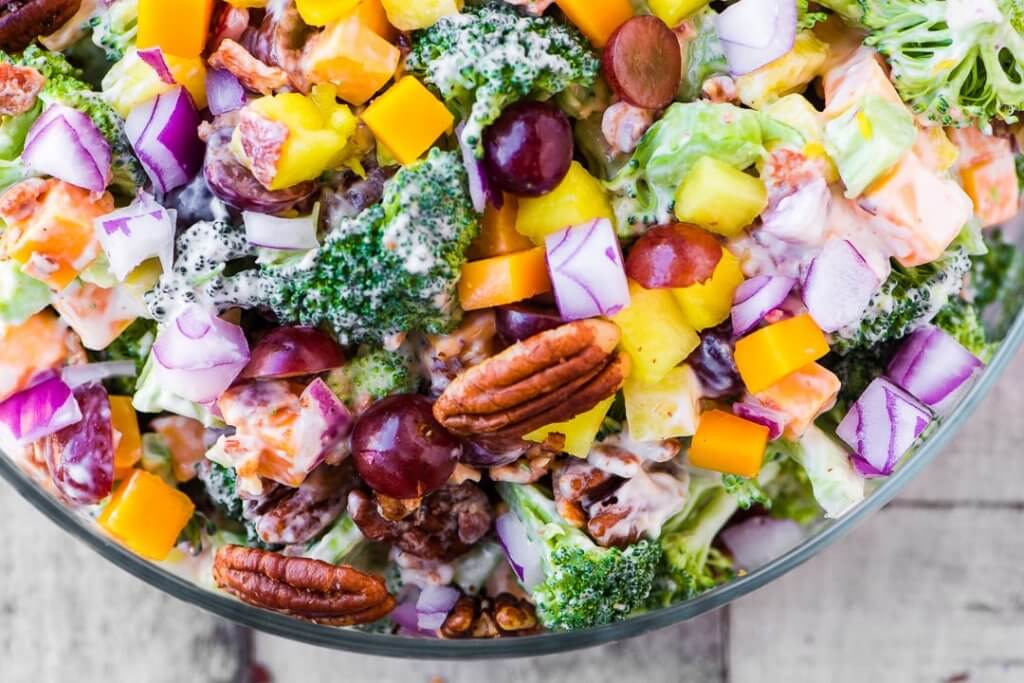 Broccoli Salad with Pineapple, Bacon, and Spiced Pecans ~ don't be surprised if everybody skips the main course and heads straight for this savory pineapple salad!
As one of the top pineapple savory dishes, your guests will love this at a dinner party.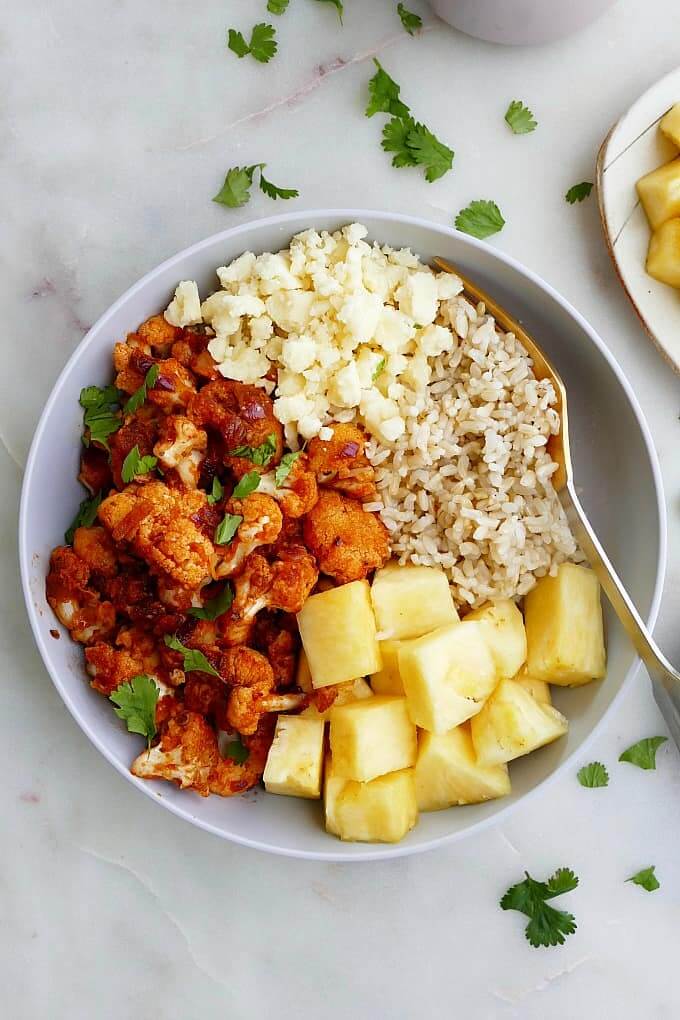 These delicious Cauliflower al Pastor Bowls feature fresh pineapple and mimic the flavors of al pastor tacos.
Spicy cauliflower florets are served over rice with pineapple and cotija cheese. I think it is another one of the top savory recipes with pineapple that I want to try out!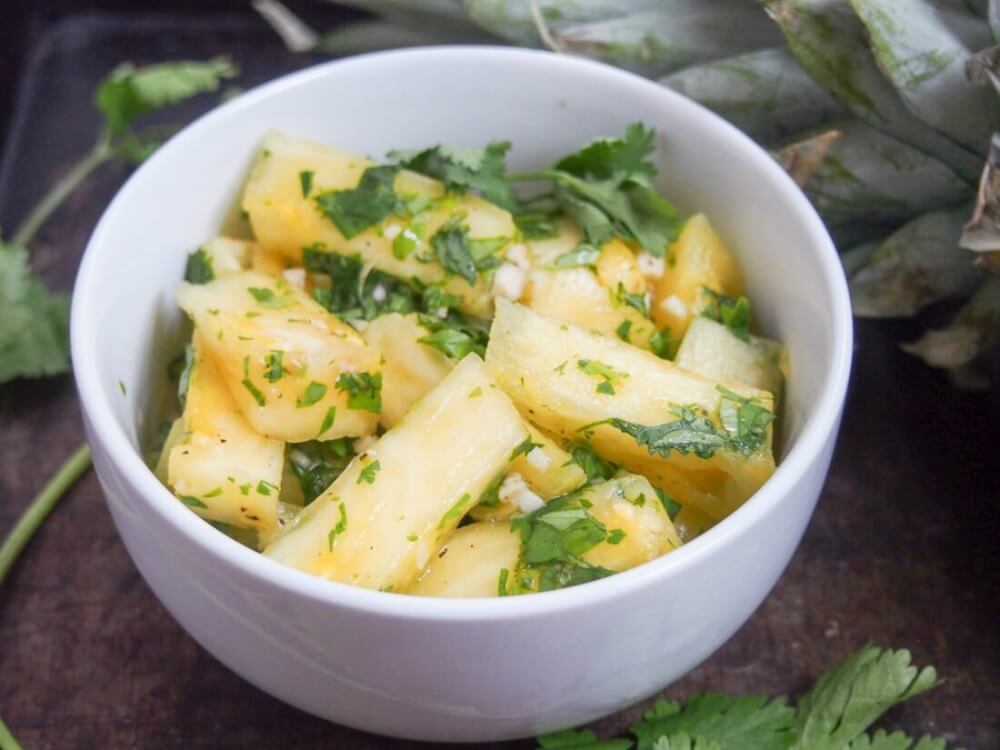 Pineapple chow is an incredibly easy Trinidadian snack/side with garlic, cilantro and chili. Sweet, salty and spicy it's refreshing and delicious.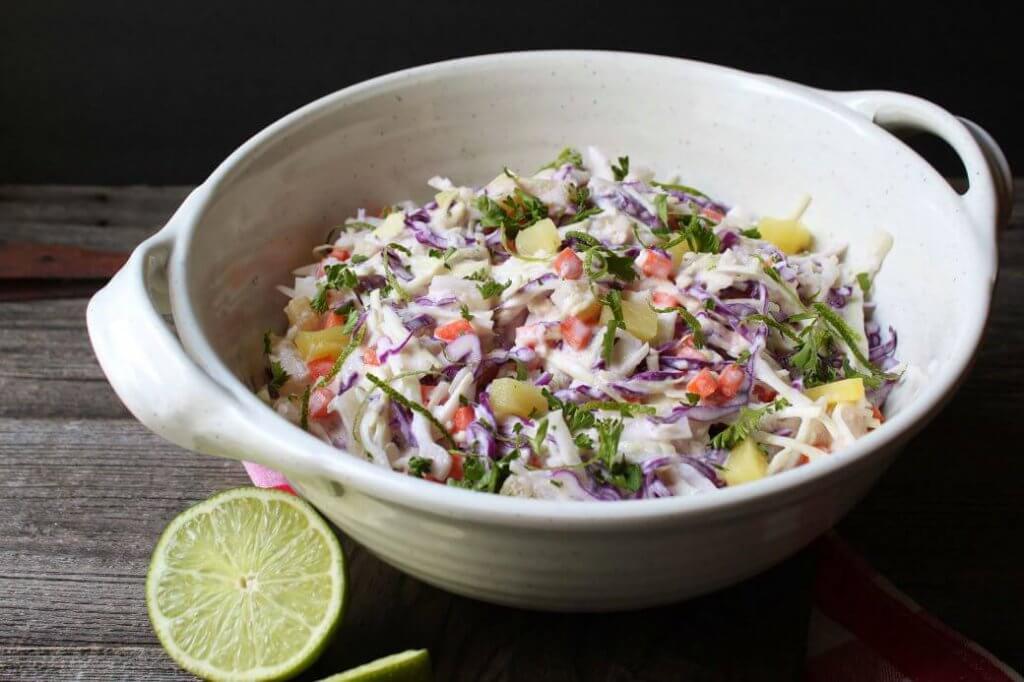 This ultra creamy Coconut Coleslaw with pineapple and lime will transport you to a beach on an island far far away. Don't blame me if you never want to come back.
It is one of the Hawaiian recipes to try if you love coconut and pineapples!
Pineapple Savoury Recipes FAQs
What can I do with pineapple that is not sweet?
You can make a spicy pineapple salsa, add it over a savory salmon recipe, and so much more!
What meat goes well with pineapple?
Pretty much every meat goes well with pineapple! I've found pork, chicken, fish, and even beef recipes that all add pineapple and they are absolutely delicious.
Does cooking pineapple destroy bromelain?
Cooking pineapple actually helps neutralize the bromelain in the pineapple. So if it makes your tongue and mouth taste funny, trying cooking it a bit before eating it.
Need Hawaiian Dessert Ideas?
Now that you have a bunch of savory pineapple dishes, let's talk dessert! We have a bunch of mango dessert recipes that will knock your socks off! And we'll show you how to make a copycat Ted's Bakery Chocolate Haupia Pie!