Are you looking for kid-friendly Hawaii Big Island national parks? Keep scrolling to read my tips for exploring Pu'uhonua o Honaunau National Historical Park with kids, more commonly called the Hawaii Place of Refuge.
This post about Hawaii Place of Refuge: Pu'uhonua o Honaunau National Historical Park contains affiliate links which means if you purchase something from one of my affiliate links, I may earn a small commission that goes back into maintaining this blog.
Do you want to visit a national park in Hawaii with your kids?
Pu'uhonua o Honaunau National Historical Park is one of the most fascinating places on the Big Island. It's where Hawaiians would go when they were in danger.
Today, it's an amazing place for families to explore ancient Hawaiian culture and history while seeing lava rocks, Hawaiian structures, and tiki statues. You'll learn about this cool part of Hawaii history that few people know about!
Your family can visit this park together and experience something new during your next trip to Hawaii.
There are guided activities available at certain times throughout the day so be sure to check out their website before planning your trip!
This is a great way for everyone in your family to learn more about ancient Hawaiian culture while exploring some really cool parts of the island. It's one of those things that will make you feel like you're stepping back into time!
Keep scrolling to read my full guide to the Hawaii Place of Refuge: Pu'uhonua o Honaunau National Historical Park with kids.
Don't have time to read a bunch of Hawaii blog posts and reviews? Here are some of our top picks for visiting the Big Island.
Popular Big Island Tours/Activities
Favorite Big Island Resorts/Hotels
Want to skip all the planning and just access my detailed Big Island Itinerary complete with daily schedules, kid-friendly activities, and travel hacks? Click the button below.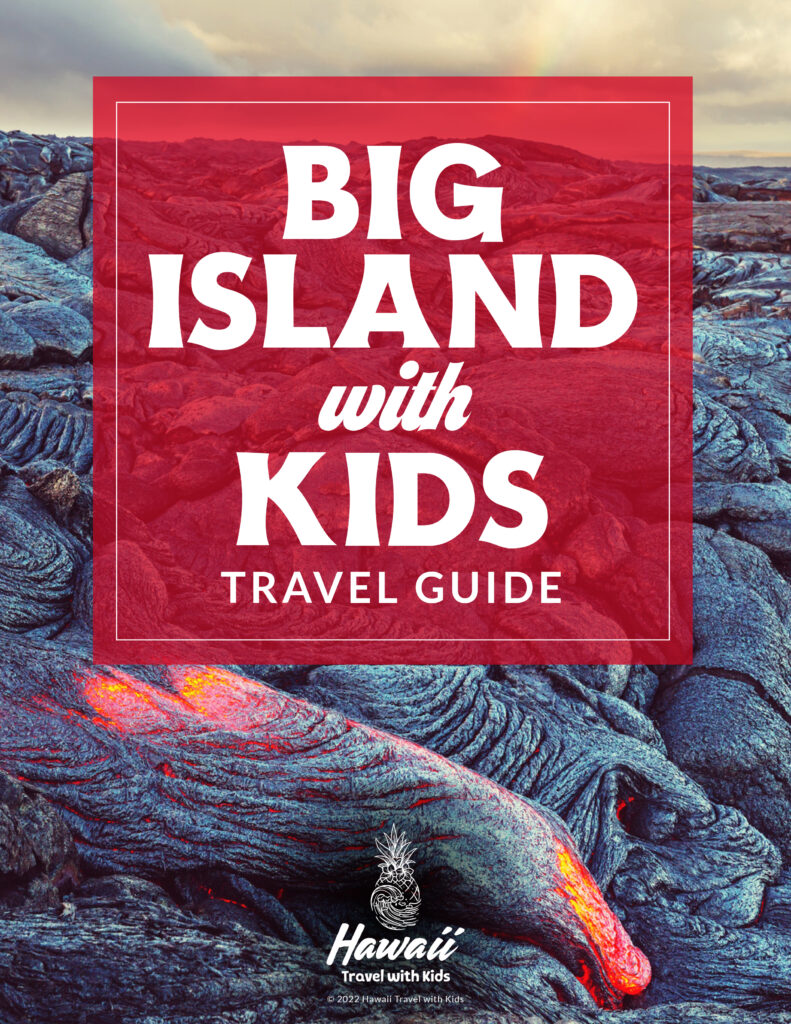 Honaunau Hawaii FAQs
What are the top things to do in Honaunau Hawaii?
You'll definitely want to check out the Place of Refuge and the Painted Church. There are also lots of fruit stands and local farm tours. And it's an easy drive to see the Captain Cook statue and Kealakekua Bay.
How far is Honaunau from Kona Hawaii?
It usually takes about 1 hour to drive from Kona to Honaunau without any traffic. If you are heading there during the evening rush hour, it can take longer as people drive home from work in Kona.
Is it worth visiting the Place of Refuge from Kona?
Absolutely! This is one of the coolest places to learn about Hawaiian culture and history on the Big Island. It's also great for photos and they offer some pretty awesome programs throughout the year worth checking out.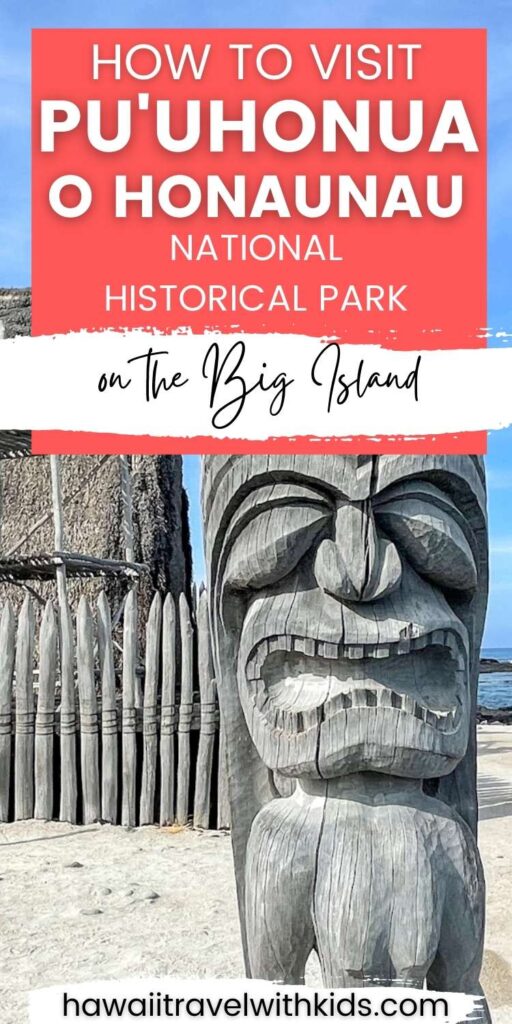 Hawaii Big Island National Parks
There are four Hawaii national parks on the Big Island of Hawaii. You can find my full list of national parks in Hawaii HERE.
Hawaii Volcanoes National Park
The most famous Big Island national park is Hawaii Volcanoes National Park. This is where you can often see lava in Hawaii, as long as the volcano is erupting. You can also explore lava tubes, see a'a and pahoehoe lava rocks, and so much more.
If you go, I recommend booking a night or two at the historic Volcano House hotel.
Kaloko-Honokohau National Historical Park
This is another really cool Big Island park celebrating Hawaiian history and culture. Here, you can walk around Hawaiian structures, see a heiau, look for petroglyphs and explore the lava rocks.
Kaloko-Honokohau National Historical Park is also only about 10 minutes from the Kona Airport, so it's a great park to explore as soon as you land or on your way to the airport.
Pu'ukohala Heiau National Historic Site
A heiau is an ancient Hawaiian sacred place. The Pu'ukohala Heiau National Historic Site is a symbol of the unification of the Hawaiian Islands under the rule of King Kamehameha.
Where is the Pu'uhonua o Honaunau National Historical Park?
The Pu'uhonua o Honaunau National Historical Park is located about 40 minutes away from Kona on the Big Island of Hawaii. The address is State Hwy 160, Hōnaunau, HI 96726.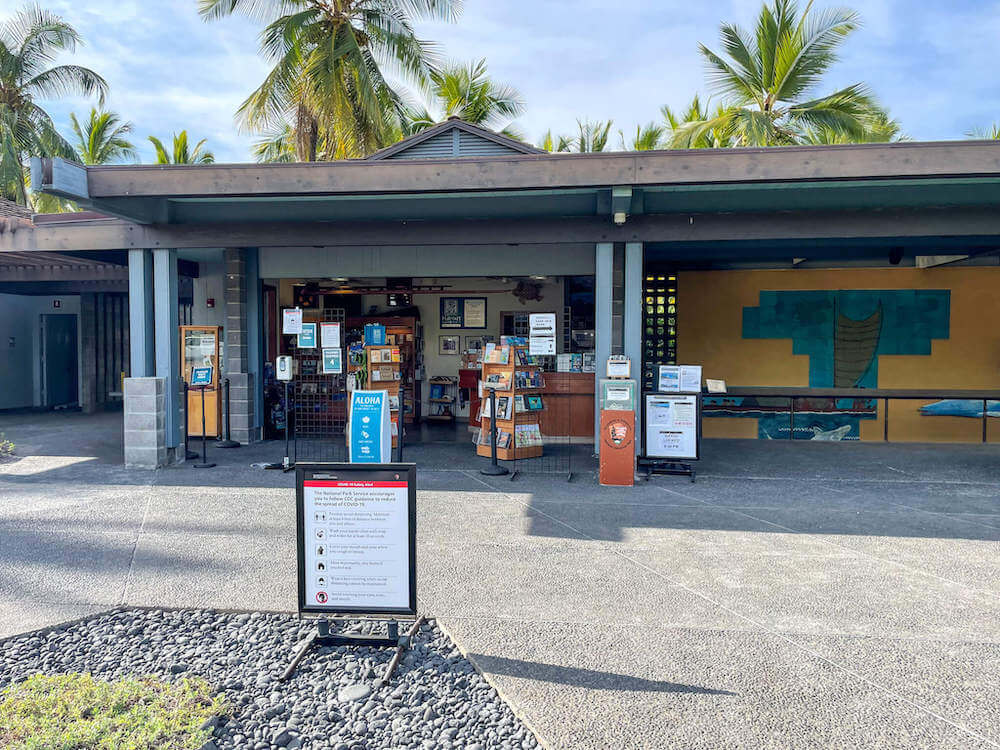 You'll see very clear signs from the highway so you'll know exactly where to turn. You'll want to stop at the visitor's center first to chat with the Hawaii park rangers, get a map, and see if there are any programs going on.
Why is the Hawaii Place of Refuge on the Big Island Important?
The Pu'uhonua o Honaunau National Historical Park is more commonly called the Place of Refuge. That's because it was the only safe place people could flee to if they broke a sacred Hawaiian law (called a kapu) which was punishable by death.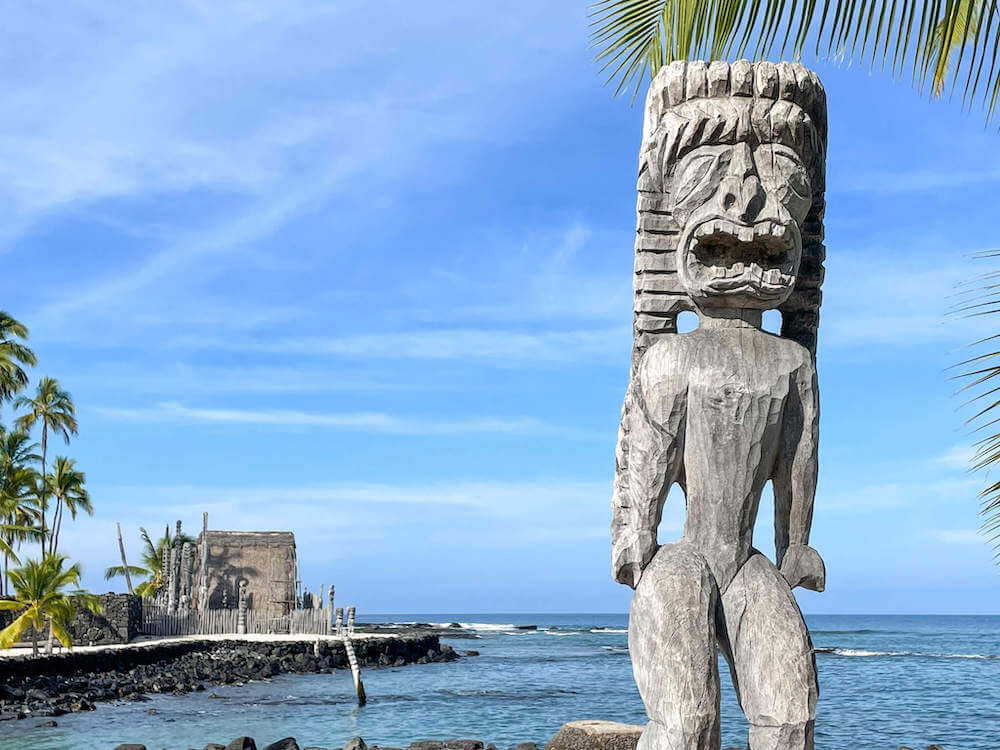 If they could make it to the Place of Refuge, their lives would be spared.
This also applied to defeated warriors. They could escape the slaughter and wait out the battle at the Place of Refuge Hawaii.
And even royalty would sometimes come here. There's a story about a queen who swam all the way to the Place of Refuge from miles away after getting into an argument with the king.
5 Reasons to Visit This Big Island National Park with Kids
1. Audio Presentation
If your kids are like mine, they LOVE pushing buttons anywhere they spot them. The Place of Refuge has a really cool audio presentation that goes from the visitor center into the park along a covered walkway.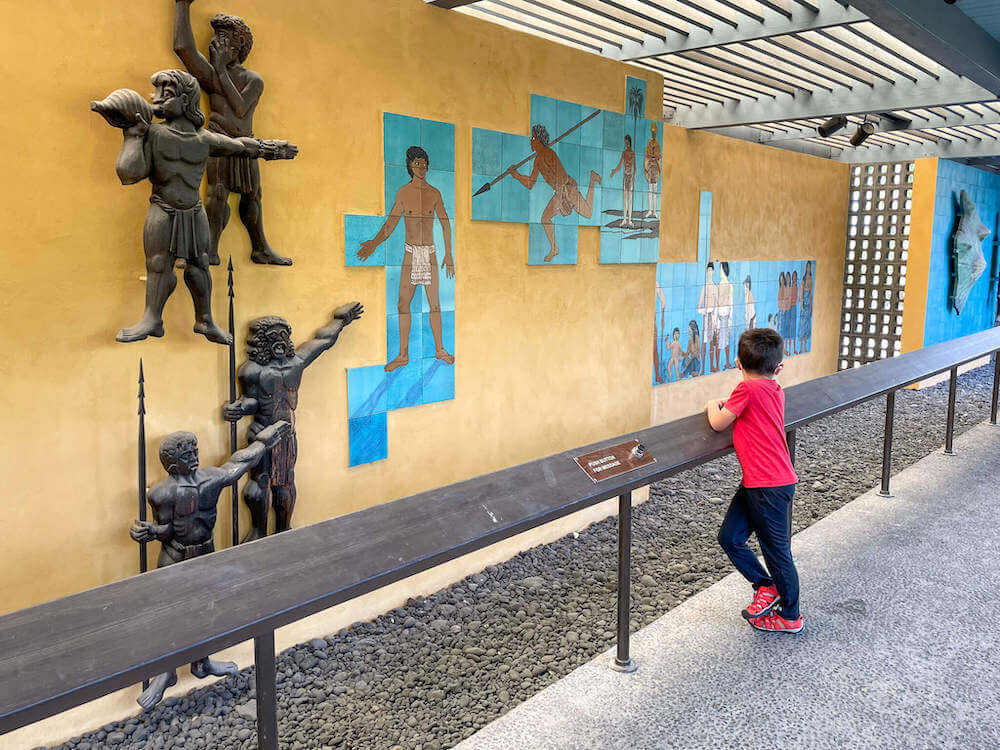 There are buttons for people to press and listen to stories and Hawaiian history and culture that go along with the artwork. The sounds only place in the area near the button so it's easy to hear.
2. See Tiki Statues
If your kids are interested in Hawaiian tikis, Pu'uhonua o Honaunau National Historical Park is one of the best places to see them. They have two tiki statues in a great spot for selfies or traditional photos.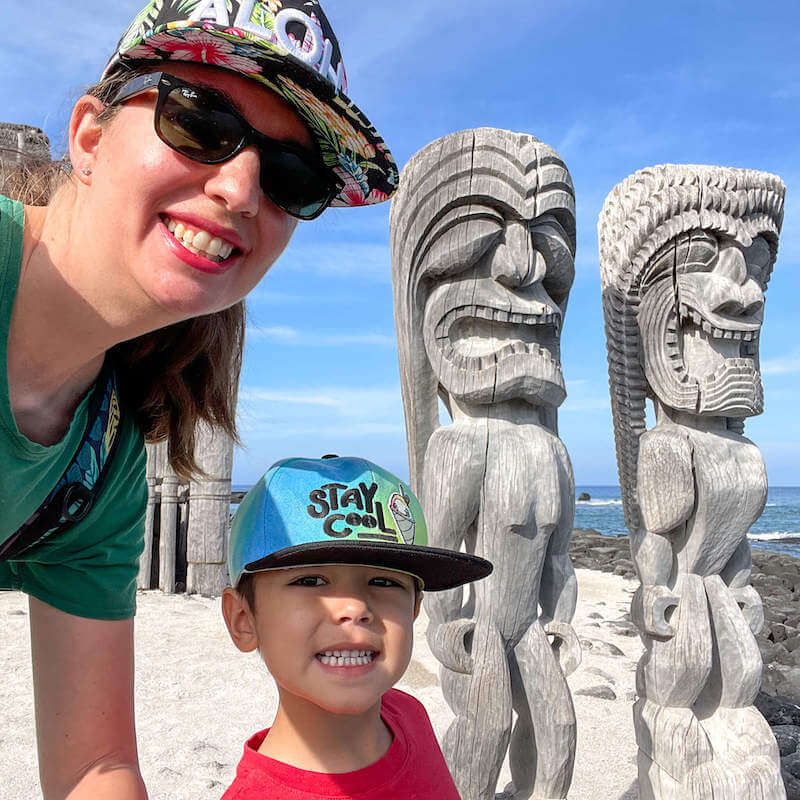 Right behind us, there's a Hawaiian building that has a bunch of tall, skinny tikis surrounding it. And there's another tiki in the sand at the beach closer to the entrance to the park. There are so many awesome Big Island photography spots here!
3. Explore Hawaiian Structures
There are several Hawaiian shelters located throughout this national park in Hawaii. Two of them are right next to each other.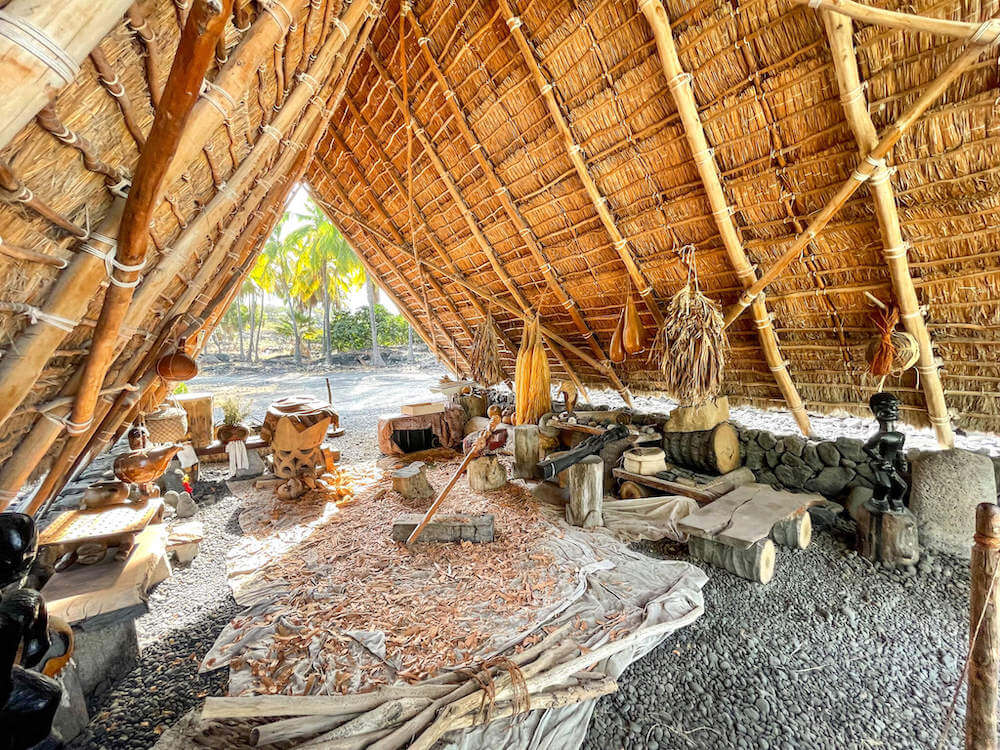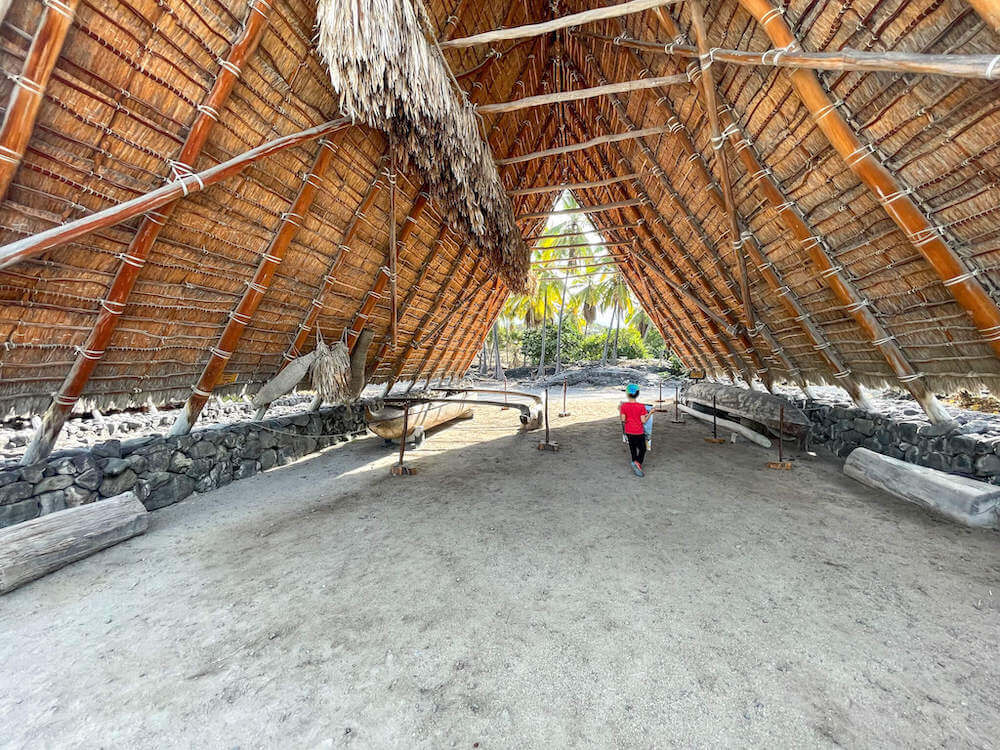 These are all great places to explore with kids on the Big Island and see what life in Old Hawaii was like for the people who came here.
4. Learn about Konane
Have you heard of Hawaiian checkers? It's called Konane and it's a game played with black and white rocks on a large stone surface.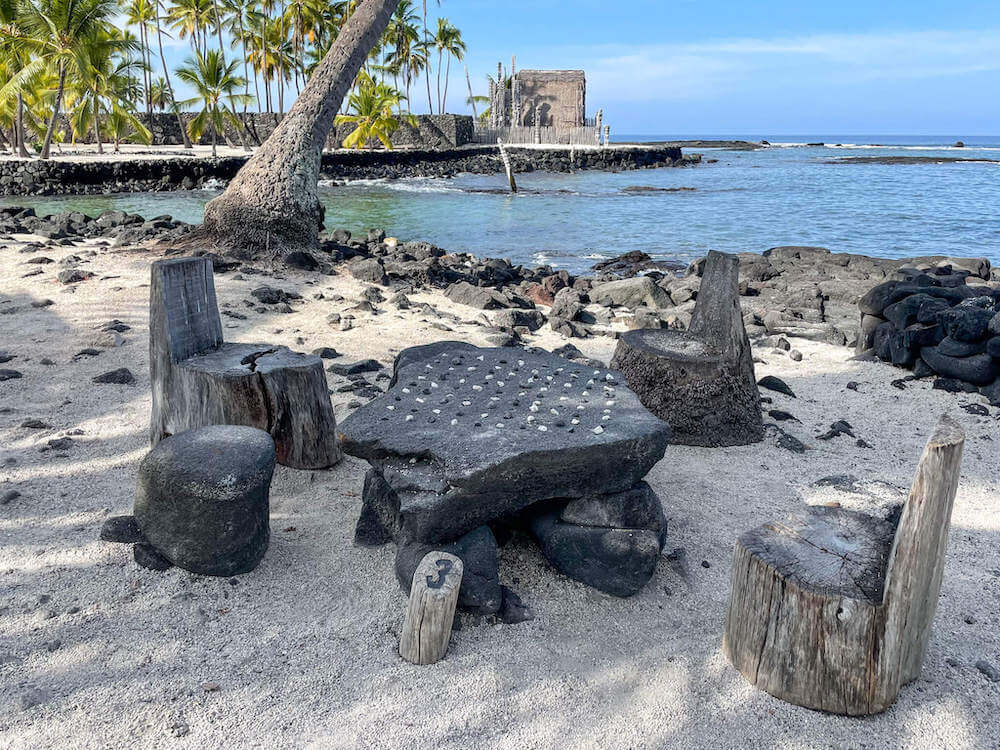 It's really cool for kids to see what Hawaiians did for fun hundreds of years ago. And Konane is still a game that people in Hawaii play, so it's survived for years and years.
5. Junior Ranger Program
Usually, Pu'uhonua o Honaunau National Historical Park participates in the Junior Ranger program you'll find at national parks across the United States.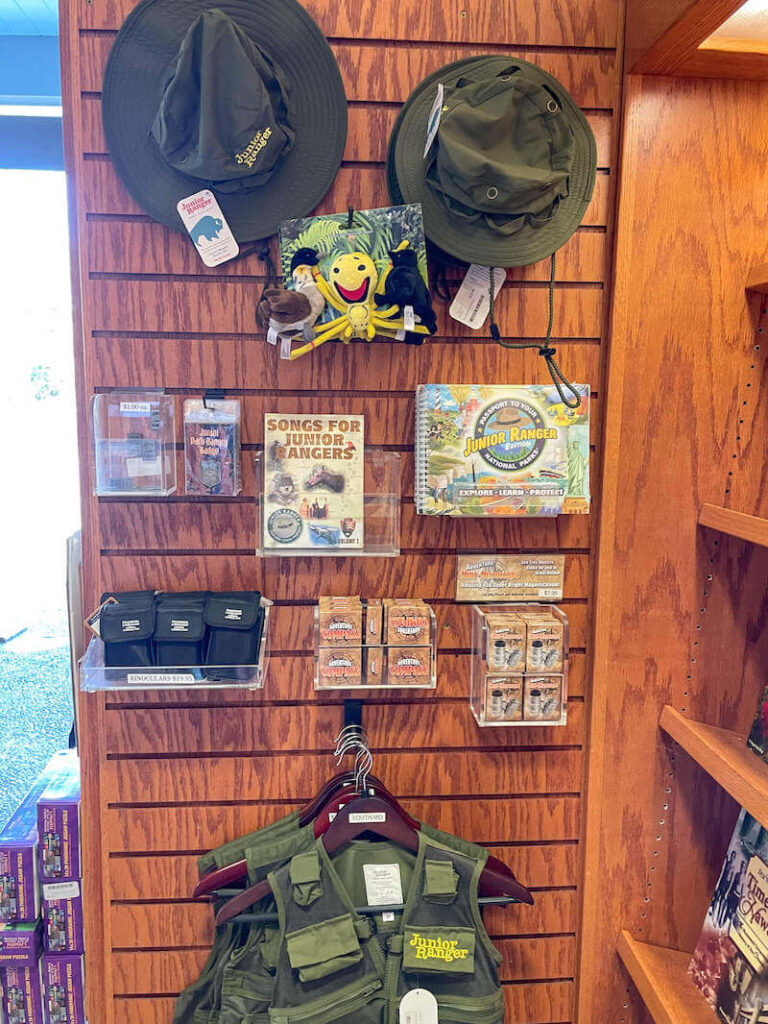 This ranger-led program was still suspended during our trip in November 2021 but we did find a bunch of Junior Ranger gear in the gift shop. Yes, my 5-year-old convinced me that he needed a compass and it was quite the hit!
They do have their Junior Ranger booklet online if you want to print it out at home and bring with you to the park.
Tips for Visiting Pu'uhonua o Honaunau National Historical Park
When to Go
The park opens at 8:15 a.m. and closes at sunset. It's important to check the time of sunset if you plan on going in the late afternoon as it varies a lot depending on the time of year.
I suggest going early in the morning when they open. We went at 8:30 a.m. and there were already some families walking around. We did notice a lot more cars in the parking lot when we left about 9:30 a.m.
If your kids are still in good moods in the afternoon, it would be really cool to go during "golden hour" right before sunset to get some really good photos in the park.
What to Wear
You'll definitely want to wear sturdy shoes if you want to walk along the lava rocks. A sun hat is also a smart idea.
What to Pack
Because it can get so warm, make sure to pack lots of drinks for everyone. If you think you might want to walk around for a while, bring snacks, beach essentials, and sunscreen.
Click HERE to get my full Big Island packing list.
Check Event Calendar
Typically, Pu'uhonua o Honaunau runs lots of special events and ranger-led programs in the park that are super cool. Check their website ahead of time to find out if they are hosting anything during your stay.
Visiting with Babies or Toddlers
This is NOT a stroller-friendly park. We saw a family struggle with a toddler in a stroller and they ended up both carrying the stroller on the path.
Instead, I highly recommend using a baby carrier. The path is super uneven and it will be much easier to explore with your little one in a carrier.
Download the National Parks App
A friend of mine suggested I download the National Parks App and it was super helpful at Pu'uhonua o Hononaunau National Historical Park.
It's a really easy way to figure out what all the exhibits/attractions are and why they are significant to Hawaiian culture and history.
Other Things to do in Honaunau Hawaii
If you're driving from Kona and want to add a couple more stops to your Big Island scenic drive, I've got you covered.
Right next to the Hawaii national park is a famous Big Island snorkeling beach called Two Step Beach. It's called this because of the lava steps to get into the water. It's a great place for beginner snorkelers.
Just up the street from Pu'uhonua o Honaunau is the Painted Church in Hawaii. This is a beautiful historic church that's free to visit and take photos.
And if you're feeling a bit hungry, head over to Ka'aloa's Super J's for some of the best Hawaiian food including kalua pork and lau lau. They even have tasty desserts.
National Park in Hawaii on the Big Island Wrap Up
It's hard to explain, but Pu'uhonua o Honaunau is a really special place. We felt the serenity as soon as we stepped foot in the park and we could feel the importance of this sacred place.
If you're driving from Kona to Hawaii Volcanoes National Park, I highly suggest a quick stop here to stretch your legs and see something totally unique to Hawaii.