Planning your first trip to Hawaii and want to know what to expect at a luau in Hawaii? Keep scrolling to get all your Hawaii luau questions answered.
This post about what to expect at a luau in Hawaii contains affiliate links which means if you purchase something from one of my affiliate links, I may earn a small commission that goes back into maintaining this blog.
Do you wonder what to expect at a luau in Hawaii?
If you're planning a trip to Hawaii, chances are that at some point during your research, you've come across the word "luau." You might be wondering what it is and if it's worth going to.
I'm here to tell you all about luaus in Hawaii! It's one of my favorite things about traveling there.
I've been going to luaus in Hawaii since I was 10 years old. It's always been a highlight for me because I love learning about other cultures when I travel.
It used to surprise me when people told me they didn't know what a Hawaiian luau was. But now I know that lots of people think it's just a fancy dinner. Or they tell me they heard it's just a tourist trap.
So, since I run a Hawaii travel site, I felt compelled to write a post explaining what a luau is and what it's not. Below, I'll outline what to expect and showcase a few of the best luaus in Hawaii.
Plus, I included my top picks for best luaus in Hawaii since I know firsthand which ones are worth the hefty price tag!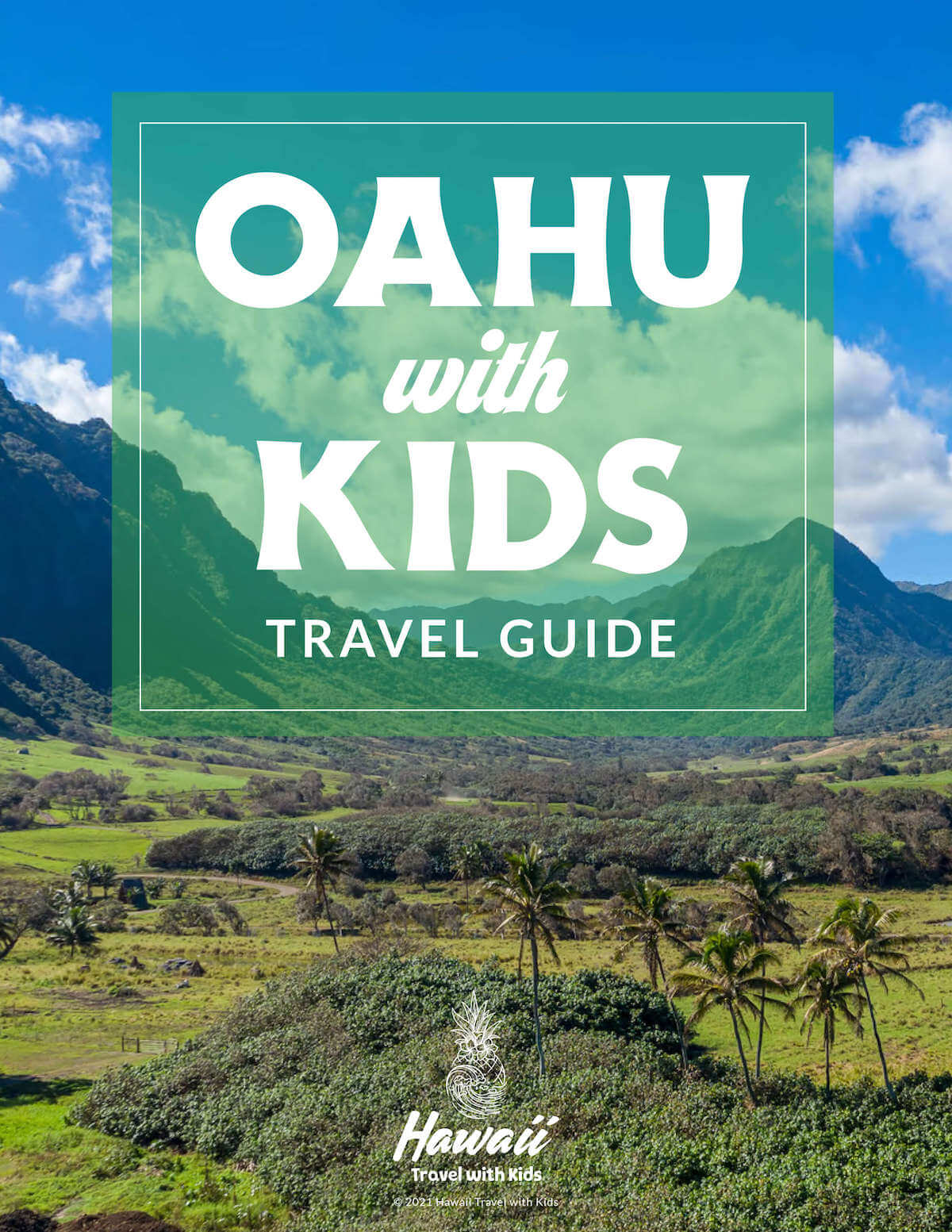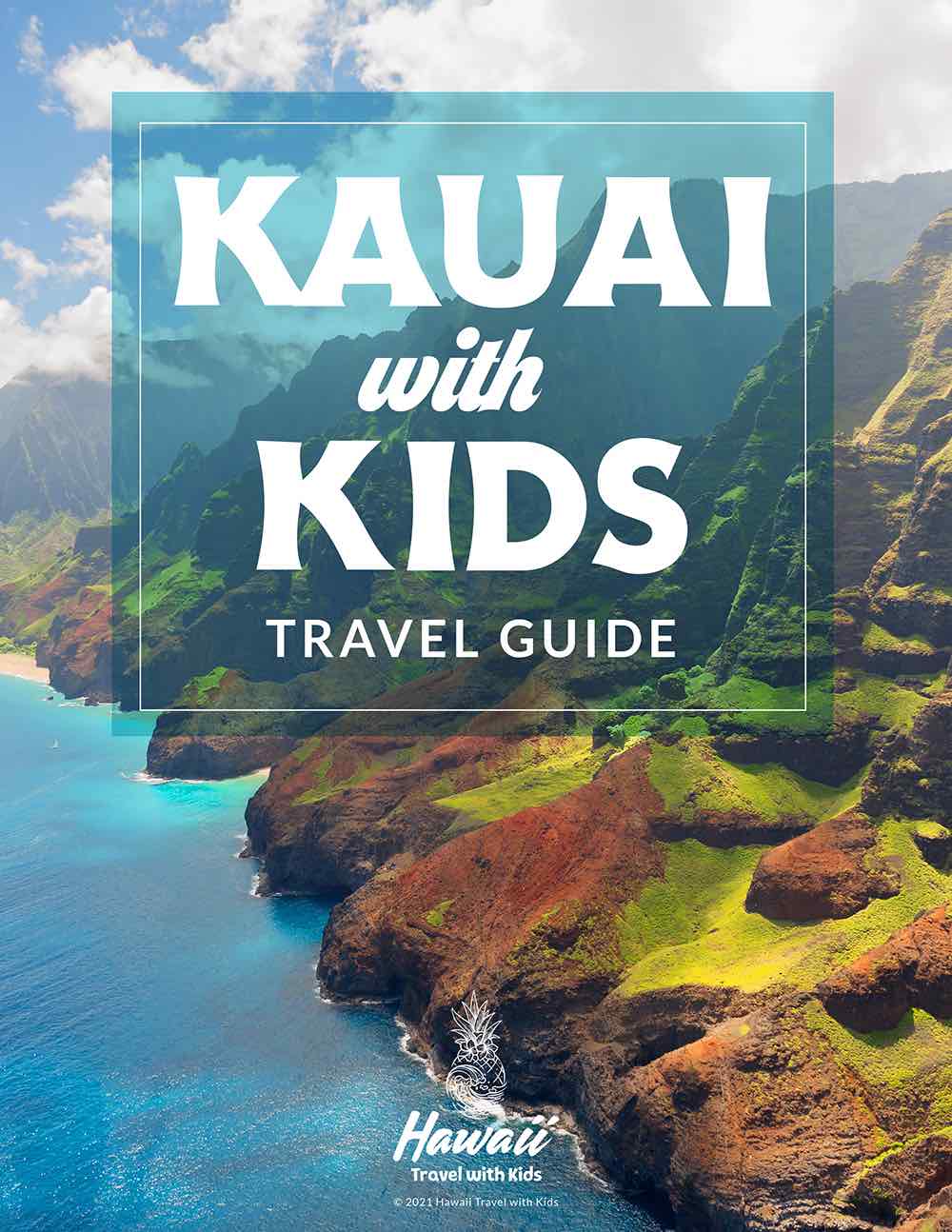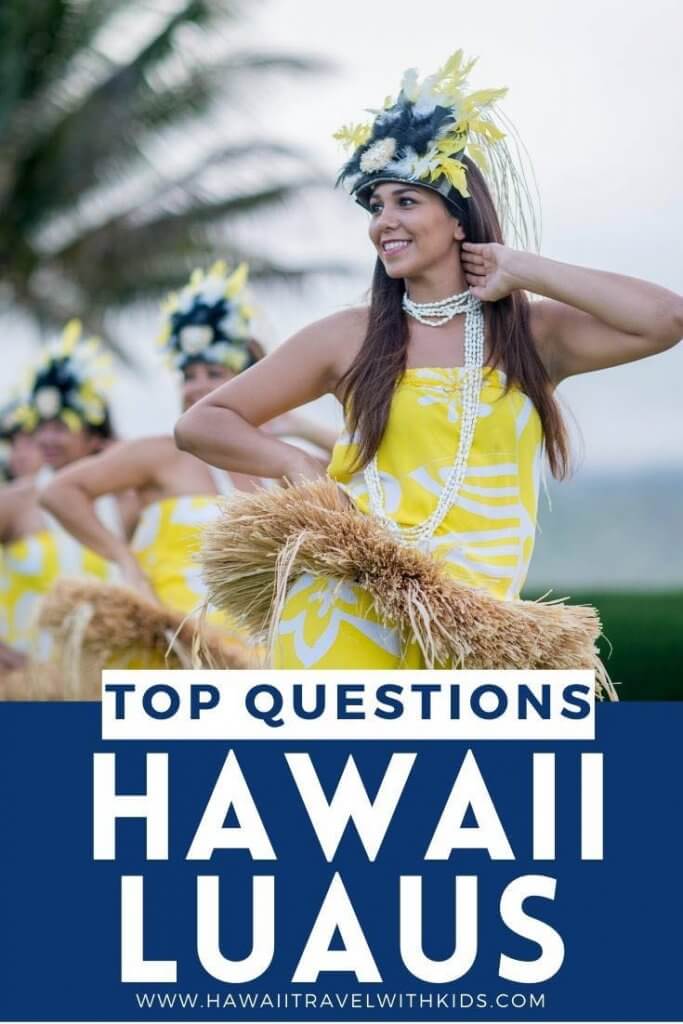 Is it Worth Going to a Luau in Hawaii?
That seems to be the million-dollar question. And that's why I put it first in this Hawaii blog post.
While I used to think the answer was a simple yes, I'm now realizing that it truly depends on the type of Hawaiian vacation you're planning.
First Trip to Hawaii
If you're planning your first trip to Hawaii, I definitely suggest booking a luau. It's an easy way to get an introduction to Hawaiian culture.
You can find a Hawaii luau at an array of price points. And there's sure to be one near your Hawaii hotel or even onsite at your Hawaii resort.
Frequent Hawaii Traveler
Some families think that since they've already done a luau, that they never need to do another luau again. That's a personal choice.
However, there are SO many innovative and unique Hawaiian luaus these days. Some offer a farm-to-table dining experience, theatrical presentations, or are a really intimate experience.
So, if your family is interested in Hawaiian culture, it's worth looking into different luaus in Hawaii.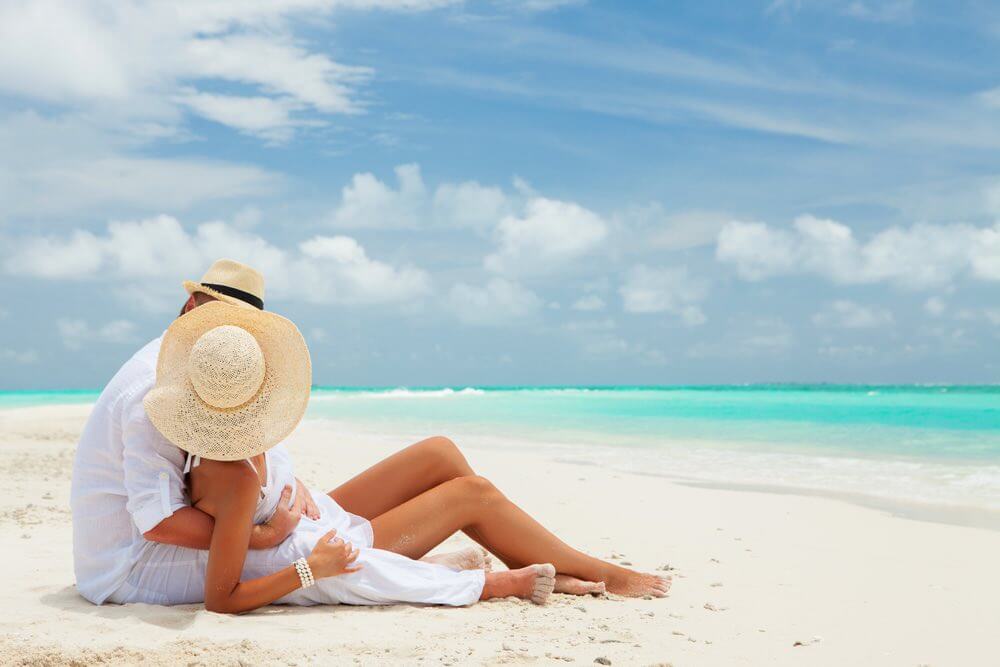 Honeymoon in Hawaii
If you are planning a honeymoon in Hawaii, attending a luau is a top Hawaii honeymoon activity.
They usually ask who is newlywed or on their honeymoon and invite those couples up on stage. You'll learn a hula dance, or they'll sing you the Hawaiian Wedding Song!
Plus, it's a great excuse to imbibe with tropical cocktails and enjoy some fun entertainment.
Hawaii with Kids
I think attending a luau is one of the best things to do in Hawaii with kids. Many offer kid-friendly activities and hands-on crafts before the show.
And if you are heading to Oahu, I highly recommend spending a full day at the Polynesian Cultural Center. There you can learn about 7 different Polynesian cultures, enjoy a luau, and experience their Ha: Breath of Life show.
Should I Do a Luau with a Baby or Toddler?
That's totally your call. I've done them with both, and it's been a great experience. Babies and toddlers are usually free and mine always fell asleep partway through the show.
Some luaus let you bring in a stroller, so your baby or toddler can sleep while you can enjoy the show.
Luau in Hawaii on a Budget?
If you're visiting Hawaii on a budget, you might want to skip the luau. Otherwise, it will eat up a lot of your Hawaii budget.
There are tons of free hula shows in Hawaii, so you'll still have the opportunity to see hula dancing.
Plus, you can order yourself a Hawaiian plate lunch (usually $8-$10) to sample traditional Hawaiian food at a fraction of the cost of a luau.
Brief History of the Luau
Luaus in Hawaii have been around for hundreds of years. They used to be religious celebrations (called 'aha'aina). There were lots of restrictions on the foods eaten and who could attend.
Things changed in 1819 when King Kamehameha II got rid of the religious aspects and pivoted the 'aha'aina into the present-day luau. This was a big societal change as men and women were allowed to eat together.
After that, luaus were mostly for royalty. And then primarily for family celebrations.
It wasn't until the 1960s that Hawaiian luaus became a tourist attraction. That's when Hawaii tourism really exploded.
How Authentic are Luaus in Hawaii Today?
There's a big difference in authenticity between Hawaiian luaus.
Honestly, many luaus are geared for tourists and feature corny jokes, mediocre dancing, and lots of alcohol.
However, it's becoming trendy to offer smaller, more intimate luaus. They focus on good food, quality hula dancing, and lots of small group activities.
It's really important to read luau reviews before booking anything if you're looking for an authentic Hawaiian luau.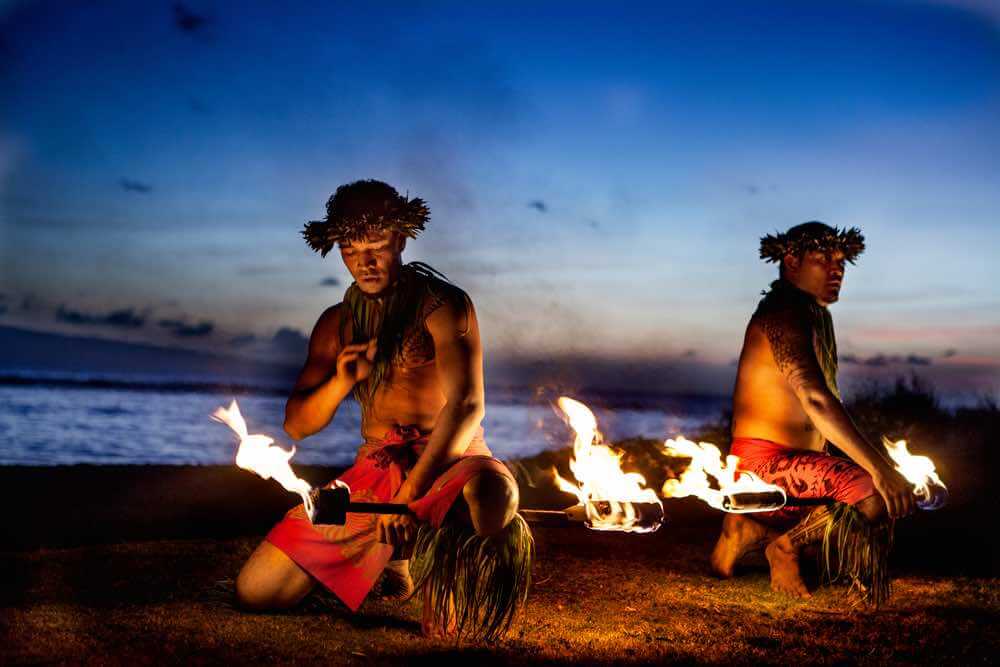 What Should I Expect at a Hawaii Luau?
Luau Prices
While the prices of luaus in Hawaii vary, most are in the $100-$125 range. However, luaus at more upscale resorts can cost up to $200 per ticket.
Many (but not all) luaus are free for babies and toddlers.
If you have a large group, you might qualify for a group rate to save money. And be sure to check if they offer a military discount.
How Long Does a Luau Last?
The length of time for luaus can vary, but they're usually around 5 hours long. Typically, they run from 5 PM to 9 PM, although some invite guests to come as early as 4 PM.
That includes the pre-show activities, dinner, and the show.
If you're taking a shuttle to/from the luau, that can add on an additional hour or more.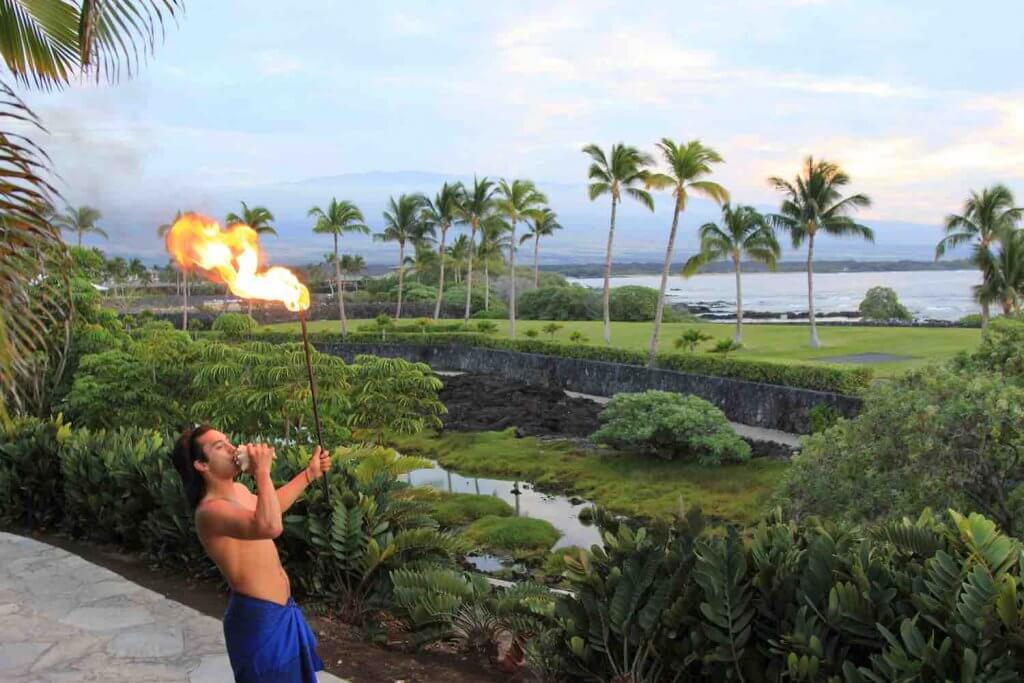 Luau Activities
Many luaus offer Hawaiian activities before dinner. These are a great way to get to make Hawaiian crafts or try something new in person.
Some of these activities may include teaching basic hula dancing, lauhala weaving, or learning about coconuts or pineapple. They might unearth the pig in the imu, perform a torch-lighting ceremony, etc.
Luau Seating Arrangements
If you booked a large luau, you should expect to sit at a long, rectangular table with other people you may or may not know. These are communal tables.
Some luaus use round tables instead of rectangular tables. These may or may not be communal, depending on the size of your party.
A few smaller luaus have private tables just for your family.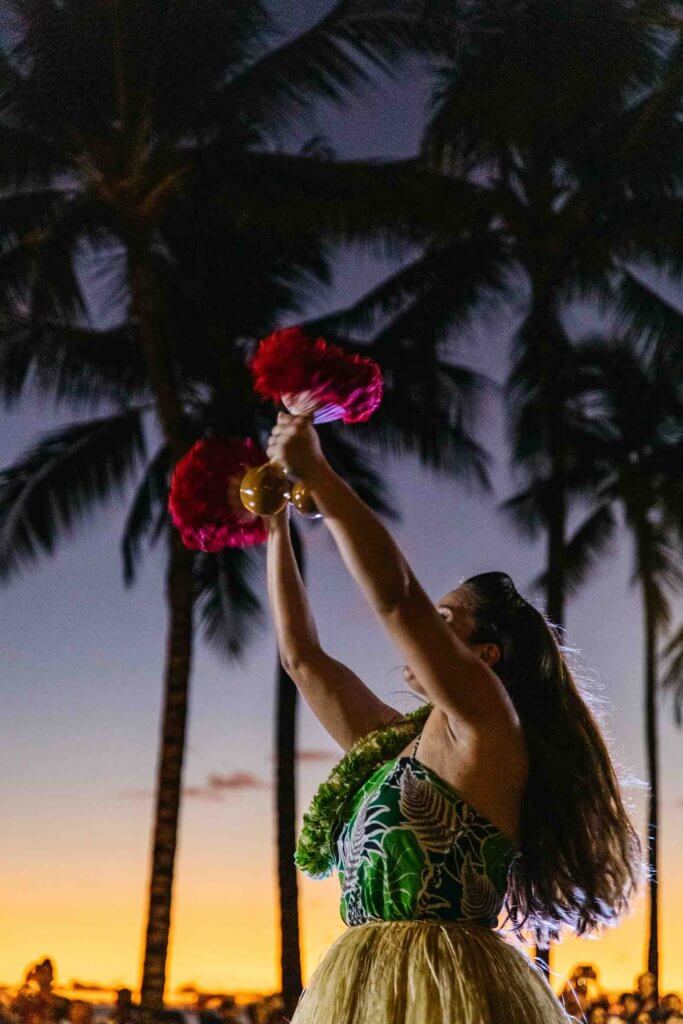 What Type of Dancing is at a Luau in Hawaii?
Most people think that luaus just feature Hawaiian hula dancing. But it's actually pretty rare that they only have Hawaiian dancing!
Just about all of them will start with Tahitian dancing. That's because people from Tahiti voyaged to Hawaii and became the first Hawaiians. Tahitian dancers usually wear big headdresses, coconut bras, and skirts with hip tassels.
Then they move on to Hawaiian dancing. There are actually 2 styles of hula dancing: Hula Kahiko and Hula Auana.
Hula Kahiko is the ancient style of dancing. You'll hear chanting and drumbeats and the dancing is more angular. Dancers wear pa'u skirts and greenery on their heads, arms, and legs.
Hula Auana is the modern style of dancing. The music usually features the ukulele and dancers waving their hands for flowery motions. Dancers wear grass skirts or mu'u mu'u dresses and usually flower leis.
And a lot of luaus end with the famous Samoan fire knife dancing. This is performed by men who light the ends of their knife with fire and twirl it around while dancing. It's super impressive!
Additionally, some luaus include other Polynesian dancing from New Zealand, Fiji, Tonga, or even dances from Asia.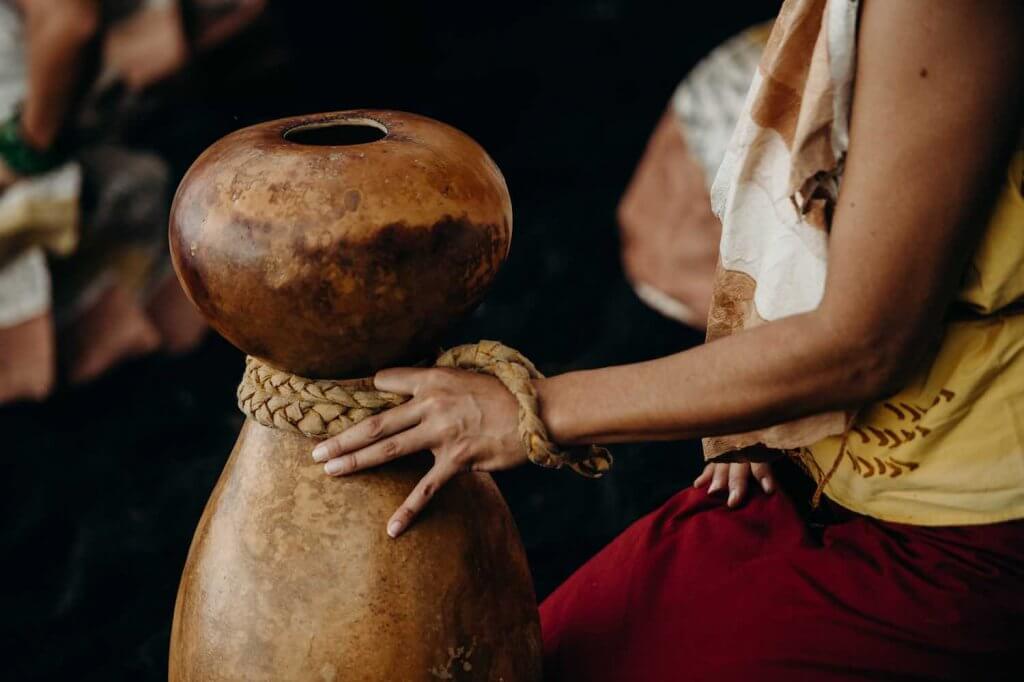 What are the Instruments at a Luau?
If you like live Hawaiian music, you're in luck! That's a huge feature of luaus in Hawaii.
Hawaiian luau music usually features the ukulele, ipu heke (double gourd drum), and the steel guitar.
Sometimes hula dancers also use instruments (called hula implements) while dancing. These implements include the ipu (gourd drum), uli uli (feather rattles), pu ili (split bamboo), kalaau (sticks), and ili ili (rocks.)
Is a Luau Religious?
Not usually. Some luaus will say a Hawaiian blessing before dinner.
Traditional Hawaiian Luau Food
I know a lot of families want to know what type of food is served at a luau. That way, they can make sure there's enough stuff they like to eat. Or they can Google to find out what everything is before they go!
Here are some of the most popular Hawaiian luau dishes you'll find at luaus in Hawaii.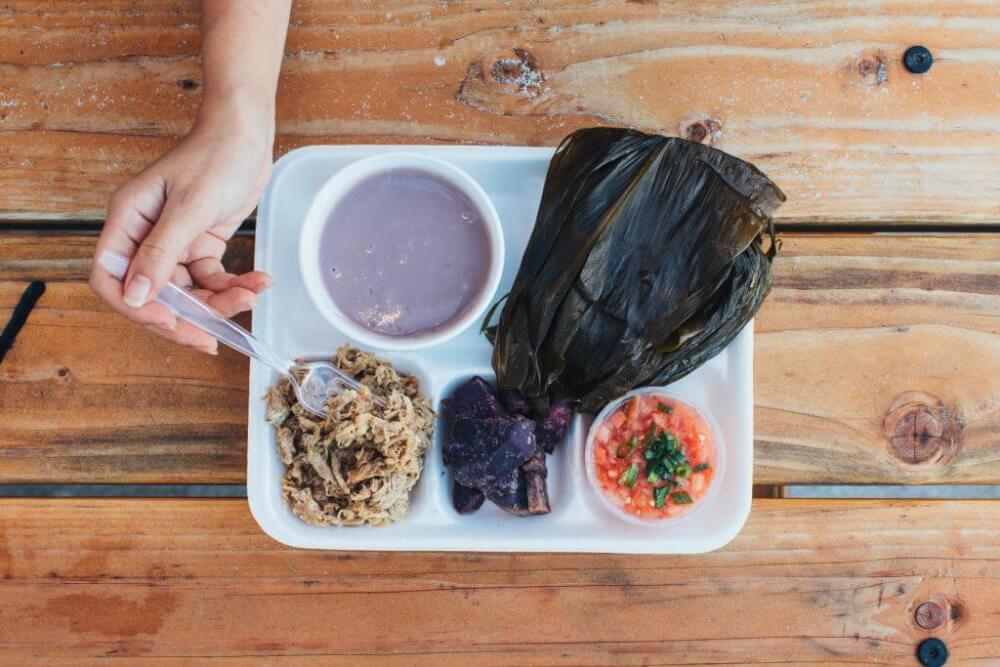 Kalua Pig
The most iconic luau food is kalua pig. It's roasted in an underground oven called an imu. Most luaus will do a whole presentation where they take the kalua pig out of the ground.
Kalua pork has a smoky flavor and it's so tender that the meat falls right off the bone. It's served shredded and it tastes great dipped in poi or with some rice.
Get my Instant Pot Kalua Pork recipe!
Huli Huli Chicken
Traditionally, huli huli chicken is made by constantly turning it on a spit over a fire or BBQ.
It usually has a bit of smoky flavor, but also sweet Hawaiian BBQ sauce. This tastes great with rice.
Get my Oven Baked Huli Huli Chicken recipe!
Chicken Long Rice
This is usually my go-to meal for picky eaters. It tastes like chicken noodle soup, but heavy on the noodles. And the noodles are thin rice noodles.
The flavor is pretty mild but tasty.
Lomi Lomi Salmon
Lomi Lomi Salmon kind of looks like salsa, but it's not spicy and the flavor is completely different.
Basically, it's diced up tomato, onion, and raw salmon and then they add some salt.
Macaroni Salad
This is another staple for picky eaters. It's usually your typical, American-style macaroni salad.
Some luaus mix in potato salad (my favorite) and some have shredded carrots, but otherwise, it's primarily macaroni noodles, mayo, and a tiny bit of spice.
Poi
Poi is probably the most iconic traditional Hawaiian food. It's fermented taro root that has been pounded into a purple paste.
Usually, it's eaten with meat, like a condiment! It has a sour/tangy flavor that pairs really well with kalua pork, fish, or chicken.
Another option is to add sugar and a little milk to make it more of a dessert.
Hawaiian Desserts
Yes, there are luau desserts! The most traditional Hawaiian dessert is Haupia. It's a coconut cream custard that is cut into squares and served cold.
Some luaus also have a pineapple coconut cake or other tropical cake.
And many offer fresh tropical Hawaiian fruit like pineapple, mango, and papaya.
How is Food Served at a Luau in Hawaii?
Most Hawaiian luaus offer buffet dining with an assortment of Hawaiian/Asian food items. This can be nice because you can try a bunch of different items.
Some luaus even invite people back for a second helping. A few luaus have table-side dining with plated courses.
What are Typical Luau Drinks?
Wondering what to drink at a luau? There's usually a bar that offers Hawaiian Mai Tais, Blue Hawaiians, or other Hawaiian cocktails. Some offer beer, wine, and other spirits.
For nonalcoholic drinks, there's usually some sort of Hawaiian punch and an assortment of soft drinks.
Are There Vegetarian/Vegan Options?
If you are vegan or vegetarian, you'll definitely want to contact the luau directly to see what they can do. The same goes for other dietary restrictions.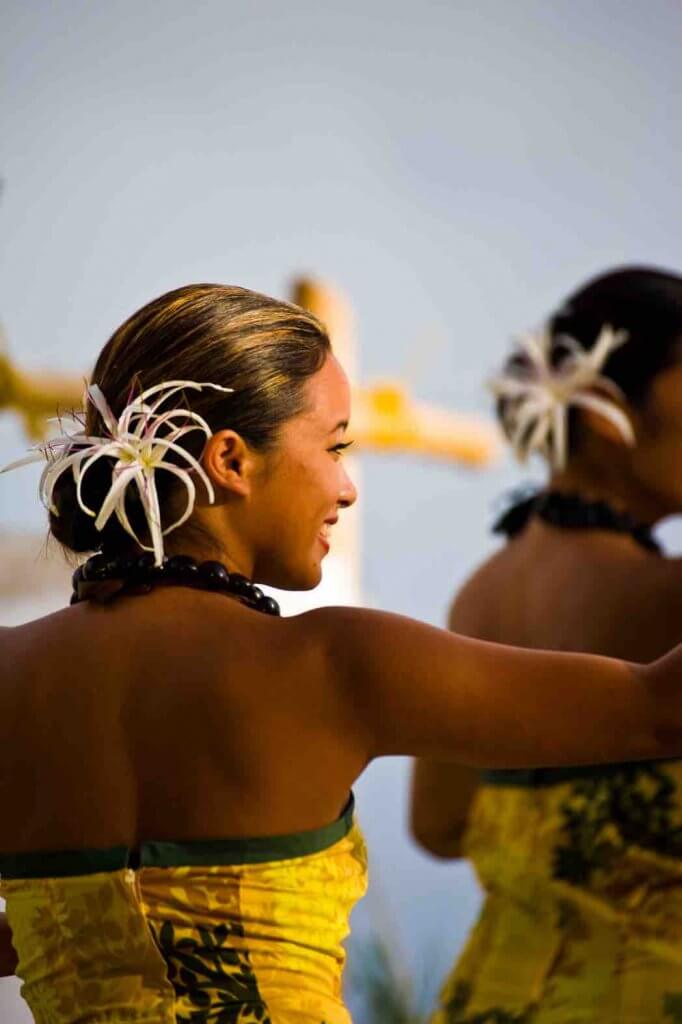 When Should I Book My Hawaii Luau?
If attending a luau in Hawaii is a priority for you, you'll want to book one before you go. It's the best way to get a Hawaii luau deal and pick your ideal luau day.
I always suggest that people schedule their Hawaii luau for the middle of their trip. That way, they have time to get over jet lag (so they aren't falling asleep during dinner).
And since luaus can be canceled due to rain, it's nice to have days left in your Hawaii vacation in case you need to reschedule.
What are the Best Luaus in Hawaii?
If by now you're convinced that you want to add a luau to your Hawaii itinerary, you're probably asking yourself "What is the best Hawaiian luau?"
Let me give you a few options for the most popular Hawaiian islands.
Oahu has tons of luaus. Many are in the Waikiki/Honolulu area, but my favorites are on the North Shore. See the top-rated Oahu luau here.
The Polynesian Cultural Center is one of the top attractions on Oahu. Not only do they have a nice luau and theatrical presentation, but you also can participate in tons of cool hands-on activities. Find the best prices here.
I have a full guide to the Polynesian Cultural Center HERE where you can figure out which ticket package is right for your family.
Personally, I'm obsessed with Toa Luau in North Shore Oahu. It's pretty intimate and they do a cool Kava Ceremony at the beginning. Plus, you get free admission to Waimea Valley.
I think it's the top luau in Oahu and you can read why in my Toa Luau review. Find the best prices here.
Most of the Maui luaus are either in Lahaina (West Maui) or Wailea (South Maui.)
The Maui Nui luau at the Sheraton is one of the best luaus in Lahaina/Kaanapali. It's a sunset, oceanfront luau on Maui. Find the best prices here.
One of the most unique Maui luaus is the Feast at Mokapu. It's located at Andaz Maui Resort in Wailea where you'll enjoy family-style dining while watching a theatrical presentation. Find the best prices here. You can read my full Feast at Mokapu review HERE.
While Kauai doesn't have as many luau options as Oahu or Maui, there are still some fun options.
What's cool about this Kauai Hawaii luau is that your family can ride a train around Kilohana Plantation before the luau. You can read my full Luau Kalamaku review to check out all the details.
And the food is outstanding and the show is a cool theatrical presentation. Find the best prices here.
This has been one of our favorite luau in Kauai Hawaii. You can take a boat ride to Fern Grotto before the luau. We've got a full Smith Family Luau review that's worth a read.
Plus, they feature dances from all across Polynesia and Asia. Find the best prices here.
If you want a Big Island luau, most of them are in Kona.
One of the most popular Big Island luaus is the Voyagers of the Pacific Luau at the Royal Kona Resort. You can read my honest Royal Kona Resort luau review HERE. Find the best prices here.
The Island Breeze Luau is often considered the best luau in Kona Hawaii. There's a royal procession, yummy food, and an awesome Polynesian show. Find the best prices here.
What to Wear to a Hawaiian Luau
I know when people are packing for their trip to Hawaii, they always ask about what to wear to a luau in Hawaii. So, here are my top picks:
Dresses for a Luau in Hawaii
Most luaus will give ladies either a shell lei or a purple orchid lei as they arrive.
If you think you'll be taking a lot of photos, you'll want to keep this in mind so the lei will stand out against your dress!
For a fun Hawaiian luau dress, my top picks are this one and this one. Putting on a Hawaiian dress always makes me feel happy and like I'm on vacation! Find the best prices here.
I'm also a big fan of clothing subscription boxes. You can request tropical dresses (or any cute Hawaii vacation outfits) from Wantable. Check out the latest rates and more information.
But, you don't need to buy a new dress! Look in your closet for something brightly colored or a white dress always looks nice.
For shoes, I tend to always wear sandals. You probably won't want to risk heels, especially if the luau is on grass or near the beach.
Hawaiian Luau Outfits for Men
Men often receive a standard shell lei, purple orchid lei, or sometimes they get a black kukui nut lei.
While men can wear any type of shirt, a Hawaiian shirt is always more memorable! If you want to order ahead of time, this one and this one are fun picks! Check out the latest prices and more details.
Men can easily pair Aloha Shirts with khaki pants or shorts. Or linen pants or slacks of any kind.
And they can wear sandals or loafers.
Hawaiian Luau Attire for Kids
And don't forget about your kids! While they can wear anything they like, it's so much cuter if they wear Hawaiian print!
I love matching Aloha shirt and shorts sets like this for my boys. And why not go with adorable Hawaiian dresses like this for girls.
Luau in Hawaii Wrap Up
By now, I hope you have an answer to your question "what is a luau?" Plus, you now ideas for the best luau in Hawaii no matter which island you are visiting.
Hawaii luaus are a ton of fun, as long as you pick the right one for your trip!
Looking for more fun things to do in Hawaii? Here are my top picks for Maui, Kauai, and Oahu! And get all your Hawaii questions answered here!